StormGain is the most secure crypto wallet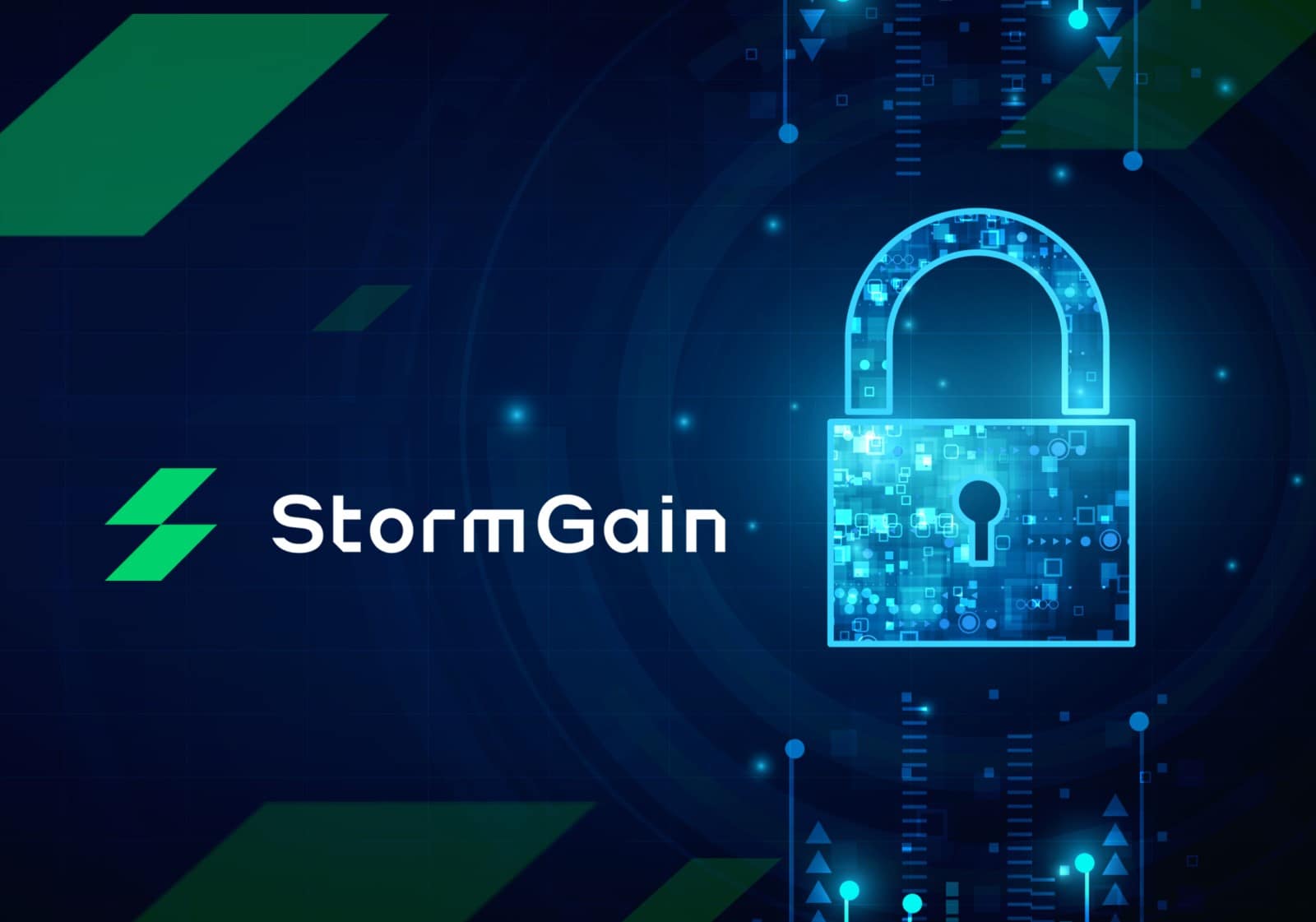 With the increased number of coins and tokens hitting the crypto world, many platforms and services are being launched to help people profit from buying and selling cryptocurrencies. Mining is no longer a thing that only tech-savvy people can handle. If you're new to the topic but want to start making money with cryptocurrency, you may consider using platforms like StormGain. The leading platform for cryptocurrency trading provides you with a secure crypto wallet and other benefits that beginners and pros will appreciate.
What is a StormGain wallet, and how can you create a secure online crypto wallet step-by-step? These are the main questions we'll discuss in this article.
Let's dive in! 
What is the StormGain wallet?
StormGain is one of the leading cryptocurrency exchange services in the United Kingdom. It's used by more than 120,000 active daily users in 100+ countries and offers a quick, hassle-free registration process, making it the ultimate choice for beginner traders. 
The service covers three main categories:
Each of these categories comes packed full with the majority of tools and features offered by StormGain. Before we start discussing how to create the most secure crypto wallet, let's first understand how each StormGain category works and discuss StormGain crypto wallets in more detail.
StormGain Crypto Exchange
StormGain provides a decentralised crypto exchange for the leading cryptocurrencies in the industry, including Bitcoin and Ethereum. The platform offers quick and advanced crypto exchange options. If you're interested in checking out details about rising and falling assets, the user-friendly interface of the desktop exchange platform will come in handy for you.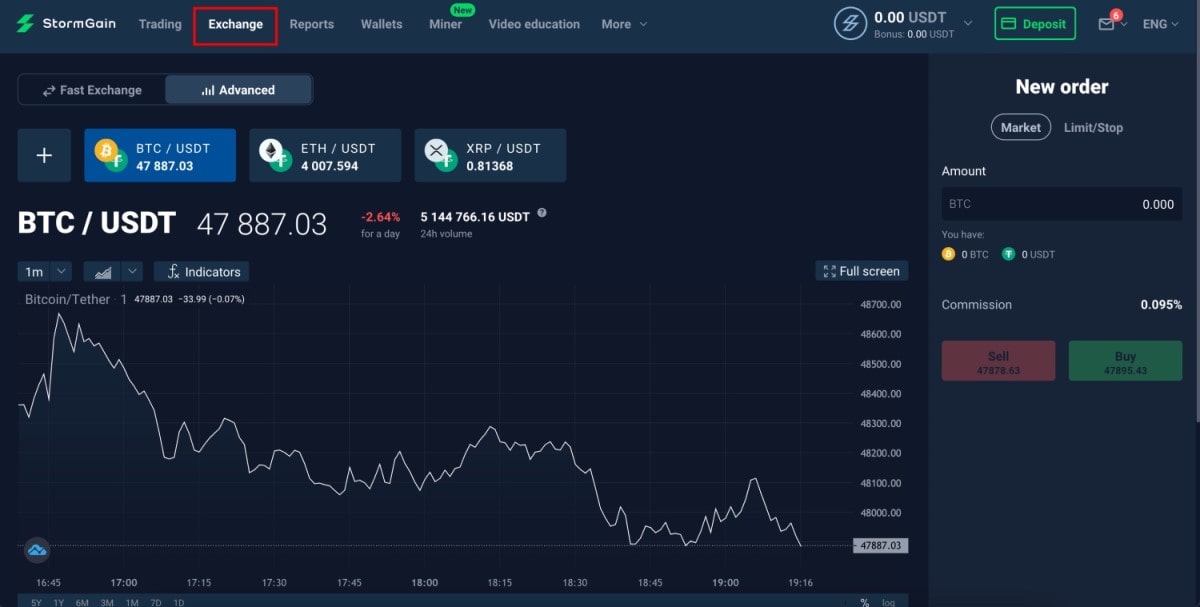 To start exchanging crypto, you need to buy digital currencies first. The process is super-quick and easy. The exchange feature is available 24/7, letting you trade your assets whenever the buy and sell rates appeal to you.
StormGain Trading Platform
Unlike other crypto trading platforms, StormGain lets you choose from 9 timeframes and access multiple charting tools simultaneously. The platform's full-screen mode lets traders check 40 technical indicators and use third-party plugins like Stochastic and Ichimoku Cloud.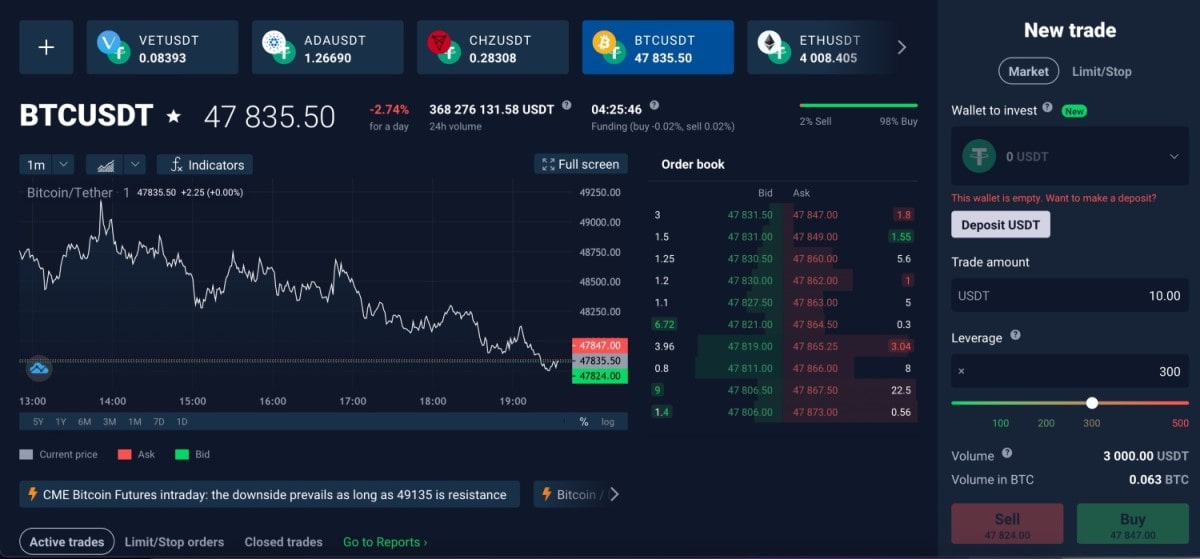 As of 2021, StormGain users can trade 55 cryptocurrency futures and smart contracts. Like Coinbase, StormGain lets users get the minimum deposit advantage, meaning they can buy and hold coins at a lower price and gain higher profits over time. The built-in crypto wallet supports the most popular cryptocurrencies, like Bitcoin, Ethereum, Tether, Ripple and more. 
StormGain crypto wallet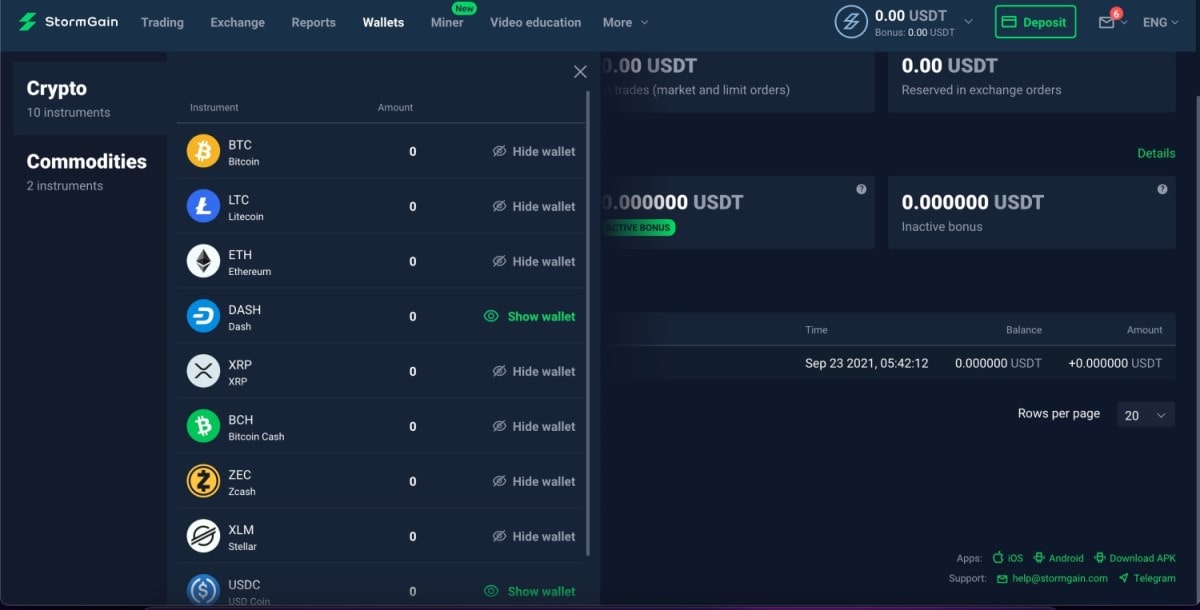 The e-wallet feature is a must-have service for traders and investors. It lets them deposit to and withdraw funds from the StormGain platform. Third-party e-wallets may restrict the withdrawal of crypto assets from StormGain. However, the built-in crypto wallet can easily process the necessary operations, letting crypto traders transfer their crypto assets and store them on wallets that are compatible with StormGain or use the wallet to withdraw digital assets through credit card transactions.
How does the StormGain wallet work?
The two main functions supported by the StormGain wallet include depositing funds and withdrawing crypto.
Deposit funds. All investors and small-time traders can deposit any amount of money to their StormGain accounts. Users can buy coins with a credit card or transfer coins they already own to their StormGain wallet. The transfer option is available for Bitcoin and five other cryptocurrencies.
Withdrawal. Traders can transfer their cryptocurrencies from StormGain to other wallets to withdraw cryptos. The options to withdraw cryptos to bank accounts and exchange them into fiat money are not available yet. To withdraw cryptocurrency, find the 'Withdraw' option on the right-hand side of the interface and add the destination address of another wallet.
StormGain crypto wallet's security
StormGain lets you protect your crypto assets in secure wallets. Invest and store major cryptos in free, multi-currency wallets to which you get access right after registering on the platform. The industry-leading security protocols let you keep your funds safe and protected from any kind of fraud or attacks. You can withdraw money from the wallet whenever you wish by choosing the payment option that suits you the most.
Safety tips for crypto wallets
Traders and investors buying and exchanging cryptos on the StormGain platform can rest assured about their assets. However, when you withdraw coins to other wallets, you must ensure your e-wallet is fully protected against security breaches. The following tips should help you keep your wallets safe.
Be careful with the choice of online wallets. Many online wallets suffered from security breaches in the past and still do not provide a 100% guarantee that your money is kept safe. Use secure crypto wallets and enable two-factor authentication whenever possible.
Keep small amounts of coins in your e-wallet. Like using a physical wallet, carrying all your money in your pocket is not a good practice. It's better to divide your assets into smaller parts and store them on different computers, hardware, or servers. 
A backup of your e-wallet keeps you protected against computer failures or human mistakes. It also lets you recover your wallet if your phone or laptop is stolen or lost. 
Encrypt online backups to keep them protected against theft. All backups that are stored online are vulnerable to theft. Every computer with Internet access can be attacked by malicious software. Encrypting your e-wallet backup is always a good security practice.
Use a strong password and never forget it. It seems to be an obvious tip, but many users neglect following it. To keep your e-wallet protected, use a password at least 16 characters long, containing letters, numbers, and punctuation marks. 
Using offline wallets provides your assets with the highest level of security. It suggests that your wallet is kept in a safe place and is not connected to the network. Using an offline wallet together with backups and encryption is a good approach to keep your assets protected against attacks. 
Use the latest software version. Whenever a new update of the software you use is released, do not miss the opportunity to install it. Software updates commonly include important security fixes that are inevitable to keep your wallet safe.
Why is StormGain the most secure crypto wallet?
StormGain's built-in crypto wallets make holding trading and exchanging coins faster and safer than ever before. The most secure crypto wallet lets you access all your currencies from the same place, making it super convenient and easy to manage your crypto portfolio. 
To start trading on the StormGain platform, you first need to sign up. It takes no longer than 5 seconds to get started. There are 10 secure crypto wallets available to you right after completing registration. StormGain uses two-factor authentication to protect wallets with industry-leading security protocols and strong encryption to ensure your assets are kept safe all time. Your crypto is partially stored in hot wallets for operations, while most of your assets are stored on cold wallets for extra security.
How to create StormGain secure crypto wallet
Everyone who signs up on the StormGain platform gets access to 10 crypto wallets where you can deposit, exchange, and withdraw such coins as Tether, Bitcoin, Bitcoin Cash, Litecoin, Ethereum, XRP, Zcash, Stellar, USD Coin and Dai. 
To sign up for a trading account, take the following easy steps:
Click 'Create an account' or sign up via a social media network where you already have an account. 
Enter a valid e-mail address, phone number and password. Then, click 'Continue' to confirm registration.
That's it. Your account is ready for trading.
StormGain lets you start trading with a demo account (when you switch to the demo account, you get 50,000 USDT for trading) or use a real account (in this case, you need to deposit to start trading).
How to deposit to StormGain account via wallet 
You can deposit funds to a trading account by a crypto wallet. This deposit method doesn't include any fees.
To deposit funds to your StormGain account using a wallet, you need to navigate to your Wallet, select a cryptocurrency, and click the Deposit button right next to the corresponding wallet.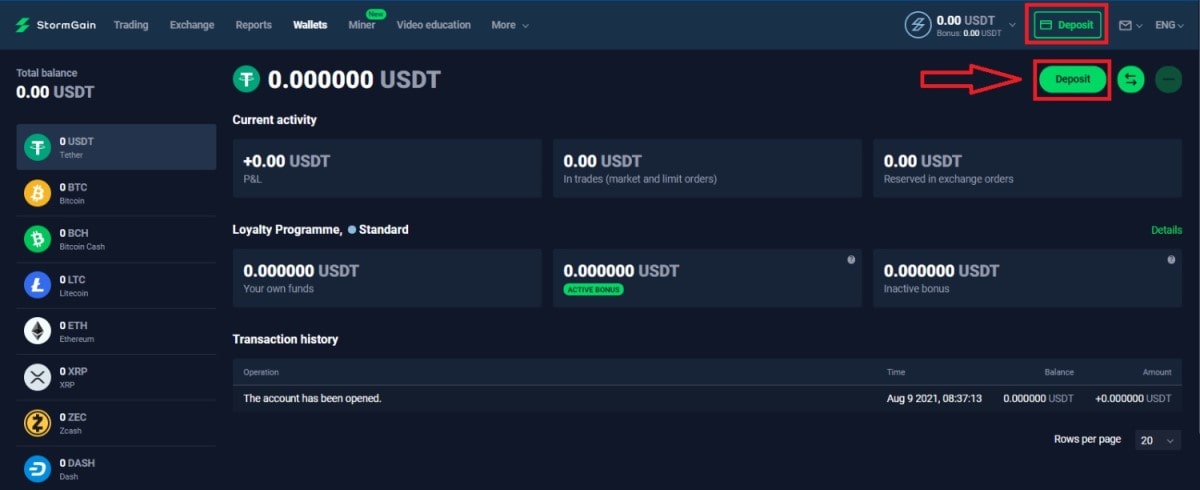 In the dialogue window, copy the wallet address to deposit funds to the StormGain account. Make a transfer from the external wallet to StormGain.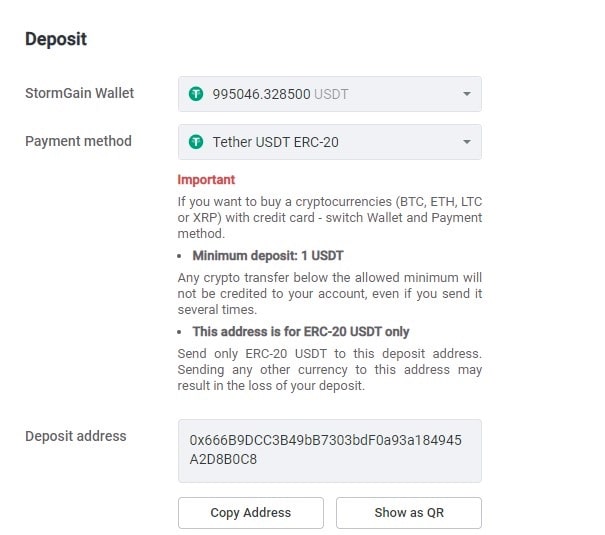 It takes about 30 minutes to deposit funds, but the speed it takes for the funds to be credited to your account depends on the chosen crypto and the current situation on the blockchain network. 
There is a minimum amount for each currency (you can see this in the dialogue window that shows up when you click the 'Deposit' button next to the chosen crypto wallet).
Please mind that the cryptocurrency for the account to be credited must match the cryptocurrency for the deposit account. Your deposit may be lost if you send different crypto to this address.
Besides using a wallet to deposit to StormGain, traders can also deposit by Visa or Mastercard via Koinal or Simplex. You can also deposit by SEPA bank transfer or using a credit/debit card. The latter option has no fees.
Benefits of StormGain crypto wallet
StormGain is the most secure crypto wallet app for many reasons. Besides its two-factor authentication, strong encryption and use of industry-leading security protocols, StormGain clients receive up to 12% annual interest on any crypto coin stored in their e-wallets. Traders and investors also get discounts of up to 20% on commissions, depending on their wallet balance.
Tags
Exchange BTC

Try our Bitcoin Cloud Miner and get additional crypto rewards based on your trading volume. It's immediately available upon registration.

Try our Bitcoin Cloud Miner and get additional crypto rewards based on your trading volume. It's immediately available upon registration.
Instrument
Rate
Change (24h)