The Top 5 Traded Cryptocurrencies in 2020

Throughout this article, we'll discuss the most frequently traded cryptocurrencies. When choosing a cryptocurrency to trade, there's one primary factor that makes it easy to determine the optimal cryptocurrency to trading. That factor is liquidity.
Liquidity describes the property of an asset attains when it's bought or sold quickly close to the market price. The cryptocurrency market has existed for only 10 years. At the moment of writing, the daily trading volume among all cryptocurrency exchanges equals nearly $90 billion. That's a massive number, but only half of the daily trading volume on the Nasdaq exchange alone. As such, compared to traditional markets, liquidity in cryptocurrency markets has the potential to grow further.
You may be familiar with the term 'whale'. Whales refer to people who own a substantial amount of a cryptocurrency. Whales can move the price of a cryptocurrency in one direction or the other in a fraction of a second. Only the high liquidity of the traded asset can prevent market manipulation at the hands of whales.
Therefore, the top trading cryptocurrencies are those with the highest liquidity.
The liquidity of an asset is easily determined based on its daily trading turnover. We have compiled a list of the most-traded cryptocurrencies at the time of publication.

Naturally, Tether leads the rank. Tether is a crypto analogue of the dollar. In other words, it's a stablecoin whose price is equal to 1 US Dollar. You can read more about how to buy Tether with a debit or credit card in our blog. Tether makes it possible to realise profit and safely watch market fluctuations from the sidelines. While there are many stablecoins, Tether is the most popular one. It has the highest-circulating supply, market cap and liquidity. Tether is the top-traded cryptocurrency, but we exclude it from our ranking since USDT is, by default, the underlying asset for most cryptocurrencies.
Bitcoin (BTC)
Bitcoin is the first-of-its-kind decentralised cryptocurrency and has the highest liquidity. Bitcoin's daily turnover is over $23.5 billion. To get your hands on the cryptocurrency, check the easiest ways to buy Bitcoin with a credit card. With the Bitcoin halving event in the rearview mirrors, we can assume that interest in Bitcoin will only increase, as will its liquidity. However, despite its high liquidity, whales can still affect the market. Take a look, for example, at the 5-minute BTC/USD chart shown below.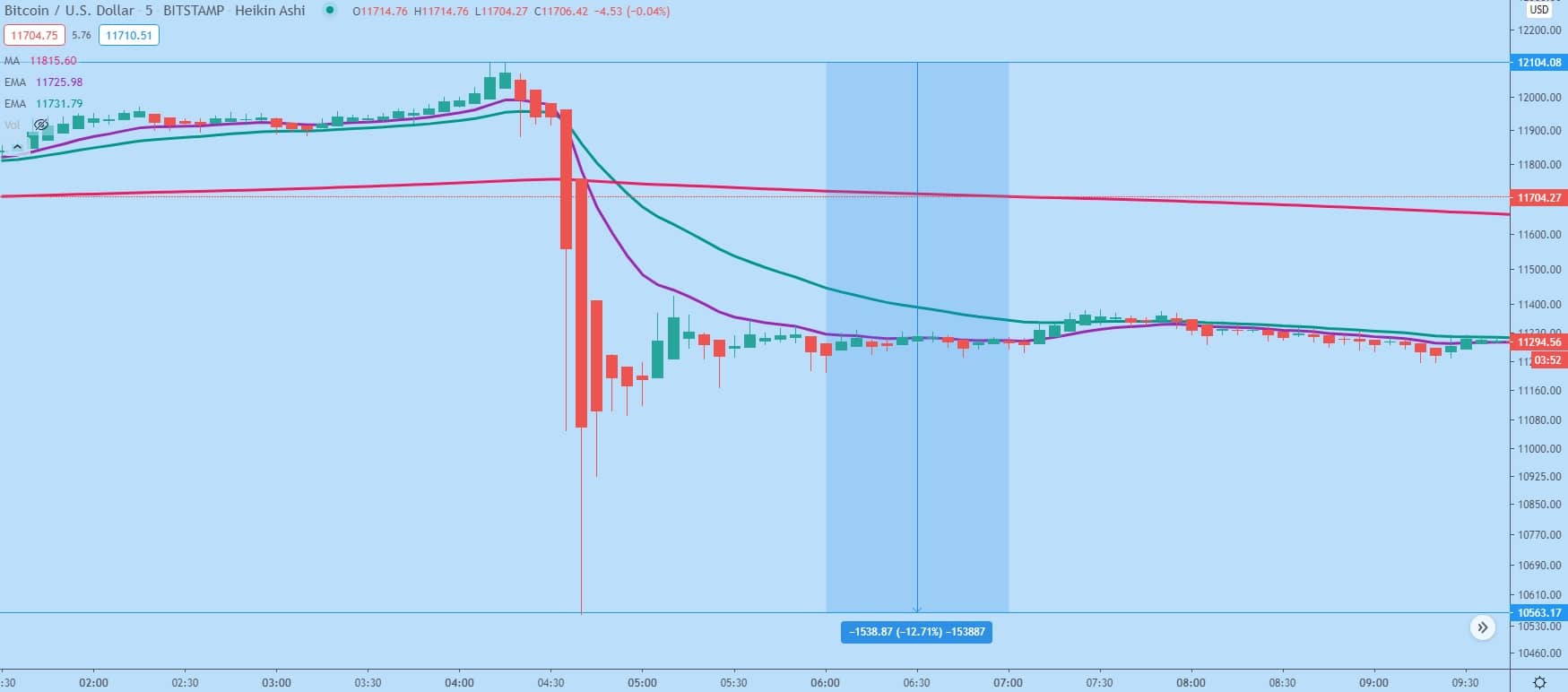 On 2 August, Bitcoin dumped over 12%, going from $12,000 to $10,500 in just 10 minutes. Even if a stop-loss trade protected a long-term position, the slippage cut profits. Despite Bitcoin's high liquidity, we're witnessing these sharp price changes again. We'll review the reaction of the most-traded pairs from our ranking to that particular Bitcoin decline.
Ethereum (ETH)
Ethereum occupies the second place in our ranking. This cryptocurrency is very popular, and demand for it is high. Thanks to Ethereum, people can create smart contracts and decentralised applications (dApps). Ethereum has established itself as the leading platform for deploying cryptocurrencies and blockchain startups. Many of the cryptocurrencies we know (for example, EOS, Tron (TRX), VET, Chainlink (LINK), ZRX, etc.) are created on the ERC-20 protocol. Ethereum's daily trading volume exceeds $10.5 billion, roughly half that of BTC. That is why Ethereum is rightfully ranked second to Bitcoin.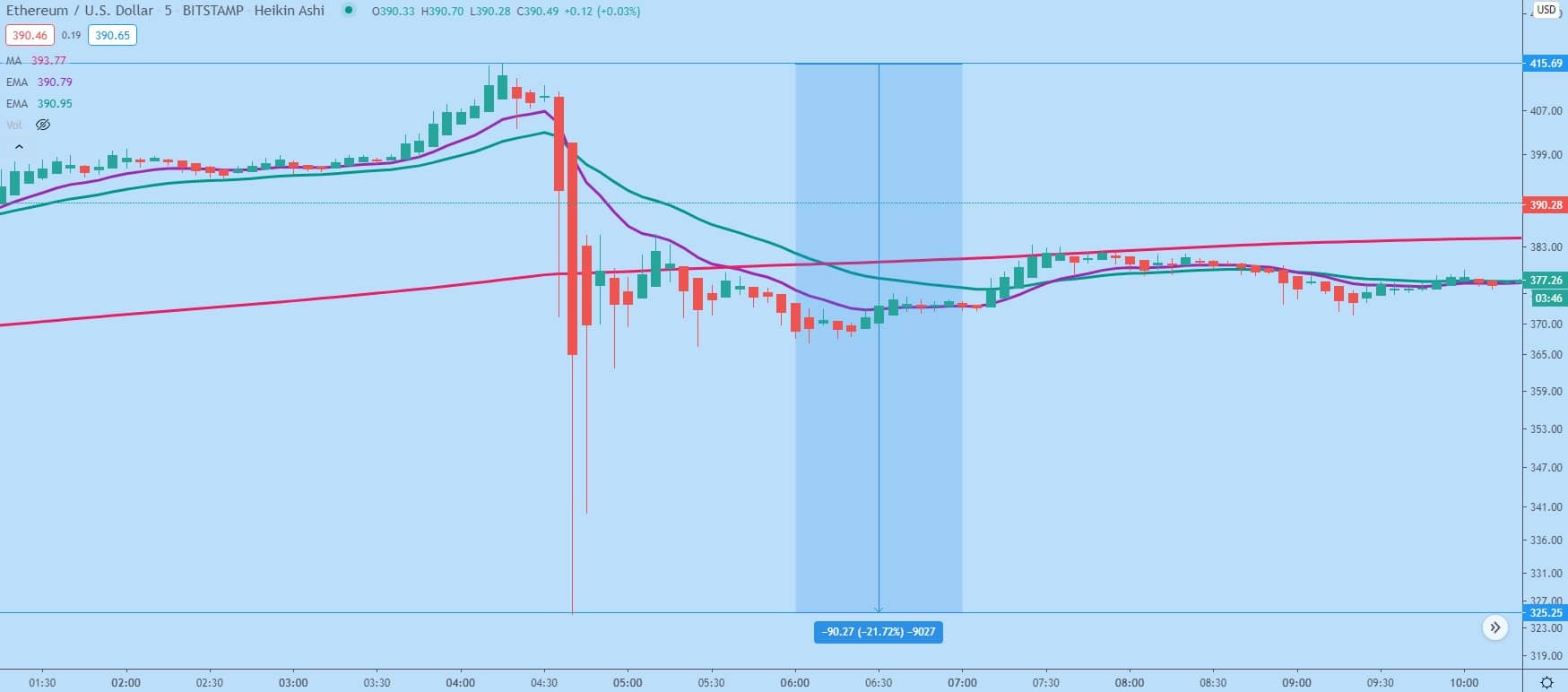 Ethereum fell along with Bitcoin on 2 August. ETH fell over 19%, from $410 to $325, and recovered over half of a drop just in ten minutes, climbing back above $370.
Ripple (XRP)
Ripple (XRP) ranks third on our ranking, with a daily trading volume of over $4.5 billion. Ripple, was created for banks and payment networks as a payment system, money transfer and currency exchange system. The main idea for Ripple was to develop a system of direct asset transfers in real-time that would be cheaper, more transparent and safer than existing payment methods such as SWIFT payments. Ripple (XRP) has a long trading history. It's known for its widespread application and partnerships with many banks.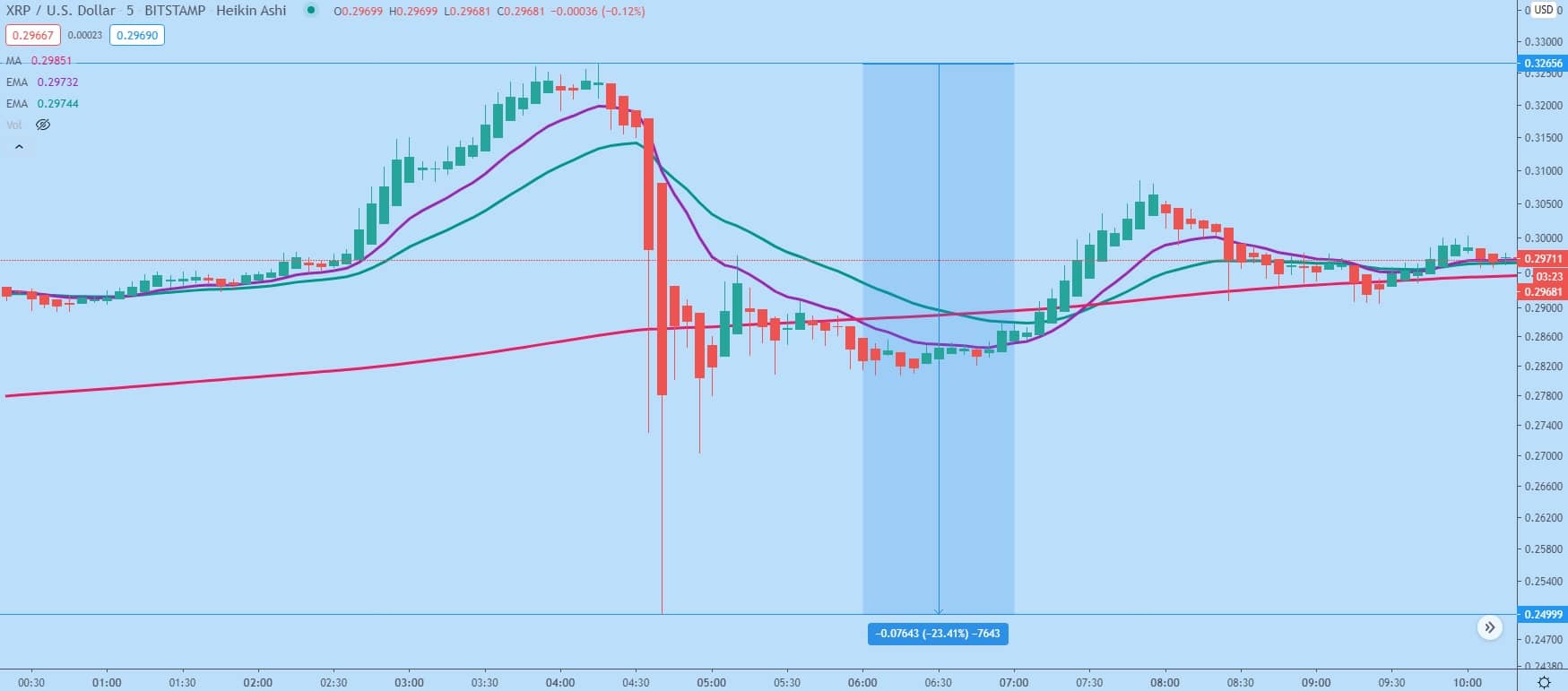 Within the range of our study, Ripple dropped 20%at the beginning of August, slightly more than Ethereum, and twice as much as Bitcoin. In price terms, XRP fell from $0.32 to $0.25.
EOS
EOS holds fourth place on our ranking, with around $1.5 billion of EOS changing hands compared to Ripple, whose daily trading volume is $3 billion. EOS is a blockchain platform specifically designed to create decentralised applications (dApps) of any size. Some compare EOS with Ethereum because of their similar functionality. However, EOS has higher scalability, zero transaction fees and an original on-chain management model.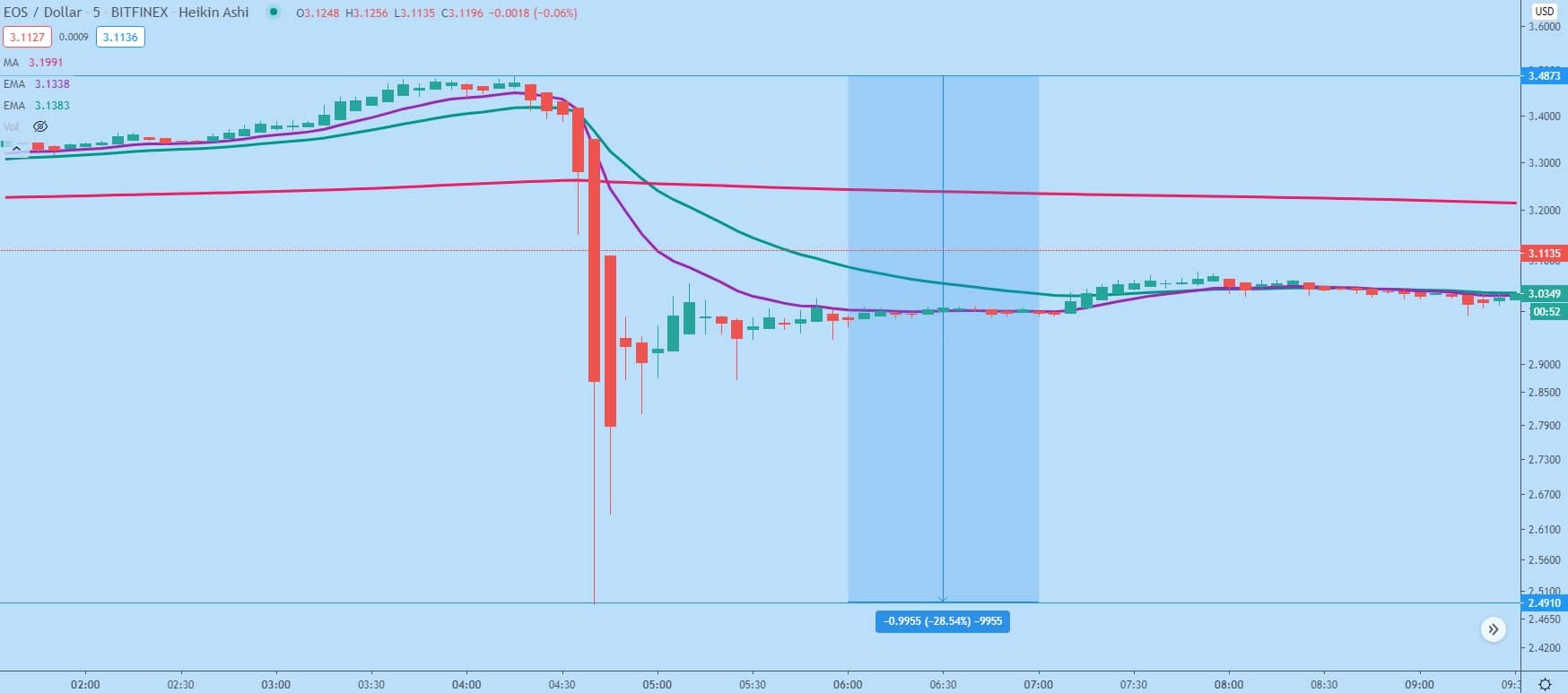 EOS's liquidity is fairly high, although it dropped over 27% during the sudden BTC correction in August. EOS dropped from $3.47 to $2.5. EOS displayed its worst performance during that drop. The relationship between liquidity and decline percent could be traced.
Litecoin (LTC)
Litecoin closes out our ranking of the top-traded cryptocurrencies. LTC's daily volume is slightly more than $2.5 billion, which is very close to EOS's. Litecoin is a cryptocurrency and a blockchain that enables instant payment all around the world. LTC, like Bitcoin, can be efficiently mined with specialised hardware. This cryptocurrency was the first Bitcoin fork, followed subsequently by BCH and BSV. Demand for LTC is high, and it holds a strong position in the top 10 cryptocurrencies by market cap.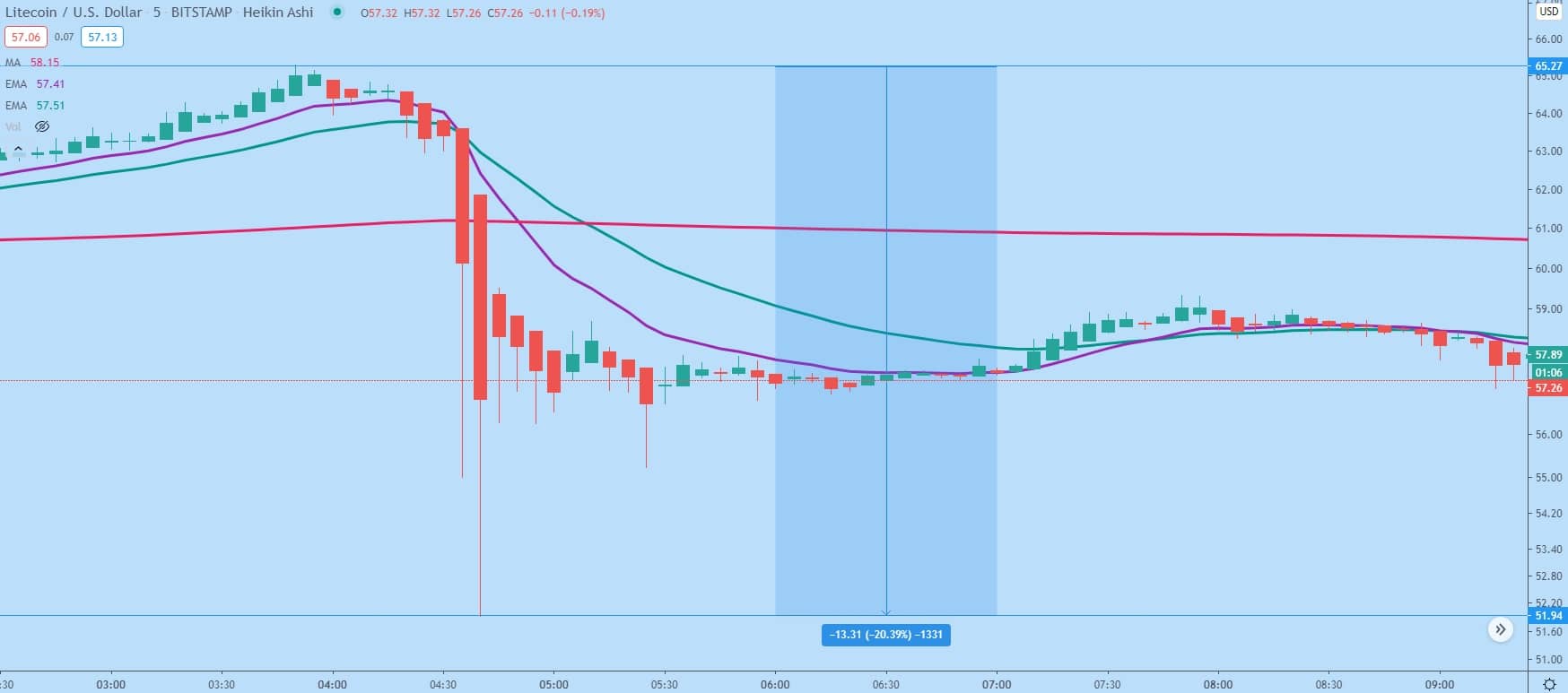 Observing Litecoin's reaction during Bitcoin's drop on 2 August, we could say it performed well. LTC's price fell from $65 to $52, amounting to a 19% decrease. Ethereum, XRP and LTC behaved similarly, which is a good indication of asset liquidity.
Conclusion
Over time, the ranking of the most traded cryptocurrencies changes. New projects attract investors' and traders' attention and money flow from one cryptocurrency to another. However, we can see how important it is to trade currencies with high levels of volume and liquidity. Fundamentally speaking, any cryptocurrency exceeding the daily turnover of $500 million is an excellent option for trading. It is also possible to trade pairs with lower volume, but the risk of being affected by manipulation increases. Suppose you're a long-term investor looking for rare projects that can develop like an Apple or Amazon. If that's you, nobody's stopping you from investing in cryptocurrencies with low trading volume.
Tags
Exchange BTC

Try our Bitcoin Cloud Miner and get additional crypto rewards based on your trading volume. It's immediately available upon registration.

Try our Bitcoin Cloud Miner and get additional crypto rewards based on your trading volume. It's immediately available upon registration.
Instrument
Rate
Change (24h)