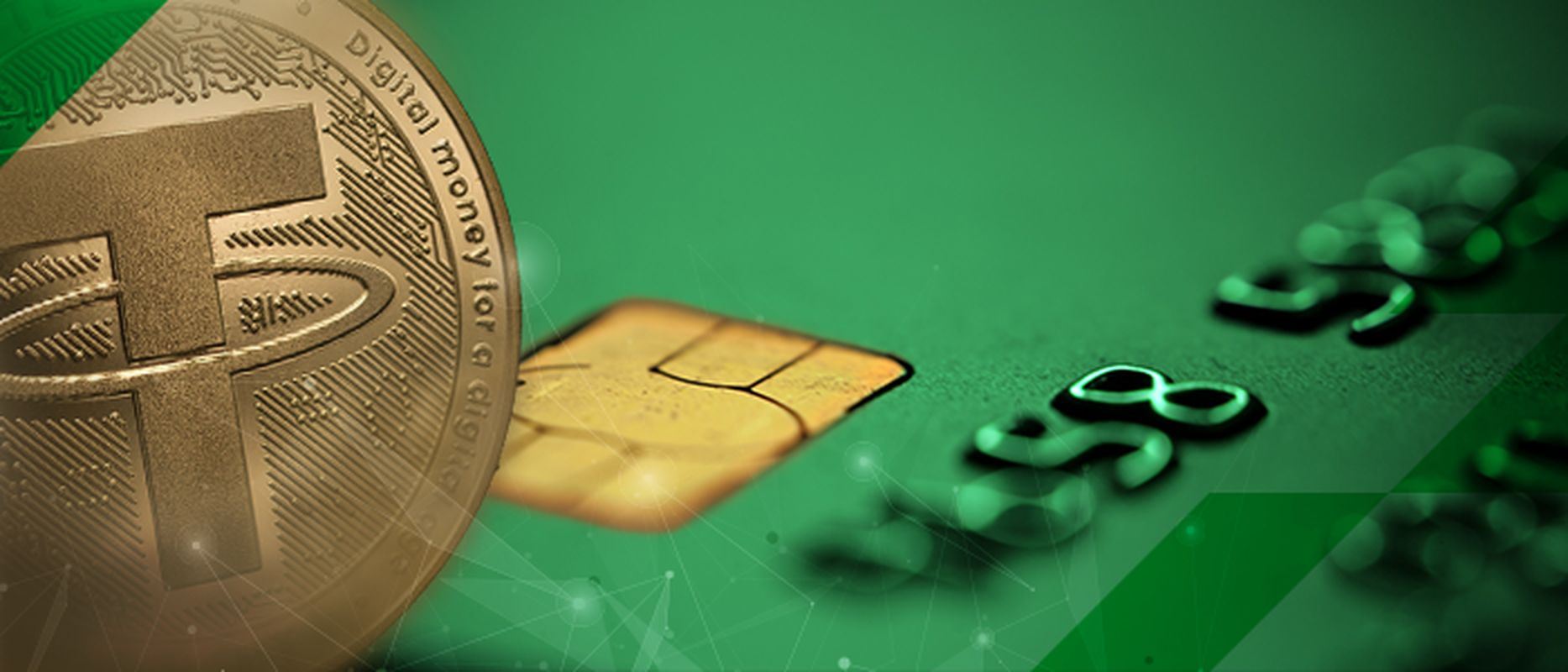 Buy Tether with a Debit or Credit Card
Tether is the most popular stable coin of today. It was launched in 2015, but most exchanges and organizations only began paying attention to this project in the last two years.
Although many analysts and companies didn't believe in stable coins, projects such as Libra and Tether are getting more and more supporters nowadays. For example, USDT became one of the base cryptocurrencies for trading pairs. Moreover, USDT now has the highest 24-hour trading volume. Even Bitcoin couldn't reach it, because the gap is over $10 billion.
In 2018, there were doubts that Tether was backed up by the same amount of US dollars. However, Tether Limited explained that USDT is not only backed up by fiat currency, but also by loans issued to companies related to Tether Limited. This is why USDT remains the most popular stable coin and is currently among the best trading pairs.
How to Buy Tether with a Debit Card Instantly
The facts mentioned above are the main reason why most newbies to the cryptocurrency market want to begin trading with USDT. Very often, initial problems aren't connected to the lack of experience or misunderstanding of the crypto market. Beginners don't know how to buy Tether with a debit card. Hence, here is a quick guide with all the possible ways to buy this cryptocurrency.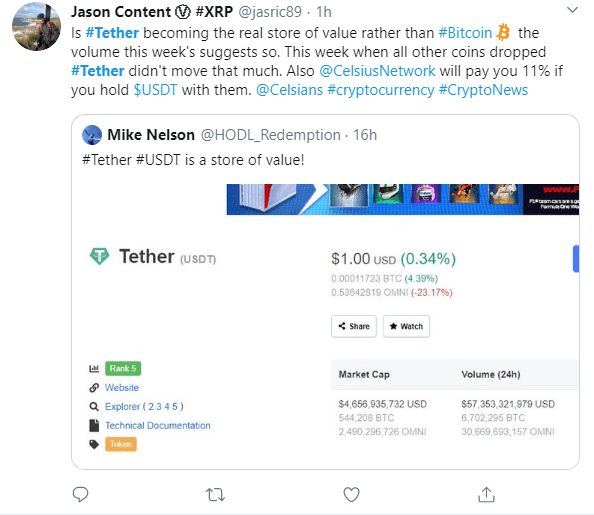 Step by Step Guide
There are three ways to instantly buy Tether, but we'll first go over a step you need to complete. You have to create a Tether wallet. You can choose an official Tether Wallet, a wallet on an exchange, a desktop wallet (e.g. Exodus) or an offline wallet (e.g. Ledger Nano S).
A wallet on an exchange is the simplest way to instantly buy cryptocurrency. Moreover, it is the best variant for trading, hence why we have picked it as an example. How do you create one? Just create an account on any platform.
Next, go to 'Wallets'. You will have at least 20 assets there, so you have to find USDT and push the 'Deposit' button. You will be redirected to the buying page with instructions. Once there, you will have to choose the payment method (Visa/MasterCard for our case) and enter the amount of USDT you want to buy (or the amount of money you are going to spend).
After entering the requested information, push the 'Confirm' button and give the card data (Card number, CVV-2 and card expiry date. You then have to verify your request (by e-mail or SMS). If everything is correct, your request will be added to 'Pending' on the 'Transactions' page. Following this, you will have to wait for the USDT to appear in your wallet. As usual, the transaction will be confirmed within 2-3 minutes.
Many traders prefer this method, because it allows you to use a wallet on an exchange. Furthermore, this is the most reliable way to buy USDT with a debit card, because you can choose trusted exchanges with good levels of security. This is why you can be guaranteed that your money or personal information will not be stolen.
This being said, there are some disadvantages. Firstly, there are high fees for depositing money from a debit card. Secondly, there are only a few exchanges that provide such a payment method. Lastly, the mechanism for buying cryptocurrency in an exchange is complex enough, so you need some time to understand it.
How to Buy Tether with a Credit Card
The main disadvantage of an exchange platform is that you have to register and verify an account to buy cryptocurrency. Otherwise, you will have limits for everyday transactions. Usually, verification takes no more than 15 minutes, but it can sometimes take up to 3 days. In this case, you'll need another way to buy Tether with a credit card.
The best way is probably to use exchangers. These are services that have high reserves of different cryptocurrency and fiat, so you can buy USDT via a credit card. How do you find them? Go to exchanger monitor (e.g. Bestchange), choose 'USDT' in the 'Get' column and 'Visa USD' in the 'Give' column.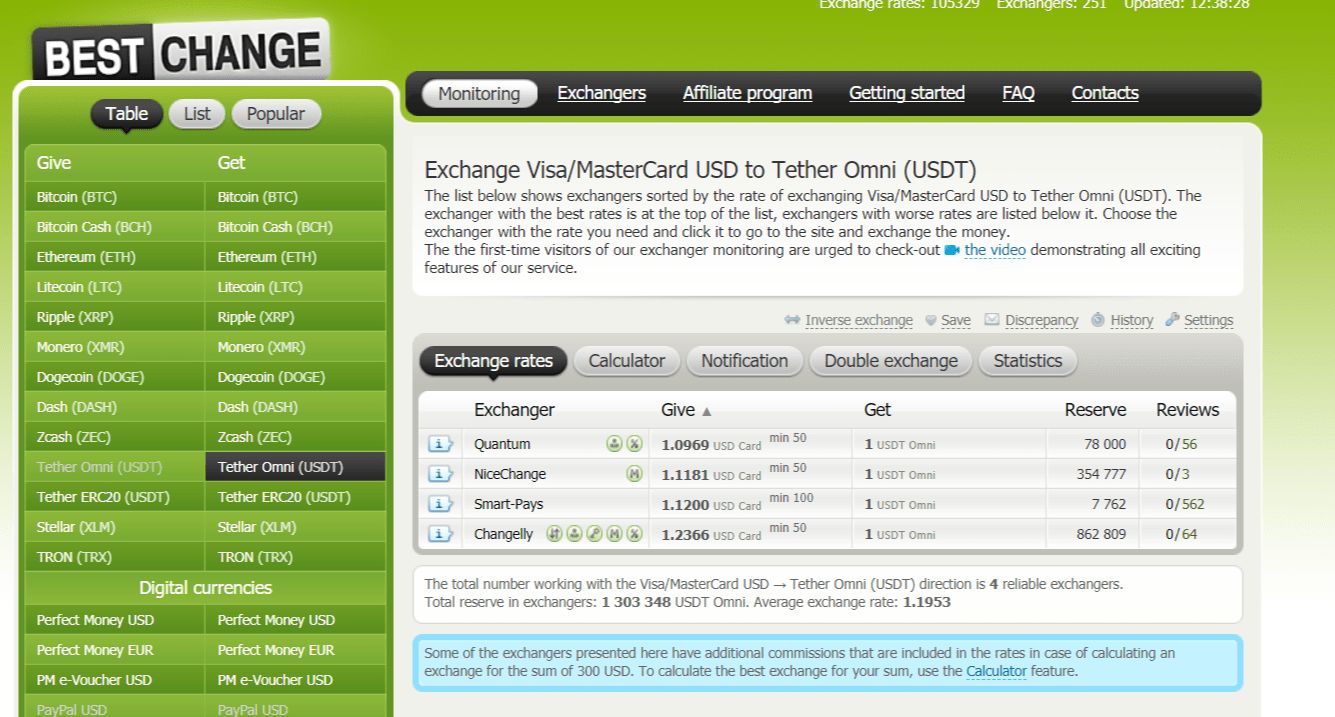 The service will show you all the trusted platforms, their reserves and fees. This allows you to choose the best variant and buy cryptocurrency. When you choose the exchange, fill in all the necessary gaps and follow the instructions. As usual, it will take about 5 minutes to create a request. It will be processed within 10-20 minutes, so you will get your USDT very quickly.
The last way to buy Tether with a credit card is through personal contacts. USDT is a very popular cryptocurrency and many people use it for everyday transactions, so ask your friends about their wallets. There is a high probability that at least one of them will be able to sell you some coins.
If not, then go to cryptocurrency related forums and try to find sellers there. If there are no topics for selling, you will have to create a post about wanting to buy USDT. This way is only good for large amounts of crypto coins.
Buying USDT via personal contacts can be very risky. If you get it from an unknown person, he or she could just scam you and steal your money. This is why you have to be very careful when using this method.
Where to Buy Tether with a Credit Card
There are many services that allow you to buy Tether with a credit card. However, you will have to choose your service based the method you are going to use to buy this cryptocurrency. For an exchange, you can choose cryptocurrency exchanges such as StormGain, Kraken, Huobi, Binance and others. They provide better conditions for fast and secure USDT purchases, and they are the most trusted among traders. However, you have to be aware of fees for deposits.
If you prefer to buy Tether in person, you will not find any specialized services or ATMs today. This way is the least reliable, so cryptocurrency enthusiasts and companies haven't developed such programs. Nowadays, you can find a seller on a forum (e.g. Reddit) or in your area. You can also visit different cryptocurrency conferences in order to find trusted people and buy USDT from them.
Welcome to StormGain — crypto trading platform!
Trade with 200× multiplier.