V-ID (VIDT) Price Prediction 2022-2030

V-ID (VIDT) usually experience high volatility. That's why it's important to be aware of VIDT predictions to make informed trading and investing decisions. This article provides deeper insights into V-ID (VIDT) and the major VIDT price predictions for 2022 and beyond.
What is V-ID (VIDT)?
VIDT Datalink is a hybrid blockchain validation and NTF creation platform. The project validates certificates and authentication using the immune nature of blockchain technology. Using an every-cloud-to-every-chain approach, the VIDT Datalink tech is based on a simple yet strong formula that adds and protects value at minimum effort and expenses. Many publishers and integrators use VIDT to secure NFTs, certificates, firmware and sensor data. According to V-ID, they work with Airbus, ChainDocument, Axveco and other clients. IBM, AmSpec and NFT use VIDT Datalink as a means to secure and verify certificates, invoices, diplomas and other data. 
V-ID (VIDT) is a blockchain-powered document validation service. Companies can adopt the VIDT API to protect their digital data against online fraud and manipulations. One of the main challenges of validation is determining whether the file being verified has been issued by the lawful person or entity representing the issuing company. VIDT solves this problem by using blockchain technology, which has the most potential to ensure that any fraud does not hinder digital progress.
The V-ID Token is what enables the network validation. V-ID appoints wallets to the issuing organisations with a VIDT balance. A VIDT transaction is created every time a company validates a file. It is used to validate the file type, validation location, identity, timestamp, etc. The VIDT token participating in the transaction is removed from the wallet of the validating organisation. Organisations can use one or more blockchains for extra security, including Ethereum, Bitcoin, DigiByte, FTM, LTO Network and IBM Hyperledger.
V-ID (VIDT) history
V-ID was conceptualised as a subsidiary of WIDIDI in early 2017. WIDIDI is a software developer in the Netherlands and the UK, both branches of which own the full rights of the V-ID software. The V-ID company started developing a product before raising funds and onboarding clients. This non-traditional appraisal of the product development was followed by a private sale of 12% of the total number of 100,000,000 VIDT tokens they had created. In the second half of 2018, V-ID launched an ICO and offered 50,000,000 VIDT tokens to the public. The initiative has brought the company $3.4 million of income. At the same time, 36 million VIDT tokens were burned, and 14 million were distributed to investors.
V-ID (VIDT) Price Analysis
At the time of writing this article (19 July 2022), the VIDT price is $0.32, and the 24-hour trading volume of $15,158,513. The V-ID blockchain's market cap is $16,004,386. The token has a circulating supply of 49,428,303.18 VIDT. It currently ranks 656th on CoinMarketCap.
VIDT price statistics (as of 19/07/22)
| | |
| --- | --- |
| VIDT current price | $0.32 |
| Market cap | $16,004,386 |
| Circulating supply | 49,428,303.18 VIDT |
| Total supply | 57,386,799 VIDT |
| Daily trading volume | $15,158,513 |
| All-time high | $1.85 (10/05/21) |
| All-time low | $0.04271 (16/03/20) |
| Website | |
VIDT Price History
Before proceeding to the VIDT price predictions, let's look back and revise some of the major historical facts about the VIDT token price.
VIDT has had a good time compared to many other altcoins. After setting a new all-time high in April 2021, it fell sharply by more than 80% before recovering higher. VIDT tried to reclaim the current all-time high at $1.85 but fell short by less than 20% before it began to trade lower again. It eventually found support at around $0.13 and has since traded as high as $0.80, signifying that a bull run may be on the horizon.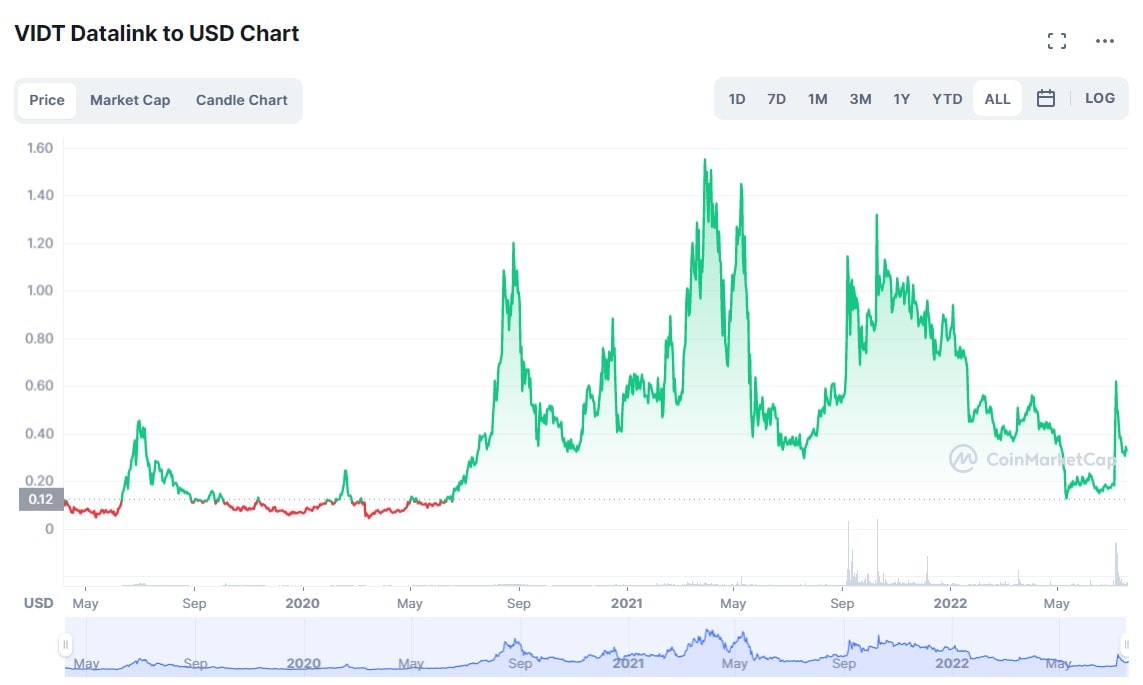 VIDT Technical Analysis
Simple price action on the daily timeframe for VIDT has shown that the coin is on its way to taking out the high of the failed attempt to recover the all-time high it reached back in August 2021. It recently flipped a resistance previously held at $0.29 and, as of 19 July 2022, is trying to rebound off the new support. If the bulls apply enough pressure, the next likely point of resistance is at the failed $0.82. The price may reach above that number if it has enough momentum.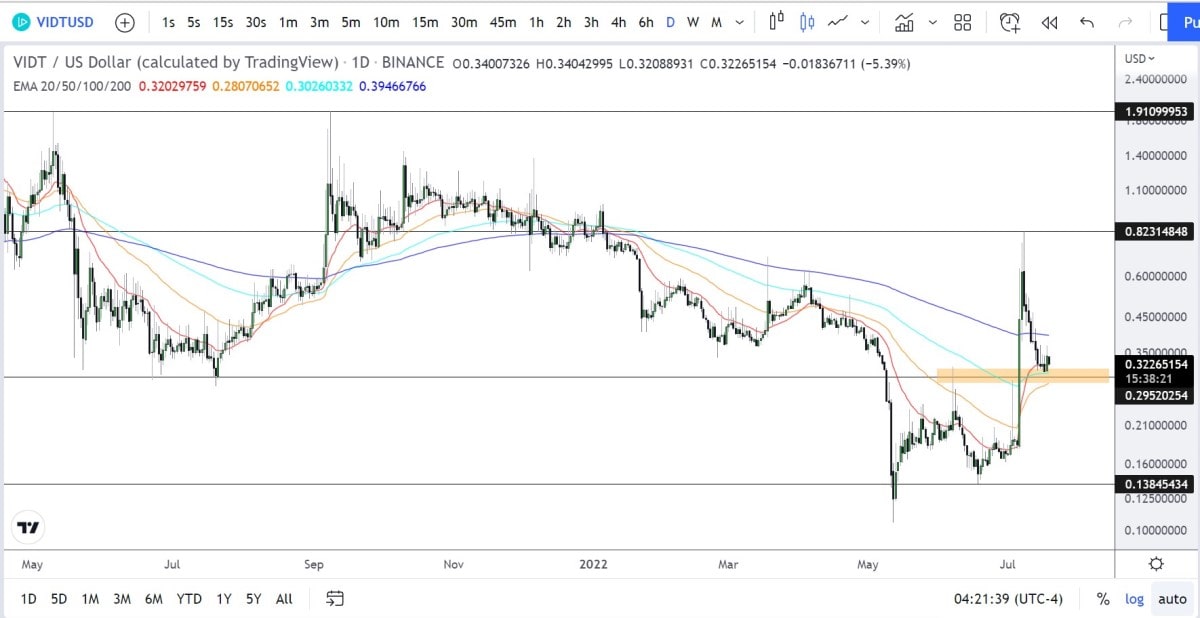 V-ID (VIDT) price prediction for 2022, 2025 and 2030
Below, we have collected VIDT price predictions from the most popular forecast platforms. 
DigitalCoinPrice V-ID Price Prediction for 2022, 2023, 2025 and 2030
DigitalCoinPrice estimates the VIDT token price to increase to $0.45 by the end of 2022. The V-ID (VIDT) might end 2023 at $0.51. The VIDT price prediction for 2024, 2025, 2027 and 2030 is estimated to be $0.62, $0.69, $0.63 and $0.92, respectively. 

WalletInvestor V-ID Price Prediction for 2022, 2027, 2025 and 2030
WalletInvestor estimates VIDT to be a bad investment option in the long term. According to the VIDT price predictions by WalletInvestor, the price per unit will fall by 80% by July 2023. This translates to a price point of around $0.0644.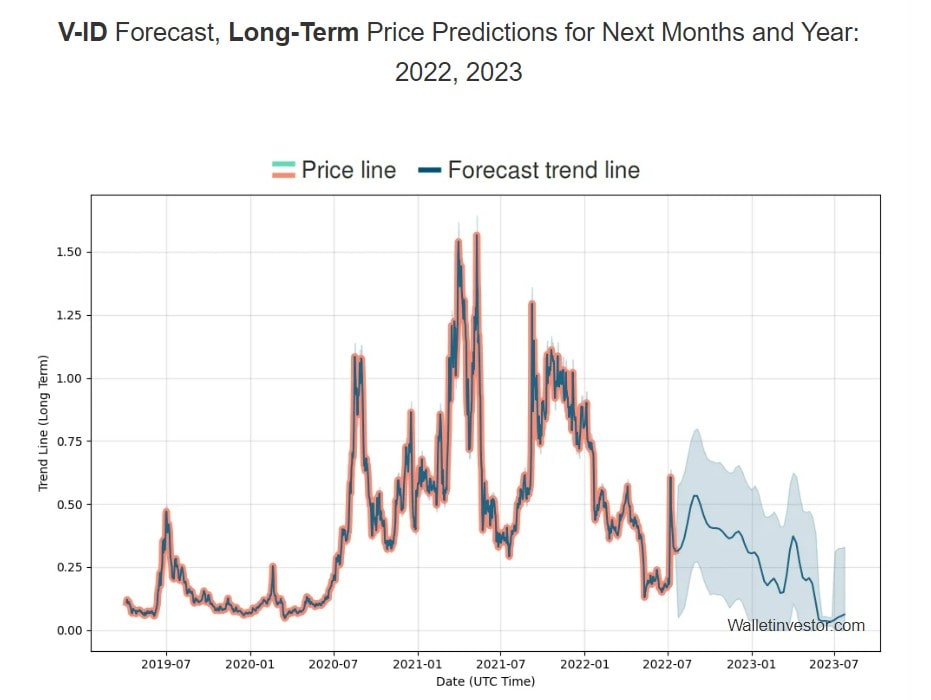 PricePrediction.net V-ID Price Prediction for 2022, 2023, 2027 and 2030
PricePrediction.net applies deep artificial intelligence-assisted analysis for making VIDT price predictions for the short and long term. Their estimates are based on such historical data as the past VIDt price, V-ID market cap, V-ID volume and a few more. 
Thus, PricePrediction.net estimates VIDT price can reach a maximum level of $0.46 with an average trading price of $0.41 in 2022. The VIDT price prediction for 2023 is set at $0.68 per unit and the average price of $0.59. PricePrediction.net forecasts the VIDT token price to reach the levels of $1.72, $2.43, and $6.83 in 2026, 2027 and 2030, respectively.
CoinCodex V-ID Price Prediction for 2022
According to the VIDT price prediction shared by CoinCodex, the current sentiment is bearish, with four technical analysis indicators signalling bullish signals and 26 bearish signalling signals. The value of V-ID is estimated to drop by -3.85% and reach $ 0.390447 by 26 February 2022. Based on the CoinCodex V-ID price prediction for 2022, now is a bad time to buy V-ID.
V-ID (VIDT) Future Value Predictions in General
There are divergent opinions about the VIDT price predictions for 2022 and beyond. The experts at PricePrediction.net estimate an upturn towards $0.56126. WalletInvestor forecasts V-ID to reach the level of $0.064 in one year.
How High Can V-ID Go?
VIDT and other cryptocurrencies are very volatile, and you never know what direction they will move in today by the end of the day or tomorrow. Many platforms and analysts predict that the VIDT price will continue to grow in the next three years, surpassing the $1.75 mark by the end of 2025.
As we have learned from the forecasts listed above, experts have different opinions about the V-ID (VIDT) token's future. Considering the most optimistic forecasts shared by PricePrediction.net, the VIDT price might reach $6.83 by 2030. 
VIDT Price Prediction Today
V-ID (VIDT) price predictions are rather contradictory. There isn't one universal consensus either about the positive or negative token price movements. The future growth of the VIDT price depends on such factors as the crypto environment in general, new technological solutions, legal position, etc.
The current VIDT price prediction is bearish. Many experts agree that VIDT might be a bad investment in 2022. However, it's important to consider the VIDT token's price history, on-chain activity and other fundamental factors before deciding whether or not you should invest in the V-ID token.
Remember to do your research before investing in VIDT or any other cryptocurrency.
Tags
Exchange BTC

Try our Bitcoin Cloud Miner and get additional crypto rewards based on your trading volume. It's immediately available upon registration.

Try our Bitcoin Cloud Miner and get additional crypto rewards based on your trading volume. It's immediately available upon registration.
Instrument
Rate
Change (24h)