When is the best time to buy Bitcoin?

With the rise in cryptocurrencies' popularity and adoption, more and more people are considering investing in them. This is especially true for the first and most famous cryptocurrency, Bitcoin, whose price changes affect the entire cryptocurrency market. So, the question "When is the best time to buy and sell Bitcoin?" is crucial for every crypto investor and trader.
What is Bitcoin?
Bitcoin is the world's first cryptocurrency, launched on 3 January 2009 by an anonymous developer known only by the pseudonym Satoshi Nakamoto. It's a blockchain-based decentralised payment system that doesn't require a third party to operate. Cryptographic methods are used in the system to ensure that it functions and is protected. At the same time, all information about transactions between system addresses is available to everyone.
The root problem with conventional currency is all the trust that's required to make it work. The central bank must be trusted not to debase the currency, but the history of fiat currencies is full of breaches of that trust. — Satoshi Nakamoto.
Payments between the two parties occur without intermediaries and are irreversible since there's no mechanism for cancelling a confirmed transaction. Nobody can block funds on a Bitcoin address, even temporarily, except for the person who knows the private key. Nevertheless, multi-signature technology allows a third party to be involved as an arbiter and to implement reversible transactions.
Bitcoin price history
BTC price statistics (as of 10/12/21)
| | |
| --- | --- |
| BTC current price | $42,164 |
| Market cap | $797,948,082,912 |
| Circulating supply | 18,924,781 BTC |
| Max supply | 21,000,000 BTC |
| Daily trading volume | $20,866,958,098 |
| All-time high | $68,789 (10/11/21) |
| All-time low | $0.00 (before September 2009) |
| Website | |
For over half a year after its creation, Bitcoin had no monetary value. The first exchange of Bitcoins for fiat money took place on 9 September 2009, when Marty Malmi sold 5050 Bitcoins for $5.02. The very first use of Bitcoin as a means of payment took place in May 2010. Laszlo Hanets from Florida bought two pizzas for 10,000 BTC, making these two pizzas the most expensive pizzas in history. Just two months after this event, Bitcoin trading was launched on the MtGox exchange.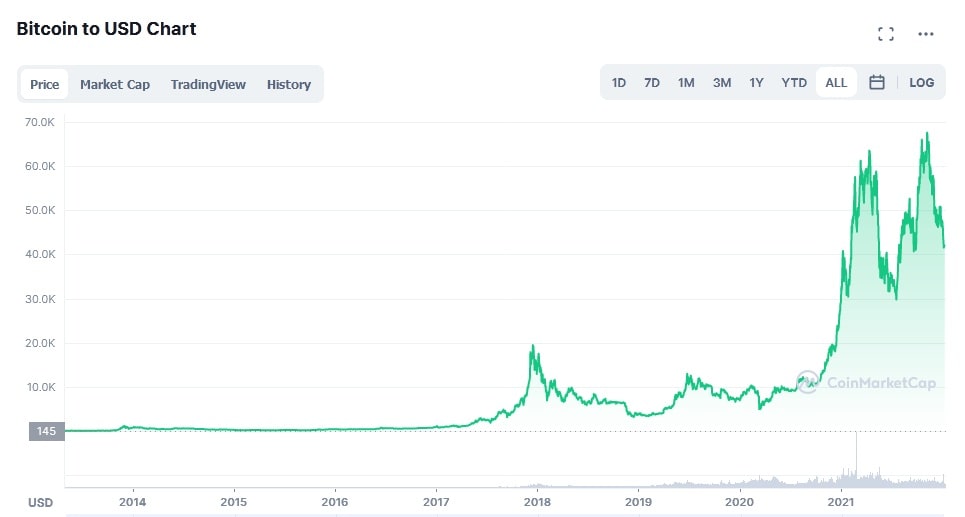 In February 2011, the price of Bitcoin exceeded $1 for the first time. Then in June, it exceeded $10. Soon after, the price entered a long period of stagnation. A new noticeable rise began in April 2013, the price of Bitcoin surpassed $100. In November of the same year, another wave of explosive price growth occurred, briefly exceeding $1,000, after which a period of decline began.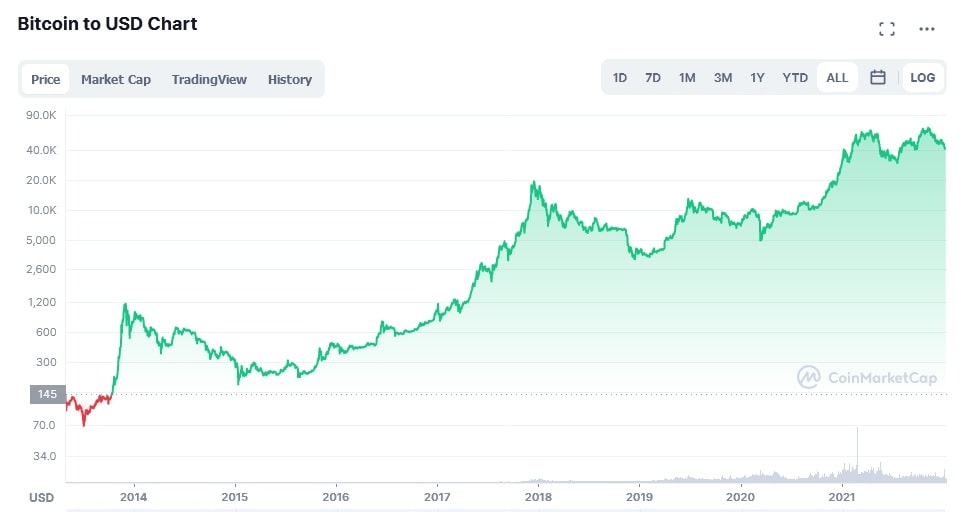 Bitcoin started to show steady growth again at the end of 2015. In February 2017, it broke through the previous all-time high and reached $19,665.39 on 18 December. After that, a long bearish trend began on the crypto market and lasted until the beginning of 2019. In the first half of 2019, the price was actively recovering, but it didn't reach the previous all-time high, and in the second half of the year, it experienced a decline again.
The bullish trend returned in early 2020 before being briefly interrupted by the panic on the cryptocurrency market in March and then quickly resuming. In December 2020, the Bitcoin price exceeded its all-time high and continued to rise.
On 13 March 2021, Bitcoin's price reached $63,503. After a summer correction that resulted in the price falling by more than two times, the growth continued. The price reached its current all-time high of $68,789 on 10 November.
Bitcoin price today
The current Bitcoin price is $42,164. Only time can tell if the current price decline is a temporary correction or the beginning of a new bearish trend.
When is the best time to buy and sell Bitcoin?
Most likely, everyone knows the rule of buying low, selling high. Therefore, the logical answer to the question "Should I buy Bitcoin when it's low?" is "Yes". But how can you tell if Bitcoin's current price is low or not? The problem is that no one really knows how much Bitcoin will be worth in the future. One can only assume with a certain probability using analysis. In any case, when deciding whether to buy or sell Bitcoin, remember the following important rules:
Although Bitcoin is a less risky asset than altcoins, it's still a high-risk investment. Don't invest more money in it than you can afford to lose.
Always do your own research. Create your own investment or trading strategy. Blind adherence to someone else's recommendations is highly likely to lead you to lose your money.
Control your emotions and never buy or sell under their influence. Many crypto investors have suffered losses since they bought under the influence of fear of missing out on profits and sold following the panic during the price fall.
When is the best time to buy?
Even if you consider Bitcoin to be a long-term investment and stick to a buy-and-hold strategy, it still makes sense not to buy if the price has recently skyrocketed but to do it during a correction.
If you're interested in short-term investments, or even more so in Bitcoin trading, then you can't do without technical analysis. In this case, you first need to identify the current trend. You need to determine the time frame of a trend depending on how long you plan to hold Bitcoins before selling.
If the price is in a bullish trend, the best time to buy would be to bounce off the trendline. If the trend is bearish, then the purchase should be made only when there are signs of an imminent trend change.
When is the best time to sell?
Many long-term investors use a simple principle to determine when to sell Bitcoins. They set the selling price in advance based on the analysis of the asset and their own approach to risk management and sell when the price has reached this level.
Short-term investors and traders have to resort to technical analysis again. Selling an asset in such cases during a bullish trend is usually carried out under the following conditions depending on the chosen trading or investing strategy:
Reaching a quite strong resistance line.
Signs of an imminent trend change.
The price hits a psychological threshold, such as a round number.
The bear market is generally unfavourable for long trades, especially for beginners. Of course, you can make money with long trades in a bear market, but investing and trading in that environment carry increased risks.
Should I buy Bitcoin today?
The answer to this question depends on the investment strategy you choose. As for the near-term prospects for Bitcoin's price, it has recently dropped below several important support levels, and there's a risk of its further fall. If the price drops below $40,000, the closest strong support level is $29,000.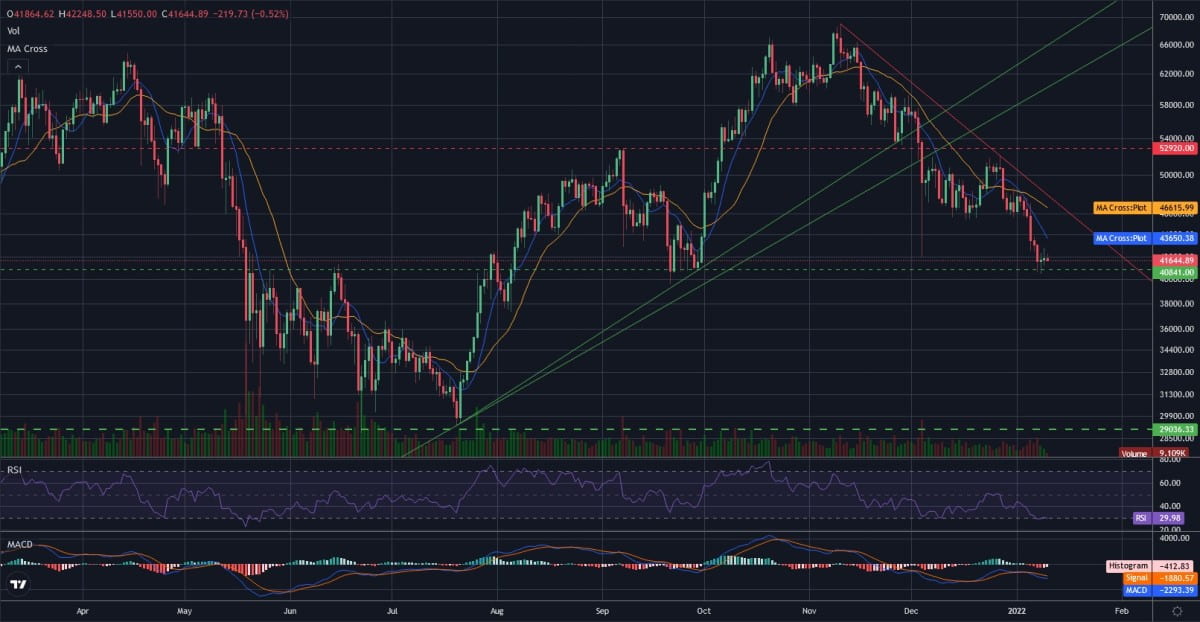 Tags
Exchange BTC

Try our Bitcoin Cloud Miner and get additional crypto rewards based on your trading volume. It's immediately available upon registration.

Try our Bitcoin Cloud Miner and get additional crypto rewards based on your trading volume. It's immediately available upon registration.
Instrument
Rate
Change (24h)