Voyager (VGX) Price Prediction 2023, 2025 and 2030

Voyager, a former leading player in the cryptocurrency exchange platform, experienced a significant rise to fame. Its native digital currency, VGX, witnessed an impressive surge, multiplying its value by ten within six months since its introduction. During the cryptocurrency boom of 2021, the Voyager (VGX) token reaped substantial benefits. However, the market downturn in 2022 took a toll on its performance. This article delves into the details of Voyager's crypto platform, explores the recent bankruptcy and takeover rumours, and offers insights from analysts on the Voyager (VGX) price prediction.
What is Voyager (VGX)?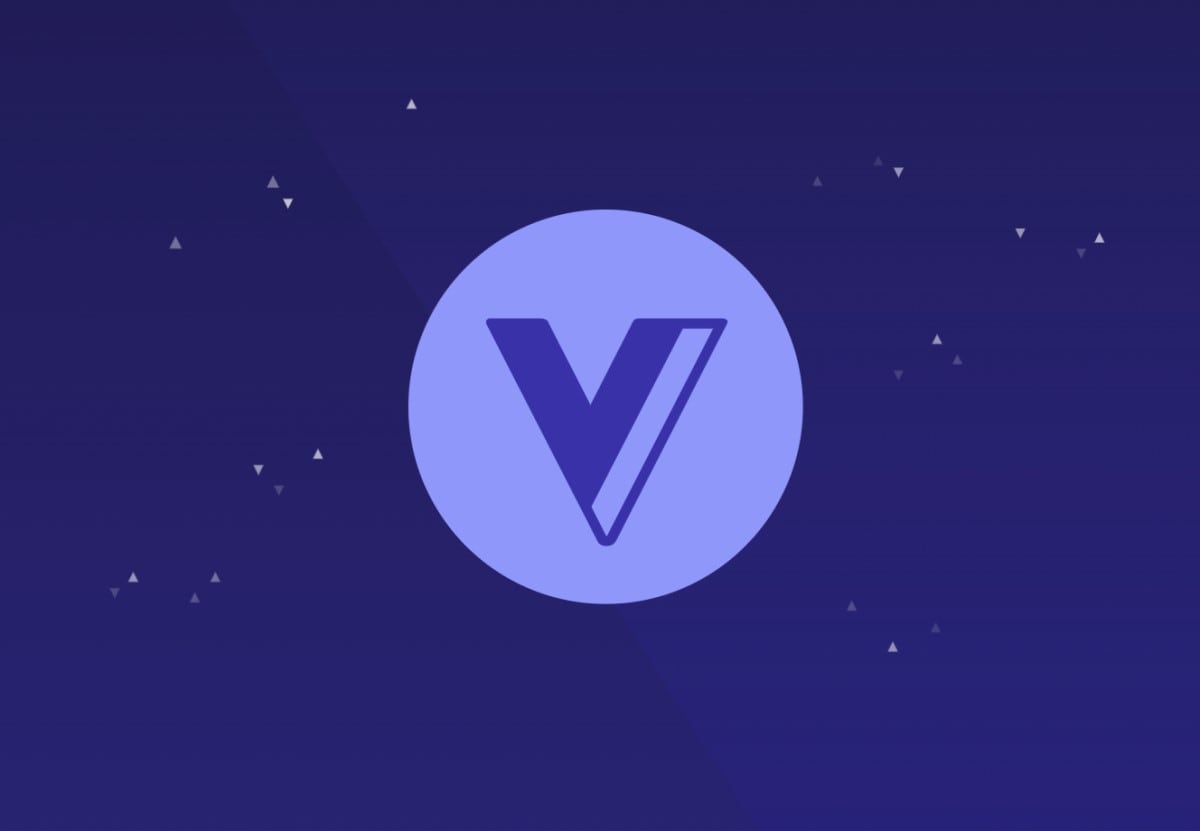 Voyager aimed to introduce the concept of brokerage from traditional finance into the realm of cryptocurrencies. It offers a secure investment opportunity in a diverse range of digital currencies. The key element of Voyager's platform is its "smart order-routing technology," which seamlessly connects the brokerage to over 10 different cryptocurrency exchanges.
Since its launch in 2018, Voyager has curated a portfolio of more than 100 cryptocurrencies. Its user-friendly mobile application and dedicated debit card have attracted individual and institutional investors. Crypto Trading Technologies serves as the parent company for this brokerage platform. It boasts a team of four founders, including Stephen Ehrlich, a seasoned expert in brokerage; Philip Eytan, a former analyst at Morgan Stanley; Gaspard de Dreuzy, who previously advised Warner Music; and Oscar Salazar, the pioneering architect behind Uber.
Now, let's delve into the Voyager token's (VGX) history, functions, and VGX price predictions. 
VGX History
Voyager, an American cryptocurrency platform, was established in 2017 by a group of experienced individuals in the finance and technology industries. Among the founders are Stephen Ehrlich, the CEO, Philip Eytan, the chairman, and Gaspard de Dreuzy, who has been involved in various other tech ventures.
The company primarily focuses on empowering and serving investors in cryptocurrency, which they consider the most thrilling asset class to date. Voyager's mission is to provide every investor with a trusted and secure gateway to crypto asset trading. They pride themselves on delivering top-notch customer service, unparalleled access to popular assets, and commission-free trading.
Voyager is a publicly traded company, and since 2021, it has been listed on the Toronto Stock Exchange (TSX) under the ticker symbol VOYG. Through its mobile application, the platform offers over 100 digital assets for users to purchase. Additionally, customers can earn rewards of up to 12% annually on more than 40 cryptocurrencies.
As part of their ecosystem, Voyager introduced their cryptocurrency, the Voyager Token (VGX). The purpose of VGX is to reward loyal Voyager customers. Initially, the token was based on the Ethos Token launched in 2017. In 2019, Voyager acquired Ethos.io and integrated its team, technology, and native token into their platform.
Prior to 2020, Voyager operated with a multi-token system. However, in 2020, they transitioned to a new model known as VGX 2.0, which consolidated their native tokens into a single token. The VGX coin is built on the Ethereum blockchain as an ERC-20 cryptocurrency.
Voyager Whitepaper
As outlined in the project's white paper, Voyager leverages the VGX 2.0 token to enhance the adoption and functionality of the platform. In addition, the company has ambitious plans to introduce additional features, such as a debit card and offerings in decentralised finance (DeFi). In this expanded ecosystem, customers who deploy and stake VGX 2.0 through the platform or web portal will play a crucial role in powering rewards, as stated in the whitepaper.
By holding the VGX token, users can earn staking rewards of 7% and further increase their earnings by participating in the Voyager Loyalty Program.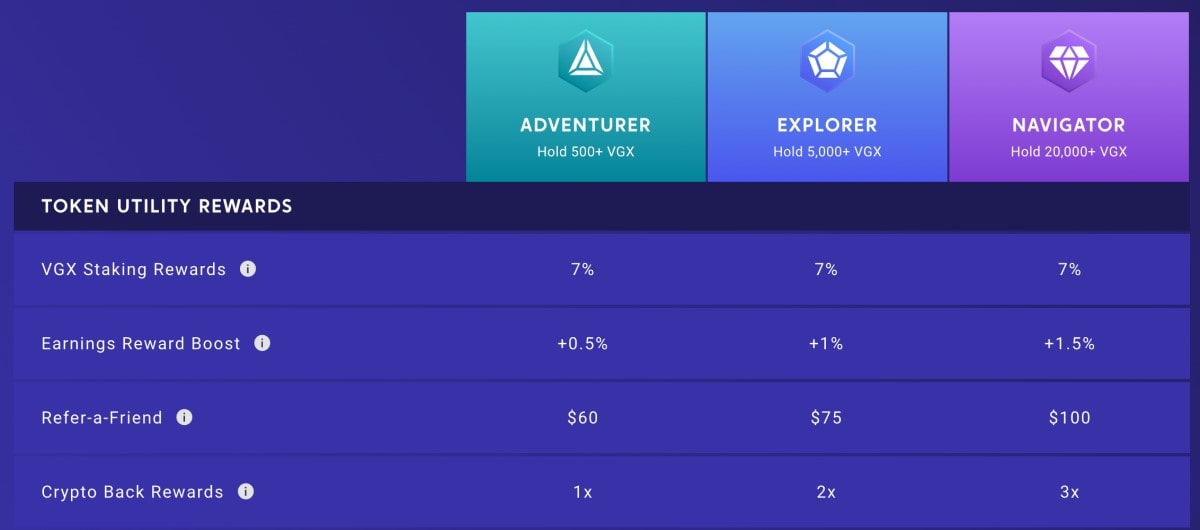 Voyager addresses several problems prevalent in the cryptocurrency market:
Simplifying crypto trading. The process of buying and trading cryptocurrencies can be complex and confusing. Voyager tackles this challenge by offering an easy-to-use app that simplifies and automates advanced crypto trading, staking, and earning rewards. 
Price discrepancies and volatility. Unlike traditional stock trading, the crypto market lacks a centralised National Best Bid and Offer system, leading to price discrepancies across exchanges. Additionally, crypto exchanges often have thin order books, making them susceptible to price volatility and slippage. Voyager overcomes these issues by connecting to multiple exchanges and liquidity providers. 
Bridging traditional and crypto assets. The crypto asset ecosystem is currently separated from traditional assets, resulting in a lengthy and challenging process to convert fiat currencies into cryptocurrencies and vice versa. Voyager aims to build a bridge between real-world assets, equity markets, and cryptocurrencies. They envision a future of fungibility between crypto assets and the legacy market powered by the VGX token.
All-in-one destination. Voyager distinguishes itself from other platforms that require users to convert fiat to cryptocurrencies on one platform and then transfer those assets to another platform to acquire different cryptocurrencies or earn competitive yield rates. Voyager provides users with an all-in-one destination. It offers a convenient fiat on-ramp and off-ramp, an extensive selection of alternative cryptocurrencies (altcoins), and a Yield Reward programme that empowers crypto investors to gain broader access to the crypto market.
VGX Benefits
Voyager (VGX) offers numerous advantages, making it an attractive choice for cryptocurrency enthusiasts. One of its standout features is its user-friendly interface, which empowers users to manage their crypto investments across multiple platforms efficiently. In addition, users can easily access, monitor, and control multiple accounts on different exchanges, enhancing their trading experience.
Passive rewards. VGX provides users with opportunities to earn rewards through various channels. Users can stake their tokens using the network's decentralised finance (DeFi) capabilities, allowing them to participate in earning potential while maintaining ownership of their digital assets. 
Cashback. Voyager users enjoy the additional benefit of receiving cashback on all their trades. This unique system incentivises active market participation and enhances liquidity. 
Diverse trading options. Traders have access to more than 60 cryptocurrencies to trade on the Voyager network. 
FDIC-insured protection. Users of the Voyager Token exchange enjoy the significant advantage of having access to FDIC-insured fiat accounts. Like a local bank, funds held in a Voyager account are fully insured up to $250,000. 
Voyager (VGX) Price Analysis
When writing this Voyager (VGX) price prediction on 24 May 2023, the token's price was $0.141483 with a daily trading volume of $4,452,309. Voyager (VGX) ranked #431 on CoinMarketCap, with a live market cap of $39,400,374, a circulating supply of 278,482,214 VGX and a maximum supply of 279,387,971 VGX.
Voyager (VGX) price statistics (as of 24/05/23)
| | |
| --- | --- |
| VGX current price | $0.141483 |
| Market cap | $39,400,374 |
| Circulating supply | 278,482,214 VGX |
| Max supply | 279,387,971 VGX |
| Daily trading volume | $4,452,309 |
| All-time high | $12.54 (05/01/18) |
| All-time low | $0.01699 (26/12/19) |
| Website | |
VGX token price history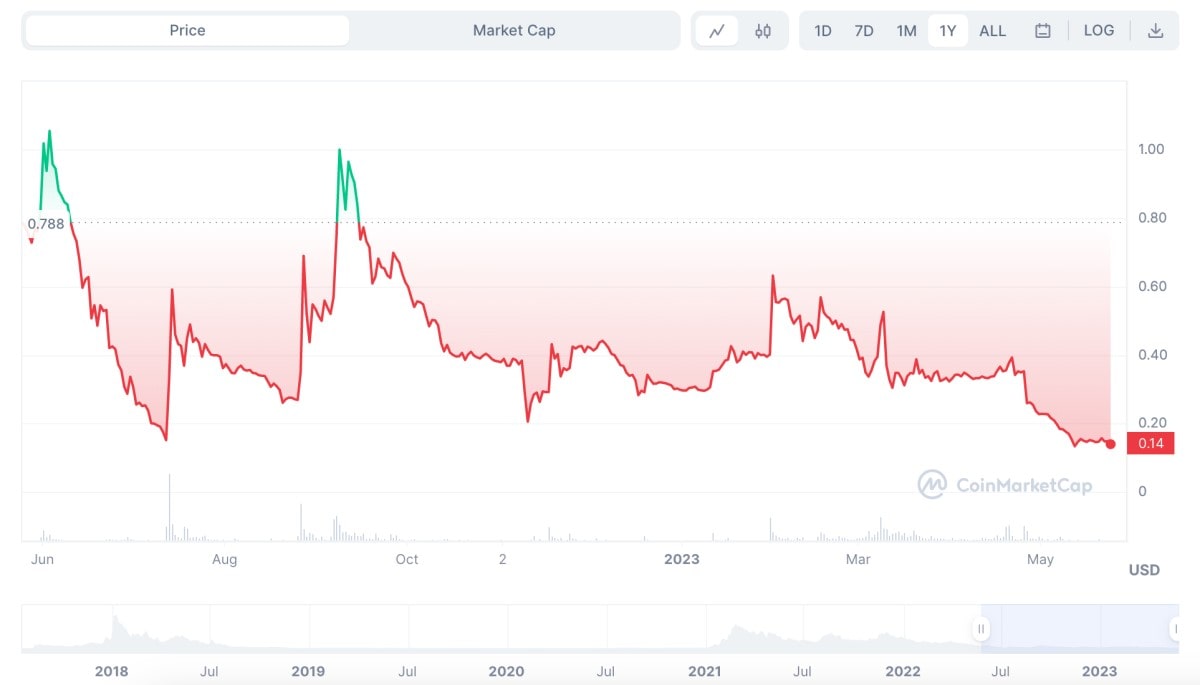 The Voyager Token (VGX) debuted on 18 July 2017, launching for $0.06. Its value fluctuated between the initial launch price and $1.25 for the rest of the year. The token experienced a significant surge in early 2018, during a bullish period in the crypto market. On 5 January 2018, it reached its all-time high of $12.54.
Following its peak, the token underwent a correction and maintained a price level of around $4 for the following month. In early March 2018, VGX briefly surpassed $5, but its value declined throughout the rest of the month, dropping to $2.

Towards the end of 2020, the Voyager Token (VGX) initiated a rally that continued into a breakout in 2021. The upward momentum of VGX persisted, reaching a peak of $6.90 on 20 February 2021, just a day after listing the Uniswap token on the platform. On 1 March 2021, VGX experienced another surge, peaking at $6.97, driven by the brokerage's announcement of new interest rates. 
On 1 May 2021, the platform unveiled a loyalty programme for VGX holders, causing the token to come close to $5 as investors became eligible for various rewards based on their Voyager Token holdings.
However, VGX struggled to maintain its momentum and experienced a decline, falling below $2 in July. Nonetheless, August proved to be an eventful month for the brokerage. On 4 August 2021, Voyager acquired the cryptocurrency payment provider Coinify and incorporated the new Ethereum hard fork. 
A new update was introduced on 20 August 2021 for the brokerage's token, VGX. VGX 2.0 aimed to increase platform traffic by offering enhanced rewards and incentives. The culmination of Voyager's August news was marked by VGX reaching a peak of $4.67 on the day the new token was launched. Following this peak, VGX experienced a period of waiting until its next surge, which occurred towards the end of the year. On 16 November 2021, Voyager announced the release of its debit card, granting early access to consumers. This new card allowed users to spend at locations accepting Mastercard while earning cryptocurrency interest. Just six days later, VGX surpassed the $5 mark once again.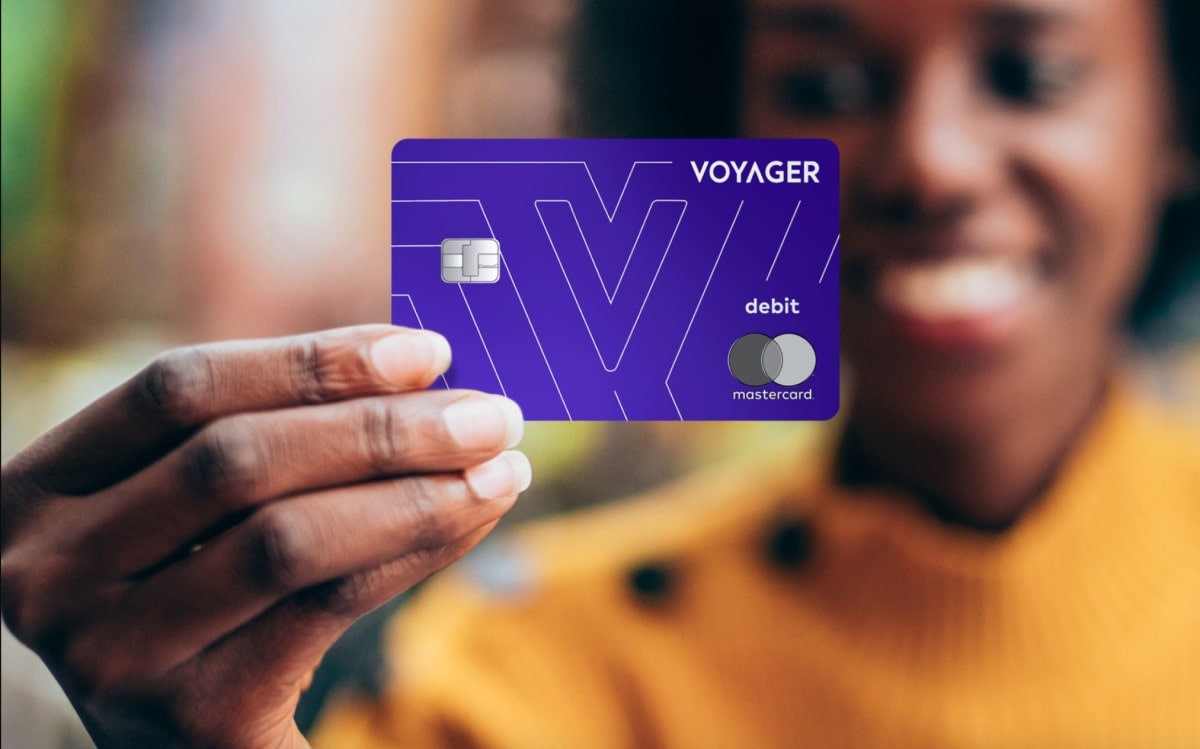 However, VGX has since struggled to come close to that level. By the end of December 2021, it had dropped below $3; in January 2022, it fell below $2. The downward trend continued on 12 May 2022, when the coin traded at a low of $0.5895. Despite this, a few days later, Voyager Digital (VOYG) received some positive news as it raised $60 million in a private placement offering led by Alameda Research. Voyager Digital also disclosed its revenue and user metrics for the 31 March 2022 quarter, reporting a 70% increase in revenue from $60.4 million to $102.7 million.
Unfortunately, the cryptocurrency market crashes have impacted both the VGX token and the firms associated with the Voyager platform. On 27 June, Voyager announced that it had issued a default notice to Three Arrows Capital (3AC) for failing to meet the required loan payments. The Voyager loan taken by 3AC included 15,250 BTC and $350 million in USDC. A press release stated that Voyager intends to pursue recovery from 3AC and is currently discussing the available legal remedies with the company's advisors.
At the time of writing this Voyager (VGX) token price prediction, the value of Voyager Token stands at $0.141483. Over the past 24 hours, there has been a 1.72% increase in the price of Voyager Token. However, in the preceding 30 days, VGX has experienced a significant drop of 57.50%, erasing $0.20231 from its previous value of $0.351844. This ongoing downtrend indicates that Voyager Token is currently in a dip. Looking at the last 3 months, the price of Voyager Token has plummeted by 70.86%, reducing its previous value of $0.513156 by $0.363622.
VGX technical analysis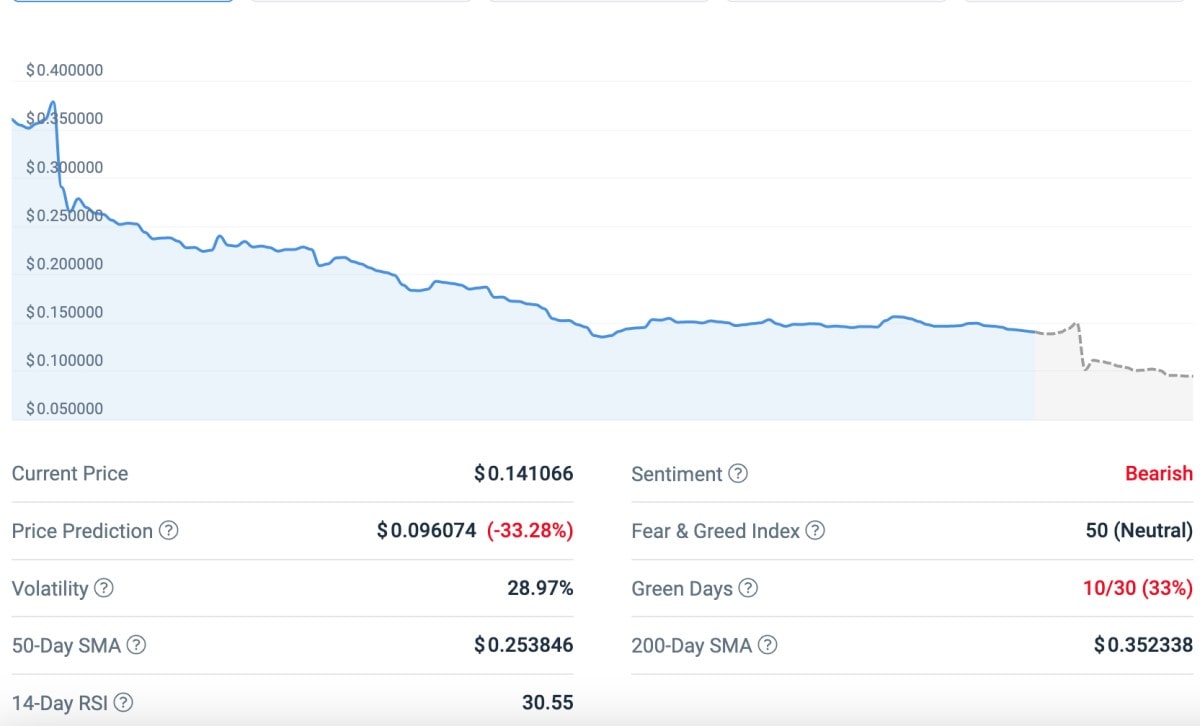 According to the latest data as of 24 May 2023, the overall sentiment regarding the Voyager token price prediction is pessimistic. Technical analysis indicators show that there are no bullish signals, while 30 indicators indicate bearish signals. Voyager Token is currently traded below the 200-day simple moving average (SMA). The 200-day SMA has consistently indicated a sell trend starting from 9 March 2023.
Voyager predictions 2023
According to DigitalCoinPrice's VGX price prediction, the price of Voyager Token is anticipated to surpass the threshold of $0.14. By this year's end, the minimum price for Voyager Token is expected to be $0.12. Furthermore, VGX's price could reach a maximum level of $0.31. Cryptocurrency investors and holders must know the Voyager token price prediction for 2023.
Is Voyager token a good investment?
According to numerous experts and traders, Voyager Token has garnered praise as a promising investment over an extended period. Its value has increased, instilling confidence that investing in Voyager Token will yield a favourable return.
Voyager (VGX) price prediction 2023-2050
WalletInvestor VGX token price prediction for 2023, 2025, 2030, 2040 and 2050
WalletInvestor's VGX token price prediction indicates a potential decline in the token's value in the long term. Their projection suggests VGX's price may reach $0.02 within a year. However, their Voyager crypto price prediction for 2025 indicates a possible increase, with the token potentially rising to $0.04 at the beginning of that year.
CoinCodex VGX price prediction for 2023, 2025, 2030, 2040 and 2050
Based on CoinCodex's Voyager token price prediction, there is an anticipated decrease of -33.28% in the value of Voyager Token, leading it to reach $0.096074 by 29 May 2023. Looking ahead, our VGX price prediction for 2026 stands at $8.57.
DigitalCoinPrice Voyager price prediction for 2023, 2025, 2030, 2040 and 2050
DigitalCoinPrice's Voyager crypto price prediction presents a comparatively more optimistic outlook. Their analysis suggests that the coin could have an average value of $0.39 in 2022 and $0.73 in 2023, based on historical data and trends. Furthermore, their projection indicates a slight upward trajectory, with the coin potentially reaching $1.40 in 2025. Looking further into the future, their Voyager token price prediction for 2030 suggests that the coin could reach a value of $4.51.
Price Prediction VGX price prediction for 2023, 2025, 2030, 2040 and 2050
PricePrediction's VGX price prediction portrayed a more bullish stance when considering the longer-term outlook. Their VGX price prediction indicates that the coin could have an average value of $0.36 in 2022 and $1.03 in 2025. Looking further ahead, their projection suggests a climb in value, with the coin potentially reaching $6.74 by 2030.
Voyager future forecast in general
The VGX crypto price prediction relies on historical prices and predictive data modelling algorithms. It's important to note that no Voyager token forecast can guarantee 100% accuracy due to the inherent volatility of the crypto market. Investment advice and projected future prices are always subject to change. It is impossible to predict the Voyager token's price projection for the upcoming years with complete certainty, despite average prices, valuations, and intrinsic values being displayed.
However, Voyager price predictions can serve as a helpful tool to enhance the decision-making process. It is crucial to practice proper risk management. It's important to emphasise that this information does not constitute financial advice, and the success of any investment system relies on various factors such as risk exposure and market fluctuations. Traders and investors should conduct their research and exercise caution when using any forecasting system.
How high can the VGX coin go?
Several platforms and analysts believe that the price of Voyager Token will experience continued growth over the next five years, potentially exceeding the $0.81 threshold by the conclusion of 2025. While this price target may appear ambitious, it is important to acknowledge the inherent volatility of VGX and other cryptocurrencies, as they tend to change direction unexpectedly.
VGX price prediction today
There are indications that the cryptocurrency market is on the verge of entering a new era. There is a strong belief that VGX's long-term price prediction will experience a significant surge, as there is an optimistic outlook for increased attention towards the currency. By the end of 2023, it is projected that VGX could have an average price of $0.18, with a minimum value of $0.18. The maximum price is expected to reach approximately $0.21 in trading.
Tags
Exchange BTC

Try our Bitcoin Cloud Miner and get additional crypto rewards based on your trading volume. It's immediately available upon registration.

Try our Bitcoin Cloud Miner and get additional crypto rewards based on your trading volume. It's immediately available upon registration.