What is PancakeSwap, and how to use it?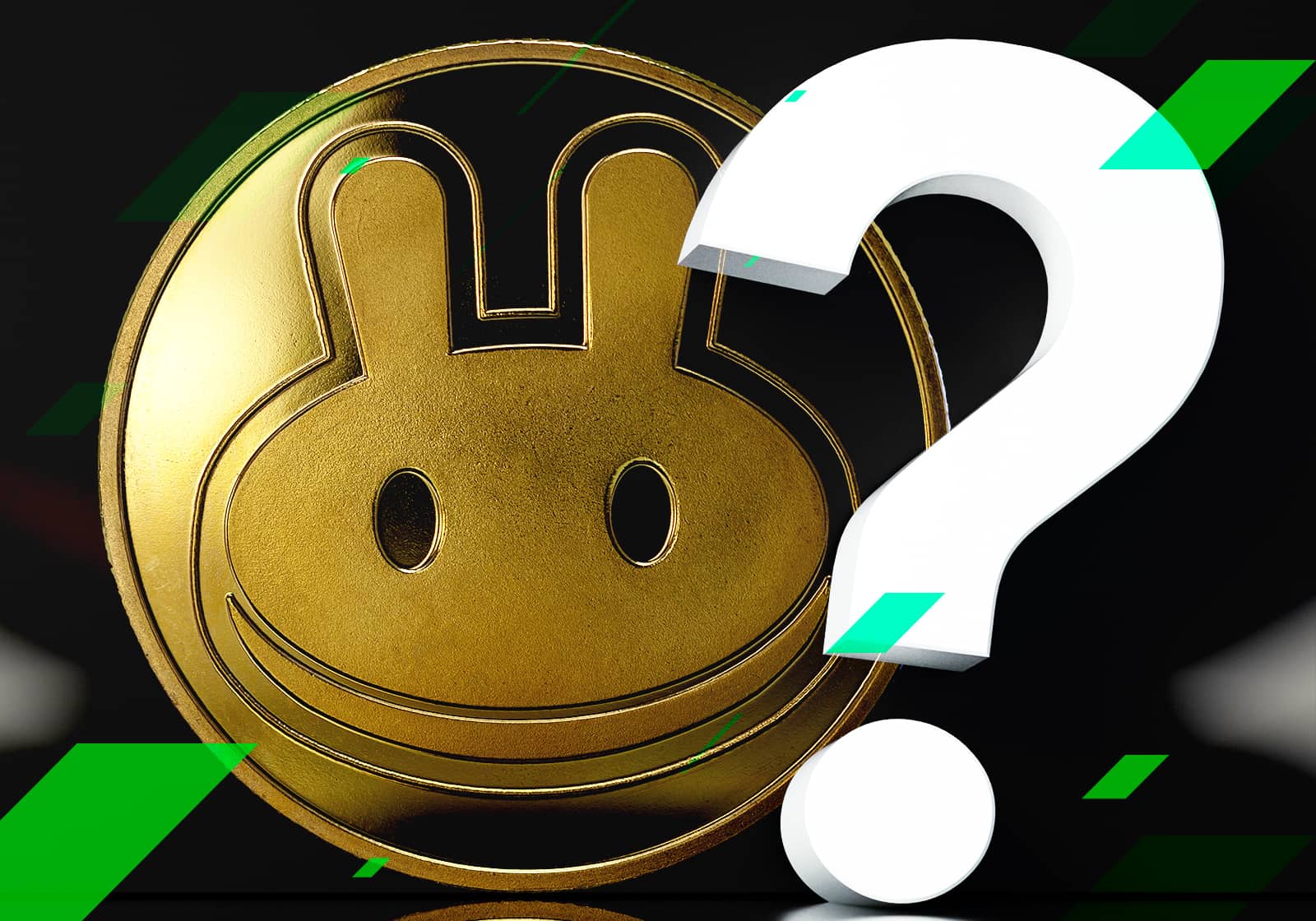 Although decentralised exchanges are relatively less popular than traditional crypto exchanges, they're gradually gaining users. One such exchange is PancakeSwap, a young project that has quickly become popular. Users often ask questions like: "What is PancakeSwap?", "How to use PancakeSwap?" or "How can I resolve issues that arise when working with this exchange?" In this article, we'll answer those and other questions related to PancakeSwap.
What is PancakeSwap?
PancakeSwap is a decentralised exchange (DEX). What's a DEX, you might ask? It's a peer-to-peer trading platform where transactions take place directly between traders. Compare that to centralised crypto exchanges, where trading takes place through an intermediary, which is a legal entity, i.e., the crypto exchange itself. 
Many DEXs, such as Uniswap and SushiSwap, are based on Ethereum. However, unlike those exchanges, PancakeSwap is based on the Binance Smart Chain blockchain, which allows PancakeSwap's users to trade BEP-20 tokens.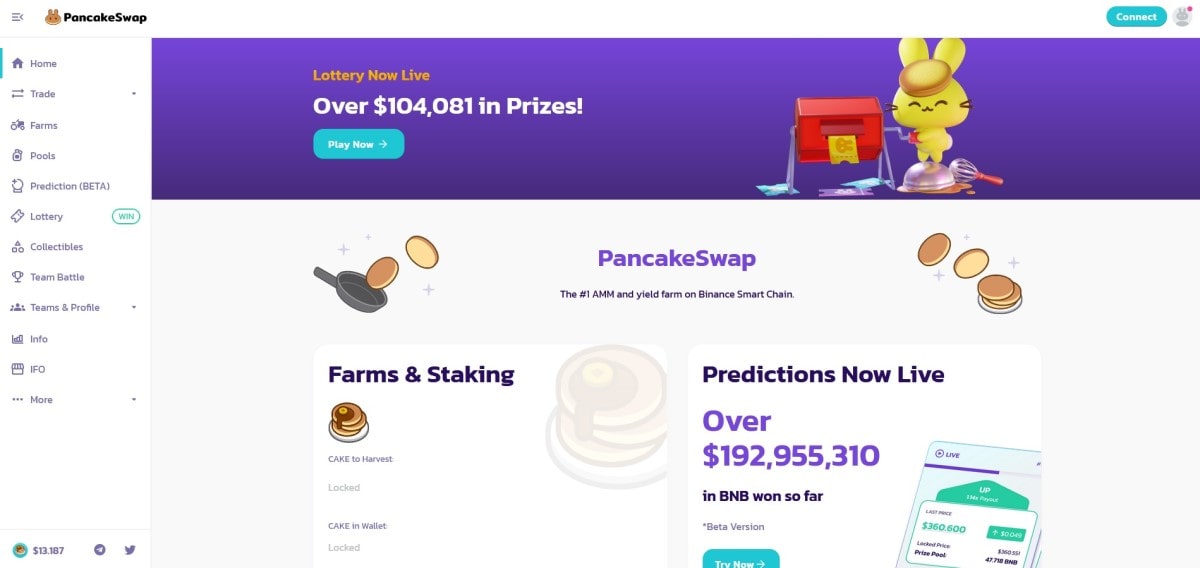 The PancakeSwap exchange
PancakeSwap was created by anonymous developers and officially launched on 20 September 2020. The platform began to quickly gain popularity, not least because of Ethereum's increased price, followed by the rise in fees on Ethereum-based decentralised exchanges. A hacker attack in mid-March 2021 slowed down PancakeSwap's rapid growth, although it didn't ruin the platform's popularity. PancakeSwap is currently ranked second in terms of daily trading volume in CoinGecko's decentralised exchange rankings.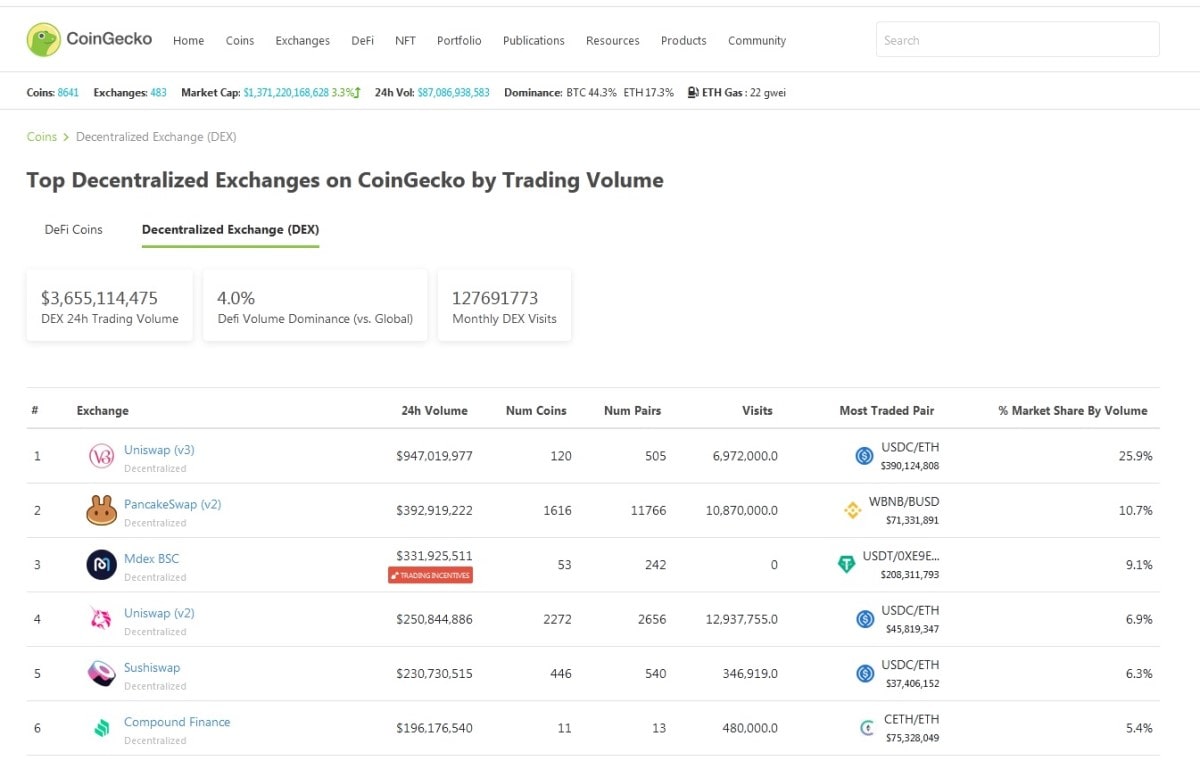 Like many other DEXs, PancakeSwap uses an Automated Market Maker (AMM) mechanism that relies on user-maintained liquidity pools to enable cryptocurrency trading. However, instead of dealing with an order book and looking for someone else who wants to exchange the tokens they have for the ones they need, traders exchange tokens with a liquidity pool.
Liquidity pools, in turn, are filled by users who lock their tokens in these pools using smart contracts. This means that, unlike centralised exchanges, where trading takes place between traders, transactions on PancakeSwap take place between a trader and a liquidity pool. When traders make an exchange, they pay a commission of 0.25%, of which 0.17% is paid to liquidity providers, 0.03% goes to the project budget, and 0.05% goes towards CAKE buyback and burn. This allows traders to exchange tokens and users who store their coins in the pool to receive rewards.
PancakeSwap also has several other features:
Farming CAKE tokens using LP tokens received for providing liquidity
Staking CAKE tokens
CAKE lottery
Initial Farm Offerings (IFO), which are a new model for ICOs
PancakeSwap's token (CAKE)
The CAKE token is PancakeSwap's native token and is based on the BEP-20 standard. Its main function is to incentivise the provision of liquidity to the PancakeSwap platform, but it also has several other uses on the platform, such as staking, voting on developing PancakeSwap's ecosystem, participating in the lottery, etc.
CAKE token statistics (as of 23/07/21)
| | |
| --- | --- |
| Market rank | 32 |
| Current price | $12.95 |
| Market cap | $2,581,332,493 |
| Circulating supply | 199,225,037.81 CAKE |
| Max supply | Unlimited |
| Daily trading volume | $335,771,381 |
| All-time high | $44.18 (30/04/21) |
| All-time low | $0.198 (03/11/20) |
| Website | |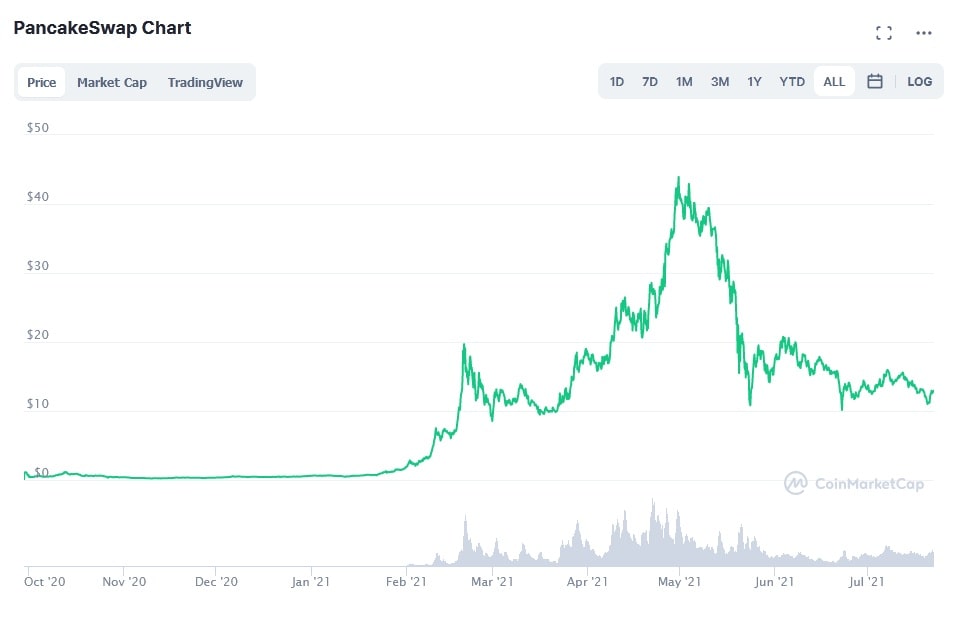 PancakeSwap's advantages and disadvantages
The PancakeSwap platform has several advantages and disadvantages.
Advantages:
No registration or verification procedures are required. This makes it getting started on the platform quicker, and the user remains anonymous.
It has lower fees and faster transactions compared to decentralised exchanges based on the Ethereum network.
To carry out transactions, users don't need to transfer tokens to an account on the exchange; they just need to connect a wallet.
In addition to trading, the platform provides other opportunities for earning money, such as staking, farming and others.
Users can participate in the platform's governance and determine its future through voting.
The platform is developing rapidly.
The exchange has been audited by the cybersecurity company CertiK.
Disadvantages:
As a decentralised exchange, it's more difficult to use and isn't well suited for beginners.
The exchange operates autonomously through smart contracts, so possible errors in their code can lead to various problems.
How to use PancakeSwap
Now let's go over the basics of working with this platform.
To use PancakeSwap, you need to connect your crypto wallet to it. PancakeSwap works with the following wallets: Metamask, TrustWallet, MathWallet, TokenPocket, WalletConnect, Binance Chain Wallet, SafePal Wallet and Coin98 Wallet. To connect a wallet, click the 'Connect' button in the top right corner. A pop-up window will appear with a list of wallets and a link to connection instructions.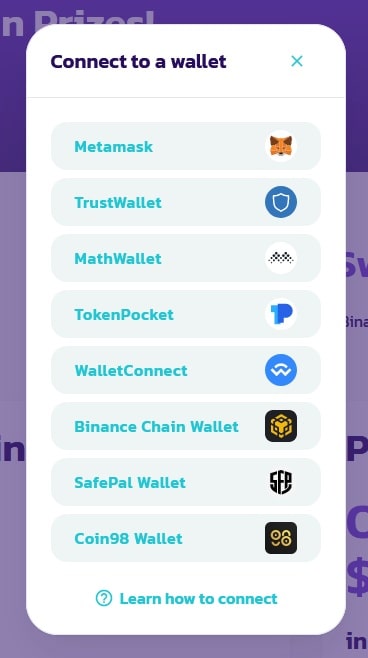 Exchanging tokens
It's pretty easy to exchange tokens on PancakeSwap. Just go to the sidebar menu and click 'Trade' 🡪'Exchange', select the token you want to exchange and the one you want to receive and make the exchange. To complete the transaction, confirm it in your wallet.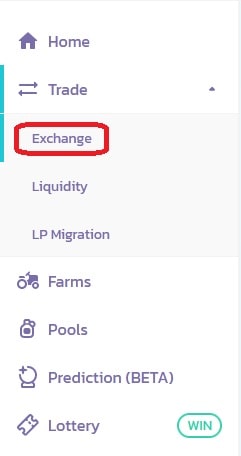 Providing liquidity
To provide liquidity, click 'Trade' 🡪'Liquidity' in the sidebar, then click 'Add Liquidity' in the pop-up window. After that, specify the pair of tokens you'll deposit to provide liquidity. After confirming the transaction, you'll earn LP tokens corresponding to the pair you provided.

Farming
To farm, click 'Farms' in the sidebar and select a farm for your LP tokens. Next, specify the amount to farm and confirm the operation.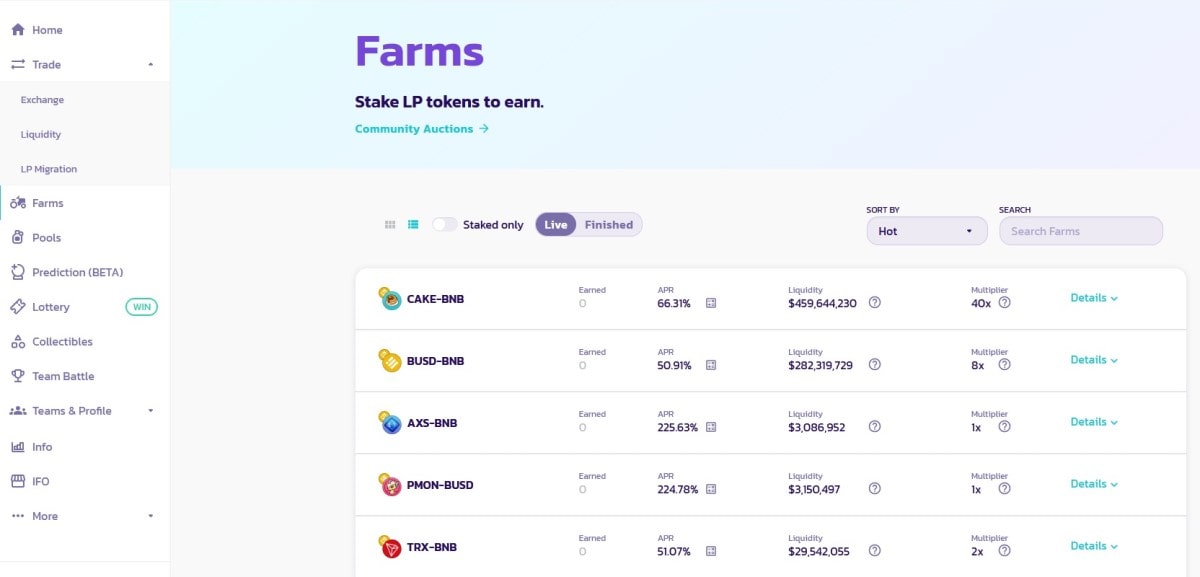 Staking
You need to have CAKE tokens to perform staking. To start staking, click 'Pools' in the sidebar, select the pool you want and then send CAKE tokens to the selected pool. The resulting profit can be withdrawn (the 'Harvest' option) or reinvested (the 'Compound' option).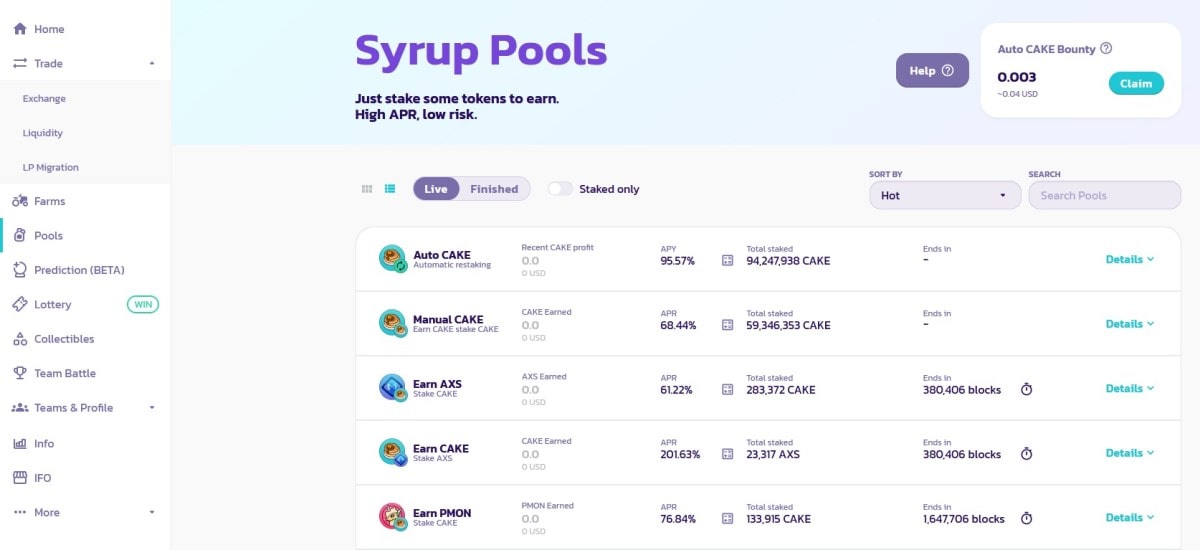 Common problems
Here are some of the problems most commonly encountered when using PancakeSwap and how to resolve them.
PancakeSwap error: no provider was found
This happens when you try to connect a wallet using your browser but haven't installed the required extension. To solve this problem, install the official browser extension to connect.
PancakeSwap error: unsupported chain id
Switch your chain to Binance Smart Chain. Check your wallet's documentation for a guide if you need help.
PancakeSwap error: insufficient output amount
This error means there aren't enough of the tokens you want to exchange in the liquidity pool. To solve this problem, either refresh the page and try again later or try exchanging a lower amount. You can also go to settings and increase your slippage tolerance a little, then try again.
PancakeSwap error: price impact too high
The reason is low liquidity. Try trading a smaller amount or increasing the slippage tolerance in the settings window and try again.
Tags
Exchange BTC

Try our Bitcoin Cloud Miner and get additional crypto rewards based on your trading volume. It's immediately available upon registration.

Try our Bitcoin Cloud Miner and get additional crypto rewards based on your trading volume. It's immediately available upon registration.
Instrument
Rate
Change (24h)