Axie Infinity (AXS) Price Prediction 2023-2040

Online video games based on NFTs (non-fungible tokens) aren't a novel concept. In fact, they've been around since 2017. However, Axie Infinity, which currently boasts a market capitalisation exceeding $1 billion, is a game-changer in the industry with its innovative gameplay and mechanics that make it unique in NFT-based online games. Axie Infinity has gained attention from investors in the gaming and blockchain space, who are eager to find out the Axie Price prediction for 2023 and beyond and whether Axie Infinity is a good investment. This article provides Axie Infinity (AXS) price predictions from the top analytical platforms. We'll also discover whether AXS can record new all-time highs.
What is Axie Infinity (AXS)?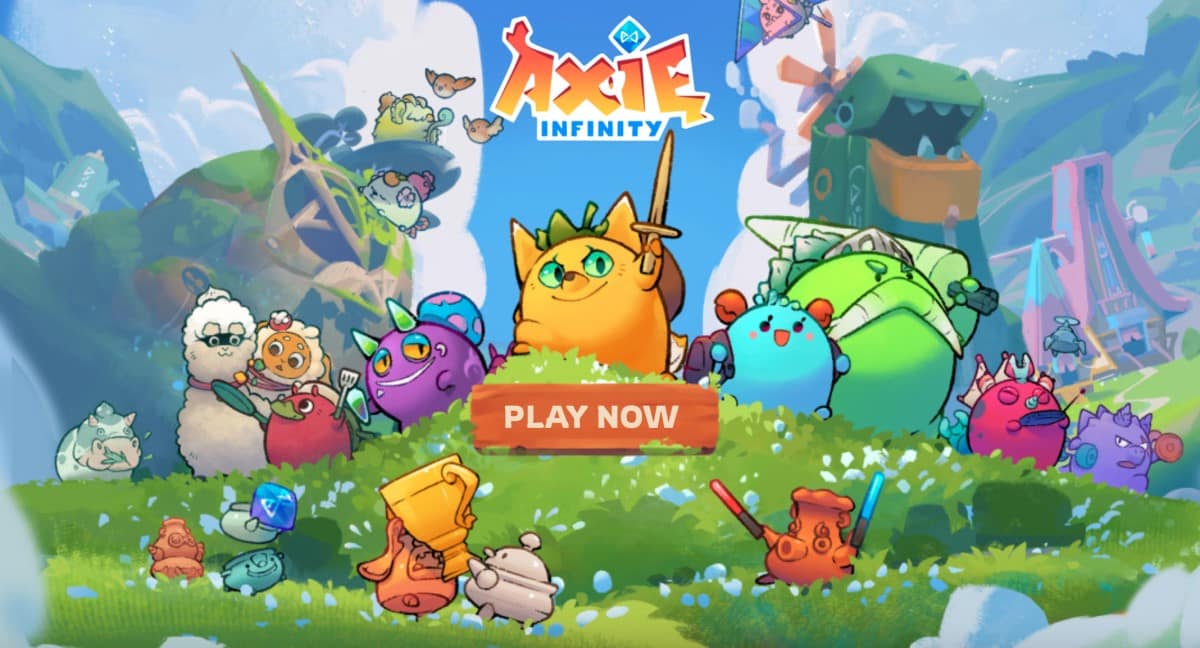 Axie Infinity is a ground-breaking game that rewards players with cryptocurrency, enabling them to earn money while having fun. Its unique features and innovative gameplay have made it a popular choice for players worldwide. The use of NFTs and the blockchain technology underlying Axie Infinity's platform indicates this industry's potential.
Axie Infinity (AXS) is a unique cryptocurrency that powers a game metaverse operating on the Play-to-Earn principle. Players can enhance their characters, battle with other players, mine resources, and earn AXS. The Axie Infinity Marketplace is a dedicated platform where players can buy and sell game items. The entire platform is built on the Ethereum blockchain, with full deployment on the Ronin sidechain. The blockchain and sidechain are connected via a cross-chain bridge.
AXS is a token used in a blockchain-based game that enables players to collect and build using cryptocurrency. Players can earn AXS by playing the game, and the tokens can be traded on selected crypto exchanges. Non-fungible token (NFT) games, such as monster-battle games, have become increasingly popular worldwide, potentially boosting the overall growth of the Axie ecosystem and Ethereum.
AXS History
Sky Mavis, a Vietnam-based technology-focused game developer, created Axie Infinity in 2018. Trung Nguyen and Aleksander Larsen co-founded the platform.
Trung Nguyen, who holds a BS in computer software engineering, is the current CEO of Axie Infinity. Before founding it, he was a software engineer at Anduin Transactions.
Aleksander Larsen, a former competitive gamer, is also a co-founder and the COO of Axie Infinity. Larsen has been working in blockchain gaming since 2017 and previously served as the executive security officer for the Norwegian Government Security Organization. He still serves as Secretary of the Board of Directors at the Blockchain Game Alliance.
The Axie Infinity team comprises 25 full-time employees, most of whom have experience with game development.
Axie Infinity White Paper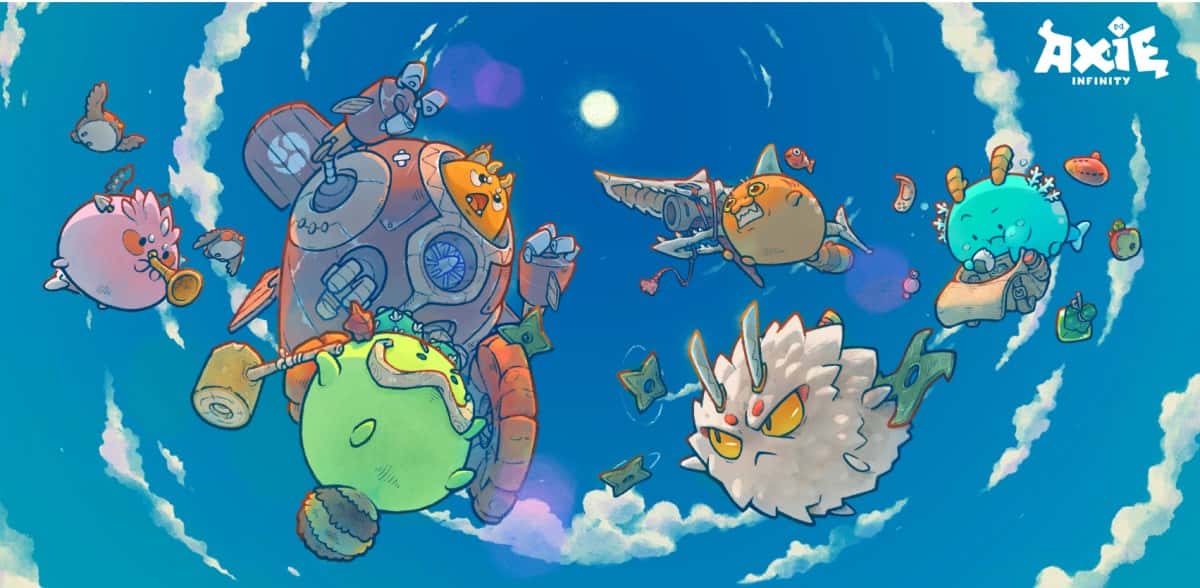 According to the official Axie Infinity white paper, Axie Infinity distinguishes itself from traditional games by leveraging blockchain technology to create complex player-owned economies that reward skilled players. They can have fun and aim for ambitious goals while earning valuable resources that have real-world monetary value, thanks to an open economic system and demand from other players. This is also known as the Play-to-Earn model.
Axie Infinity offers players a unique gaming experience that goes beyond just entertainment. Players can earn resources and real-world value by engaging in activities such as battling, breeding, collecting, and creating content related to the game. The underlying blockchain technology enables a dynamic and rewarding gaming environment, motivating players to improve their skills and invest in the ecosystem. The Axie Infinity project's ultimate goal is to create an ecosystem of exceptional Axie gaming experiences, with community and player-owned economies at the core. By achieving this goal, they seek to grant property rights to all internet users, beginning with gamers.
AXS Use Cases
The primary use of the AXS token in Axie Infinity is for breeding new Axies. However, the team has plans to add more functionality to the token, including staking rewards where holders can earn a portion of the AXS inflation. Another upcoming feature is decentralised governance, where AXS stakers will have a say in the platform's development decisions. By late 2023, it's expected that Sky Mavis will no longer have the 
majority vote.
Holders of AXS may also be required to participate in future Axie, Land or item sales. The most popular trading pairs for the tokens are AXS to ETH, SLP to ETH and SLP to PHP.
AXS Benefits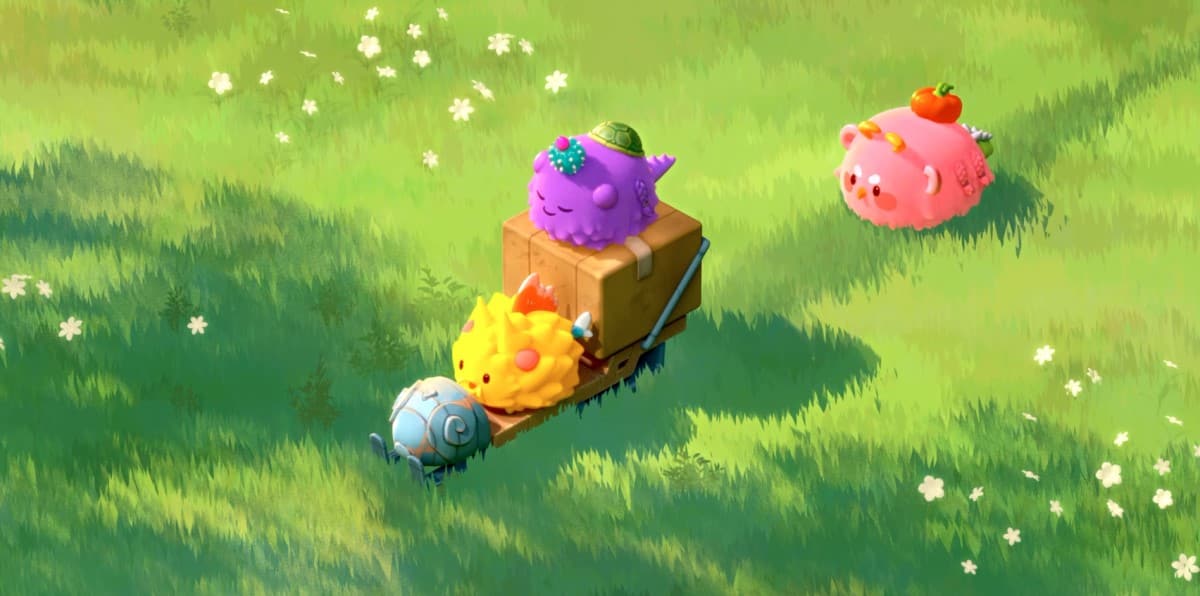 The Axie Infinity universe represents a new era of gaming and entertainment and a commitment to social responsibility by creating employment opportunities and fostering a strong community. Users can buy native Axies from the marketplace, collect them, and use them across many games within the Axie universe.
The creation of the Axie Infinity protocol has also highlighted the benefits of blockchain technology beyond just finance. Designed to address various bottlenecks in finance, AXS has the potential to empower and expedite lives. The protocol has also overcome the challenge of data accessibility that often plagues blockchain technology by offering efficient data transfer that ensures smooth gaming experiences and fast transactions. This highlights its important role in the digital ecosystem.
Axie Infinity (AXS) Price Analysis
When writing this Axie Infinity (AXS) price prediction on 25 February 2023, the token price was $9.80. The trading volume in the last 24 hours was $99,013,395. This represents a decline of 6.10% in price in the last 24 hours and a drop of 7.40% in price in the last seven days. With a circulating supply of 120 million AXS tokens, the current market capitalisation of Axie Infinity is $1,094,902,414.
Axie Infinity (AXS) price statistics (as of 25/02/23)
| | |
| --- | --- |
| Current price | $9.80 |
| Market capitalisation | $1,094,902,414 |
| Circulating supply | 111,752,500 AXS |
| Maximum supply | 270,000,000 AXS |
| Daily trading volume | $99,013,395 |
| All-time high | $165.37 (06/11/2021) |
| All-time low | $0.1234 (06/11/2020) |
| Website | |
AXS Price History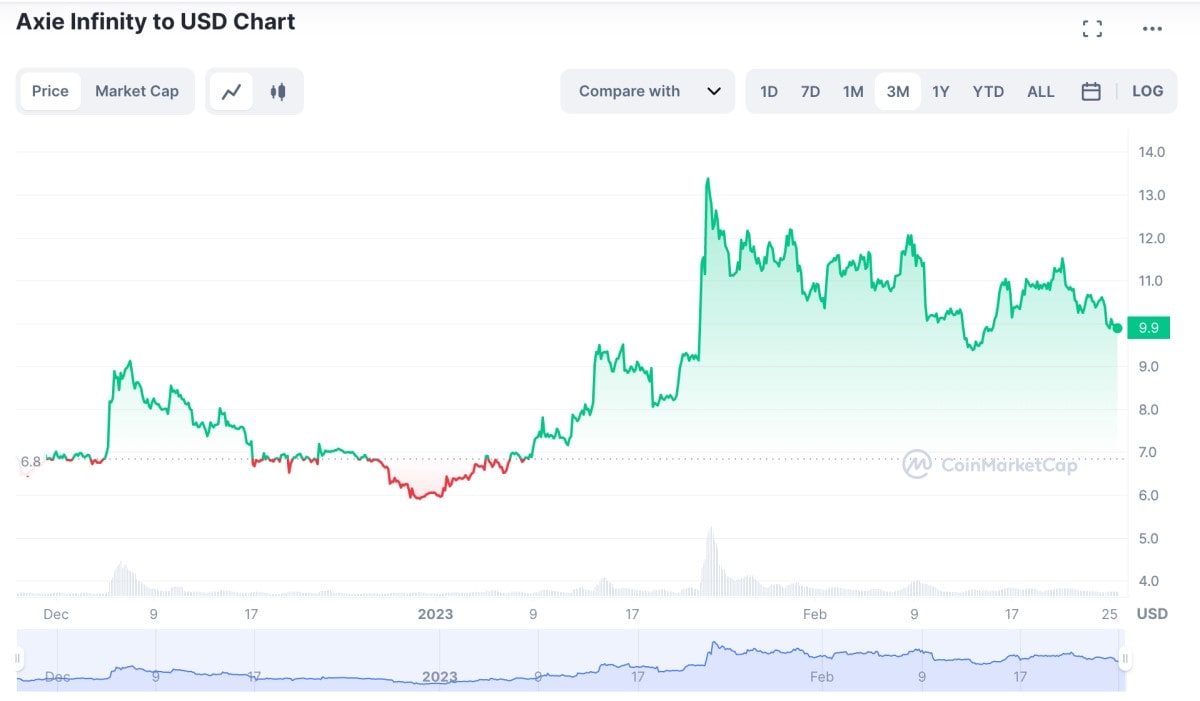 Now, let's have a glance at the price history of AXS. Although past performance should never be considered a guarantee for future outcomes, being aware of what the token has accomplished in the past can provide us with valuable context for interpreting or making an Axie Infinity price prediction.
AXS was initially valued at around $0.18 when it first hit the open market in November 2020. However, it experienced a surge during the early 2021 crypto boom and peaked at $10.85 on 28 April 2020. It later declined as the market slumped during the summer but rebounded after news of Bitcoin (BTC) reaching record levels and growing interest in play-to-earn, the Metaverse and NFTs. This led to an all-time high of $160.36, which proved unsustainable, and by the end of the year, it had fallen back to $93.30.
Although Axie Infinity had a great year in 2021, 2022 wasn't as successful. AXS reached its peak of $97.78 on 3 January, but its value declined to $42.11 after 24 February 2022. It slightly recovered to $74.37 on 25 March but continued to decrease due to the Ronin hack and several market crashes, reaching a low of $11.92 on 18 June 2022.
Despite a brief recovery, AXS faced a challenging period in 2022 due to factors such as the Ronin hack and market crashes. The collapse of the FTX exchange further contributed to the turmoil in the market, causing AXS to drop to a low of $5.84 on 9 November. However, it made a small recovery and reached a high of $9.54 on 6 December before falling down again. As of 19 December 2022, the token was worth around $6.95, with approximately 99.6 million AXS circulating out of a total supply of 270 million. This gave AXS a market cap of around $690 million, ranking it the 53rd-largest cryptocurrency by market capitalisation. 
AXS Technical Analysis
Axie Infinity has made a remarkable recovery with a market cap of $1,196,533,123 and a trading volume of $255,365,742. The current price of AXS stands at around $11.84, with an all-time high of $165.37 and an all-time low of $0.1234. The circulating supply of AXS is currently at 101,043,121 tokens.
The founders of Axie Infinity are optimistic about the mass adoption of their platform, and their technical analysis suggests promising outcomes for its fans.
However, the technical analysis also shows that AXS tokens have traded bearishly, with a significant correction after hitting an all-time high. Despite this, the future price of Axie Infinity (AXS) is expected to recover steadily over time.
Is Axie Infinity a Good Investment?
Axie Infinity has recently demonstrated significant potential, indicating a possible investment opportunity. Over the past month, AXS has experienced an impressive 32.35% price increase, resulting in an average raise of $3.55 to its current value.
The outlook for Axie Infinity's price is optimistic, with projections indicating a possible bull trend in the near future. However, we encourage individuals to conduct their research before investing in any asset.
Axie Infinity (AXS) Price Prediction 2023-2040
Many experts believe that the price of Axie Infinity is expected to increase shortly due to two main factors. Firstly, the blockchain technology behind Axie Infinity is highly robust and continues to gain popularity. Secondly, the Axie Infinity team has a strong track record of fulfilling their promises and building trust and confidence among investors and users.
While cryptocurrency investment has no guarantees, all signs point to significant growth potential for Axie Infinity. If you're looking for a project with a solid foundation and great potential, Axie Infinity should be on your radar.
The project's dedication to innovation and community-driven initiatives, coupled with the growing demand for blockchain-based gaming experiences, makes Axie Infinity an exciting investment opportunity for those who believe in the future of decentralised economies.
WalletInvestor AXS Price Prediction for 2023, 2025, 2030 and 2040
According to Wallet Investor's prediction, Axie Infinity (AXS) is expected to experience a significant drop in price throughout 2023, with a forecasted value of $0.687 by mid-December. This prediction is quite bearish compared to other sources, so investors should be cautious and conduct their own research before making any investment decisions.
CoinsKid AXS Crypto Price Prediction for 2023, 2025, 2030 and 2040
CoinsKid's AXS token price prediction suggests that the cryptocurrency could reach $10.61 by December 2023 and $13.60 by December 2024. According to their prediction, AXS could begin 2025 at $16.17 and potentially close the year at around $20.98. The prediction further states that the token could close 2026 at $19.19. However, it's important to note that these are only predictions, and the actual price of AXS could vary depending on different factors.
CoinCodex Axie Infinity (AXS) Price Prediction for 2023, 2025, 2030 and 2040
CoinCodex's latest Axie Infinity price prediction suggests a potential drop of -11.93% with an estimated value of $8.69 by 2 March 2023. The technical indicators currently show a Bearish sentiment, while the Fear & Greed Index indicates a Neutral sentiment with a score of 52. Over the last 30 days, Axie Infinity recorded 14 out of 30 (47%) green days and exhibited 5.61% price volatility. Based on the Axie Infinity forecast, it's not recommended to buy Axie Infinity at this time.
In the best-case scenario, the price prediction for 2026 could reach $428.84. However, if it follows the growth of the internet, the forecasted value for 2026 would be $49.20.
Long Forecast Axie Infinity Price Prediction for 2023, 2025, 2030 and 2040
According to Long Forecast's predictions, Axie Infinity's (AXS) price is expected to start at $9.64 in March 2023, with a maximum of $11.36 and a minimum of $7.96 for that month. The forecast for the end of 2023 is $7.57. For February 2024, the predicted price is $10.18, while for March 2025, it's expected to average $9.88. By March 2027, the forecast is for AXS to reach $12.03.
DigitalCoinPrice AXS Price Prediction for 2023, 2025, 2030 and 2040
According to DigitalCoinPrice, the value of AXS could reach $16.50 in 2023, and by 2024, it could potentially rise to $24.44. The website predicts that in 2025, the cryptocurrency could be worth $30.15 and remain at that value throughout 2026 before rising again to reach $35.64 in 2027 and $49.99 in 2028. DigitalCoinPrice also suggests that the cryptocurrency could close the decade at $69.75.
Axie Infinity Future Forecast in General
Several factors can influence the price of AXS, including the overall condition of the crypto market, competition from other GameFi startups, and the internal policies of the Axie Infinity development team. The crypto market's general condition has the most significant influence on AXS price. AXS tends to be more volatile than other coins, meaning it can experience faster price growth during an uptrend but deeper price drops during a downtrend. Additionally, competition from other GameFi platforms and the emergence of new, more appealing platforms with stronger security can affect the demand for AXS.
How High Can AXS Coin Go?
Based on current trends and expert analysis, it's possible that the average price of Axie Infinity could reach $15.10 by the end of the year. Looking at a five-year plan, the cryptocurrency could rise to $65.96. It's important to remember that the cryptocurrency market can be unpredictable and subject to sudden price fluctuations, so it's important to conduct thorough research and carefully consider the risks before investing in any project, network or asset.
AXS Price Prediction Today
According to recent data, the current price of Axie Infinity is $9.80, and it's ranked 50 in the crypto market (according to CoinMarketCap). With a significant increase of 32.35% in its price over the last month, Axie Infinity has shown strong potential and may present a good investment opportunity. If this growth continues, the coin could become a valuable asset in the future.
Tags
Exchange BTC

Try our Bitcoin Cloud Miner and get additional crypto rewards based on your trading volume. It's immediately available upon registration.

Try our Bitcoin Cloud Miner and get additional crypto rewards based on your trading volume. It's immediately available upon registration.