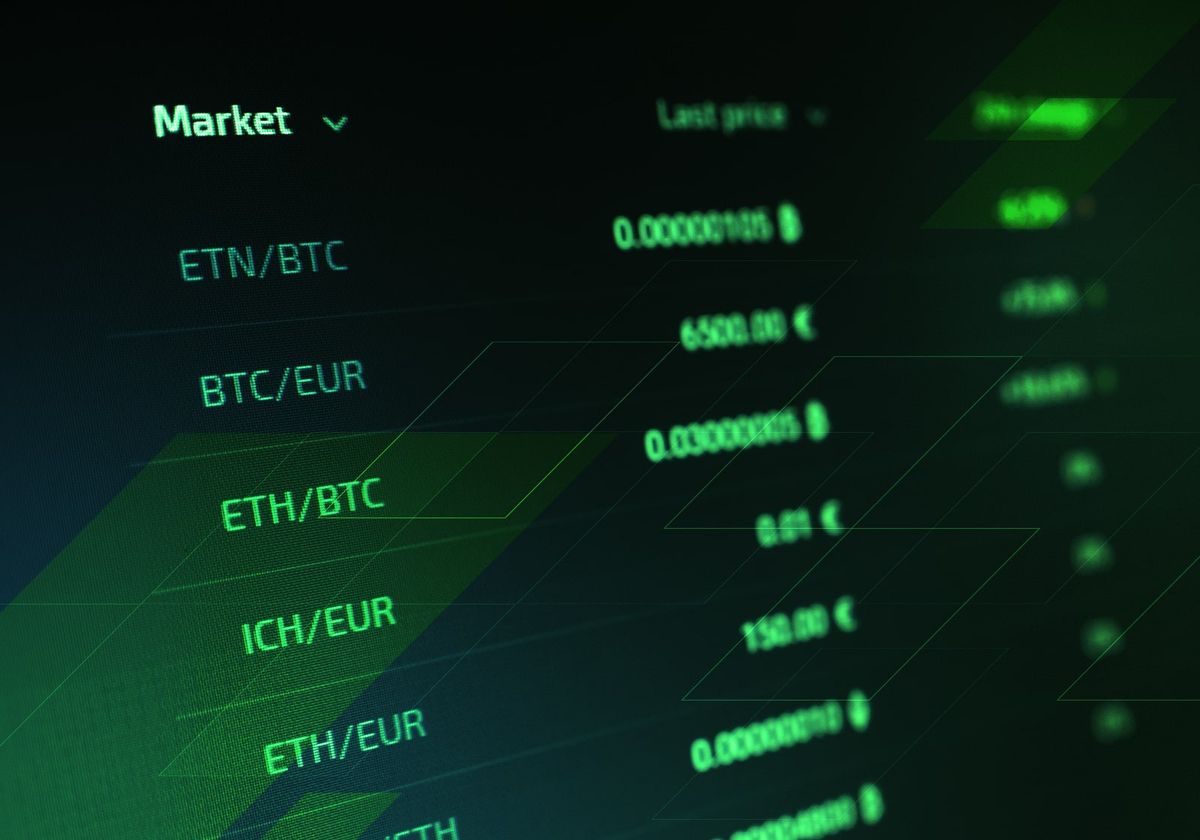 Best Cryptocurrency Pairs to Trade
The cryptocurrency market consists of more than 2,000 assets with different prices, trading volumes, capitalization and popularity. For example, you may find that the most valuable asset is 42-coin, which has an exchange rate of around $20,000. However, it is not suitable for trading. The main reason that this coin is not listed on many exchanges is that it has low liquidity.
You may thus realise that among some 2,000 assets, only a dozen of them are actually used for trading. Therefore, what are the best cryptocurrency pairs to trade? How do you choose them correctly? Take a look below.
How do you choose the best crypto trading pairs?
All traders only enter the market after performing a big analysis. First, they do the fundamental analysis of a few cryptocurrencies to choose an asset that should bring them the highest profit. Then, they make a technical analysis of cryptocurrency pairs to understand trends and the market behaviour.
However, a fundamental and technical analysis won't allow you to begin trading. You have to choose the best trading pair. It seems simple, but if you choose the wrong pair, your will only make a small profit or even lose.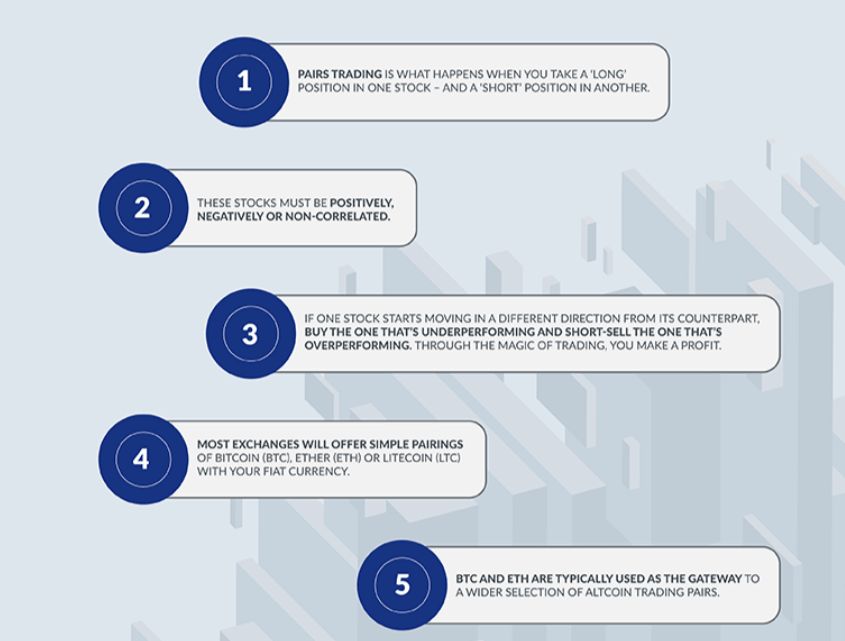 First, you have to analyse which pairs are popular on most exchanges. As usual, we can see many orders with the 'coin to USD' pair. Speaking about crypto pairs, the most popular are BTC/ETH, BTC/LTC, USDT/BTC, ETH/LTC and a few others.
These pairs are popular because there is global demand for Bitcoin, Ethereum, Litecoin, and other parallel cryptocurrencies. Therefore, traders can easily find buyers at the right moment.
Check out the trading volume of different cryptocurrencies and then look for their connection with other assets. It is the best way to find good trading pairs on the market if you don't want to trade Bitcoin, Ethereum or Bitcoin Cash.
What about liquidity?
Liquidity is the main factor that affects the choice of cryptocurrency pair trading. This refers to the possibility of assets to be sold quickly. The higher the liquidity, the more opportunities you will have on the market. Moreover, it defines the profit you could gain from each deal.
Liquidity is not only about the speed of closing the order, but also about low risks. Thus, if you always have buyers, you won't lose on the bearish trend. Moreover, you won't need to establish a low exchange rate to make an asset attractive to buyers.
The demand for a cryptocurrency usually affects its liquidity. This is why BTC, LTC, ETH, USDT, BCH, BNB and some other assets are the main choices for the best cryptocurrency pairs.
What base currency should you use?
Everyone in the world has heard about Bitcoin. Although this cryptocurrency is not the best from a technical point of view, it is one of the best for trading. This is simply because most people want to buy Bitcoin.
That is the reason why the best base currency to use for most pairings is Bitcoin. Even Coinmarketcap gives an exchange rate to Bitcoin for every cryptocurrency. BTC is listed on all exchanges, so if it is in your pairing, you will have many trading opportunities.
Ethereum is also good choice for trading pairs. It is almost as popular as Bitcoin, and the main reason for that is Ethereum platform's smart contracts. ETH therefore has great demand around the world, and you can thus choose many cryptocurrencies to trade with it.
The third base cryptocurrency for many pairs is USDT. It only became popular a year ago and is one of the best stable coins. USDT is used around the world because its exchange rate connects with USD, but it provides all the cryptocurrency benefits. That is why more and more exchanges are adding Tether to their lists. Today, USDT has the highest 24-hour trading volume and one of the highest liquidities, so you can easily choose it for many pairs.
What are the advantages of one pair over another?
There are not so many advantages if we're talking about popular trading pairs. All of them provide good trading possibilities and high profits. Nonetheless, some pairs may be preferable. This mostly depends on the exchange that you are trading with.
Most exchanges show the biggest volume on BTC/ETH pairings, because these two cryptocurrencies were added to all listings. However, BKEX, for example, has EOS/USDT as the best trading pair. There are therefore more opportunities to trade EOS here, rather than ETH or BTC.
The next example involves the LTC/BTC pair. Some years ago, it was the most popular trading pair on many exchanges. However, today, it is better to trade LTC/USDT instead of LTC/BTC. Why? Simply because LTC/USDT has a greater trading volume and higher liquidity, according to Coinmarketcap.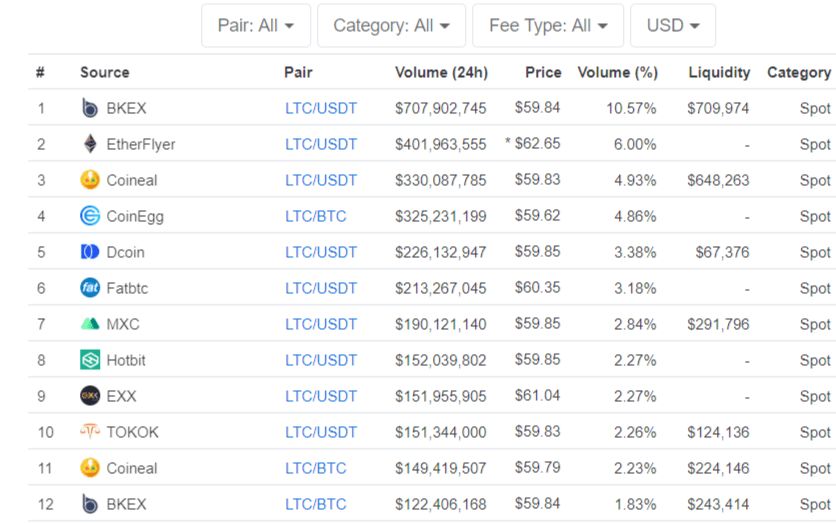 There are therefore two advantages to choosing one pair over another. Firstly, by choosing the definite pair, you could gain a greater profit. Secondly, you will have more buyers, so you can close more orders during the trading day.
Best cryptocurrencies for trading based on last year's
Every year, trading pairs change due to different factors. Firstly, new cryptocurrencies are released. Secondly, some projects make good updates, so their assets become more popular on the market. Thirdly, certain news affects the market, so different assets lose their demand.
It is important to analyse the best cryptocurrency trading pairs of past years, because it helps to understand the market. This will allow you to choose pairs for future trading and your investment portfolio.
Best crypto trading pairs 2018
The beginning of 2018 showed that BTC defines all market trends, so most pairs were connected with this cryptocurrency. Many innovative projects weren't released at that time, so traders relied on trusted assets like Bitcoin, Ethereum, Litecoin and Bitcoin Cash. All of them had great demand and liquidity. For many companies, Bitcoin Cash even became preferable over the original Bitcoin.
Ripple became the discovery of the year. Despite the fact that it was released in 2012, many banks and other organisations only recognized it in 2017-2018. However, in the middle of 2018, the Ripple blockchain was used as an alternative for top world banks like MUFG or Banco Santander.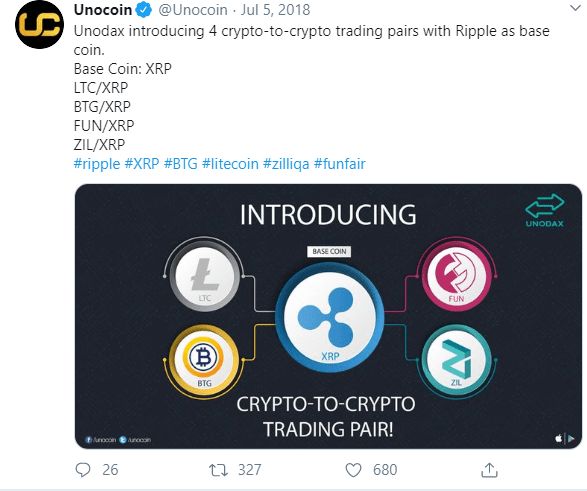 Hence, the best crypto trading pairs of 2018 were:
BTC/ETH;
ETH/BTC;
XRP/BTC;
XRP/LTC;
BCH/ETH;
ETH/XRP.
Best crypto trading pairs 2019
2019 became the year of changes on the cryptocurrency market, as many new projects appeared. More and more people were being disappointed by BTC, so its trading volume went down. EOS was also released and became ETH's main competitor. Binance Exchange created their own asset called Binance Coin, which became popular on many exchanges.
The most important fact is probably that LTC and BCH were replaced with new projects. Today, BCH and LTC have good trading volumes and liquidity, but they aren't even in the top-10 trading pairs.
Therefore, in 2019, BTC/USDT became the best trading pair. Moreover, this pair became the most popular pair in all of cryptocurrency history. Many analysts strongly advise beginners to start with the BTC/USDT (USDT/BTC) trading pair because it provides the best liquidity. Traders can thus enter the market with a low budget and close many positions.
The other popular trading pairs for 2019 were:
BTC/ETH;
XRP/BTC;
XRP/ETH;
USDT/XRP;
ETH/USDT.
Best cryptocurrency pairs to trade in 2020
How about now? The cryptocurrency market has become more popular around the world. Many countries are looking to implement certain assets as alternative payment methods. This is why many cryptocurrencies have become more stable and accessible for trading.
As was previously mentioned, USDT currently has the highest trading volume. Therefore, pairs such as USDT/BTC, USDT/XRP, USDT/ETH, USDT/EOS and so on will be very popular in 2020. You can easily enter the market with 100 USDT and make a big profit.
Additionally, EOS has provided some updates, so its blockchain has become faster and more secure. EOS coin popularity has therefore risen on many exchanges. Pairs such as EOS/USDT, EOS/LTC and EOS/BTC show great trading volume.
Lastly, many organizations have recognized Tron as one of the best platforms for content exchanging. The Tron Foundation has therefore gained new investors and the price of TRX has slightly increased. TRX/BTC, TRX/XRP and TRX/ETH are very popular trading pairs on the Asian market. If you trade on OKEx or Huobi, pay a lot of attention to TRX trading pairs.
Welcome to StormGain — crypto trading platform!
Trade with 200× multiplier.