Cosmos (ATOM) price prediction 2022-2030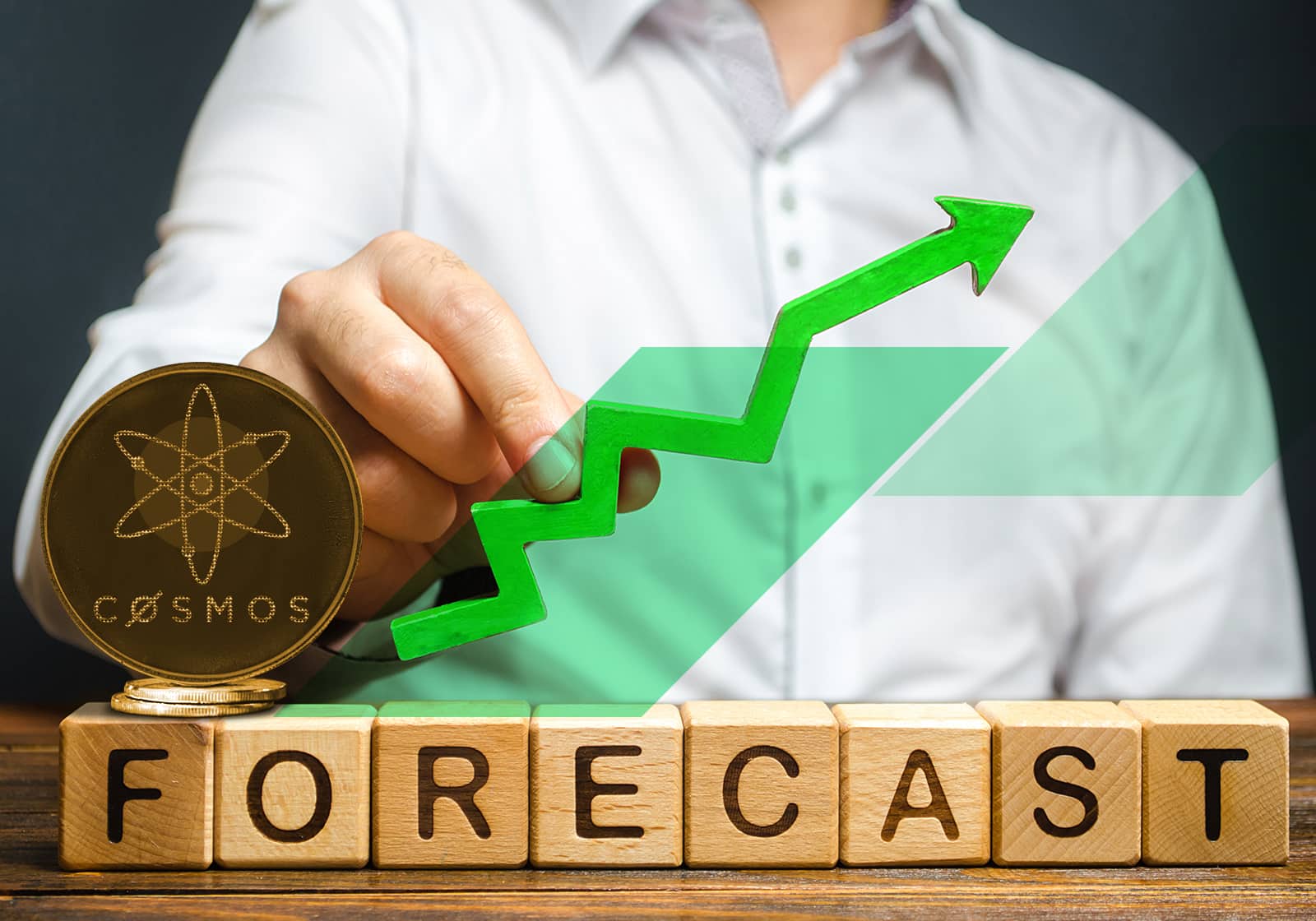 The most important feature of serious blockchain projects is that they try to solve real-world problems. Most of them solve 'external' problems not directly related to the blockchain industry. Others try to solve the problems inherent in the blockchain industry itself, such as speed, scalability, and interoperability between different blockchains. One of these projects is Cosmos, which we'll take a deep look at here. We'll explore this project's origins and fundamentals as well as its coin. As usual, we'll try to make a price prediction for the project's token, ATOM.
What is Cosmos (ATOM)?
Cosmos is a decentralised network of independent parallel blockchains based on the Byzantine Fault Tolerance (BFT) consensus algorithm. One of the platform's main features is that it's compatible with other blockchain networks.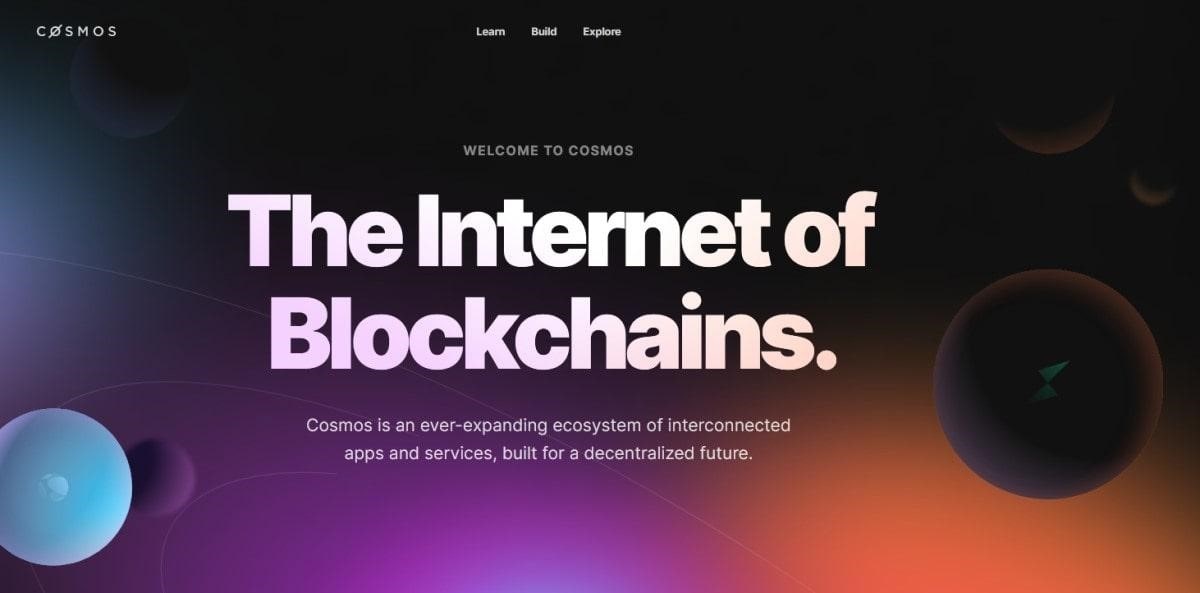 The origins of Cosmos
The foundation for the Cosmos project was laid in 2014 by Jae Kwon, who developed the Tendermint consensus algorithm, a hybrid of Proof-of-Stake (PoS) and BFT algorithms. That same year, he founded Tendermint Inc.
In 2016, a whitepaper for Cosmos was published, and the company Interchain Foundation (ICF) was created to develop the Cosmos ecosystem. In addition, ICF and Tendermint Inc. agreed to work together and continue cooperating on the development of Cosmos.
In 2017, an ICO was held that raised $16.8 million in 30 minutes.
In 2018, the Inter-Blockchain Communication (IBC) concept was developed, a mechanism for transferring data between blockchains within the Cosmos ecosystem.
Finally, on 13 March 2019, the Cosmos Hub, the central blockchain of the Cosmos ecosystem, was officially launched.
Most recently, on 13 July 2021, the Cosmos-blockchain-based Gravity DEX protocol was launched. It lowers transaction fees and improves price models for users exchanging various crypto assets in the Cosmos ecosystem.
Cosmos' features
Cosmos was not designed for one particular use case but to be adaptable to suit many different use cases. — Jae Kwon
The Cosmos project aims to address several well-known problems inherent in the blockchain industry:
Slow performance and poor scaling of PoW-based networks. To solve this problem, Cosmos offers a fast, secure, and highly scalable Tendermint protocol.
The technical complexity of launching a new blockchain or decentralised app. The Cosmos SDK, a simple open-source modular system for creating your own blockchain using any programming language, intends to solve that.
Lack of interaction and data exchange between separate blockchain networks. To solve this problem, the Cosmos ecosystem has the Inter-Blockchain Communication protocol, a technology for exchanging transactions and data between blockchains.

The centrepiece of the Cosmos ecosystem is the Cosmos Hub, a blockchain that provides vital functions in the ecosystem that acts as a kind of core for it. It functions as a:
Router that connects various blockchains and unites them into a single ecosystem
Security provider
Decentralised exchange for swapping crypto assets
A secure place for holding digital assets
The project's tokens, called ATOM, are required for governing and securing the network. Consensus in the Cosmos network is maintained by validators, of which there can be no more than 100. Validators are always online. They verify and confirm transactions and receive a reward for doing so. Validators are chosen by delegates, ordinary users who vote for validators by providing the selected validator with some of their ATOM tokens. In return, delegates receive a portion of the reward received by their chosen validator. In addition, ATOM holders can put proposals for network development to a vote.
Cosmos (ATOM) price analysis
At the time of writing, the ATOM token ranked 20th among cryptocurrencies by market capitalisation at $4,114,943,318.
ATOM price statistics (as of 27/09/22)
ATOM current price

$14.37

Market cap

$4,114,943,318

Circulating supply

286,370,297.00 ATOM

Total supply

No Data

Daily trading volume

$694,456,754

All-time high

$44.70

 (20/09/21)

All-time low

$1.13 (13/03/20)

Website
ATOM price history
During the ICO held on 6 April 2017, the price of the ATOM token was $0.10. In the spring of 2019, the token was listed on large crypto exchanges.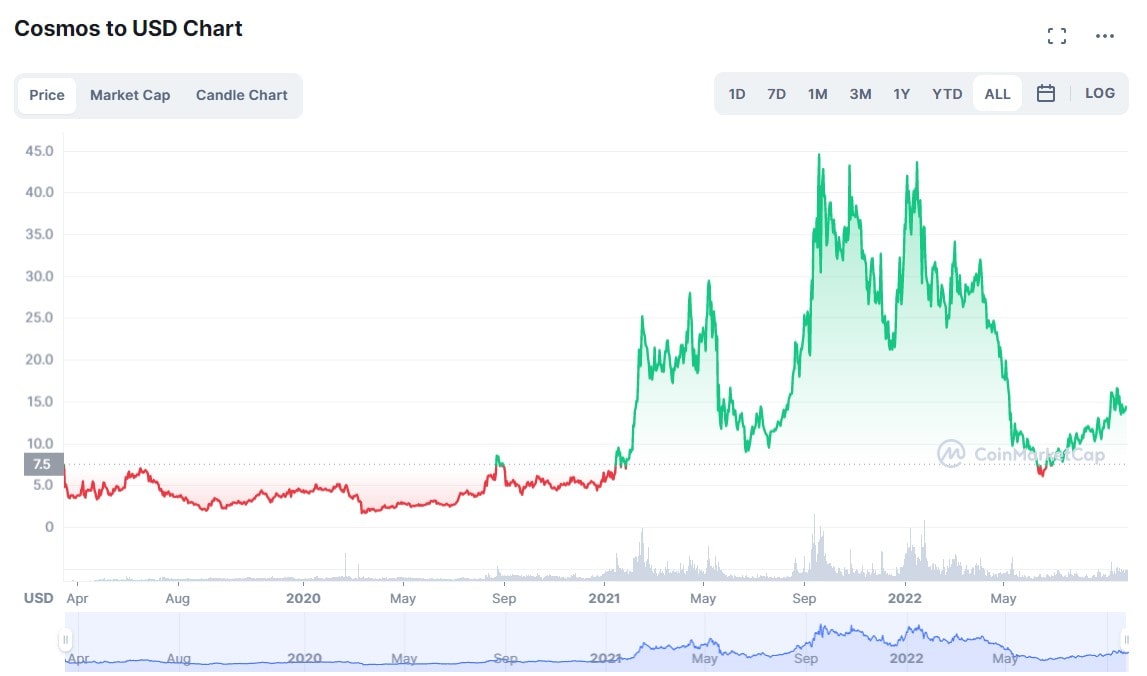 Cosmos coin price prediction 2018
ATOM was listed on cryptocurrency exchanges in the spring of 2019 and was not traded before that date.
Cosmos coin price prediction 2019
After appearing on large cryptocurrency exchanges, the price of the ATOM token showed a significant increase, reaching $7.25 on 3 June. At the end of June, the price began to decline, which continued until 5 September, when it stopped at $1.83. After that, the trend started moving upward, and the price began to gradually recover, reaching $4.23 at the end of the year.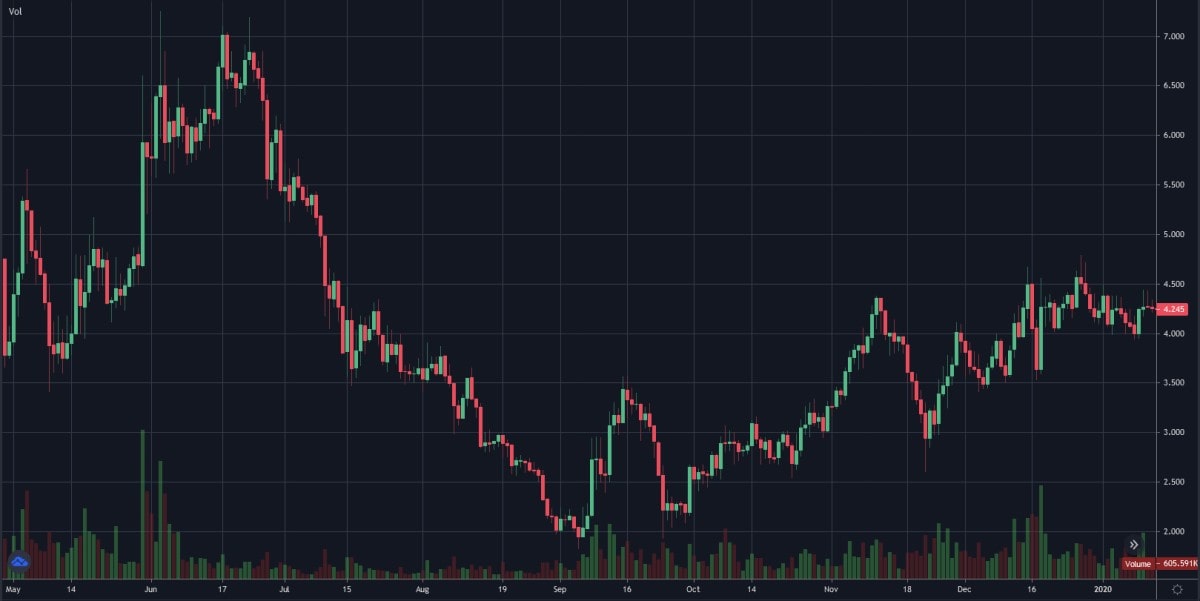 Cosmos coin price prediction 2020
In early 2020, the price moved sideways in the range of $3.95 - $5.40. This didn't last long, though. At the end of February, the price began to collapse, reaching its all-time low on the day of the crypto market's panic sale on 13 March. After this devastating fall, the price started to recover, demonstrating a stable bullish trend. After reaching the local maximum of $8.87 on 25 August, the price experienced a rather noticeable correction. However, it did not break the bullish trend. At the end of the year, the price was $6.465.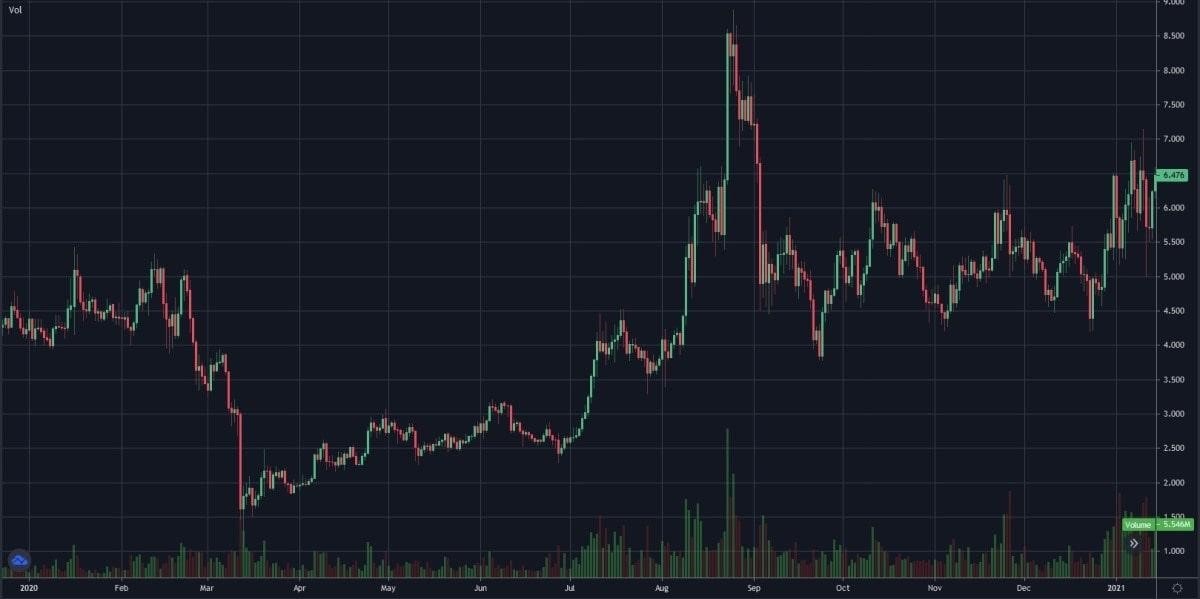 Cosmos coin price prediction 2021
The price began the year in a consolidation phase, and it slowly moved higher. In February, the price broke out of the consolidation and traded northwards to $20 before making a slight retracement. It didn't recover a lot and began a bearish move, which lasted until mid-year. The price picked up again, and ATOM soared high. By the end of the year, it traded as high as $45.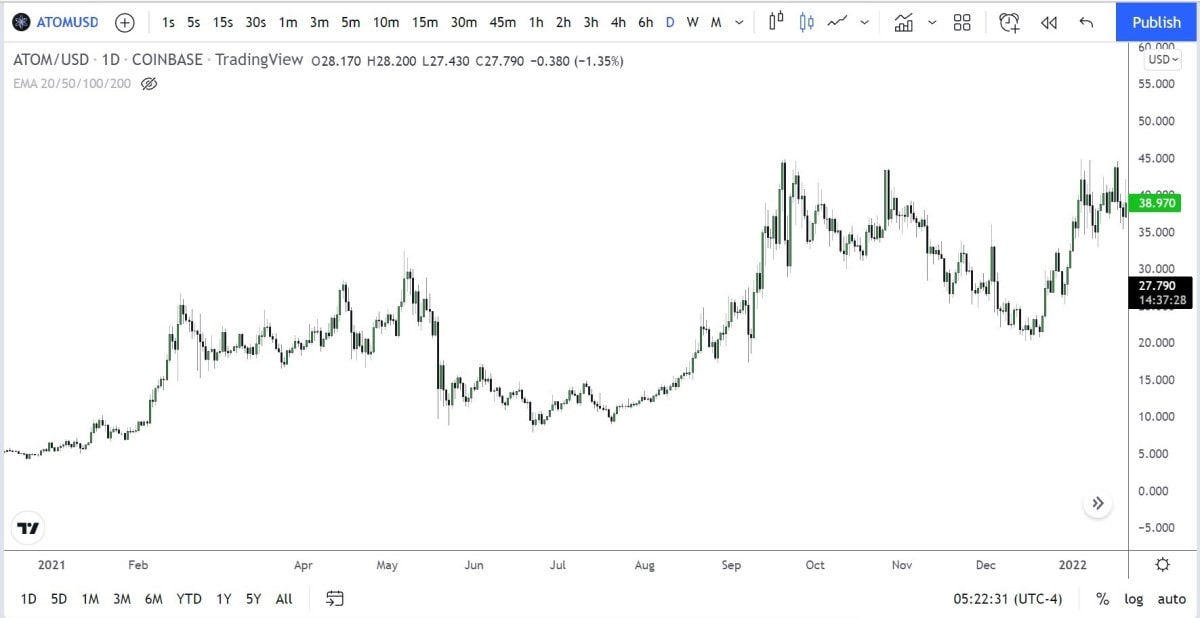 ATOM/USDT price chart
ATOM technical analysis
Unlike most mainstream coins that reached new all-time highs in May 2021, ATOM reached its own in September 2021. This isn't unusual, seeing as not all coins follow the general trend of the market in real time.
ATOM had a seeming false start to the year, knocking at the doors of its all-time high of $44 in January. After a few failed attempts to break above the all-time high, the price began to dip and trended lower for six months, losing almost 90% of the accumulated gains from the previous year.
On 1 June 2022, the token hit the support level at around $5.56 and began a reversal. It has since trended higher in an ascending channel to recover the all-time high. While bulls seem to have some control, it must be noted that the growth since June has not been as exponential as the fall that began in January. This indicates that the bulls may not have as much sway over price as it would seem on the surface.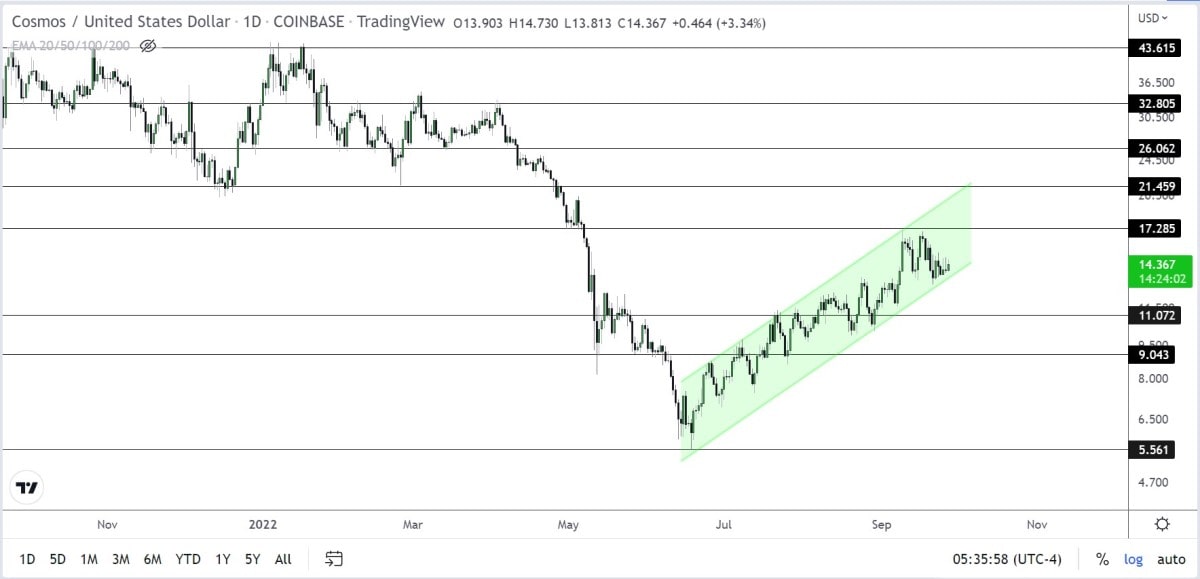 Cosmos (ATOM) price prediction for 2022, 2023, 2023, 2025 and 2030
Now let's take a look at what some well-known crypto experts think about the prospects for this project's token.
Trading Beasts' ATOM price prediction for 2022, 2023, 2023, 2025 and 2030
Trading Beasts predict a neutral-bullish market for ATOM tokens' price in the coming years. According to their calculations, ATOM's price at the end of the year will be $30.74, which is around the latest support zone. By the end of 2022, the price will be $33. And only in 2024 should we expect any real break above the previous all-time high.
WalletInvestor's ATOM price prediction for 2022, 2023, 2023, 2025 and 2030
WalletInvestor also predicts that ATOM's price will fall. According to their estimates, the price will fall to $2.51 in 2023, which is an over 80% loss if investors get in now.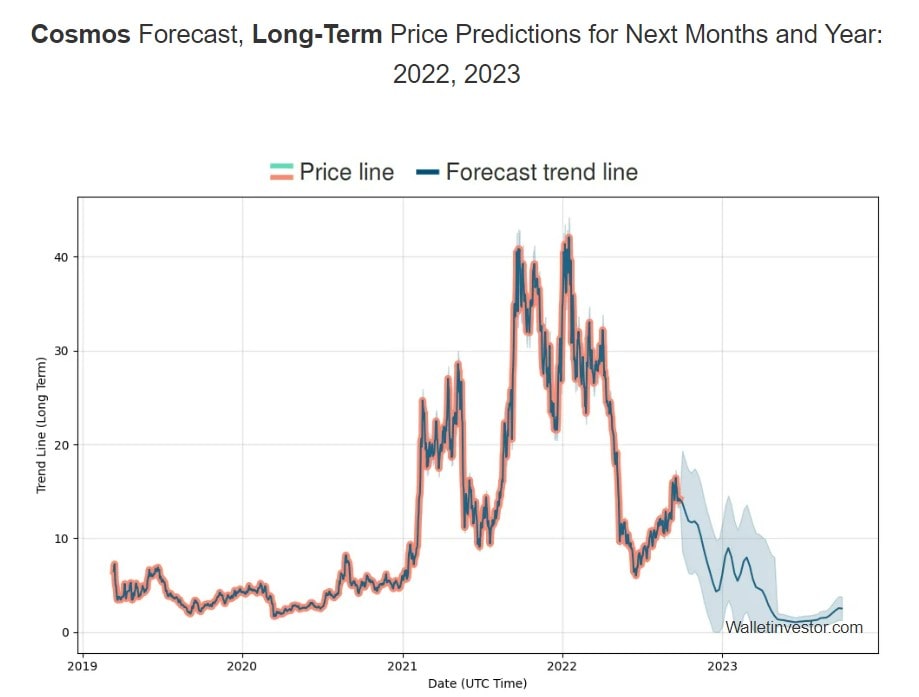 Long Forecast's ATOM price prediction for 2022, 2023, 2025 and 2030
Long Forecast follows the prediction trend as they have predicted a mixed decade for ATOM investors. Their ATOM coin price prediction suggests that the price will fall to as low as $8.00 before the end of 2023 and will fail to recover until the last quarter of 2024. The price predictions for 2025 and 2026 are somewhat bullish as they expect the price to stabilise at above $20.00.
DigitalCoinPrice's ATOM price prediction for 2022, 2023, 2023, 2025 and 2030
DigitalCoinPrice is another cryptocurrency fortune-teller that has predicted some really good fortune for ATOM's future prices. They predict that by 2023, ATOM will trade at around $34.60. Each subsequent year will see new all-time highs until 2026 when there will be a slight dip. In 2027, ATOM's price will trade above $70 and may even trade as high as $270 in 2031.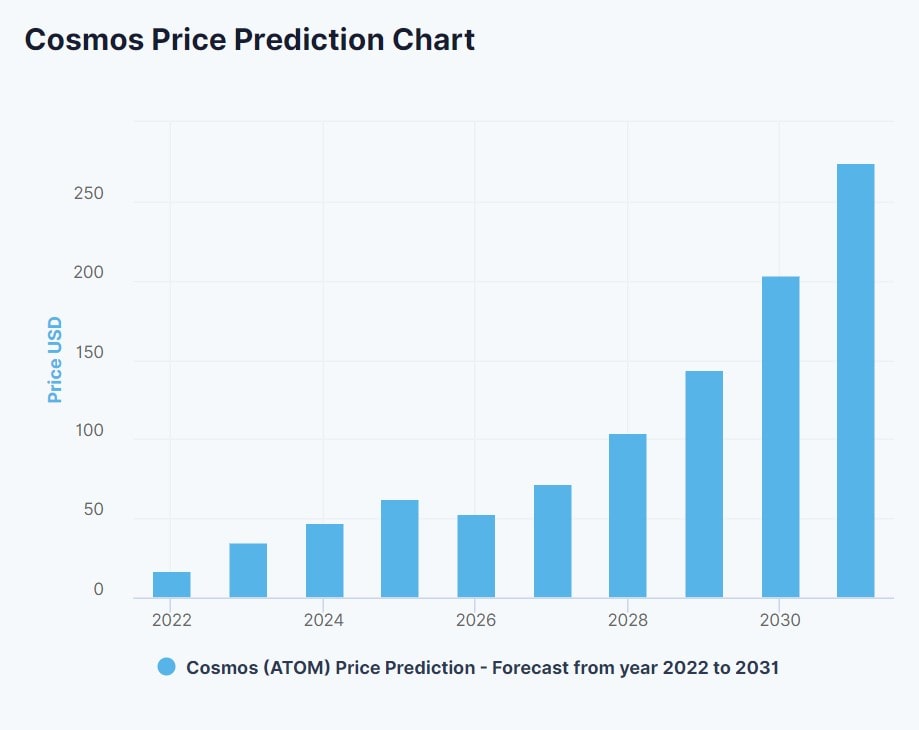 Cosmos (ATOM) overall future value predictions
The problems that the Cosmos project aims to solve are quite topical. However, at the same time, several obstacles can hinder the project's development and influence the token price negatively:
Low democracy. Only holders with the largest amount of ATOM tokens frozen on their accounts can become validators. As such, to receive the right to confirm transactions and get a reward for maintaining the network's operability, the validator must constantly increase the funds on the accounts. This will lead to a concentration of large amounts of tokens in the wallets of 100 validators.
Competitors, such as Polkadot, are also fighting to become the Internet of blockchains.
The need to connect many third-party projects to the ecosystem to increase its popularity.
Will Cosmos go up?
Quite possibly. This will depend on three main factors: the project team's activity, its ability to gain the upper hand in the competition and the general state of the crypto market.
How high can ATOM go?
It's very difficult to say right now. Many factors will influence the token's price, including the fact that its emission is unlimited.
Cosmos crypto price prediction today
We believe that a wait-and-see attitude is the most reasonable at the moment. 
Tags
Exchange BTC

Try our Bitcoin Cloud Miner and get additional crypto rewards based on your trading volume. It's immediately available upon registration.

Try our Bitcoin Cloud Miner and get additional crypto rewards based on your trading volume. It's immediately available upon registration.
Instrument
Rate
Change (24h)