Fetch.ai (FET) Price Prediction 2023, 2025, 2030

The prevailing market sentiment has significantly impacted various tokens, causing their values to decline and rendering some completely worthless. However, some individuals view this as an opportunity to acquire their preferred tokens at a lower price in anticipation of the next bull run. Fetch.ai (FET) peaked during the 2021 bull market cycle but has since decreased in value by over 80%. Despite this decline, numerous crypto experts, technical analysts, and long-term investors believe this presents an opportunity to expand their investment portfolios before the commencement of the next trend. Will Fetch.ai (FET) token's value rise in the future? Is Fetch.ai a good long-term investment? Let's find it out in our Fetch.ai (FET) price prediction for 2023 and beyond.
What is Fetch.ai (FET)?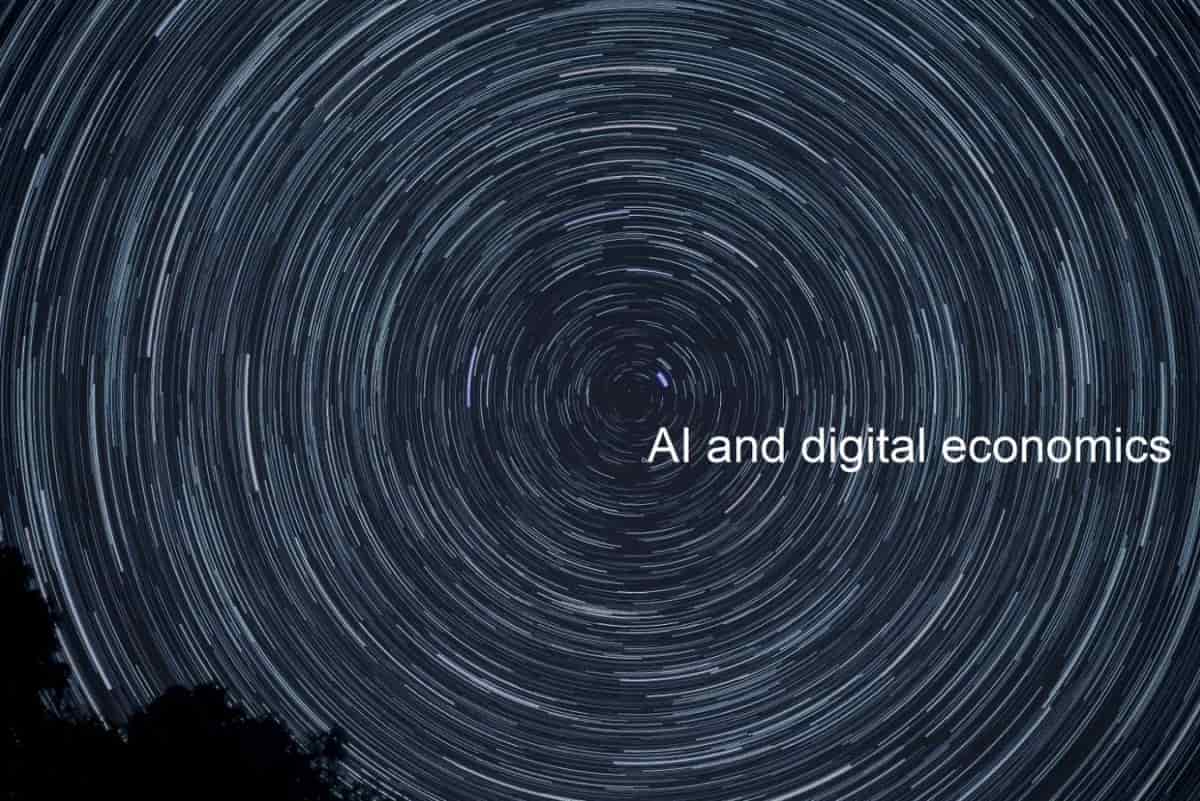 There has been a lot of hype surrounding Fetch.ai and for good reason. In 2018, the company published a brief but somewhat boastful introductory post on Medium, stating that they were "the world's first smart ledger". This was enough to capture the attention of many crypto enthusiasts, who were further intrigued by the strong marketing campaign used to promote the project since its inception.
Fetch.ai is a platform built on innovation, and it's a decentralised machine learning protocol. It was founded in 2017 by Toby Simpson, a game developer; producer Humayun Sheikh, one of the leading investors in the artificial intelligence firm Deepmind; and Thomas Hain, an advanced machine learning professor.
FET token was first launched on one of the major crypto exchanges, Binance, in 2019. It leverages the speed and scalability of the Binance Smart Chain (BSC) to "find, create, deploy and train autonomous economic agents and is essential for smart contracts, oracles and the transactions needed to deliver the new digital economy".
Fetch.ai's blockchain is built on Cosmos-SDK, a network that facilitates multichain interoperability through the inter-blockchain communication (IBC) protocol. This means that autonomous economic agents can be launched on networks such as Cosmos (ATOM), Ethereum (ETH) and Binance Smart Chain. The Fetch.ai protocol enables a range of functionalities, including identity for agent deployment, staking, and token governance.
The company has a talented and diverse team of engineers developing a platform that bridges the gap between artificial intelligence and blockchain-agent systems. The protocol is built on a distributed ledger and decentralised Random Beacon protocol that implements the benefits of slot Proof-of-Stake (sPoS), decentralised computational costs and multi-sig to lessen storage requirements, all combined with the benefits of machine learning. The infrastructure is designed to enable the advancement of the digital economy through cryptography and machine learning.
Fetch.ai (FET) has many applications and features aiming to achieve automation by connecting businesses with the blockchain. They have also launched an AI NFT marketplace that allows content creators to create and own AI-enabled digital assets.
FET History
Before we dive into Fetch.ai (FET) price predictions and address whether FET is a good investment, let's take a moment to understand what FET is and its history up to this point.
Fetch.ai has had many significant partnerships since its inception that have contributed to the growth of its ecosystem and made it a promising investment opportunity. Here is a timeline of some of the most noteworthy partnerships:
On 26 July 2021, FET was listed on Coinbase Pro.
On 5 August 2021, Fetch.ai developers announced a partnership with Bosch, a German engineering and manufacturing conglomerate, to use machine learning algorithms on its testnet for identifying machinery failures.
On 6 August 2021, Fetch.ai partnered with OCP and OpenDAO to enable FET token holders on BSC to stake in exchange for OmniC tokens.
On 18 August 2021, Fetch.ai launched the Colearn Paint NFT platform, an AI-powered feature for NFTs that enables content creators to create NFTs using machine learning.
Fetch.ai transferred its staking program from Ethereum to its native manner on 28 August 2021 to reduce transaction costs and unlock more incentives.
On 28 September 2021, Fetch.ai collaborated with Algbra, a fintech platform, to bring Defi services to minority communities for research and development purposes.
On 7 October 2021, FET enabled a new feature of the browser extension wallet, allowing FET holders to convert their tokens to ERC-20 without a distributed ledger on the token bridge.
FET users who staked their tokens received MOBIX tokens airdrop as a reward for their active participation between October to December 2021.
On 8 December 2021, Fetch.ai signed a deal with Immortals, an esports organisation, to enable cryptocurrency adoption in the part. They also ran a gaming influencer campaign called "Team Fetch.ai," which had a significant impact on the number of users onboarded.
Fetch.ai launched a blockchain programme, Beacon World Evolved (BWE), on its mainnet towards the end of January 2022, which incentivises people to use Fetch.ai software by rewarding them with FET tokens.
Fetch.ai White Paper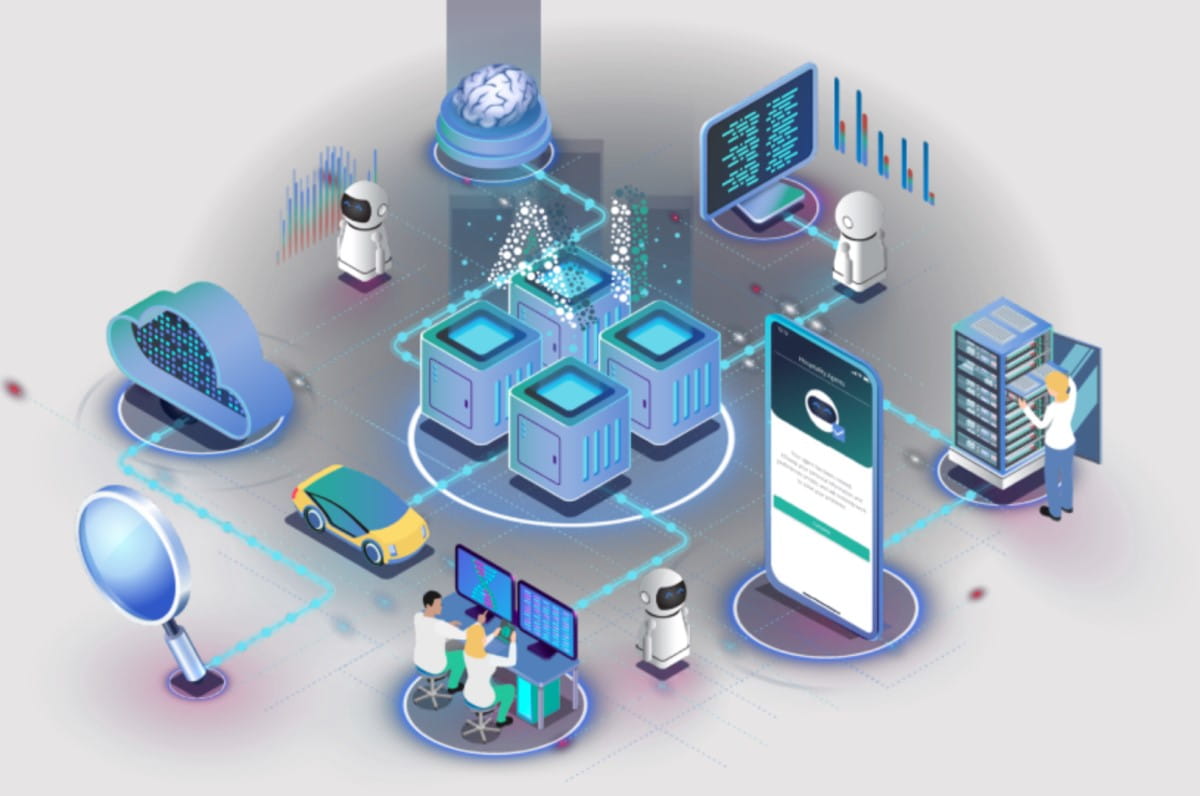 According to its white paper, Fetch.ai is a platform that aims to develop the necessary infrastructure for decentralised and peer-to-peer (P2P) applications. The platform's ecosystem comprises autonomous economic agents (AEA) that operate independently and interact with one another. These agents negotiate and connect to perform their tasks, and this process is fully automated, requiring no user input.
Fetch.ai supports several programs, including Co-Learn, Axim, Atomix, MOBIX, Catena-X Automotive Network, Resonate, Starfleit and Mettalex. Co-Learn is a shared machine-learning model, while Axim is an artificial intelligence tool for analysing siloed data. Atomix is a stablecoin yield-generating protocol, and MOBIX provides incentive tokens for using its electric mobility solutions. Catena-X Automotive Network is a cloud-based global automotive value chain network, while Resonate is a decentralised social network. Starfleit is a decentralised exchange (DEX), and Mettalex is a decentralised exchange for traditional and crypto commodity derivatives.
Fetch.ai's native cryptocurrency is the Fetch.ai token (FET), used to pay for services and transactions on the platform. FET can also be staked to support the blockchain, earn rewards, and add blocks. FET was initially launched in 2019 as a token based on the Ethereum (ETH) blockchain, but it became Fetch.ai's native token in early 2021.
Fetch.ai (FET) Price Analysis
When writing this Fetch.ai (FET) price prediction on 11 April 2023, the token's price was $0.339774 with a daily trading volume of $38,473,978. The token ranked #130 on CoinMarketCap, with a live market capitalisation of $278,245,102, a circulating supply of 818,912,300 FET and a total supply of 1,152,997,575 FET.
FET price statistics (as of 10/04/2023)
| | |
| --- | --- |
| FET current price | $0.339774 |
| Market cap | $278,245,102 |
| Circulating supply | 818,912,300 FET |
| Total supply | 1,152,997,575 FET |
| Daily trading volume | $38,473,978 |
| All-time high | $1.1898 (8 September 2021) |
| All-time low | $0.00827 (13 March 2020) |
| Website | |
FET token price history
Reviewing the cryptocurrency's past performance gives ground for forecasting FET price predictions. Let's now take a look at the Fetch.ai (FET) price history. 
Fetch.ai launched its FET cryptocurrency through an initial coin offering (ICO) in February 2019, with an initial value of about $0.33. However, the crypto market was in a slow period at that time, commonly referred to as a "crypto winter." When the Covid-19 pandemic hit in March 2020, FET dropped to an all-time low of $0.00827 on 13 March of that year. The cryptocurrency eventually recovered and closed 2020 at $0.515.
In early 2021, the crypto market experienced a boom, and FET reached a high of over $0.80 in March after the official launch of the Fetch.ai blockchain. However, the market took a downturn on 19 May, causing FET to trade below $0.20 at times during the summer. FET's recovery was aided by a growing market and the ability to stake FET on Binance (BNB), allowing it to reach an all-time high of $1.19 on 8 September. By the end of the year, FET had cooled down and was worth $0.5069, representing an annual loss despite the growth of the overall crypto market.
In 2022, FET suffered a loss of more than 80% due to a series of market crashes, closing the year at $0.09167. However, it has shown signs of recovery in 2023, with a peak price of $0.6004 on 8 February, thanks to the growth of AI and interest in cryptocurrencies related to the sector. The collapse of the Silvergate bank caused a brief drop to $0.2979 on 10 March, but a recovery led FET to $0.4814 on 13 March. 
FET technical analysis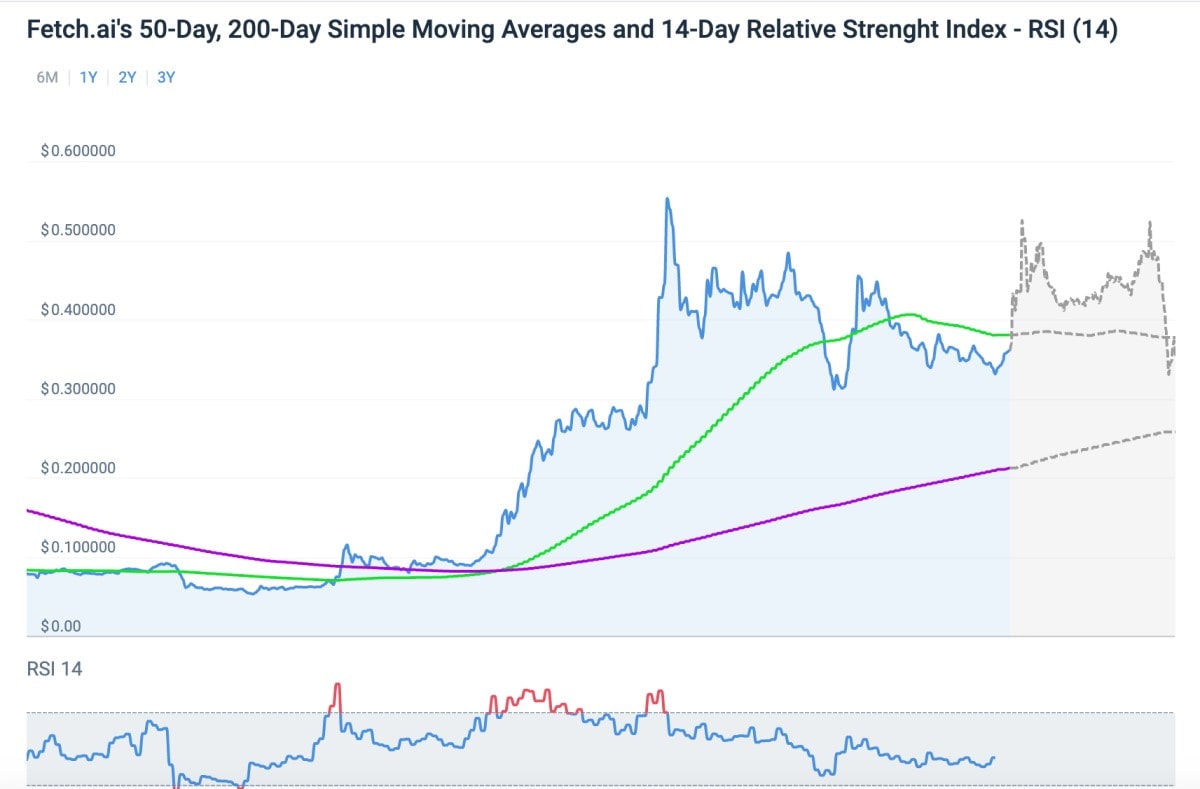 As of 11 April 2023, the overall sentiment for Fetch.ai price prediction was optimistic. Furthermore, 22 technical analysis indicators signalled bullish signals, while 6 signalled bearish. This implied a strong buying interest in the market.
On 11 April, Fetch.ai was trading above its 200-day simple moving average (SMA), indicating a favourable cryptocurrency trend. The 200-day SMA has also been signalling a buy since 21 December 2022, which suggests that cryptocurrency was consistently gaining value during this period.
On 11 April 2022, the Fetch.ai token's price was above the 50-day SMA, signalling a buy since 20 March 2023. This is another positive sign for the cryptocurrency, indicating a short-term uptrend.
The technical indicators suggest that Fetch.ai's 200-day SMA should continue to rise in the next month and could reach $ 0.259871 by 11 May 2023. Similarly, Fetch.ai's short-term 50-Day SMA is predicted to hit $ 0.379186 by the same date.
Fetch.ai predictions 2023
According to some experts, Fetch.ai's cryptocurrency (FET) is considered one of the most impressive to emerge this year. The FET price forecast for 2023 predicts a substantial increase in the second half of the year, with the potential to reach $0.539129. Although the rise will be gradual, there are no significant drops expected. Achieving an average price of $0.503187 is quite an ambitious goal, but it is possible shortly, given anticipated collaborations and advancements. The minimum value for FET is predicted to be $0.431303.
Is the Fetch.ai token a good investment?
Yes, Fetch.ai (FET) is considered a good investment due to its potential for growth in the coming years, driven by its useful applications and advanced technology. In addition, the predicted price levels indicate that it could be a profitable long-term investment. However, like any other cryptocurrency, the value of FET may fluctuate depending on market conditions. That's why it's important to conduct thorough research and consider personal financial goals and risk tolerance before making any investment decisions.
Fetch.ai (FET) price prediction 2023-2050
The future price of Fetch.ai (FET) is subject to market volatility and dependent on factors such as adoption rate and market demand. While FET holds great potential due to its futuristic use cases and bridging blockchain with artificial intelligence, it is important to do thorough research and analysis before making investment decisions. We have scouted various FET price predictions, but it should be noted that these are just predictions and not investment advice. 
WalletInvestor FET crypto price prediction for 2023, 2025, 2030, 2040 and 2050
According to WalletInvestor, the outlook for the Fetch.ai coin price prediction is bleak. The expert analysis suggests that FET will likely face significant challenges in the next 12 months, potentially leading to a significant decline in its value. WalletInvestor predicts that by early April 2024, the price of FET could plummet to an alarming $0.0934.
DigitalCoinPrice Fetch.ai (FET) price prediction for 2023, 2025, 2030, 2040 and 2050
When it comes to FET price prediction, DigitalCoinPrice offers a more optimistic outlook than WalletInvestor. According to their analysis, FET could reach $0.67 in 2023, representing a significant increase in value from its current price. Looking ahead to the future, DigitalCoinPrice predicts that by 2030, the price of FET could soar to $3.57.
CoinCodex FET token price prediction for 2023, 2025, 2030, 2040 and 2050
CoinCodex's latest analysis of the Fetch.ai price prediction isn't particularly encouraging for short-term investors. The site predicts that the token could experience a significant decline, with its value falling to $0.266023 by the end of April 2023. This is followed by a modest recovery to $0.280811 by 5 May.
Gov.Capital FET token price prediction for 2023, 2025, 2030, 2040 and 2050
According to Gov.Capital's recent Fetch.ai (FET) price prediction, the coin may close the year 2023 at $0.293. Looking ahead to 2025, the website predicts that FET could open the year with a value of $0.744 and close it at slightly below $1.19.
Fetch.ai future forecast in general
As with any investment in the crypto space, it's important to develop a sound strategy when considering investing in FET. It's worth noting that this type of investment may not be suitable for those with a low-risk tolerance or an asymmetric risk profile. However, for those comfortable with higher risk levels and with a strong financial position, FET may be an attractive investment opportunity.
How high can the FET token go?
After analysing the current price trend and historical data and making our projections, the price of Fetch.ai (FET) may surpass the $2.4 mark by 2030.
FET price prediction today
The latest Fetch.ai price prediction for 2023 suggests that FET could be trading above $0.50 throughout the year, with a maximum price target of $0.65 by year-end. The average price level for FET is expected to be around $0.48.
Tags
Exchange BTC

Try our Bitcoin Cloud Miner and get additional crypto rewards based on your trading volume. It's immediately available upon registration.

Try our Bitcoin Cloud Miner and get additional crypto rewards based on your trading volume. It's immediately available upon registration.