The dog meme coins are back. What happened?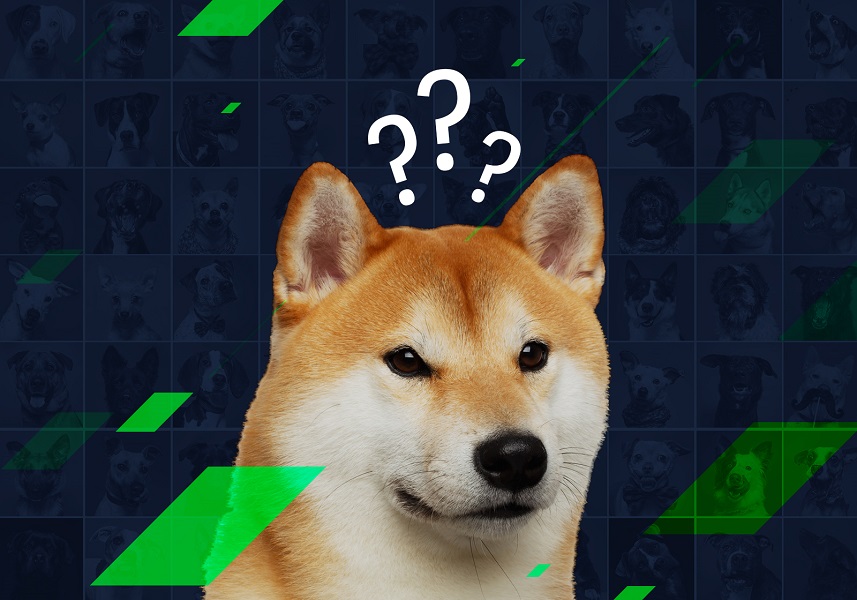 Who let the dogs out? It's a question that has left analysts scratching their heads this week as canine-themed meme coins surged unexpectedly and without any apparent cause. Shiba Inu (SHIB) leapt up 27% at the beginning of the week, and Dogecoin (DOGE) also saw upward movement. But who's throwing the ball that's getting these doggies to jump?
Historically, dramatic price action on the canine coins could usually be traced to some extravagant social media statement by Elon Musk, formerly known as the 'Dogefather'. However, the Tesla CEO has been quiet on these cryptos for some time. Meanwhile, it doesn't look like SHIB or DOGE have changed much on a fundamental level.
On the morning of 17 August, DOGE and SHIB both continued to surge, rising more than 13% and 3%, respectively, and outperforming many other altcoins. The data on futures tracking DOGE and SHIB recently showed over $25 million in liquidations, so the meme coin rally may be at least partially driven by futures bets rather than spot trading.
Shiba Inu's recent runaway surge remains a mystery. On the day of its biggest price jump, data showed that the burn rate for SHIB exploded by 825%, but that still only represented less than $5,000 worth of the meme coin. Nothing has changed about the token that could be definitely identified as the inspiration for such a rally, so it is difficult to make any predictions for SHIB.
Does Doge pull the chain, or does the chain pull Doge?
Dogecoin, on the other hand, may have more technical reasons behind the rally. In the face of stagnation throughout the wider crypto market, the price of Dogecoin rose by over 10% from 18 August to 19 August, clocking a 25% increase over the past week and currently hovering around $0.085. This could be due to Dogechain, a new Polygon Edge-based network that acts as a bridge that allows traders to convert Dogecoin (DOGE) to Wrapped DogeCoin (wDOGE). Dogechain acts as a layer-2 for DOGE, as Dogecoin is used as the platform's base trading token and for payments on the network. The Dogechain network also allows developers to create new tokens and non-fungible tokens (NFT) items on the blockchain since the network is fully compatible with smart contracts and transactions based on Ethereum.
The Dogechain team has also promised to airdrop its own DC token to platform users without many details forthcoming. This has sparked some speculation that the airdrop will target those who bridge their Dogecoin on the network, leading to more demand for DOGE with the prospect of winning some free crypto. Dogechain launched earlier this week and already has around $4.6 million locked in the network, according to data from on-chain trackers. Today, Dogechain's developers said that the network has recorded 480,000 unique transactions and some 58,000 native wallets since its launch.
A surge of interest in dog tokens
The recent success of the popular memes coins has also seen retail traders move into the many, many copycat coins with some form of 'shib' or 'dog' in their names. However, most of these have never demonstrated any legitimate use case beyond speculation and have failed to make an impact in the same way as SHIB or DOGE.
Trade SHIB, DOGE and more on StormGain 
The recent meme coin rally has shown that one should never completely discount the dogs. Even if they may seem silly at times, they can form a useful part of a balanced crypto portfolio. For any coin you want to trade, you can find the best conditions on StormGain, which offers SHIB/USDT and DOGE/USDT pairs, as well as the opportunity to trade SHIB/DOGE against each other. In addition to access to over 50 cryptocurrencies at low exchange fees, StormGain also offers unique features, such as a free Bitcoin cloud miner and the ability to earn interest on your crypto wallets.
If you're not already a StormGain client, sign up in just a few seconds and try our free demo account to find out what the best crypto platform on the net can offer you.
Tags
Exchange BTC

Try our Bitcoin Cloud Miner and get additional crypto rewards based on your trading volume. It's immediately available upon registration.

Try our Bitcoin Cloud Miner and get additional crypto rewards based on your trading volume. It's immediately available upon registration.