OmiseGO (OMG) price prediction for 2021, 2022, 2023, 2025, 2030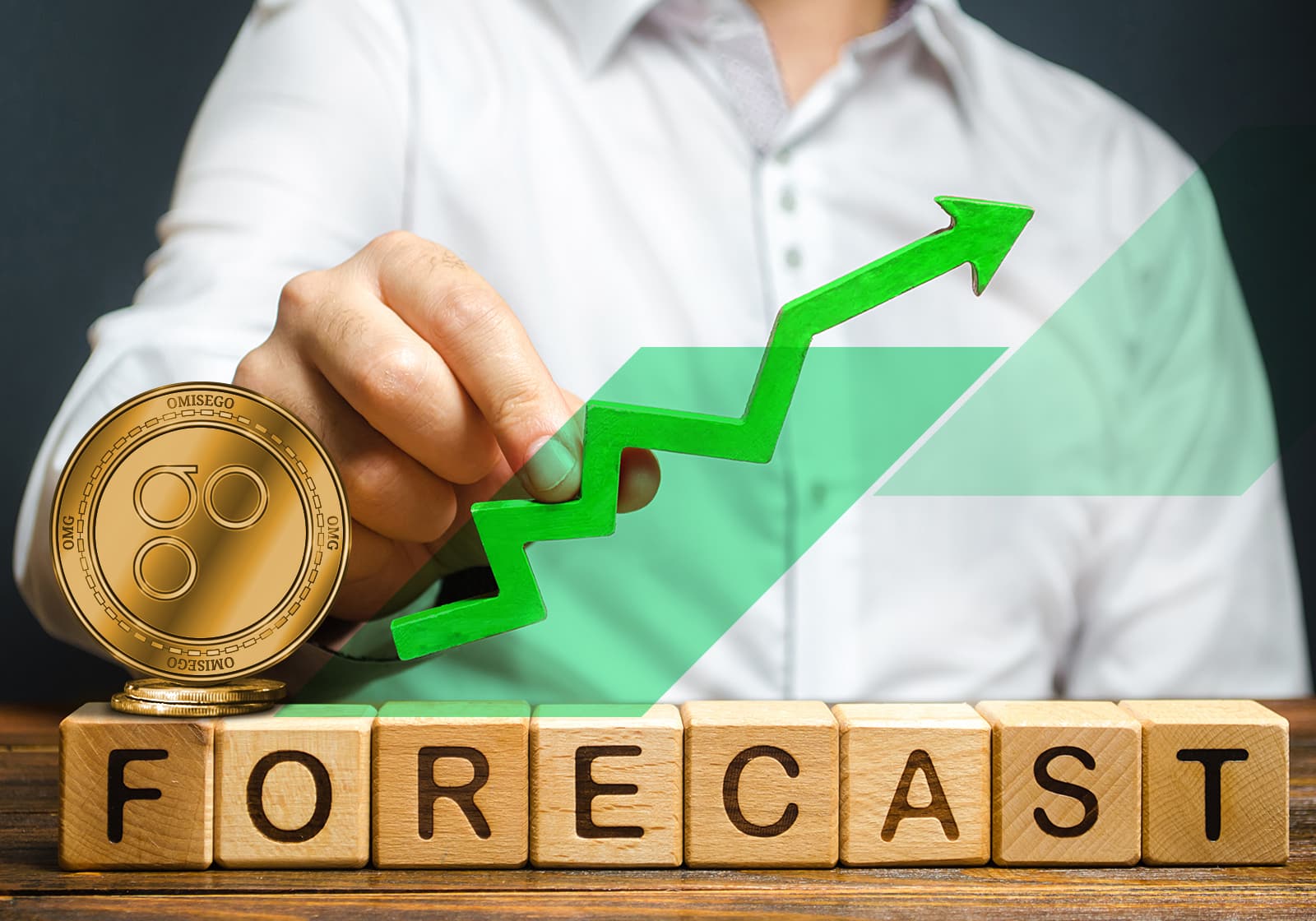 The Gold Draw is over, and the winners have been announced!
The last round of the Gold Draw has finally ended. All the prizes went to their owners, and we're happy to announce the winners here.
The OmiseGO platform is an Ethereum-based payment gateway that allows anyone to move almost any asset between countries, businesses and people. The platform was founded by Omise, which was established in 2013 in Thailand.
Before 2017, the company was engaged in transferring fiat currencies within the country and abroad. In 2017, the company decided to create a simple, secure blockchain-based payment solution for Southeast Asia. It was decided to turn to Vitalik Buterin for help in developing the project. Buterin and another Ethereum developer, Joseph Poon, became some of the creators of OmiseGO and even took part in writing a white paper. On 1 June 2020, the OmiseGO project was renamed OMG Network.
In this article, we'll tell you what the OmiseGO platform is and present you with an OMG cryptocurrency price prediction. We'll look at the historical price analysis and technical analysis of the OMG cryptocurrency and talk about the OMG coin futureprice.
We're here because we believe technology can be an enabler to improve lives. - Vansa Chatikavanij, CEO of OMG Network.
What is OmiseGO (OMG)?
OmiseGO is an Ethereum-based financial platform that can be used with popular wallets for real-time peer-to-peer asset trading and payment services in countries where such services are underdeveloped. OMG allows its user to work with both cryptocurrencies and fiat currencies. OmiseGO is designed to solve a fundamental problem inherent in the current financial system: coordination between payers, payees, payment processors and financial institutions.
The OMG platform allows currency exchange and payment services to be integrated in real-time. The buyer pays an invoice in a currency convenient for them. The recipient receives funds in either fiat currency or a decentralised cryptocurrency, depending on what is more suitable for the recipient. The main idea behind the product is to allow anyone to send assets over the network without having a bank account at very low commissions.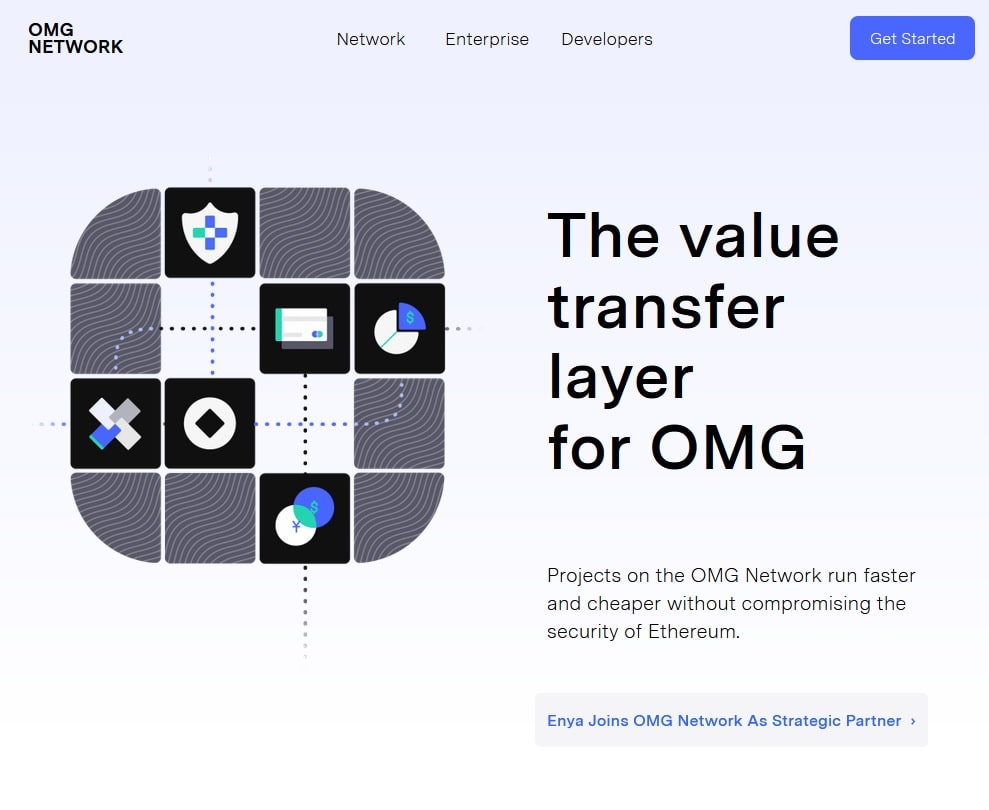 OMG's primary intended areas of use are:
Money transfers. OMG can speed up and reduce the cost of money transfers, especially when currency conversion is needed. Furthermore, anyone can connect to the platform.
Stablecoins. OMG's capabilities allow users to create digital equivalents of fiat currencies in the form of tokens. These tokens can then be just as easily converted to another fiat currency. Moreover, this conversion doesn't require the participation of financial institutions or any other cryptocurrencies.
Loyalty programmes. The platform allows users to tokenise loyalty points from various referral programmes and store them in one wallet. They can then be used like any other token.
Gift cards. Since OmiseGO is based on Ethereum, it can use smart contracts, making it easy to create gift cards that can be bought, sold and transferred.
The benefits of OMG Network include:
Speed. ETH and ERC20 tokens can be transferred at a throughput of thousands of transactions per second.
Environmental friendliness. Compared to Ethereum, electricity consumption per transaction is reduced by 99%.
Low cost. Transferring assets through OMG Network is 3 times cheaper than through the Ethereum network.
Openness. The web's open-source code allows any user to create apps and developer tools.
Security. Thanks to the Plasma protocol, the OMG Network is as secure as Ethereum's.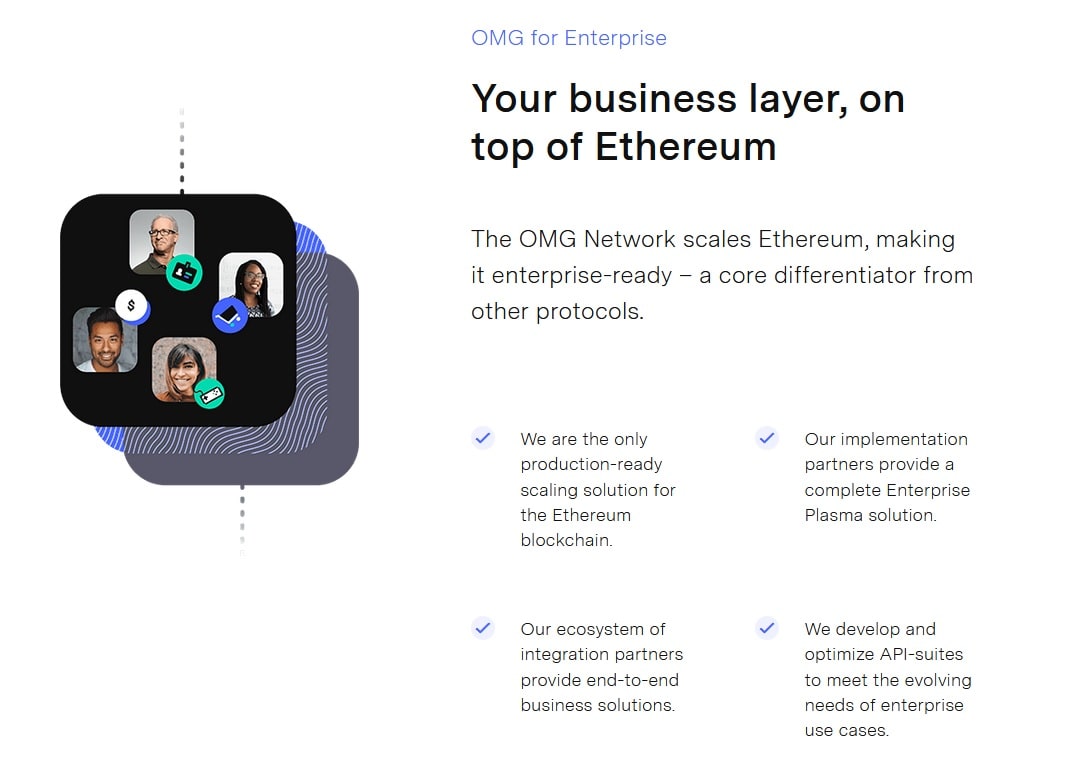 In terms of threats to the successful development of the OmiseGO network, one of the most serious threats is the growing regulation of the cryptocurrency market. If governments and large financial institutions feel threatened by a cryptocurrency-based platform, they can simply take action to shut it down.
At OMG Network, we believe the ability to transfer value without restrictions is a basic human right. - Vansa Chatikavanij, CEO of OMG Network.
OmiseGO (OMG) price analysis
At the time of this writing, OMG ranked 66th among cryptocurrencies by market capitalisation at $1,990,357,822
OMG price statistics (as of 23/10/21)
| | |
| --- | --- |
| OMG current price | $14.19 |
| Market cap | $1,990,357,822 |
| Circulating supply / Max supply | 140,245,398.25 / 140,245,399 |
| Daily trading volume | $525,847,978 |
| All-time high | $28.50 (8/01/18) |
| All-time low | $0.27 (13/03/20) |
| Website | |
OMG's price history
When the OMG token first appeared on the crypto market in July 2017, it was worth $0.68. Shortly after that, the price experienced a sharp rise, peaking at $12.53 on 7 September. This was followed by a correction; in early November, the price reached a local low of $5.55. Following this, during the crypto market's bull run in November-December 2017, the price soared to its all-time high on 8 January 2018.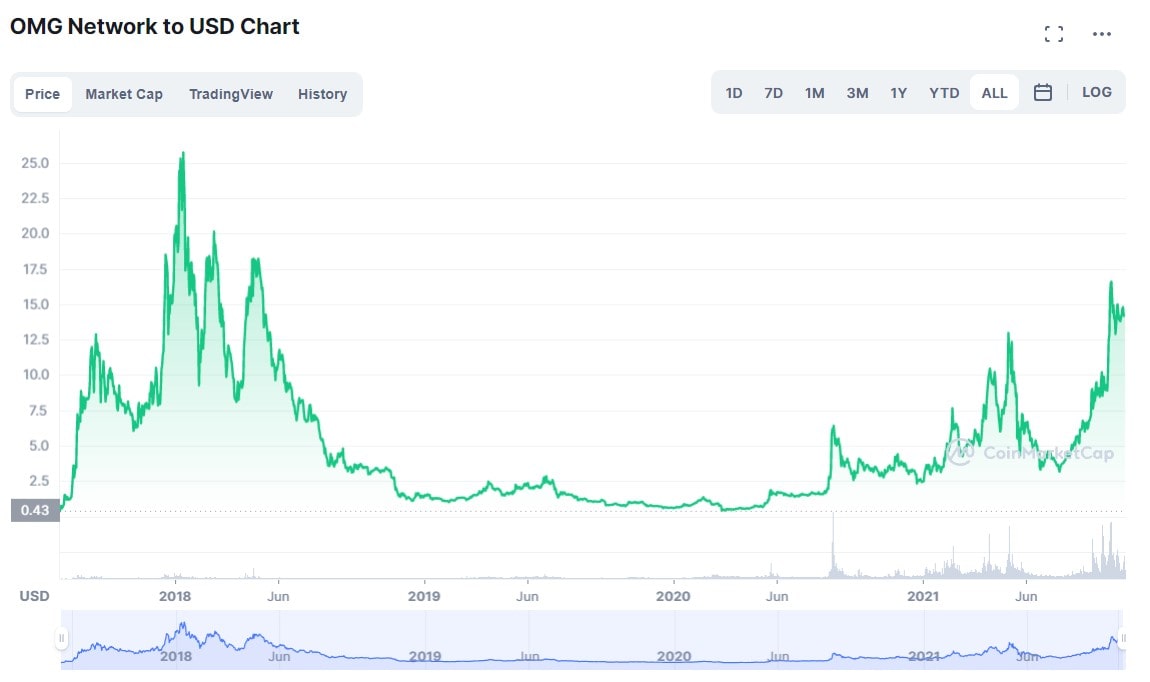 OmiseGO (OMG) price prediction 2018
After reaching its maximum on 11 January 2018, OMG's price showed high volatility throughout Winter 2017-Spring 2018. It fluctuated in a wide range, from $9 to $19, which allowed traders to make good profits. After that, the bearish trend finally took shape and led to a steady decline in prices until the very end of the year. At the end of December, the token's price was about $1.35.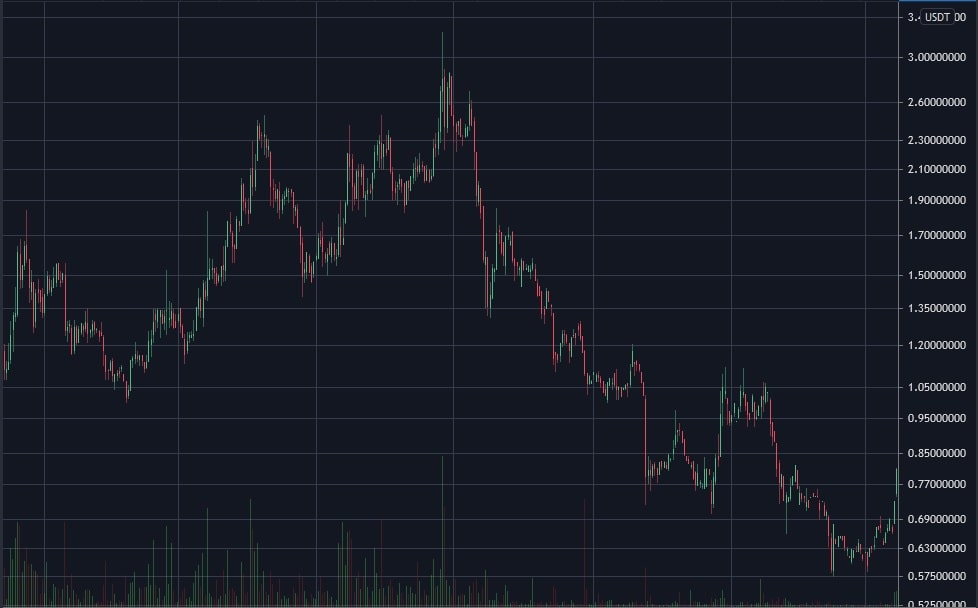 OmiseGO (OMG) price prediction 2019
In 2019, OMG experienced a year of relative stagnation. Having reached a local low of $1.00 on 6 February, the price began to slowly rise until 26 June, when it reached $3.24. After that, the price declined again, which, as in the previous year, lasted until the end of the year. At the end of the year, the price of the coin was around $0.60.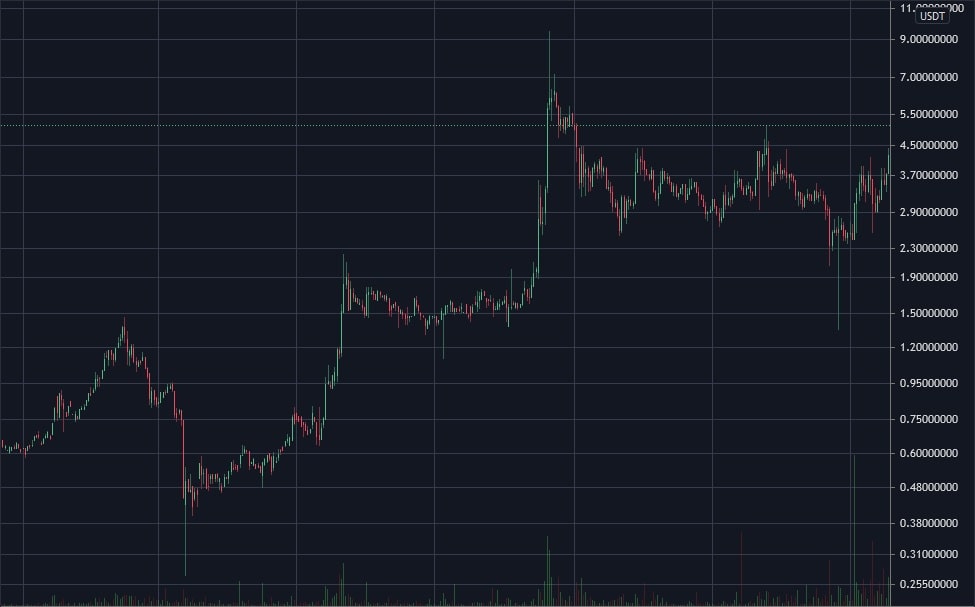 OmiseGO (OMG) price prediction 2020
OMG started 2020 on a positive note. In the first month and a half of the year, the price more than doubled, reaching $1.457 on 15 February. After that, the decline began, culminating in the notorious crypto market panic on 13 March caused by the coronavirus pandemic. On this day, OMG's price reached its all-time low of $ 0.27.
After such a sharp drop, the long bearish trend in the crypto market finally ended. OMG's price also began to grow, seeing several sharp rises, followed by consolidation (at $2.21 on 22 May and at $9.457 on 21 August). After that, the price repeatedly fell below the support level of $3.00, but each time returned to the range of $3.00-4.50.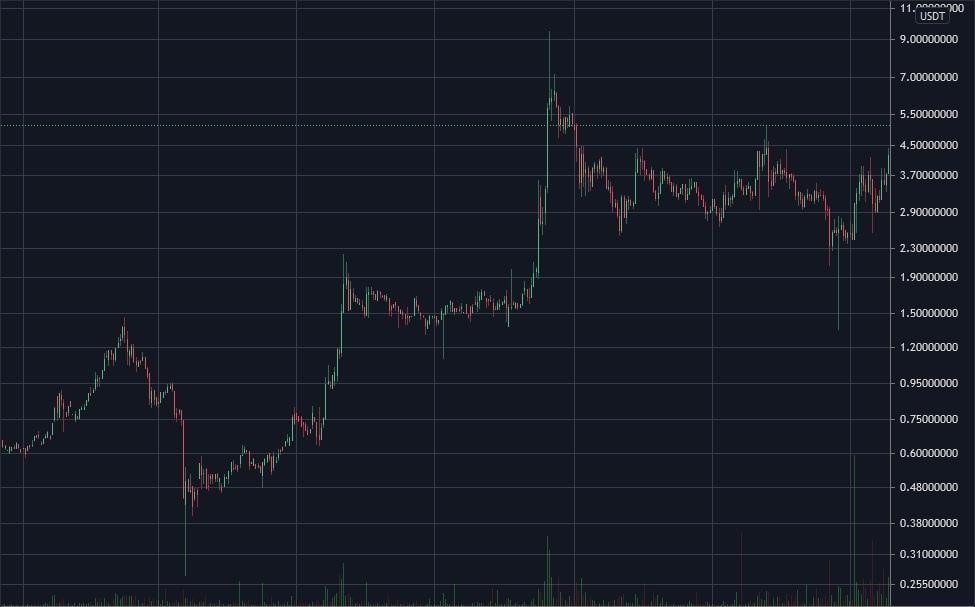 OMG technical analysis
OMG is currently in an upward trending market. It has traded higher than the high it set in May. For context, most crypto assets that saw a bull run earlier this year in May have been unable to reach back to the highs they set this year. OMG, on the other hand, recently blew past its own 2021 high. It doesn't get much more bullish than that.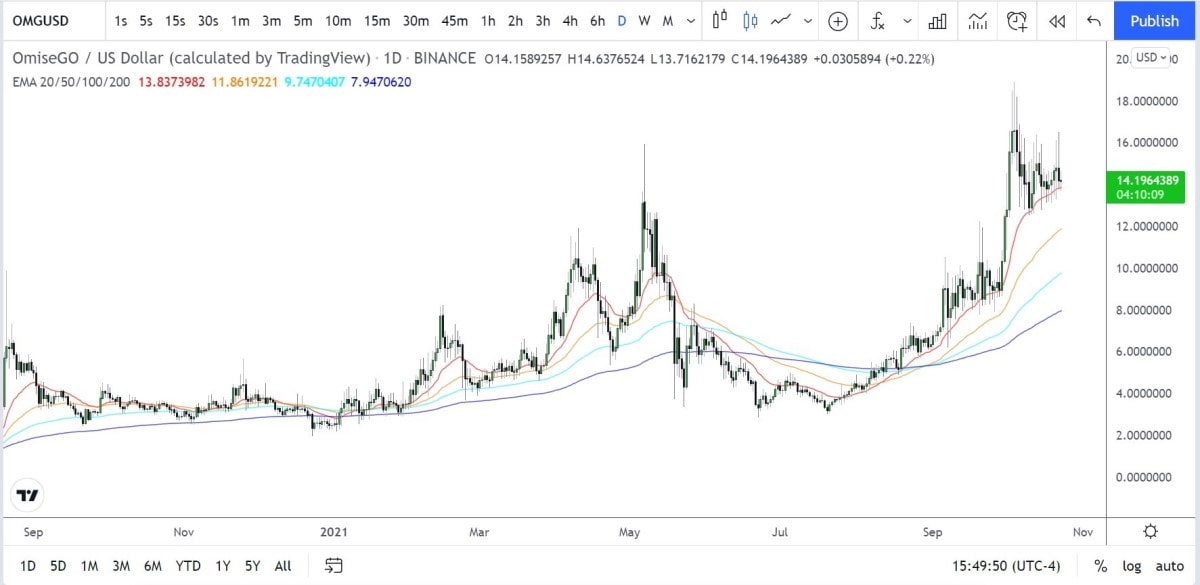 The price found support at the previous resistance level of $13 and has consolidated in a wedge ever since. Also, the 200-day and 100-day EMA's are currently acting as support. We can reasonably expect a breakout upwards with our sights set at $22 as the next major stop.
OmiseGO (OMG) coin price prediction for 2021, 2022, 2023, 2025, 2030
Now let's take a look at OMG price predictions from renowned experts. We have compiled forecasts of some of the most reliable ones here.
TradingBeasts OMG price prediction for 2021, 2022, 2023, 2025, 2030
TradingBeasts consider OMG to be an unsuccessful investment in 2021. According to their estimates, the price of OMG will consolidate lower until the end of 2023. In 2024, the price will increase a bit and will trade around $14 to $15.
WalletInvestor OMG price prediction for 2021, 2022, 2023, 2025, 2030
In contrast, WalletInvestor sees OMG as a good long-term investment in 2021. According to their forecast, in a year, the price of OMG will reach $19, and within 5 years, it will rise to $40.70. While they don't believe the price will reach much higher this year, they also don't expect the price to decline and are confident that it will rise slowly but steadily.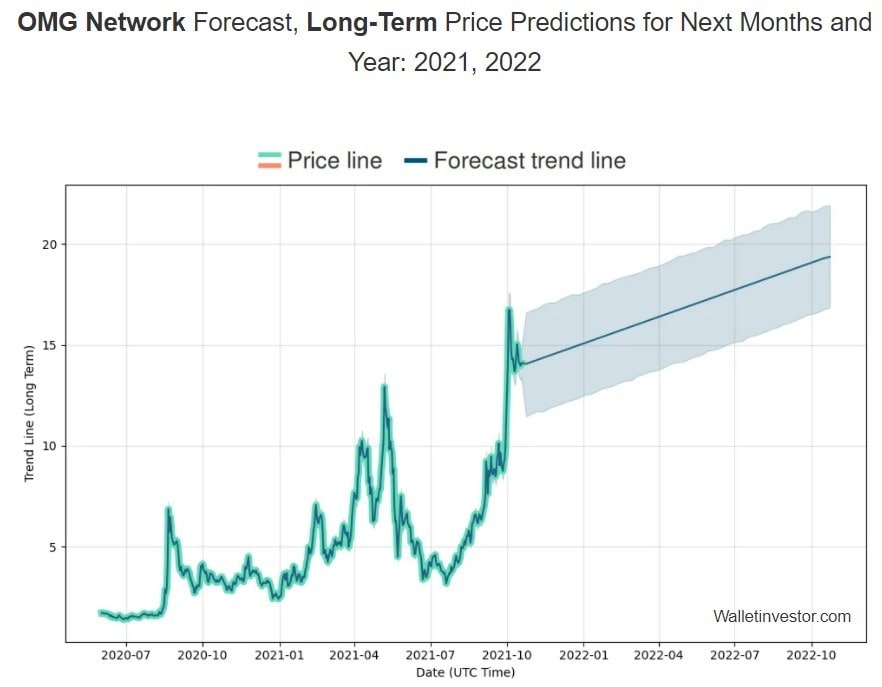 DigitalCoinPrice OMG price prediction for 2021, 2022, 2023, 2025, 2030
DigitalCoinPrice also considers OMG to be a profitable investment. According to their forecast, within a year, the price will rise to about $24. In subsequent years, they see the price increasing to $30.94 in 2023, $ in 2024, $42.96 in 2025 and finally $64.42 in 2028.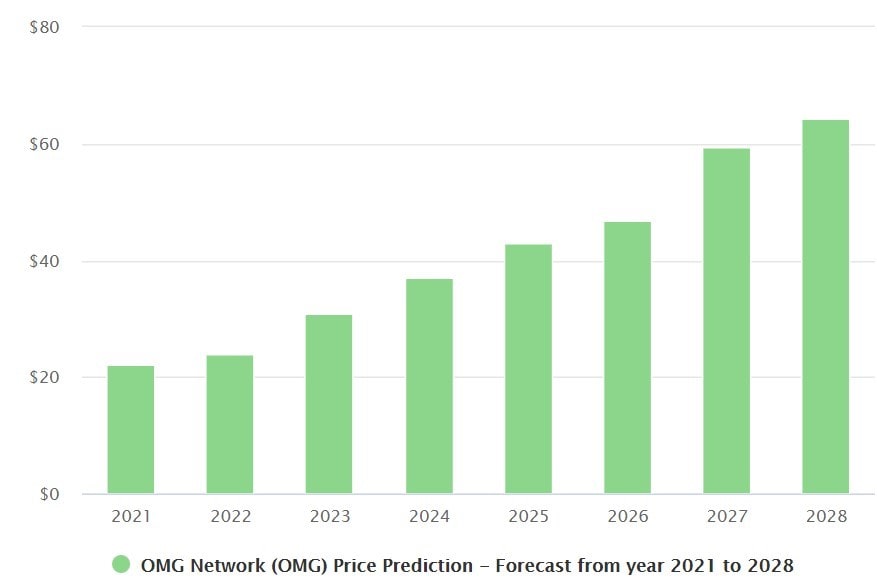 CoinLiker OMG price prediction for 2021, 2022, 2023, 2025, 2030
According to CoinLiker's forecast, OMG's price will rise in the long term. They predict that OMG's price will hit $11.19 within a year. They then expect the price to reach $19.09 in 2024 and $31.14 in 2026.
OmiseGO (OMG) future value predictions in general
On closer inspection, the OMG Network looks like a pretty promising project. Its parent company, Omise, is a well-known payment provider from Southeast Asia with considerable experience. The project aims to solve real problems in the financial industry, and support from such prominent crypto industry figures as Vitalik Buterin also speaks in favour of OMG. The project is gradually acquiring partners and attracting the interest of various companies, including large ones.
Will OmiseGO go up?
Considering the sound fundamentals of the coin and the continuing growth of the cryptocurrency market as a whole, we can say that OMG's price has good chances for further growth. Many cryptocurrency experts also believe that the coin's growth will continue.
How high can OMG go?
It's rather difficult to predict how high OMG's price may rise. Nevertheless, if the project develops further and the crypto market continues to grow, it's very realistic that the token price could reach its previous all-time high. In an even more optimistic scenario, using the Fibonacci grid, we could see the price potentially reach $120.
OmiseGO price prediction today
Currently, OMG is maintaining a bullish trend. The coin's short- and mid-term prospects depend on whether buyers manage to breakout above the wedge. If this happens, OMG's price has a good chance of reaching exponentially higher prices in 2022.
Tags
Exchange BTC
Try our Bitcoin Cloud Miner and get additional crypto rewards based on your trading volume. It's immediately available upon registration.
Try our Bitcoin Cloud Miner and get additional crypto rewards based on your trading volume. It's immediately available upon registration.
Welcome to StormGain — crypto trading platform!
Trade with 300× multiplier.