Pundi X (PUNDIX) price prediction 2022-2030
One of the main problems with cryptocurrencies at the moment is their slow adoption outside of the crypto community. Different blockchain projects aim to solve this problem using various approaches. In this article, we'll explore one such project, Pundi X, and its native token, PUNDIX (formerly NPXS), and look at the price predictions of this token.
What is Pundi X (PUNDIX)?
Pundi X is an ecosystem that includes both software and hardware products, which serves as the basis for implementing cryptocurrency payments in offline retail stores.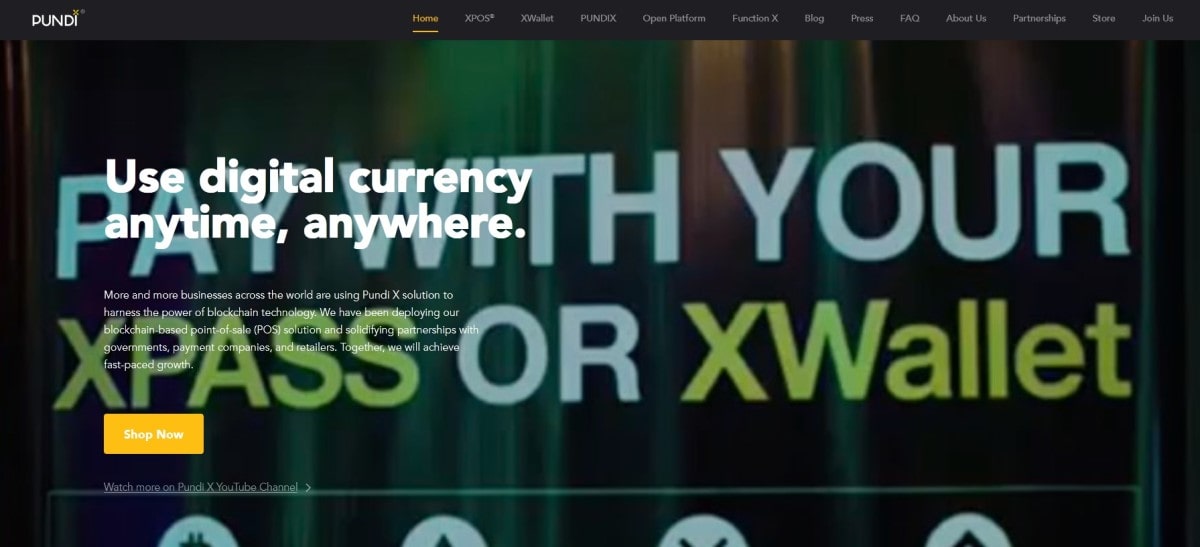 The use of crypto for real-world payments has not kept pace with the attention that it has gotten from its speculative booms, but we think that's because it hasn't been integrated seamlessly onto the status quo in the way we're trying to do. — Zac Cheah, CEO and Co-founder of Pundi X.
The history of Pundi X
Pundi X was founded by IT professional Zac Cheah and entrepreneur Pitt Huang in 2017. In October 2017, the sale of NPXS tokens began. It was held in 4 stages: private sale, pre-sale, extended pre-sale and public sale. The last stage ended on 21 January 2018. In total, about $30.5 million was raised.
On 31 March 2021, a reduction swap of NPXS tokens for new PUNDIX tokens began at a ratio of 1000:1. The swap will last until 29 March 2022.
The company's headquarters is located in Singapore. In addition, the company has offices in Jakarta, Tokyo, Seoul, Taipei and Sao Paulo. According to the company's website, it currently has over 100 employees.
Pundi X's features
The main goal of Pundi X is to make cryptocurrency payments accessible to everyone. Many cryptocurrency projects intend to compete with the banking system, but Pundi X is implementing its solutions in the retail sector. The Pundi X platform aims to popularise the use of digital money and make using it as easy as using fiat. To do this, a whole ecosystem based on three pillars is being created:
XPOS device. It's the core product of the company and is the backbone of its ecosystem. This blockchain-based wireless Point-of-Sales (POS) device allows you to instantly and seamlessly make payments in stores worldwide and buy and sell BTC, ETH, BNB and other popular cryptocurrencies, including PUNDIX. In addition, the system allows you to accept payments with traditional Visa and Mastercard bank cards and services such as Apple Pay and Samsung Pay. Transactions with the device are processed almost instantly. To process transactions, device owners are rewarded with XPOS tokens, a digital currency neutral used to transact with other digital coins. The mass production of XPOS tokens began in 2018. Since then, they've been shipped to over 25 countries.

XPASS card. Contactless cryptocurrency debit card that supports NFC. It allows users to buy, sell and pay with cryptocurrencies at merchants who have an XPOS device.
XWallet. These Android and iOS mobile apps are designed to store cryptocurrencies. It allows users to make in-store payments easily through XPOS using a QR code. The wallet can also be paired with an XPASS card.
In the real world, it works like this:
A store buys XPOS from the company.
A customer can buy goods for cryptocurrency using a smartphone with the XWallet app or an XPASS card.
The cryptocurrency received as payment is converted into that country's currency at the current exchange rate.
Similarly, cryptocurrencies can be bought or sold in the store using XPOS.
PUNDIX is the native token of the Pundi X ecosystem. It's used for online transactions, to pay for advertising through XPOS, accrue loyalty points and bonuses, purchase XPOS devices and XPASS cards, pay fees for listing apps and much more. The token has a deflationary model, and its quantity is reduced by burning tokens received as a transaction fee in the XPOS system.
Pundi X (PUNDIX) price analysis
At the time of writing, the PUNDIX token ranked 273rd among cryptocurrencies by market capitalisation at $189,482,753.
PUNDIX price statistics (as of 26/01/22)
| | |
| --- | --- |
| PUNDIX current price | $0.733 |
| Market cap | $189,482,753 |
| Circulating supply | 258,491,637 PUNDIX |
| Max supply | 258,526,640 PUNDIX |
| Daily trading volume | $42,995,274 |
| All-time high | $7.14 (09/04/21) |
| All-time low | $0.5814 (22/06/21) |
| Website | |
PUNDIX's price history
The history of the PUNDIX token is quite short. It was listed on major crypto exchanges in early April 2021. Within a few days, its price fell sharply and then rose just as sharply to reach its all-time high on 9 April. After that, a fairly rapid price decline began to its all-time low on 22 June. The growth that began after that didn't last long, and on 6 September, after reaching a local high of $2.18, the token price started declining again.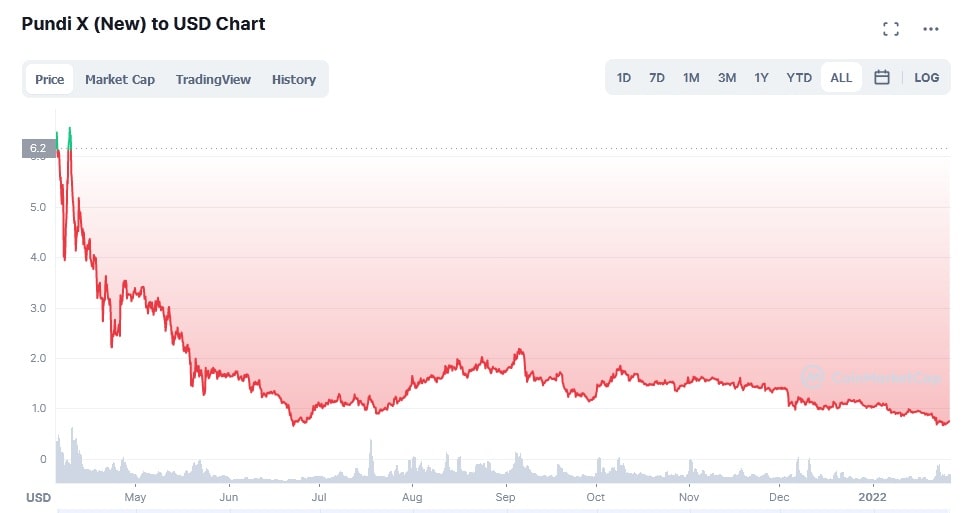 Pundi X technical analysis
At the moment, the token's price is in a downward channel. The MACD and moving averages are also bearish. At the same time, the RSI is in the oversold zone, which indicates a possible slowdown in the price decline or even a temporary rebound.
The nearest (and only) strong support level is at its all-time low. The nearest resistance levels are $0.83, $1.00 and $1.29.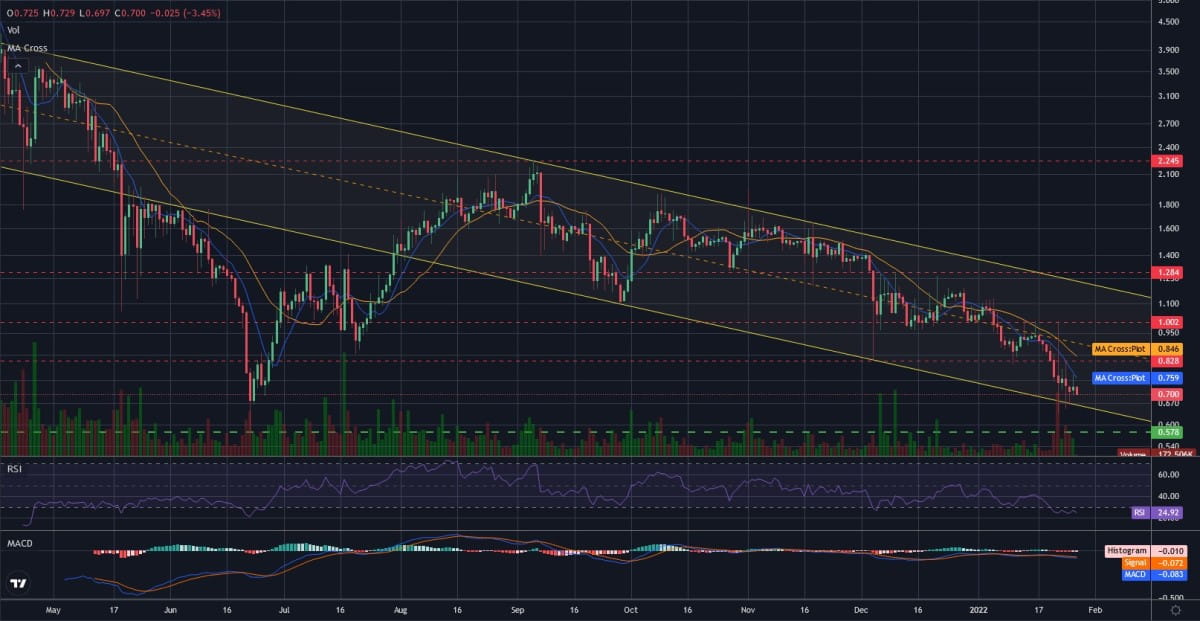 Pundi X(PUNDIX) price prediction 2022
The PUNDIX token price is in a bearish trend now. The nearest obstacle to the price drop is the all-time low support level. It's impossible to predict how low the price can fall if this level is broken.
Pundi X(PUNDIX) price prediction for 2022, 2023, 2025, 2030
As usual, we have collected the opinions of crypto experts regarding the token's prospects. Just remember that, like with any price predictions, they should be treated with caution.
Trading Beasts' PUNDIX price prediction for 2022, 2023, 2025, 2030
Trading Beasts expect the token price to rise. According to their calculations, it'll reach $1.77 at the end of 2022, $2.36 at the end of 2023 and $2.99 at the end of 2025.
Wallet Investor's PUNDIX price prediction for 2022, 2023, 2025, 2030
Wallet Investor is very pessimistic about PUNDIX's prospects. They believe the token price will fall dramatically in the coming years and will be $0.0762 at the end of 2022, $0.02032 at the end of 2023 and $0.00839 at the end of 2025. In subsequent years, the price will remain at about the same level with minor fluctuations.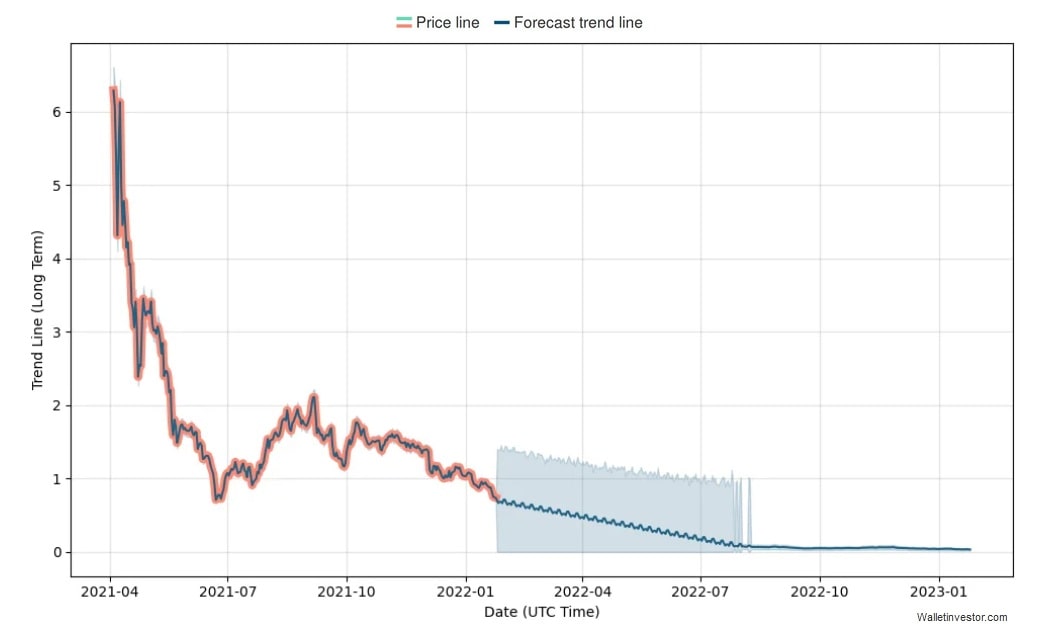 DigitalCoinPrice's PUNDIX price prediction for 2022, 2023, 2025, 2030
DigitalCoinPrice doesn't share the pessimism of Wallet Investor and believes that the price of PUNDIX will rise despite some fluctuations. They believe the token will be worth $1.27 in a year, $1.24 in two years, $1.44 in five years and $2.83 in seven years.
Price Prediction's PUNDIX price prediction for 2022, 2023, 2025, 2030
Price Prediction also sees PUNDIX as a good investment. According to their models, the average trading price of the token will be $1.01 in 2022, $1.41 in 2023, $2.98 in 2025 and $21.07 in 2030.
CryptoPredictions'PUNDIX price prediction for 2022, 2023, 2025, 2030
According to the CryptoPredictions' forecast, the token price will show stable growth in the coming years. They predict the price to reach $1.628 by the end of 2022, $2.181 by the end of 2023 and $2.78 by the end of 2025.
Pundi X (PUNDIX) overall future value predictions
The Pundi X project addresses a relevant objective and already has a released working product. But in the current situation, it's not enough to unlock the project's potential. Therefore, it'll mainly depend on how fast and how successfully the developers' plans will be implemented and how the project will be promoted on the market.
Many experts consider Pundi X to be a sleeping giant, but that's just it: it's still sleeping. At the same time, the project has many competitors that aren't wasting time and are currently more renowned and recognisable than Pundi X.
How high can Pundi X go?
If developers can gain a foothold in the niche of crypto payments in offline retail stores, the token's price can rise significantly, especially given its deflationary nature. However, it's premature to talk about it since the token price has been declining for most of its history, regardless of the overall growth of the crypto market.
Pundi X(PUNDIX) price prediction today
A price rebound is possible in the near future, but the bearish trend is likely to continue. In the event of a breakdown of the all-time low, a further noticeable price drop may follow.
Tags
Exchange BTC
Try our Bitcoin Cloud Miner and get additional crypto rewards based on your trading volume. It's immediately available upon registration.
Try our Bitcoin Cloud Miner and get additional crypto rewards based on your trading volume. It's immediately available upon registration.
Welcome to StormGain — crypto trading platform!
Trade with 500× multiplier.