Ren (REN) Price Prediction 2023, 2025-2050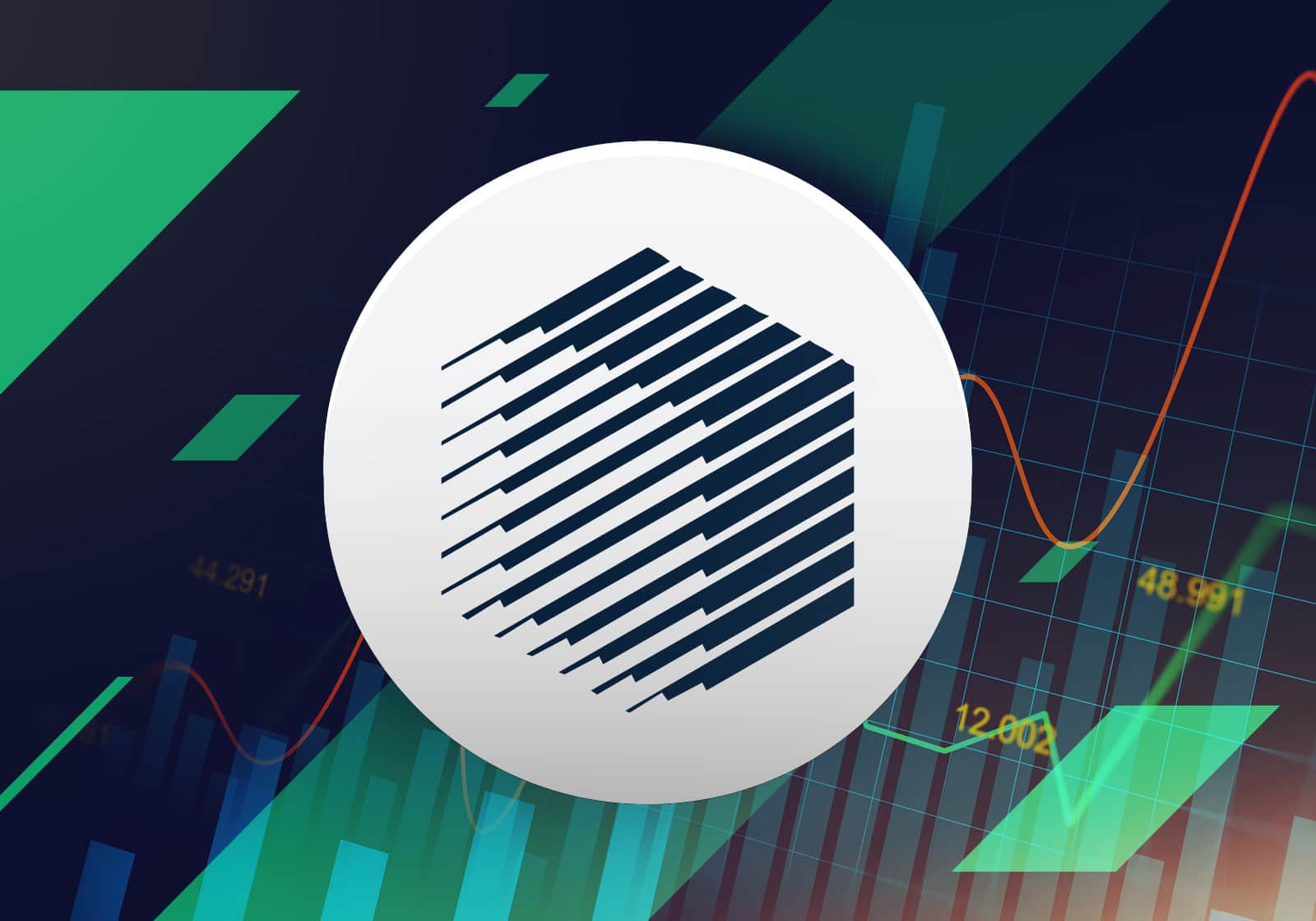 The REN protocol has been designed to resolve some of the most pressing challenges blockchain technology faces, specifically compatibility and privacy. By leveraging its innovative approach, REN has created a secure financial ecosystem that supports various decentralised applications, enabling them to share benefits and their users. Despite several ups and downs, the REN cryptocurrency has demonstrated a resilient performance. In March 2020, the price of REN experienced an upward trajectory, which sparked a renewed interest in its future potential. Looking ahead, many experts are forecasting a positive outlook for REN and predict that the cryptocurrency will continue to gain traction in the years to come. To learn more about the Ren cryptocurrency's projected growth over the next five years, check out our Ren (REN) price predictions.
What is Ren (REN)?

Ren (REN) is a token that operates on the Ethereum blockchain and serves as the backbone of Ren's open protocol for the seamless transfer of cryptocurrencies between different blockchains. Ren's core objective is to facilitate the integration of popular digital assets such as Bitcoin and Zcash into a multichain decentralised finance ecosystem built on Ethereum.
The Ren ecosystem is designed to enable the development, deployment, and operation of general-purpose applications that preserve user privacy using zk-SNARK, a zero-knowledge proof protocol. This allows parties to prove the possession of certain information without revealing it to others. Its long-term vision of Ren is to create a world of applications that prioritise user privacy.
The multiparty protocol that underpins the Ren ecosystem is secure, decentralised, and fault-tolerant, similar to blockchain technology. However, the key difference is that Ren applications keep all inputs, outputs, and states secret, even from network participants. This feature sets Ren apart and makes it an attractive proposition for developers and users.
REN History
The story of Ren began with its founders, Taiyang Zhang and Loong Wang, who met while studying at the Australian National University. After working together at a start-up, Zhang was asked to develop a trading algorithm for a friend's cryptocurrency hedge fund, which led to him co-founding Virgil Capital.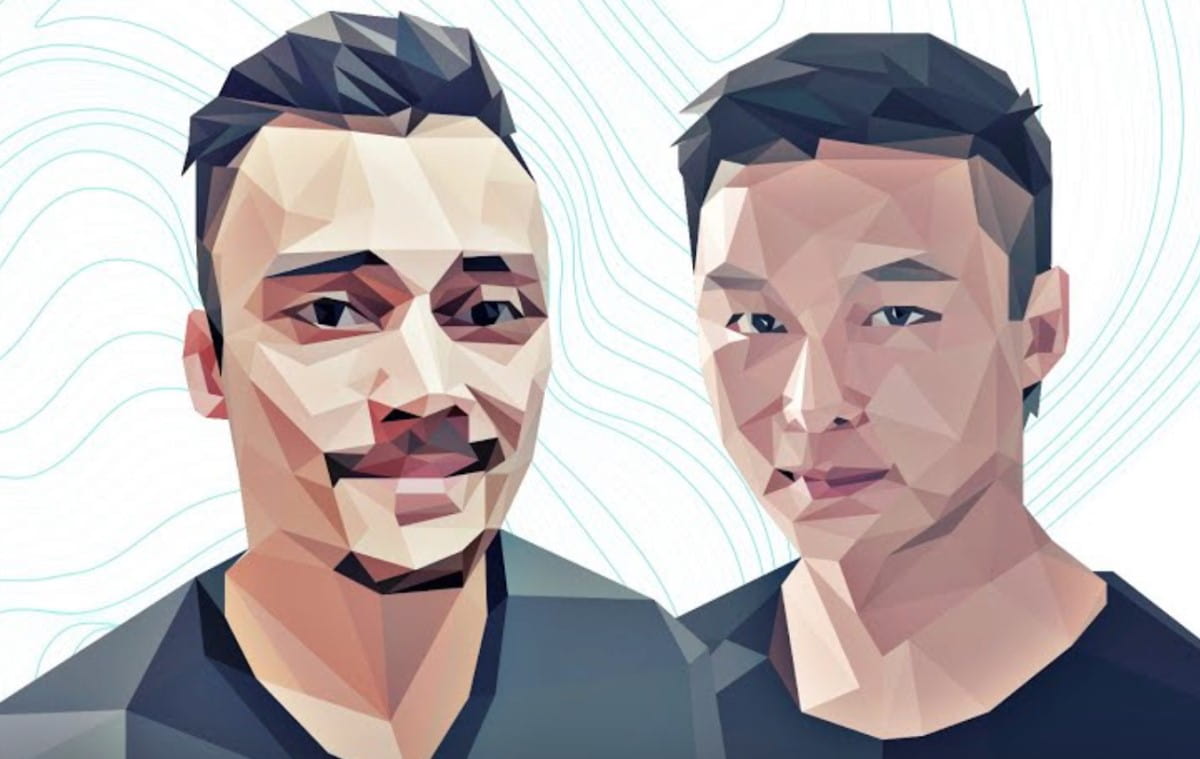 While working at Virgil Capital, Zhang realised there was no support for over-the-counter (OTC) cryptocurrency trading, as all transactions are publicly available on the blockchain. This made it difficult for investors to purchase large amounts of cryptocurrency without disrupting markets.
Zhang saw an opportunity to solve this problem using Ethereum, and he invited Wang, who had experience coding distributed database technologies, to work on the project. Wang realised there was also a lack of blockchain interoperability in cryptocurrency, so the Republic Protocol was founded to address both issues.
In 2018, the Republic Protocol launched two rounds of ICOs for the Republic token (REN), raising $32.8 million. REN is built on the Ethereum blockchain and is an ERC-20 token. The REN token was priced at just over 5 cents per token, and slightly more than 56% of the total supply of 1 billion was sold.
Ren White Paper
According to the REN white paper, the REN token facilitates the decentralised and trustless exchange of cryptocurrency assets across different blockchains using its central platform, the Ren Virtual Machine (RenVM). The RenVM achieves this through a network of Darknodes that provide the required computing power to identify and process cross-chain cryptocurrency orders. To keep these transactions secure, the Shamir Secret Sharing Scheme algorithm fragments the orders to prevent Darknodes from knowing the amount or destination of the crypto being transacted.
Since RenVM is built on the Ethereum blockchain, cross-chain transactions are executed on the Ethereum blockchain using ERC-20 token equivalents of the asset being transacted. This means that Bitcoin or Zcash are not moved onto Ethereum's blockchain. Instead, ERC-20 tokens representing these other cryptocurrencies are minted and burned according to the amount held or released by the RenVM decentralised platform.
What Gives REN Value?
Initially, REN tokens were used to pay transaction and computation fees in the Ren protocol, conceived as a dark pool decentralised exchange. However, after Ren was rebranded as a DeFi interoperability protocol, the REN token now serves as a bond for operating a Darknode. Running a Darknode requires 100,000 REN tokens to prevent bad actors from creating numerous identities and running multiple nodes. Darknode operators earn fees in the converted token, not REN tokens. Therefore, the REN token has no other use case beyond operating a node. However, this also incentivises more people to run Darknodes to earn fees in popular cryptocurrencies like BTC and ETH. More Darknode operators also increase the number of participants in the Ren ecosystem, making RenVM more secure and scalable, which in turn increases the value of Ren and influences REN's price and market cap.
Ren (REN) Price Analysis
When writing this Ren (REN) crypto price prediction on 5 April 2023, the token's price was $0.102604, with a daily trading volume of $24,607,434. REN ranked #272 on CoinMarketCap, with a live market capitalisation of $102,505,546, a circulating supply of 999,037,500 REN tokens and a maximum supply of 1,000,000,000 REN tokens.
Ren (REN) price statistics (as of 5/04/03/23)
| | |
| --- | --- |
| REN current price | $0.102604 |
| Market cap | $102,505,546 |
| Circulating supply | 999,037,500 REN |
| Total supply | 1,000,000,000 REN |
| Daily trading volume | $24,607,43 |
| All-time high | $1.8272 (20 February 2021) |
| All-time low | $$0.01548 (27 November 2018) |
| Ren roadmap | |
REN token price history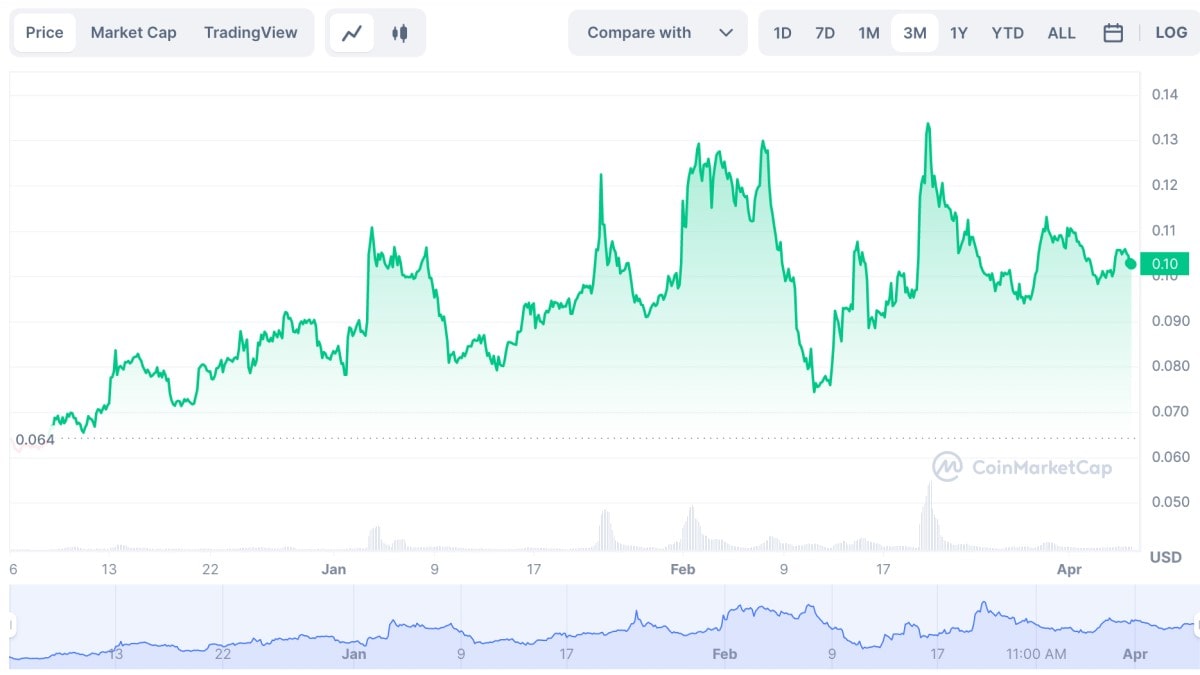 Before discussing Ren (REN) price predictions, let's cast our eyes on the token's past performance. Looking at the historical price movements of REN can provide valuable context for interpreting or making predictions about its future performance. However, it is important to note that past performance does not guarantee future results.
REN was first introduced to the market in February 2018 with an initial value of around $0.082. Unfortunately, this coincided with declining cryptocurrency prices, and REN's value remained relatively stagnant for the next couple of years, mostly hovering between $0.04 and $0.13. The lowest point was reached on 27 November 2018, when it hit an all-time low of $0.01548.
In early September 2020, REN experienced a surge in value, reaching over $0.50. However, it was short-lived, and the price declined again. Early 2021 was a time of significant growth in the cryptocurrency market, and REN performed well, reaching an all-time high of $1.83 on 20 February. After this peak, the price began to decline again, and throughout the summer, it mostly remained under $0.50. However, it recovered in August, reaching above $1, and closed the year at $0.5298.
2022 was a challenging year for the crypto market, and REN has yet to be immune to the downturn. After hitting a high of $0.6131 on 3 January 2022, the token declined steadily, reaching a low of $0.249 on 24 February 2022. REN saw a slight recovery the following month, reaching a high of $0.5288 on 31 March 2022. However, a series of market crashes caused the token to plummet to a low of $0.08459 on 15 June 2022. While there was a modest recovery, with the token reaching $0.2278 on 9 August 2022, the collapse of the FTX (FTT) exchange into bankruptcy in November sent REN down to a low of $0.07464 before it bounced back to around $0.114 on 28 November 2022.
When writing this Ren (REN) crypto price prediction on 5 April 2023, the token's price was $0.102604. During the past 90 days, the REN token's price has been on an upward trend mostly, with the 90-day low and 90-day high values of $0.06047 and $0.1475, respectively.
REN technical analysis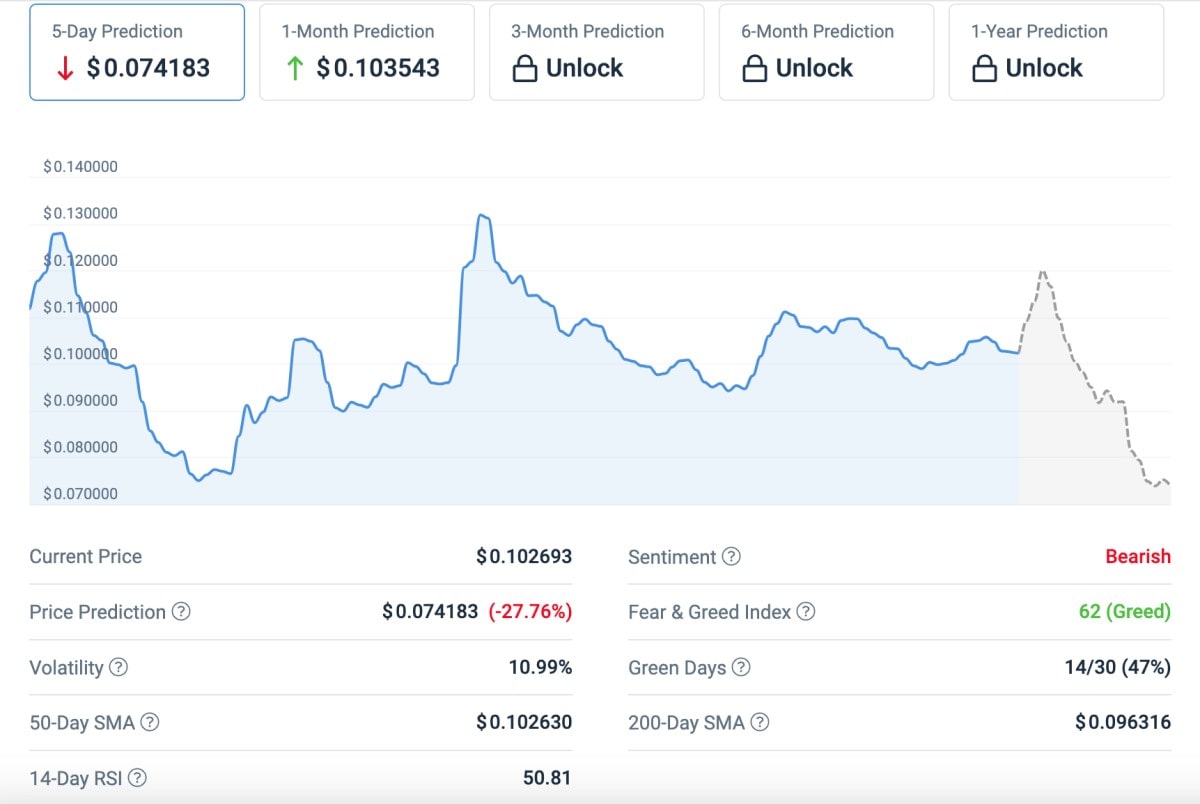 According to the technical indicators, Ren is currently trading above both the 200-day and 50-day simple moving averages (SMAs), with the 200-day SMA signalling a "BUY" for 8 days from 28 March 2023 and the 50-day SMA signalling a "BUY" for the past 2 days from 3 April 2023.
The last Death Cross in the Bitcoin market happened 460 days ago, on 31 December 2021, while the most recent Golden Cross occurred on 29 March 2023, 7 days ago.
Based on the technical analysis, Ren's 200-day SMA is expected to drop in the next month and reach around $0.095317 by 5 May 2023. Meanwhile, Ren's short-term 50-day SMA is predicted to hit around $0.095142 by the same date.
The Relative Strength Index (RSI) is a momentum oscillator that indicates whether a cryptocurrency is oversold (below 30) or overbought (above 70). Currently, the RSI value for Ren is at 50.81, indicating that the REN market is in a neutral position.
Ren predictions 2023
Based on the available information and various analyses, the predicted high for REN in 2023 is $0.22, while the expected low is $0.09. The average price prediction for REN by the end of 2023 is $0.16. 
Is Ren token a good investment?
Based on the positive REN price predictions for 2025 and 2030, investors have a favourable outlook on the platform's future growth potential. 
Overall, REN has a lot of potential as an investment. As one of the major DeFi projects, it offers Bitcoin holders a way to earn a return on their tokens instead of simply holding them and hoping for appreciation over time. As with any investment, risks are involved, but the positive outlook for REN suggests that it could be a promising addition to a diversified portfolio.
Ren (REN) price prediction 2023-2050
REN's price prediction has undergone significant changes over the past year, with the trend shifting from the beginning of the year to the end. Despite this, REN's overall trend has been moderate, leading to an optimistic outlook. That said, let's consider Ren (REN) crypto price predictions for 2023 and beyond. 
WalletInvestor REN price prediction for 2023, 2025, 2030, 2040 and 2050
According to WalletInvestor, the REN price prediction for 2023 is bearish. The site predicts that the token may face a challenging year and could potentially drop to as low as $0.00800039 by late November 2023.
Price Prediction REN token price prediction for 2023, 2025, 2030, 2040 and 2050
According to Price Prediction, the REN token's price is predicted to remain at around $0.11 throughout this year. In 2023, it is expected to reach $0.16, followed by $0.24 in 2024 and $0.35 in 2025. The website suggests that REN's price may increase to around $0.50 by 2026, potentially reaching $0.68 in 2027 and even breaking through the $1 barrier to reach $1.01 in 2028. Finally, it is predicted that REN may close the decade at around $1.53. 
CoinCodex REN crypto price prediction for 2023, 2025, 2030, 2040 and 2050
CoinCodex predicts that REN's value could decline to $0.074253 by 10 April 2023. The best-case scenario for REN price prediction in 2026 is $3.53.
CryptoPredictions Ren (REN) price prediction for 2023, 2025, 2030, 2040 and 2050
CryptoPredictions provided a REN price prediction, stating that the token may decline to $0.1374 in November 2023 before rebounding to $0.2184 a year later. The site also made a REN price prediction for 2025, suggesting that the token may begin at $0.2275, hit $0.2303 by November, and end the year at $0.2336.
Ren future forecast in general
The Ren platform is excellent for those with a long-term investment strategy. The recent increase in interest and price for REN has shown that it is a profitable token to invest in. With the trend of REN's price increases, 2023 is a great time to invest for long-term profits. 
How high can the REN token go?
Based on Ren price predictions, the average price of Ren (REN) may reach $0.143967 in 2023. Over the next 5 years, Ren may surpass $0.668418. 
REN price prediction today 
Based on the technical analysis, the Ren price in 2023 is expected to have a minimum value of $0.109989 and a maximum value of $0.129987. The average trading price for REN is expected to be around $0.109989.
Tags
Exchange BTC

Try our Bitcoin Cloud Miner and get additional crypto rewards based on your trading volume. It's immediately available upon registration.

Try our Bitcoin Cloud Miner and get additional crypto rewards based on your trading volume. It's immediately available upon registration.