UFO Gaming (UFO) Price Prediction 2023, 2025-2050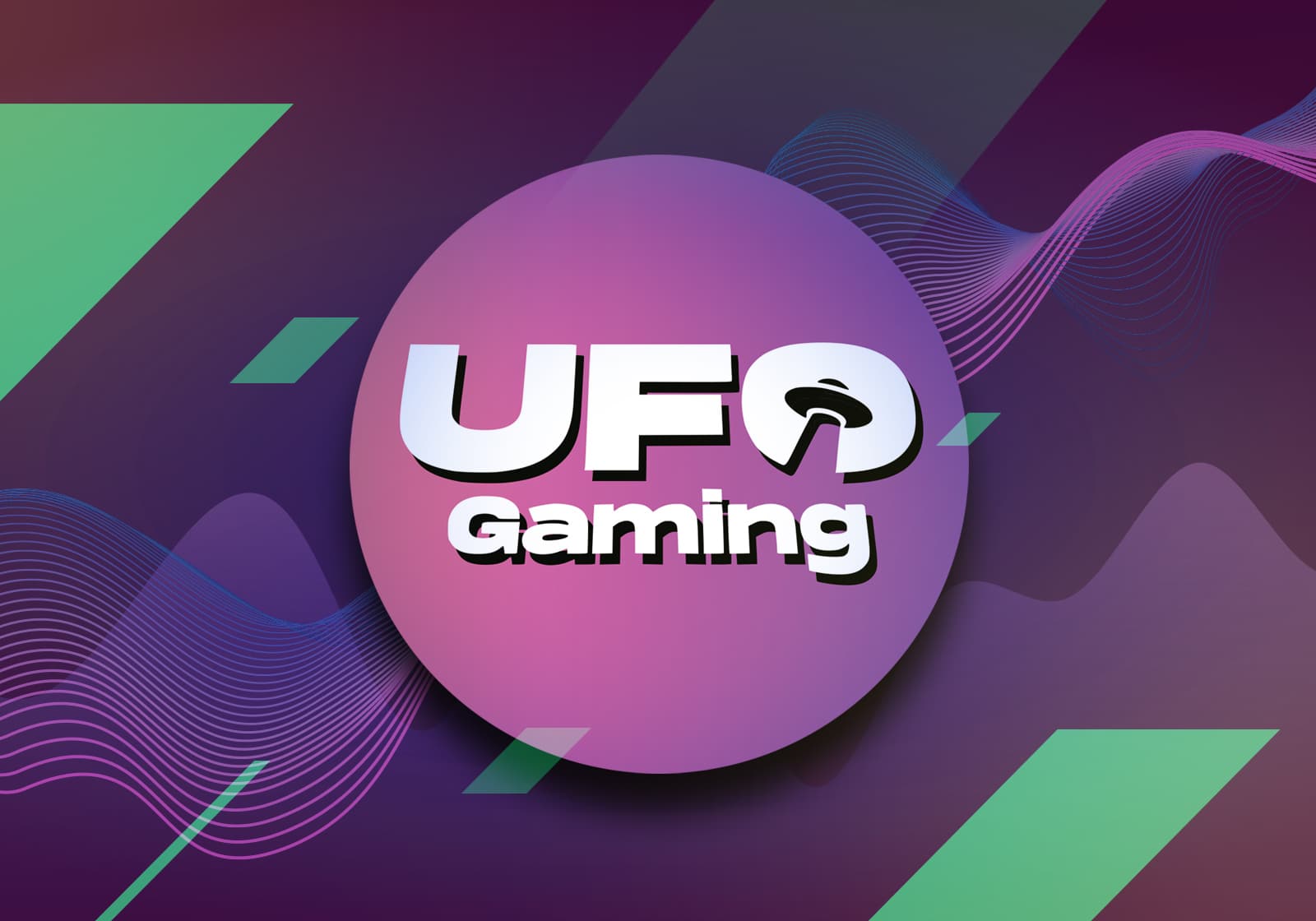 UFO Gaming (UFO), a blockchain-based gaming platform, has experienced a remarkable surge in its price over the past few months. It faces competition from well-established gaming tokens such as ApeCoin (APE), Decentraland (MANA) and The Sandbox (SAND), all of which have also seen significant price increases recently. The question remains: "Will UFO Gaming continue to grow and maintain its bullish momentum, or will it eventually succumb to the unpredictable market conditions?" This article examines the token's price analysis and the latest UFO Gaming (UFO) price predictions.
What is UFO Gaming (UFO)?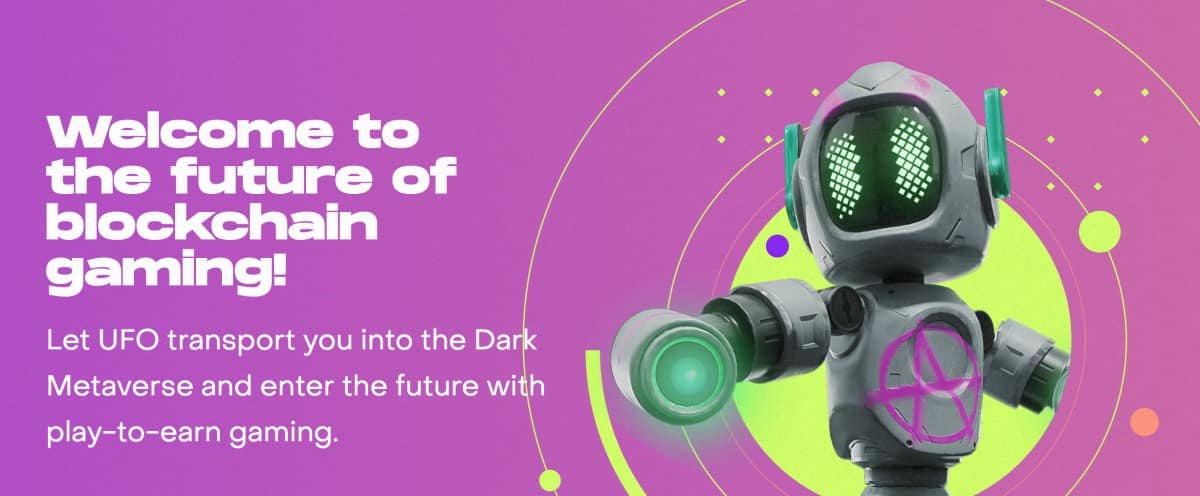 Let's begin our UFO Gaming (UFO) crypto price prediction with a definition of what it is. 
UFO Gaming is a decentralised gaming platform that leverages blockchain technology and Play2Earn features powered by NFTs, DeFi and staking. The platform is built on the Ethereum network and uses a Layer 2 scaling solution called Immutable X to enable seamless creation and trading of NFTs in-game assets with instant trade confirmations and low gas fees.
The platform's first game, SuperGalactic, is an arcade action game with an accompanying NFT collection. Users can mint unique playable characters, known as UFOeps, into NFTs. The native token of the platform is the UFO token, which is used for governance purposes and connects with other tokens on the platform.
Additionally, the platform has two other tokens, Plasma Points and UAP, which are used to purchase and breed soldiers. UAP can be exchanged for other cryptocurrencies, while Plasma Points are in-game utility points created using the UFO tokens.
UFO Gaming White Paper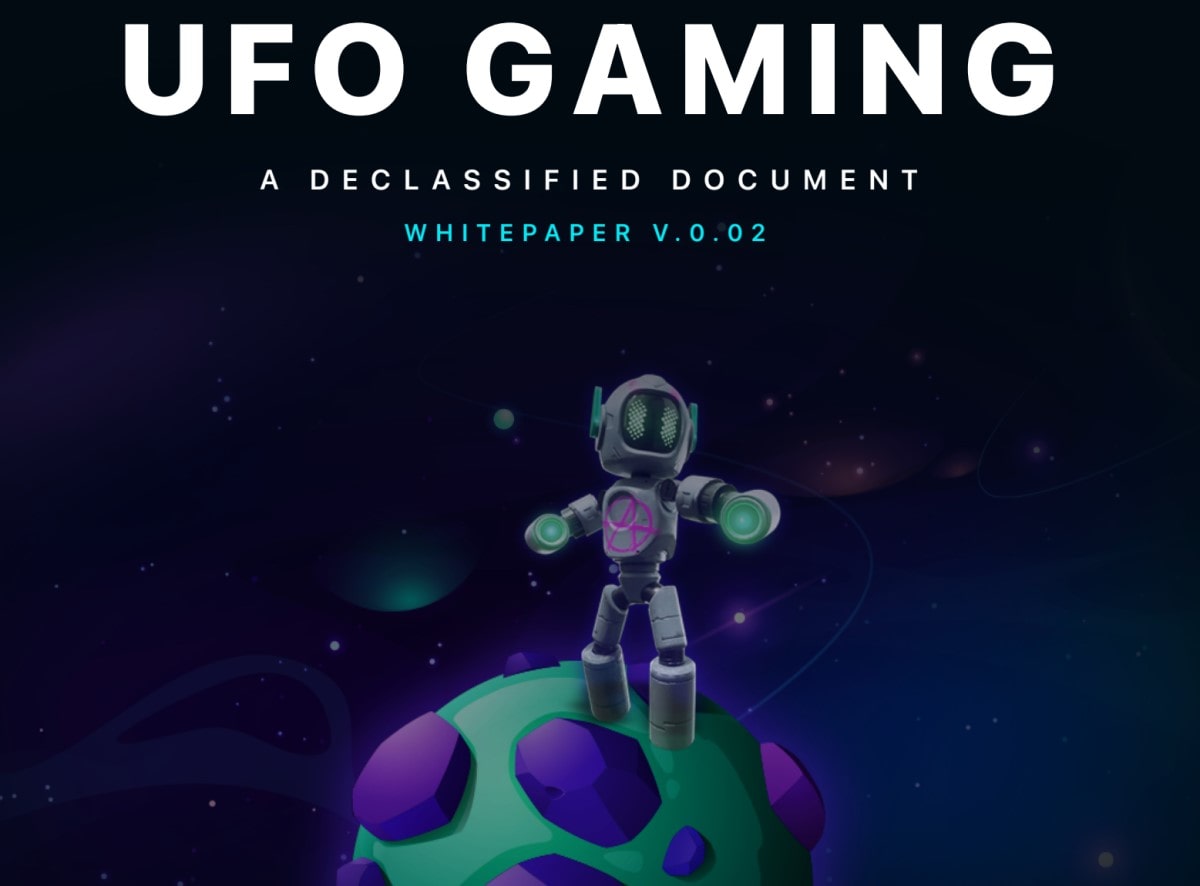 According to its whitepaper, UFO Gaming is a fully decentralised gaming network that brings traditional games to the blockchain and provides users with the opportunity to earn rewards. At the same time, they play and explore new features of blockchain gaming. Each game has its self-governing ecosystem, and the platform aims to host virtual land auctions where players can trade segments of the planet and earn income by completing assigned tasks within the game.
In SuperGalactic, players can exchange characters, weapons and other in-game items using the platform's native token. Unlike traditional play-to-earn (P2E) games, Super Galactic utilises a rating system that rewards more active characters or players with higher ratings, enabling them to earn more tokens and access more complex game content.
The initial release of NFT characters from the platform's game is designed to be extremely rare and valuable. During the Genesis Event, only 10,000 characters will be minted by the Super Galactic staking DApp. With play-to-earn mechanics, players can get paid for doing what they love: playing games.
What Problems Does UFO Gaming (UFO) Solve?
UFO Gaming is a game development project focused on creating a complex recreational product. However, this project is about more than just gameplay, as it solves several issues in the gaming sector. UFO Gaming has found more efficient ways to do things in this industry, making it unique and innovative.
One of the solutions offered by UFO Gaming is the combination of three major trends in the blockchain world: play-to-earn (P2E), non-fungible tokens (NFTs) and decentralised finance (DeFi). These three trends may seem completely independent from each other, but they are all compatible and can be combined to work together perfectly. By bringing them together, UFO Gaming has developed a game that offers a P2E model where players can earn while playing. They can also engage in activities like staking and further boost their profits, thanks to DeFi. NFTs enable players to become true owners of their in-game assets.
UFO Gaming also solves the problem using a layer-two scaling solution for NFT projects on the ETH network. Despite Ethereum's busy and inefficient network, the project is capable of performing faster with lower gas fees and running on Ethereum.
One of the unique approaches to UFO Gaming is the minting of NFTs. In the Cosmos Event, players can mint Origin UFOeps, some of the ecosystem's rarest and most valuable NFTs. As time passes, the possibility of minting such a rare NFT will drop. Players who fail to mint an UFOeps can buy one with UAP, the game's token for merging NFTs.
UFO Benefits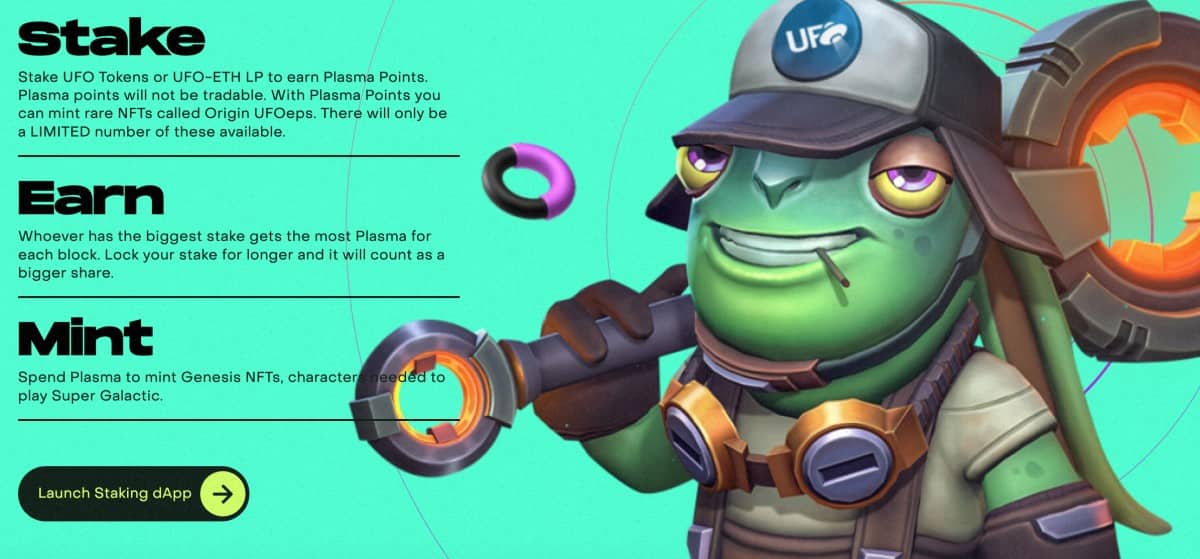 The UFO Gaming project aims to solve issues in the blockchain gaming industry and benefit its users. The platform offers a fun and engaging gaming experience centred around the UFOeps NFTs, where players can fight against an alien race and earn rewards for completing daily quests. The project also allows players to level up their NFTs and sell them on the UFO Gaming marketplace for a profit.
Moreover, UFO Gaming has plans for future expansion, including getting listed on various exchanges, launching a native marketplace, breeding NFTs, creating virtual land and introducing more games. The project has only launched one game, Super Galactic, but many more games are to come. With such plans for growth and development, UFO Gaming has the potential to be a long-term project that will continue to attract users and provide them with a unique gaming experience.
UFO Gaming (UFO) Price Analysis
At the time of writing this UFO Gaming (UFO) price prediction on 24 March 2023, the token's price was $0.000001576, with a daily trading volume of $792,924. The token ranked #456 on CoinMarketCap, with a $40,507,991 market capitalisation, a circulating supply of 25,757,575,757,576 UFO and a maximum supply of 25,757,575,757,575 UFO.
UFO Gaming (UFO) price statistics (as of 24/03/2023)
| | |
| --- | --- |
| Current price | $0.000001576 |
| Market capitalisation | $40,507,991 |
| Circulating supply | 25,757,575,757,576 UFO |
| Maximum supply | 25,757,575,757,575 UFO |
| Daily trading volume | $792,924 |
| All-time high | $0.00005592 (25/11/2021) |
| All-time low | $0.00000035 (20/07/2021) |
| Website | |
UFO coin price history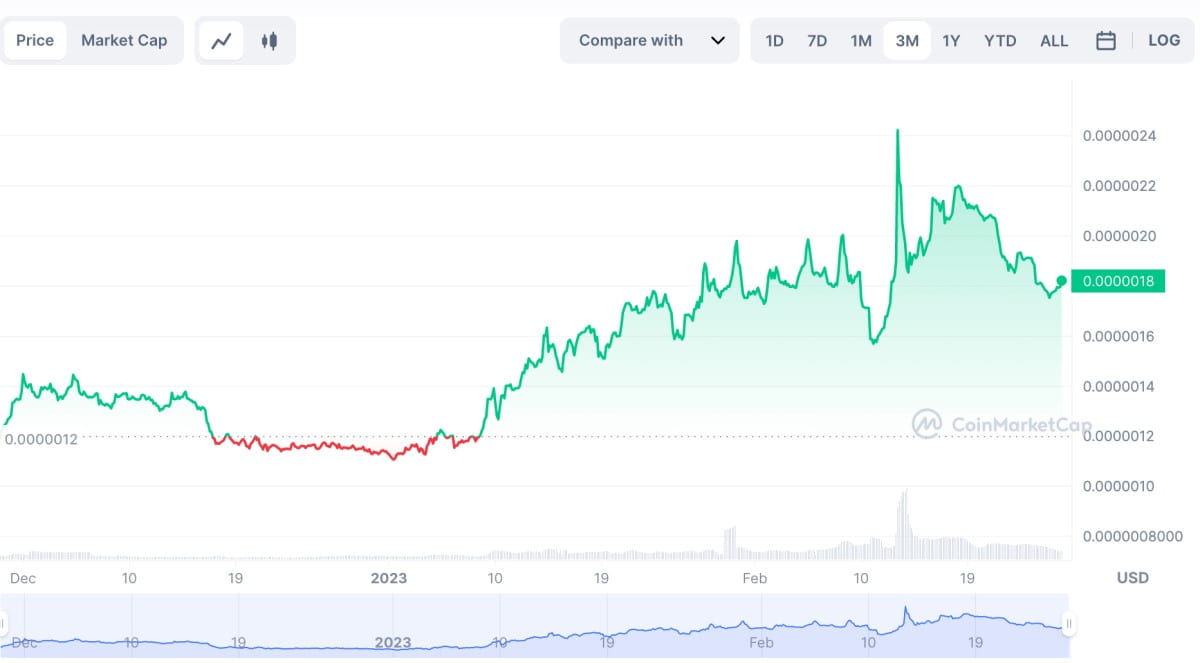 Before discussing the UFO Gaming (UFO) price prediction, let's consider the token's past performance. 
UFO Gaming is a blockchain gaming platform that launched its token in 2021 and quickly gained popularity. According to CoinMarketCap, the earliest available price data from 2021 shows that the UFO token surged from $0.00000066 on 1 July to $0.00000676 on 28 August, a remarkable increase of more than 924% in just under two months. However, the price fell to $0.000002127 on 21 September 2021.
After hitting the low point, the market sentiment turned bullish for the UFO token, and its price increased from $0.000002773 on 22 September to an all-time high of $0.00005592 on 25 November 2023. 
Since its peak in November, the UFO token lost momentum and began to decline in value. It fell by nearly 64% from its November high and reached $0.0000204 on 14 December 2021. The token closed the year at $0.00002392.
In 2022, the UFO token faced a similar fate as other cryptocurrencies and saw a decline in value. It hit a low of $0.000001941 on 12 May, following a bearish trend in the market. The bearish momentum continued into June, with the token reaching a 52-week low of $0.0000007891 on 18 June, causing concerns of a possible crypto crash.
At the end of 2022, the token's price declined to $0.00000114. UFO's price has been mostly moving upward since the beginning of 2023. The token has experienced both rises and falls, with the highest $0.000002384 price recorded on 13 February 2023.
UFO technical analysis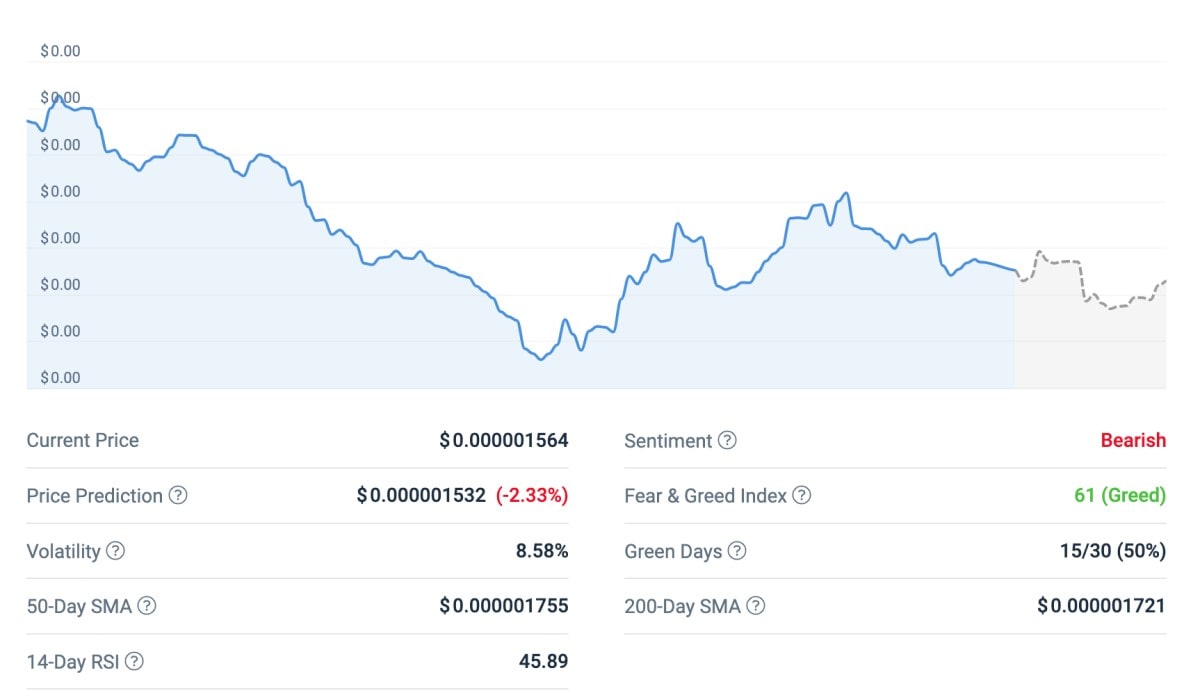 As of 24 March 2023, the overall sentiment for UFO Gaming (UFO) price prediction was bearish. Among the technical analysis indicators, only 2 signalled bullish signals, while 23 signalled bearish signals. This indicates that there is currently more pessimism than optimism in the market regarding the future price of the UFO token. However, it's important to note that market sentiment can change rapidly based on various factors such as news developments, market trends, and investor sentiment.
As of 24 March 2023, UFO Gaming was trading below the 200-day and 50-day simple moving averages, signalling SELL for the past 31 and 22 days, respectively. The next Death Cross for UFO Gaming's 200-day SMA is expected to occur next month, dropping the price to an estimated $0.000001794 by 23 April 2023, while the short-term 50-Day SMA is estimated to hit $0.000001428 by the same date.
UFO Gaming predictions 2023
The crypto market seems to be on the brink of a new era. Many are confident that the long-term UFO Gaming crypto price prediction will be positive, as there is still hope that the token will attract more attention. It is predicted that by the end of 2023, UFO's average price will be around $0.00000271, with a minimum price value of $0.00000261.
The maximum price is expected to be trading at approximately $0.00000325.
Is UFO Gaming a good investment?
UFO Gaming token has gained popularity in the metaverse and gaming segment, and the number of holders is increasing steadily. Many crypto traders opt for UFO Gaming as more UFO-related events are being organised. The team behind UFO Gaming is also launching various initiatives to add value to the token. Looking at past performance, investing in UFO Gaming tokens for the long term could be a good decision.
UFO Gaming (UFO) price prediction 2023-2050
CoinCodex UFO crypto price prediction for 2023, 2025, 2030, 2040 and 2050
According to the UFO price prediction from CoinCodex based on technical analysis, as of 27 February 2023, the token's price is expected to decrease by -2.33% and reach $ 0.000001532 by 29 March 2023. However, in the best-case scenario, the price prediction for UFO Gaming in 2026 is $ 0.00006297. 
WalletInvestor UFO Gaming price prediction for 2023, 2025, 2030, 2040 and 2050
According to Wallet Investor's UFO Gaming price prediction for 2023, it is expected to be a poor long-term investment. The platform predicts that the average price of the token could drop to $0.000000122 by the end of 2023 and further decrease to $0.000000072 by the end of 2025 and $0.000000052 by the end of 2028. These predictions suggest a bearish outlook for the future of UFO Gaming.
DigitalCoinPrice UFO token price prediction for 2023, 2025, 2030, 2040 and 2050
DigitalCoinPrice's UFO token price prediction suggests a potential increase in value in the coming years. The token's average price is expected to be $0.00000673 in 2022, followed by a rise to $0.00000760 in 2023 and $0.00000743 in 2024. Furthermore, the prediction suggests that the token's price could reach $0.00000988 in 2025, $0.0000215 in 2029, and $0.0000271 in 2031, indicating potential long-term growth.
PricePrediction UFO Gaming (UFO) price prediction for 2023, 2025, 2030, 2040 and 2050
According to PricePrediction, the UFO price prediction for 2023 is $0.00000333, and it could reach an average price of $0.00001051 by 2025. In 2030, Price Prediction predicts that the price of UFO Gaming could increase to $0.00007080.
UFO Gaming future forecast in general
UFO Gaming has experienced significant growth in the crypto market since its launch. However, the recent bearish events have caused the token to lose 90% of its value. This extreme volatility has led many traders to question whether UFO Gaming is a long-term investment or a pump-and-dump scheme.
How high can UFO go?
Based on analysis and predictions, there is a higher likelihood that the price of UFO Gaming will increase in the next decade and reach $0.00005592. The projected price range for the next 8 to 10 years is between a minimum of $0.00005442 and a maximum of $0.00006505. However, it's important to note that these predictions are subject to change and should not be considered a guarantee of future performance.
UFO price prediction today
Based on our UFO price prediction, the value of UFO Gaming may reach a maximum price of $0.0000086 by the end of 2023. If the current growth trend continues, the average price of the token may be around $0.0000069. However, if the market experiences a downturn, the minimum price of the token could drop to $0.0000048 for 2023. 
Tags
Exchange BTC

Try our Bitcoin Cloud Miner and get additional crypto rewards based on your trading volume. It's immediately available upon registration.

Try our Bitcoin Cloud Miner and get additional crypto rewards based on your trading volume. It's immediately available upon registration.