What breed is Doge?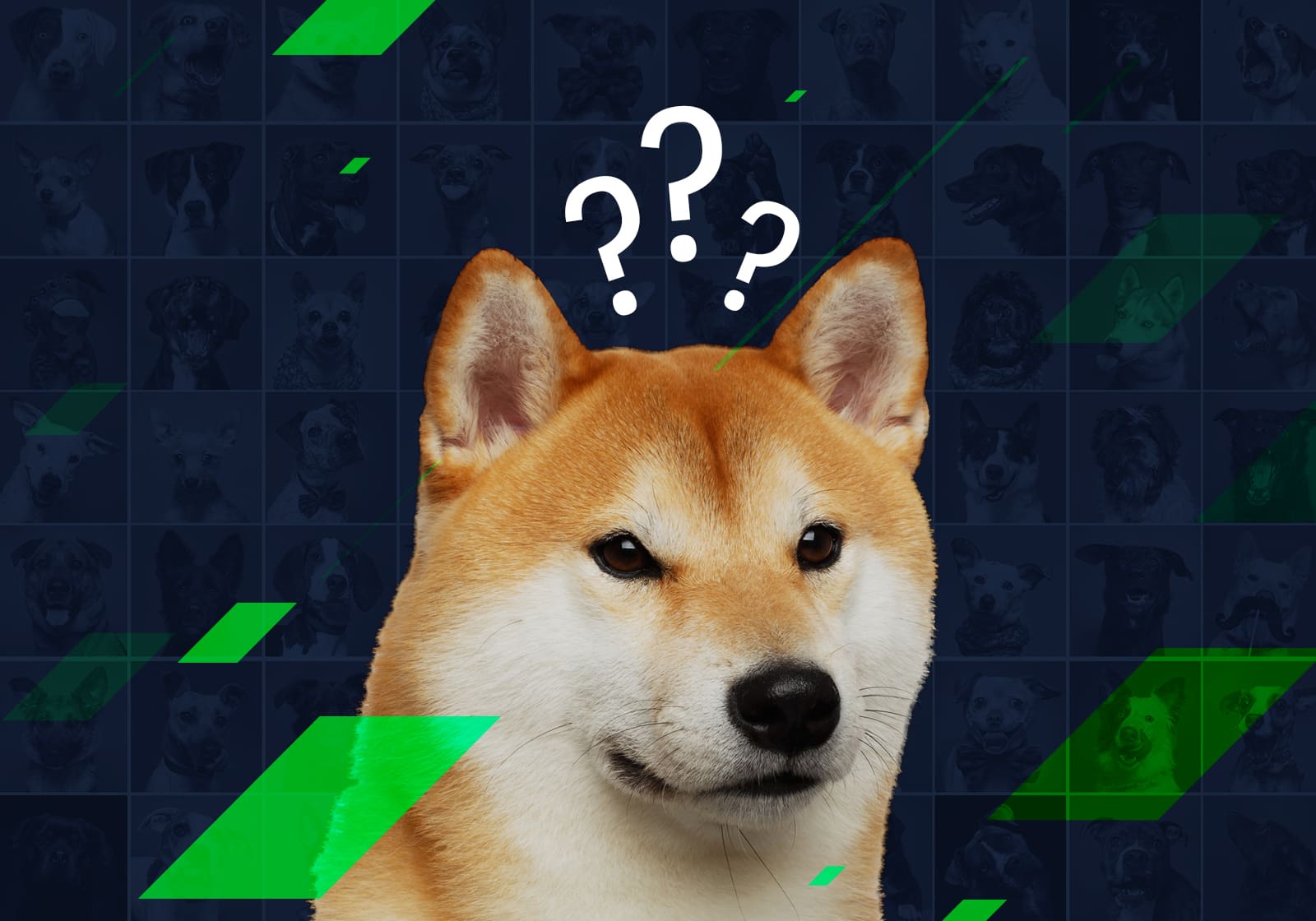 Did you know that the popular cryptocurrency Dogecoin started as a joke based on an internet meme? In this article, we'll answer the question 'What is a Doge?' by exploring the history of Dogecoin, its specs and the meme that gave the coin its name.
Doge has dogs & memes, whereas the others do not. — Elon Musk
What is Dogecoin?
Dogecoin (DOGE) cryptocurrency was conceived as a joke project that could have practical applications. Its developers wanted to create a publicly available payment method while trying to distance themselves from Bitcoin, which had a reputation as a black-market currency at the time.

Dogecoin's history
The history of Dogecoin is an example of how one person used a popular Internet joke to create a cryptocurrency that is currently among the top 10 cryptocurrencies in terms of market capitalisation.
Dogecoin was created by programmer Billy Markus from Portland, Oregon, in the United States, with the support of his friend Jackson Palmer, an employee in Adobe System's marketing department in Sydney, Australia. Dogecoin was created based on the already existing Luckycoin cryptocurrency and was officially launched on 8 December 2013.
The popular online meme Doge was chosen as the new cryptocurrency's symbol. This innovative approach to advertising campaigns paid off, and the coin got noticed. The project began to develop successfully and quickly gained wide popularity in the blockchain community.
On 25 December 2013, the first major attempt to steal Dogecoin took place. Millions of coins were stolen during a hacking attack on the Dogewallet online wallet platform. To help those affected by the hack, the Dogecoin community launched an initiative to donate coins. After about a month, enough money was raised to cover all the lost coins.
Before March 2014, Dogecoin mining rewards were randomly assigned, which scared away some miners. But when this situation changed, the size of the reward acquired a fixed value.
Dogecoin's creators initially capped issuance at 100 billion coins. Sometime later, they removed this limit, allowing an unlimited amount of Dogecoins to be issued. Since there are no mining restrictions, Dogecoin is an inflationary cryptocurrency. As of 2014, 100 billion had been mined. Since then, an average of 5 billion Dogecoins has been mined every year.
Throughout Dogecoin's existence, its developers have tried to create a reputation for it as a coin that's directly related to charity. For example, in early 2014, the Dogecoin community organised a fundraising project for a Jamaican bobsled team that collected $50,000. The team successfully qualified for the Winter Olympic Games, but, unfortunately, the country didn't have enough funds to provide it with all the necessary equipment.
In March 2014, the Dogecoin community raised $55,000 to fund pro racer Josh Wise. He, in turn, promised that he would race in a car with the cryptocurrency logo. In July 2020, the price of Dogecoin rose sharply due to a flash mob on TikTok that tried to get the coin's price to $1. In January 2021, attention from Reddit users and a tweet by Elon Musk pushed Dogecoin up more than 800% in 24 hours, with the coin reaching $0.08 before settling at $0.073.
In March 2021, Dallas Mavericks owner Mark Cuban announced that his NBA team would allow game tickets, merchandise and food to be purchased with Dogecoin. Within two days, Cuban announced that his franchise had become the largest Dogecoin merchant, completing over 20,000 transactions.
On 4 May 2021, Dogecoin surpassed the $0.50 barrier after it increased over 20,000% in one year. On 9 May 2021, Elon Musk announced a rideshare mission to the Moon fully funded by Dogecoin, making it the first cryptocurrency-funded space mission.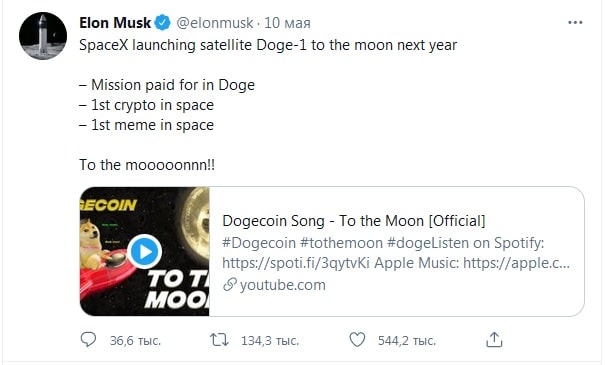 Dogecoin specs
Although Dogecoin's developers tried to distance their creation from Bitcoin, the basis for Dogecoin's creation was the Luckycoin cryptocurrency, a fork of Litecoin, itself a derivative of Bitcoin. Thus, from a technical point of view, Bitcoin and Dogecoin share a lot in common, although there are notable differences.
The most important differences include:
Max supply. The total number of Bitcoins is limited, while Dogecoin has no such issuance cap.
Hashing algorithm. The Dogecoin blockchain is supported by miners using the Scrypt algorithm, which allows it to reduce the problem of centralised mining that Bitcoin faces because of mining with ASICs.
In addition, Dogecoin sets itself apart from the original cryptocurrency through its relatively fast transactions and low transaction fees.
Dogecoin (DOGE) characteristics (as of 01/06/2021)
| | |
| --- | --- |
| Consensus algorithm | Proof-of-Work |
| Hashing algorithm | Scrypt |
| Block reward | 10,000 DOGE |
| Block time | 1 minute |
| Market Rank | #7 |
| Current price | $0.3247 |
| Market cap | $42,088,426,981 |
| Circulating supply / Max supply | 129.84B / Unlimited |
| Daily trading volume | $3,180,730,557 |
| Website | https://dogecoin.com/ |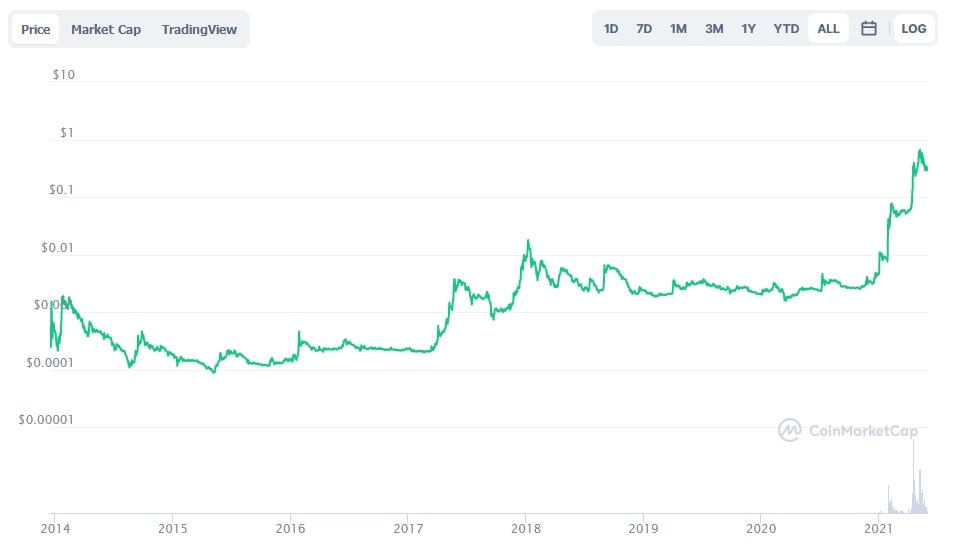 What breed is Doge?
But what about the dog that provided the basis for the meme that later became the symbol of Dogecoin? What type of dog is Doge?
The Doge dog breed is a Shiba Inu, a hunting dog bred on the Japanese island of Honshu. Genetic studies have confirmed that the Shiba Inu is one of the oldest Asian dog breeds. It was likely found on the territory of modern Japan more than 3000 years ago. In 1936, the breed was declared a national treasure of Japan. The Shiba Inu's attractive appearance makes it one of the most popular dog breeds in Japan.
The Doge meme
The internet meme originated in 2010 after a Japanese kindergarten teacher posted pictures of her Shiba Inu dog, Kabosu. One of the photos caught the attention of Internet users and became a meme. In 2013, the meme gained popularity online and was adopted as the symbol of the Dogecoin cryptocurrency in the same year.
A meme usually consists of a picture of Shiba Inu (Doge) with scattered text representing Doge's inner monologue about a situation. The text is written in broken English using the format "such X", "many X", "very X" and "so X". The word "wow" is also commonly used. In addition, any long thought is broken down into one- or two-syllable remarks, creating the appearance of a chaotic stream of consciousness.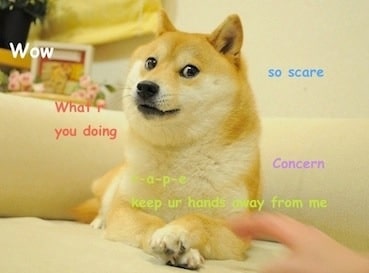 Tags
Exchange BTC

Try our Bitcoin Cloud Miner and get additional crypto rewards based on your trading volume. It's immediately available upon registration.

Try our Bitcoin Cloud Miner and get additional crypto rewards based on your trading volume. It's immediately available upon registration.
Instrument
Rate
Change (24h)