Bitcoin Gold (BTG) Price Prediction 2023–2030

Over the course of its existence, Bitcoin has spawned numerous forks, each attempting to carve out its own niche in the crypto sphere. While many of these forks remain relatively obscure, Bitcoin Gold (BTG) has managed to achieve a measure of popularity. In this article, we'll take a look at BTG and its price predictions.
What is Bitcoin Gold (BTG)?
Bitcoin Gold (BTG) is a cryptocurrency that emerged as a result of a hard fork of the Bitcoin blockchain. The primary motivation behind the creation of Bitcoin Gold was to make the cryptocurrency mining process more decentralised by allowing individuals to mine using consumer-grade hardware instead of ASICs (application-specific integrated circuits) that are commonly used to mine Bitcoin.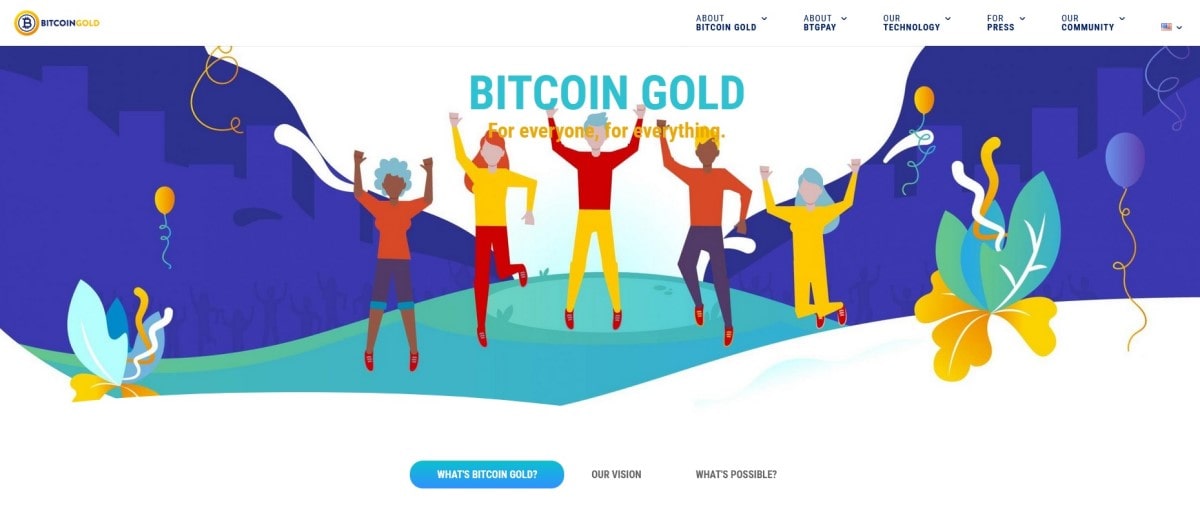 Satoshi Nakamoto's idealistic vision of "one CPU one vote" has been superseded by a reality where the manufacture and distribution of mining equipment has become dominated by a very small number of entities, some of whom have engaged in abusive practices against individual miners and the Bitcoin network as a whole. — Bitcoin Gold's whitepaper.
The history of Bitcoin Gold
Bitcoin Gold was created in 2017. The original founding team consisted of 6 members. Jack Liao, the CEO of LightningASIC, played a pivotal role in spearheading the fork. Other notable team members were Hang Yin and Martin Kuvandzhiev.
The Bitcoin hard fork, which resulted in Bitcoin Gold, occurred on 24 October 2017, at block 491,407. All Bitcoin holders received an amount of Bitcoin Gold (BTG) equal to the amount of their Bitcoins (BTC).
Bitcoin Gold was met with instant criticism due to the pre-mining of a certain amount of coins by its developers. While the pre-mining was intended to fund the project, it sparked debates within the crypto community about fairness and decentralisation.
In May 2018, Bitcoin Gold experienced a significant security challenge when it fell victim to a 51% attack. During the attack, 388,000 BTG (worth about $18 million) were stolen from several crypto exchanges. As a result, Bitcoin Gold was delisted from the Bittrex exchange after the team refused to help pay some of the losses.
In July 2018, Bitcoin Gold implemented a new mining algorithm called Equihash-BTG, also known as Equihash(144,5).
In January 2020, Bitcoin Gold suffered another 51% attack. The attack resulted in a double spend of $72,000 worth of cryptocurrency.
Bitcoin Gold's features
Bitcoin Gold aimed to address concerns about centralisation in the mining process by enabling more participants to mine using GPUs. The idea was to make the mining process more accessible to a broader range of people and reduce the influence of large mining operations. However, the developers claim that Bitcoin Gold does not aim to replace the original Bitcoin.
Bitcoin Gold has implemented Equihash, an ASIC-resistant mining algorithm. This means that it is designed to be more resistant to the development of specialised hardware, promoting a more decentralised mining landscape.
In addition, Bitcoin Gold also differs from the original Bitcoin in that the mining difficulty adjustment occurs after every block created, rather than every 2016 blocks.
Comparison of Bitcoin and Bitcoin Gold
| | | |
| --- | --- | --- |
| Characteristic | BTC | BTG |
| Hashing algorithm | SHA-256 | Equihash-BTG |
| Mining hardware | ASIC | GPU |
| Block time  | 10 min | 10 min |
| Difficulty adjustment | Every 2016 blocks (2 weeks) | Every block |
| Max supply | 21 million | 21 million |
Bitcoin Gold is supported by various wallets and some exchanges, facilitating its use, storage, and exchange within the cryptocurrency market. Users who held Bitcoin at the time of the hard fork were eligible to receive an equivalent amount of Bitcoin Gold, and this distribution method was a key factor in establishing its user base.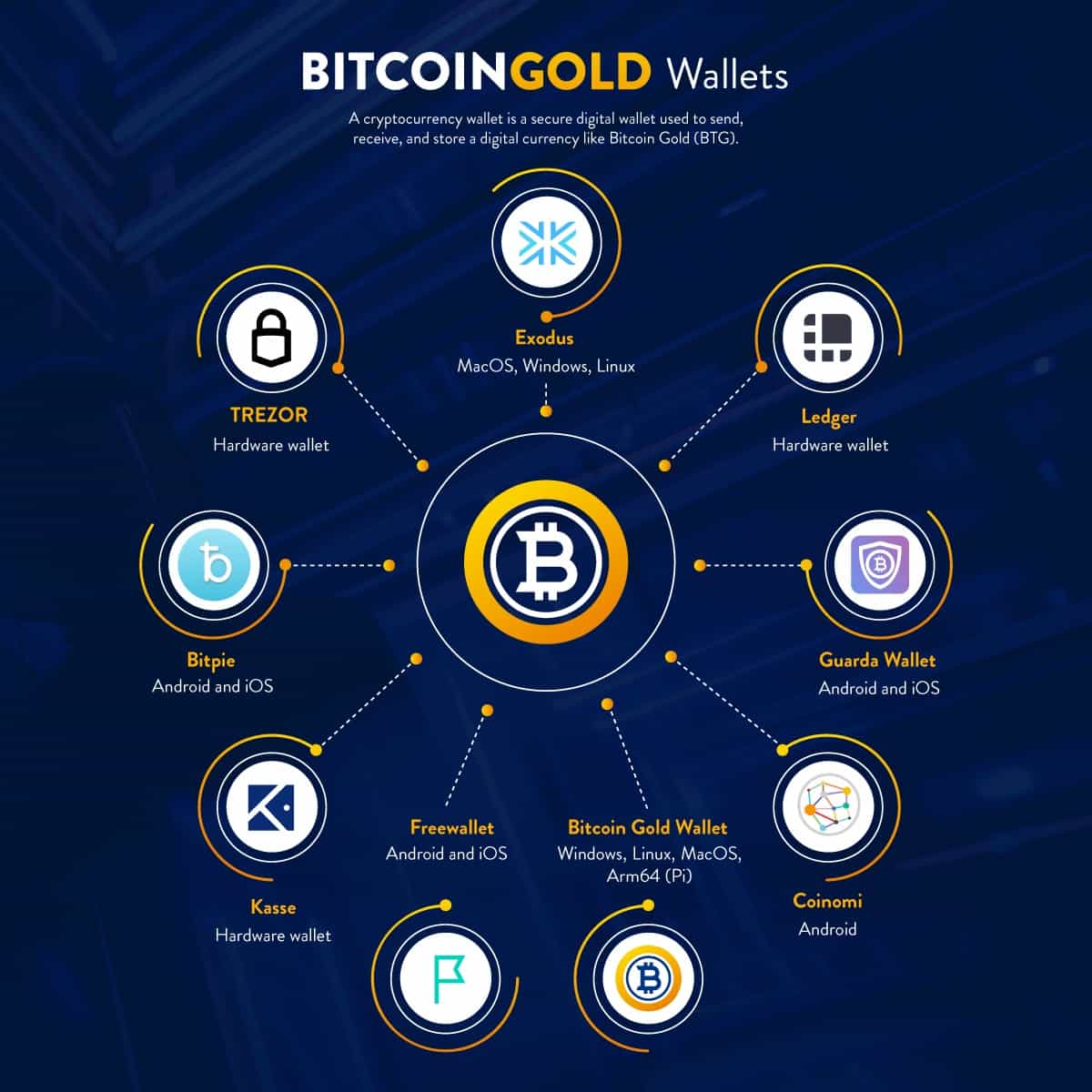 What does Bitcoin Gold crypto do?
BTG's main purpose is the same as Bitcoin's — to be used as a cryptocurrency. It's most often used for money transfers as well as for payment in online shops and services that accept this coin.
How to buy and sell BTG crypto
Currently, the most of BTG is traded on South Korean crypto exchanges Upbit and Bithumb. In addition, the coin can be bought on the Gate.io, Bybit, and Bitget crypto exchanges.
Bitcoin Gold (BTG) price analysis
As of 19 November 2023, BTG ranked 138th among cryptocurrencies by market capitalisation at $274,362,982.
BTG price statistics (as of 17/11/23)
| | |
| --- | --- |
| Current price | $15.65 |
| Market cap | $274,362,982 |
| Circulating supply | 17,513,924 BTG (83.40%) |
| Max supply | 21,000,000 BTG |
| Daily trading volume | $9,927,979 |
| All-time high | $539.72 (24/10/17) |
| All-time low | $2.54 (23/11/20) |
| Website | |
BTG's price history
After BTG's appearance on crypto exchanges and the initial period of high volatility, the price of the coin showed a long decline. In February 2019, the price started to recover. The recovery lasted until the end of June 2019 and was replaced by a new period of decline.
In March 2020, the price started moving sideways, which continued until the end of 2020. In early 2021, the coin's price experienced a sharp rise and reached a local high of $134 on 6 May 2021.
This was followed by a price decline that lasted until December 2022. Then the price started a sideways movement, which has continued up to this day.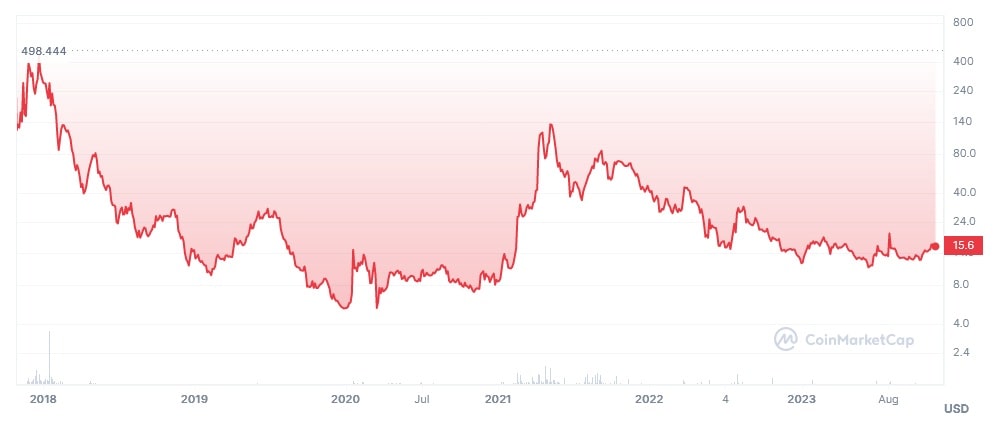 BTG/USDT price chart
BTG technical analysis
On 17 November, the BTG price broke down the lower boundary of the ascending channel. On 19 November, the price returned to the channel and reached the resistance level of $18.33, but failed to break it and rolled back to the lower boundary of the channel. The MACD and RSI MA indicate bearish sentiment. The Moving Averages and Parabolic SAR, however, are bullish.
The nearest support levels are $14.00, $12.00, and $11.00. The nearest resistance levels are $18.33, $20.80, and $22.00.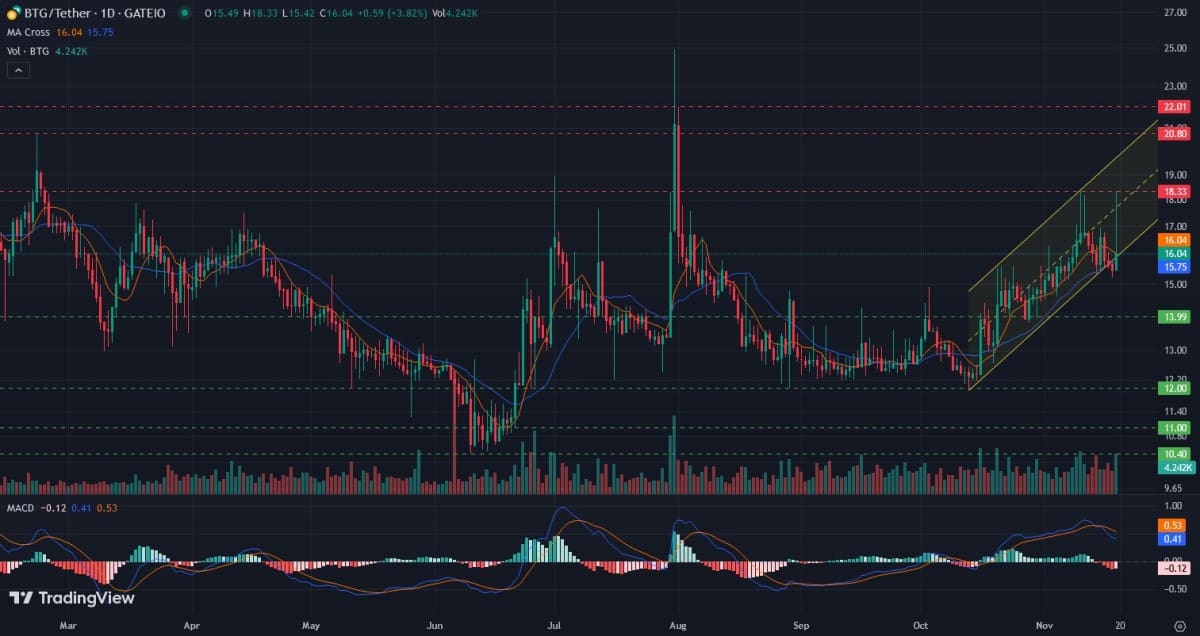 What is the Bitcoin Gold (BTG) crypto price prediction for 2023?
For the remainder of the year, BTG's price behaviour will mainly depend on the overall state of the crypto market. Bullish sentiment in the crypto market may well lead to an increase in the BTG price. Steady, sustained growth, however, is unlikely to happen.
Bitcoin Gold (BTG) coin price prediction for 2023, 2025, 2030, and 2040
Despite the fact that BTG has significantly lost ground and is no longer in the top 100 cryptocurrencies, many forecasting services still pay attention to it. As usual, we have compiled for you the predictions made by some of the most popular ones.
Wallet Investor's BTG price prediction for 2023, 2025, 2030, and 2040
Wallet Investor predicts the BTG price will soon rise, reaching $27,189 at the end of 2023. However, as early as January 2024, it expects a sharp drop in BTG's price, with the coin dipping to $6.817 by the end of 2024 and $1.070 by the end of 2025. In 2026–2027, Wallet Investor predicts that the price will recover slightly, but then it sees a further decline to $1.028 in November 2028.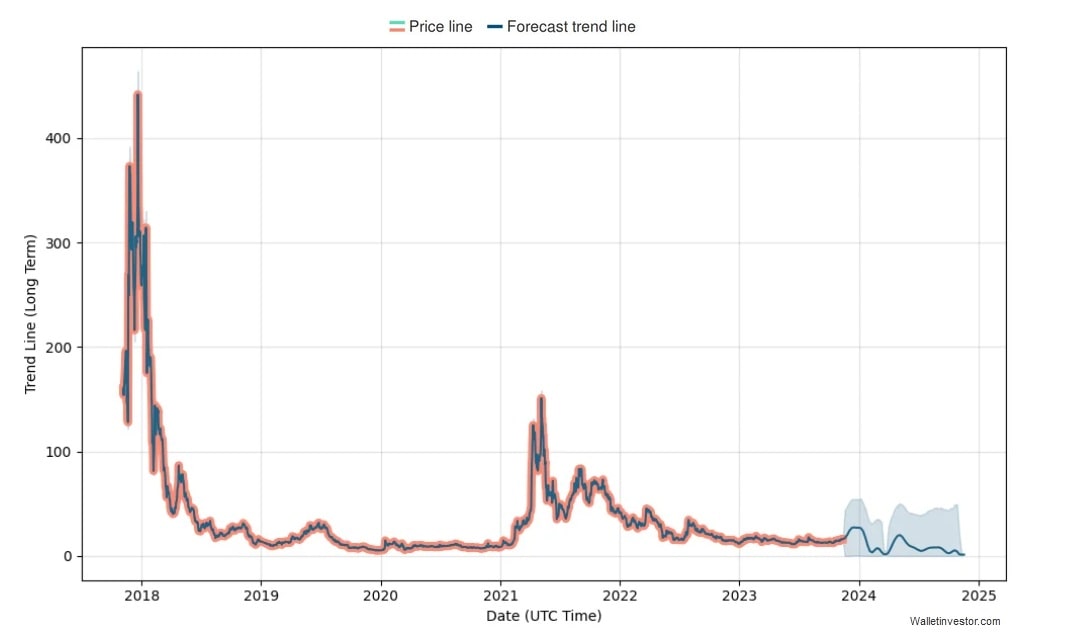 CryptoNewsZ's BTG price prediction for 2023, 2025, 2030, and 2040
CryptoNewsZ predicts that the price will rise in the coming years. According to them, it will be in the range of $18.00–34.00 in 2024, in the range of $25.00–46.00 in 2025, and in the range of $100.00–130.00 in 2030.
DigitalCoinPrice's BTG price prediction for 2023, 2025, 2030, and 2040
DigitalCoinPrice expects the price to reach $33.66 at the end of 2023, $38.60 at the end of 2024, $49.89 at the end of 2025, and $161.43 at the end of 2030.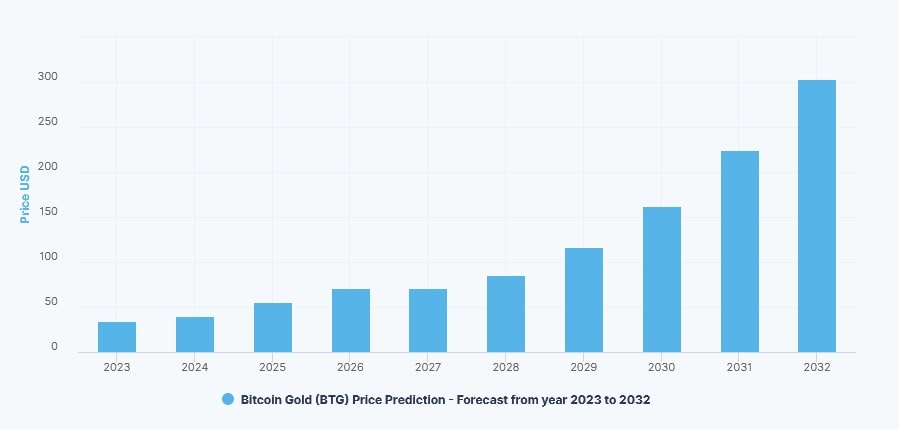 Price Prediction's BTG price prediction for 2023, 2025, 2030, and 2040
Price Prediction believes that BTG's price will rise significantly. According to their predictions, the average price will be $16.63 in 2023, $24.16 in 2024, $35.10 in 2025, and $225.15 in 2030.
CryptoPredictions'BTG price prediction for 2023, 2025, 2030, and 2040
CryptoPredictions anticipate a slow and steady rise in the coin's price. They believe the coin will be worth $13.845 at the end of 2023, $18.329 at the end of 2024, $25.357 at the end of 2025, and $25.357 at the end of 2027.
Bitcoin Gold (BTG) overall future value predictions
Is BTG crypto a good investment?
Bitcoin Gold has seen a noticeable loss of popularity since its launch and currently its future doesn't look promising. Being one of Bitcoin's forks, it failed to compete with the most successful ones, such as Bitcoin Cash and Bitcoin SV. While it has some advantages, in particular the use of an ASIC-resistant hashing algorithm, it has a number of disadvantages:
Competitive landscape. Bitcoin Gold operates in a highly competitive crypto landscape. The presence of numerous alternative projects with diverse features and use cases means that BTG must contend with other cryptocurrencies for market share and user adoption.
Security concerns. Bitcoin Gold has repeatedly experienced security challenges, most notably a 51% attack in May 2018.
Community perception. BTG has failed to gain significant support in the crypto community.
Development activity. The level of development activity on the Bitcoin Gold project has been criticised for being relatively low compared to more prominent cryptocurrencies.
Centralisation of capital. According to some research, BTG's supply is probably largely controlled by one or several whales. This makes the coin very vulnerable to price manipulation.
Will BTG reach $100?
The odds of this happening are not very high, but it's possible during a bull run.
How high can the BTG coin go?
The coin has fallen on hard times and the developers' efforts so far don't seem to be enough to change that. The nearest bull run will undoubtedly drag the BTG price up, but at the moment the price isn't likely to repeat the local high of the previous bull run, to say nothing of exceeding this level.
Bitcoin Gold (BTG) price prediction today
The chart indicates a state of uncertainty. The price is equally likely to decline or continue to grow.
Tags
Exchange BTC

Try our Bitcoin Cloud Miner and get additional crypto rewards based on your trading volume. It's immediately available upon registration.

Try our Bitcoin Cloud Miner and get additional crypto rewards based on your trading volume. It's immediately available upon registration.
Instrument
Rate
Change (24h)