HEX (HEX) Price Prediction 2023-2030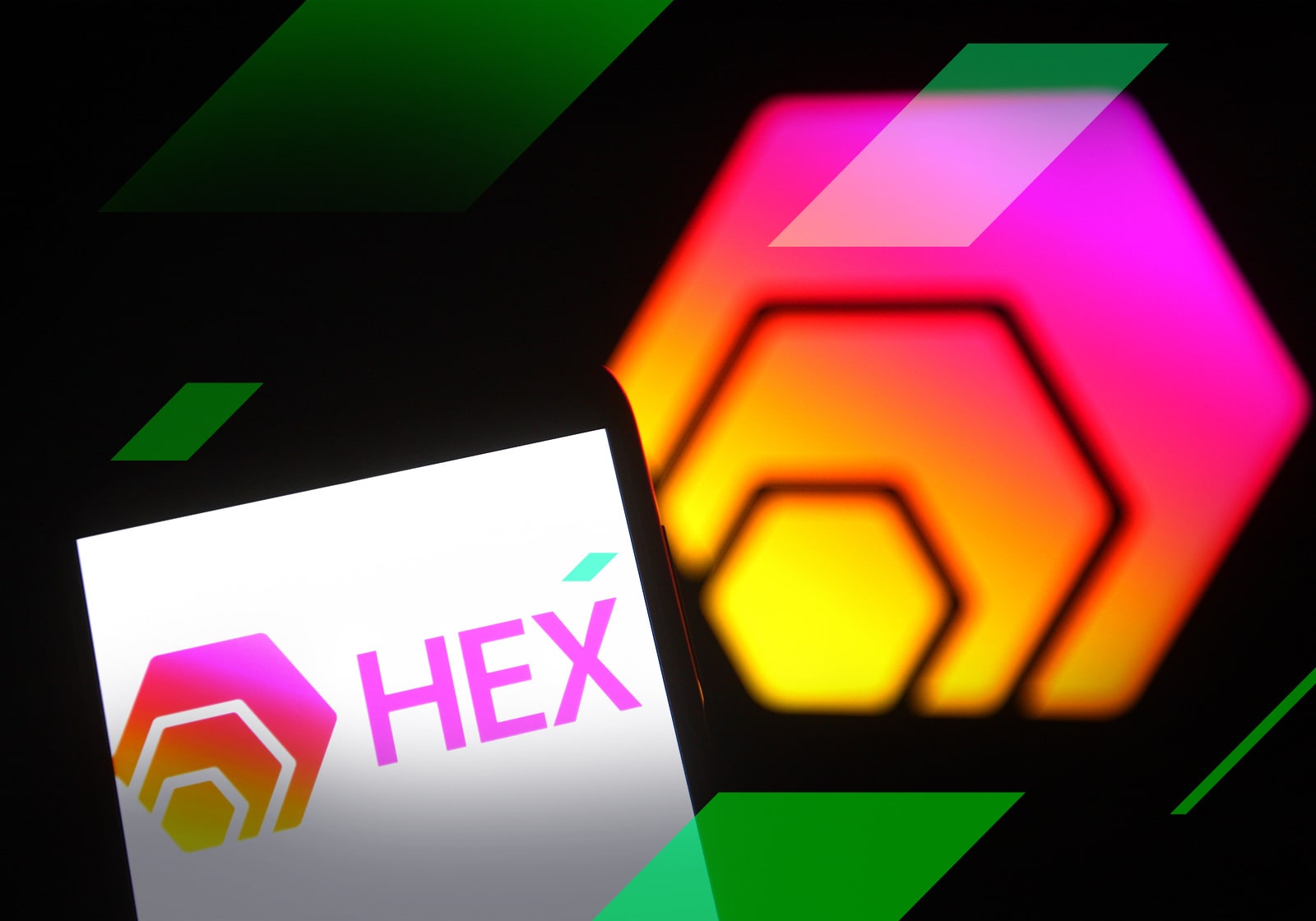 The decentralised finance (DeFi) sector, which is a logical development of the ideas behind cryptocurrency, is evolving onwards. Since its emergence, many projects have been launched, both promising and dubious. In this article, we'll talk about one project that has sparked controversy in the crypto community. We'll explore the HEX platform, its origins, as well as its native HEX token and its price predictions.
What is HEX (HEX)?
HEX is a high-yield certificate of deposit that the developer claims to be the blockchain equivalent of a corresponding traditional banking product.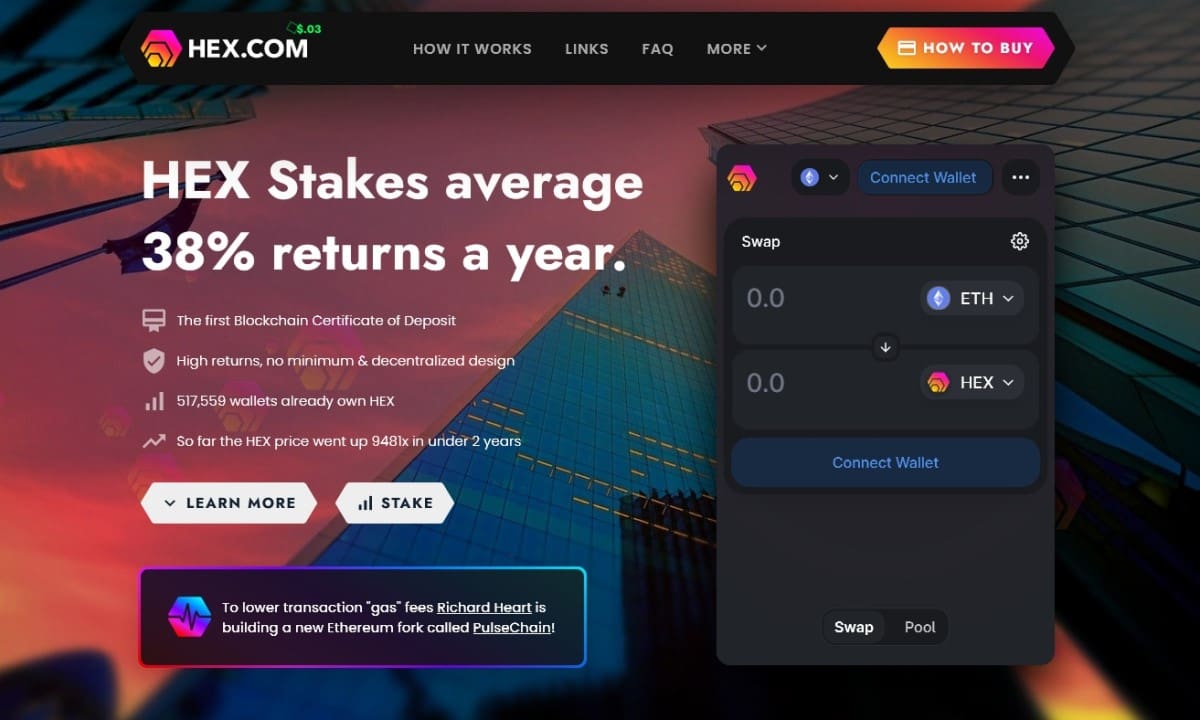 HEX has no team. Moreover, HEX has no roadmap. In addition to that, HEX has no partnerships. HEX has no promises. HEX is code. It is complete. — Richard Heart, Founder of HEX.
The history of HEX
HEX was launched on 2 December 2019 by Richard Heart (real name Richard James Schueler). According to the founder, HEX was already a complete product once it launched and did not need any further development. The identities of the development team, if any, are kept secret, as is the current whereabouts of the founder himself.
For the first year after the launch of the project, the start-up phase lasted. During that phase, Bitcoin holders could get HEX for free. It was also possible to send Ethereum to a specific address and receive HEX tokens in return.
In early November 2022, the US Securities and Exchange Commission (SEC) issued a subpoena to influencers promoting HEX as part of its investigation.
HEX's features
HEX is an ERC-20 token on the Ethereum blockchain. HEX uses the Ethereum network for transactions, while the consensus code and staking mechanism are written into the HEX smart contract.
HEX is advertised as a store of value and a blockchain equivalent to a certificate of deposit used in traditional financial markets. A certificate of deposit is a common service in traditional banking, where the customer stakes funds in an account, and the bank uses them for a certain period of time, for which it pays interest to the customer. HEX users also have the option of staking their HEX tokens for a certain amount of time and being rewarded in HEX tokens for doing so. Compared to traditional certificates of deposit, HEX promises a very high yield, 38% APY on average.
Unlike traditional certificates of deposit, however, HEX pays interest not from the funds' use but from the additional issuance of tokens, i.e., from inflation. But despite the high yields, inflation is maintained at a relatively low level of 3.69%. This disproportionate ratio of income to inflation is achieved by the fact that only a small percentage of tokens are staked for income and by penalties for premature or too-late withdrawals.
It's also worth noting that a specific address, called the 'Origin address', received a copy of all bonuses during the launch phase. After the end of the launch phase, this address continued to receive half of all penalties for withdrawing staked funds prematurely or too late.
HEX (HEX) price analysis
As of 20 December 2022, the HEX token ranked 202nd among cryptocurrencies by market capitalisation at $4,307,912,758, according to CoinMarketCap.com. The fact that the token ranks so low despite such a high market cap is due to it not meeting CoinMarketCap.com's criteria for making it into the Top 200 cryptocurrencies.
HEX price statistics (as of 20/12/22)
| | |
| --- | --- |
| Current price | $0.025 |
| Market cap | $4,307,912,758 |
| Circulating supply | 173,411,074,413 HEX |
| Total supply | 633,542,658,973 HEX |
| Daily trading volume | $3,619,185 |
| All-time high | $0.5561 (16/11/21) |
| All-time low | $0.00001451 (22/12/19) |
| Website | |
HEX's price history
Shortly after the launch, the token price started rising steadily. The price showed a particularly sharp rise in the second half of April 2020. After reaching a local high of $0.0061, the price began a sideways movement, which lasted until the end of October 2020. In December 2020, the price resumed its steady rise. At the beginning of May 2021, growth accelerated sharply, and the price reached its all-time high on 16 November 2021. This was followed by a prolonged price decline, which continues to this day.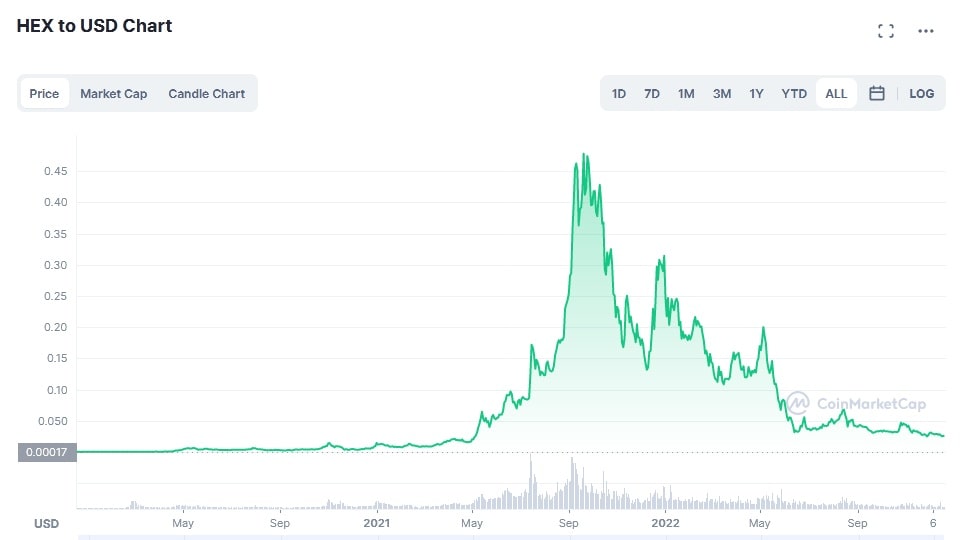 HEX technical analysis
The HEX price continues to move in a wide downward channel. On a more global scale, however, it has formed a downward wedge pattern, indicating a possible trend change in the future. The MACD and the moving averages indicate bearish sentiment. The nearest support levels are $0.022 and $0.014. The nearest resistance levels are $0.035, $0.065 and $0.098.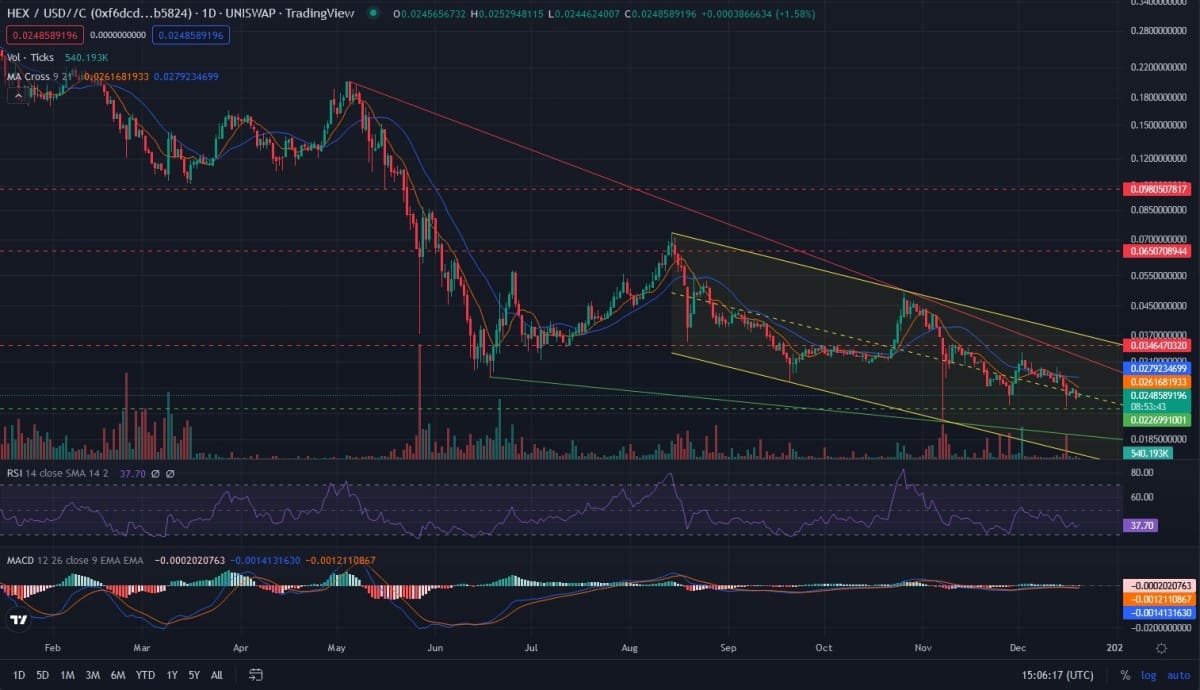 HEX (HEX) price prediction 2022
At the moment, all indications are that the HEX price will continue to move in a downward channel, at least until the end of the year.
HEX (HEX) coin price prediction for 2023, 2025 and 2030
What do popular forecasting services think about the prospects of the HEX token? Let's find out.
Wallet Investor's HEX price prediction for 2023, 2025 and 2030
Wallet Investor expects the HEX price to drop dramatically in 2023. They estimate the average token price will be $0.00283 at the end of 2023. Thereafter, the price will remain roughly in the same range and will be $0.00187 at the end of 2024, $0.00206 at the end of 2025 and $0.00234 at the end of 2027.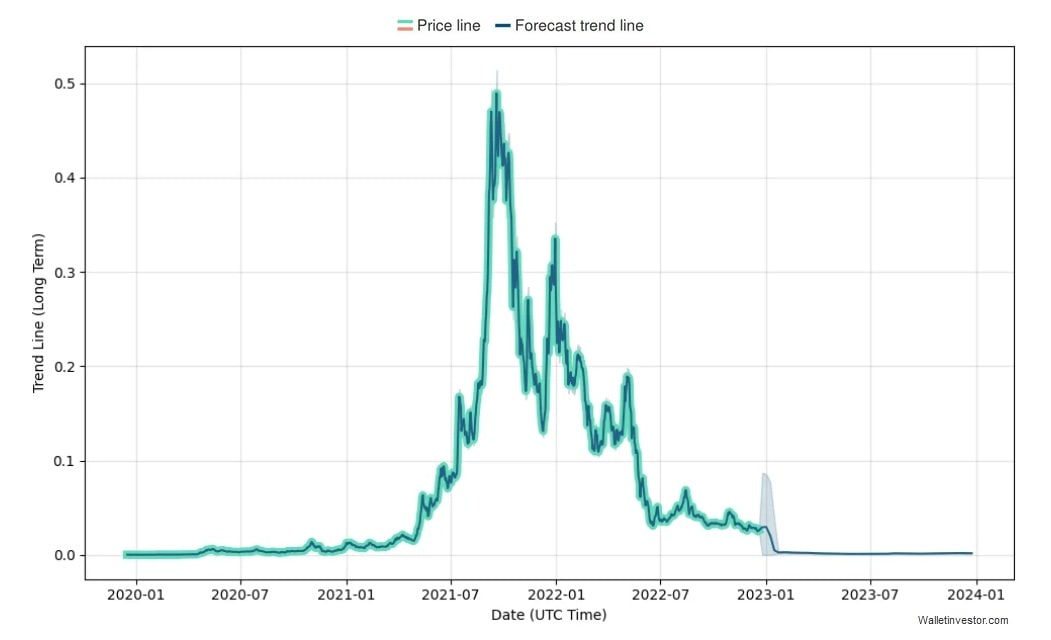 DigitalCoinPrice's HEX price prediction for 2023, 2025 and 2030
DigitalCoinPrice disagrees with Wallet Investor's HEX token price prediction. According to them, the price will rise in the coming years and reach $0.0578 at the end of 2023, $0.0756 at the end of 2024, $0.11 at the end of 2025 and $0.35 at the end of 2030.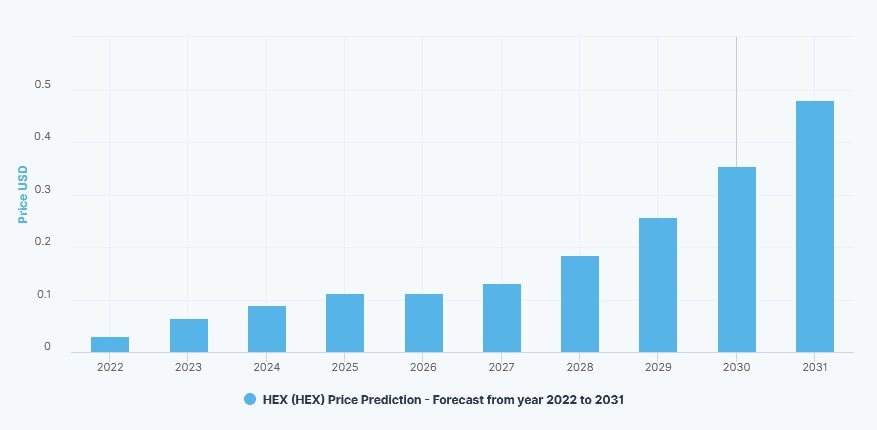 Gov Capital's HEX price prediction for 2023, 2025 and 2030
As severe a drop in the price of HEX is expected by Wallet Investor, so impressive a rise is predicted by Gov Capital. They believe the price will reach $0.224 in a year and $1.421 in 5 years.
Price Prediction's HEX price prediction for 2023, 2025 and 2030
Price Prediction also expects the token price to rise, albeit relatively slowly. According to their forecast, the average trading price of the token will be $0.037 in 2023, $0.052 in 2024, $0.075 in 2025 and $0.47 in 2030.
CryptoPredictions'HEX price prediction for 2023, 2025 and 2030
CryptoPredictions are quite optimistic about the prospects for HEX, too. They predict that the average price will reach $0.0741 by the end of 2023, $0.0.1018 by the end of 2024 and $0.1052 by the end of 2025.
HEX (HEX) overall future value predictions
Is the HEX coin a good investment?
The market for certificates of deposit is very large, and successful decentralised projects in this niche are in demand. However, the HEX project has a surprisingly extensive list of prominent red flags:
Certificates of deposit in traditional banking earn interest because banks use customer funds invested in CDs to make profit. Part of that profit is paid out to CD holders as interest. In the case of HEX, the staked tokens are not used for anything. The interest paid on staked tokens is nothing more than redistributed inflation. Such a high ratio of interest to inflation is achieved by the fact that a suspiciously small proportion of the total supply of tokens participates in staking.
Moreover, this lack of utility of the token, with the exception of transactions and issuance of new same tokens, is something the developer has no plans of addressing. According to Richard Heart's own statement, HEX is a finished product and will not be developed further.
Many members of the crypto community point to strong indications that most of the tokens are controlled by the developer. According to some estimates, the developer probably controls up to 88% of the total supply of tokens. This is further evidenced by the abnormally low trading volume relative to market capitalisation.
The HEX token is not listed on any of the major centralised cryptocurrency exchanges. The bulk of trading takes place on the decentralised Uniswap exchange.
The developer's personality is also quite remarkable. Richard Heart, whose real surname is Schueler, was found guilty of violating Washington state anti-spam laws in 2002. While promoting HEX, he often resorted to flashy displays of his wealth to praise his project. He doesn't hide his face, but at the same time, he doesn't disclose his country of residence.
HEX social media fans behave more like a cult of personality of the project's creator.
Aggressive advertising for the project, which included advertisements on billboards, buses, taxis, newspapers and spam emails.
Given the above, investing in this project is extremely risky.
How high can the HEX coin go?
Although a temporary rise in the token price during the next bull run cannot be ruled out, it seems very unlikely that it could approach its all-time high, let alone exceed it.
HEX crypto price prediction today
In the near term, further price declines are most likely, possibly breaking the support level of $0.022.
Tags
Exchange BTC

Try our Bitcoin Cloud Miner and get additional crypto rewards based on your trading volume. It's immediately available upon registration.

Try our Bitcoin Cloud Miner and get additional crypto rewards based on your trading volume. It's immediately available upon registration.