Ravencoin (RVN) price prediction 2022-2030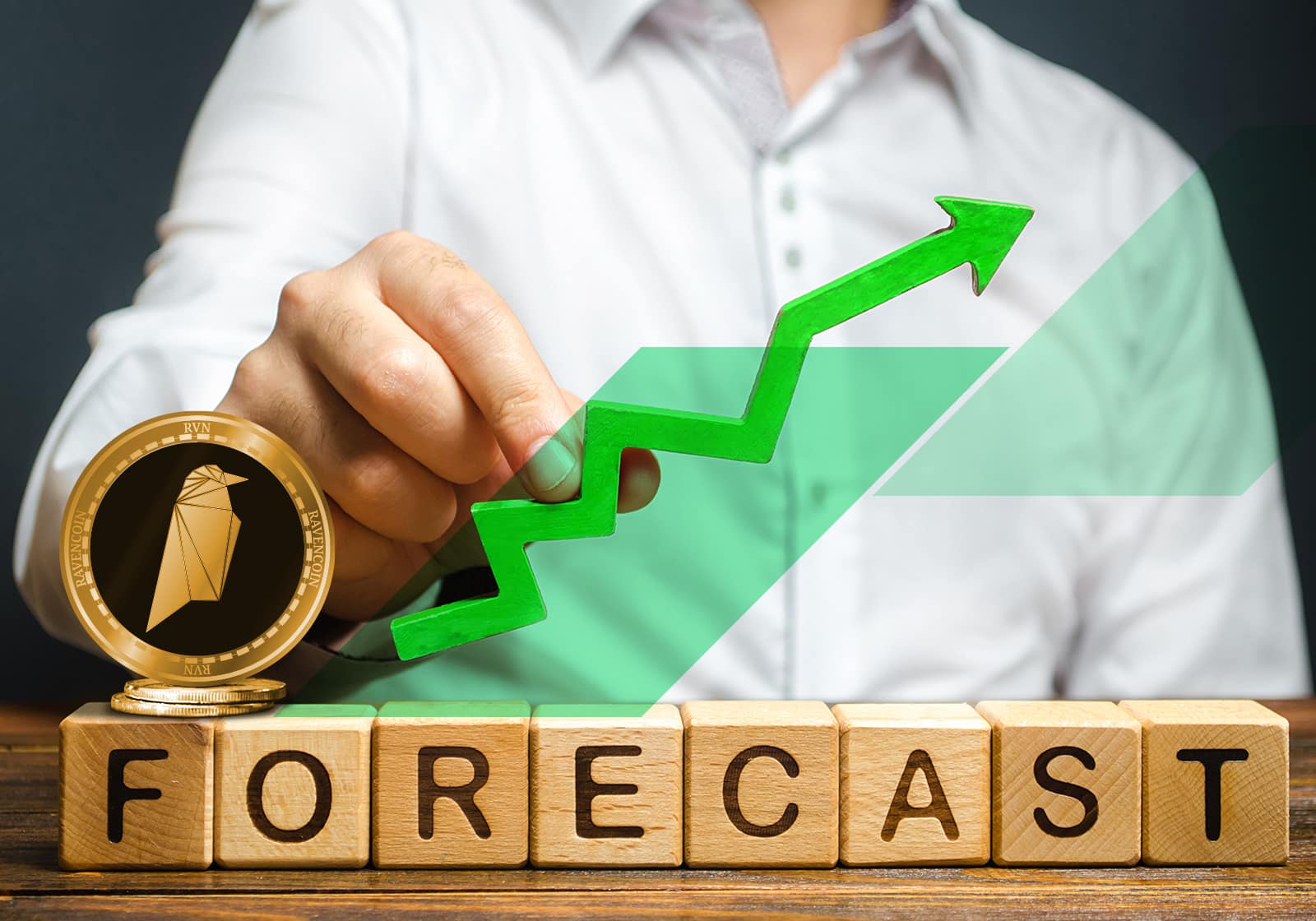 The number of interesting projects in the blockchain industry is quite large. Some of them have global and ambitious goals. Others, on the other hand, specialise in solving a specific narrow problem. In this article, we'll explore one such specialised project: Ravencoin. You'll learn about the origins and features of this project, predictions for its native cryptocurrency's price, as well as other information that'll help you decide: is Ravencoin a good investment?
What is Ravencoin (RVN)?
Ravencoin is an open-source blockchain project that specialises in creating and transferring assets. It allows users to create and sell any real or digital asset on the network.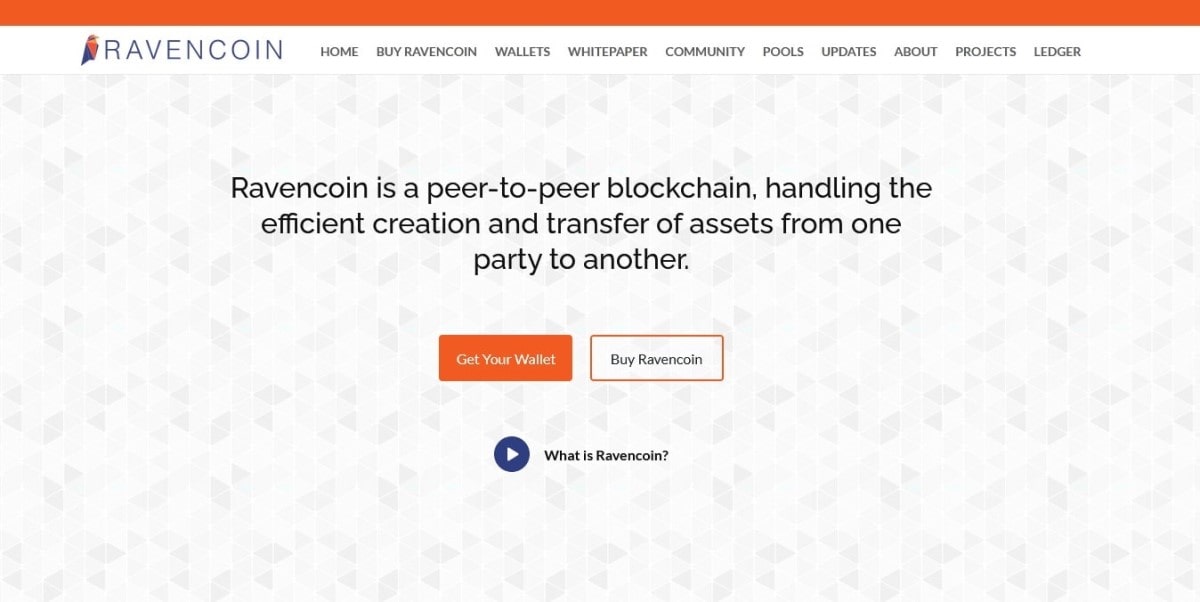 We've developed Ravencoin with a singular focus on creating and managing assets, which we think is very powerful. With Ravencoin, you can easily create and attach information to tokens with metadata. — Tron Black, lead developer of Ravencoin
The origins of Ravencoin
Ravencoin was originally created as a fork of Bitcoin, and many developers from the Bitcoin Foundation have worked on it. The lead developer of the project is Tron Black, an American programmer from the investment company Medici Ventures. It should be noted that since the project is open-source, it doesn't have a specific development team. According to the Ravencoin team, more than 400 people have participated in the platform's development. The project consultant is Bruce Fenton, board member and executive director of the Bitcoin Foundation from 2015 to 2018.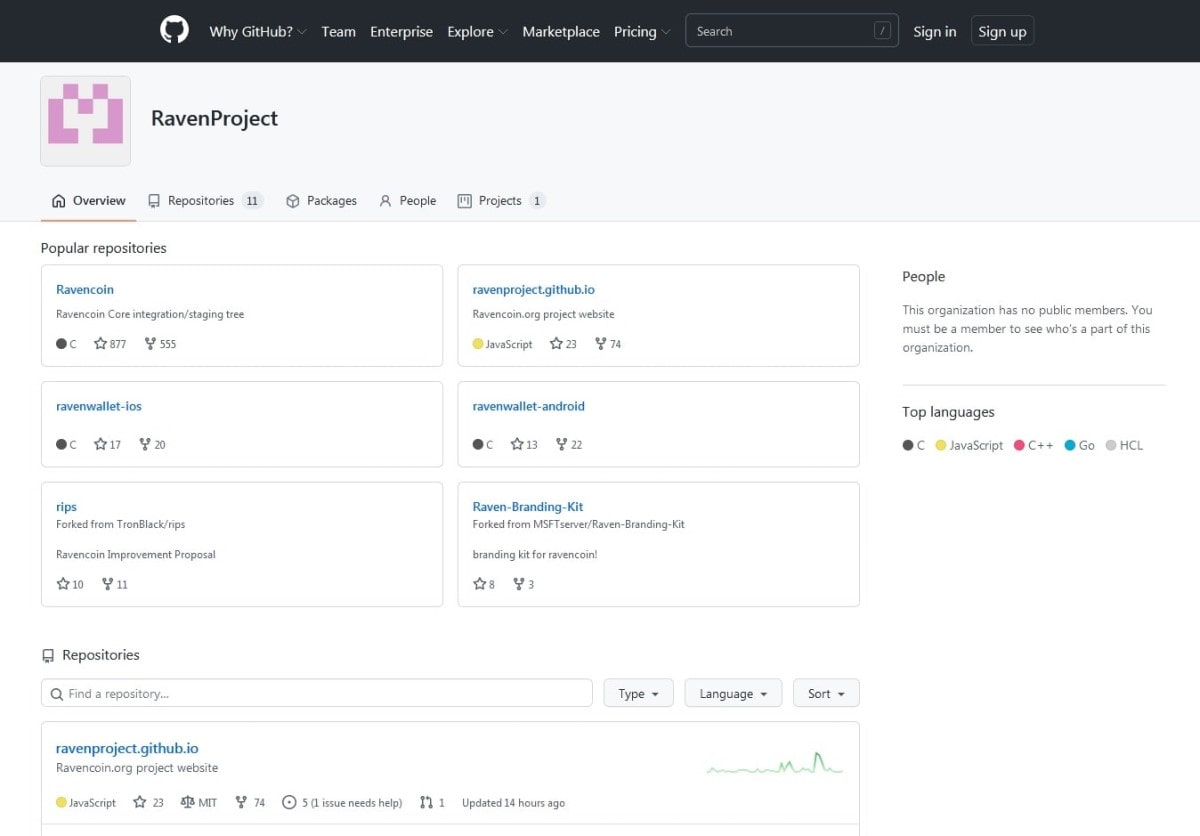 The project was announced in November 2017. The Ravencoin network was launched on 3 January 2018 without an ICO or pre-mining in order to ensure a fair initial distribution of coins.
Ravencoin's features
The Ravencoin platform allows users to create tokens with desired properties. As such, the platform lets you both create new assets and tokenise almost anything that has value: from gold to real estate and gift certificates to in-game currencies. In addition to standard tokens, Ravencoin can also be used to issue non-fungible tokens, or NFTs, which are unique digital tokens that can represent a physical asset, a collectable, a piece of art, etc. At the same time, the platform makes it easy to transfer these tokens to someone else and, as a result, transfer ownership of these assets.
Unlike the ERC-20 tokens created on the Ethereum platform, the tokens created on the Ravencoin platform have the following advantages, which are important for achieving the goals set by the project developers:
Ease of token creation due to the platform's specialisation in asset issuance and transfer.
The ability to hold votes by token holders.
The ability to pay RVN rewards to token holders. This allows users to pay dividends or offer other options as a reward.
The ability to broadcast messages to token holders.
RVN is the native cryptocurrency of the Ravencoin platform and is needed to pay for creating tokens. When creating a new token, you need to burn a certain amount of RVN.
As a Bitcoin fork, Ravencoin differs from it.
Differences between Bitcoin and Ravencoin
| | | |
| --- | --- | --- |
|   | Bitcoin | Ravencoin |
| Hashing algorithm | SHA-256 | KAWPOW (formerly X16R and X16RV2) |
| Initial block reward | 50 BTC | 5,000 RVN |
| Block time | 10 min | 1 min |
| Max coin supply | 21,000,000 | 21,000,000,000 |
The KAWPOW hashing algorithm used in Ravencoin makes it unavailable for ASIC mining, which reduces the risk of network centralisation. It's also worth noting that the launch of the project was fair: without an ICO or pre-mining, anyone could mine and purchase coins from the first day the platform launched.
Ravencoin (RVN) price analysis
At the time of writing, the RVN token ranked 113 among cryptocurrencies by market capitalisation at $246,477,256.
RVN price statistics (as of 30/06/22)
| | |
| --- | --- |
| RVN current price | $0.02356 |
| Market cap | $246,477,256 |
| Circulating supply | 10.47B RVN |
| Max supply | 21,000,000,000 RVN |
| Daily trading volume | $18,363,363 |
| All-time high | $0.2854 (20/02/21) |
| All-time low | $0.008794 (13/03/20) |
| Website | |
RVN's price history
Crypto exchanges started listing RVN in March 2018. On 10 March 2018, it was listed on the Binance cryptocurrency exchange. Initially, RVN traded only in pairs with BTC, but later, exchanges began to add pairs with USD or USDT.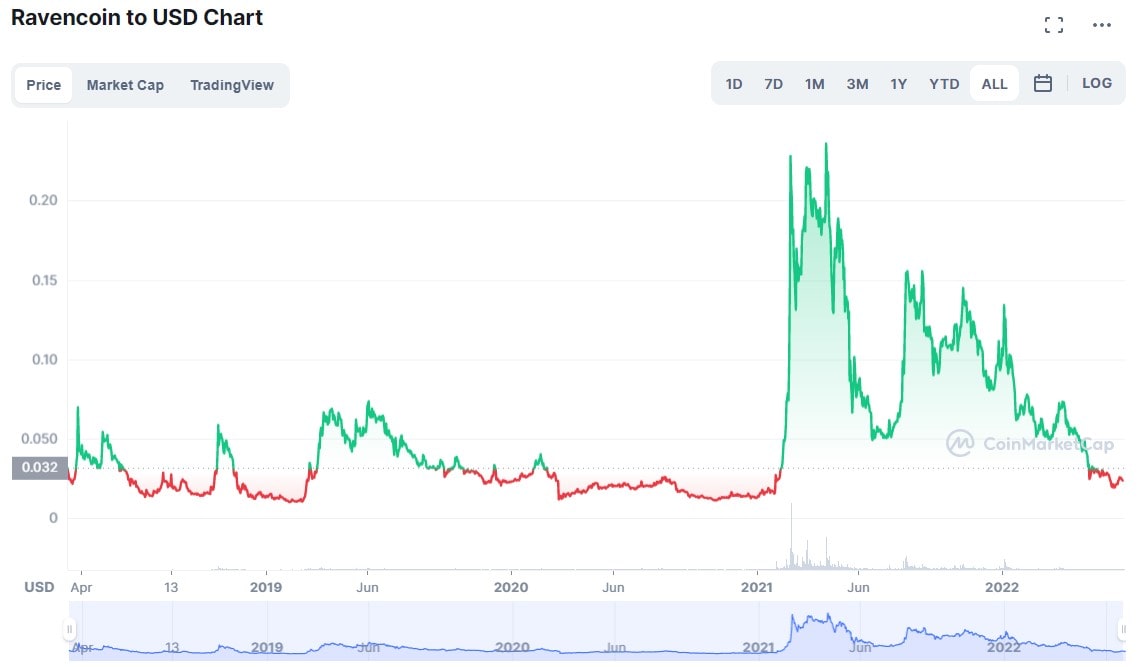 Ravencoin price prediction 2018
When RVN started trading on Binance, the coin's price was $0.02754. After an initial fall to $0.017, the price soared to $0.0738. Then, after a correction, the price rose again but couldn't repeat its previous high, reaching only $0.059. After that, the price began to fall until 16 July 2018, when it reached a local minimum of $0.0125. After a couple of spikes, in mid-October, the price rose sharply to $0.0672 on 22 October 2018. However, in November, the price collapsed as quickly as it grew and continued to fall. At the end of the year, it was $0.0127.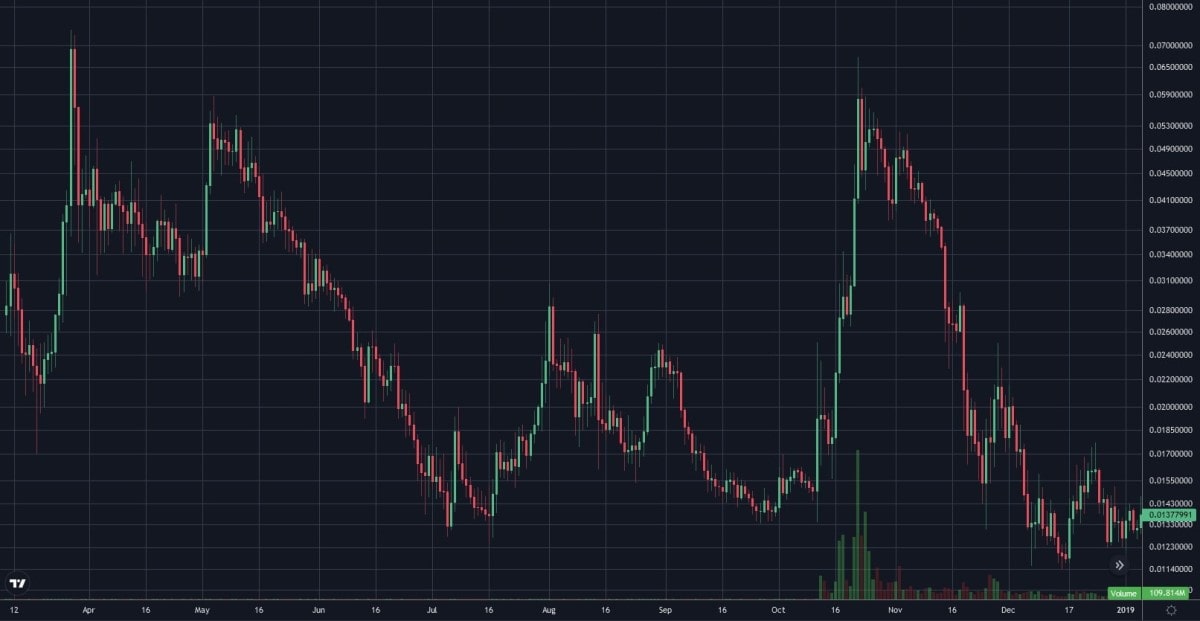 Ravencoin price prediction 2019
At the beginning of 2019, the price continued to decline and reached a local minimum of $0.00927 on 6 February. Then, after a short consolidation, the price began to grow rapidly, and it reached a new high of $0.0805 on 2 April 2019. The subsequent correction soon gave way to a new rise, and the price managed to briefly exceed the previous maximum, reaching $0.0828. This was followed by a decline in the price that lasted for almost all of 2019, and only in December did the price enter a phase of consolidation.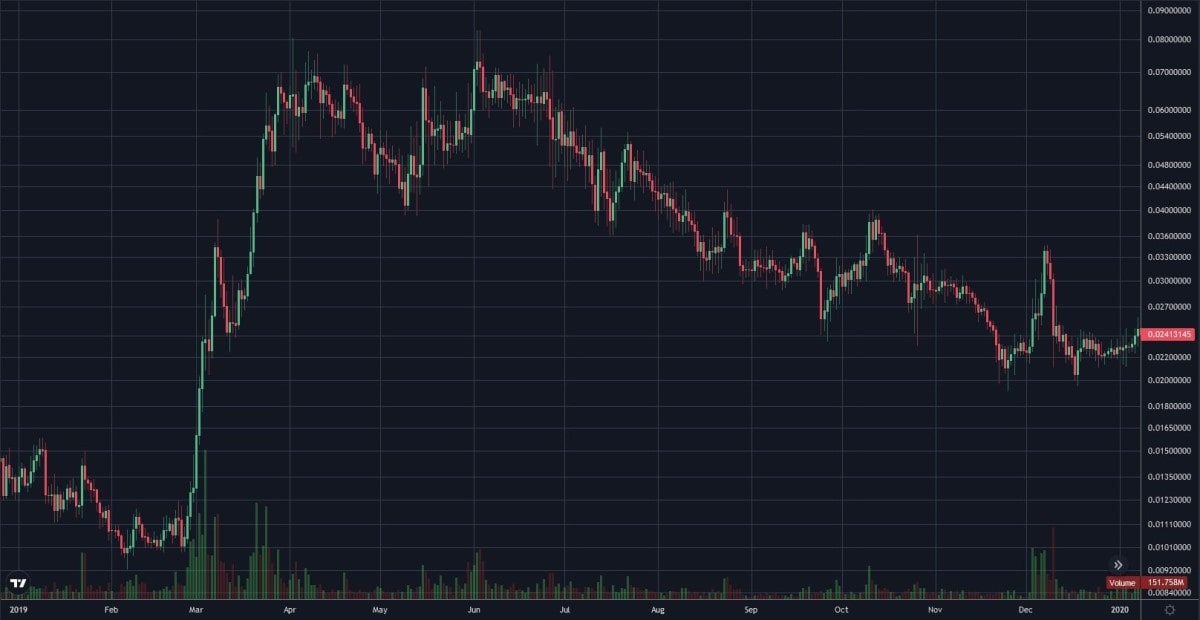 Ravencoin price prediction 2020
RVN started 2020 with a rise in price, but after reaching a local maximum of $0.0425 on 14 February, a decline began that ended with the collapse of the crypto market on 12-13 May 2020. On 13 March, RVN's price reached its all-time low. After that, the token's price began to recover along with the rest of the crypto market. But after hitting $0.0286 on 17 August, it began to decline again. In November, that trend changed to a consolidation phase that lasted until the end of the year.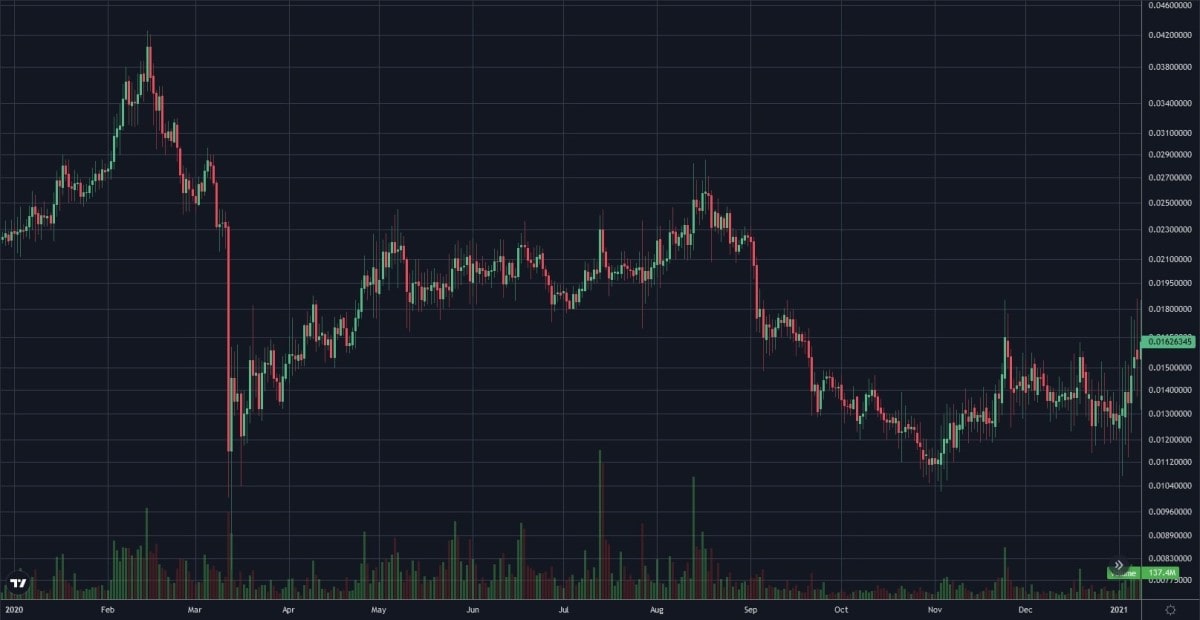 Ravencoin price prediction 2021
Ravencoin began the year in a consolidation phase that rolled over from 2020. The price consolidated until February when the crypto market bull run kicked in, and the impulse price swing that followed saw Ravencoin to a new all-time $0.2854. The rest of the year was subdued in comparison, with the price declining more than 80% of the established range. By December 2021, RVN had reached as low as $0.06700.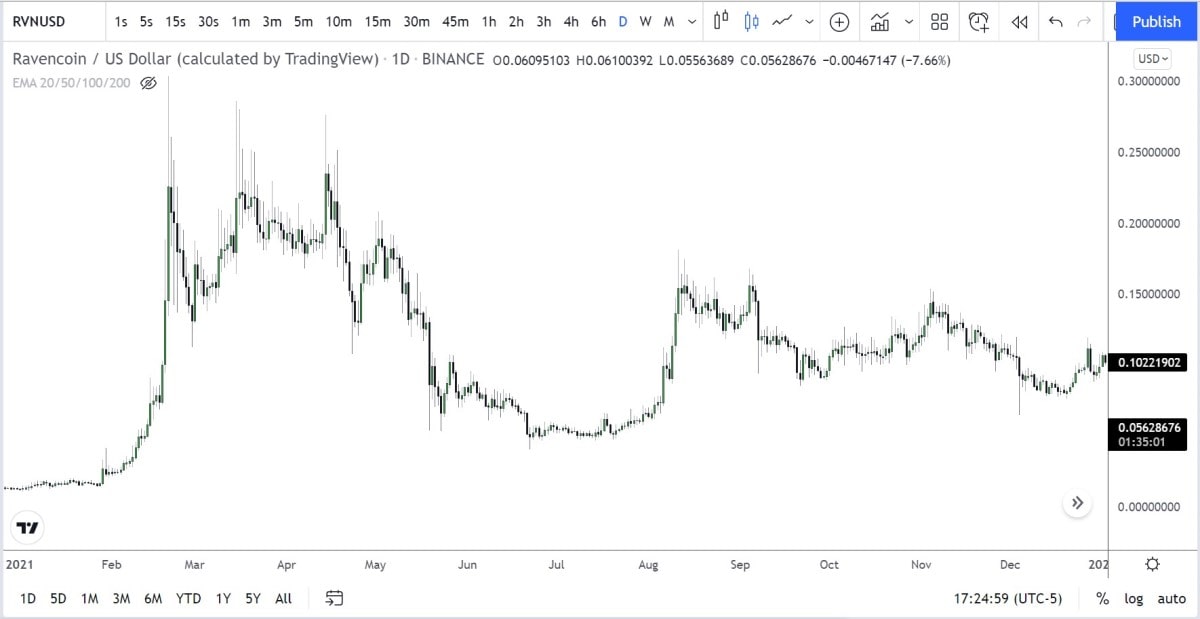 RVN technical analysis
The trend has been strongly bearish for RVN since the failure swing high in August 2021 when the price failed to recover the all-time high set earlier that year. The price has consistently created lower lows and an obvious descending diagonal support. With the 100 and 200 EMA showing strong bearish momentum, the token is expected to continue its bear move until it hits significant support zones or creates a new all-time low.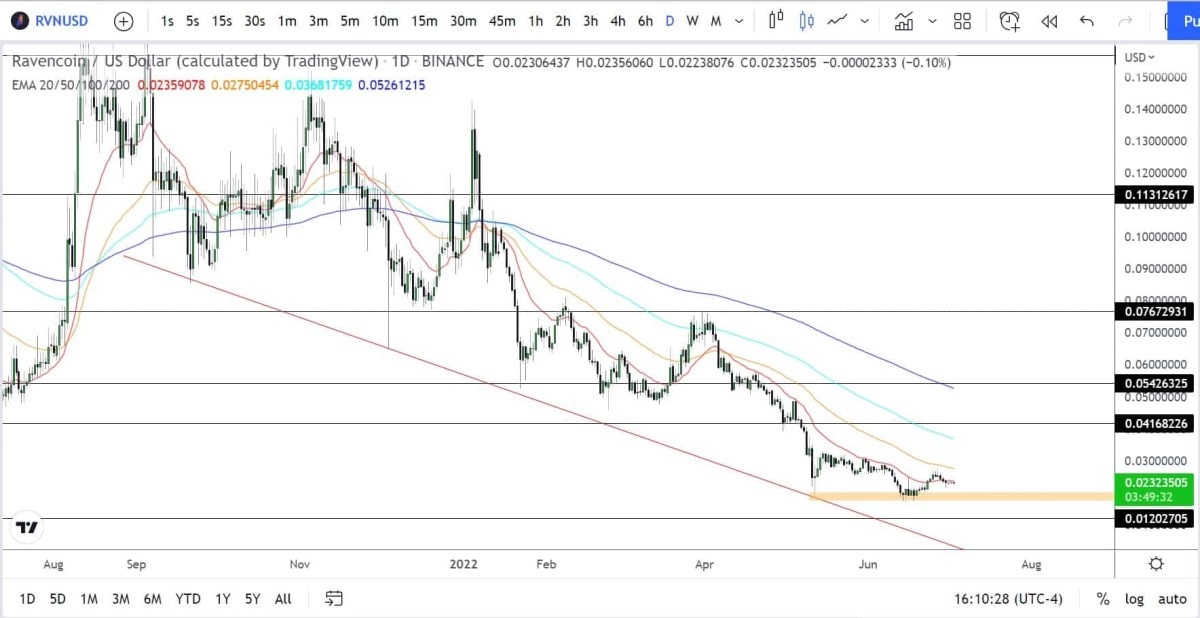 Ravencoin (RVN) price prediction for 2022, 2023, 2025 and 2030
Now let's find out what well-known crypto experts think about the future of RVN.
Trading Beasts' RVN price prediction for 2022, 2023, 2025 and 2030
Trading Beasts predict a slow rise in the token's price, and by the end of 2022, RVN would be trading at around $0.032. It will continue growing, albeit slowly, and in 2025, the average price of the token will be $0.051.
WalletInvestor's RVN price prediction for 2022, 2023, 2025 and 2030
WalletInvestor believes that, despite the fluctuations, RVN's price will continue to grow by over 65% in the next year. This translates to a price of around $0.038 by June 2023. By 2027, WalletInvestor predicts that RVN will trade as high as $0.087.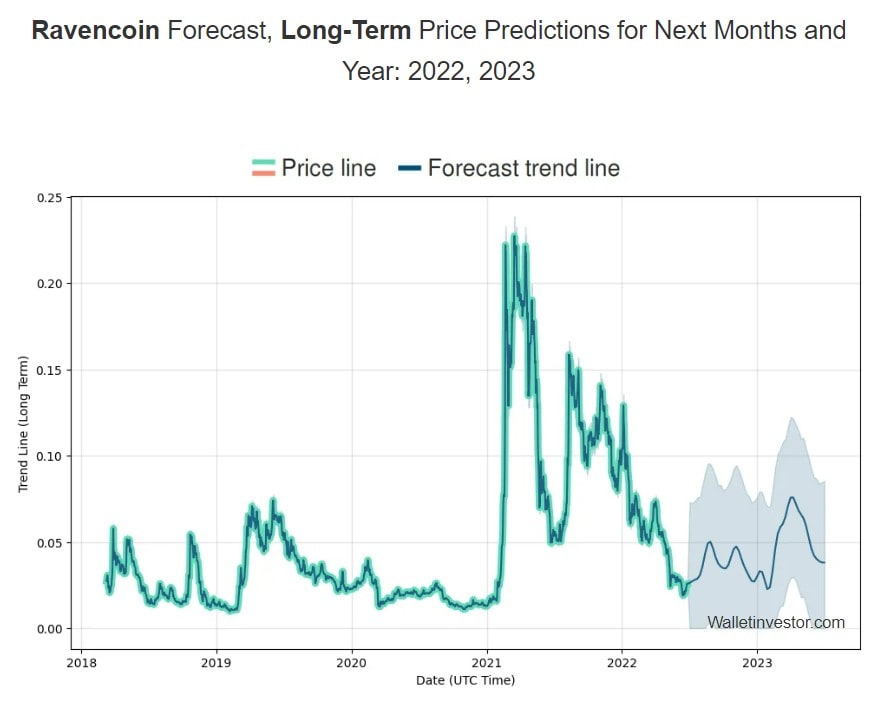 DigitalCoinPrice's RVN price prediction for 2022, 2023, 2025 and 2030
DigitalCoinPrice's forecast largely coincides with the previous ones, differing only in specific numbers. They predict a stable rise in RVN's price, with a slight correction in 2026. According to their estimates, the token will be worth $0.036 in a year, $0.051 in three years and $0.060 in five years.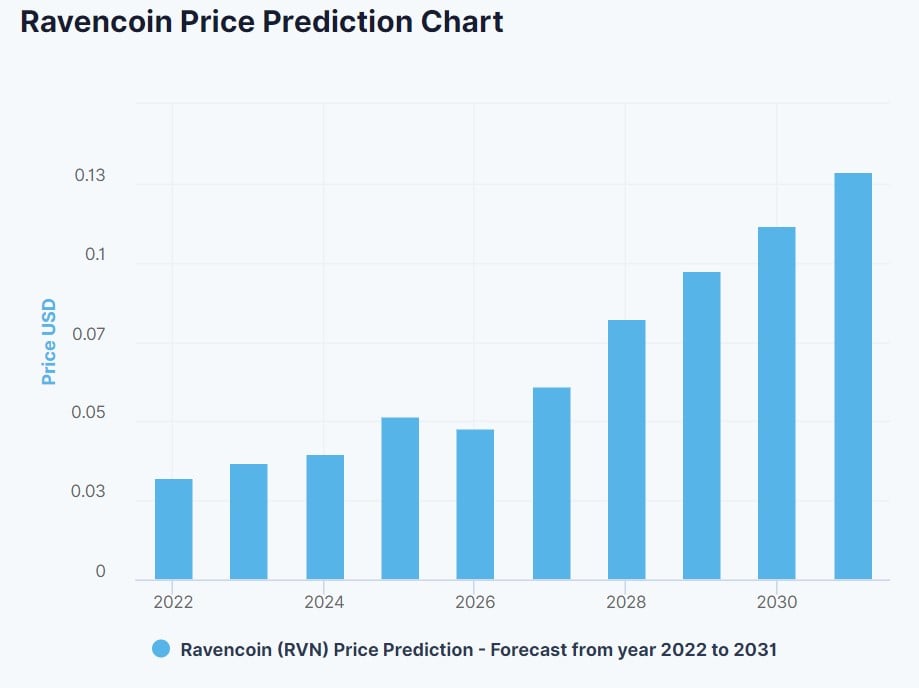 Ravencoin (RVN) overall future value predictions
There are many indications that the Ravencoin project has a future. Aimed at solving a specific problem, it can have a great impact on the development of the decentralised finance (DeFi) industry. At the same time, because it was created based on the Bitcoin blockchain and is loyal to the ideas that were originally put in Bitcoin, Ravencoin enjoys great support from the crypto community.
The project has competitors offering similar functionality, such as Polymath, Counterparty and Bytom, but they have differences, and Ravencoin may well occupy its own niche.
The main concerns about Ravencoin's prospects are related to government regulations, in particular, regulations concerning the legislative recognition of tokenised assets. It's also significant how intensely the regulators will exert pressure on DeFi in general.
Will Ravencoin go up?
This will largely depend on how the situation with the regulation of the DeFi industry will develop. And, of course, one shouldn't look past the general state of the crypto market.
How high can RVN go?
It's hard to say at the moment. If the growth rate of the crypto market continues in the future, RVN's price may well exceed $1.
Ravencoin price prediction today
In the short term, RVN's price is influenced by bearish sentiment. Further price movement will be clearer after breaking through either support or resistance lines, which will either confirm the bearish trend or continue the bullish trend, respectively.
Tags
Exchange BTC

Try our Bitcoin Cloud Miner and get additional crypto rewards based on your trading volume. It's immediately available upon registration.

Try our Bitcoin Cloud Miner and get additional crypto rewards based on your trading volume. It's immediately available upon registration.
Instrument
Rate
Change (24h)