Is SafeMoon a good investment in 2022?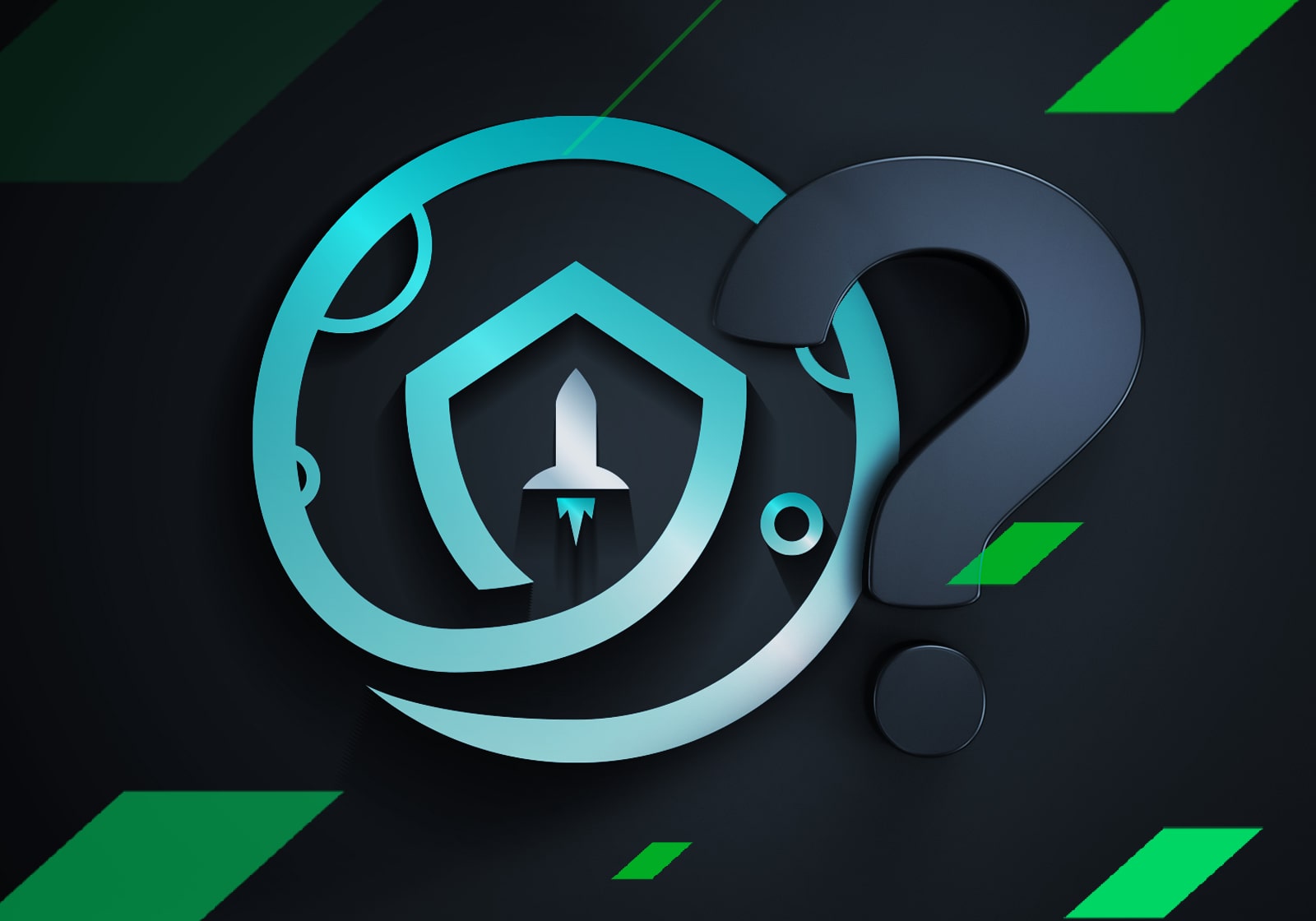 There are currently more than 17,000 cryptocurrencies, and their number is growing. However, most of these cryptos remain unknown to the general public. Nevertheless, some new crypto coins have suddenly become popular. In this article, we'll look at one of these coins, SafeMoon, and try to answer the question, "Is SafeMoon coin a good investment or not?"
What is SafeMoon coin?
SafeMoon is an altcoin created on the Binance Smart Chain blockchain. Developers position the project as a decentralised finance (DeFi) protocol that will be a solution to the problems inherent in cryptocurrency, such as high volatility, mining and maintenance of liquidity.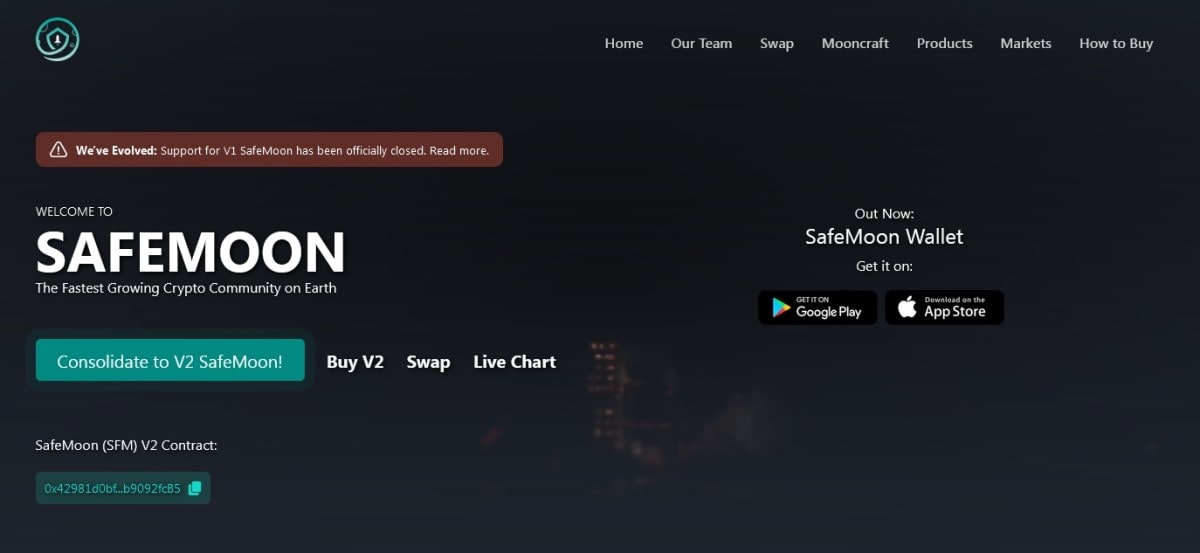 The origin of SafeMoon
SafeMoon was launched on 8 March 2021 and is headed by CEO John Karony. The initial development team also included Thomas Smith, Hank Wyatt, Jack Haines, Jacob Smith and Trevor Church. However, they are no longer mentioned on the project website.
The name "SafeMoon" is a reference to the phrase "to the moon" used by crypto traders and investors who are very optimistic about the price of a certain cryptocurrency.
SafeMoon's features
Since the token is based on Binance Smart Chain, it uses a Proof-of-Authority (PoA) consensus mechanism. With this kind of mechanism, blocks are created by so-called validators, which are selected and approved by Binance. It's clear that the project cannot be called truly decentralised with such a consensus mechanism.
An important differentiator of SafeMoon is that the network charges a 10% fee on every token trade. The fee received is distributed as follows:
Reflections. 4% is distributed among the existing holders. Thus, "Reflections" in the project network is a tool for generating passive income for token holders.
LP acquisition. 3% is added to the liquidity pool, which, among other things, is designed to support the token price in the event of massive sales of the coin.
Token burn. 2% is burned, which is expected to have a positive effect on the token price.
Growth fund. 1% is added to the Ecosystem Growth Fund.
Thus, with the help of a transaction fee, the project developers seek to encourage the long-term holding of the token, penalising its sale with the fee and rewarding the holders at the expense of the same fee.
According to the developers, the SafeMoon ecosystem will consist of several key products, including an exchange, a hardware wallet for cold storage of cryptocurrencies, and a crypto wallet mobile app. Developers have currently managed to complete only one product, a crypto wallet.
Ecosystem migration to SafeMoon V2 is currently underway. Support for SafeMoon V1 has been officially closed, and all SafeMoon V1 transfers are subject to a 100% fee. All users of the SafeMoon network are encouraged to migrate to SafeMoon V2.
SafeMoon tokens statistics (as of 03/02/22)
 

SafeMoon V1

SafeMoon V2

Ticker

SAFEMOON

SFM

Blockchain

Binance Smart Chain

Binance Smart Chain

Token standard

BEP-20

BEP-20

Current price

$0.000001096

$0.00166

Market cap

$641,595,213

$918,704,756

Circulating supply

585,536B SAFEMOON

575B SFM

Max supply

1,000,000B SAFEMOON

1,000B SFM

Website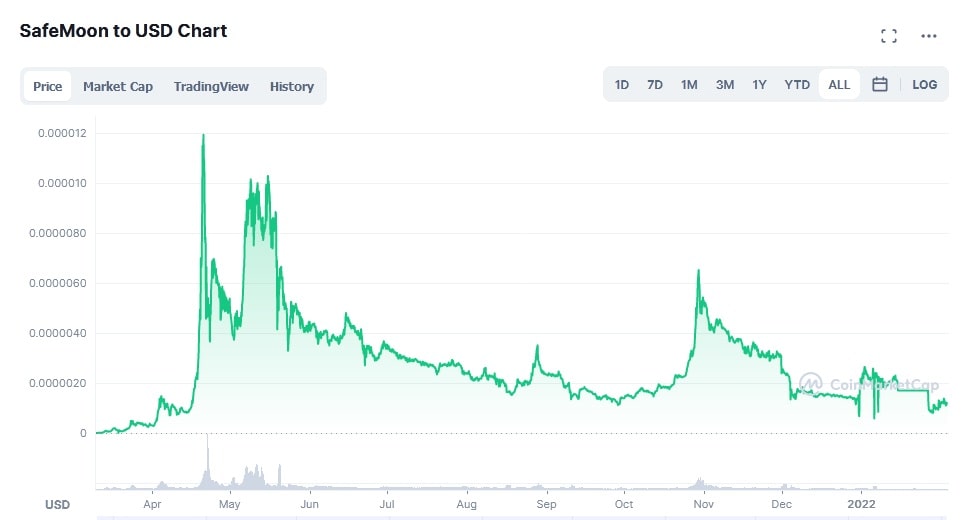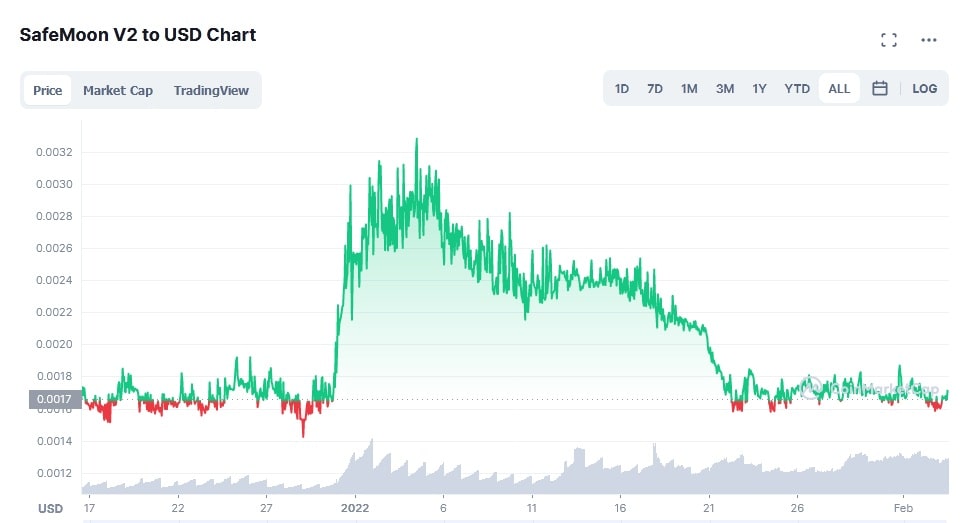 SafeMoon investing
Now, having figured out what kind of project it is, let's move on to issues related to investing in it.
Is SafeMoon a safe investment?
No, most definitely not. First and foremost, no cryptocurrency is a 100% safe investment. In addition, there are a number of red flags specific to the SafeMoon project:
The token has no real utility. It's not well suited even for crypto transactions and trading due to its built-in fee. The fact that it's not traded on the largest crypto exchanges doesn't help either. In fact, it's good for little more than holding it and being rewarded with more of it. The developers have declared ambitious plans, but those remain only plans.
No technological advantage. The project doesn't stand out among competitors with anything remarkable except for the hype.
Centralisation. The token is not only based on a highly centralised Proof-of-Authority consensus mechanism, but the developers of the project reportedly control a significant portion of the liquidity.
These red flags have made many crypto experts directly accuse the project of being a Ponzi scheme. Whether or not this is true, time will tell, but at the moment, all indications show that SafeMoon is an extremely risky investment.
Better to invest in SafeMoon or Shiba Inu?
The popularity of both coins is based mainly on hype. However, Shiba Inu has a much higher market capitalisation and a number of loyal fans, not to mention the fact that it's much more decentralised. Both of these tokens are very risky assets, but SafeMoon is riskier.
SafeMoon vs SafeMars investment
SafeMars and SafeMoon are very similar projects, and they cause similar concerns. But with SafeMars, we see even less liquidity compared to SafeMoon, as well as the fact that most of the developers hide their identities.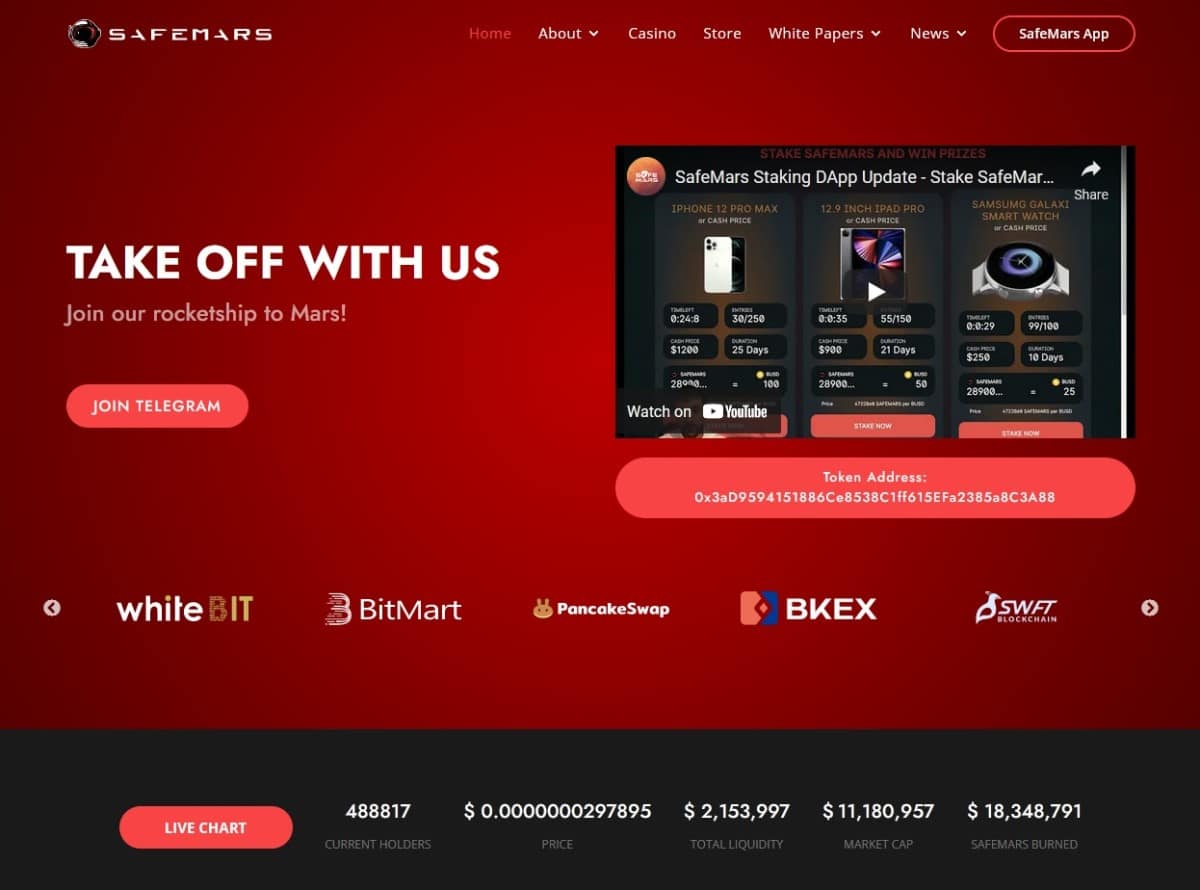 How to invest in SafeMoon
Where can you invest in SafeMoon?
Investing in SafeMoon is more difficult than in other popular cryptocurrencies since the token is not traded on the largest centralised crypto exchanges. According to Coinmarketcap.com, the new SFM token is traded on the LBank, Gate.io, BitMart and MEXC exchanges, as well as the PancakeSwap decentralised exchange. In addition, tokens can be purchased on the project's website in the Swap section after connecting your crypto wallet.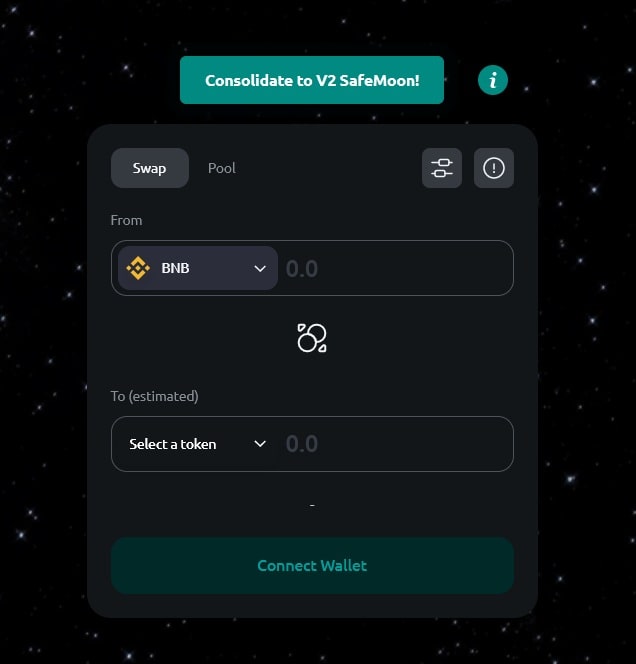 How much to invest in SafeMoon?
As with other high-risk assets, the rule of thumb remains the same: invest only as much as you can afford to lose.
Who's invested in SafeMoon?
Several celebrities have announced their investments in the project, including Barstool Sports founder Dave Portnoy, UFC boxer Jake Paul, Backstreet Boys singer Nick Carter, YouTuber Jesse Wellens, MMA fighter Keith Berry and others.
Even though celebrity endorsements bring attention to the token and increase retail investors' confidence, it's not a good idea to blindly trust such recommendations. It's a common practice in the crypto world for people to advertise the coins they own in hopes that they can impact the price positively. Before investing in any cryptocurrency, it's highly recommended to do your own research.
Is SafeMoon worth investing in?
I think investors need to be cautious about a cryptocurrency that has no real utility. It's clear that the SafeMoon team wants to reward loyal users, but if the cryptocurrency has no real use, what's the point of holding onto it forever? — Clayton Moore, CEO of NetCents Technology.
Is SafeMoon a good investment in 2021?
Early investors certainly saw very good returns. Those who bought the token in September-October 2021 also had the opportunity to sell it at a good profit in late October-early November. Other investors suffered a loss by the end of the year.
Is SafeMoon a good investment in 2022?
Despite the fact that the token's price doubled at the beginning of 2022, it quickly fell again. And although the price may still rise on a new round of hype, investing in this token is more like a gamble at the moment.
The benefits of investing with StormGain
Even if you're not interested in becoming a full-fledged crypto trader and only plan to invest in cryptocurrencies, it would still be a good idea for you to pay attention to the StormGain all-in-one cryptocurrency platform. The platform has a number of advantages that investors can find attractive:
Fast and easy registration
Easy to use, beginner-friendly interface
Ability to invest in many popular cryptocurrencies
Reliable and secure crypto wallet
Up to 12% annual interest on any cryptocurrency stored in the crypto wallet
User-friendly mobile app
And much more...
Tags
Exchange BTC

Try our Bitcoin Cloud Miner and get additional crypto rewards based on your trading volume. It's immediately available upon registration.

Try our Bitcoin Cloud Miner and get additional crypto rewards based on your trading volume. It's immediately available upon registration.
Instrument
Rate
Change (24h)