Stellar Lumens (XLM) price prediction for 2021, 2022, 2025, 2030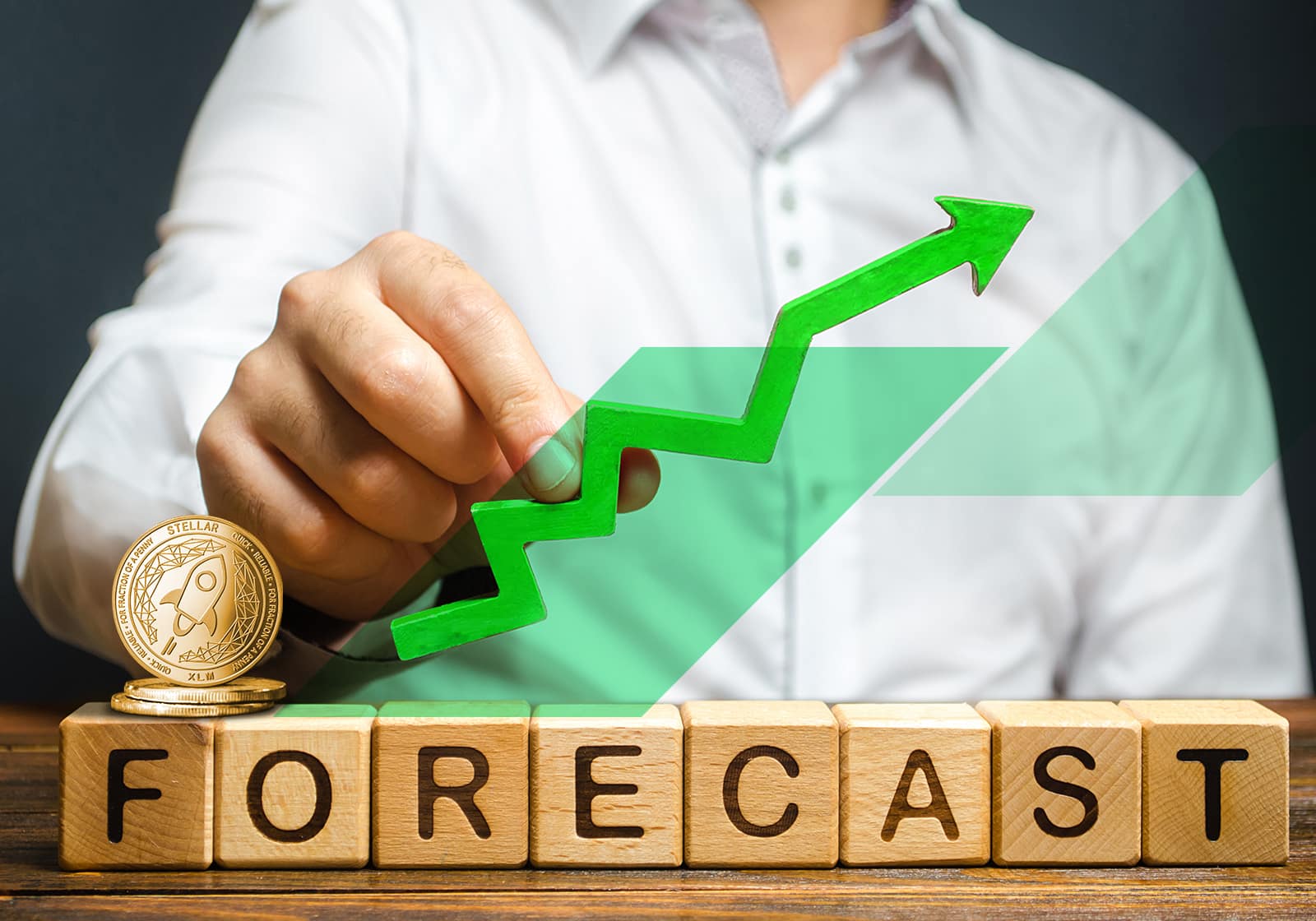 Stellar is an open-source, decentralised blockchain network. The Stellar blockchain operates in Stellar Lumens (XLM), the system's native token. Who could predict that the price of stellar lumens would increase more than 300 times in 2017? It was an excellent year for Stellar: Many partners joined the network, and the IT giant IBM was among them. Currently, XLM ranks 24th in the top 30 cryptocurrencies by market capitalisation. From 2018 to 2020, the price of XLM was hammered down. However, in 2021, Stellar Lumens reached a high of 0.797800, which is the highest price point since January 2018, indicating huge market strength. Our Stellar price prediction article will help you understand what to expect of XLM's future price, especially as we come into the new year – 2022.
What is Stellar Lumens (XLM)?
Stellar is a decentralised, open-source protocol that aims to conduct fast, cross-border transactions between any currency pairs. Stellar blockchain also allows for the development of decentralised applications (dApps), which makes it possible to create new projects based on Stellar. The native token of the Stellar ecosystem is called Lumen (XLM), and all operations within the Stellar network are performed through it.
Stellar was founded in early 2014 by Jed McCaleb and Joyce Kim. The project was developed as a fork (branch) of the Ripple cryptocurrency. Early in its development, Stellar (XLM) was based on and operated on the Ripple network. However, in November 2015, the Stellar team launched their network on their protocol. Since then, it has processed over 450 million operations for over 4 million personal accounts. Large companies and small- to medium-sized businesses have chosen Stellar (XLM) to transfer funds and enter new markets.
Stellar has never tried to replace the existing financial system. From the outset, the company's primary objective was to integrate cryptocurrencies and new technologies into the existing financial ecosystem. Compared to Bitcoin, whose network operates solely on BTC, the Stellar network is a decentralised system that is exceptionally well adapted for trading any kind of currency transparently and effectively. Also, Stellar's software has always been designed in such a way that would enhance existing financial ecosystems, not replace or destroy them.

Stellar is making a peaceful revolution in the world of payments by establishing partnerships with central banks and integrating cryptocurrencies into the financial ecosystem.
The Stellar network's real-world application is expanding every day. New companies and projects are joining the Stellar Consensus Protocol and widening the technology's areas of application. Many not-for-profit organisations and businesses use Stellar's infrastructure. To make a prediction on Stellar Lumens future, we should turn our attention to the following partners and real-world solutions already in action:
Praekelt Foundation integrated Stellar into the open-source messaging app Vumi to enable young girls in sub-Saharan Africa to save on communication services.
Oradian, a cloud-based banking software company, uses the Stellar network to connect microfinance institutions in Nigeria.
In August 2017, Stellar launched an ICO platform with much easier usability and lower costs compared to competitors, such as Ethereum.
In October 2017, IBM, the IT giant, announced cooperation with Stellar, which opened new horizons for IBM's World Wire project that operates on Stellar blockchain.
The well-known Satoshi Pay service uses Stellar to provide payment
Saldo partnered with Stellar and made it easier to pay bills across borders, helping migrant workers to support their families.
Earlier this year, Stellar was also touted to power Visa in a new partnership deal.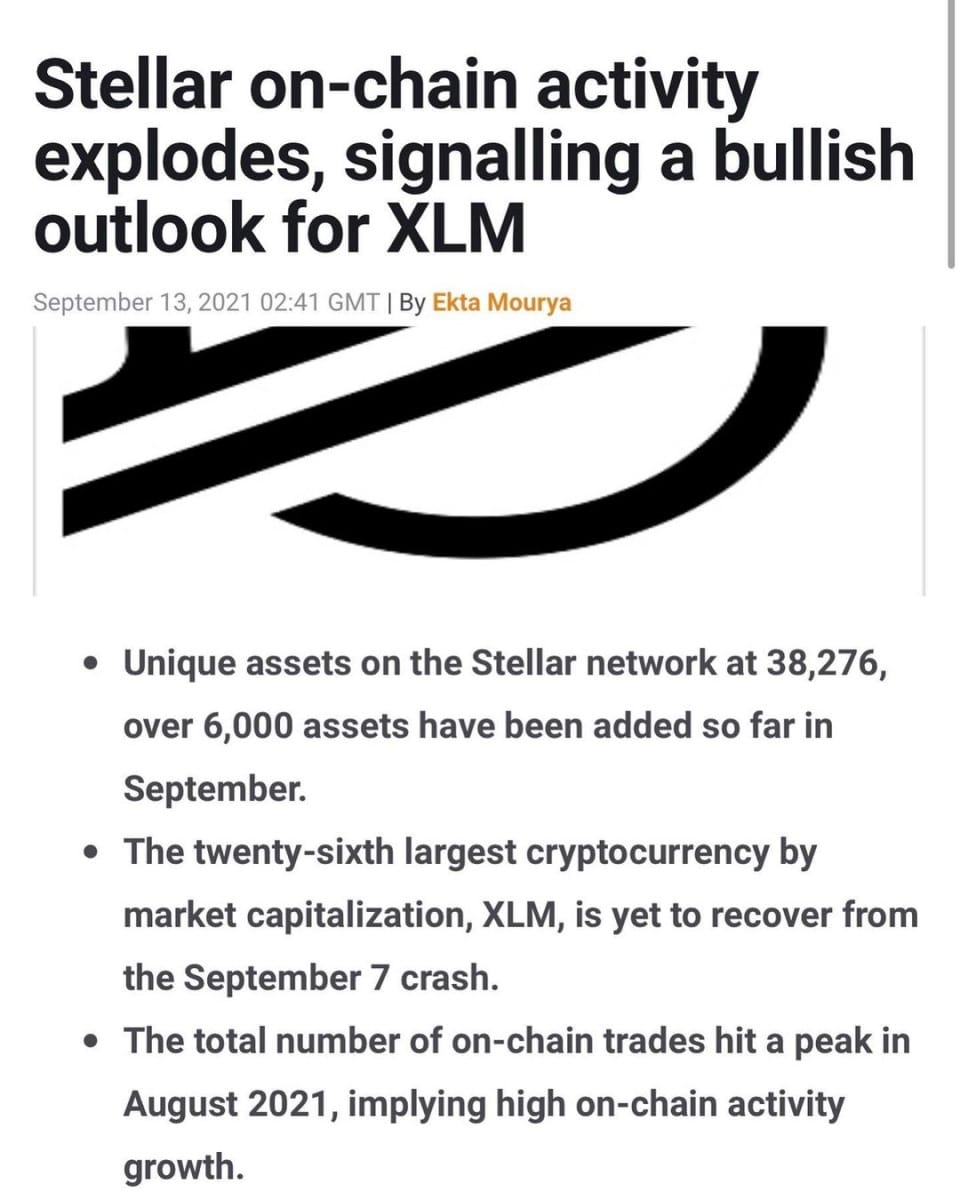 Stellar network overview
As we've already discussed, the Stellar network is designed for currency transactions. But how exactly does the network work?
Stellar servers execute protocol software and use the Internet to connect with other Stellar servers and exchange data, thus forming a global currency exchange network.
Each server stores records of all accounts in the decentralised network. Records stored in a database are called the "general ledger". The server declares changes in the general ledger, provides transactions, transfers the account from one state to another, spends the account balance, or changes its attributes.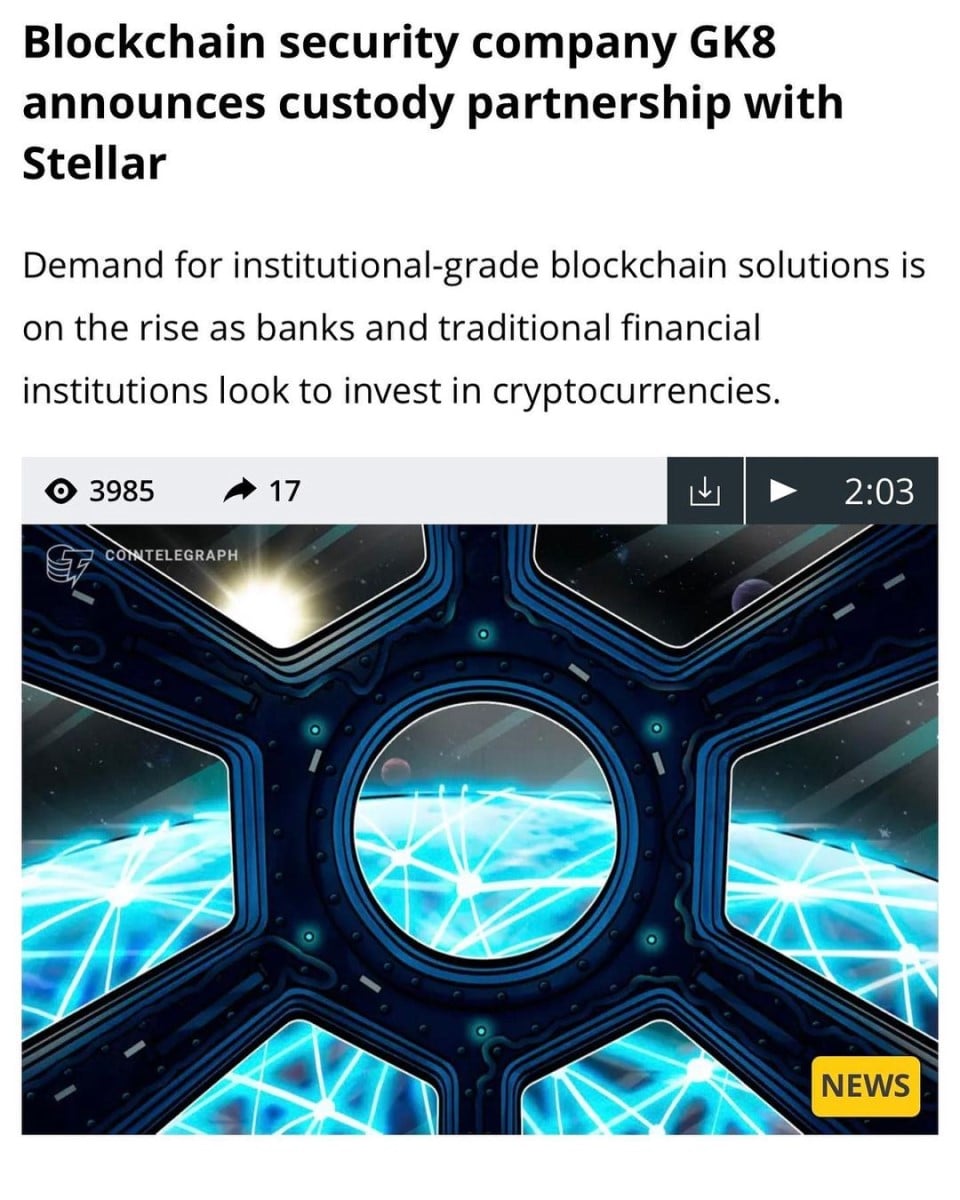 All servers try to reach an agreement that allows some transaction packages to be applied to the ledger through a process called consensus. The consensus process starts at regular intervals, usually every 2-4 seconds. This will keep each server's copy of the ledger synchronised and in the same state. During the early days, when Stellar ran on the Ripple protocol, a system problem was detected with the existing consensus algorithm. Stellar developed a new consensus algorithm and created an updated version of the protocol based on a brand-new code. The new algorithm's code and technical documentation were released in April 2015. The upgraded network was put into operation in November 2015. When organising the Stellar payment network, they took the following actions and adopted certain rules to help avoid the problems previously faced when using the Ripple network:
The Stellar Development Foundation, a not-for-profit and non-shareholder fund, was established. As such, the founders cannot benefit from the sales of shares.
The Stellar Development Foundation ensured that the platform protocol would remain open the same way it was when operating on the Ripple network.
There are no privileged members on Stellar. Every member is valued.
The Stellar Development Foundation has promised to release various reports on its activities, such as employee salary reports, Lumen grant report, budget, number of distributed Stellar Lumens (XLM), etc.
The number of Stellar Lumens to be created (100 billion) was announced from the very beginning. New XLM will be generated each week to create artificial inflation of 1% per year. The costs of the development fund (5% in the total).
Most Lumens should be distributed for free, except for the 5% operating costs. Funds need to be distributed more or less evenly.
25% of all Stellar Lumens (XLM) should go to not-for-profit organisations.
According to a restrictive agreement, parties with larger XLM amounts can't sell it for five years.
These steps allowed Stellar developers to gain cryptocurrency investors' trust and confidence in the future of the company.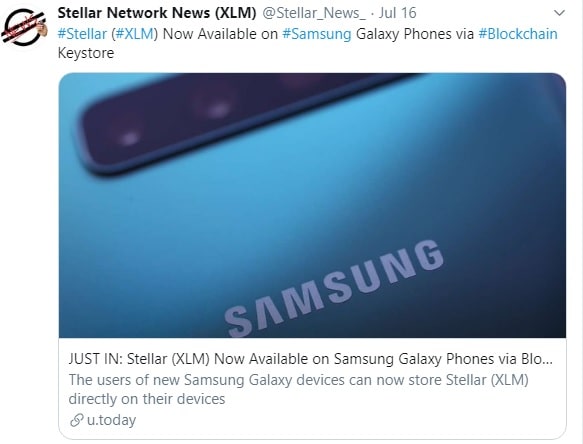 Through the Stellar network, users can transfer Stellar Lumens (XLM), Bitcoin (BTC), Ethereum (ETH), dollars, or any other currency to other users around the world. Stellar has a built-in conversion system that allows users to send one currency while the recipient receives its equivalent in another currency. Samsung recognised the potential of Stellar and integrated XLM into its new Galaxy smartphones. The company's innovative technical solutions for exchanging assets give us confidence in Stellar's future. 
Stellar Lumens (XLM) price analysis
Stellar (XLM) is ranked 24th by market cap at $7,004,108,844. Stellar's closest competitors are Ethereum (ETH), Cardano (ADA), and Ripple (XRP)
| | |
| --- | --- |
| XLM Price Today | $0.2784 |
| Market Cap | $7,004,108,844.17 |
| Supply / Total Supply | 23.72BXLM/50,001,802,772 XLM |
| Daily Trading Volume | $476,960,969.98 |
| All-Time High | $0.938144 (4 January 2018) |
| All-Time Low | $0.001227 (18 November 2014) |
| Official Website | |
XLM price history
To make a price prediction on Stellar, we must look at historical data. Stellar is a high-quality project that was created in 2014 and continues to develop to this day.
Back in 2014, it was hardly possible to predict that XLM's future price would reach nearly a dollar. But let's review the price from this cryptocurrency's first steps.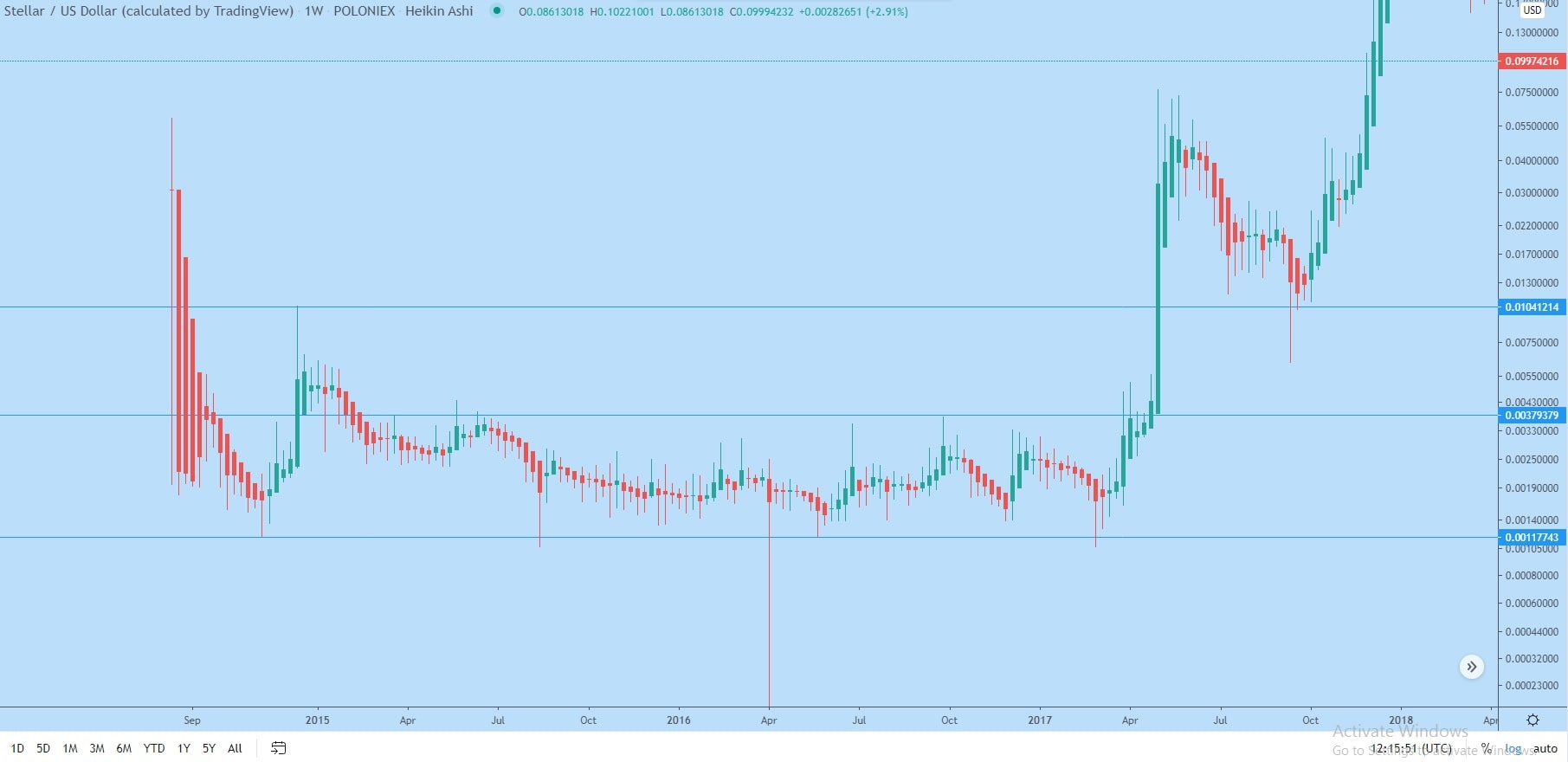 In 2014, when the coin first appeared on exchanges, the asset's price was looking for a real value. In November 2014, as the coin approached $0.0012, investors showed interest and brought the coin's value up to $0.01 in December 2014. That was the first time Stellar Lumens (XLM) value increased ten-fold. After reaching that high, XLM's price declined. It was only in August 2015 that XLM retested the previously established low and slightly passed it. From then until April 2017, Stellar Lumens traded in the range of $0.0012 to $0.0038.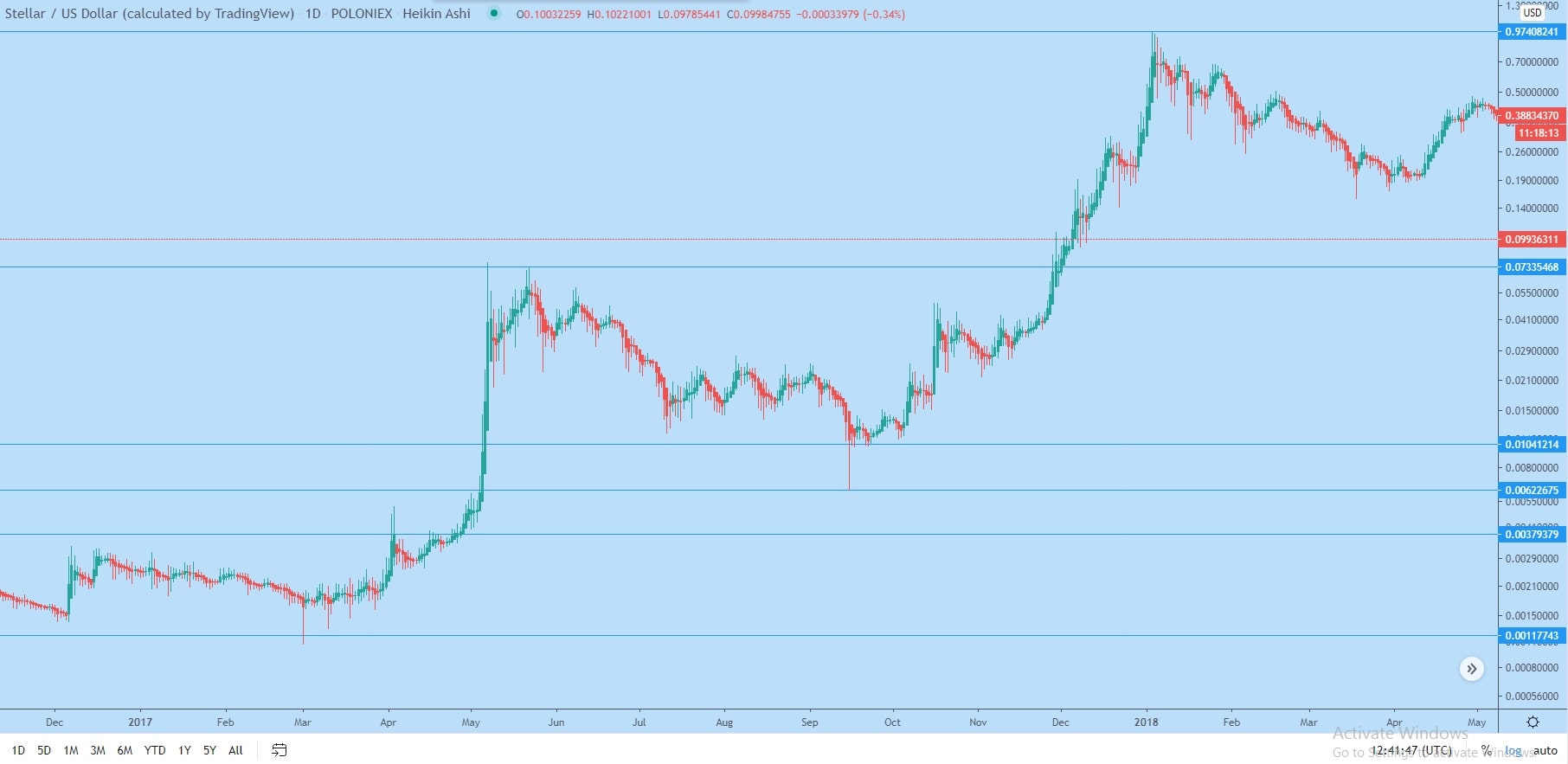 In April 2017, XLM broke resistance at $0.0038, as the bullish momentum pushed the price to $0.073 per coin. That was the second upside surge, with over 19-fold growth!
Right after hitting a new high, XLM's price was dragged back down by bearish momentum in Bitcoin, reaching $0.0063 on 15 September 2017. One day later, it bounced back above $0.01. In September 2017, the upside momentum resumed, and, on 4 January 2018, the price peaked at almost $1, setting an all-time high. At that euphoric moment in the history of cryptocurrency, it was hard to imagine the suffering that awaited XLM coin in the future.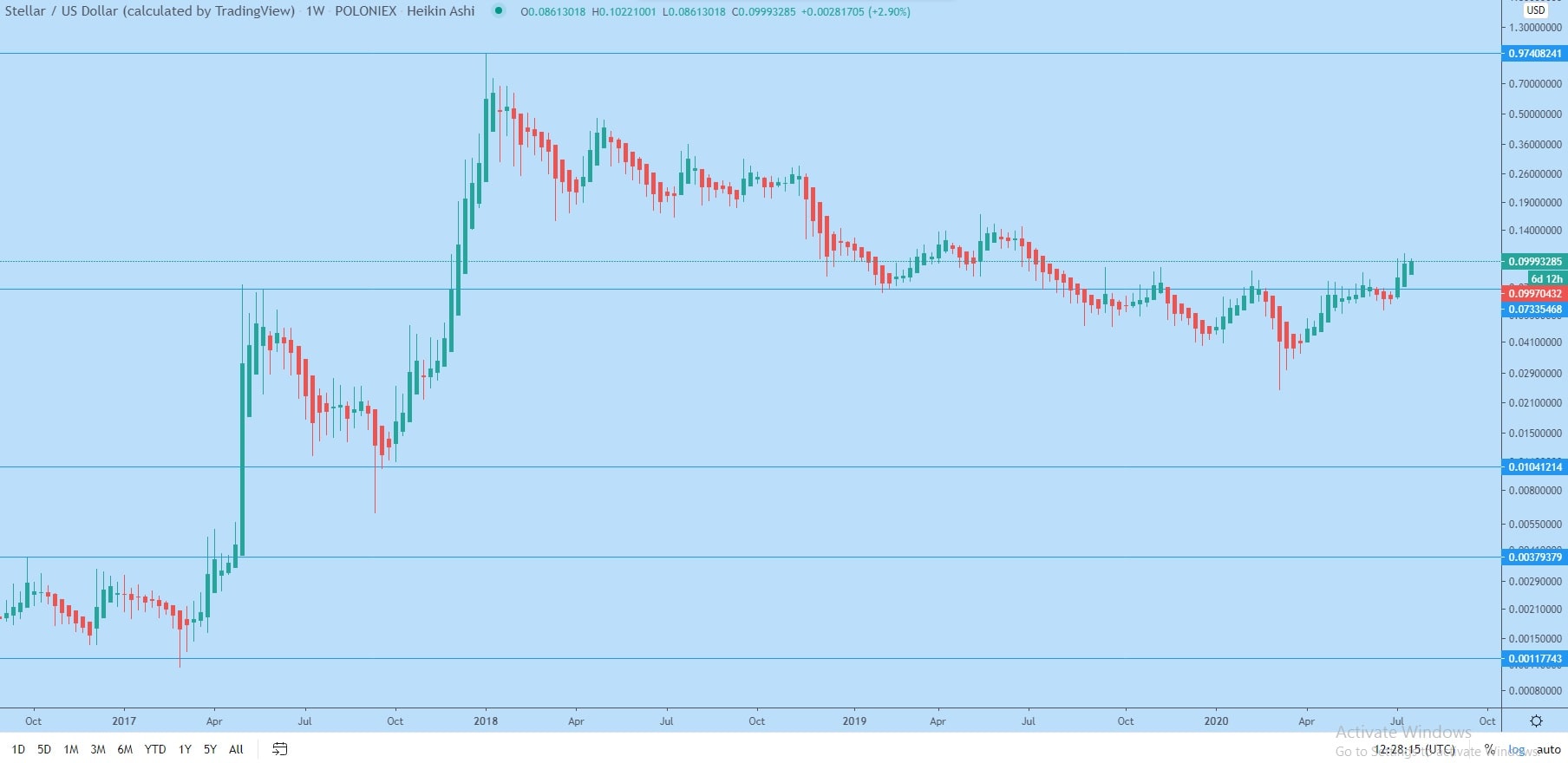 XLM Technical Analysis
Most top analysts weren't particularly optimistic about strong bullish movements for Stellar Lumens (XLM), at least not until much later into the current decade. According to TradingBeasts' prediction, XLM was touted to rise in 2020, and by that year's end, Stellar's average price was expected to be around $0.11. But it was also predicted that Stellar's price would see a lot of consolidation in the coming years and, at best, would make a paltry attempt at $0.19 by the end of 2023. While 2020 did see the price rise to figures like $0.20, it has since blown past that region to set new highs.
This year, Stellar Lumens (XLM) has seen exponential growth, making temporary corrections in-between and creating a bullish market structure on relatively low time frames on its journey to new highs.
On 10 May 2021, Stellar Lumens' (XLM) price reached the highest since 2018, making gains of over 500% in just a few months. The currency had registered continuous growth, but, like all things cryptocurrency, price momentum cannot be maintained forever, and there has been a sharp decline with a correction below the $0.40 region since the major high back in May.
Stellar Lumens (XLM) currently trades between the $0.1970 - $0.3057 region, and while this may seem like a low price point in contrast with the yearly range, it should be noted that this is still a high price compared with previous years since 2018.
It is expected that the price will remain steady and trade within the range of $0.40 - $0.20, much like it did back in 2018. And this may be the case up to the end of the year into the coming year, 2022.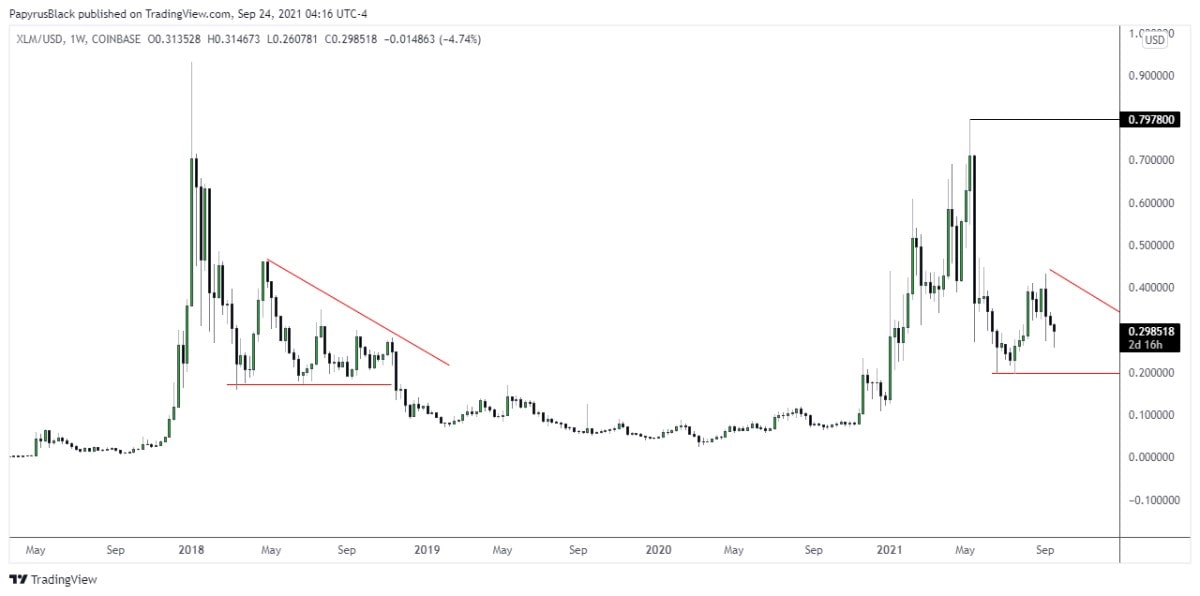 Although some believe that Stellar Lumens' price may consolidate for the better part of the remainder of the year to settle the dust of all 2021's price activity, there is bullish optimism in the market for Stellar Lumens (XLM), especially for 2022. Economic forecasts and Stellar's potential partnerships with top finance firms like Visa, Flutterwave, Tangem, etc., have brought the spotlight back on Stellar Lumens, and it is expected that 2022 will see prices reach new all-time highs.
Additionally, it should be noted that 2021 has created a huge yearly range between $0.128517 to $0.797800; this is important because the price currently trades at a discount of that range. If, as expected, the price consolidates within the region, Stellar Lumens' price in 2022 could potentially see a lot of buying strength to clear 2021's high and reach new all-time highs.
Stellar Lumens price prediction 2018
In January 2018, Stellar Lumens (XLM) reached an all-time high. But since the price peaked at almost $1, the cryptocurrency slid to $0.16 at the beginning of April 2018. By the end of the same month, XLM bounced to $0.46. It came back to the $0.16 low later in July 2018 and jumped to $0.33 in the same month. Until November 2018, XLM traded in the $0.17-$0.28 range. At the end of the year, Stellar broke the $0.16 support and closed in a strong downtrend, trading at $0.10 per XLM.
Stellar Lumens price prediction 2019
At the beginning of 2019, Stellar continued its downtrend move and bounced from the low of $0.07 in February. In May 2019, XLM peaked at $0.16 and resumed its downtrend. The rest of the year was very bearish for Stellar; in December 2019, the price fell to as low as $0.039 per coin.
Stellar Lumens (XLM) price prediction for 2021, 2022, 2025, 2030
Finally, we can get down to probable scenarios on Stellar Lumens (XLM) price prediction for the last quarter of 2021, 2022, 2025 and 2030.
Brad Garlinhouse XLM Price Prediction for 2021, 2022, 2025, 2030
Given Ripple's current and future predicted good fortunes, especially in the wake of Brad Garlinghouse's (CEO of Ripple Lab) Public Offering and Stellar Lumen's association with the currency, there has been a noticeable buzz around Stellar XLM predictions. The consensus is that, while the price is currently trading at lower prices than early in the year, XLM price is prepped to go up exponentially, and investors should look to buy now that price is relatively low.
TradingBeasts XLM price prediction for 2021, 2025, 2030
Stellar Lumens price prediction from TradingBeasts shows that the Lumen coin will have a steady increase going forward. This suggests that the price may never take out XLM's all-time low, which is a great thing for bulls. TradingBeast's XLM 2022 price predictions show price movement away from the lower $0.20 region to $0.30. Subsequent years should see the cryptocurrency's price rise to over $0.40.
WalletInvestor XLM price prediction for 2021, 2022, 2025, 2030
WalletInvestor's XLM coin prediction suggests that Stellar Lumen's price has the potential to reach price points of over $0.50 before the end of 2021. They predict that 2022 could see gains of over 90% and can even reach the $1.50 mark by 2026. While those are comparably conservative figures, they are nonetheless impressive given the usually bearish bias of WalletInvestor, which in itself could be an indication of strong bullish future XLM prices.
Long Forecast XLM price prediction for 2021, 2025, 2030
Long Forecast predicts a relatively subdued decade for Stellar Lumens; XLM coin price predictions are conservative and mostly between $0.20 to $0.40. As expected, the remainder of 2021 is predicted to remain within the $0.20-$0.40 price region, and 2022 through 2025 shouldn't see any significant increase or decrease in price movements.
Stellar (XLM) future value predictions in general
With Stellar, there will be significant reductions in fees in the future, and money can be sent anywhere, quickly and affordably. New projects keep popping up on a Stellar blockchain, making their contribution to the ecosystem. The goals that the company has set for itself are achievable, and it's doing its best to bring them closer to us.
Will Stellar Lumens go up?
Stellar is one of the best and oldest coins on the cryptocurrency market. It has a long history, and the coin's cycles could be predicted. Stellar Lumens (XLM) ran through 3 cycles with a price increase over 19 times in each cycle. History has a cyclical nature; we can expect what's happened in the past to occur in the future. One thing can be said for sure about whether Stellar goes up: a $1 target is conservative.
Stellar Lumens price prediction today
Through a review of Stellar price predictions, we can expect wider adoption and growth in the future. The company is working on solutions to make our life better. Stellar is working on providing a future in which ordinary people can quickly send money anywhere affordably. By setting these goals, they revealed the real power of the modern digital economy. It's time to build your future with StormGain, a reliable platform with a user-friendly interface and a wide range of assets to invest in.
Tags
Exchange BTC
Try our Bitcoin Cloud Miner and get additional crypto rewards based on your trading volume. It's immediately available upon registration.
Try our Bitcoin Cloud Miner and get additional crypto rewards based on your trading volume. It's immediately available upon registration.
Welcome to StormGain — crypto trading platform!
Trade with 300× multiplier.