Live Stellar (XLM) Price
The StormGain Live Stellar Price Index provides the latest XLM price in Tethers (USDT) using an average from the world's leading exchanges.
XLM/USDT Price Chart
The XLM/USDT price chart shows the latest price changes in different timeframes and views: the candlestick chart, line chart and area chart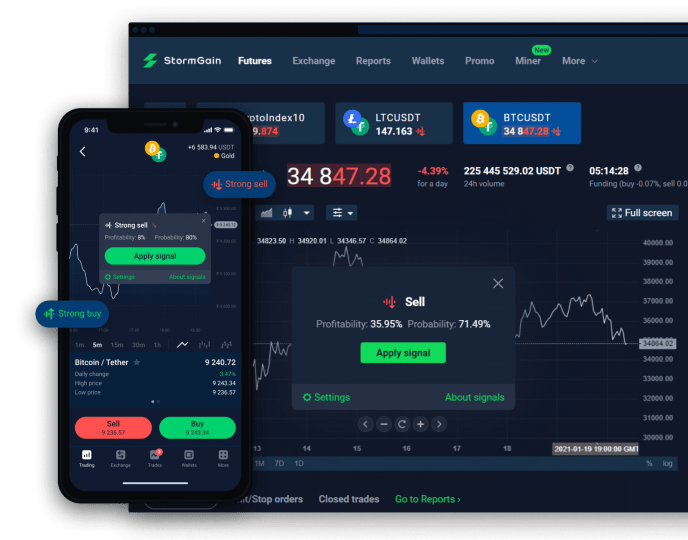 Buy, sell and exchange Stellar
StormGain allows you to buy, sell and exchange Stellar using data from the live XLM price chart to inform your trades.
Instrument
Rate
Change (24h)
What is XLM?
Stellar is a decentralised, open-source protocol that aims to conduct fast, cross-border transactions between currencies or assets. Stellar's blockchain also allows for the development of decentralised applications (dApps), making it possible to create new projects based on the Stellar network. Unlike Bitcoin and Ethereum, Stellar doesn't try to replace the traditional payment system but integrates newer technology to create an optimal financial experience for everyone. The native token of the Stellar ecosystem is called Lumen (XLM), and all operations within the Stellar network are performed through it. 
Stellar price history
XLM price history began in 2014 when the coin first appeared on exchanges. In November 2014, as the coin approached $0.0012, investors showed interest, and the buying pressure increased the coin's value up to $0.01 in December 2014. After reaching that high, XLM's price declined, and in August 2015, it retested a previously established low. In April 2017, XLM broke resistance at $0.0038 as the bullish momentum pushed the price to $0.073 per coin. After hitting a new high, XLM's price was dragged down by bearish momentum in Bitcoin, reaching $0.0063 on 15 September 2017. One day later, it bounced back above $0.01. In September 2017, the upside momentum resumed, and in January 2018, the price peaked at almost $1, setting a new all-time high. 
Stellar price prediction
As a relatively older token, XLM has a long history, making it easy to use previous data to predict its future price. Stellar Lumens (XLM) ran through 3 cycles with a price increase over 19 times in each cycle. If history repeats itself, it's expected that XLM future price may take out its current all-time high to set a new one. To learn more about Stellar's future prices, check out our detailed XLM price prediction here.
The best altcoins to buy on StormGain
Signals for Stellar trading
Make cryptocurrency trading decisions based on StormGain's trading signals. Each Buy or Sell signal has two main indicators — profitability and probability — to help you make sound decisions. The signals are available for free immediately after you register.
StormGain Stellar Wallet
The StormGain built-in wallet provides a simple way to secure, manage and exchange your funds whenever and wherever you want. All you need to do is to pass registration and deposit your assets!

Full crypto options
Whether you're looking to exchange, hodl or transfer your assets, StormGain's crypto wallets let you do just that with its built-in tools.

Available 24/7
Access your wallet 24/7 worldwide from any device.

Top-level security
Rest assured with industry-leading security protocols and strong encryption.

Absolutely free
StormGain's built-in wallet is completely free of charge.

Exchange Tokens in Wallet
Hedge your portfolio by exchanging your coins for Gold and Silver tokens in your wallet.
What affects the price of Stellar today?
The price of XLM today constantly changes, much like other tradeable assets in the world of finance. Powerful factors like supply and demand play important roles in these price swings as they are the primary factors driving most economies. Being the first and largest cryptocurrency by market capitalisation, Bitcoin also influences the price of other crypto assets like XLM; when Bitcoin surges, the crypto market surges with it.
How can I buy Stellar (XLM)?
To buy Stellar on StormGain, all you need to do is fund your account. You can do that in several ways:
Deposit via crypto wallet with no charge fee.
Deposit using Visa or Mastercard via Simplex or Koinal (USDT).
Deposit via bank transfer.
Once you've completed your deposit, head over to the trading platform to buy XLM. 
How to sell XLM
To sell Stellar, you first have to own the cryptocurrency by funding your account. You can do that in several ways:
Deposit via crypto wallet with no charge fee.
Deposit using Visa or Mastercard via Simplex or Koinal (USDT).
Deposit via bank transfer.
Once you've completed your deposit, head over to the trading platform to sell XLM. 
How to exchange XLM
To exchange XLM, first make sure you have enough funds to exchange it. Navigate to the 'Exchange' window, select the asset you want under 'To wallet', then input the amount you wish to exchange under 'From wallet'. At the bottom of the exchange platform, you'll see a calculator that tells you how much your asset is worth and the commission fee. 
How to start Stellar trading
To begin XLM trading on StormGain, fund your account with at least the minimum deposit amount. You can do that easily with your bank card or via a direct crypto deposit into your wallet. Once you confirm funds in your account, head over to StormGain's trading platform and select XLM from the list of instruments to begin trading.
Start trading crypto with StormGain!
Take advantage of the 50,000 USDT on your demo account, leverage of up to 500x and crypto trading signals in our mobile app.