Utrust (UTK) token price prediction 2022-2030

Despite the fact that the adoption of cryptocurrencies is increasing, they're still quite difficult to use for day-to-day payments. In this article, we'll tell you about the Utrust blockchain project, which aims to change that situation. We'll take a look at the features of this project, explore its native cryptocurrency UTK and examine the coin's price predictions.
What is Utrust?
Utrust is a payment processing platform that allows e-commerce businesses to accept over 30 cryptocurrencies as payment methods by offering them instant transactions and crypto-to-cash settlements.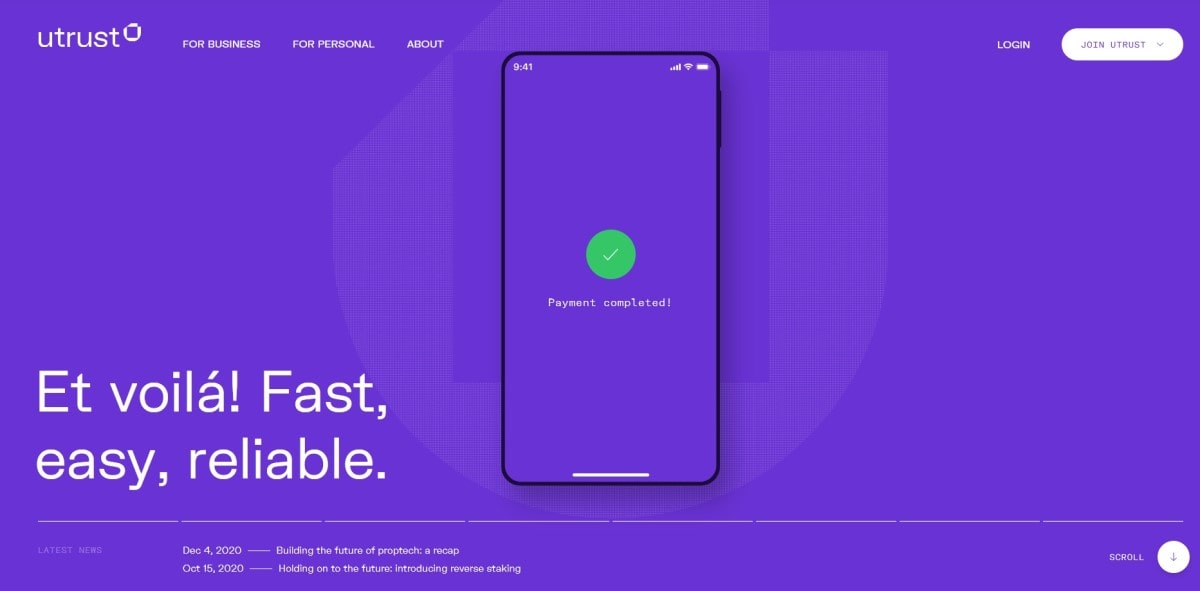 Our goal is to make cryptocurrency payments a mainstream reality for businesses and consumers alike. While today there are ways to use cryptocurrency as means of payment, they are far from universal and not really accessible to mainstream users. — Nuno Correia, Chief Strategy Officer and Co-Founder of Utrust.
The history of Utrust
Utrust was founded in 2017 by Nuno Correia, Roberto Machado, Filipe Castro and Artur Goulão. The company initially started in Switzerland, but now most of the team is based in Portugal. In November 2017, the project's ICO was held, and the platform's official launch took place in June 2019. In November 2019, the company released the Utrust Wallet.
In February 2020, Sanja Kon, who previously worked as the Head of Marketplaces and Large Enterprise Partnerships for PayPal, became Utrust's CEO.
Utrust's features
The Utrust platform acts as an intermediary between businesses willing to accept payments in cryptocurrencies and buyers willing to pay with cryptocurrencies. Payment made through the platform is immediately converted to the fiat currency of a seller's choice.
Payments through the platform go as follows:
The buyer looks for a merchant that has integrated Utrust into their payment system. 
The buyer makes a payment to the merchant using the Utrust wallet or any other cryptocurrency wallet.
The payment is converted to fiat money and is held in escrow.
If, after a certain waiting period, the transaction has not been disputed, the payment is released from escrow.
The merchant receives payment in the fiat currency of their choice.
The platform has the following distinctive features:
Low commission. Sellers are charged a commission of 1% on payments received, regardless of the location of the seller and the buyer. In addition, a small fee is charged for currency conversion.
Buyer protection. The platform protects the buyer with a refund system if something goes wrong. If a buyer claims against a seller, the platform will provide them with the opportunity to resolve the problem peacefully in real-time. If this fails, Utrust will collect evidence and return the money to the selected party.

Seller protection. Sellers in the Utrust ecosystem are also protected from unreasonable chargebacks.
Transaction speed. The platform offers almost instant transactions, even when dealing with cryptocurrencies that have low transaction speeds.
Protection from volatility. Thanks to the high speed of transactions and the immediate conversion of cryptocurrency to fiat money, sellers are protected from the risks associated with the high volatility of cryptocurrencies.
Personal information is secured. The buyer does not need to share his personal information online.
The buyer can use any crypto wallet for payment.
UTK is an ERC-20 standard token and the native cryptocurrency of the Utrust platform. When using it for payments, the platform doesn't charge a conversion fee. A small amount of UTK tokens are burned with each transaction, which reduces their supply. The maximum supply of tokens was issued immediately in November 2017. To initially reduce the supply of tokens in circulation, 10% of the total supply was locked until 2022.
Utrust (UTK) price analysis
At the time of writing, the UTK token ranked 388th among cryptocurrencies by market capitalisation at $45,506,645.
UTK price statistics (as of 12/05/22)
| | |
| --- | --- |
| UTK current price | $0.09698 |
| Market cap | $45,506,645 |
| Circulating supply | 470,000,000 UTK |
| Max supply | 500,000,000 UTK |
| Daily trading volume | $8,076,642 |
| All-time high | $1.47 (13/08/21) |
| All-time low | $0.005431 (16/03/20) |
| Website | |
UTK's price history
During the ICO, the UTK token's price was $0.065. The first major crypto exchange to list the token was KuCoin. It listed UTK at the end of December 2017. Following this, the token's price skyrocketed, and it reached $1.12 on 9 January 2018. However, after that, the fall in the crypto market severely impacted UTK's price.
The long decline in the price lasted until mid-January 2019, when the price reached $0.02. After that, it began to rise and peaked at $0.099 on 3 June 2019. Unable to break through the $0.10 threshold, the price began to fall again, which continued until mid-January 2020.
The price growth that began after that was interrupted by the crypto market's March collapse. As a result, the price of UTK reached its all-time low on 16 March. The ensuing recovery of the crypto market caused UTK's price to rise as well. This growth continued until August 2020, after which the price changed to a sideways movement in the range of $0.096-$0.16.
In early January 2021, growth resumed and continued until early May 2021. The subsequent correction ended in July with a new rise in price. On 13 August, the price soared to an all-time high but almost immediately dropped 3 times lower and then turned to a sideways movement. From the second half of November 2021 until now, the price has been in a bearish trend.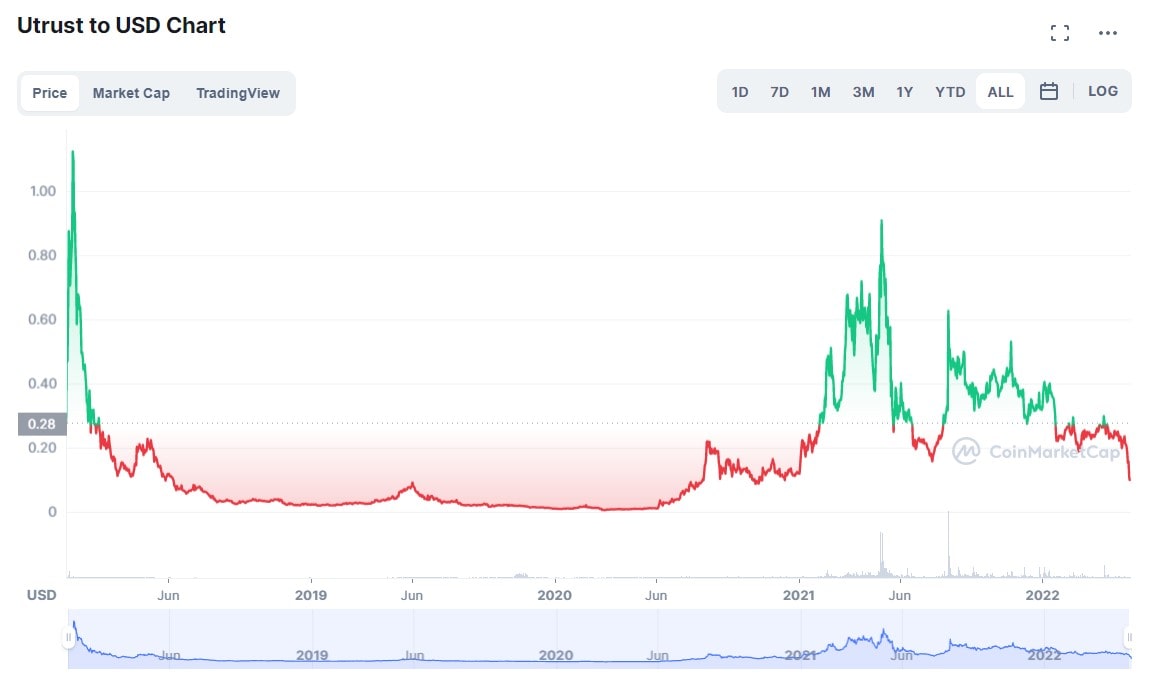 Utrust technical analysis
UTK has been trending downwards since its price peaked in May 2021, and its market structure has formed a descending channel. The price recently hit the channel's support line and is expected to break below it in the coming days following the sudden crypto market crash. The nearest support zone that UTK may likely rebound off is at $0.10. On the other hand, the diagonal support also coincides with the local price support at $0.08, which may be the spark for bulls to retake recent highs.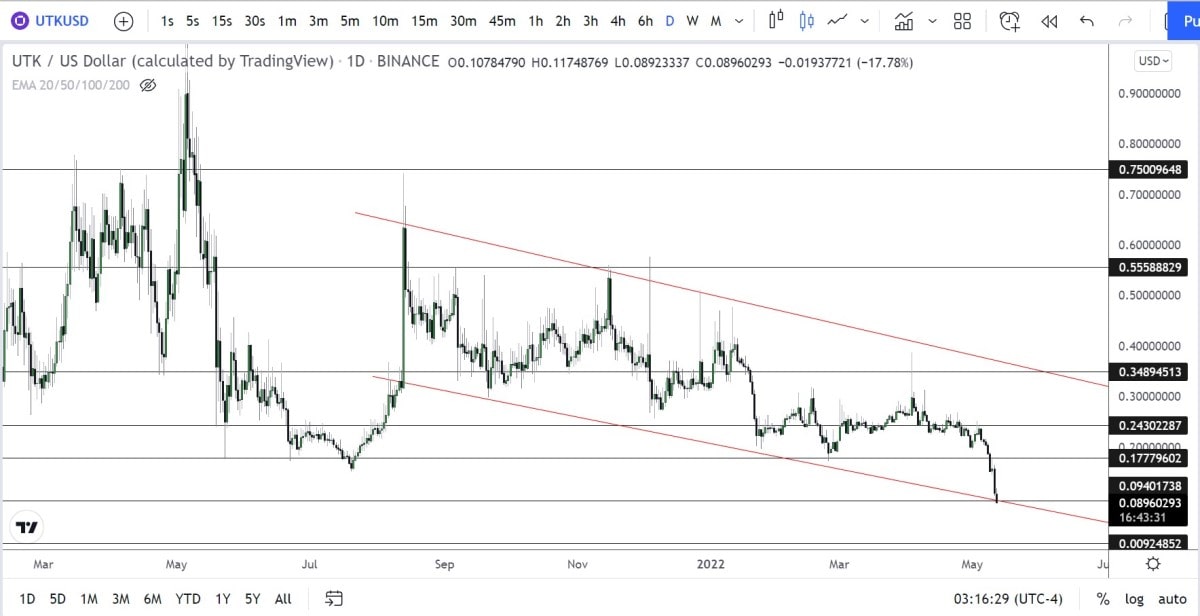 Utrust (UTK) price prediction 2021
UTK had its best year in 2021, with its value peaking at $1.49 in May before correcting sharply and finding support at around $0.17. It tried to recover and reached $0.75 before failing. The token has been on a downtrend ever since.
Utrust (UTK) price prediction for 2022, 2023, 2025 and 2030
Despite the relatively low market capitalisation, many crypto experts have not ignored this token. We have compiled UTK coin price predictions that some of them made.
TradingBeasts' UTK price prediction for 2022, 2023, 2025 and 2030
TradingBeasts predicts a rise in the token's price to $0.17 by the end of 2022. However, in 2023/24, UTK is forecasted to trade at around the same level but begin to rise again in 2025, surpassing $0.20 by the end of that year.
Wallet Investor's UTK price prediction for 2022, 2023, 2025 and 2030
Wallet Investor is more pessimistic with its UTK price predictions. They believe the coin's price will be $0.0961 in one year, which is about a 7% decline from its current price. WalletInvestor predicts that UTK may not grow above its current price by the end of this decade.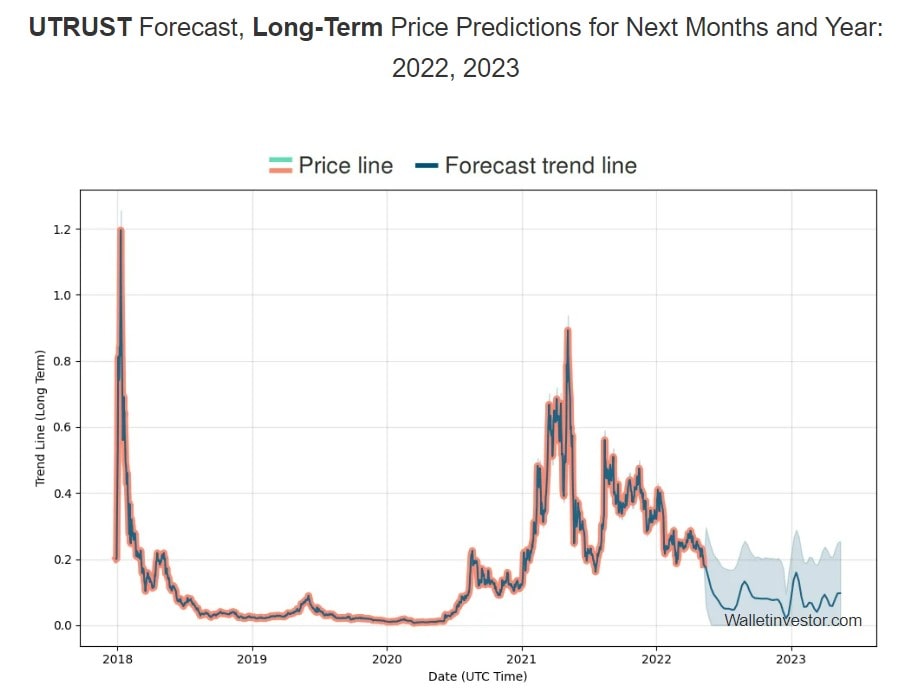 DigitalCoinPrice's UTK price prediction for 2022, 2023, 2025 and 2030
DigitalCoinPrice also predicts Utrust token price growth, albeit slower than TradingBeast's forecast. According to their calculations, UTK is predicted to rise to $0.20 in a year, $0.26 in three years and $0.38 in five years.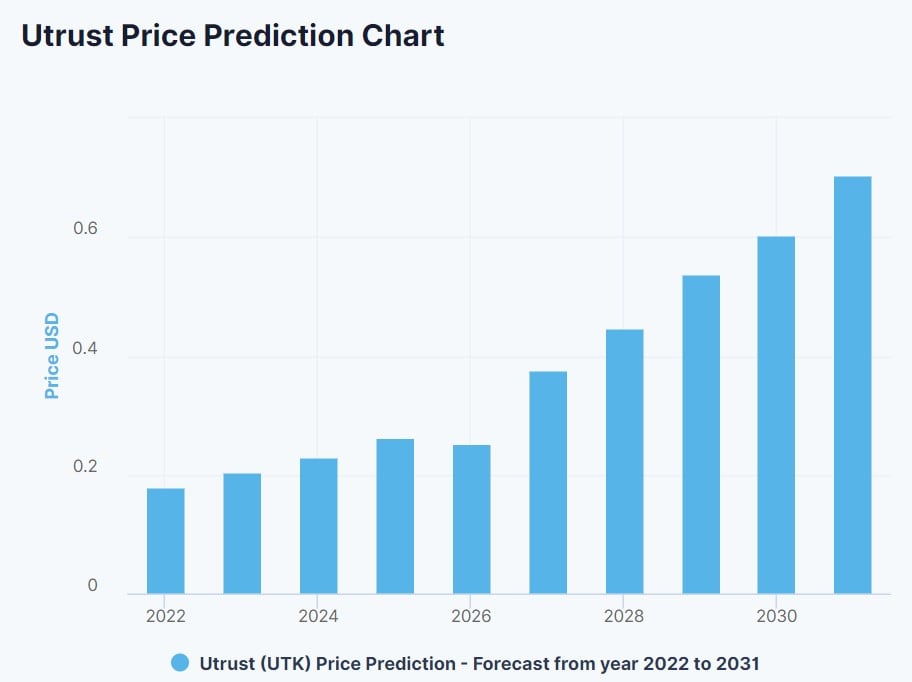 PickACrypto's UTK price prediction for 2022, 2023, 2025 and 2030
PickACrypto's forecast is largely bullish. They believe that the UTK coin's price will reach the range of $0.80-$1.50 in 2022-2025.
Gov Capital's UTK price prediction for 2022, 2023, 2025 and 2030
Gov Capital's predictions are often more optimistic than those of other experts. The UTK price forecast is no exception. According to them, the price will rise to $0.42 in a year and to $2.40 in 5 years.
Utrust (UTK) overall future value predictions
Utrust is a project with great potential. Considering that accepting payments in cryptocurrencies among businesses is still in its infancy, the space for growth in this niche is huge. With the proper efforts of the development team and favourable circumstances, the project has a chance to replicate the success of PayPal.
However, at the moment, there are risks that threaten the project's prospects:
Utrust is not the only project in this niche, and it's not yet clear whether it will be able to emerge victorious in the competition.
The project's future largely depends on how the situation with cryptocurrency regulation is resolved.
Despite developers' efforts to popularise the platform, they are clearly not enough. Although the platform's launch took place nearly two and half years ago, the project is still little known.
How high can Utrust go?
If cryptocurrency adoption continues to grow and the developers make the platform more popular, the potential for the token's price to rise is quite considerable. It's impossible to give exact numbers, but with favourable movement, the token's price may well exceed $3.00.
Utrust (UTK) price prediction today
At the moment, the token's price is under the influence of bearish sentiment. Opening long positions is not recommended.
Tags
Exchange BTC

Try our Bitcoin Cloud Miner and get additional crypto rewards based on your trading volume. It's immediately available upon registration.

Try our Bitcoin Cloud Miner and get additional crypto rewards based on your trading volume. It's immediately available upon registration.
Instrument
Rate
Change (24h)