ApeCoin (APE) Price Prediction for 2023, 2025 and 2030

The Bored Ape Yacht Club NFTs have gained significant attention, as many well-known individuals have acquired them. The introduction of ApeCoin, another ape-themed digital asset in the crypto market, has the potential for significant growth. This guide will provide a detailed ApeCoin price prediction, including its features and performance.
ApeCoin. What Is It?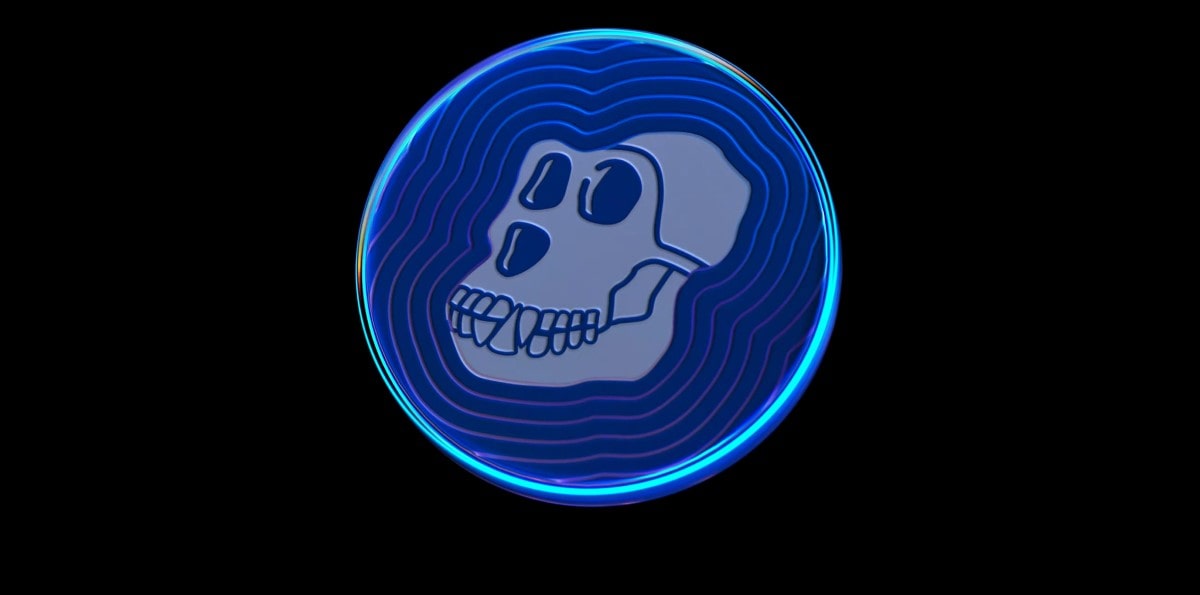 Launched on 17 March 2022 by the APE Foundation as an ERC-20 token, ApeCoin serves multiple purposes. It allows token holders to actively participate in the decision-making process of the APE ecosystem through the ApeCoin DAO. The token also acts as a currency within the ecosystem and incentivises third-party developers to create applications integrating ApeCoin.
ApeCoin, like other cryptocurrencies, is a decentralised digital asset that often signifies the success of a particular crypto project. Investors acquire these tokens with the expectation of future value appreciation. However, it's important to note that cryptocurrencies are considered high-risk assets, and any investment in this market should be preceded by thorough research into the specific coin you intend to buy.
ApeCoin History
ApeCoin (APE) is a token associated with the APE ecosystem, originating from the well-known Bored Ape Yacht Club (BAYC). BAYC comprises 10,000 unique APE NFTs that gained immense popularity in 2021, with some rare APEs selling for incredibly high prices, reaching hundreds of millions.
The widespread popularity of BAYC led influential individuals to purchase Bored Ape NFTs as their profile pictures on social media, further elevating the fame of these profile picture (PFP) NFTs. However, Bored Ape Yacht Club and its parent company, Yuga Labs, faced challenges and allegations, including accusations of using racist images and investigations by the SEC for potential violations of securities laws.
ApeCoin is the token that powers Yuga Labs' flagship NFT project, the Bored Ape Yacht Club, which showcases over 10,000 distinct and innovative ape artworks on numerous NFT platforms. The current team behind ApeCoin includes notable figures such as Alexis Ohanian, Amy Wu, Yat Su, Maaria Bajwa, and Dean Steinbeck.
However, it's important to note that ApeCoin isn't developed by Yuga Labs or BAYC developers. Instead, it's governed by the ApeCoin DAO, collaborating with the APE Foundation and the community.
ApeCoin was launched on 17 March 2022 and became listed on major exchanges like Binance, FTX Exchange, Coinbase, and more. Additionally, ApeCoin was distributed to individuals who had invested in BAYC and had connections to various NFT collections, including the Mutant Ape Yacht Club and the Bored Ape Kennel Club.
APE Overview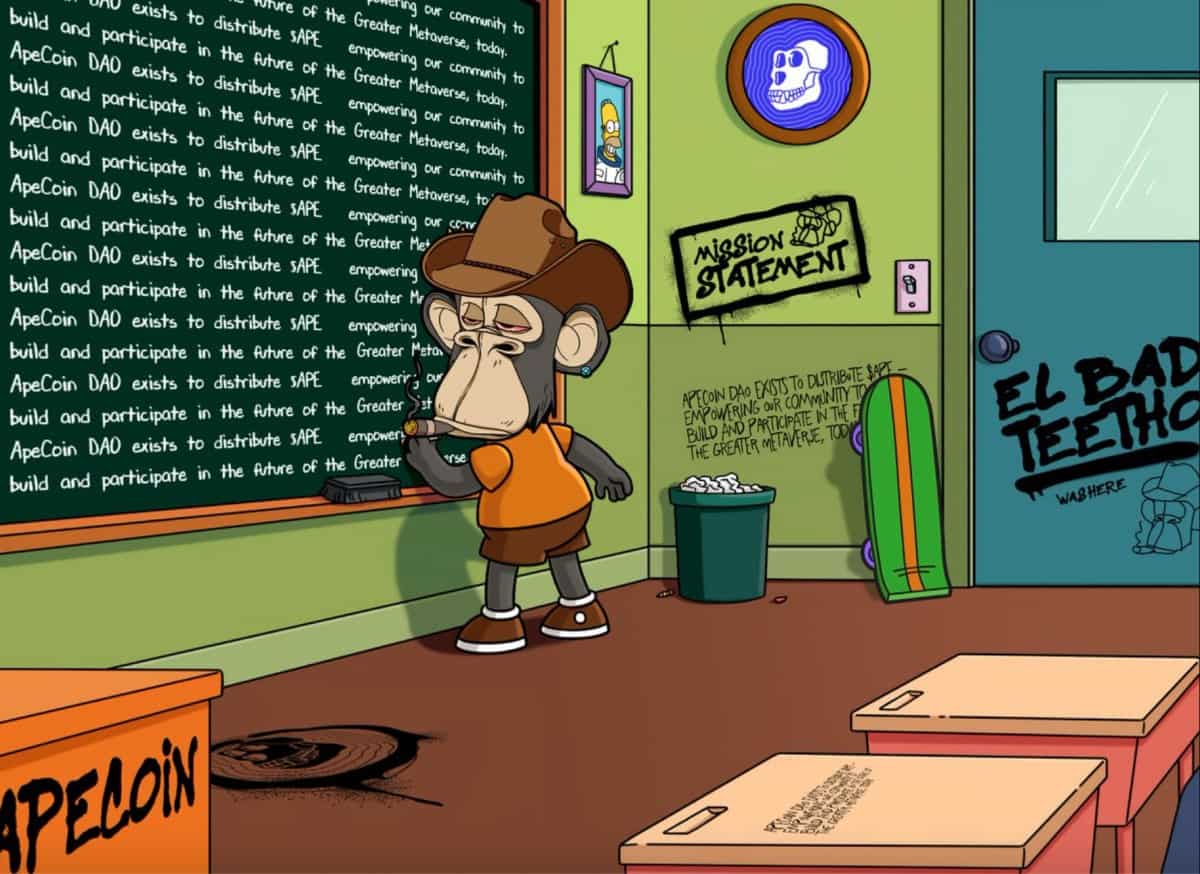 ApeCoin, an ERC-20 token based on the Ethereum network, quickly gained a listing on major crypto exchanges. It reached a market value of nearly $2 billion within a day, with each APE token at around $14. ApeCoin represents Yuga Labs' ambition to link decentralised projects and serve as the primary token for their innovative products, both as currency and management tokens. ApeCoin also empowers holders to govern through the decentralised ApeCoin DAO and influence the use of the DAO Ecosystem Fund.
ApeCoin (APE) White Paper
As outlined in its white paper, ApeCoin is designed to cater to the needs of the Web3 economy. Art, gaming, entertainment, and events have all found a fresh avenue for self-expression in Web3. The potential impact of blockchain on culture is vast and unpredictable. APE token is a community-driven foundation that supports future endeavours and empowers the community. Acting as a decentralised protocol layer will propel cultural advancements into the metaverse.
ApeCoin Crypto Benefits
ApeCoin allows token holders to participate in the APE ecosystem's decision-making process through the ApeCoin DAO. Token holders can also enjoy exclusive events, games, services, and merchandise and use the token as a currency within the ecosystem. Additionally, ApeCoin incentivises third-party developers to contribute to the APE ecosystem by creating applications incorporating ApeCoin. 
Cryptocurrencies, such as ApeCoin, are decentralised digital assets that often serve as a representation of the success of a specific crypto project. Investors acquire them to speculate on their potential future value increase. However, it's important to note that cryptocurrencies are considered high-risk investments, so thorough research on the specific cryptocurrency you intend to purchase should be conducted before making any investment.
ApeCoin (APE) Price Analysis
When writing this ApeCoin (APE) price prediction on 24 September 2023, the token's price was $1.12, with a $27,397,547 daily trading volume. The cryptocurrency ranked #77 on CoinMarketCap, with a $411,291,823 market capitalisation, a circulating supply of 368,593,750 APE tokens, and a maximum supply of 1,000,000,000 APE tokens.
APE price statistics (as of 24/09/23)
| | |
| --- | --- |
| APE current price | $1.12 |
| Market cap | $411,291,823 |
| Circulating supply | 368,593,750 APE |
| Maximum supply | 1 billion APE |
| Daily trading volume | $27,397,547 |
| All-time high | $26.7 (28/04/22) |
| All-time low | $1.08 (17/09/23) |
| Website | |
ApeCoin Price History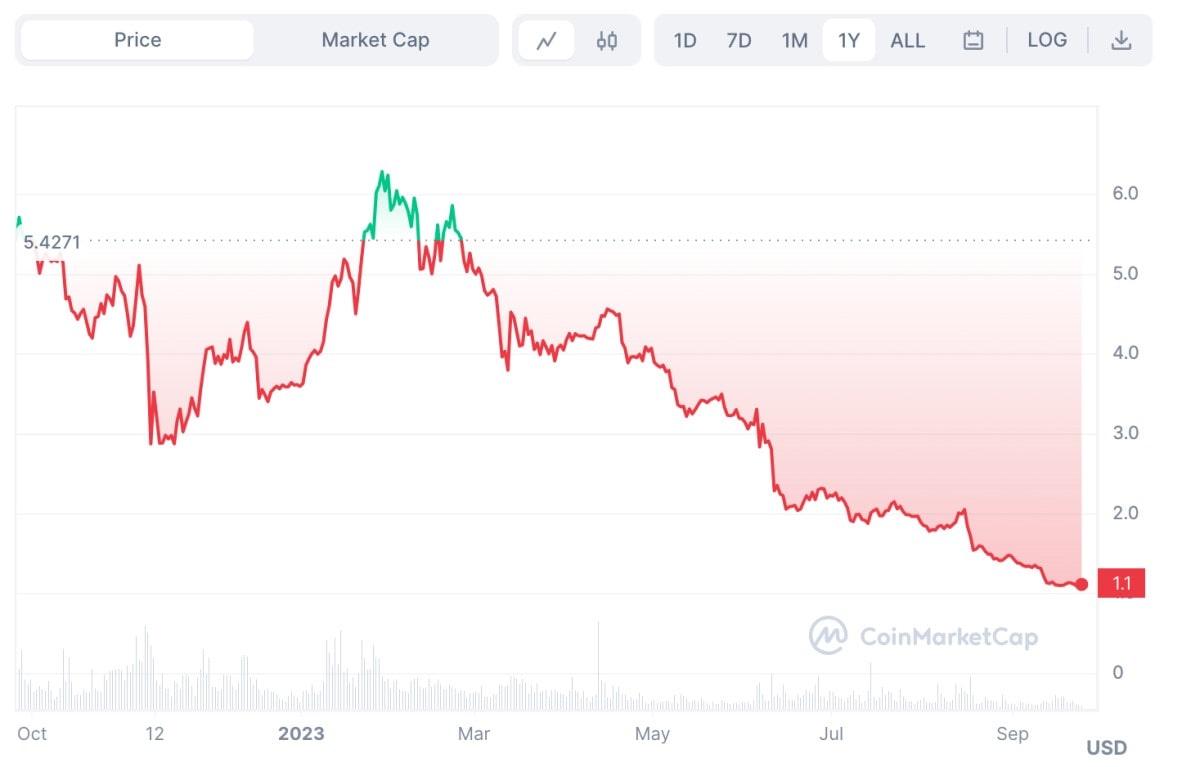 ApeCoin debuted at $5 on 17 March and quickly surged by over 250% in the first 48 hours of trading. After a period of stability, the project saw another significant increase in early May, reaching an all-time high of around $25. In 2022, ApeCoin faced challenges but grew from $4 in December to its current price of $5.80, representing a 45% increase. Implementing ApeCoin's staking mechanism on 12 December 2022 may have contributed to this price rise.
However, ApeCoin experienced price volatility in the final week of January 2023. On 30 January, FXStreet reported a 7% decline in ApeCoin's value, bringing it down to $6.20 per token. Since then, the token has undergone a correction and is currently priced at $4.20.
APE/USDT price chart
ApeCoin (APE) Technical Analysis
Based on data from 24 September 2023, the overall sentiment for ApeCoin price prediction was bearish. Technical indicators suggested that ApeCoin's 200-day Simple Moving Average (SMA) would decline in the coming month and reach $2.36 by 24 October 2023. The short-term 50-day SMA was projected to reach $1.171693 by the same date.
The Relative Strength Index (RSI) stood at 26.67, indicating an oversold position for the APE market. The RSI suggested that the APE crypto price was likely to decrease.
According to the classical pivot point (P1) with a value of $1.123823, ApeCoin had support levels at $1.113482, $1.103246 and the strongest support at $1.092905. Similarly, the resistance levels for ApeCoin were at $1.134059, $1.144400 and $1.154636.
APE Price in 2023
Given the media attention that ApeCoin has received, it may be considered one of the most popular cryptocurrencies to invest in 2023, a trend that could continue in the following market upswing. Due to the limited price history of this new token, it's challenging to make reliable predictions based on technical analysis. However, we can still make some forecasts by considering information about the project and its future use cases.
With the introduction of the ApeCoin staking mechanism in December 2022, APE is gradually providing more opportunities for token holders. After a slow performance in 2022, APE has shown improved growth in 2023, with a more than 45% increase since the beginning of the year.
However, considering the current crypto winter and unfavourable macroeconomic conditions affecting all cryptocurrencies, APE will likely reach $8 by the end of this year.
Is ApeCoin a Good Investment or not?
ApeCoin is a captivating crypto project in the digital market. However, it is too early to determine if it is a good investment accurately. Experts are optimistic about the prospects of Yuga Labs, The Bored Ape Yacht Club, and ApeCoin DAO, but their success or failure still needs to be discovered. Considering the price movements since ApeCoin's introduction, it is wise to view it as a high-risk investment with potential for returns. While our predictions are hopeful, outcomes may differ. ApeCoin can potentially yield profitable returns for investors who can navigate its price fluctuations.
APE Price Predictions for 2023-2050
WalletInvestor ApeCoin Price Prediction for 2023, 2025, 2030, 2040 and 2050
According to WalletInvestor's prediction, ApeCoin's price is expected to reach $0.10 by the end of 2023. In 2024, the token's price is predicted to be $3.60 in the middle of the year, but it's expected to drop to $0.04 by the end of the year. The average ApeCoin price prediction in 2025 is $0.05. WalletInvestor forecasts that in 2028, the cryptocurrency's value will average $0.02.
CoinCodex ApeCoin Price Prediction for 2023, 2025 and 2030
Based on CoinCodex's short-term ApeCoin (APE) price prediction, ApeCoin is expected to decrease by 7.28% and reach $1.034183 by 29 September 2023. The estimated price for ApeCoin in 2024 is $0.969922, with a potential high of $2.57. The projected ApeCoin crypto price in 2030 is estimated to be between $6.31 and $7.99.
Price Prediction ApeCoin Token Price Prediction for 2023, 2025 and 2030
Based on the ApeCoin forecast by Price Prediction, it's projected that the price of ApeCoin will reach a minimum level of $2.05 in 2023. The maximum level is anticipated to be $2.32, with an average trading price of $2.12. In 2024, the price of ApeCoin is predicted to reach a minimum level of $3.00. Furthermore, in 2025, the minimum value is expected to be $4.50. The forecast and technical analysis suggest that by 2030, the ApeCoin price will attain a minimum price value of $30.84.
DigitalCoinPrice ApeCoin Crypto Price Prediction for 2023, 2025 and 2030
DigitalCoinPrice predicts that ApeCoin price will decrease by 12.36% at the start of October 2023. However, the ApeCoin crypto price is expected to reach a maximum increase of 115.46% during mid-October. By the end of the month, ApeCoin is projected to grow by an average of 62.85%. Based on the current market situation, the ApeCoin price could reach a maximum of $3.73 by 2025, with a minimum price of $3.29. On average, the price of ApeCoin is expected to stabilise at $3.41.
APE Future Forecast in General
ApeCoin's future price predictions vary among sources. 
WalletInvestor predicts $0.10 by the end of 2023, a $3.60 peak in 2024, and a $0.04 drop. 
CoinCodex forecasts $1.03 by September 2023, with 2024 estimates ranging from $0.97 to $2.57 and a 2030 projection between $6.31 and $7.99. 
Price Prediction is bullish, foreseeing a minimum of $2.05 in 2023, $3.00 in 2024, and $4.50 in 2025, with a $30.84 minimum by 2030. 
DigitalCoinPrice predicts fluctuations in 2023 but a potential $3.73 peak in 2025, averaging around $3.41.
Cryptocurrency predictions should be taken cautiously due to market volatility.
How high can ApeCoin go?
Price Prediction shares the most optimistic forecast for ApeCoin, stating that the cryptocurrency is expected to reach an average price of $30.84 by 2030.
ApeCoin Price Prediction Today
Crypto analysts have examined ApeCoin prices for 2023 and have determined that the projected average trading price for December 2023 is estimated to be around $2.12. The anticipated lowest and highest rates for ApeCoin are expected to be $2.05 and $2.32, respectively.
Tags
Exchange BTC

Try our Bitcoin Cloud Miner and get additional crypto rewards based on your trading volume. It's immediately available upon registration.

Try our Bitcoin Cloud Miner and get additional crypto rewards based on your trading volume. It's immediately available upon registration.
Will ApeCoin reach $100?
Given the present value of APE and its recent fluctuations, APE can attain a price of $100. Our ApeCoin price prediction indicates that the highest foreseeable price for ApeCoin could surpass $100 by 2035. However, for APE tokens to reach $100, the previous all-time high or maximum price of $39.40 must be surpassed by 2029. Only if ApeCoin can exceed $50 by the end of 2030 can we anticipate it to reach as high as $100 by 2033. 
Does ApeCoin have a future?
The future of ApeCoin relies heavily on the crypto industry's overall performance. When investing in APE, it's essential to employ the correct strategy. This investment isn't suitable for individuals with an uneven risk profile. Nonetheless, it remains a great investment for those with a high-risk tolerance and strong financial standing. Moreover, APE allows engaging with worldwide technology and a continuously expanding ecosystem.
Is ApeCoin worth buying?
ApeCoin possesses promising potential for solid long-term investment performance.
How to buy ApeCoin?
To purchase ApeCoin, you can trade the APE/USDT pair on StormGain's app or web platform. Begin by registering at StormGain and adding funds to your account. You can use a bank card with Simplex or another crypto wallet. Then, select the APE/USDT pair and start trading.
What is ApeCoin used for?
ApeCoin has various uses. It can be used to access physical and digital events organised by the APE community. Additionally, you can buy BAYC merchandise using ApeCoin and use it within the APE ecosystem's range of products and services. Furthermore, ApeCoin allows you to participate in the ApeCoin DAO and have a voice in shaping the future of the APE ecosystem.
When was ApeCoin launched?
ApeCoin was launched on 17 March 2022.
Why is ApeCoin dropping?
ApeCoin's decline is due to the sale of Bored Ape Yacht Club's Bored Apes and Mutant Apes by tech entrepreneur Jeff Huang. This led to a slight decrease in the price of the ApeCoin crypto token.
Will ApeCoin explode?
ApeCoin's price will not experience an explosion or achieve significant pumps of five- to ten-fold. Instead, it'll grow more moderately, with an estimated increase of 16.4% in the next year.
How much is ApeCoin worth?
As of 24 September 2023, the ApeCoin crypto token's price was $1.12. 
How many ApeCoin tokens are there?
As of late September 2023, there are currently 368,593,750 ApeCoin tokens in circulation, with a maximum supply of 1,000,000,000 tokens.
How high will ApeCoin go?
The projected ApeCoin crypto price will reach $2.12 by the end of 2023. The token is estimated to easily surpass the $10.73 mark in the next five years.
What blockchain is ApeCoin on?
ApeCoin doesn't have its own blockchain. It uses Ethereum. 
Instrument
Rate
Change (24h)