Chiliz (CHZ) Price Prediction 2022-2030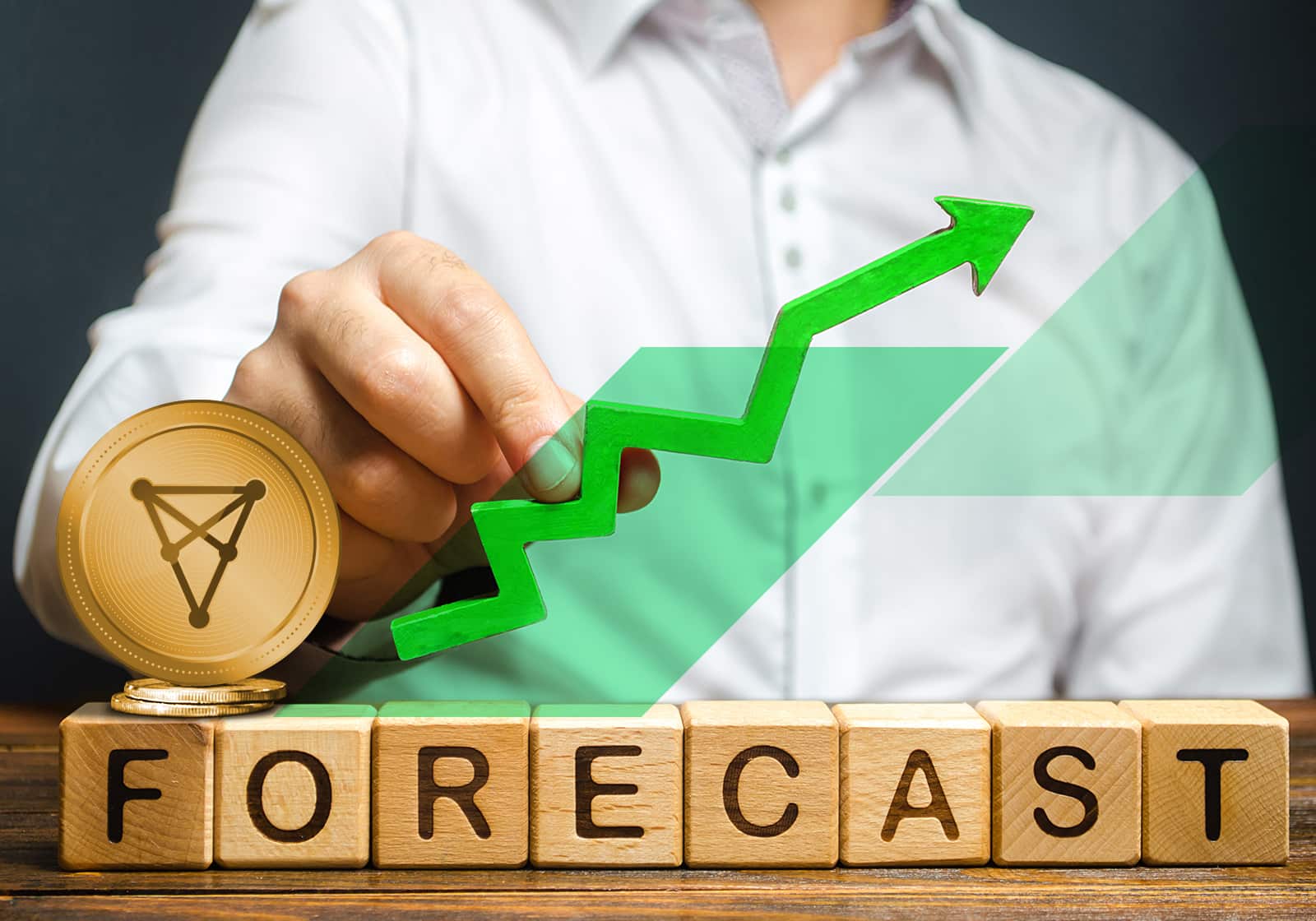 Blockchain technologies are infiltrating into numerous spheres of human activity, and many people probably have a question: can blockchain technology be used in sports? Yes, it can. In this article, we'll tell you about Chiliz, a blockchain project focused on the sports and esports sector. We'll explore this project's origins and features, conduct technical analysis and learn Chiliz token price predictions.
What is Chiliz (CHZ)?
Chiliz is a blockchain project that combines the Socios platform and the Chiliz cryptocurrency (CHZ). The project aims to strengthen and monetise the bond between fans and their favourite teams and sports clubs.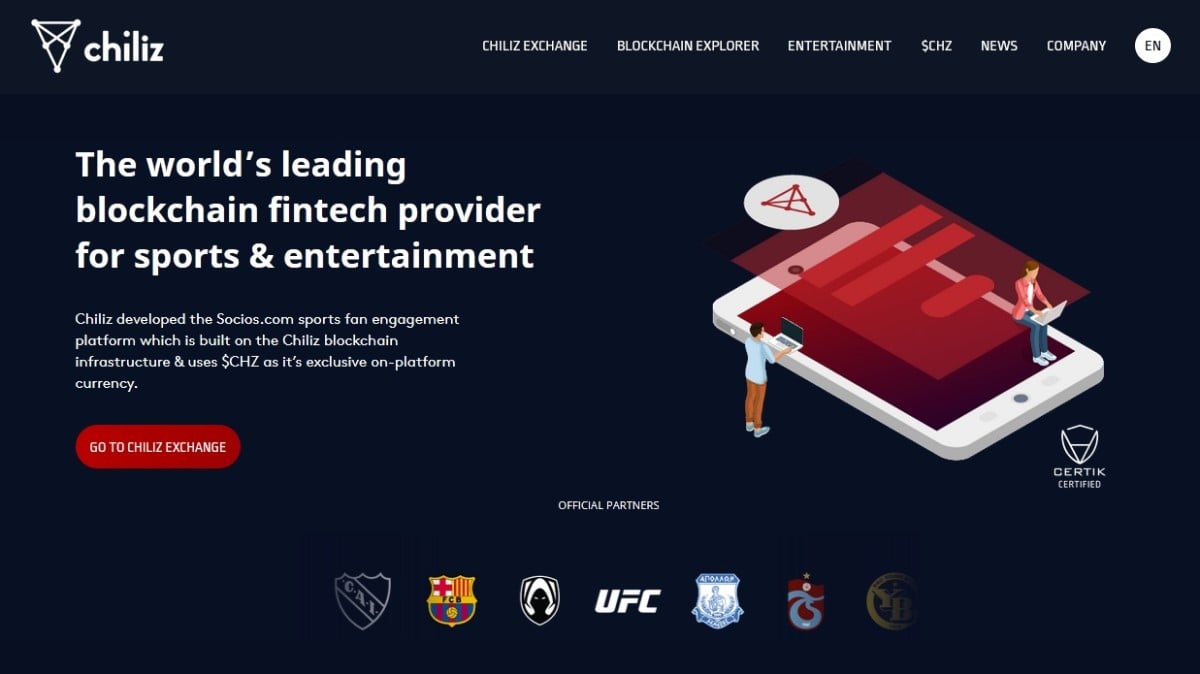 Traders glorify the project's teams when it goes up, and despise them when it goes down. Yet the 'project' is the same, from one day to another. There is no change. Only emotions. CHZ & Fan Tokens will go up and down, all the time, but we will continue to build ... all the time. — Alexandre Dreyfus, Founder and CEO of Chiliz
The history of Chiliz
Chiliz was founded in 2012 by French entrepreneur Alexandre Dreyfus. In 2016, he had an idea to use blockchain technology to improve the interaction between sports fans and teams.
In 2018, the company began to work actively on the creation of the Socios blockchain platform. In October 2018, Chiliz tokens were issued. Some were distributed among early investors, some were kept by the company, and some were kept in reserve. The rest of the tokens were sold out.
The Socios platform launched in 2019. In November 2019, the platform had its first partner, Juventus Football Club, issuing the JUV Fan Token.
Chiliz currently has over 80 employees. The company is headquartered in Malta with an office in Lyon, France.
Chiliz's features
Chiliz (CHZ) tokens are the internal cryptocurrency of the Socios.com platform. With the platform's help, sports teams and clubs can issue Fan Tokens and sell them. Fans can connect to the platform and purchase CHZ tokens to exchange them for the Fan Tokens. 
Fan Tokens provide voting rights for their owners, unlock VIP rewards, and access to exclusive promotions, team merch, events and communities. Users don't need to spend Fan Tokens to participate in the decision-making process. To vote in a poll, you just need to be a Fan Token holder.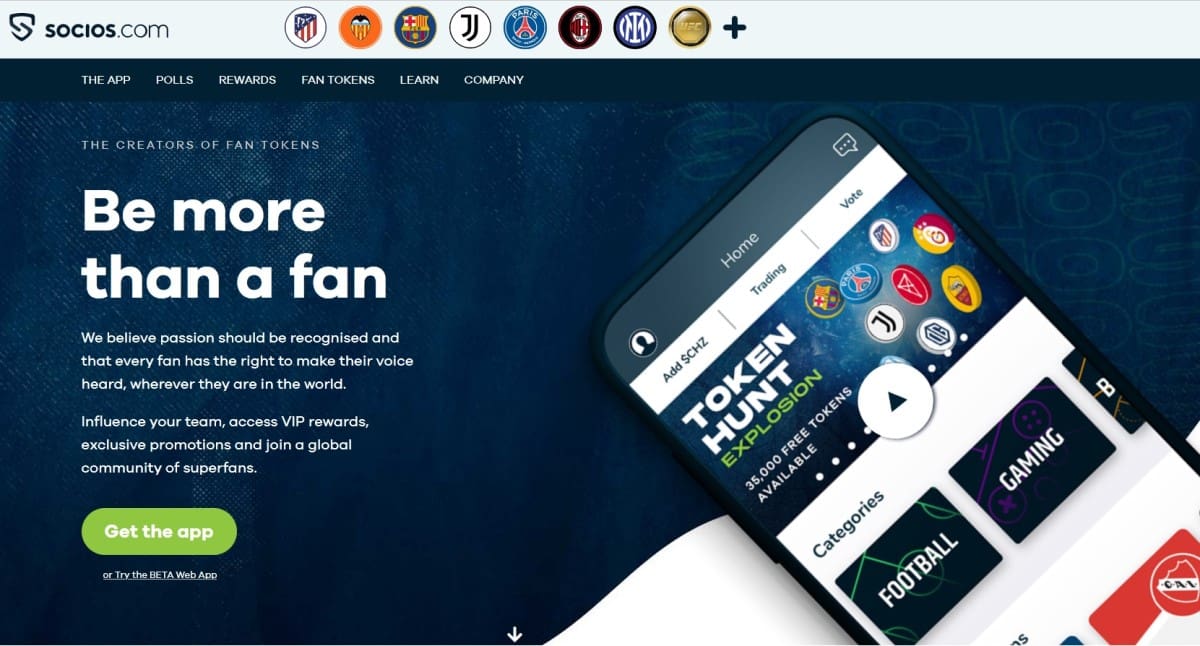 Examples of decisions made when voting with Fan Tokens:
Pick a message for the captain's armband.
Choose the warm-up entrance song.
Choose the motto for the dressing room.
Pick the training playlist.
Choose the new team bus design.
Chiliz turns passive fans into active participants that influence the team's life.
Chiliz tokens are also used for trading on the Chiliz Exchange, a platform for buying and selling Fan Tokens.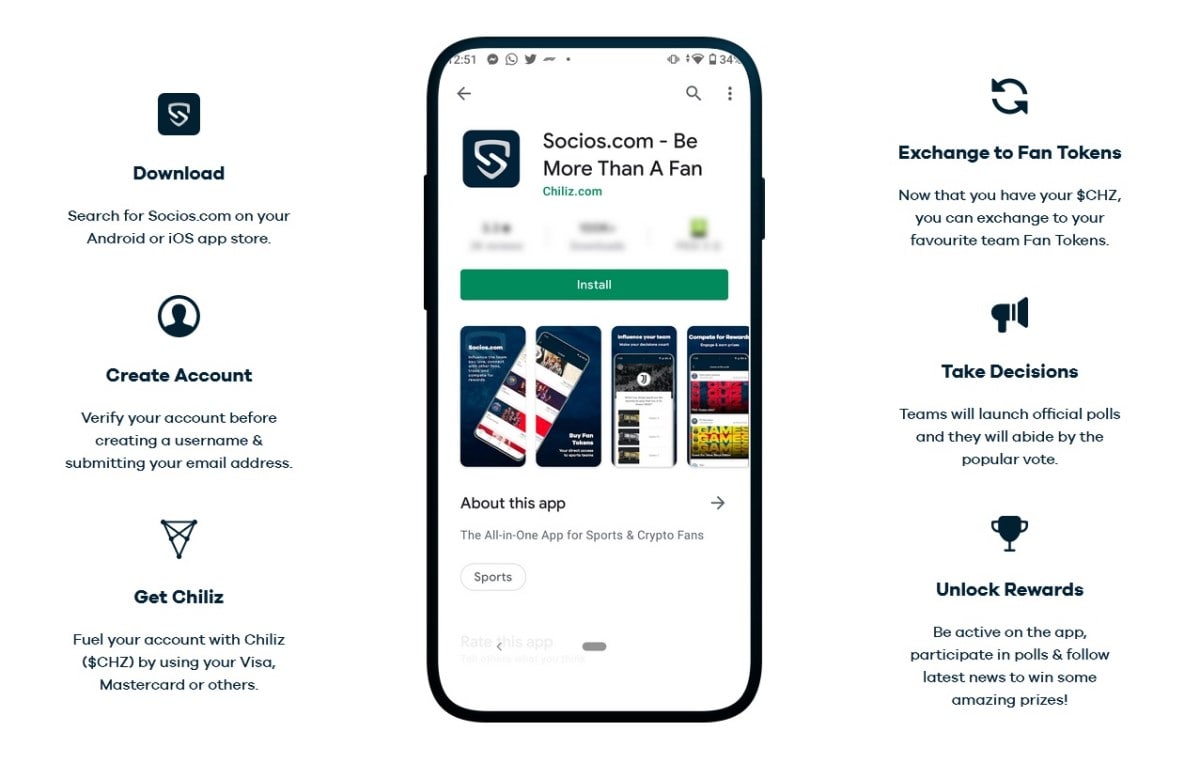 CHZ is an ERC-20 token, but it's also BEP-2 Binance Chain compliant. The Chiliz blockchain uses the Proof-of-Authority consensus algorithm.
Chiliz (CHZ) price analysis
At the time of writing, the CHZ token was ranked 73rd among cryptocurrencies by market capitalisation at $1,062,288,158.
CHZ price statistics (as of 05/05/22)
| | |
| --- | --- |
| CHZ current price | $0.177 |
| Market cap | $1,062,288,158 |
| Circulating supply | 6.00B CHZ |
| Max supply | 8,888,888,888 CHZ |
| Daily trading volume | $143,796,339 |
| All-time high | $0.8915 (13/03/21) |
| All-time low | $0.004001 (27/09/19) |
| Website | |
CHZ's price history
Crypto exchanges started listing CHZ in July 2019. Shortly after the CHZ token entered the crypto market, its price dropped and reached an all-time low on 26 September. The price went up shortly and reached a local maximum of $0.0197 on 4 November 2019. The subsequent decline smoothly turned into a sideways movement, which continued until 2 February 2020. Then, the token price grew rapidly but failed to break through the resistance level at the previous local maximum. The subsequent correction turned into a collapse on 13 March when the price almost reached its all-time low.
The recovery of the crypto market also affected Chiliz. On 14 August 2020, the price broke through the resistance level that it couldn't in March. However, buyers didn't manage to consolidate their success, and after a few days, a correction began. On 28 October 2020, sellers managed to break through the strong support level of $0.01.
On 6 November, the price broke through the $0.01 level again, this time upwards. This was followed by an exponential rise in the price, which peaked on 13 March 2021. After a major correction, the price spiked again in mid-April, but it didn't manage to reach the all-time high. An even deeper correction turned into a summer stagnation. In August, the price rose again, and after a correction in September and sideways movement in October, it rose again on 30 October.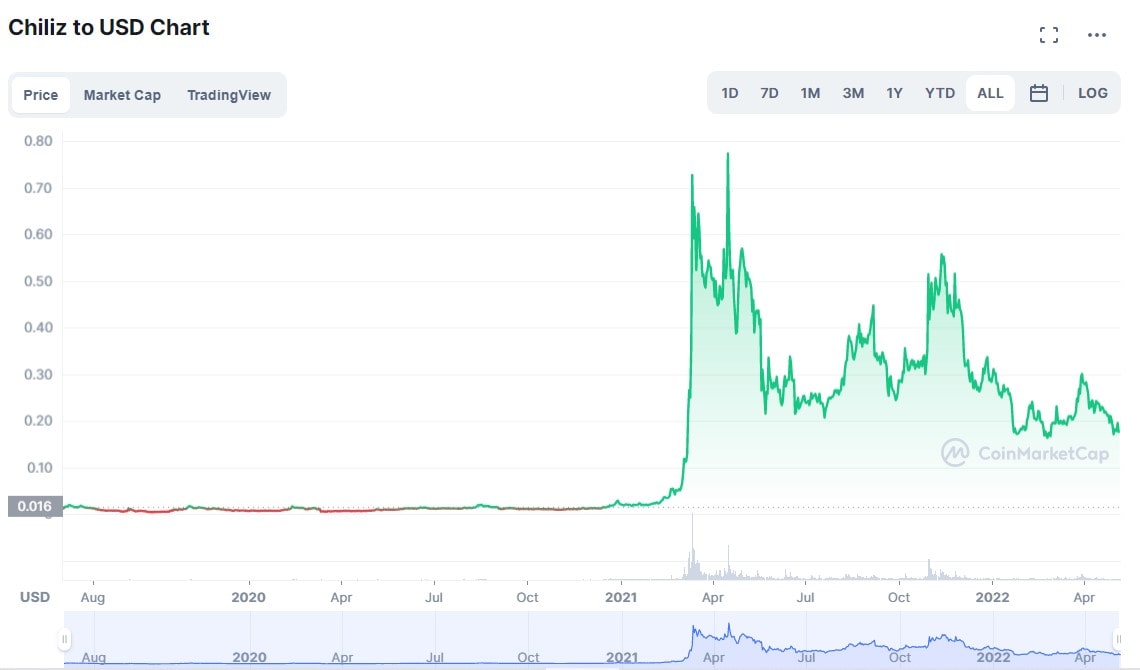 Chiliz technical analysis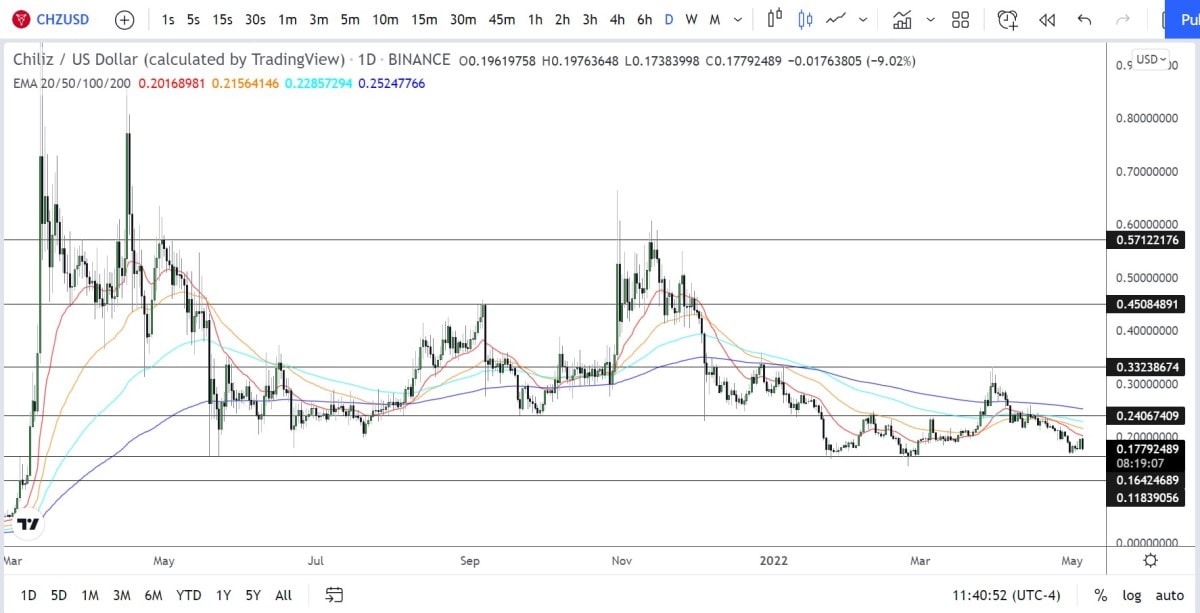 As can be seen on the chart above, CHZ is currently struggling to regain higher prices and is currently trading at a discount price within a 2-year price range. Exponential Moving Averages (EMA) like the 50-day and 100-day EMAs are also acting as dynamic resistance to the price. If the pressure doesn't ease soon, CHZ will trade lower towards the support at $0.11.
Chiliz price prediction 2022
In the event of an 'altcoin season' at the end of the year, Chiliz has a good chance of exceeding its current all-time high.
Chiliz (CHZ) price prediction for 2022, 2023, 2025 and 2030
We've prepared a selection of Chiliz coin price predictions from renowned crypto experts.
TradingBeasts' CHZ price prediction for 2022, 2023, 2025 and 2030
TradingBeasts believe that the token price will slowly rise until September 2022, reaching $0.5756. After that, the growth will be replaced by an equally slow decline in the price. However, in February 2024, the price will rise again and will amount to $0.6191 at the end of 2024.
WalletInvestor's CHZ price prediction for 2022, 2023, 2025 and 2030
WalletInvestor is quite optimistic about CHZ. According to their calculations, the token price, despite fluctuations, will rise to $0.8032 in one year. By the end of 2027, the price will be $0.585.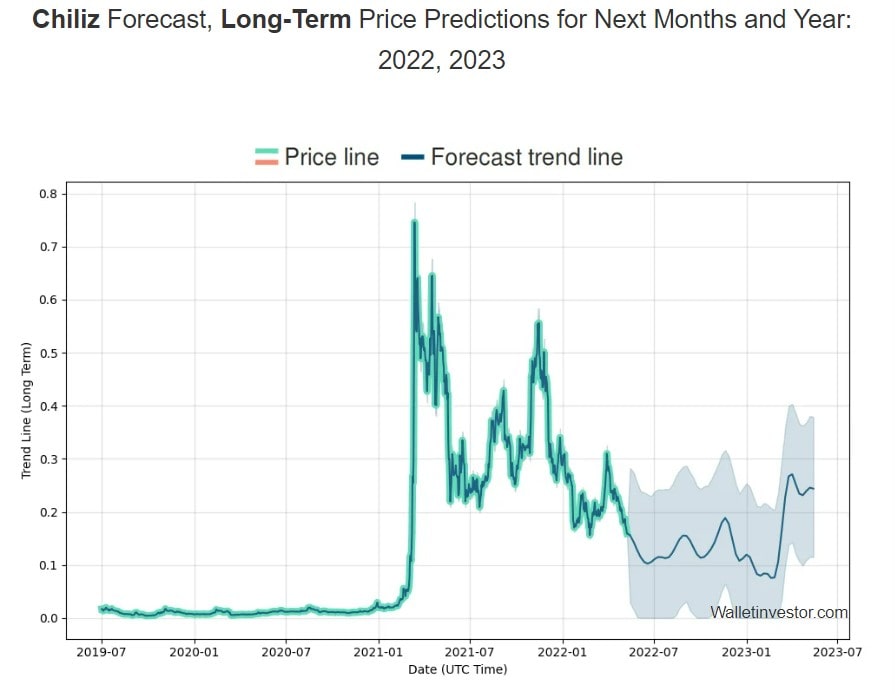 Long Forecast's CHZ price prediction for 2022, 2023, 2025 and 2030
Long Forecast predicts that CHZ will consolidate lower for a while, from 2022 until November 2023, when an 11% increase from the previous month is predicted. In subsequent years, CHZ is forecasted to grow, and in December 2025, the price is predicted to exceed $0.30.
DigitalCoinPrice's CHZ price prediction for 2022, 2023, 2025 and 2030
DigitalCoinPrice predicts slow but stable growth for the Chiliz coin. According to their estimates, the token will be worth $0.21 in a year, $0.22 in 3 years and $0.33 in 5 years.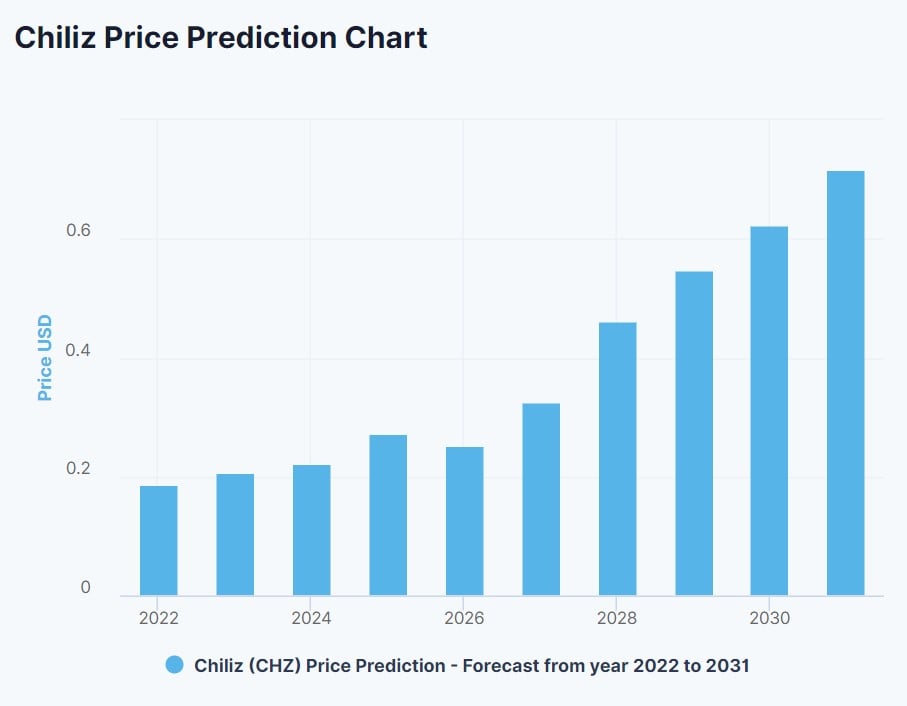 PickACrypto's CHZ price prediction for 2022, 2023, 2025 and 2030
PickACrypto avoids giving exact numbers in its predictions. According to their estimates, the token price will visit the range of $0.30-$1.00 in 2022-2025.
Gov Capital's CHZ price prediction for 2022, 2023, 2025 and 2030
Gov Capital forecasts an increase in the token price, but their prediction is much more optimistic than that of others. They believe the price will rise and will be $5.852 in 5 years.
Chiliz (CHZ) overall future value predictions
The Chiliz project looks promising. The company has a clear vision and business strategy. Chiliz has established partnerships with numerous renowned sports and esports teams and organisations in its relatively short history. It's also worth noting that for Chiliz, cryptocurrency isn't a goal but only a means of achieving goals that lie outside the blockchain industry. Due to its focus on the sports industry, the project can attract new users and active sports fans not previously interested in cryptocurrencies. 
How high can Chiliz go?
With further development of the project and favourable conditions in the crypto market, the price of the CHZ token may exceed $1.50.
Chiliz (CHZ) price prediction today
The crypto market is currently in a bearish trend, with both mainstream coins and altcoins experiencing the effects of selling pressure, and CHZ is no exception. 
Tags
Exchange BTC

Try our Bitcoin Cloud Miner and get additional crypto rewards based on your trading volume. It's immediately available upon registration.

Try our Bitcoin Cloud Miner and get additional crypto rewards based on your trading volume. It's immediately available upon registration.