Decentraland (MANA) Crypto Price Forecast for 2023, 2025 and 2030

In the fast-moving world of cryptocurrencies, there are always new and exciting developments to explore. The landscape is constantly evolving, from the rise of the Metaverse to the emergence of NFTs. One platform that has been making waves in the Metaverse is Decentraland. With its digital currency, MANA, Decentraland has attracted attention and sparked curiosity among marketers and investors alike. If you're eager to learn more about the future of Decentraland and its potential impact on MANA's value, then you're in the right place. This blog post will explore the MANA crypto price forecast for 2023 and beyond.
What is the Decentraland (MANA) cryptocurrency?
Decentraland is a virtual reality platform operating on the Ethereum blockchain, allowing users to acquire and develop land for commercial purposes. It stands out as the first user-owned and user-managed virtual platform. The platform is built on three layers: the Consensus layer, the Land Content layer, and the Real-time layer. 
Users can claim ownership of virtual land through a blockchain-based ledger system. Using Cartesian coordinates, landowners can decide which content is published on their respective portions of land, ranging from static 3D scenes to interactive games.
The land in Decentraland is a unique and transferrable digital asset stored in an Ethereum smart contract. Acquiring land requires MANA, an ERC-20 token that can also be used to purchase in-world digital goods and services.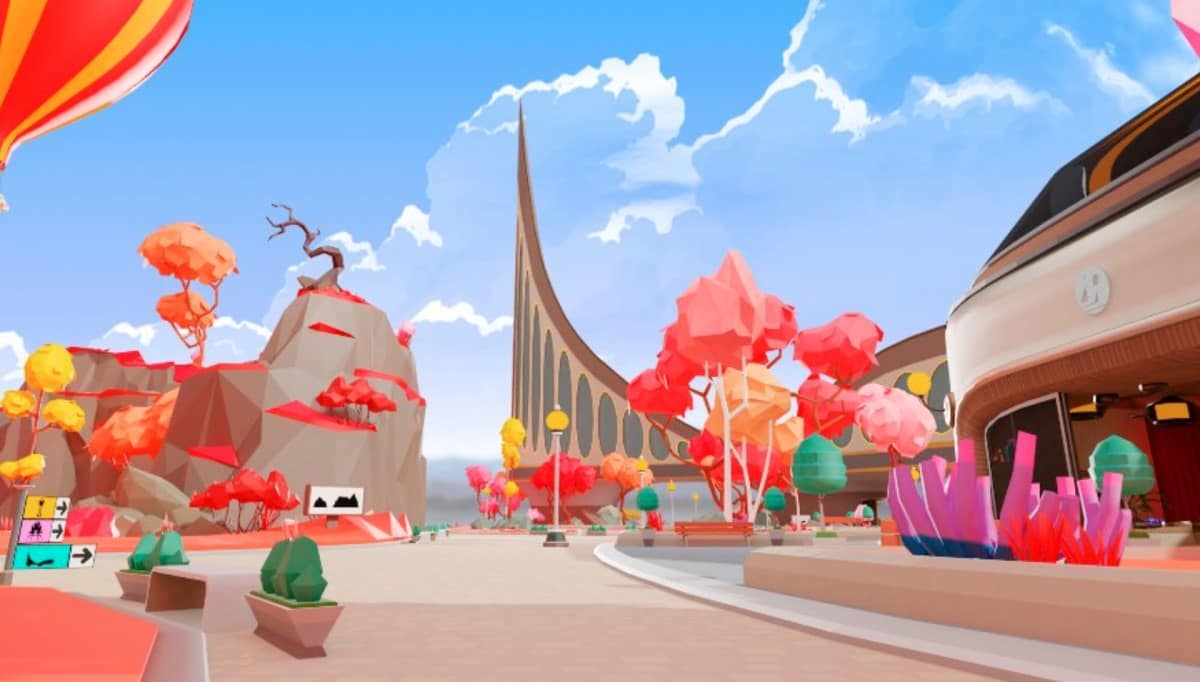 As people increasingly spend more time in virtual worlds for leisure and work, Decentraland offers a fully immersive 3D experience that allows for social interaction and physical clustering of communities. Unlike other virtual worlds and social networks, Decentraland operates in a decentralised manner, without a centralised organisation controlling the software rules, land contents, currency economics, or access to the world.
The primary objective of Decentraland is to support content creators, individuals, and businesses seeking a fresh artistic medium or new business prospects.
Decentraland's history
Before discussing MANA crypto price forecasts, let's examine how it started. 
Decentraland originally started as a test to assign ownership of virtual real estate to users through blockchain technology. This virtual real estate was initially represented as a single pixel on an infinite 2D grid, with each pixel containing information about its owner and colour. This experiment was called Decentraland's Stone Age.
Later on, in late 2016, the team began working on the Bronze Age, which introduced a 3D virtual world divided into land parcels. Each parcel's owner could associate it with a unique hash reference to a file using a modified version of the Bitcoin blockchain. By using a Distributed Hash Table (DHT) and BitTorrent, users exploring this virtual world could download the file associated with a specific parcel. This file contained the necessary models and textures to display at that location.
The first world viewer for Decentraland was hosted at decentraland.org/world. Anyone interested in exploring the world could run a node, download and verify the blockchain, and follow more advanced instructions to navigate the virtual environment.
The upcoming version of Decentraland, known as the Iron Age, aims to create a social experience with an economy based on land ownership and content distribution. In the Iron Age, developers can create applications on top of Decentraland, share them with other users, and monetise them.
To enhance the social experience, the Iron Age will implement peer-to-peer communications, a scripting system for interactive content, and a fast cryptocurrency payment system for in-world transactions. Peer-to-peer communications will enable features like positioning, postures, and voice chat within the virtual world. The scripting system will allow landowners to define the behaviour and interactions of 3D objects, sounds, and applications on their land parcels. Lastly, a low-fee payment system will be crucial for developing a thriving economy within the fast-paced virtual world environment.
MANA White Paper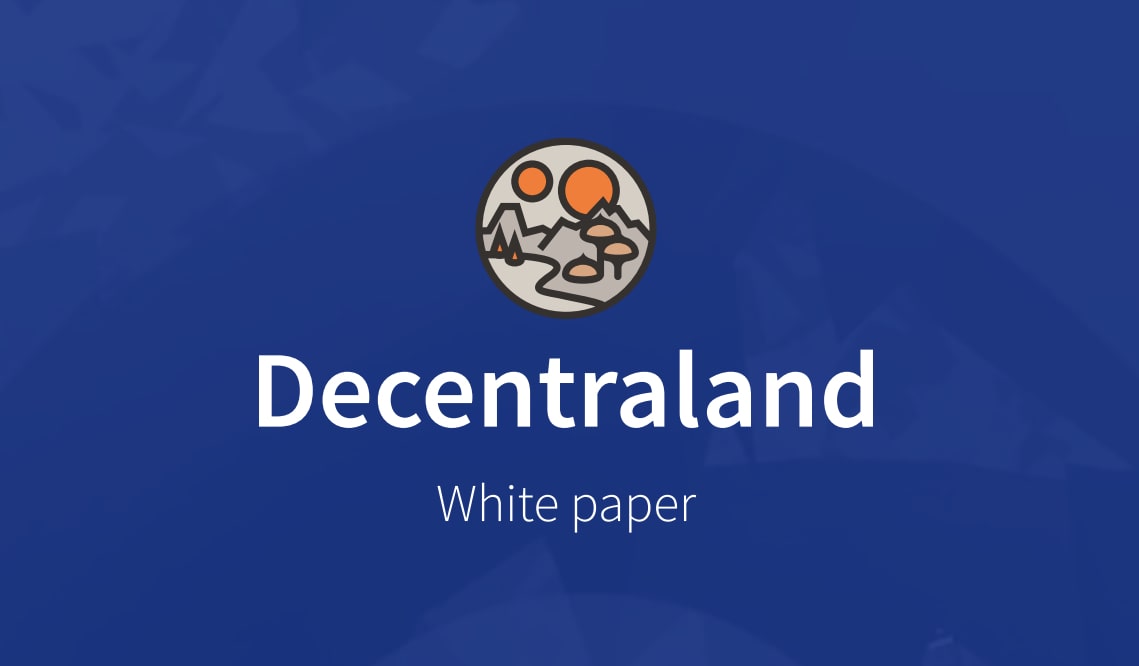 According to the Decentraland white paper, the cryptocurrency has various use cases. These include the development of applications, games, gambling, and dynamic 3D scenes using the Decentraland scripting language. This language will have a wide range of capabilities, such as creating objects, loading textures, handling physics, encoding user interactions, sounds, payments, and external calls.
In addition, users in Decentraland will gather around neighbourhoods of shared interest. Being located near high-traffic hubs will drive users to landowners' content. Brands can also advertise their products, services, and events using billboards in high-traffic land parcels, creating virtual versions of Times Square in New York City. They can also engage with their audience by positioning products and creating shared experiences.
Decentraland also allows users to publish, distribute, and collect rare digital assets issued on the blockchain. These digital assets can be traded worldwide using the scripting system and are backed by a naming system.
Furthermore, Decentraland provides a space for social interaction, allowing groups from online forums, chat groups, and other multiplayer games to port their communities into the platform. Offline communities can also find a space to gather in Decentraland.
MANA benefits
Decentraland is an open-source protocol that has undergone code validation from community members and third-party auditors. This protocol enables gamers to securely generate and monetise content through non-fungible tokens (NFTs), which are blockchain assets that represent unique items.
Decentraland (MANA) price analysis
When writing this Decentraland (MANA) crypto price forecast on 27 September 2023, the token's price was $0.296723, with a $24,769,911 daily trading volume. The cryptocurrency ranked #60 on CoinMarketCap, with a $561,724,357 market capitalisation, a circulating supply of 1,893,095,371 MANA tokens, and a total supply of 2,193,179,327 MANA tokens.
MANA price statistics (as of 27/09/23)
| | |
| --- | --- |
| MANA current price | $0.29 |
| Market cap | $561,724,357 |
| Circulating supply | 1,893,095,371 MANA |
| Total supply | 2,193,179,327 MANA |
| Daily trading volume | $24,769,911 |
| All-time high | $5.90 (25/11/21) |
| All-time low | $0.007883 (14/10/17) |
| Website | |
MANA price history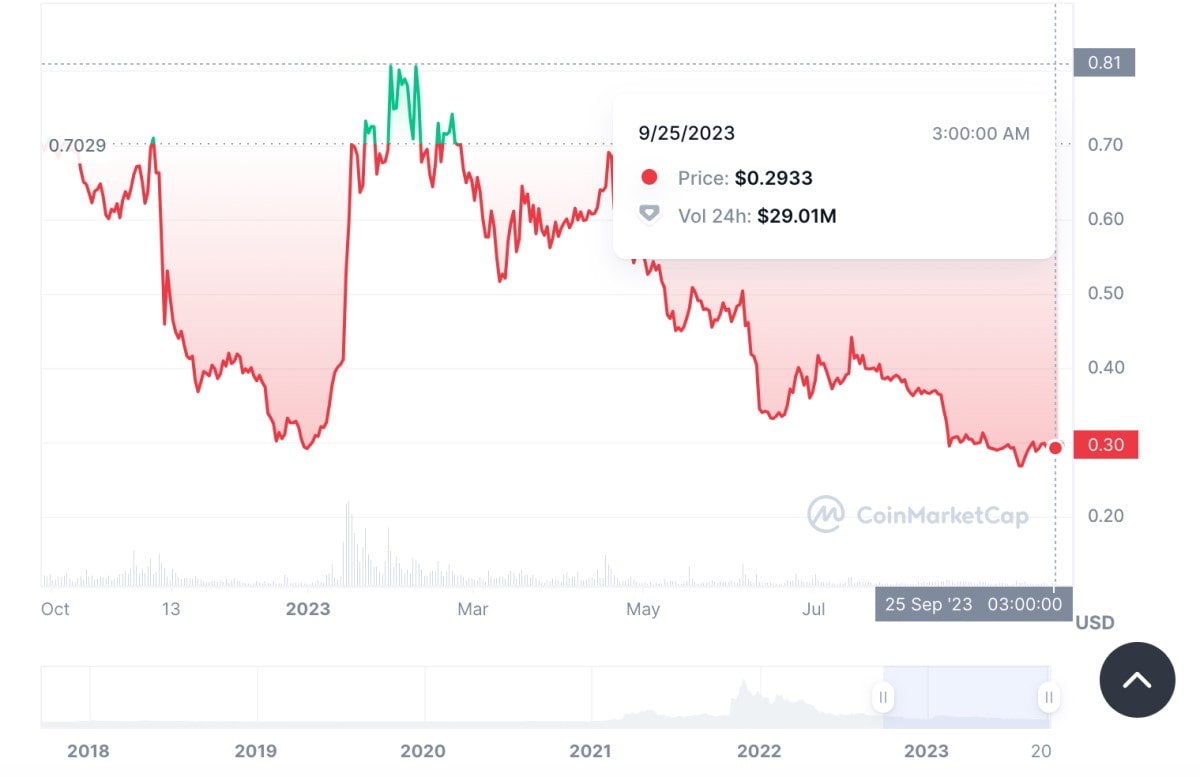 In December 2017, the price of the Decentraland cryptocurrency was approximately $0.025 at its launch. It later surged and surpassed $0.24 but encountered resistance and returned to previous support levels. The price of Decentraland remained relatively stable and traded within a similar range until the beginning of 2021. However, starting in December 2020, the coin experienced significant upward movement.
A bullish period began in December 2020, when the price of Decentraland reached around $1.05. This trend continued until April 2021, when the price of Decentraland hit a new high of $1.56. After this peak, the price started to correct downwards, dropping below $0.43.
Towards the end of October 2021, the price of Decentraland experienced a sharp increase, pushing it above $3.5. Following this, the currency continued to trade with strong bullish momentum. In November 2021, Decentraland achieved a new all-time high of $5.90. However, after reaching this milestone, the price faced a significant correction, bringing it to around $2. Currently, Decentraland is trading at approximately $0.4697.
MANA/USDT price chart
Decentraland (MANA) technical analysis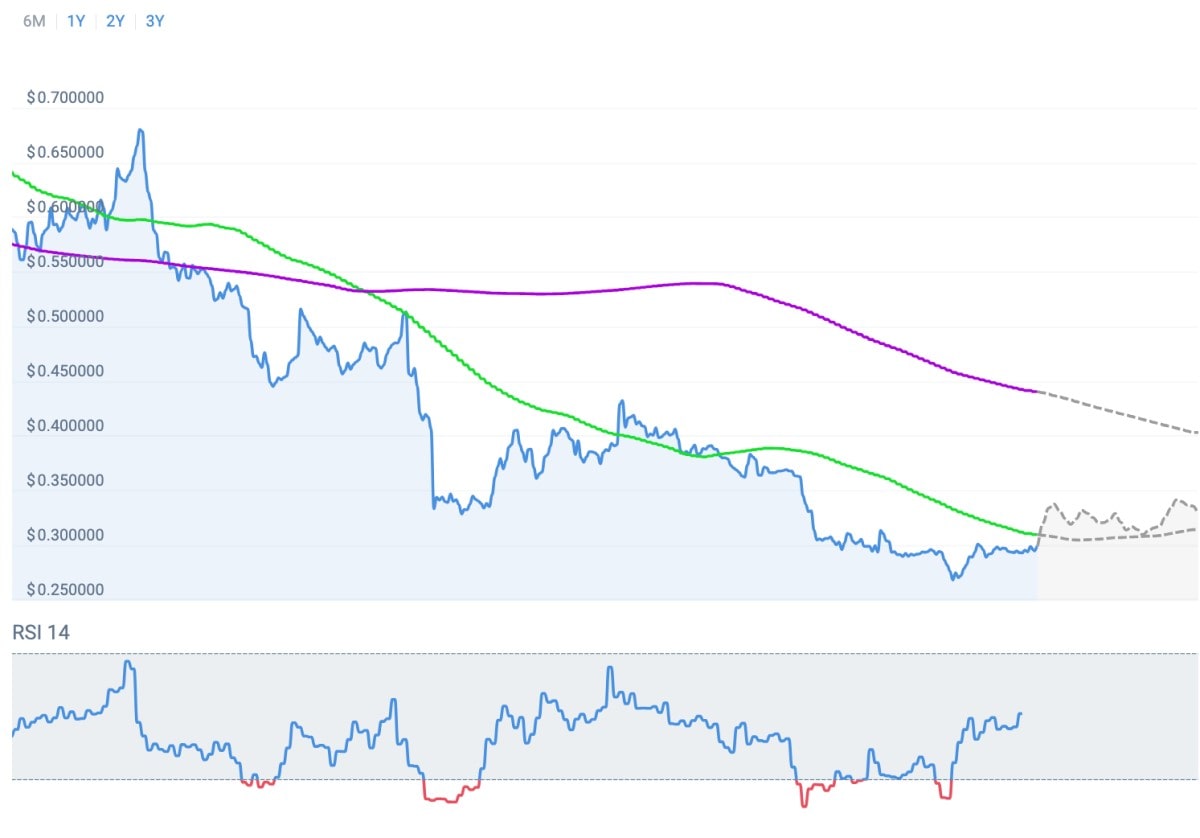 As of data from 27 September 2023, the overall sentiment for the future prediction of Decentraland cryptocurrency is bearish. The current technical indicators suggest that Decentraland's 200-day SMA will decrease in the coming month and reach a value of $0.404110 by 26 October 2023. Decentraland's short-term 50-Day SMA is expected to reach $0.315178 by 26 October 2023. The current RSI value is 51.08, indicating a neutral position in the MANA market.
MANA's price in 2023
The MANA coin price prediction for 2023 suggests that the cryptocurrency could reach a maximum value of $1.039, presenting a promising investment opportunity. Conversely, the projected minimum price for the same year is $0.428, while the average estimated value is $0.733.
Is Decentraland (MANA) a good investment?
Decentraland's potential as an investment is promising, as scarcity often drives up prices. However, it's important to remember that all investments carry risks. Before making any decisions, focus on what you can achieve and gather as much information as possible through your own thorough research.
Decentraland price predictions for 2023-2050
WalletInvestor MANA Crypto Investment Predictions for 2023, 2025, 2030, 2040 and 2050
According to WalletInvestor, MANA's long-term (1-year) outlook is negative. It is projected to reach approximately $0.0324 by the end of 2023. Therefore, there is a risk of your current investment experiencing devaluation in the future. The MANA crypto price forecast for 2024 is $0.03 on average. In 2025, the Decentraland (MANA) token is forecasted to average $0.04. The MANA crypto investment predictions for 2028 are less optimistic. According to WalletInvestor's forecast, the token's price will drop to $0.01.
DigitalCoinPrice Price Prediction of MANA Cryptocurrency for 2023, 2025 and 2030
DigitalCoinPrice's price prediction of Decentraland (MANA) cryptocurrency in 2024 is $1.17 and $1.71 in 2025. Furthermore, they share a $3.08 crypto forecast for 2030.
CoinCodex MANA Crypto Price Forecast for 2023, 2025 and 2030
According to CoinCodex's MANA cryptocurrency end-of-year predictions, the token's price is projected to increase by 10.62% and reach $ 0.327387 by 1 October 2023. The estimated yearly low price prediction for Decentraland in 2024 is $ 0.251618, while the highest predicted price for that year is $ 0.602483. As for 2025, the projected price range for Decentraland is between $ 0.297727 on the lower end and $ 0.869671 on the higher end. Looking ahead to crypto price predictions in 2030, the anticipated price range for Decentraland is between $ 0.087816 and $ 0.326545.
Long Forecast Forecast for MANA Cryptocurrency for 2023, 2025 and 2030
According to Long Forecast's forecast for cryptocurrency, the token is expected to experience consolidation in the coming years. By the end of 2024, the projected price is approximately $0.09. In 2025, the average value of the token is predicted to be around $0.03, with minimal changes expected in the subsequent years.
Gov Capital Future Prediction of Decentraland (MANA) Cryptocurrency for 2023, 2025 and 2030
According to Gov Capital's crypto end-of-year predictions, the price of Decentraland (MANA) is predicted to exceed $1.992 by the end of 2023 and reach $10.639 by the end of 2027. This indicates that investing in MANA could be a wise decision for the future.
Decentraland (MANA) future forecast in general
Decentraland's (MANA) token is poised to maintain its strong position as an attractive investment for many traders and investors in the cryptocurrency market. According to the MANA forecast and predictions of the coin's future market capitalisation, as long as investor confidence continues to grow, Decentraland's price is expected to surge, surpassing all obstacles and gaining momentum in the crypto market.
How high can Decentraland go?
MANA crypto price forecasts vary depending on the source. According to WalletInvestor, the long-term outlook for MANA is negative, with a projected price of around $0.0324 by the end of 2023. The forecast for 2024 is $0.03, and in 2025, the average price is predicted to be $0.04. However, WalletInvestor's forecast for 2028 is less optimistic, with a predicted drop in price to $0.01. On the other hand, DigitalCoinPrice predicts a more positive future for MANA tokens. Their price prediction for 2024 is $1.17, and experts predict a price of $1.71 in 2025. Furthermore, they share a crypto price forecast of $3.08 for 2030.
Decentraland (MANA) Crypto Price Predictions Today
MANA crypto future predictions indicate that its price is expected to reach $1.039 by 2023. The forecasts also suggest that there will be short-term growth, with the price projected to increase to $1.331 by 2024 and $1.672 by 2025.
Can the MANA coin reach $10?
The MANA altcoin has the potential to reach $3.92 by the end of 2025, and it may surge even higher to $10.67 by the end of 2030.
Tags
Exchange BTC

Try our Bitcoin Cloud Miner and get additional crypto rewards based on your trading volume. It's immediately available upon registration.

Try our Bitcoin Cloud Miner and get additional crypto rewards based on your trading volume. It's immediately available upon registration.
Instrument
Rate
Change (24h)