Holo (HOT) price prediction 2022-2030

In the minds of most network users, decentralisation is mainly associated with blockchain technology. However, blockchain is not the only technology that can be used for this. One competing technology is directed acyclic graphs (DAG), used by projects such as Nano and Iota. Another alternative to blockchain technology is the Holochain project. In this article, we'll explore Holochain and its complementary platform Holo, as well as their native token HOT and its price predictions.
What is Holochain and Holo?
Holochain is an open-source framework for building distributed peer-to-peer applications. Holo is a distributed hosting platform which acts as a bridge between distributed Holochain apps and the regular Web.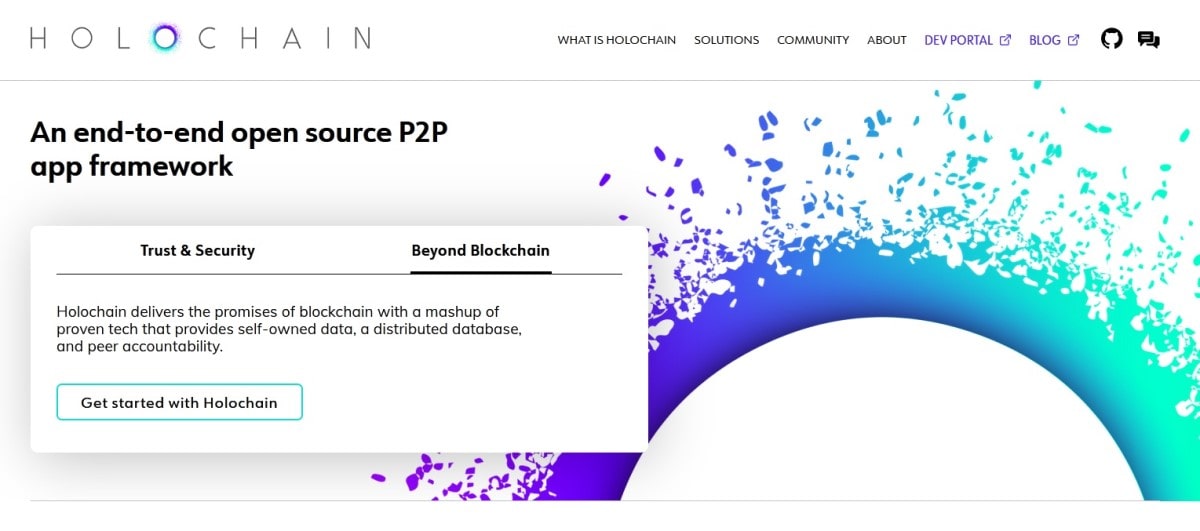 Holochain helps you own your own data, control your identity, connect applications to suit your own needs, transact without centralised systems and build fast, cheap applications. — David Atkinson, Commercial Director of Holochain.
The history of Holochain
Holochain was founded in December 2016 by the American programmers and entrepreneurs Arthur Brock and Eric Harris-Brown. The developers unveiled the roadmap in February 2018 and conducted an ICO in March-April of that year, which managed to raise $20.65 million. During the ICO, 177.6 billion HOT tokens were issued. 75% of the tokens were allocated to the ICO, and 25% were reserved for the developers. In March 2019, the developers released a closed alpha version of their product, and the Holochain testnet was launched in December of the same year.
Holochain's features
Holochain is a framework for building peer-to-peer applications. It aims to ensure system integrity without needing central coordination. There are no servers or blockchain ledgers. Each application enjoys its own isolated network built by all the people who use it without any particular maintenance effort on their part.
Holochain uses a unique agent-centric architecture whereby each node in the network, called an agent, runs its own blockchain, which is connected to the public Holochain. Access to the network is granted by means of cryptographic keys.
In Holochain, there is no need for each node to copy and save a backup of the entire blockchain. According to the general rules, each network is selectively verified. After a user disconnects from the network, a limited copy of the blockchain remains in the public space.
Storage is carried out using special applications in a distributed hash table (DHT) node. Such storage is securely and reliably implemented even on a mobile phone. Each application is supported by its own chain on individual, low-cost terms. The hosts are the agents themselves. Therefore, the higher the number of hosts there are, the higher the computing power is. This reduces the load on each host.
Application information cannot be lost or stolen. Data is stored and distributed by the DHT table to a large number of different nodes. If one of them shuts down, the data is transferred to another node. In a situation where someone changes the program code, it is moved out of this space, and a new application is created.
Holochain doesn't require consensus or mining to function, so full nodes can even run on mobile phones.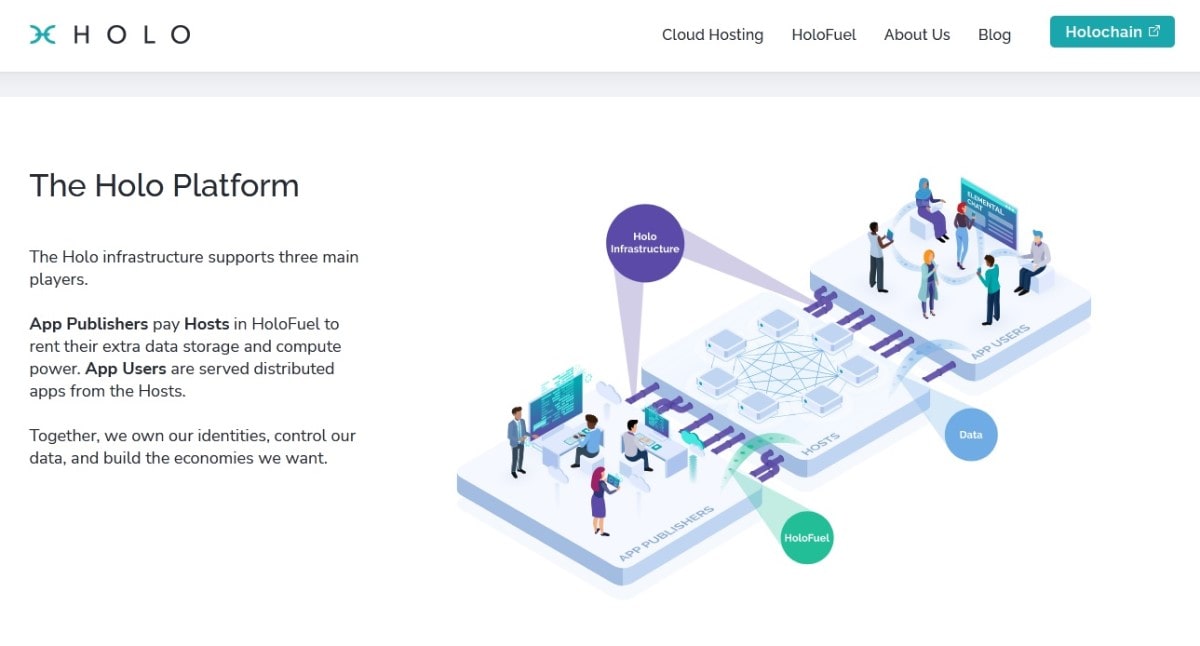 Holo serves as a bridge between Holochain and ordinary users. The Holo network relies on hosts which provide storage and processing power for dApps created in Holochain. In return, the hosts will receive payment in HoloFuel, a cryptocurrency specifically designed for Holochain transactions. According to the developers, HoloFuel is not a crypto-token in the usual sense but a "mutual credit accounting system where every transaction is countersigned on the local chains of both counterparties". This cryptocurrency will be released after the launch of the Holochain network. HOT token holders will be able to exchange their HOT tokens for the new cryptocurrency at a 1:1 ratio.
Thus the HOT being an ERC-20 token is essentially temporary. However, according to the developers, even after the release of HoloFuel and after the swap, the HOT token will continue to be available on crypto exchanges.
Holo (HOT) price analysis
As of 21 April 2022, the HOT token ranked 92nd among cryptocurrencies by market capitalisation at $894,050,631.
HOT price statistics (as of 21/04/22)
| | |
| --- | --- |
| Current price | $0.005177 |
| Market cap | $894,050,631 |
| Circulating supply | 173,303,662,190 HOT |
| Total supply | 177,619,433,541 HOT |
| Daily trading volume | $79,940,688 |
| All-time high | $0.03157 (05/04/21) |
| All-time low | $0.0002189 (13/03/20) |
| Website | |
HOT's price history
The ICO price of the HOT token was $0.00015. The token price soared by more than 10 times shortly after the listing on crypto exchanges, but it plummeted to $0.00036 by the end of June 2018. In the ensuing upswing, buyers were unable to overcome resistance at $0.0015, and the price collapsed again at the end of 2018 to the level of $0.00042.
In May 2019, the price finally broke through the strong resistance level of $0.0015. But it wasn't able to stay there for long, and the bearish trend that started soon continued until the collapse of the crypto market in March 2020, when the HOT price reached its all-time low.
That was followed by a bullish trend in which the HOT price gradually recovered. But the really impressive rally started at the beginning of February 2021, with the token reaching its all-time high on 5 April 2021. The deep correction that followed ended at a local low of $0.0045 on 20 July. The price recovery lasted until November, after which a distinct bearish trend started and continued until mid-March 2022.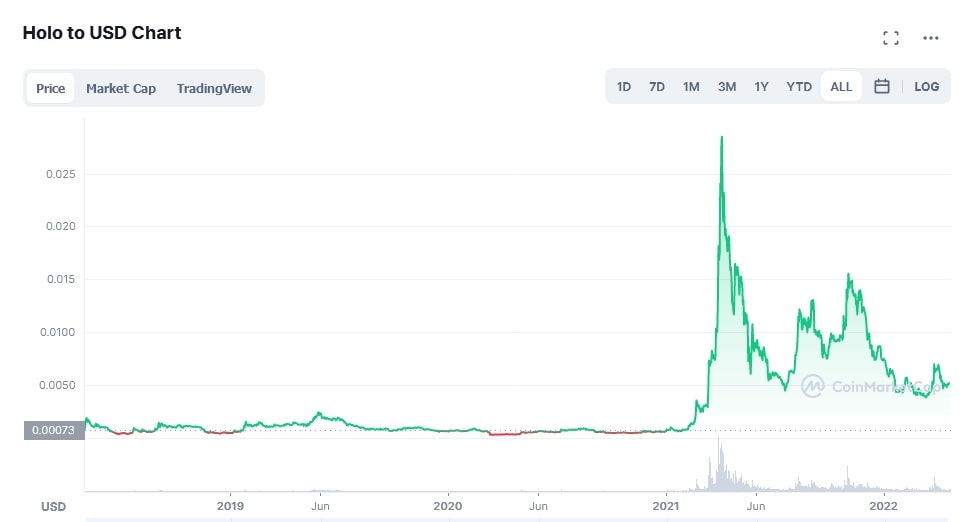 Holo technical analysis
The HOT token is currently in a state of uncertainty. The price is moving inside both a local triangle and a global one, formed by dynamic support and resistance lines starting from the all-time high and all-time low, respectively. The MACD also indicates uncertainty. The token price's further behaviour will depend on the situation in the crypto market as a whole. A break of the local triangle upwards will most likely mean confirmation of a bullish trend. If the global dynamic resistance line is broken, the outlook will be even more optimistic.
A breakdown of the strong support level at $0.0035 will likely mean a return of the bearish trend.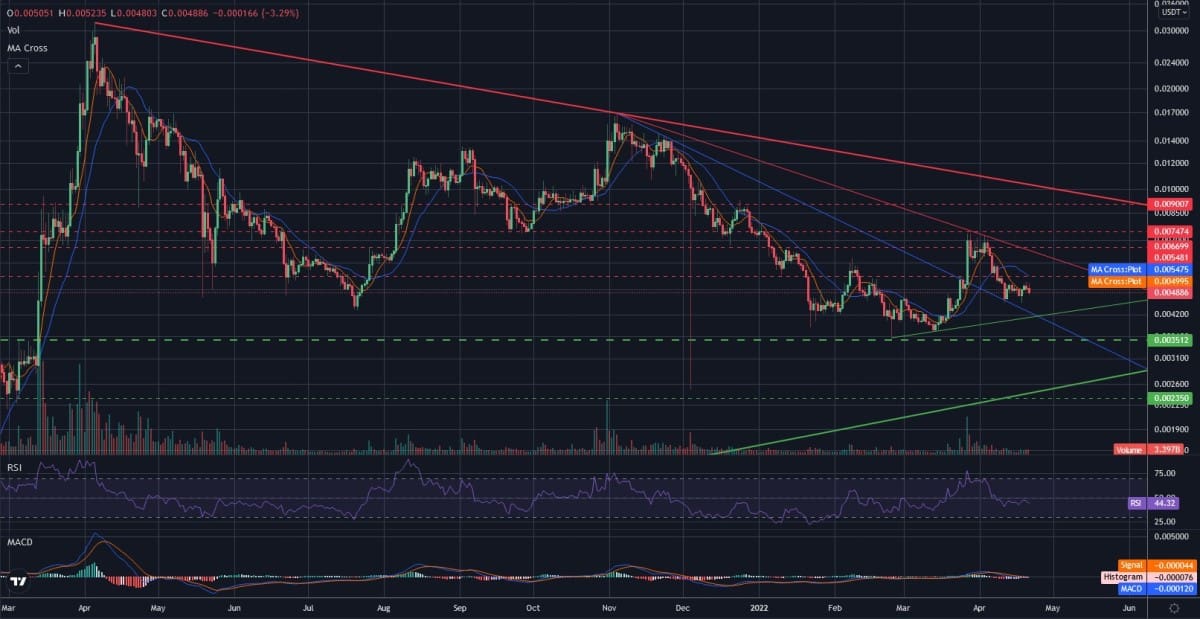 Holochain (HOT) price prediction 2022
At the moment, HOT's price behaviour is highly dependent on the overall state of the crypto market. If bullish sentiment in the crypto market prevails, HOT is very likely to follow the rest of the crypto market.
Holo (HOT) crypto price prediction for 2022, 2023, 2025 and 2030
As usual, we have compiled the Holo token future price predictions made by popular forecasting services.
Trading Beasts' HOT price prediction for 2022, 2023, 2025 and 2030
Trading Beasts predict that the price of the token will decline over the next year. However, from March 2023, the price will start rising, and it will reach an average price of $0.00818 in December 2023, $0.01054 in December 2024 and $0.01227 in December 2025.
Wallet Investor's HOT price prediction for 2022, 2023, 2025 and 2030
Wallet Investor also predicts a decline in the HOT price in 2022 and an increase thereafter. They calculate that the token price will be $0.00170 at the end of 2022, $0.00330 at the end of 2023 and $0.00495 at the end of 2025. In 5 years, in April 2027, the token price will reach $0.01290.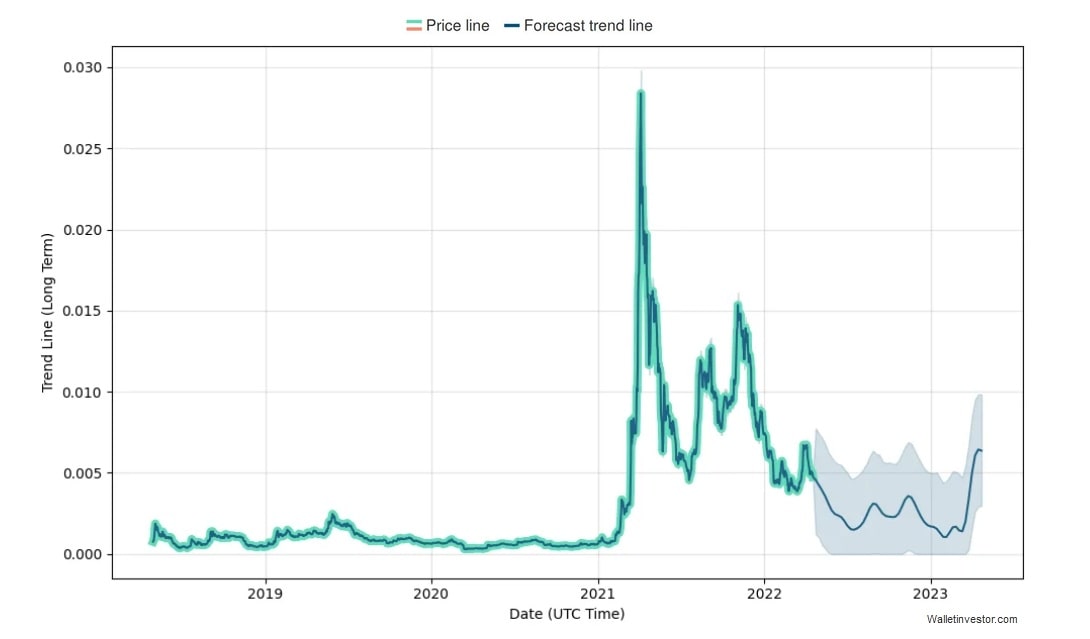 DigitalCoinPrice's HOT price prediction for 2022, 2023, 2025 and 2030
Unlike previous forecasters, DigitalCoinPrice doesn't expect the token price to fall in the coming months. They believe the token price, despite fluctuations, will grow and reach $0.0073 by the end of 2022, $0.0080 by the end of 2023, $0.0111 by the end of 2025 and $0.0246 by the end of 2030.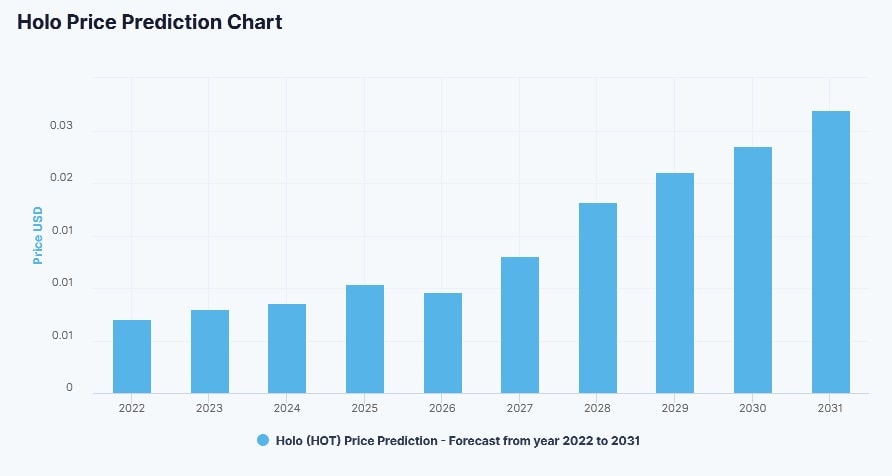 Gov Capital's HOT price prediction for 2022, 2023, 2025, 2030
Gov Capital is very optimistic about the prospects for HOT. According to their calculations, the token will be worth $0.01403 in a year and $0.0733 in 5 years.
Price Prediction's HOT price prediction for 2022, 2023, 2025, 2030
Price Prediction also considers HOT as a good investment. According to their estimates, the average trading price of the token will be $0.006 in 2022, $0.008 in 2023, $0.018 in 2025 and $0.12 in 2030.
CryptoPredictions'HOT price prediction for 2022, 2023, 2025, 2030
CryptoPredictions' HOT price forecast resembles the Trading Beasts' prediction. According to them, the token price will fall until March 2023 and then begin to increase. They predict the average price to reach $0.0063 by the end of 2022, $0.0082 by the end of 2023 and $0.01227 by the end of 2025.
Holo (HOT) overall future value predictions
Holochain is a very ambitious project. It aspires to create a structure that can not only compete with blockchain platforms but also change the internet. Although blockchain is a revolutionary technology, it has some serious shortcomings. The developers of Holochain intend to eliminate these shortcomings in their project. And it certainly has a positive impact on the project's prospects.
At the moment, however, it's difficult to judge how far Holochain will actually live up to the developers' promises since the project's mainnet hasn't been launched yet. In addition, the development of the project is progressing rather slowly. That's not good for Holochain, given the presence of powerful competitors, such as Ethereum, which are not sitting idly by but are developing their projects actively.
Also, keep in mind that HOT tokens are temporary, even though the developers promise that they will not go anywhere even after the swap. Their price can drop seriously after the swap. Until then, however, it can well rise if the project gains in popularity.
How high can Holo go?
If a new bullish rally in the crypto market and a breakout of the global dynamic resistance line occur, the token's price could well surpass its all-time high.
Holo (HOT) price prediction today
At the moment, we're seeing a situation of uncertainty on the HOT price chart. Opening a position in such cases is particularly risky. It's worth waiting for a more definite trading setup unless you know what you're doing.
Tags
Exchange BTC

Try our Bitcoin Cloud Miner and get additional crypto rewards based on your trading volume. It's immediately available upon registration.

Try our Bitcoin Cloud Miner and get additional crypto rewards based on your trading volume. It's immediately available upon registration.
Instrument
Rate
Change (24h)