​​​​​​How to mine Ripple (XRP) coin

Mining and cryptocurrency are two integral concepts, but the situation is somewhat different with Ripple mining. Unlike Bitcoin, Ethereum and other popular digital currencies, Ripple (XRP) uses a semi-centralised ledger intended to facilitate and speed up transactions. The digital currency depends on the institutions using the Ripple coin to attend to their business needs. It's one of the most popular cryptos recognised by banks and other financial institutions looking for ways to facilitate cross-border transactions. There are many aspects individuals should consider when learning how to mine Ripple (XRP) coins. Let's discuss Ripple mining in detail and see how profitable it can be to invest in this currency.
What is Ripple (XRP)?
The terms Ripple and XRP are often used interchangeably when discussing Ripple coin mining, but they have different meanings. Ripple Labs is the name of the company that developed the XRP cryptocurrency. The company's products are used for settling payments, exchanging assets and managing remittance systems resembling SWIFT. Ripple describes itself as a global payments network whose customers are banks and financial services. Unlike Bitcoin, XRP is a less complicated mining asset.
Ryan Fugger voiced the idea behind releasing the Ripple payment in 2004. However, it wasn't until 2012, when Jed McCaleb and Chris Larson took over the OpenCoin project, that they started building a new crypto asset. The XRP coin was released the same year with 80 billion tokens going to Ripple Labs and 20 billion to its co-founders. The main purpose of the XRP coin was to work as an intermediate between two currencies or networks, providing for quicker conversions.
Ripple (XRP) runs on the proof-of-work (PoW) consensus mechanism. It used the payment network powered by the Ripple payment protocol. The coin is built on a similar structure to Bitcoin's, but the key difference lies in the technology it uses.
Capitalisation of Ripple coin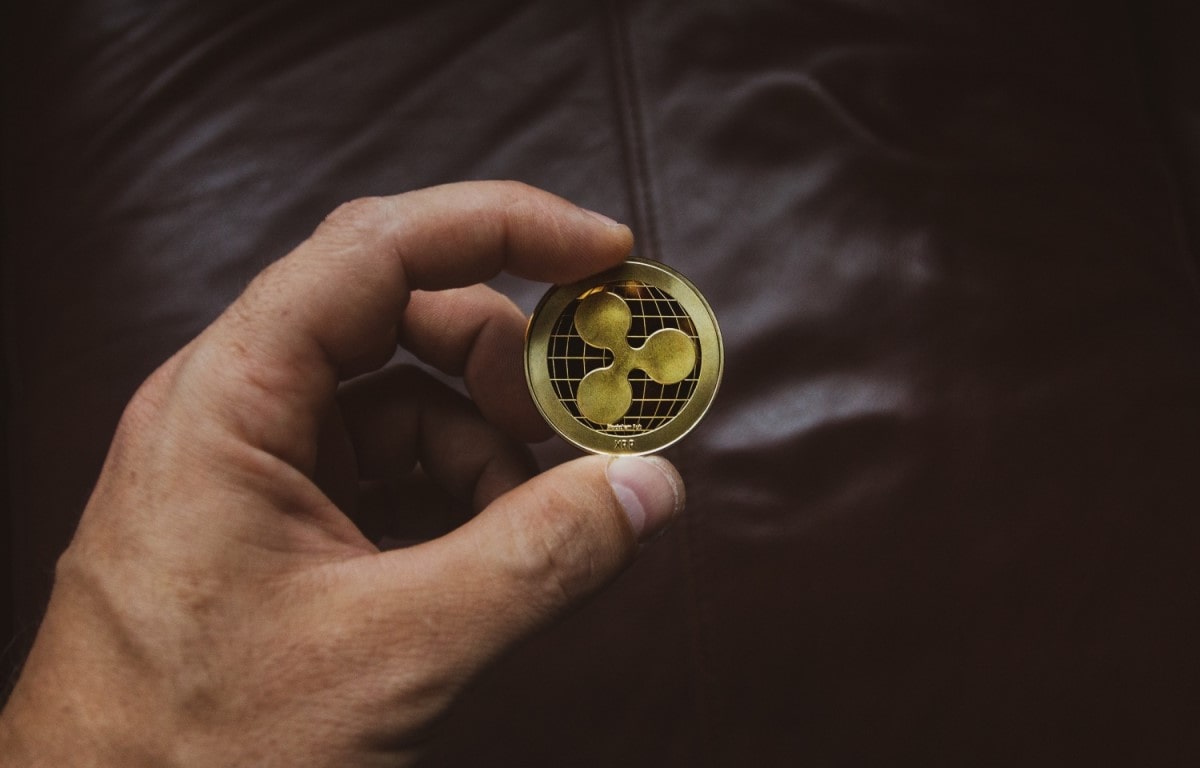 Market capitalisation, or market cap, refers to the total value of the cryptocurrencies (Ripple (XRP), in our case) assets available in the market. It's the current assessment of the company's value based on the price of its shares. Market cap value directly depends on the current demand and supply ratio. At the same time, the market cap doesn't include such indicators as the company's assets, debts, etc.
According to CoinMarketCap, XRP's market cap is $25,405,377,028
How does Ripple work?
Ripple released XRP as a steady, speedy and less costly alternative to other digital assets and payment systems like SWIFT. The global XRP community and Ripple Labs maintain RippleNet's ledger as its active members. Unlike Bitcoin's proof-of-work mining, the XRP Ledger processes transactions every 3-5 seconds or whenever independent validator nodes come to a consensus on the XRP transactions' order and validity. Anyone can be a Ripple validator. Currently, the list comprises financial institutions, universities and other organisations.
Who uses XRP?
Ripple (XRP) is used in more than 40 countries worldwide. The most popular Ripple validators include Bank of America, American Express, TransferGo, Xendpay, etc.
It's still a relatively young crypto asset with a long way to go until it catches up with major competitors. For comparison, SWIFT has over 11,000 partners, whereas around 300 companies have partnered with Ripple as of now. Still, Ripple's results are rather encouraging. XRP has been in the market for less than a decade, while SWIFT was launched in the 1970s.
Ripple price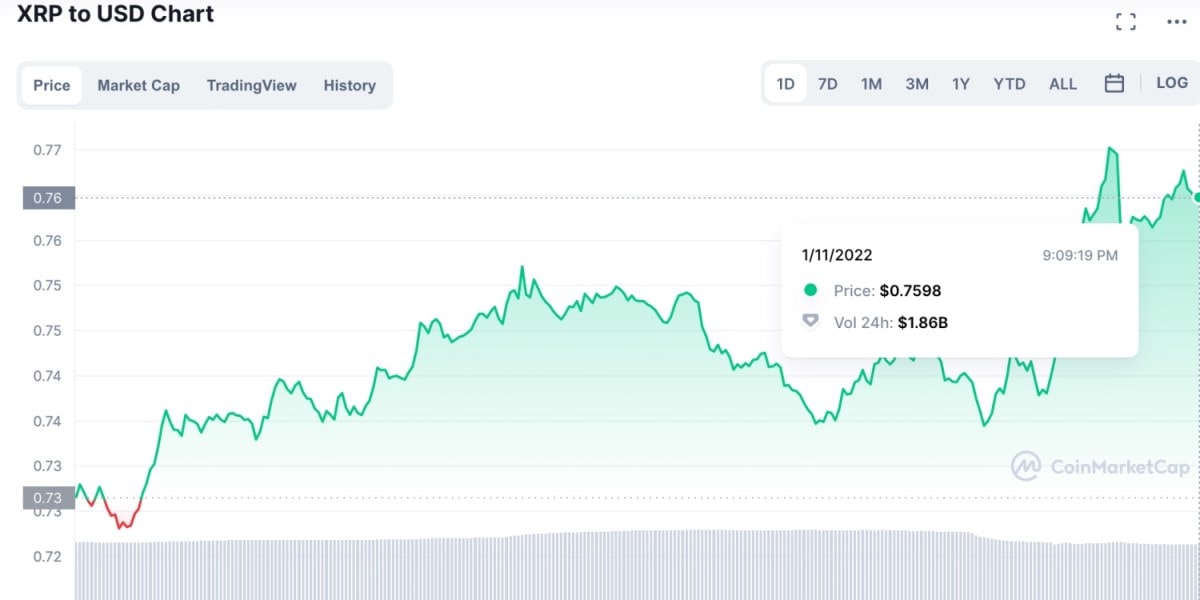 The asset's price has fluctuated wildly in its short history. As of writing this article (12 January 2022), the XRP price is $0.7668, with a 24-hour trading volume of $1,837,487,431. With a market cap of $34,468,689,462 and circulating supply of 47,577,198,013 XRP coins, Ripple (XRP) ranks 8th on the CoinMarketCap.
For most of the time, the value of one XRP has been below $1. In 2016, the value of one asset was about half a dollar. At the beginning of 2017, it was slashed to $0.006. However, by the beginning of May, it climbed to nearly $0.40 and never fell long after that. The value of one asset stayed in the $0.10-$0.20 range till the end of the year.
It was in December 2017 when the price of one XRP coin reached $0.80. In December 2018, the price of one XRP coin reached its record high price of $1, and a week later, it hit $2. The all-time high of Ripple (XRP) coin was recorded on 4 January 2018, when the price per coin made it to $3.84, and the market cap reached over $148 billion.
However, such an impressive leap wasn't sustainable for the currency. In February 2019, the XRP coin's price dropped back to under $1, reaching that mark again only in late February.
Ripple price prediction
Every company and individual who's considering investing in the currency should know Ripple mining online predictions. Experts forecast that Ripple's (XRP) price may reach new heights in the years to come. As an increased number of new projects join the market, many cryptocurrencies may step back, and the XRP/USD price could rise.
How to mine Ripple coin
Ripple mining differs from that of other cryptocurrencies. The only individuals who can mine XRP are those who created the asset. There are only 100 billion XRP coins created at this moment, and every transaction eliminates the XRP coin used, meaning the same coin can't be used further in other transactions. As more people join in and start using the Ripple network, XRP coins will be gradually exhausted, or their value will rise.
What do you need to start mining Ripple coin?
Application-specific integrated circuits (ASICs) are the most powerful hardware for mining. However, they're extremely pricey, and miners commonly look for more affordable solutions. That's why Ripple mining with a GPU could be a better option to start out with, though it'll hardly generate a large turnout.
XRP mining software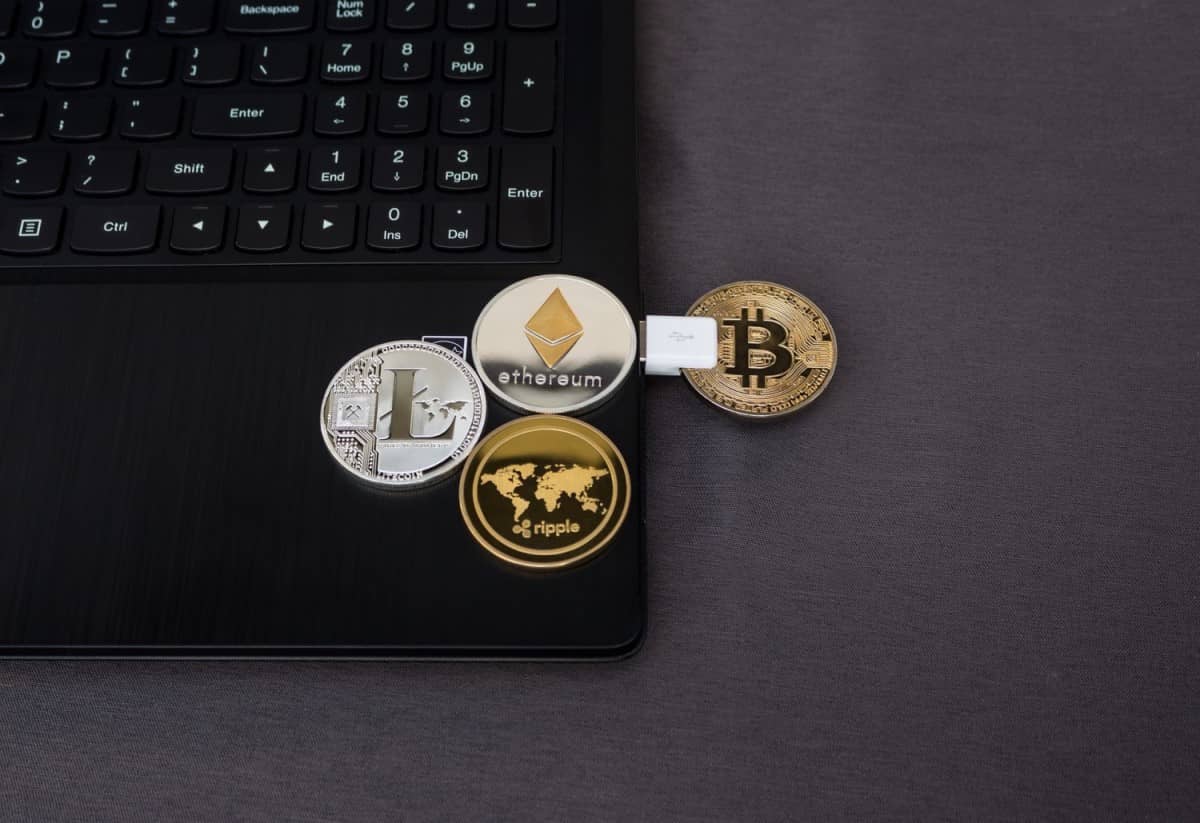 Ripple (XRP) is developed for quicker and easier transfers of the world's leading currencies like the dollar, euro, pound, rupee and yen. Continuing the discussion, let's consider the most common ways of Ripple cryptocurrency mining.
Ripple wallet. To start mining Ripple (XRP), the first thing miners should do is open a wallet. Getting started with a Ripple wallet is quite easy. You need to find a reliable mining partner (e.g., Ledger, Trezor, MetaMask, etc.), create and activate an account on their website. To start mining Ripple coins, you need to invest around 50 XRP. The process of sending and receiving coins is similar to Bitcoin's. When you have at least 50 XRP coins on your balance, you can receive a particular amount of USD in your account.
Cloud mining is one of the most sought-after and favourite ways to mine Ripple online because it doesn't require any hardware to mine cryptocurrencies. This method uses a remote data centre with a shared power to mine XRP coins.
Ripple exchanges like Bittrex, Coinone, Bitstamp, Kraken, Bitfinex and Poloniex let you exchange Ripple (XRP) coins from fiat currencies like the dollar, pound, yen and rupee.
Joining Ripple mining pools is one of the best ways for cryptocurrency beginners to start mining Ripple online. To get started with this method, one needs to find a reliable miner, join a Ripple mining pool and start mining Ripple cryptocurrency. When miners successfully resolve cryptographic problems, they are awarded a fixed amount of XRP coins, distributed among all miners as per each miner's effort.
How to mine Ripple on PC
Although it's possible to mine Ripple on PCs, you should consider investing in the ASIC mining setup. Everyone looking for an answer to the question "How to mine Ripple on a Windows PC?" should remember that mining with a GPU is a beginner-friendly solution. In contrast, ASIC mining is the best choice for those who are more serious about crypto mining and generating a high yield. If you want to start mining Ripple on PCs, you should join XRP mining pools like unMineable.
How to mine Ripple on Android or iOS
To mine Ripple on Android, you need to install the MinerGate app available on the Google Play Store. Create an account, and you're ready to start mining Ripple.
Ripple mining on the iPhone isn't possible due to concerns about damaging the battery.
XRP mining profitability
Ripple mining profitability depends on many factors, including the cost of a mining setup, taxes, expenses on electricity, etc. The best way to calculate XRP mining profitability is by checking mining profitability charts. Such charts already cover the electricity expenses and tell you how profitable it is to mine Ripple in your location.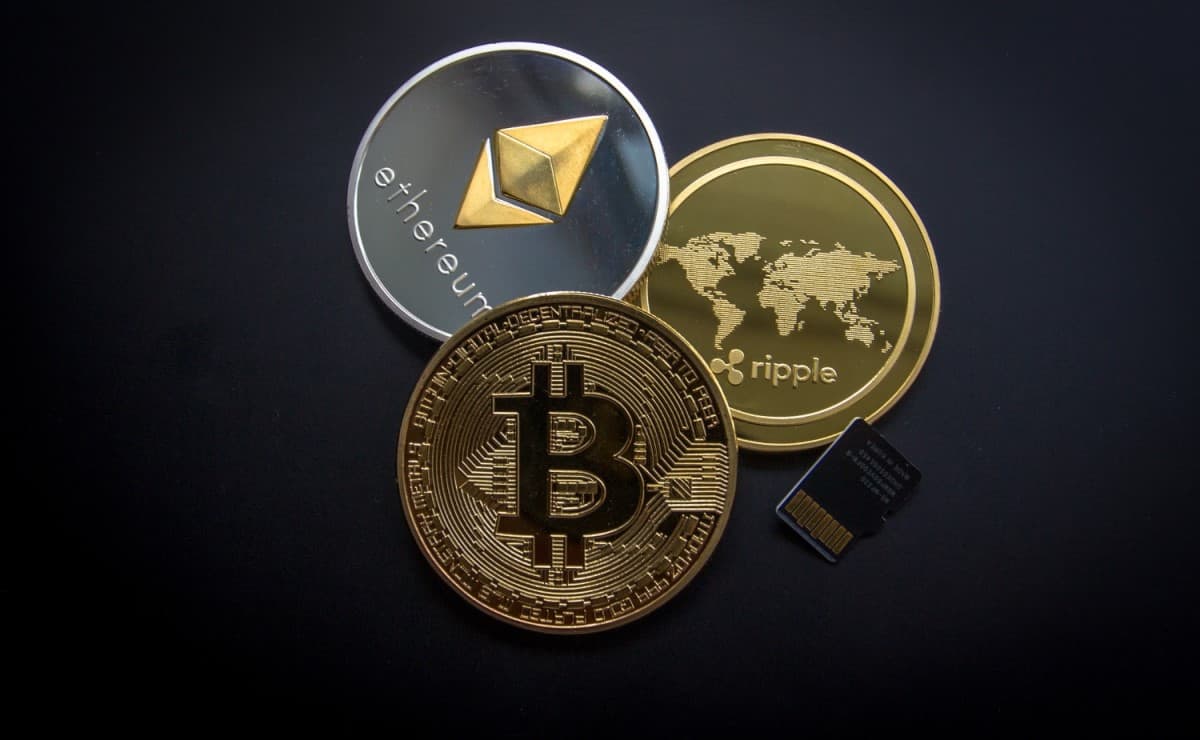 Mining profitability charts reveal how much USD you can earn for 1 Mh/s of hash rate. The hash rate is the amount of power you provide to mine new blocks, which takes 'block time'. 
How much does it cost to mine 1 Ripple?
It's difficult to predict how much you'll pay for mining 1 Ripple (XRP) coin. The cost mainly depends on the price of electricity in your region. If you want to make more profit from Ripple mining, you may be better off investing in an ASIC mining setup. Developed specifically for cryptocurrency mining, ASICs offer the perfect parameters for more efficient crypto mining.
Tags
Exchange BTC

Try our Bitcoin Cloud Miner and get additional crypto rewards based on your trading volume. It's immediately available upon registration.

Try our Bitcoin Cloud Miner and get additional crypto rewards based on your trading volume. It's immediately available upon registration.
Instrument
Rate
Change (24h)