Kadena (KDA) Price Prediction 2023, 2025, 2030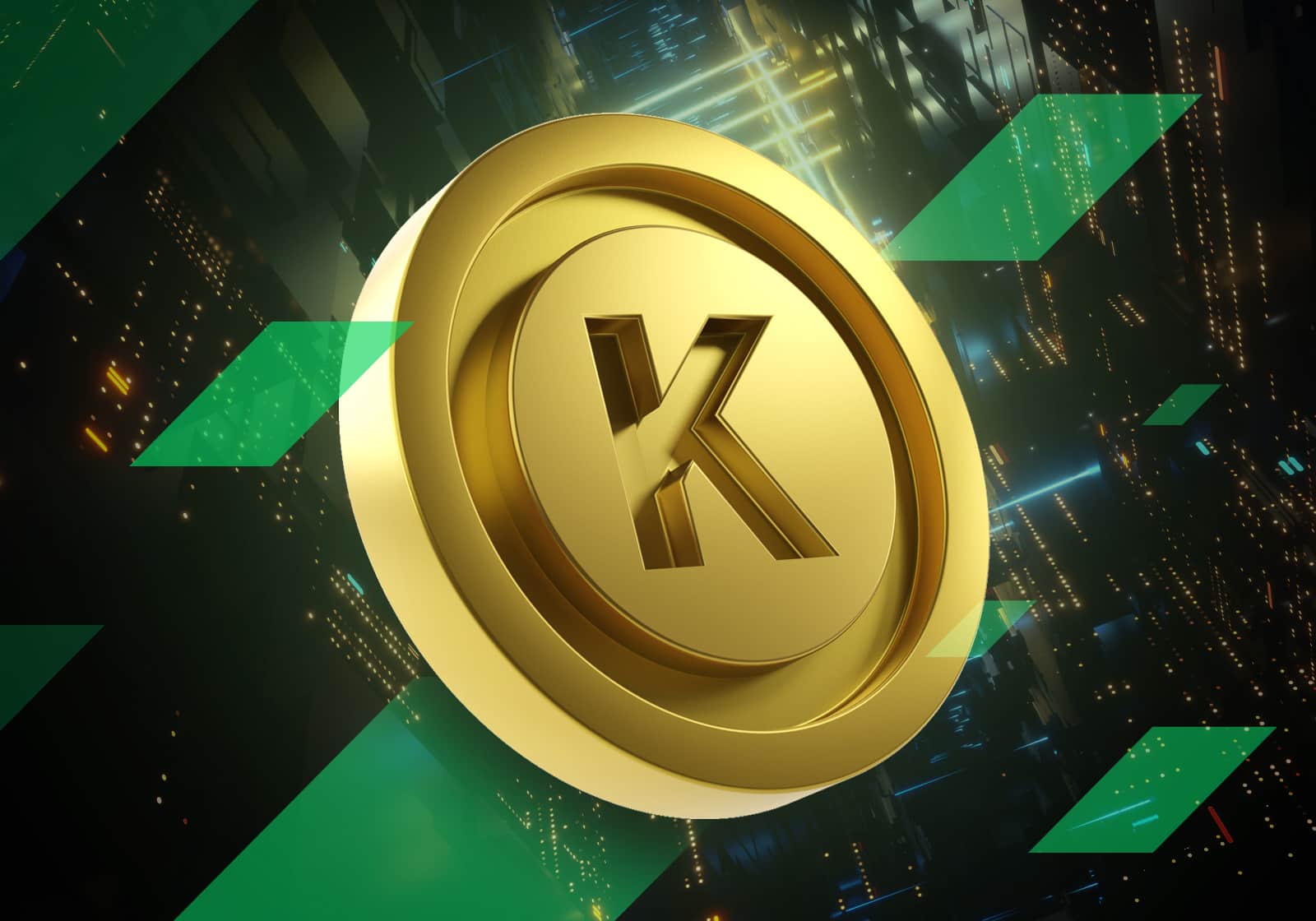 One of the most important challenges blockchain developers are currently facing is improving the scalability and throughput of blockchain networks. There are now many different ways of dealing with the problem. In this article, we'll talk about Kadena, a project that takes a rather novel approach to solving the scalability problem. We will look at the project's origins, its features, as well as examine its native KDA coin and its price predictions.
What is Kadena (KDA)?
Kadena is a high throughput blockchain based on the Proof-of-Work (PoW) consensus mechanism that supports the creation of smart contracts. Kadena tries to address the problems of the most popular cryptocurrencies, namely low transaction speed, high fees, low security and poor scalability.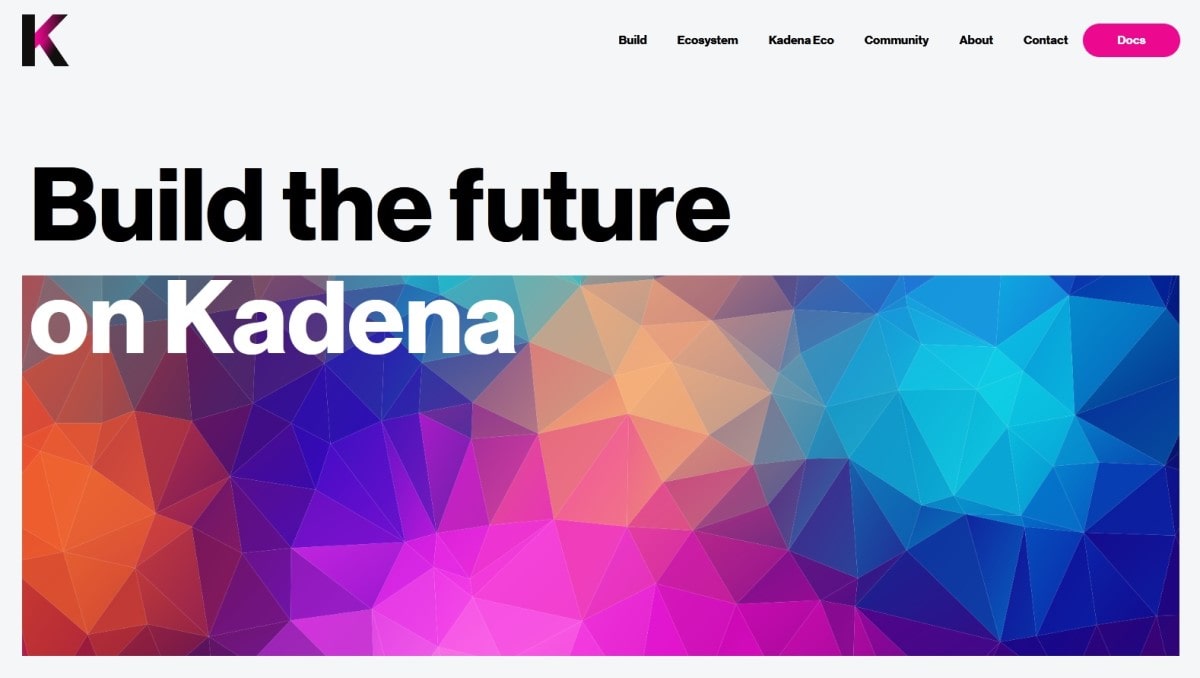 We believe that the real problem with Proof-of-Work is not that it uses energy, it's that it uses energy inefficiently. Bitcoin: there's all this energy being used and it's not improving the system. It's the same slow system it was 10 years ago. — Stuart Popejoy, Co-founder & CEO of Kadena.
The history of Kadena
Kadena was founded in 2016 by former JP Morgan employees Stuart Popejoy and Will Martino, both experienced professionals in the blockchain and financial industries. Together, they built JPMorgan's first blockchain.
In 2018, through the token sale of pre-mined KDA coins, the project raised more than $15 million. Then, in December 2019, the Kadena mainnet was launched.
The company is headquartered in Brooklyn, New York.
Kadena's features
Kadena is a multi-chain network made up of multiple blockchains. Initially, there were ten chains in the Kadena network at launch. However, the scalable infrastructure means that Kadena can add additional chains to grow indefinitely. In 2020, Kadena grew from 10 to 20 blockchains, doubling the project's throughput. Kadena's parallel functioning blockchains, which interact with each other, form so-called "braids" in which a global consensus is reached.
To increase the throughput of the network, it is simply a matter of adding more blockchains. Scaling is provided by a mechanism for asynchronous block creation across different peer-to-peer blockchains with the same height. Because of this, each block requires only a fraction of the hash rate of the entire network to be created. Thanks to this architecture, Kadena achieves a throughput of up to 480,000 transactions per second. Furthermore, transaction fees are extremely low.
Also, users don't need to have native tokens to pay transaction fees. The creators have taken care of this ahead of time by creating "gas stations", which are special accounts on the blockchain that allow developers of decentralised apps (dApps) to pay transaction fees in advance instead of users.
The Kadena platform consists of 3 main elements:
Chainweb. It is a braided, parallelised, Layer 1 open-source, public blockchain protocol. It uses the Proof-of-Work consensus mechanism and the Blake2s_256 hashing algorithm. In each of its 20 braided chains, a new block is generated approximately every 30 seconds, resulting in a block time of about 1.5 seconds. The transfer of tokens across individual blockchains is performed using a special smart contract. The block reward changes every 6 months according to a pre-set schedule, according to which roughly half of the remaining minable coins will be issued as block rewards every 20 years. 
Kuro. It is a Layer 2 network that developers can use to build and deploy scalable, secure and private dApps. This network is private in order to enhance its security and uses the BFT consensus mechanism.
Pact. It is a human-readable and Turing Incomplete smart contract language. According to the developers, this language is more efficient and much easier to master than Solidity, used on the Ethereum network.
Kadena (KDA) price analysis
As of 17 March 2023, the KDA token ranked 149th among cryptocurrencies by market capitalisation at $230,529,836.
KDA price statistics (as of 17/03/23)
| | |
| --- | --- |
| Current price | $1.03 |
| Market cap | $230,529,83 |
| Circulating supply | 223,684,123 KDA |
| Max supply | 1,000,000,000 KDA |
| Daily trading volume | $5,853,255 |
| All-time high | $28.25 (11/11/21) |
| All-time low | $0.1213 (11/01/21) |
| Website | |
KDA's price history
KDA began to be tracked on Coinmarketcap.com in June 2020. At that time, its price was around $0.33. After a brief rise, when the price reached a local high of $0.90, it started to decline and reached its all-time low on 11 January 2021.
The bull run on the crypto market in 2021 raised KDA's price first to $1.76 on 10 April 2021 and after a correction to its all-time high on 11 November 2021. This was followed by a prolonged decline in KDA's price, which continued until November 2022.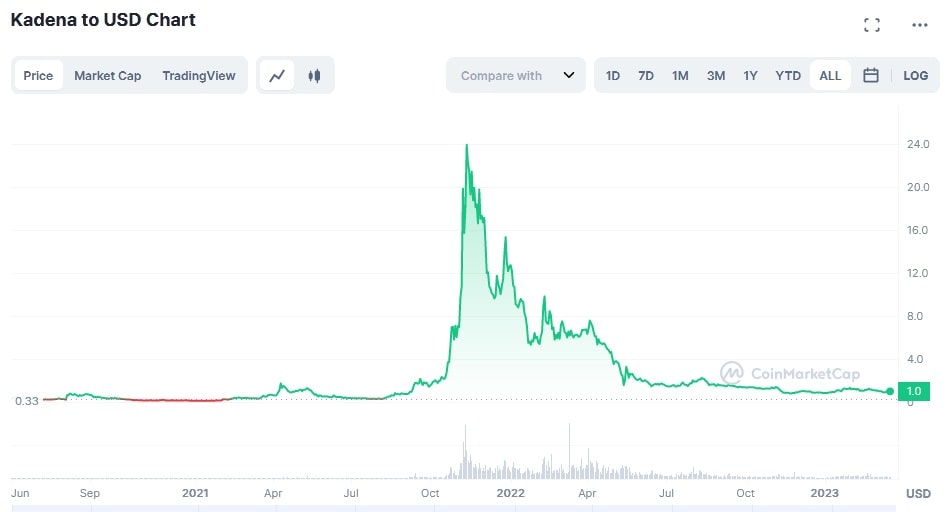 KDA technical analysis
Since the beginning of December 2021, KDA's price has been moving sideways in a range of $0.85 to $1.41. The moving averages indicate bearish sentiment. However, the MACD indicates a possible trend reversal. In addition, a bullish divergence is forming on the chart, which also indicates the chances for a price to rise are increasing.
The nearest support levels are $0.85 and $0.31. The nearest resistance levels are $1.41 and $3.45.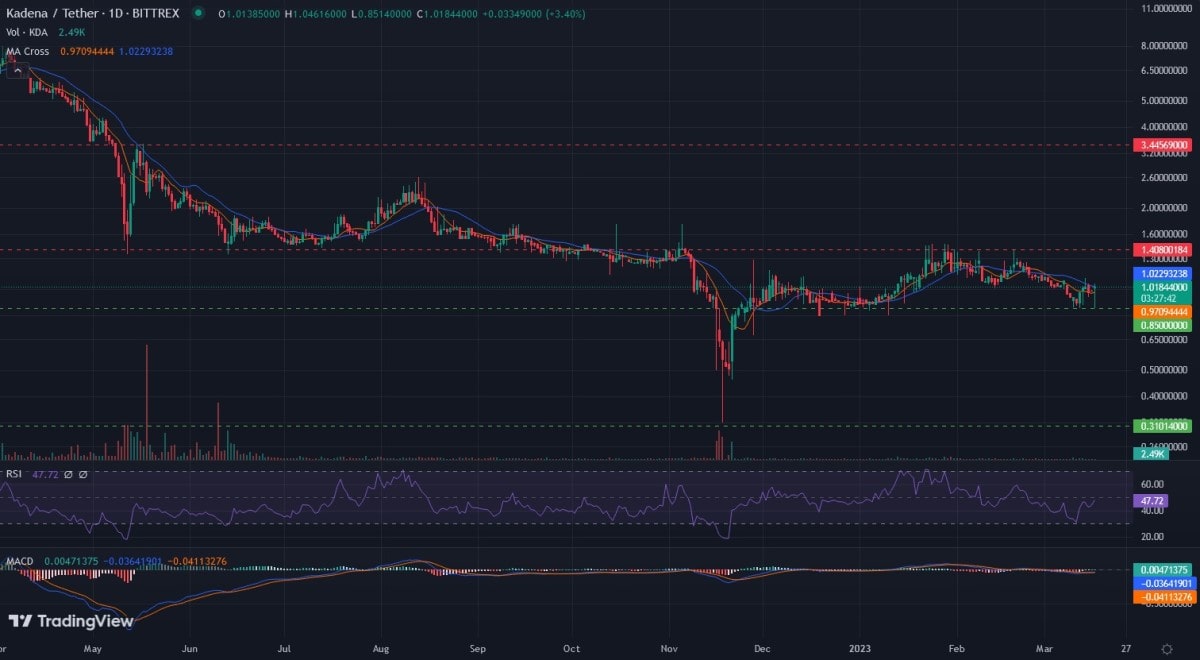 Kadena (KDA) crypto price prediction 2023
If a new bullish trend in the crypto market starts in 2023, KDA's price is also highly likely to rise. Since the market is now showing signs of recovery, the likelihood of this scenario is quite high. However, it's still unclear whether this recovery is the start of a new bullish trend or a temporary rebound.
Kadena (KDA) coin price prediction for 2023, 2025 and 2030
As usual, we have compiled for you the KDA coin price predictions made by popular forecasting services. Let's see what they think of Kadena's potential.
Wallet Investor's KDA price prediction for 2023, 2025 and 2030
Wallet Investor predicts that in 2023 KDA's price will rise, and the token will be worth $0.138 by the end of the year. However, starting in 2024, the price is predicted to start declining, and the token will be worth $0.103 at the end of 2024 and $0.033 at the end of 2025. After five years, in March 2028, the token price will drop to $0.0296.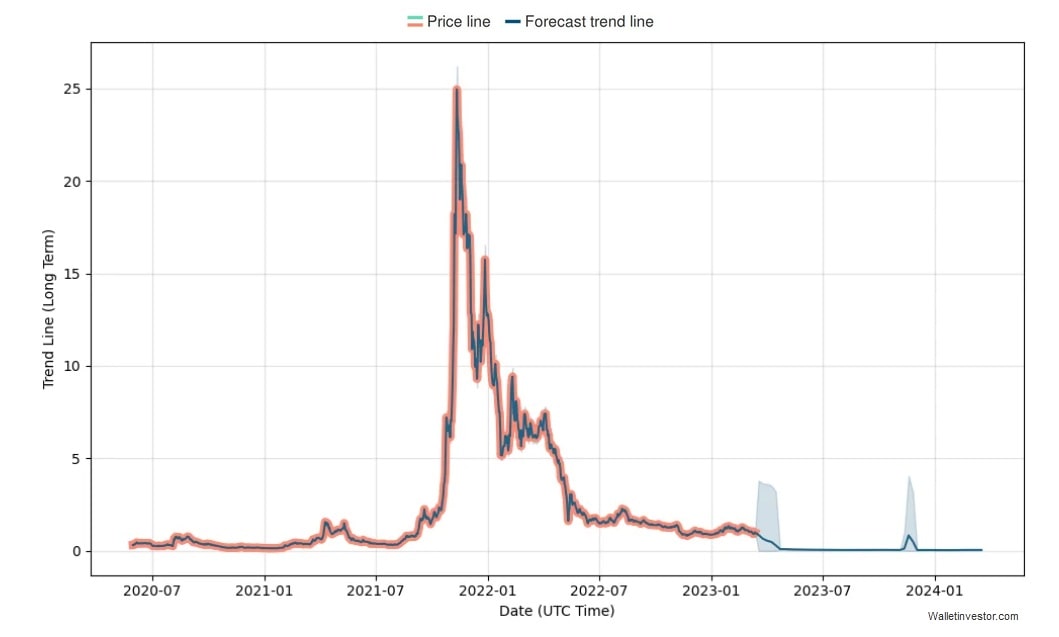 CrytpoNewsZ's KDA price prediction for 2023, 2025 and 2030
CrytpoNewsZ, on the other hand, believes that the price of the KDA will rise in the coming years. According to their calculations, the price of the token might reach $2.00 in 2023, $2.40 in 2024, $3.00 in 2025, and $9.10 in 2030.
DigitalCoinPrice's KDA price prediction for 2023, 2025 and 2030
DigitalCoinPrice also forecasts that the price will rise. According to them, the token will be worth $2.13 at the end of 2023, $2.63 at the end of 2024, $3.68 at the end of 2025 and $9.97 at the end of 2030.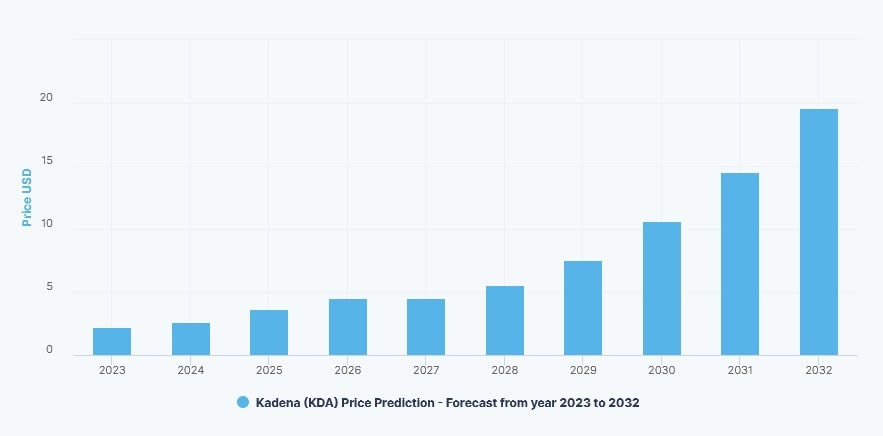 PickACrypto's KDA price prediction for 2023, 2025 and 2030
PickACrypto's forecast is extremely optimistic. They believe the price can visit the $15-$80 range in 2023-2025.
Gov Capital's KDA price prediction for 2023, 2025 and 2030
Gov Capital is also very optimistic about KDA's prospects. They expect the token's price might reach $7.58 in a year and $43.91 in 5 years.
Price Prediction's KDA price prediction for 2023, 2025 and 2030
Price Prediction also believes that KDA's price will rise in the coming years. According to their forecast, the average price of the KDA token will be $1.33 in 2023, $1.97 in 2024, $2.92 in 2025, and $18.16 in 2030.
CryptoPredictions'KDA price prediction for 2023, 2025 and 2030
CryptoPredictions anticipate a slow but steady rise in the token's price. They predict the average price to reach $1.222 by the end of 2023, $1.469 by the end of 2024 and $1.891 by the end of 2025.
Kadena (KDA) overall future value predictions
Is the Kadena coin a good investment?
The platform definitely shows potential. Kadena is an ambitious project that has a number of advantages:
Scalability. The network can be continuously expanded by adding new chains. Moreover, the solution used in Kadena currently looks like one of the most promising solutions for scaling networks running on Proof-of-Work.
High throughput. According to the developers, in its current state, the Kadena network is capable of processing up to 480,000 transactions per second.
Very low transaction fees. The fees are so small they are almost non-existent.
Advanced smart contract language. Pact, the language used to create smart contracts in the Kadena network, is flexible and developer-friendly.
Development team. The project development team is formed of experienced professionals.
However, there are also a number of drawbacks that could have a negative impact on the prospects of both the KDA token and the project as a whole:
Competition. Virtually all serious blockchain projects are working to solve the problem of scaling and increasing throughput. The competition in this area is very intense.
Centralisation. Some critics have raised concerns about Kadena's potential centralisation, particularly with regard to the use of a private Layer 2 network in Kadena's ecosystem.
Lack of community. Kadena has a relatively small community compared to other blockchain platforms, which could limit its potential for growth and development.
How high can the KDA coin go?
It is unclear whether KDA can achieve, let alone exceed, its current all-time high during the next bull run. However, with favourable circumstances, the price has a good chance of reaching $8.30.
Kadena (KDA) price prediction today
The token is now moving in a sideways channel. In the coming days, there is a chance of the price approaching the $1.41 resistance level. Should the crypto market continue to rise, a breakout of the nearest resistance level is notably probable.
Tags
Exchange BTC

Try our Bitcoin Cloud Miner and get additional crypto rewards based on your trading volume. It's immediately available upon registration.

Try our Bitcoin Cloud Miner and get additional crypto rewards based on your trading volume. It's immediately available upon registration.