Shiba Inu (SHIB) price prediction for 2022-2030

It's quite common for successful projects to see imitators pop up, so it's understandable that the well-known cryptocurrency Dogecoin wasn't able to avoid this fate. The creators of the Shiba Inu cryptocurrency tried to repeat Doge's success, which was based on the Shiba Inu dog meme. This article will walk you through important facts about Shiba Inu, help you assess its prospects and show you price predictions for it.
What is Shiba Inu (SHIB)?
Shiba Inu (SHIB) is a fairly young cryptocurrency created in August 2020 by an anonymous developer under the pseudonym Ryoshi. The coin's creator positions it as the "Dogecoin killer" and chose the Shiba Inu dog as its logo, which is also the Dogecoin logo.
While SHIB strives to emulate and possibly surpass Dogecoin's success as a meme cryptocurrency, they have several differences. SHIB is based on the Ethereum blockchain and is an ERC-20 token. Moreover, in the future, the SHIB coin itself should become an internal token of the developed decentralised Shiba Inu ecosystem, which, among other things, will include the ShibaSwap decentralised exchange.
When Shiba Inu was created in August 2020, the developers sent half of SHIB 1 quadrillion tokens to the decentralised Uniswap exchange, and the keys to the wallet were thrown away. This means that 50% of tokens are in circulation, but the developers cannot dispose of them. According to the developers, this was done to provide users with an open market for exchanging and fairly distributing tokens. The second half of the token issuance was sent to the public wallet of Ethereum founder Vitalik Buterin. In May 2021, Vitalik donated a portion of his Shiba Inu tokens, worth $1.2 billion, to fight COVID-19 in India. After that, on 16 May 2021, he sent 90% of his remaining SHIB tokens to an inaccessible address that burned them.
I don't want to be a locus of power of that kind. Better to just print the coins into the hands of a worthy charity directly. — Vitalik Buterin
As such, the developers didn't keep any tokens for themselves. To get any, they'd have to buy them on the market just like ordinary users.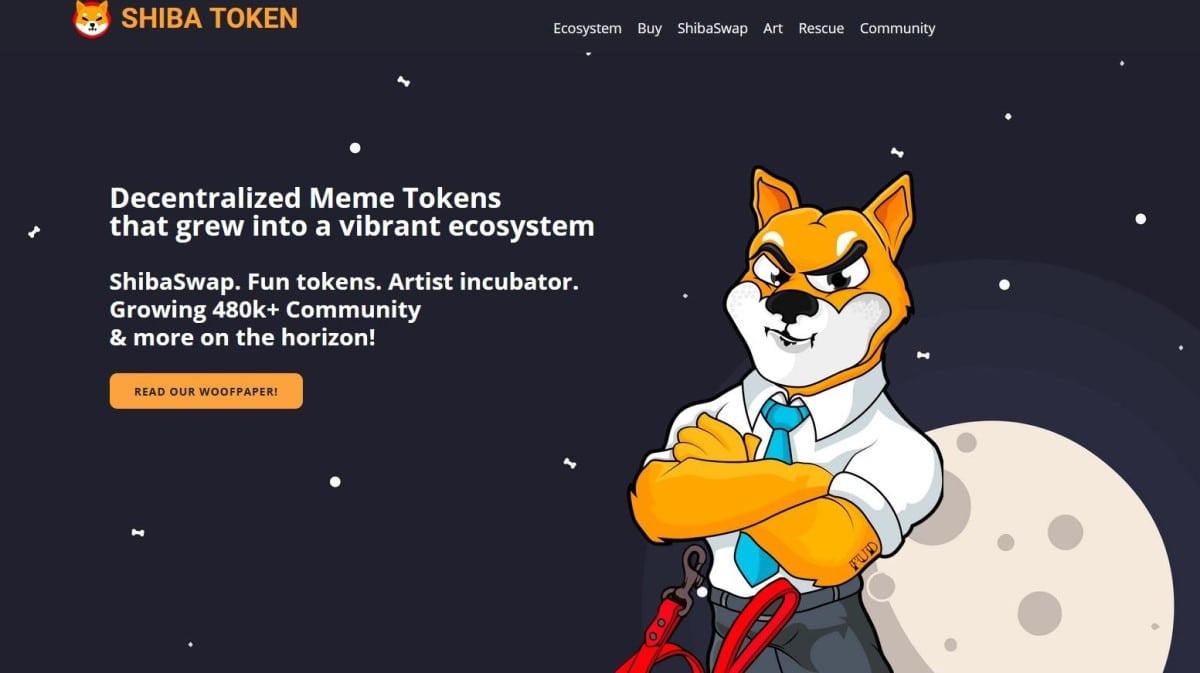 Shiba Inu (SHIB) price analysis
At the time of writing, SHIB ranked 14th among cryptocurrencies by market capitalisation at $4,933,107,005.
SHIB price statistics (as of 23/11/22)
| | |
| --- | --- |
| SHIB current price | $0.000008997 |
| Market cap | $4,933,107,005 |
| Circulating supply | 549,063.28B SHIB |
| Total supply | 589,736,401,387,117 SHIB |
| Daily trading volume | $188,437,695 |
| All-time high | $0.00008854 (28/10/21) |
| All-time low | $0.00000001 (27/08/20) |
| Website | |
SHIB's price history
Although the coin appeared in August 2020, its price remained negligible until April 2021, when it jumped to $0.0000042. A subsequent correction pushed the price down to the range of $0.00000085-$0.0000022. It remained at that level until the beginning of May.
In the first ten days of May, the price rose sharply in response to the coin's listing on several large exchanges and reached an all-time high on 10 May 2021 after being listed on the largest crypto exchange Binance.
On 12 May, Vitalik Buterin spent part of his SHIB tokens on charity, after which the price fell by over a half. The subsequent burning of 90% of his remaining tokens didn't have a noticeable effect on the price, and it kept falling. In October, following renewed interest from investors and the token's increasing popularity, SHIB exploded upward again, creating a new all-time high at $0.00008854.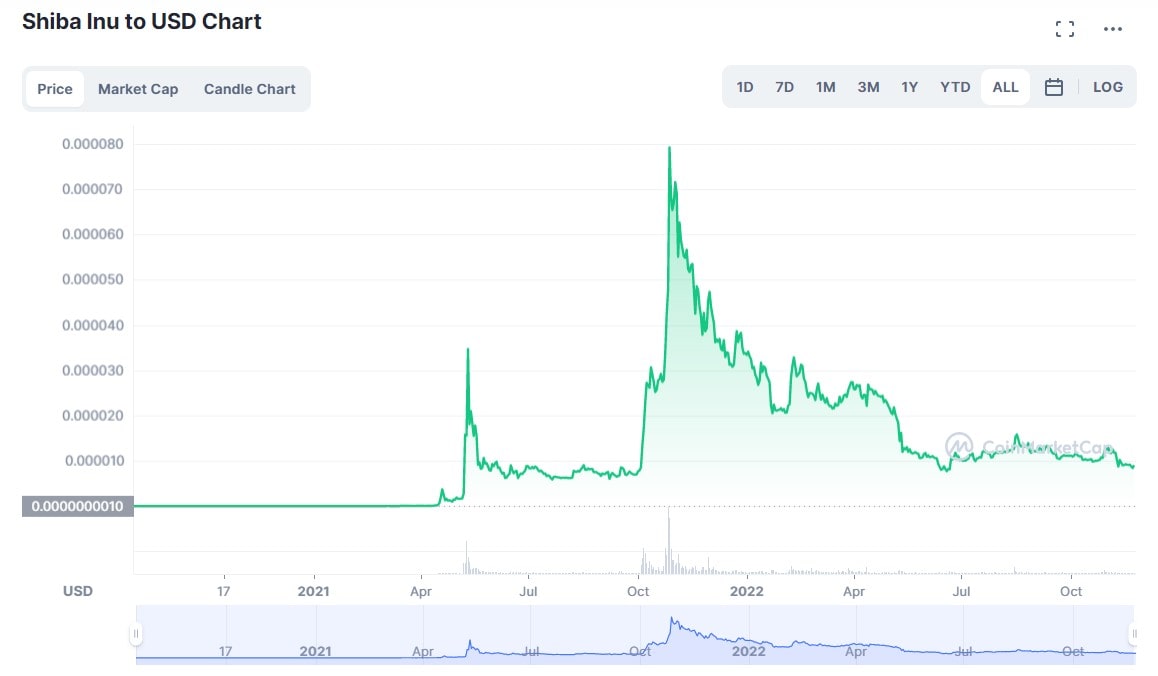 SHIB technical analysis
Despite SHIB's relatively short history on large crypto exchanges, we can already draw certain conclusions about it. The coin is currently in a downward consolidation phase from the perspective of the daily chart. It recently shattered the long-term support at $0.00000984 and kept trading lower until it hit a price floor at $0.00000984. The 100-day and 200-day Exponential Moving Averages are also getting wider apart above price, which suggests a strong bearish trend. There don't seem to be strong signs of recovery, and $0.00000586 is a price to seriously consider in the coming weeks or months.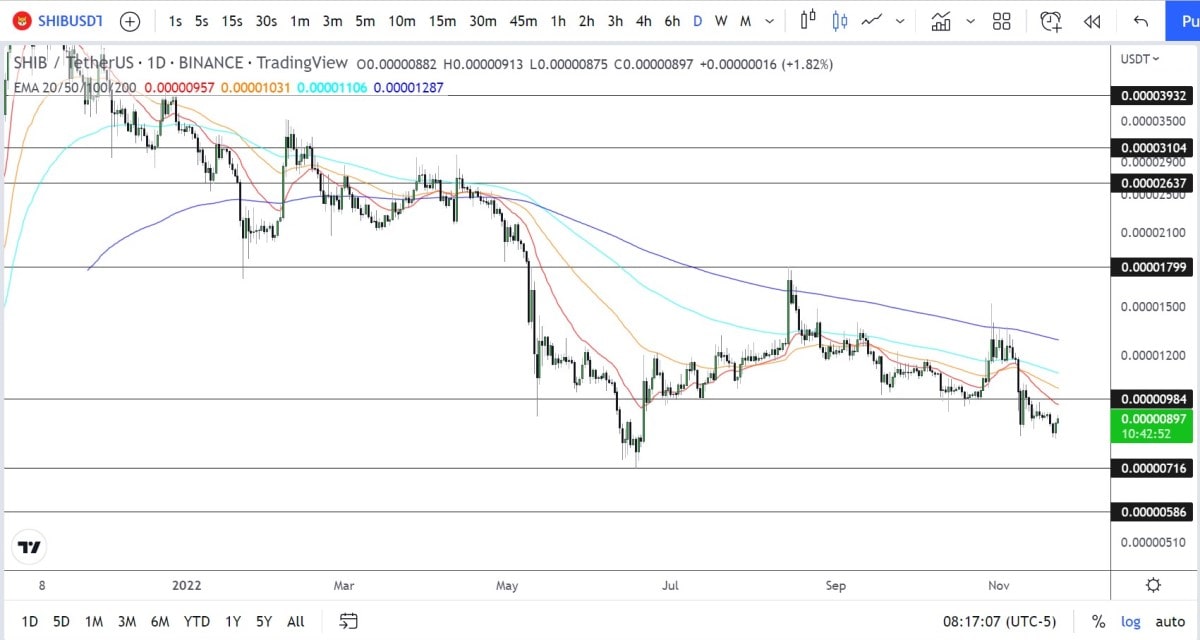 Shiba Inu price prediction 2018-2019
The SHIB was created in August 2020 and did not trade before that date.
Shiba Inu price prediction 2020
The SHIB token was not traded on large crypto exchanges in 2020, and its price was negligible.
Shiba Inu (SHIB) price prediction for 2022, 2023, 2025 and 2030
Now is the time to find out what famous cryptocurrency experts think about the SHIB token's prospects. As usual, we've compiled for you SHIB mid-term and long-term price predictions made by the most renowned of these experts.
WalletInvestor's SHIB price prediction for 2022, 2023, 2025 and 2030
WalletInvestor considers Shiba Inu to be bad for investment. According to their calculations, the coin has the potential to fall to $0.000000582 in 1 year, an over 90% loss. According to their estimates, Shiba Inu's price may crash in 5 years.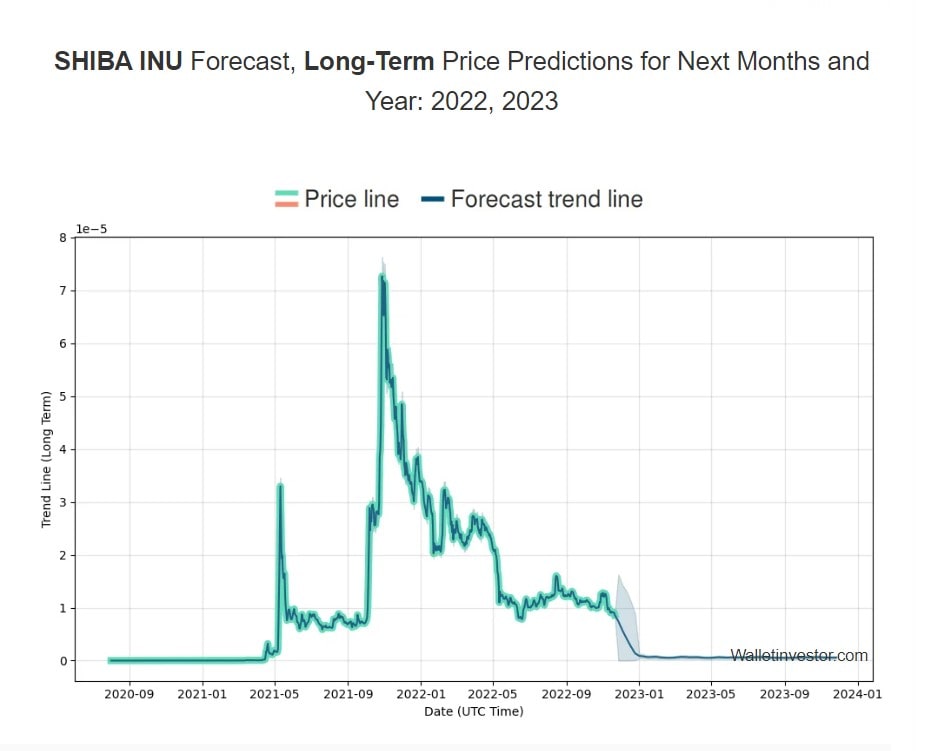 DigitalCoinPrice's SHIB price prediction for 2022, 2023, 2025 and 2030
Digitalcoin also predicts gradual growth for the SHIB token. Their forecast sees the coin costing as much as $0.0000228 in a year and $0.0000324 in 2 years. Not much growth is expected in 3 years, but it could rise to $0.0000491 in 5 years and $0.0000936 in 7 years.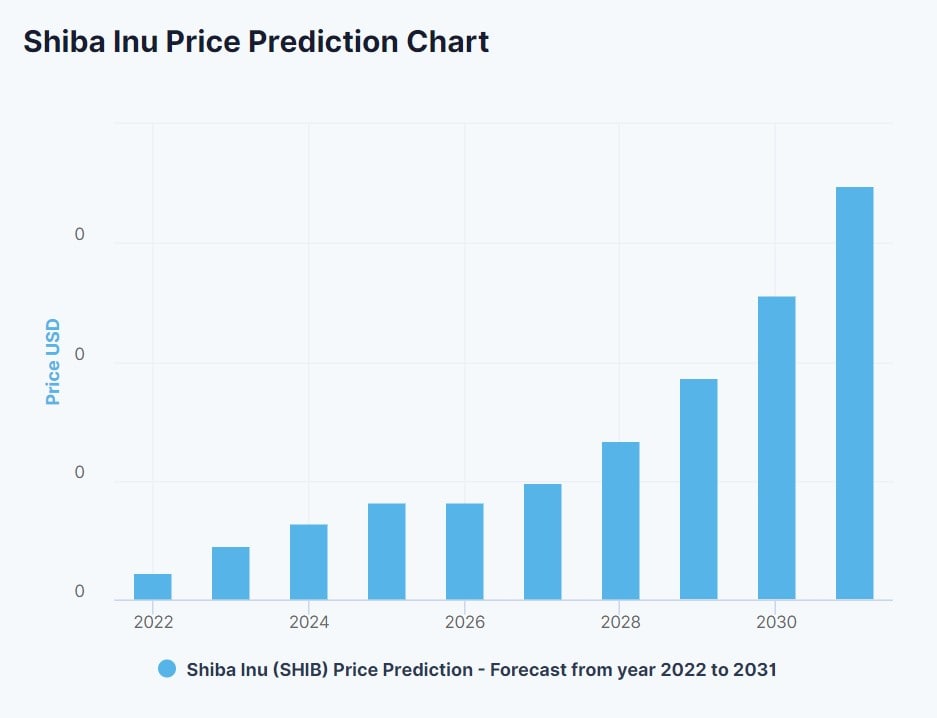 PickACrypto's SHIB price prediction for 2022, 2023, 2025 and 2030
PickACrypto is even more optimistic about Shiba Inu's prospects. Here's a statement from their website.
From 2023 to 2025, we think the price of SHIB to visit the $0.0002000 to $0.0005000 USD area as the Team continues to develop their products and those products receive adoption from the target audience. This SHIB price prediction is based on several data sets and predictive modelling, which assumes the current long-term trend driving the price of SHIB continues in an upwards direction with no major setbacks.
Shiba Inu (SHIB) overall future value predictions
Shiba Inu is a controversial project. It was created as a competitor to Dogecoin, a coin that achieved popularity through hype. And although the developers intend to expand the project by building an ecosystem around it, to date, their specific plans are mostly unknown to the crypto community. The project doesn't even have a detailed roadmap. Although investing in such projects can bring substantial profits, doing so is highly risky, even compared to investments in other cryptocurrencies.
Will Shiba Inu go up?
Many cryptocurrency experts think so, but it's worth bearing in mind that if the developers abandon the project or the hype doesn't support its popularity anymore, the token's price may decrease significantly.
How high can SHIB go?
It will be difficult for Shiba Inu's price to reach high absolute values due to the huge number of tokens issued. However, its relative growth can be quite significant. As mentioned above, some experts predict a possible price increase to $0.0005, which is many times higher than its current price.
Shiba Inu price prediction today
The coin is currently in a downward consolidation phase, and it looks like the only thing that can revive the price right now is another crypto boom like the one that happened in May 2021.
Tags
Exchange BTC

Try our Bitcoin Cloud Miner and get additional crypto rewards based on your trading volume. It's immediately available upon registration.

Try our Bitcoin Cloud Miner and get additional crypto rewards based on your trading volume. It's immediately available upon registration.