AAVE Price Prediction 2022-2030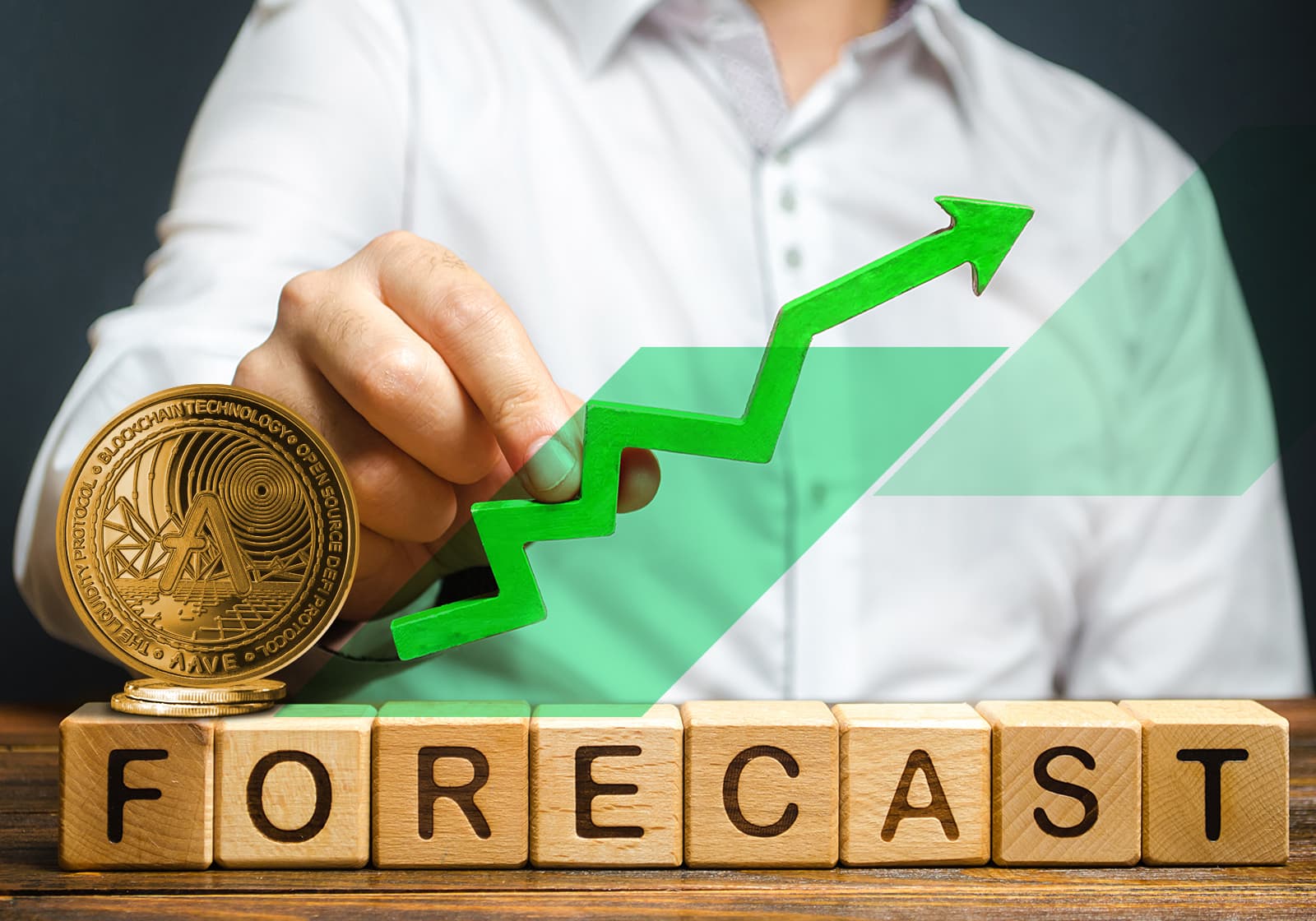 The cash lending business has always been the domain of wealthy institutions such as banks. Due to this sector's high threshold of entry and strict regulation, this method of income generation wasn't available to ordinary people. But with the advent of blockchain technology, this situation may change. In this article, we'll talk about Aave, a project that is designed to give ordinary people access to the lending market. We'll also consider the project's prospects and try to make a price prediction for its token.
What is Aave (AAVE)?
Aave is a decentralised finance (DeFi) lending protocol that allows its users to lend and borrow crypto assets using variable or fixed interest rates.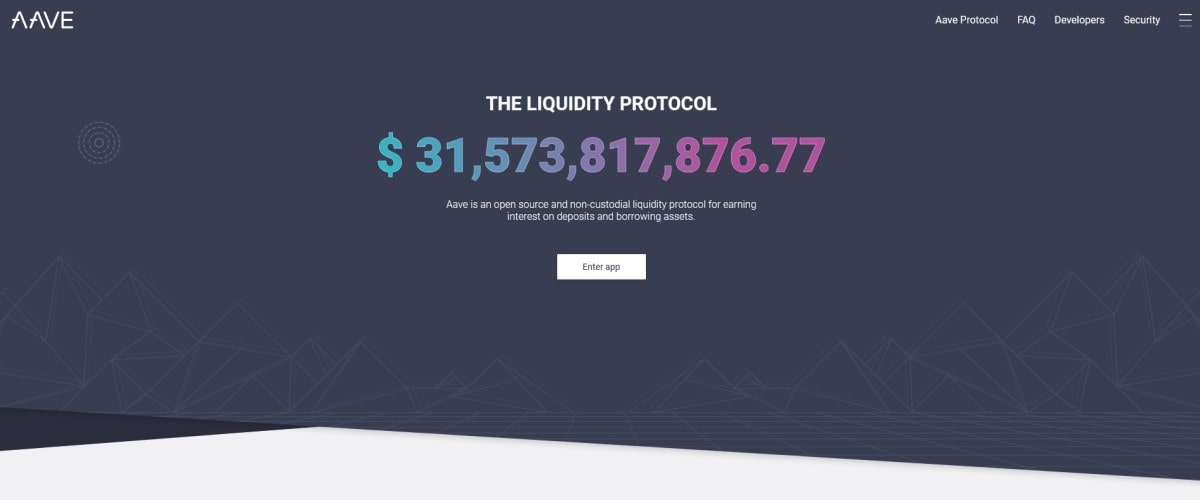 For the first time ever in history, we created finance as a human right after the barter economy, and that's very big. — Stani Kulechov, Founder and CEO of Aave
The history of Aave (AAVE)
The Aave project was founded by Finnish programmer and entrepreneur Stani Kulechov, who graduated from the University of Helsinki in 2018. While at university, he became interested in blockchain technology and Ethereum. On 1 May 2017, Kulechov founded the company ETHLend. In November of that year, ETHLend launched the ETHLend.io P2P lending platform and held an ICO for $16.2 million. The project sold 1 billion native LEND tokens. Of those, 300 million coins (23%) were kept by the founder and the team.
In September 2018, ETHLend.io was rebranded as Aave, which means "ghost" in Finnish. The project team explains this name by the fact that "the brand is aimed at creating a transparent and open infrastructure for decentralised finance". After the rebrand, ETHLend became a subsidiary of Aave.
On 8 January 2020, the mainnet of Aave's first version launched on the Ethereum blockchain. In October 2020, the native AAVE token was issued, and LEND tokens migrated to AAVE at a ratio of 100 to 1. In December 2020, the Aave V2 mainnet went live.
Aave's features
Aave allows users to lend and borrow cryptocurrency in a decentralised and trustless manner. There are no intermediaries, and you don't need to provide any documents and go through Know Your Customer (KYC) or Anti-Money Laundering (AML) procedures to use the platform.
Initially, the platform used a peer-to-peer (P2P) model where users interact through smart contracts. The disadvantage of the scheme is that counterparties and liquidity are not always available for efficient operations. Therefore, the developers decided to move to the peer-to-contract (P2C) model. On a P2C platform, funds are deposited through a special contract that allows you to instantly borrow crypto assets for interest payments to use credit.
In general terms, lenders put their funds into a pool, and users can take loans from it. Moreover, the platform allows lenders to withdraw their funds safely at any time. Borrowers deposit assets into the platform as collateral. In exchange, they can borrow a smaller amount of the asset determined by the Loan-to-Value (LTV) ratio, which is the maximum amount that can be borrowed for particular collateral.
Borrowing funds involves 'overcollateralisation', which provides protection against the high volatility of cryptocurrency markets. The value of the collateral must exceed the value of the borrowed asset based on the LTV. The LTV, in turn, depends on volatility and other risk parameters of the collateralised asset. Users can lend or borrow any of the 31 tokens available on the platform, as well as use them as collateral.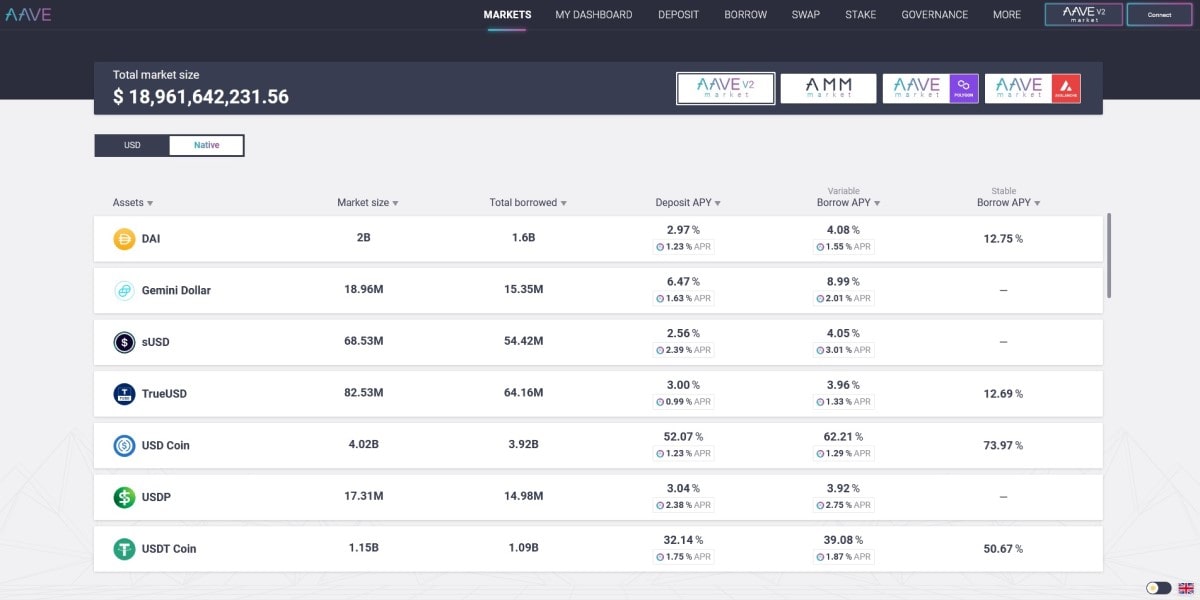 In addition, the Aave platform offers so-called flash loans. These are undercollateralised loans in which obtaining a loan and paying off debt are carried out within the same block of the blockchain.
Flash loans can be used for:
Rebalancing your portfolio through multiple operations within one transaction, which optimises commission
Arbitration
Self-liquidation
Collateral swapping
The AAVE token is the native cryptocurrency of the project's ecosystem. It complies with the ERC-20 standard and is used as a governance token. Holders of this token can vote on proposals or collectively act as governing bodies of the protocol.
Aave (AAVE) price analysis
At the time of writing, the AAVE token ranked 50th among cryptocurrencies by market capitalisation at $2,122,868,223.
AAVE price statistics (as of 25/04/22)
| | |
| --- | --- |
| AAVE current price | $155.24 |
| Market cap | $2,122,868,223 |
| Circulating supply | 13,684,380.28 AAVE |
| Max supply | 16,000,000 AAVE |
| Daily trading volume | $205,197,746 |
| All-time high | $666.86 (18/05/21) |
| All-time low | $25.97 (05/11/20) |
| Website | |
AAVE's price history
The token was listed on cryptocurrency exchanges shortly after LEND migrated to AAVE. After AAVE entered the crypto market, the token's price declined until 5 November 2020, when it reached its all-time low. Then, it began to rise until almost mid-February 2021 and, after a slight correction, it gave way to sideways movement. In May 2020, the price rallied to its all-time high but immediately fell sharply thereafter. The correction brought the price to the local low of $170.10 on 22 June, after which the price began to recover. Despite the September correction, this recovery continues to this day.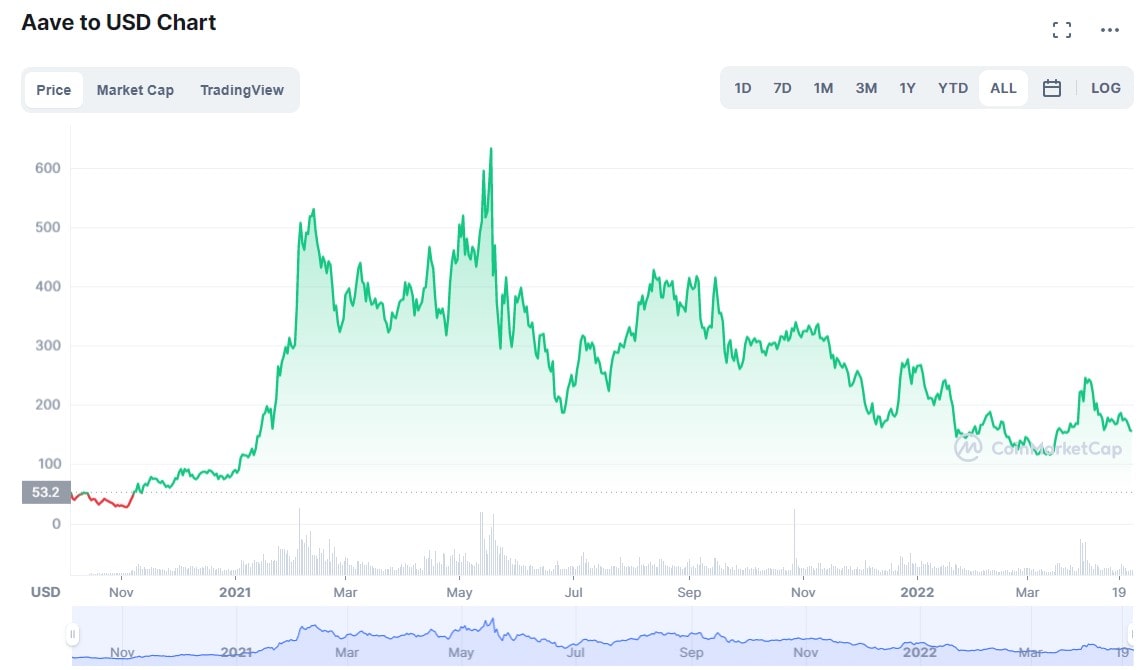 AAVE/USDT Price Chart
Aave technical analysis
Since AAVE's price reached its current all-time high at around $666, it has slowly but steadily declined. It created a support zone at $160 in June 2021 and recovered to $450 before falling again. Recently, bulls have made attempts to push the price higher, and AAVE was able to trade as high as $250, but a recently flipped support at $192.12 was enough to repel the price lower.
The crypto market has been generally bearish, and the momentum is apparent in AAVE's price action. If the price can't stay above the local support at $158.51 to flip the resistance at $192.12, the most likely destination is the daily support at around $115.54.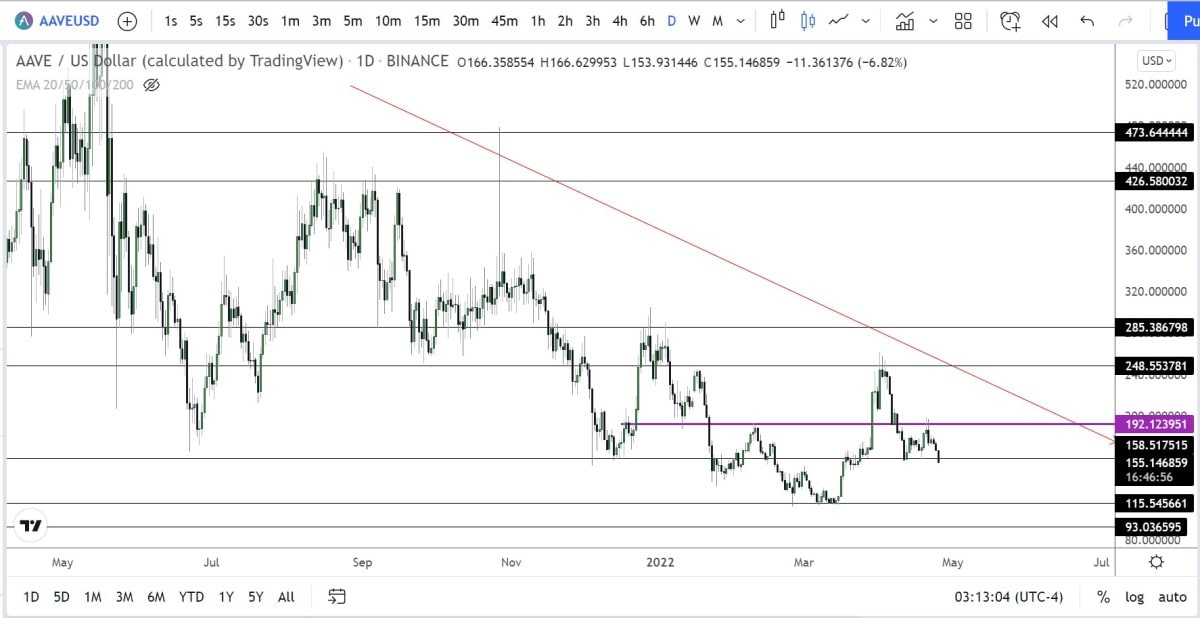 Aave price prediction2022
Given the current general state of the cryptocurrency market, AAVE, like many other altcoins, is likely to keep falling until there's a major shift in crypto market sentiment. 
Aave (AAVE) price prediction for 2022, 2023, 2025 and 2030
As a fairly popular altcoin, AAVE hasn't been able to escape the scrutiny of crypto experts. Let's see what they think about the outlook for the token's price.
TradingBeasts' AAVE price prediction for 2022, 2023, 2025 and 2030
TradingBeasts predicts a slight decline in the token price in the coming months. However, starting from September 2022, the price is predicted to rise and may trade as high as $456 by 2025.
WalletInvestor's AAVE price prediction for 2022, 2023, 2025 and 2030
WalletInvestor believes the value of AAVE may tank massively in the near future. According to their calculations, the token's value will fall from its current price of $155 to $16.492 before the end of 2022.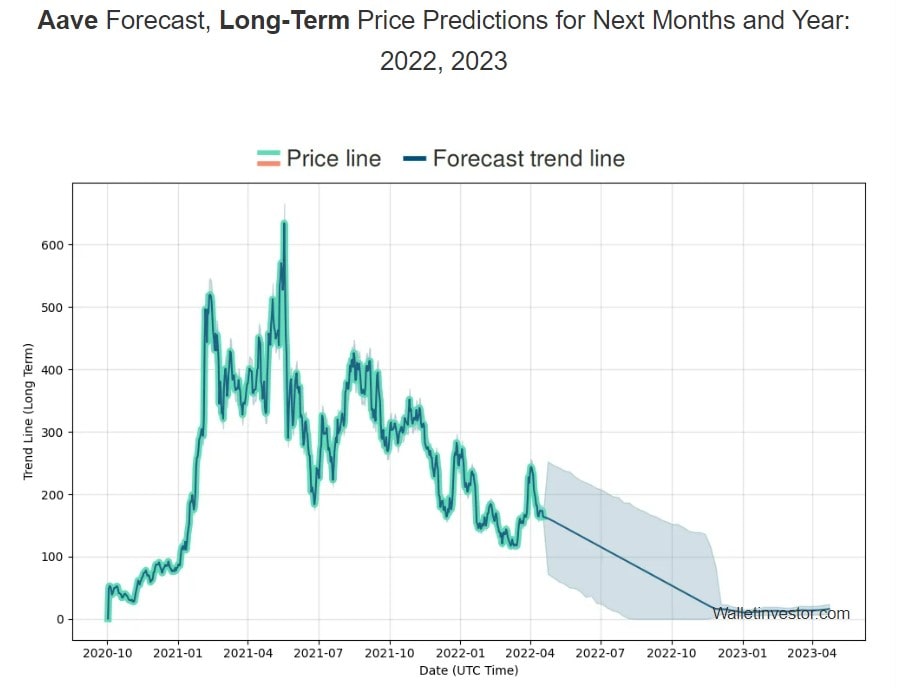 Long Forecast's AAVE price prediction for 2022, 2023, 2025 and 2030
Long Forecast believes that the token price will decrease in the coming months and will be $96 at the end of 2022. After that, the price will show a significant increase and will reach $235 at the end of 2023 and $503 at the end of 2024. 
DigitalCoinPrice's AAVE price prediction for 2022, 2023, 2025 and 2030
According to DigitalCoinPrice calculations, the token's price will be in an uptrend and may reach $245.39 at the end of 2023, $339.62 at the end of 2025 and $666, which is around the current all-time high, at the end of 2029.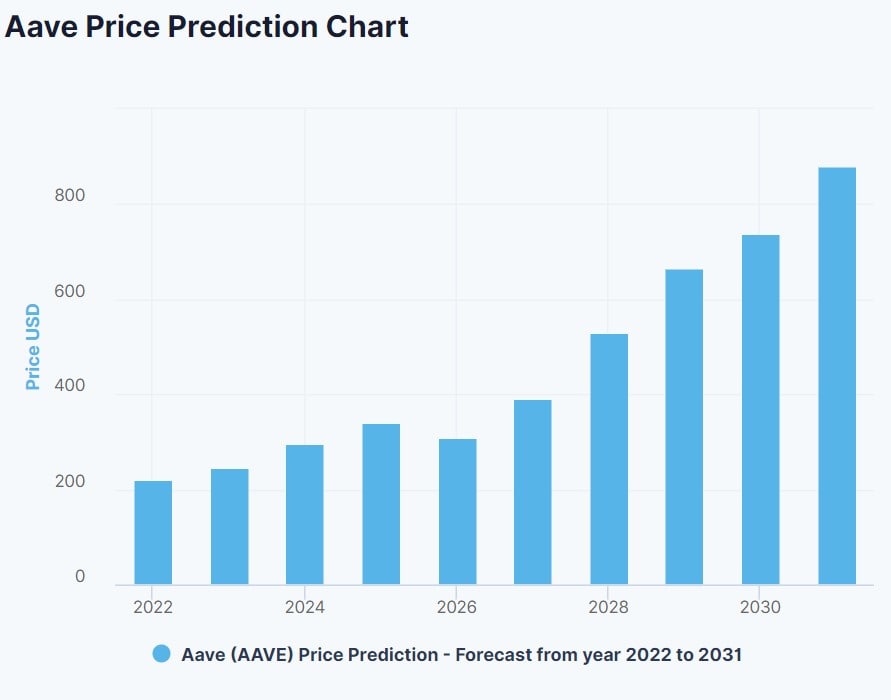 Aave (AAVE) overall future value predictions
The decentralised lending market has huge potential, and, at the moment, AAVE is the leading project in this market. The developers are actively working on the project, and its adoption is growing.
However, Aave suffers from the problem almost any other DeFi lending protocol has: the need for overcollateralisation. The attractiveness of loans is that they allow you to get more liquid funds than you currently have. Borrowing less money than what you have to deposit as collateral is pointless in most cases unless you know exactly what you're doing.
How high can Aave go?
Given the current general state of the crypto market, there's a real chance that the price will exceed its all-time high.
AAVE price prediction today
Despite the bearish sentiment, there are signs of a possible trend reversal. We recommend that you exercise caution when opening positions.
Tags
Exchange BTC

Try our Bitcoin Cloud Miner and get additional crypto rewards based on your trading volume. It's immediately available upon registration.

Try our Bitcoin Cloud Miner and get additional crypto rewards based on your trading volume. It's immediately available upon registration.
Instrument
Rate
Change (24h)