IoTeX (IOTX) price prediction 2022-2030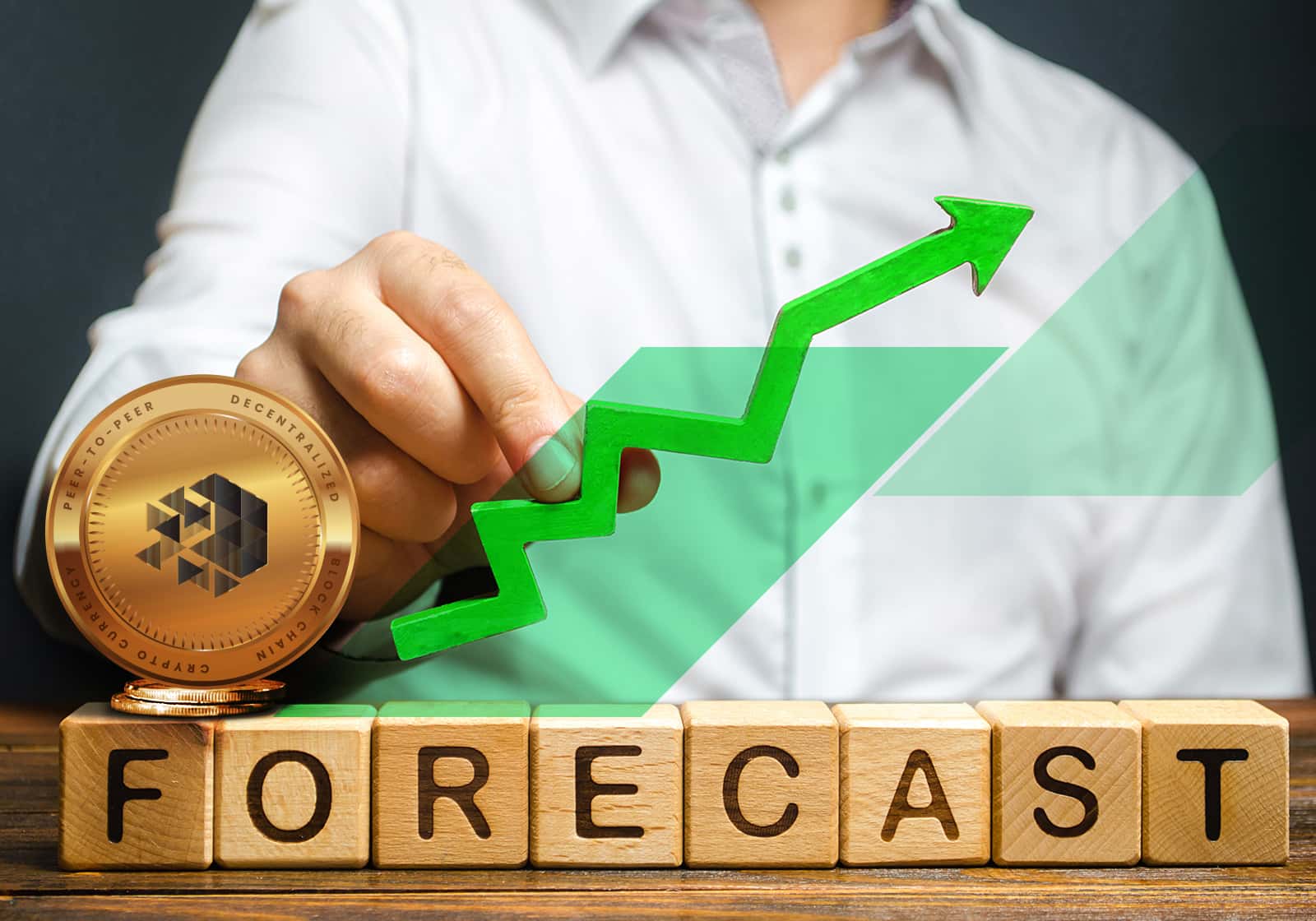 There are more and more smart devices that store and transmit all kinds of information, but the Internet of Things (IoT) phenomenon in its current form raises some concerns, including over privacy and security. In this article, we'll discuss IoTeX, a project aimed at creating a secure ecosystem for the IoT where users have complete control over their data. We'll also explore IOTX, the token of the IoTeX project, and its future price predictions.
What is IoTeX (IOTX)?
IoTeX is a decentralised blockchain platform to support the creation of large-scale Internet of Things use cases, enabling secure and confidential interaction between people and devices.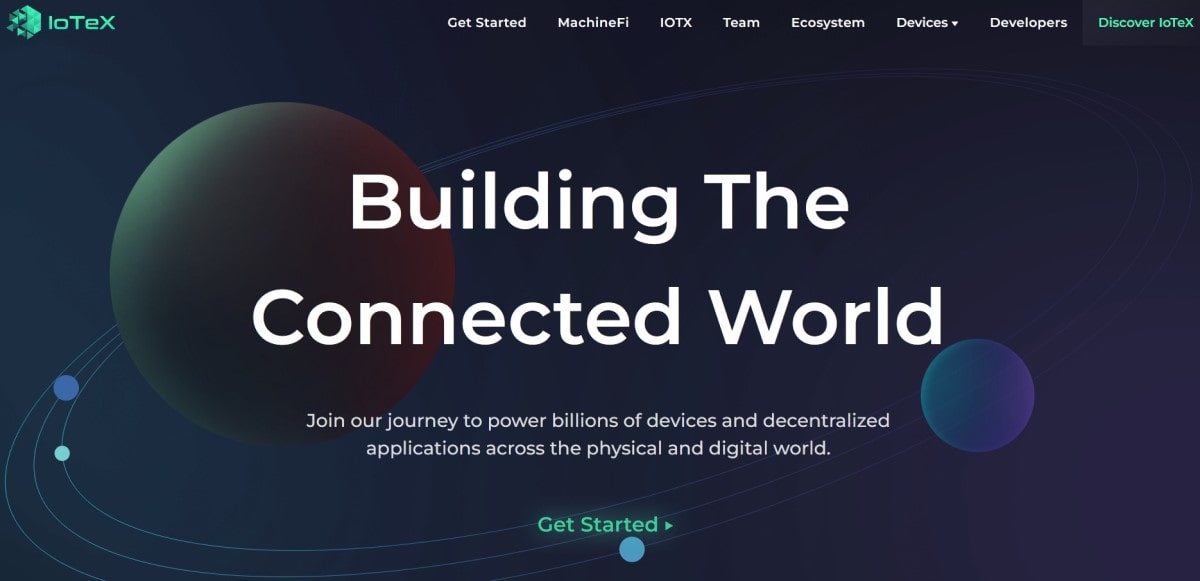 IoTeX is building the Internet of Trusted Things, an open ecosystem where humans and machines can interact with guaranteed trust, free will, and privacy. We envision a future where self-sovereign users can own and control their smart devices, as well as the data and value they generate. We believe everyday people and businesses, not profit-hungry institutions, should be the ultimate benefactors of the future machine economy. — Raullen Chai, Co-founder & CEO of IoTeX
The history of IoTeX
IoTeX was founded in 2017 by cryptographer Raullen Chai, computer scientist Qevan Guo, investor Jing Sun and information security specialist Xinxin Fan. The project's founders are all experienced professionals in their fields.
In 2018, a private sale fundraising was held, which raised $25M in ETH, and a testnet was launched. In April 2019, the launch of mainnet alpha took place, followed by mainnet beta in November of the same year. In 2020, Ucam, the first private home security camera powered by the IoTeX blockchain, went on sale. In 2021, the Pebble Tracker, a real-world data oracle, was launched.
IoTeX's features
The modern concept of the IoT involves the centralised control of data by large institutions: governments and Big Tech. This leaves users vulnerable to abuse of power by those who store and control the data. In addition, data centralisation makes hacking highly probable, with all its consequences. IoTeX ensures complete decentralisation in receiving and transmitting data, with each device or application on the network maintaining confidentiality.
IoTeX uses its own blockchain, which is nevertheless Ethereum Virtual Machine (EVM)-compatible and allows developers to convert any Ethereum smart contract on IoTeX. The blockchain uses a variant of DPoS consensus called Roll-DPoS. A new block is created every 5 seconds, making the IoTeX blockchain one of the fastest currently available.
It differs from many other blockchain projects in that it provides not only software products but also real physical devices that can already be purchased.
Ucam is the world's first blockchain-powered home security camera. The device won the CES Innovation Award 2020 for cybersecurity and privacy.
Pebble is multi-sensor hardware for capturing real-world data and transferring it to the blockchain. The data can include a variety of things: location, weather, motion, light, etc.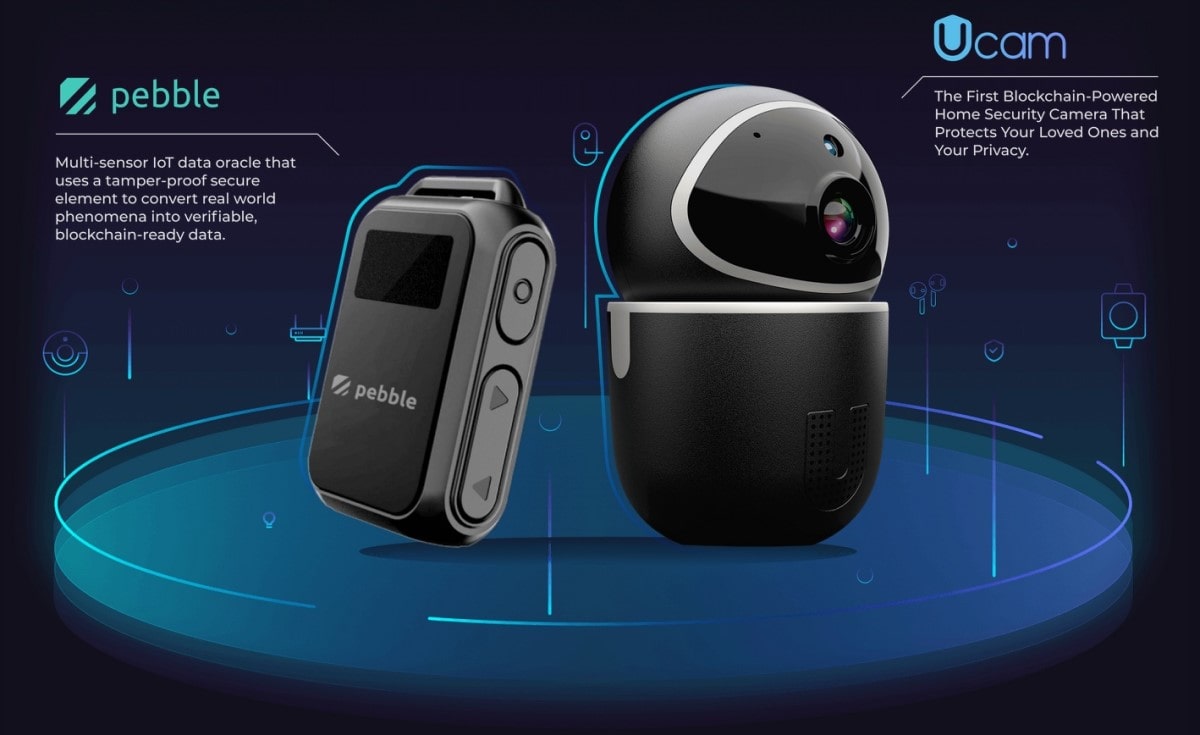 IOTX is the native token of the IoTeX network. It has multiple utilities:
Payment of transaction fees. Just like Ethereum, IoTeX uses a so-called gas fee model.
Governance token. IOTX holders can stake their IOTX tokens to elect delegates and participate in votes.
Stake-to-Service for service providers. Service providers will have to stake IOTX to qualify to provide services in the IoTeX Network.
Burn-to-Certify for devices. In the future, device manufacturers will have to burn IOTX to obtain a "Powered by IoTeX" certificate, which allows the device to access various services and features.
As is easy to guess, the Burn-to-Certify mechanism, combined with limited token issuance, will decrease the total number of tokens with each new certified device.
IoTeX (IOTX) price analysis
As of 5 May 2022, the IOTX token ranked 106th among cryptocurrencies by market capitalisation at $583,527,80.
IOTX price statistics (as of 05/05/22)
| | |
| --- | --- |
| Current price | $0.06116 |
| Market cap | $583,527,80 |
| Circulating supply | 9.54B IOTX |
| Total supply | 10B IOTX |
| Daily trading volume | $42,523,934 |
| All-time high | $0.2611 (13/11/21) |
| All-time low | $0.001239 (13/03/20) |
| Website | |
IOTX's price history
At the time of listing on cryptocurrency exchanges on 25 May 2018, the price of the IOTX token was $0.029. After a brief rise, it entered a bearish trend, which continued until the collapse of the crypto market on 13 March 2020.
The price then entered a global bullish trend. The rise accelerated sharply at the end of January 2021, but after reaching a local high of $0.078, the price experienced a rather significant drop. The next price surge followed on 9 August 2021, but the correction started as soon as 12 August. Finally, during a bullish rally in November 2021, the token price reached its all-time high.
This was followed by a local bearish trend, and the price began to move towards the lower boundary of the uptrend channel.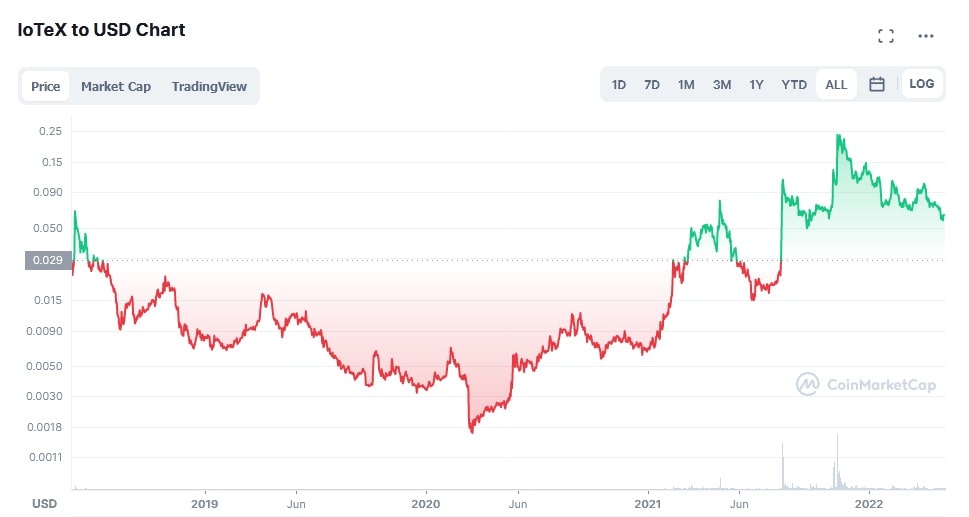 IoTeX technical analysis
On 29 April, IOTX's price broke through the lower boundary of the global uptrend channel. On 30 April, it retested this boundary, and the price declined further. At the same time, we see that the price has already formed a local downtrend channel. The MACD and the moving averages also indicate bearish sentiment. All this points to it being highly probable that IOTX's global bullish trend, which started in March 2020, is changing to bearish.
The nearest resistance level is $0.062. The nearest support levels are $0.055 and $0.0475.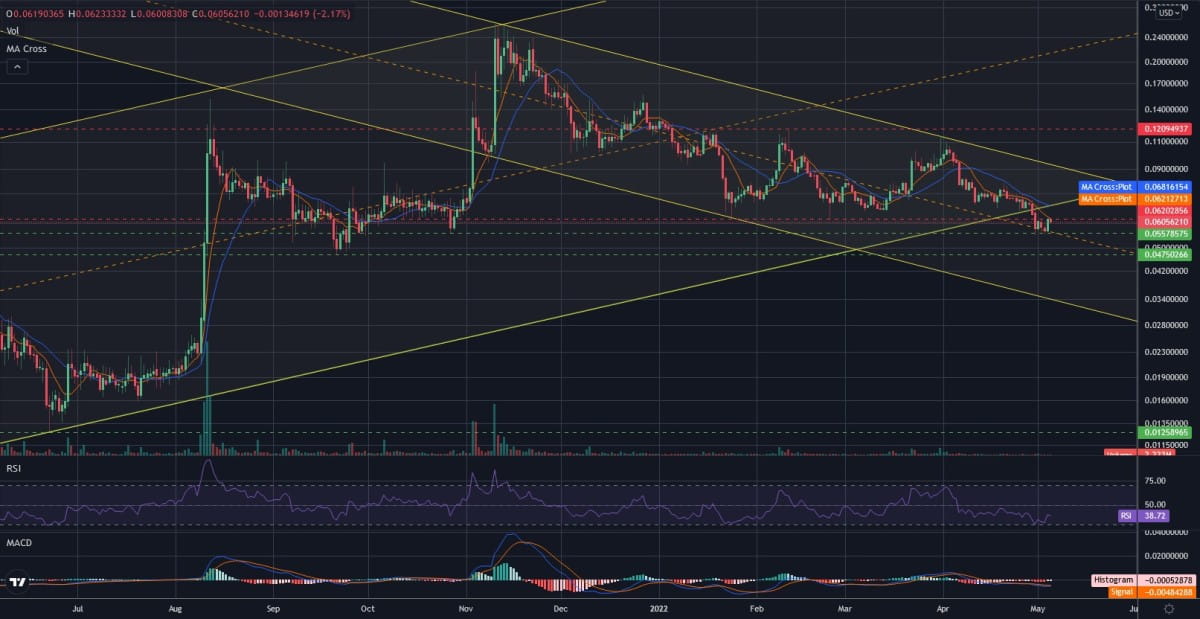 IoTeX (IOTX) price prediction 2022
The further behaviour of IOTX's price is highly dependent on what happens to Bitcoin's price. If BTC returns to a bullish trend, IOTX is highly likely to return to it as well. Otherwise, the currently formed local bearish trend of IOTX has a good chance of turning into a global one.
IoTeX (IOTX) coin price prediction for 2022, 2023, 2025 and 2030
So, what do renowned forecasting services think about the prospects for IOTX's price? Let's find out.
Trading Beasts' IOTX price prediction for 2022, 2023, 2025 and 2030
Trading Beasts predict that IOTX's price will rise in the coming months but that it'll start to decline smoothly from October 2022. In December 2022, the price will be $0.0790. In December 2023, the price will fall to $0.0663, after which it'll begin to rise slowly. This growth will bring the price to $0.0926 in December 2024 and $0.1144 in December 2025.
Wallet Investor's IOTX price prediction for 2022, 2023, 2025 and 2030
Wallet Investor expects the token price to rise. They calculate it'll reach $0.118 at the end of 2022, $0.187 at the end of 2023 and $0.327 at the end of 2025. After 5 years, in May 2027, the token price will reach $0.4085.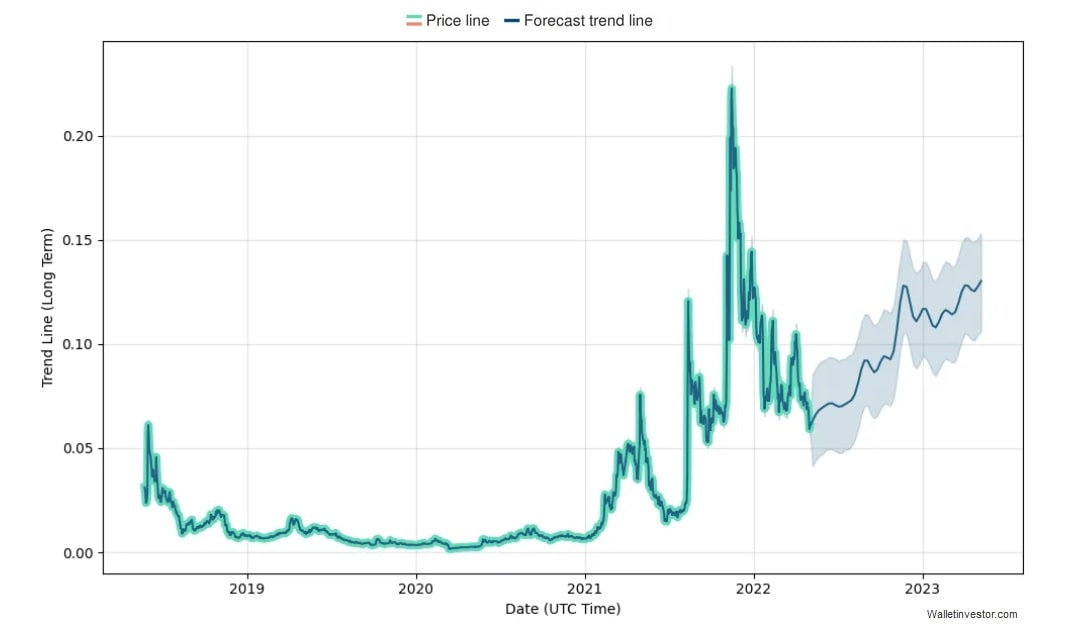 DigitalCoinPrice's IOTX price prediction for 2022, 2023, 2025 and 2030
DigitalCoinPrice is also positive about the outlook for IOTX's price. They believe that despite fluctuations, the token's price will rise to $0.0872 by the end of 2022, $0.0949 by the end of 2023, $0.14 by the end of 2025 and $0.29 by the end of 2030.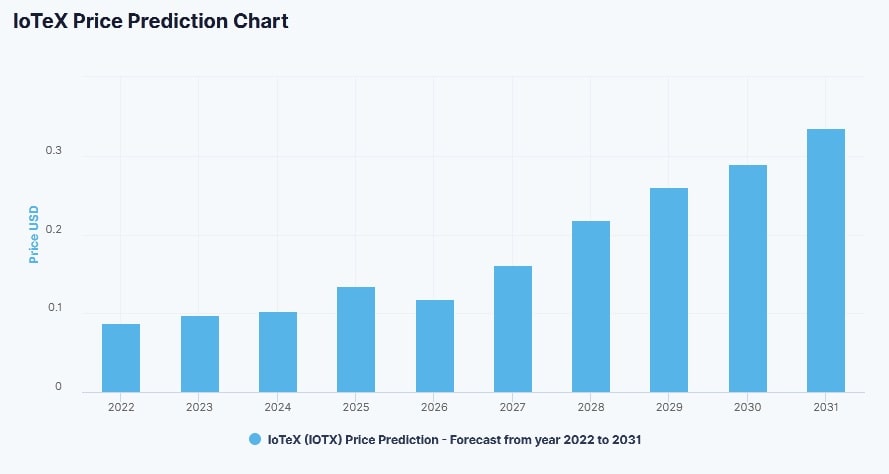 PickACrypto's IOTX price prediction for 2022, 2023, 2025 and 2030
PickACrypto, as always, avoids giving exact numbers. According to their calculations, IOTX's price will visit the $0.10-$0.25 range in 2022 and $0.30-$1.00 in 2023-2025.
Gov Capital's IOTX price prediction for 2022, 2023, 2025 and 2030
Gov Capital agrees that the token's price will rise. According to them, IOTX will be worth $0.133 in a year and $0.654 in 5 years.
Price Prediction's IOTX price prediction for 2022, 2023, 2025 and 2030
Price Prediction's forecast is also optimistic. They believe the average trading price of the token will be $0.10 in 2022, $0.15 in 2023, $0.30 in 2025 and $2.01 in 2030.
CryptoPredictions'IOTX price prediction for 2022, 2023, 2025 and 2030
CryptoPredictions expects the token price to rise slightly until October-November 2022. It'll start to decline and will be $0.0783 at the end of 2022 and $0.0664 at the end of 2023. Then, the token's price will rise and reach $0.0906 at the end of 2024 and $0.1122 at the end of 2025.
IoTeX (IOTX) overall future price prediction
IoTeX looks like it has high potential. There are some factors indicating that the project and its token have a promising future:
The IoT market has enormous potential. The number of devices using IoT is high and growing.
The problems created by IoT centralisation are of growing concern to an increasing number of users.
The development of the project is handled by a team of experienced professionals.
The project is developing quite rapidly, and the number of partners is growing.
The deflationary model of IOTX tokenomics will cause the supply of tokens to decline.
The project has a fairly strong competitor, IOTA, which appeared earlier than IoTeX, but IoTeX looks pretty good in this competition so far.
How high can IoTeX go?
Provided the project team continues to develop it as actively as before, in the long term, the price of the IOTX token could potentially reach $1.00.
IoTeX (IOTX) price prediction today
IOTX's price is now in a local bearish trend. Unless the BTC price resumes growth, this trend is likely to continue. In that situation, opening a long position isn't recommended.
Tags
Exchange BTC

Try our Bitcoin Cloud Miner and get additional crypto rewards based on your trading volume. It's immediately available upon registration.

Try our Bitcoin Cloud Miner and get additional crypto rewards based on your trading volume. It's immediately available upon registration.
Instrument
Rate
Change (24h)