Synthetix (SNX) price prediction 2022-2030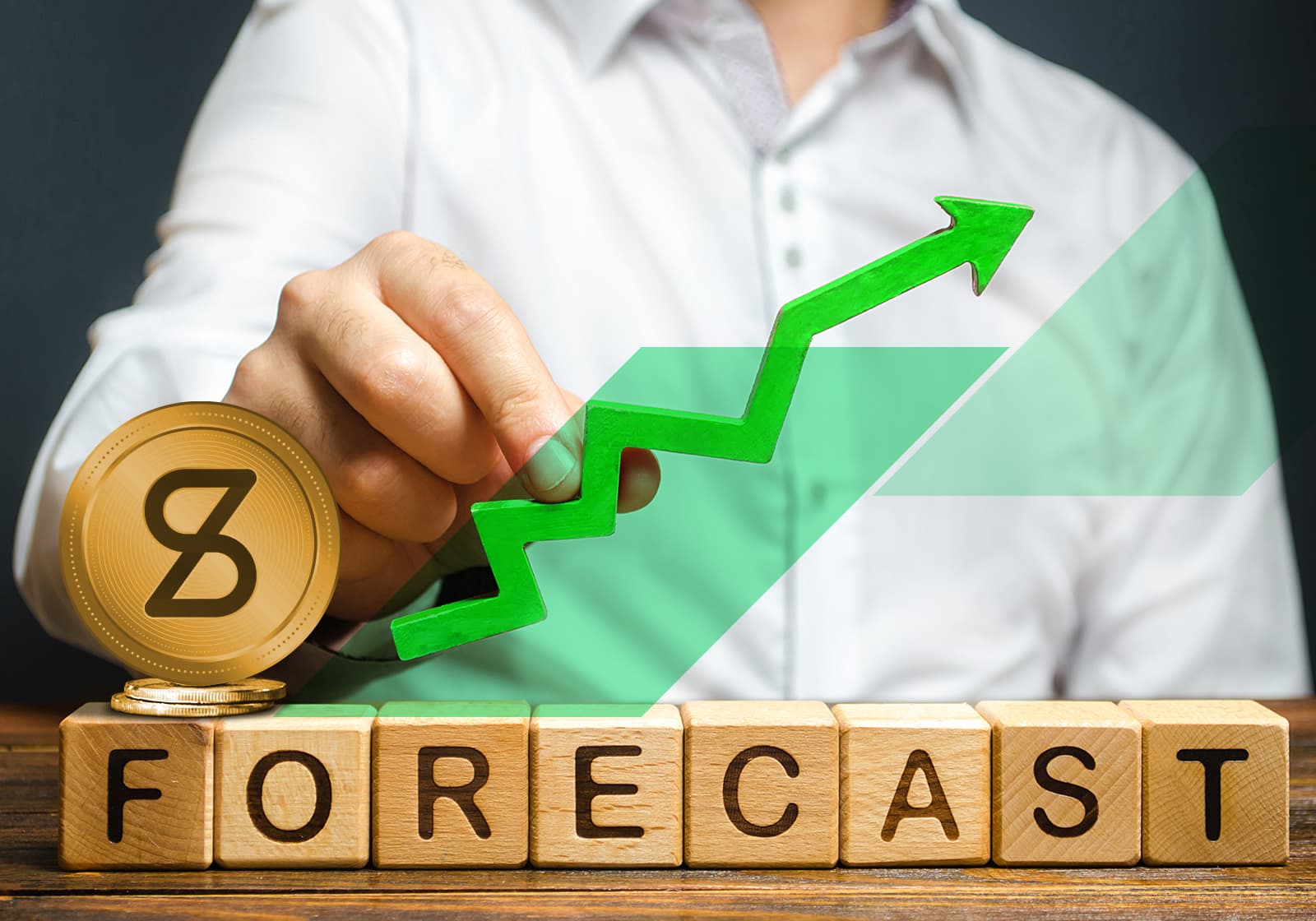 Decentralised finance (DeFi) is a relatively new trend in the cryptocurrency industry that saw a rapid increase in consumer interest in 2019-2020. DeFi is services and applications developed using blockchain, cryptocurrencies and smart contracts. The DeFi ecosystem offers users the services typically provided by banks and other financial institutions. Put simply, it's a kind of alternative financial sector that is publicly available and not controlled by any authority. Moreover, any Internet user can easily access these services where intermediaries are now excluded. In this article, we'll explore one of the first DeFi projects, the Synthetix protocol, and present you with a price prediction for the project's native token.
The promise of fintech over the last ten years has run up against all of these impediments and barriers to entry, and Ethereum really removes those. — Kain Warwick, Founder of Synthetix
What is Synthetix (SNX)?
Synthetix is a decentralised blockchain protocol for creating and exchanging synthetic assets (synths) on the Ethereum network. Synths are ERC-20 tokens that represent the prices of external assets: fiat currencies, stocks, cryptocurrencies and more. Using synths makes it possible to benefit from trading marketable assets without actually owning them. In other words, they're a kind of derivative within a closed ecosystem built on the Ethereum network. Synths don't give their holder ownership of the underlying asset.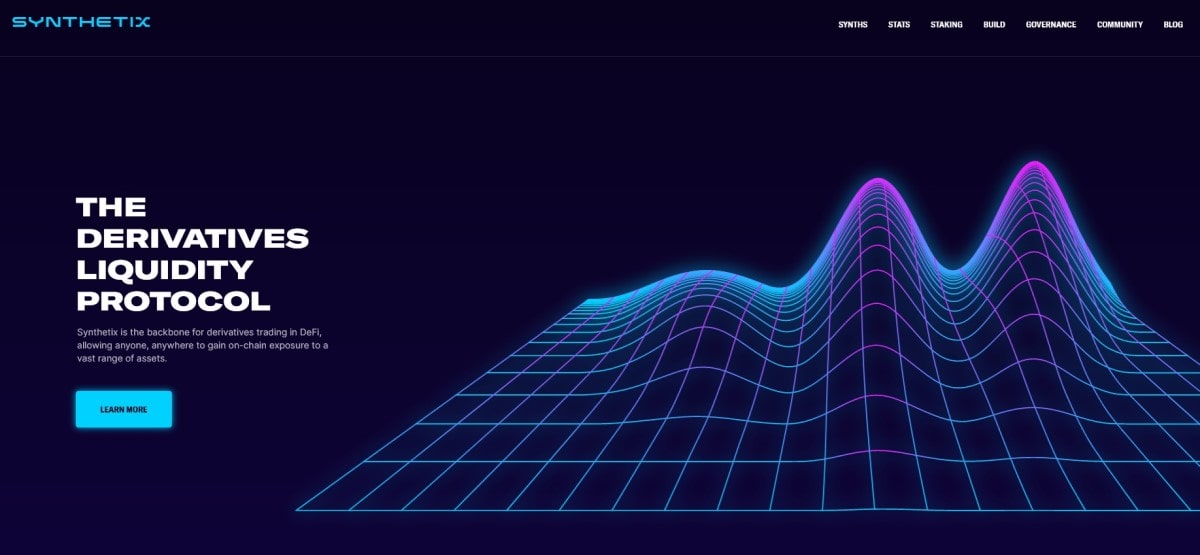 The origins of Synthetix
Synthetix was founded in September 2017 by Australian investor and entrepreneur Kain Warwick. Initially, the project was named Havven, but in 2018, it was rebranded to Synthetix.
The project's ICO held at the end of February 2018 raised $30 million.
In October 2020, the project was transitioned to a decentralised autonomous organisation governance structure.
Synthetix's features
The Synthetix ecosystem currently consists of three elements:
Mintr is an app for staking and making synths. When a user wants to create a synth, they must use the Synthetix platform's native token, SNX, as collateral. To release their tokens from the collateral, the user must repay the debt by burning synths.
Synthetix.Exchange is an internal decentralised exchange where synths issued in the system are traded. For each trade, a commission is charged and distributed among the SNX stakers. There is no order book as on centralised exchanges. Trades are carried out directly with a smart contract.
Dashboard is an interface for monitoring the metrics of the Synthetix ecosystem.
Real-world asset prices are tracked through Chainlink (LINK) oracles. Chainlink provides the project with data on the prices of various assets: gold, stocks, cryptocurrencies, indices, etc. In addition to synths that directly follow the price of the underlying asset, there are also 'mirror' tokens whose price moves opposite to the movement of the underlying asset price.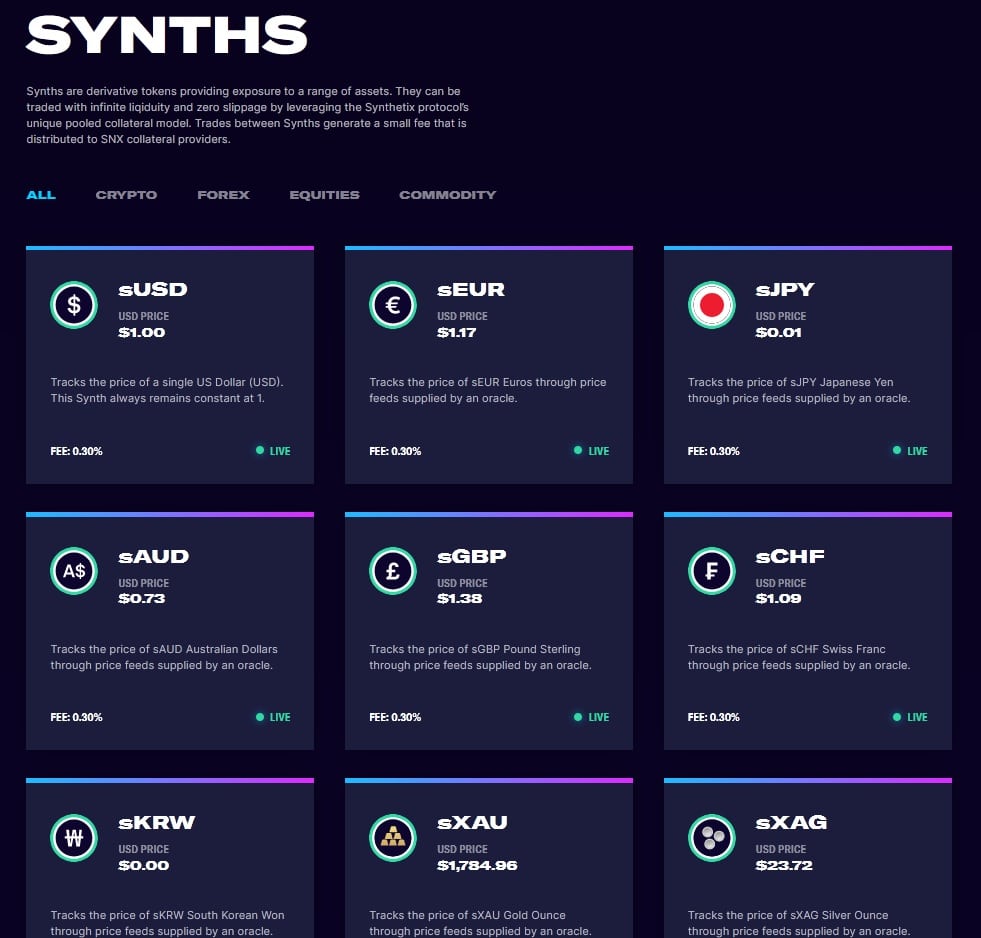 There are quite a few options for using synths:
Market speculation
Creating stablecoins.
Trading stocks and precious metals without leaving the Ethereum blockchain
Investing in indices
Hedging
By incentivising people to use the platform, we grew our user-base quickly, and those users made profits from providing us liquidity for others to trade. — Kain Warwick
Liquidity on the Synthetix exchange is provided by users staking SNX tokens. Staking is rewarded with commission fees from exchange transactions. A commission of 0.3% is deducted from any transaction and goes to the commission pool. Participants receive a weekly reward, which is proportional to their share of participation.
Synthetix (SNX) price analysis
At the time of writing, the SNX token ranked 113th among cryptocurrencies by market capitalisation at $653,560,278.
SNX price statistics (as of 08/02/22)
| | |
| --- | --- |
| SNX current price | $5.69 |
| Market cap | $653,560,278 |
| Circulating supply | 114,841,533 SNX |
| Max supply | 212,424,133 SNX |
| Daily trading volume | $78,368,519 |
| All-time high | $28.70 (14/02/21) |
| All-time low | $0.03242 (05/01/19) |
| Website | |
SNX price history
During the ICO held at the end of February 2018, the price of the SNX token was $0.50. In March 2018, the token was listed on major crypto exchanges.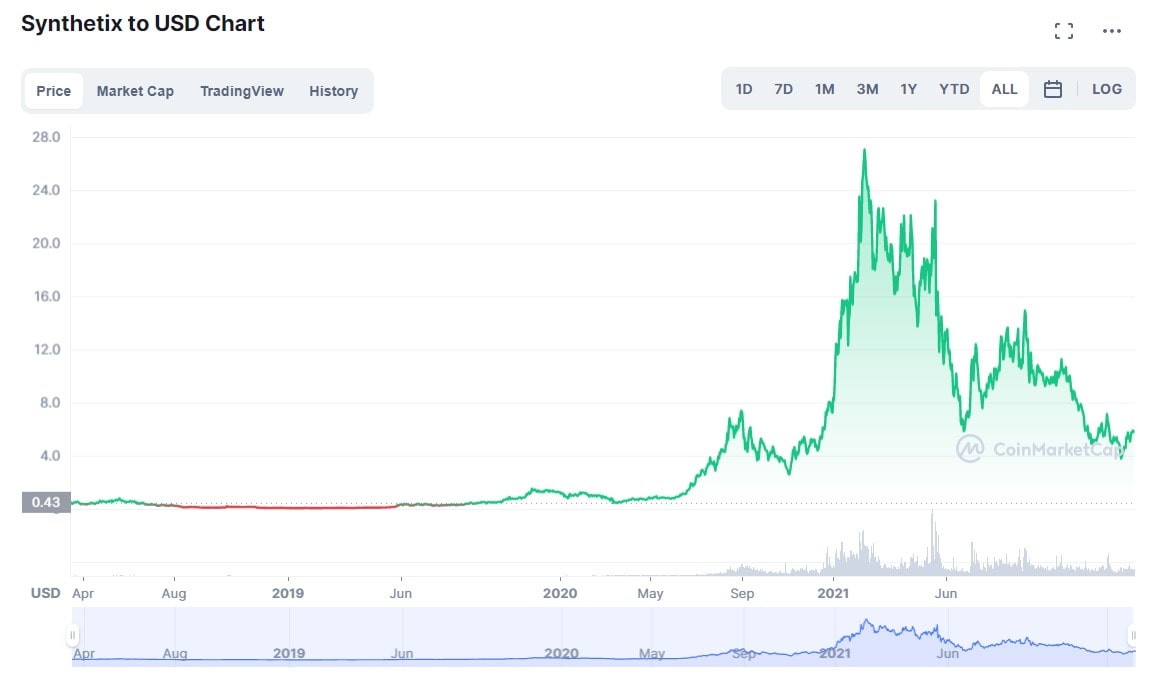 Synthetix price prediction 2018
When it was listed on exchanges, the token traded at a price closer to its price at the time of the ICO. Shortly thereafter, its price began to rise and reached a local high of $0.78 on 22 May 2018. After that, the trend changed to bearish. Buyers attempted to reverse the trend on 11 October 2018 but only had a short-term effect, and the bearish trend continued until the end of the year.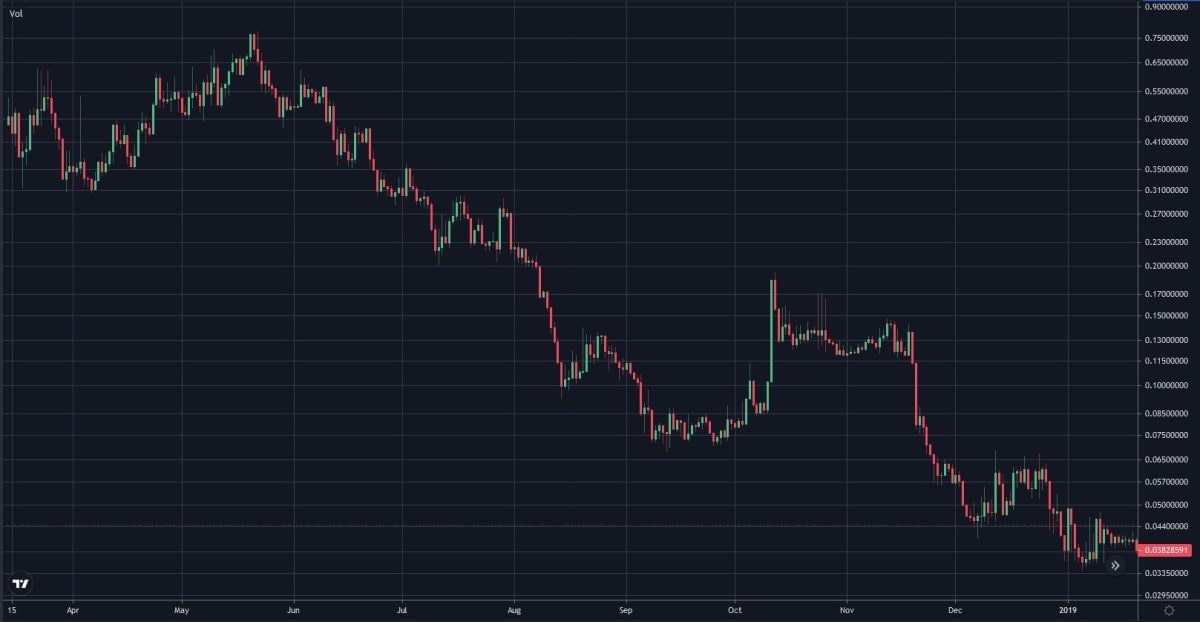 Synthetix price prediction 2019
On 5 January 2019, the token price reached its all-time low. After that, the price moved sideways for some time. Finally, at the end of March, a bullish trend began. It continued until 28 November 2019, when the price reached a new high of $1.566. The price then moved sideways in a narrow range for the rest of the year.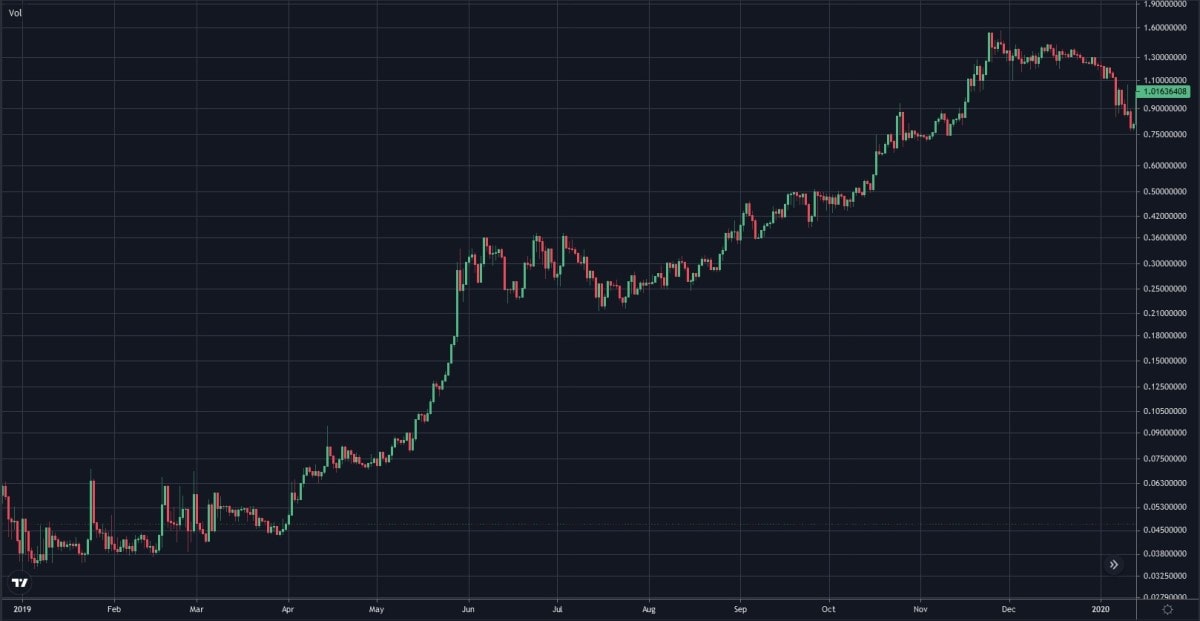 Synthetix price prediction 2020
On 1 January 2020, the SNX price broke through the support level of $1.20 and continued to move in the range of $0.77-$1.20. On 5 March, sellers managed to break through the support level of $0.77. Despite the buyers' attempt to return the price to the range, it collapsed. During a panic sell-off on the crypto market on 13 March, it reached a local low of $0.33. SNX was included in the cryptocurrency market's ensuing recovery, and the bullish trend that began immediately after the collapse persisted for the rest of the year.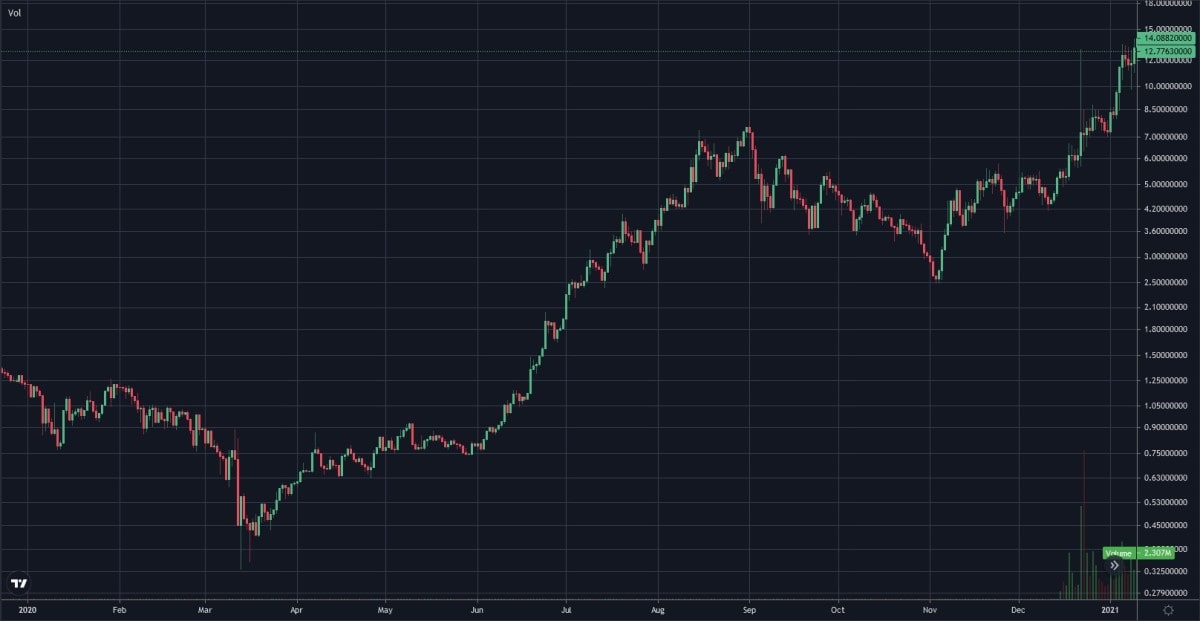 Synthetix price prediction 2020
SNX had a great start in 2021. It opened the year at $7.25 and, in just five days into 2021, the price took out the all-time high set in December 2020. By 14 February, the price rose by over 300% to set a new all-time high record at $28. After a downward consolidation that lasted more than three months, SNX finally fell significantly in price to the support at $5.50. At that point, bulls stepped in and tried to ramp the price higher. They managed to get the price as high as 180% from previous support before finally losing steam and giving way to further bearish momentum. SNX ended the year even lower than it started.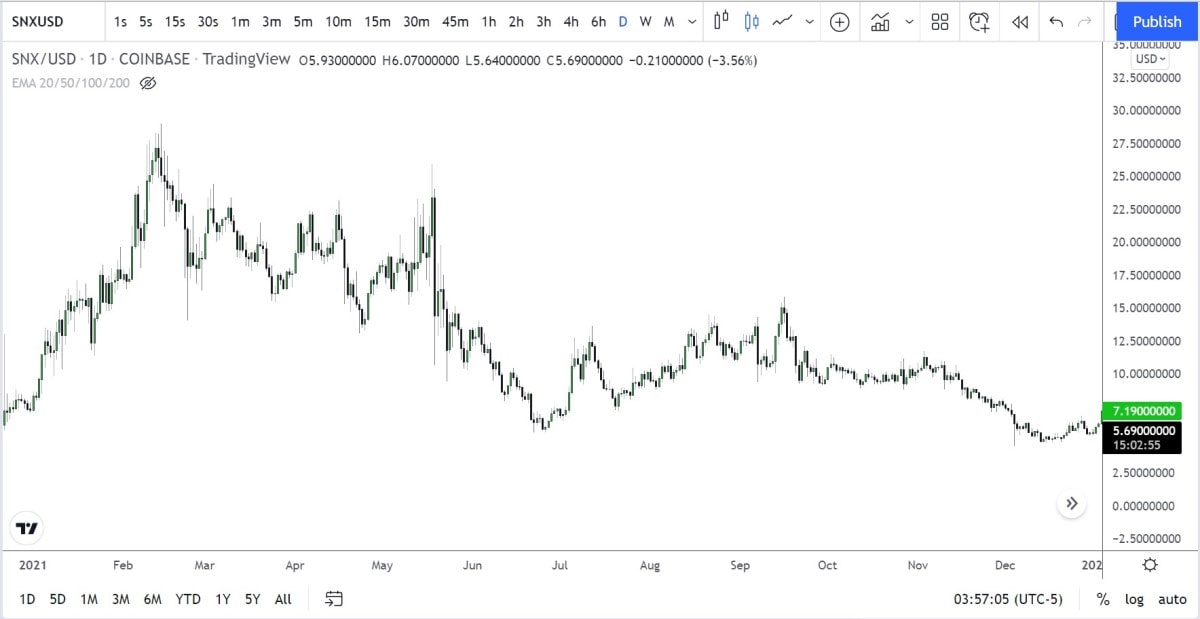 SNX technical analysis
Ever since SNX set a new all-time high back in February 2021, it has consistently trended downwards, losing most of the gains it made. The market structure on all timeframes is heavily bearish, with few signs of recovery.
Since rebounding from the support at $3.54, the price has steadily traded higher on lower timeframes like H4, and for the first time since August 2021, SNX has found some level of support on the 200 EMA. If bulls can keep the price above the 200 EMA up to the next resistance at $7, there's a chance that other institutional investors will step in to drive the price higher. Also, considering the 52-week range, the price is currently trading at a deep discount, which is a great incentive for long-term investors. On the downside, if the price trades below the support at $3.54, SNX may be on its way to a new all-time low.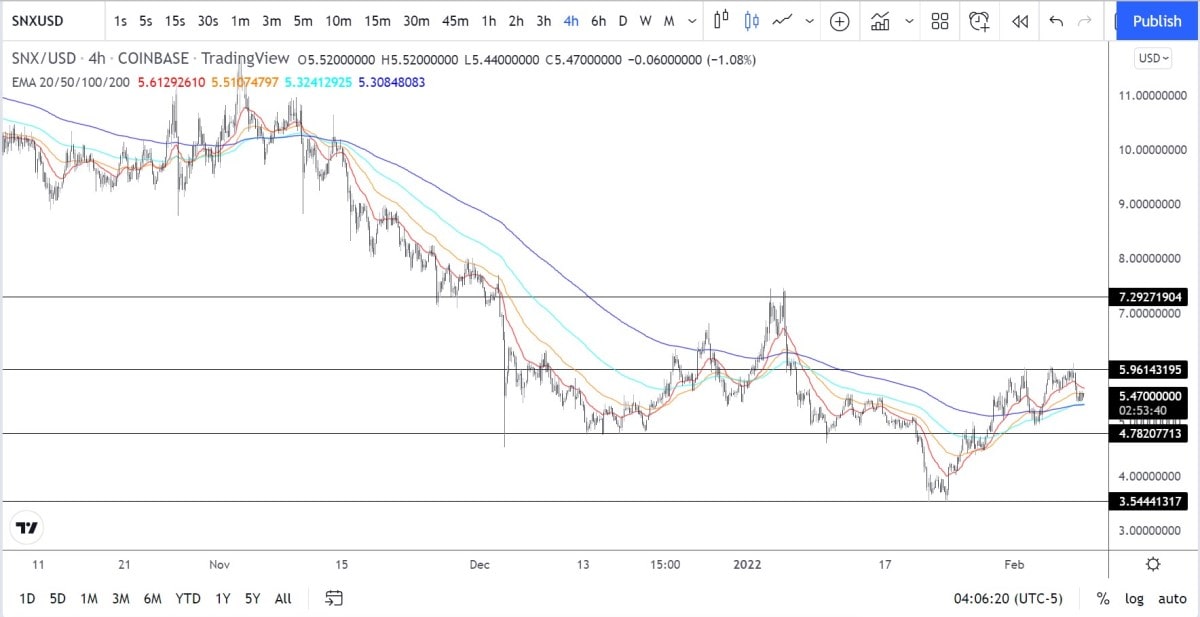 Synthetix (SNX) price prediction for 2022, 2023, 2025, 2030
Now let's take a look at Synthetix coinprice predictions from some well-known crypto experts.
WalletInvestor's SNX price prediction for 2022, 2023, 2025, 2030
Walletinvestor expects SNX's price to fall even further. According to their calculations, the token will be worth $0.71 in a year.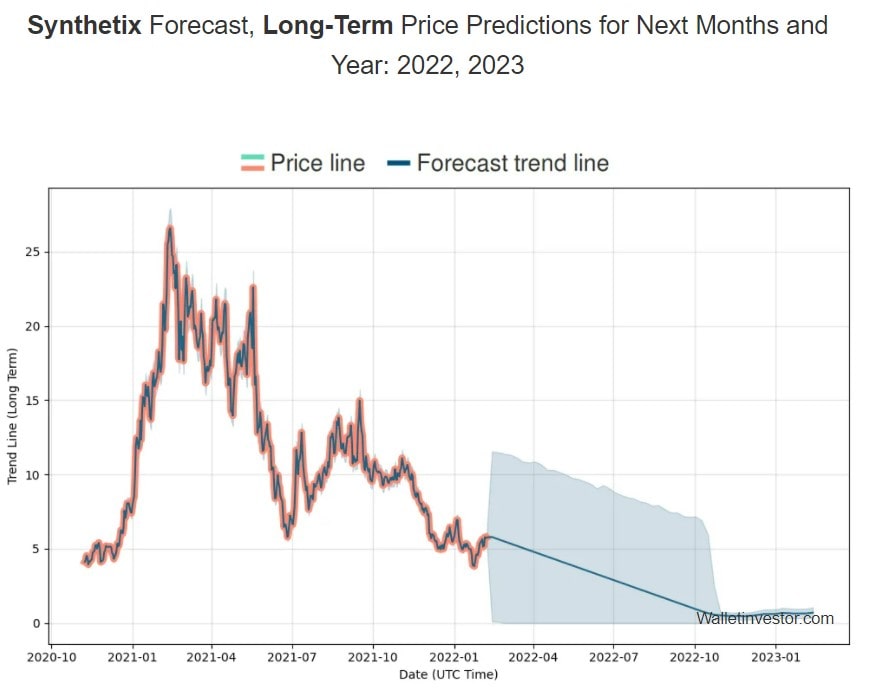 LongForecast's SNX price prediction for 2022, 2023, 2025, 2030
Longforecast believes that the token will rise eventually but not before declining for the better part of 2022. They predict that SNX will find resistance at around $7 before trading lower and closing the year at $4.41. It gets slightly better in 2023 and 2024 as they expect the price to trade as high as $11 and not trade any lower than $5.83.
DigitalCoinPrice's SNX price prediction for 2022, 2023, 2025, 2030
DigitalCoinPrice predicts steady growth for SNX. Their analysis shows that the token will be up to $8.69 in a year. In the future, its price will rise to $9.36, $11.83 and $15.24 in two, three and five years, respectively.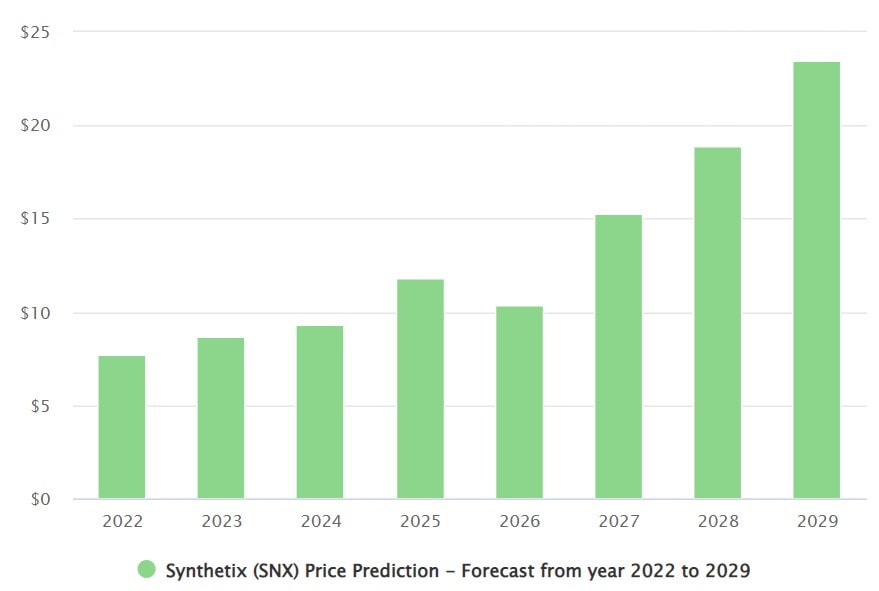 PickACrypto's SNX price prediction for 2022, 2023, 2025, 2030
PickACrypto's calculations also show that SNX's price will rise. Their models predict that the token's price will be between $25 and $45 between 2022 and 2025.
Synthetix (SNX) overall future value predictions
Synthetic assets are great for expanding the capabilities of DeFi, allowing users to trade all kinds of real-world assets without leaving the Ethereum network. Keep in mind, however, that owning synths doesn't mean that you own the underlying assets. Synths work only thanks to SNX stakers, who issue synthetic assets in order to generate income. Thus, the price of the SNX token will depend on how popular the Synthetix platform is.
The DeFi industry, of which the Synthetix platform is a part, is growing rapidly. However, it also faces risks from regulators who are increasingly discussing tighter regulation of the industry.
In addition, it should always be remembered that the price of any token is highly dependent on the fluctuations of the crypto market as a whole.
Will Synthetix go up?
It's difficult to assert with any real confidence that the price of SNX will go up, but its historical price data suggests that there is a likely chance that the price may recover to trade at higher prices.
How high can SNX go?
If the trend reverses to the upside and the crypto market in general gains momentum again, SNX may eventually trade as high as its current all-time high.
Synthetix price prediction today
Currently, SNX is generally bearish. If it manages to break through the resistance level of $7, it may be an indication that the trend has shifted in favour of the bulls.
Tags
Exchange BTC
Try our Bitcoin Cloud Miner and get additional crypto rewards based on your trading volume. It's immediately available upon registration.
Try our Bitcoin Cloud Miner and get additional crypto rewards based on your trading volume. It's immediately available upon registration.
Welcome to StormGain — crypto trading platform!
Trade with 500× multiplier.