Synthetix Network Token (SNX) price prediction for 2023, 2025 and 2030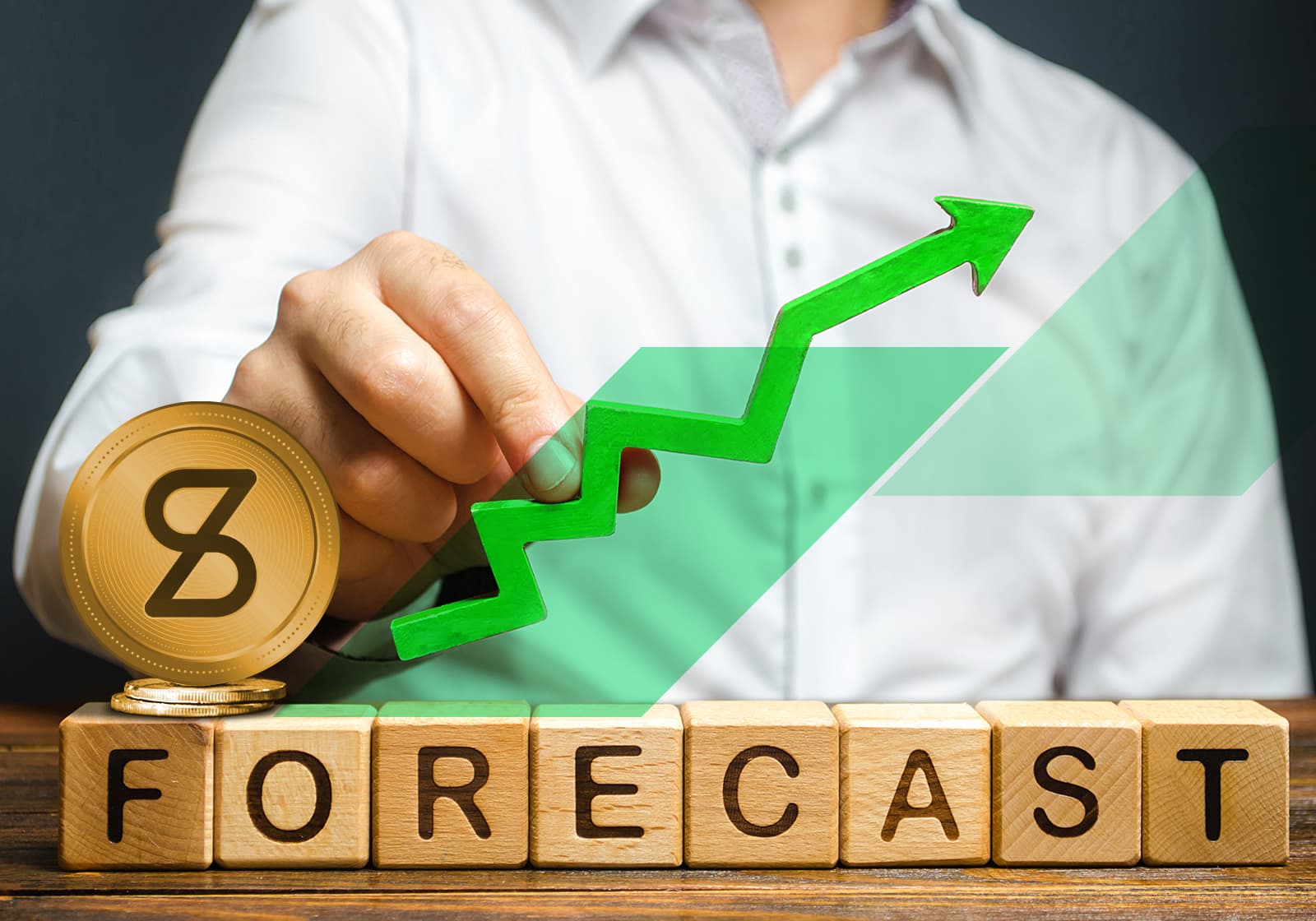 Synthetix has brought significant changes in various industries since its introduction. Numerous regulators have approved this Synthetix Network Token, and a dedicated team of developers is actively promoting it to enhance its adoption. This blog post delves into Synthetix Network Token (SNX) details. What advantages does it offer compared to other cryptocurrencies? And, more importantly, what are the predictions for Synthetix Network token price? Let's explore the Synthetix crypto token price prediction.
What is Synthetix Network Token (SNX)?
Synthetix is a decentralised finance protocol on the Ethereum blockchain that enables users to access various cryptocurrencies and non-crypto assets such as indices and commodities. Using smart contracts, Synthetix allows crypto users to gain exposure to real-world assets without owning them physically.
One of the key features of Synthetix is the creation of synthetic assets or "Synths". These Synths are designed to replicate the performance of an underlying asset, such as gold, without the need for direct ownership. Users can buy Synths that mimic the price movements of gold and benefit from its appreciation, even if they don't own any physical gold bars.
To create Synths on Synthetix, users need to acquire the Synthetix Network Token (SNX). SNX serves as collateral, enabling creators to generate their Synths. The circulation of Synthetix is dynamic, meaning the number of Synths in circulation can fluctuate based on the market price of SNX. If the price of SNX increases, Synthetix releases a percentage of locked collateral to the user, corresponding to the price increase. This collateral can be used to create new Synths.
Synthetix Network History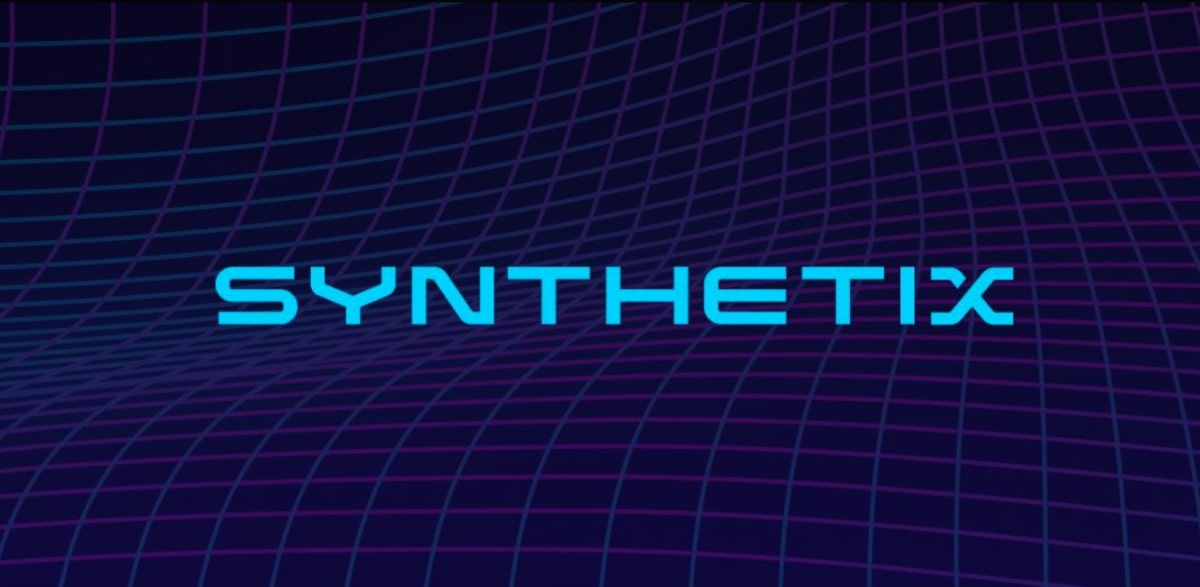 In 2018, Kain Warwick created the Havven protocol, which later transformed into Synthetix. The protocol's initial offering was highly successful, raising an impressive $30 million by issuing 60 million HAV tokens.
Over time, Havven expanded its objectives to include the development of synthetic assets for cryptocurrencies and commodities. This expansion led to the transformation of Havven into Synthetix. In 2019, Synthetix swiftly raised $3.9 million by issuing its native tokens, SNX, indicating the emergence of groundbreaking blockchain innovation.
In 2020, Synthetix replaced management and governance with a non-profit foundation with Decentralised Autonomous Organizations (DAO). This change granted SNX holders voting rights in developing the Synthetix ecosystem.
Synthetix Network Token (SNX) Overview
Synthetix software allows users to create new crypto assets, replicating real-world assets and other cryptocurrencies. It operates as a decentralised finance (DeFi) cryptocurrency, running on the Ethereum blockchain through smart contracts. 
Synthetix utilises collateralisation to generate these new assets. Users need to purchase SNX cryptocurrency and lock it in a contract to collateralise an asset on Synthetix. This process enables the creation of synths, such as sUSD (which mimics the US dollar) and sBTC (which mimics Bitcoin). Synths can be generated for various assets, including commodities like gold or cash like the euro or Korean won. 
To track the value of other assets, Synths rely on special data feeds called oracles. These oracles enable users to participate in the gains or losses of those markets.
SNX whitepaper
According to the SNX whitepaper, the Synthetix Network Token (SNX) encourages coordination and growth within the Synthetix Network. Its main functions are staking and governance.
SNX stakers receive weekly rewards for collateralising the network. These rewards are sourced from trading fees paid by traders and newly minted SNX tokens held in escrow for a year. Stakers can stake their escrow-locked SNX tokens during this period to earn additional rewards.
Synthetix Network Token Projects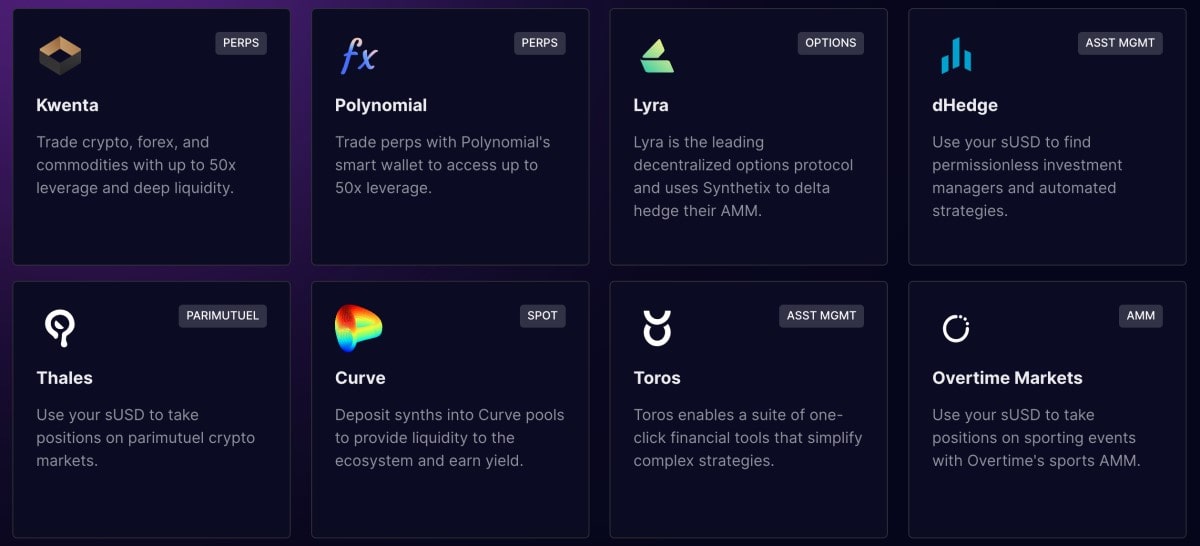 The projects built on the Synthetix Protocol include the following: 
Kwenta is a decentralised trading front-end that provides an interface for trading a wide range of assets and derivatives, including spot and futures. 
Decentrex is another trading front-end that leverages Synthetix's deep liquidity and fast trades to enable users to trade perpetual futures.
Lyra, on the other hand, is an options-automated market maker (AMM) that allows traders to buy and sell options on cryptocurrencies using a liquidity pool. 
Polynomial takes automation to the next level by creating financial derivative strategies that generate passive yield on various assets. One of their products, Polynomial Earn, is the first DeFi Options Vault (DOV) that operates completely on-chain by directly selling options to an AMM. 
SNX Benefits
Synthetix's collateral model for issuing synthetic assets offers several benefits. Firstly, it eliminates the need for counterparties to convert between synths, as all conversions occur through smart contracts. This ensures a seamless and efficient process. Additionally, this model addresses the liquidity and slippage challenges commonly seen on decentralised exchanges, providing a solution.
Synths are designed to mirror real-world asset prices. They encompass a wide range of assets, not limited to cryptocurrencies alone. Synthetix currently offers four asset categories for trading: crypto, forex, equities and commodities.
Furthermore, users have the option to stake their SNX tokens on Synthetix. In return, they receive a portion of the fees generated on the platform proportionate to their contribution. This allows SNX token holders to earn a share of the fees earned by Synthetix through its exchange. 
Moreover, staking SNX tokens grants users participation rights on the Synthetix Network. If the question of how SNX tokens derive their value arises, the answer lies within these benefits.
Synthetix Network Token (SNX) Price Analysis
At the time of writing this Synthetix Network Token price prediction on 25 October 2023, the SNX price was $2.36. The Synthetix token ranked #63 on CoinMarketCap, with a daily trading volume of $53,449,456, a market cap of $643,497,538, a circulating supply of 272,819,238 SNX and a total supply of 325,914,989 SNX.
SNX price statistics (as of 25/10/23)
| | |
| --- | --- |
| Current price | $2.36 |
| Market cap | $643,497,538 |
| Circulating supply | 272,819,238 SNX  |
| Total supply | 325,914,989 SNX |
| Daily trading volume | $53,449,456 |
| All-time high | $28.77 (14/02/21) |
| All-time low | $0.03258 (05/01/19) |
| Website | |
Synthetix Network price history
When Synthetix entered the market in March 2018, its initial value was approximately $0.45. However, it faced challenges during the crypto winter that followed the burst of the bubble in late 2017 and early 2018.
SNX experienced a significant drop on 5 January 2019, hitting an all-time low of $0.03258. At the beginning of 2021, the crypto market started to boom, and SNX benefited from this growth, partly influenced by the entry of US Covid-19 stimulus cheques into the cryptoverse. On 14 February 2021, the token reached its all-time high of $28.77.
Although there was a subsequent decline, SNX still performed relatively well until the crypto crash on 19 May 2021. The summer of 2021 was generally weak for crypto, with SNX dropping below $7 in June. However, there was some recovery in July, with SNX reaching over $10 at certain points.
In 2022, SNX had an overall poor performance. Although it started the year positively, reaching $7.43 on 5 January, it dropped to a low of $3.36 on 24 February 2022. There was some recovery in late March, with a peak of $8.11.
In May, the depegging of the UST stablecoin led to the collapse of the associated LUNA cryptocurrency, causing SNX to drop to $2.22 on 12 May 2022. The cancellation of withdrawals on the Celsius (CEL) crypto platform in June confirmed the bearish trend, resulting in SNX falling to a low of $1.45 on 18 June, its lowest price in about two years.
There was a partial recovery, with SNX reaching a high of $4.33 on 11 August. However, the price subsequently declined; by 7 November, it was worth only $2.77. The market crash caused by the collapse of the FTX (FTT) exchange further affected SNX, pushing it to a low of $1.55 on 14 November.
The start of 2023 was positive for SNX, as it surpassed $2 on 14 January 2023 and reached $3 on 8 February, its highest price since mid-September. Although there was a slight fallback, the price recovered to $3.23 on 5 March following the launch of a new protocol version.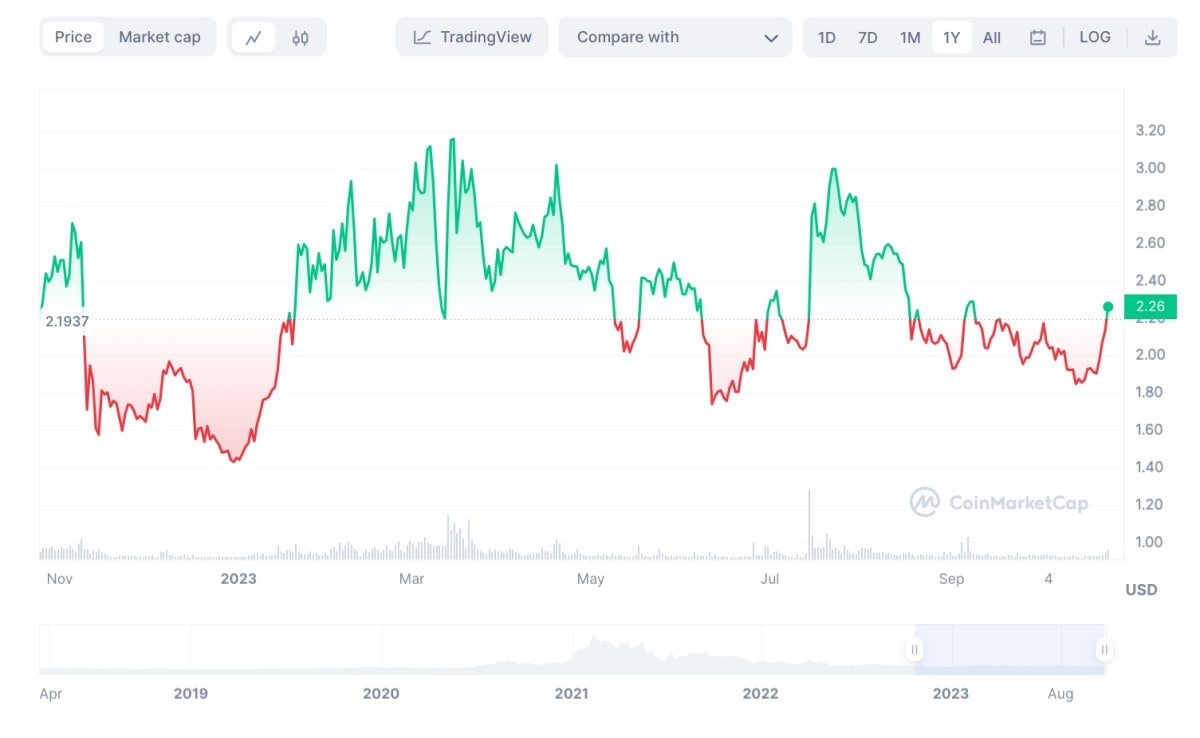 In the last 30 days (25 October 2023 is the time of writing this SNX crypto token price prediction), the price of SNX increased by 14.22%, adding $0.281656 to its previous value of $1.98 and pushing the market capitalisation to $615,567,514. However, considering the recent drop of 18.98% in the last 3 months, it might be advisable to wait for another bear market before investing in SNX if you are considering buying Synthetix today.
Synthetix Network technical analysis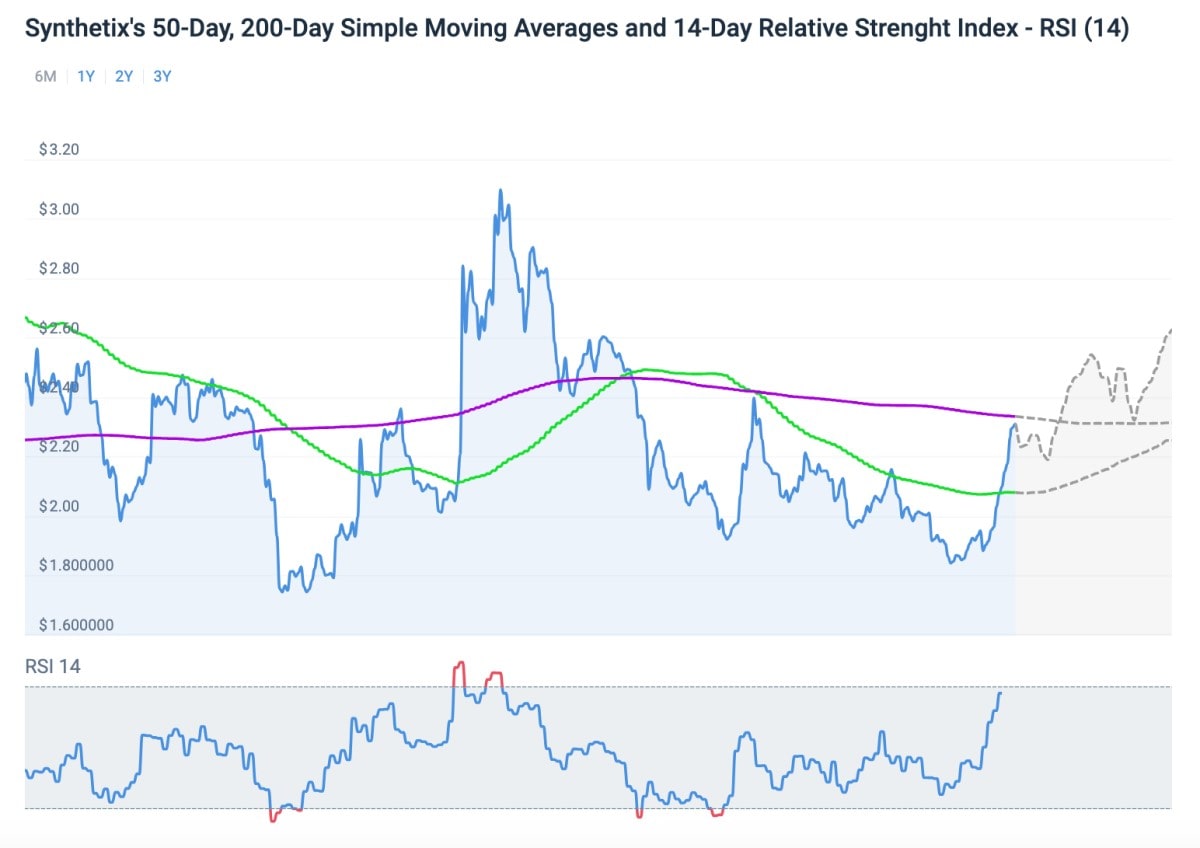 According to data from 25 October 2023, the overall sentiment for the price prediction for crypto coin is neutral. Among the technical analysis indicators, 23 suggest bullish signals, while 10 indicate bearish signals. Technical indicators predict Synthetix's 200-day SMA will decline in the coming month and reach $2.32 by 23 November 2023. Additionally, the short-term 50-day SMA is expected to reach $2.26 by the same date. The RSI value is currently at 68.04, indicating a neutral position for the SNX market.
Synthetix Network Token price in 2023
Synthetix, believed by many to be an extraordinary cryptocurrency this year (SNX), is predicted to experience a noteworthy surge in the second half of 2023, potentially reaching $3.35. Similar to other cryptocurrencies, the rise in value will be gradual, with no significant declines projected. While aiming for an average price of $3.13 may be ambitious, it is attainable in the foreseeable future due to anticipated partnerships and advancements. $2.68 is the minimum price prediction for crypto SNX.
Is SNX a good investment?
Synthetix is widely regarded as a lucrative investment option by experts and traders due to its consistent track record of delivering substantial returns. The value of Synthetix has been steadily rising, making it a promising choice for investors seeking a good return on their investment.
Synthetix Network Token (SNX) price prediction 2023-2050
WalletInvestor Synthetix crypto token price prediction for 2023, 2025, 2030, 2040 and 2050
According to WalletInvestor's price prediction for crypto, the Synthetix crypto token is expected to reach a price of approximately $1.224 by 2023. By 2025, the price prediction for crypto coin is $1.552. Looking ahead to 2028, the estimated average SNX Network Token price is $0.04.
LongForecast Synthetix Network Token price prediction for 2023, 2025 and 2030
According to LongForecast, the Synthetix Network Token price could reach $3.70. However, they also predicted that 2024 might not be a good year for the token, with a potential closing price of $1.74. Despite this, they anticipate a recovery to $2.27 in December 2025. Furthermore, LongForecast shares a negative price prediction for crypto coin in 2026, assuming the Synthetix Network Token price could drop to $2.03 by December 2026 before bouncing back to $3.26 in April 2027.
CoinCodex SNX crypto token price prediction for 2023, 2025 and 2030
According to CoinCodex, the Synthetix Network Token price is forecasted to decrease by 1.68% and reach $2.28 by 29 October 2023. The token prediction in 2024 is $2.19. Additionally, the price of Synthetix is expected to reach a high of $9.23 next year. As for 2025, the projected price range for Synthetix is between $2.53 and $7.83. Looking further ahead to the 2030 coin prediction, the estimated Network price range is between $1.031924 and $5.38.
CoinPriceForecast Synthetix Network Token price prediction for 2023, 2025 and 2030
According to CoinPriceForecast's Synthetix token price prediction, SNX could reach $7.40 by the end of that year, followed by a rise to $8.56 in the following year and $11.10 in the year after that. The website also anticipated that SNX could close the decade at approximately $19.11.
Synthetix Network Token future forecast in general
Predictions for the Synthetix Network Token (SNX) offer a mixed outlook. According to various sources, the token's future price fluctuates. 
WalletInvestor forecasts a price of around $1.224 by 2023, while LongForecast suggests a potential price of $3.70 for that year. 
CoinCodex, however, expects a modest decrease to $2.28 by October 2023. The future is less certain, with price predictions varying widely. 
Some sources anticipate recovery and growth, with SNX potentially reaching $19.11 by the end of the 2030s, according to CoinPriceForecast.
How high can Synthetix go?
CoinPriceForecast shares the most optimistic price predictions for the crypto coin Synthetix (SNX), anticipating a high of $19.11 by the end of the decade. 
Synthetix crypto token price prediction today
SNX Price Prediction for 2023 indicates that the crypto market is on the verge of a new era. Optimism surrounds SNX's long-term price forecast. By the end of 2023, the average price for SNX could reach $2.78, with a minimum value of $2.68. A maximum price of approximately $3.03 is also anticipated.
Tags
Exchange BTC

Try our Bitcoin Cloud Miner and get additional crypto rewards based on your trading volume. It's immediately available upon registration.

Try our Bitcoin Cloud Miner and get additional crypto rewards based on your trading volume. It's immediately available upon registration.
Instrument
Rate
Change (24h)