Telcoin (TEL) Price Prediction 2023, 2025-2040

One important benefit of cryptocurrencies is that they can serve as a substitute for banks for people with limited access to traditional banking services. However, despite their growing popularity, their adoption is still relatively slow. The Telcoin company is trying to make cryptocurrencies available to any mobile phone user. In this article, we'll explore the Telcoin crypto platform, its native token TEL and its price predictions.
What is Telcoin (TEL)?
Telcoin is a cryptocurrency project that aims to leverage blockchain technology to create a global financial ecosystem that connects mobile network operators, mobile financial service providers, and users to provide high-quality, low-cost, and secure financial products to any mobile phone user in the world.

People everywhere are tired of overpaying for basic financial services like remittance, and they are ready to migrate to an alternate, decentralised platform like Telcoin. – Paul Neuner, Co-founder and CEO of Telcoin.
The history of Telcoin
Telcoin Pte. Ltd. was founded in 2017 by a serial entrepreneur with extensive experience in telecommunications and cybersecurity Paul Neuner and computer scientist Claude Eguienta. The company is headquartered in Singapore. The Telcoin platform's ICO was held in December 2017, selling 20% of the total amount of tokens and raising $25 million. In June 2020, Claude Eguienta left the project to join blockchain company Mimo as Chief Executive Officer. In early February 2021, the Telcoin V2 upgrade was launched, adding fiat remittances and identity verification for Telcoin app users. Telcoin V3 was launched in the summer of 2021, introducing the decentralised liquidity network TELx and the open Ethereum sidechain Rivendell.
Telcoin's features
Telcoin aims to provide an alternative to traditional financial services by utilising the widespread adoption of mobile phones and mobile money services, especially in developing countries, to make financial services more accessible, efficient, and affordable for all.
Telcoin sees its potential customers in all smartphone users and tries to provide them with intuitive solutions so that people not interested in cryptocurrencies can use Telcoin with ease.
There are three main elements comprising the Telcoin platform:
TEL. This is the native utility token of the platform. Being an ERC-20 token, it's compatible with any apps and wallets that support this standard. The main token issuers are GSMA Member Mobile Network Operators (MNOs), which serve as validators and issue tokens based on the volume of their transactions. The token is used as a medium of exchange on the platform.
Telcoin app. This is the application layer of the platform. It's an easy-to-use graphical user interface (GUI) that provides access to all Telcoin products, including a 2-of-3 multi-signature Ethereum wallet and fiat remittance portal, which currently supports fiat remittances from the US and Canada to 16 countries. The holders of signatures to the wallet are the user, MNO, and Telcoin itself. Originally launched on Ethereum, the Telcoin app now runs on Ethereum's Layer 2 scaling solution, Polygon Network.

TELx. This is the liquidity engine of the platform. It's a decentralised liquidity network powered by active Telcoin users on decentralised financial (DeFi) protocols. It serves as an engine for Telcoin's non-custodial financial products.
Rivendell. This is a settlement network of the platform. It's an open Ethereum sidechain which is run, validated and secured by MNOs. It enables MNOs to offer blockchain-based, non-custodial financial services to their customers.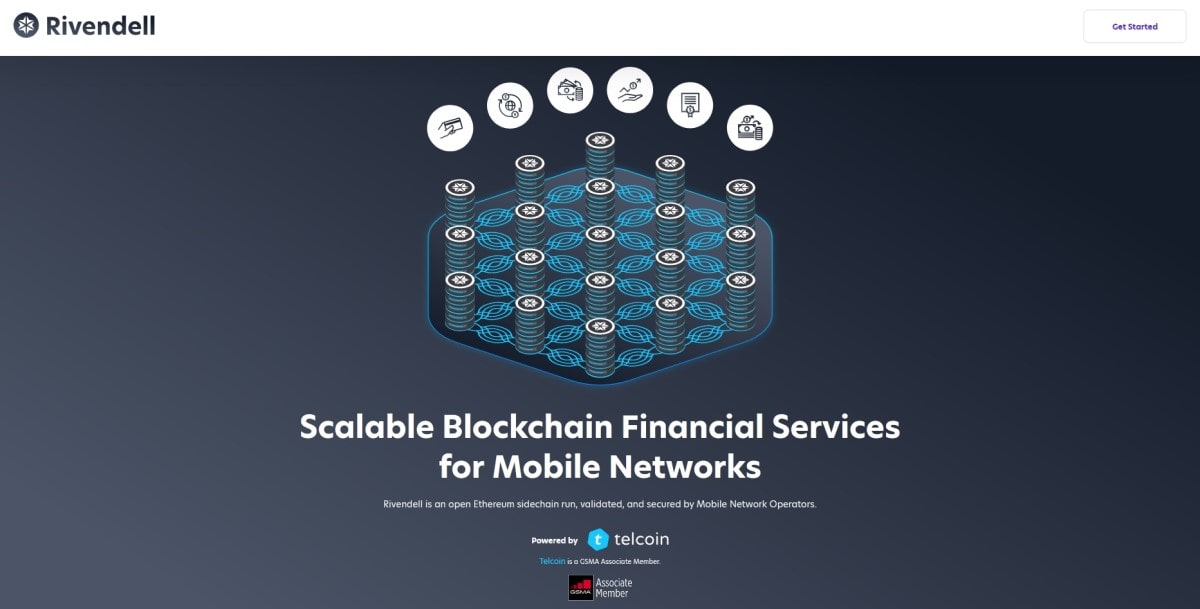 Telcoin (TEL) price analysis
As of 14 April 2023, the TEL token ranked 230th among cryptocurrencies by market capitalisation at $175,758,252.
TEL price statistics (as of 14/04/23)
| | |
| --- | --- |
| Current price | $0.002632 |
| Market cap | $175,758,252 |
| Circulating supply | 66,789,200,558 TEL |
| Max supply | 100,000,000,000 TEL |
| Daily trading volume | $1,353,986 |
| All-time high | $0.0649 (11/05/21) |
| All-time low | $0.00006516 (13/03/20) |
| Website | |
TEL's price history
TEL began to be tracked on Coinmarketcap.com in January 2018. At that time, its price was around $0.0061.
The token's price declined until 19 March 2020, when it reached its all-time low. After that, the price began to recover. Since early January 2021, the price has started growing rapidly. This continued until the all-time high was reached on 11 May 2021. The subsequent price decline continued until the end of October 2022.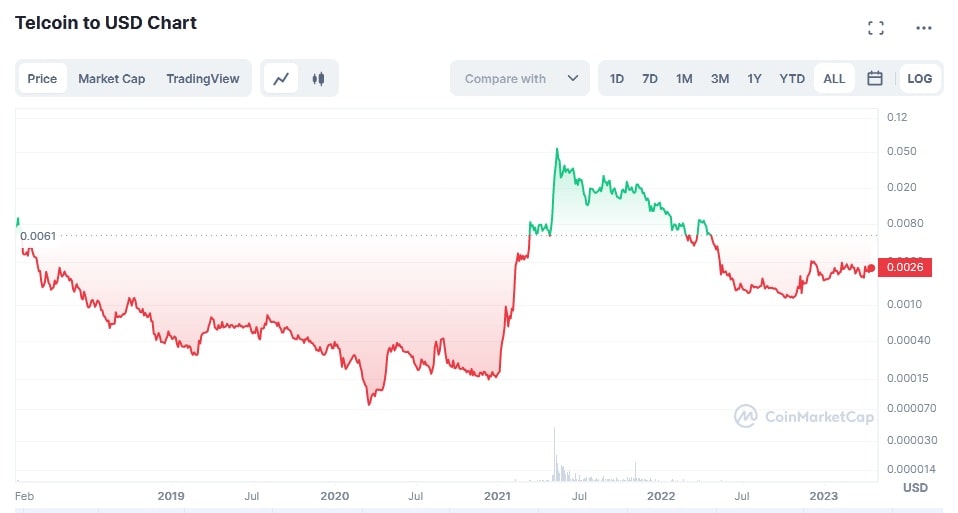 TEL technical analysis
The TEL price has been moving sideways since December 2022. In late March, the price tested the strong diagonal support line several times and rebounded from it. Moving averages and MACD indicate bullish sentiment. The nearest support levels are $0.00187 and $0.00116. The nearest resistance levels are $0.0033 and $0.0045.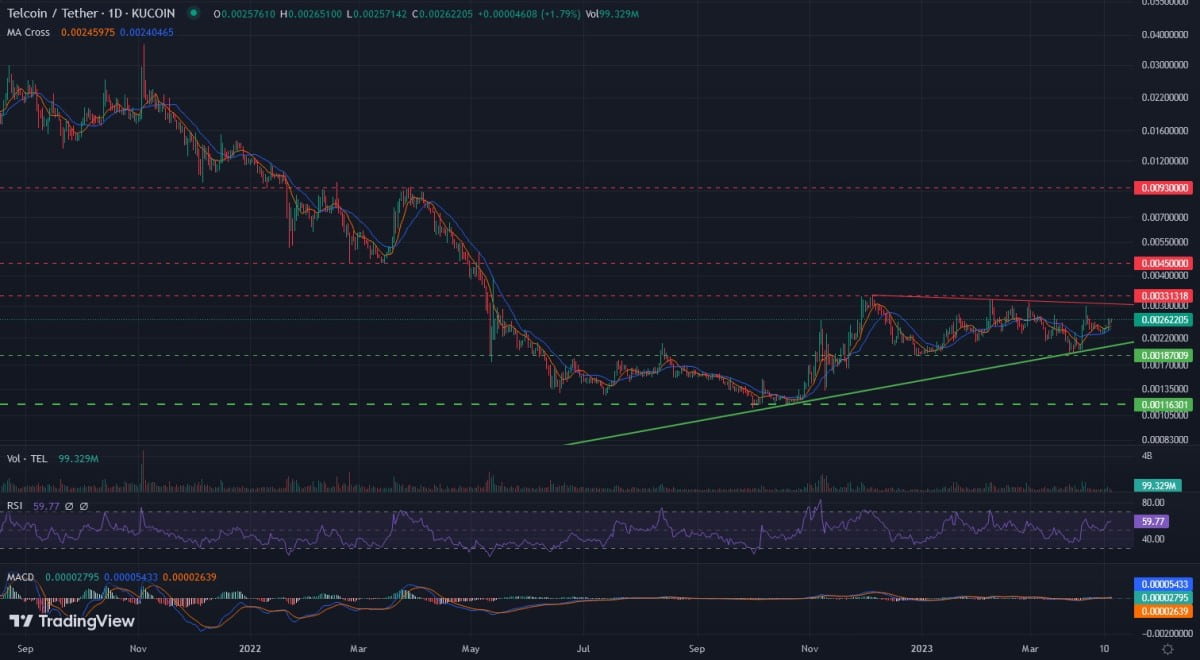 Telcoin (TEL) price prediction 2023
At the end of October 2022, the TEL price began to recover from the bear market but has been moving sideways since December 2022. Meanwhile, a strong diagonal support line is pushing the price upwards. Should the bullish trend in the crypto market continue, a bullish exit from the sideways movement is highly likely. If the trend changes to bearish, a break of the diagonal support line with further price declines is most probable.
Telcoin (TEL) crypto price prediction for 2023, 2025, 2030 and 2040
Now, let's take a look at what popular prediction services think about Telcoin's prospects.
Wallet Investor's TEL price prediction for 2023, 2025, 2030 and 2040
Wallet Investor believes that in 2023 the price of TEL will decrease, and it'll be $0.000159 at the end of the year. However, in subsequent years, the price will rise despite fluctuations and will reach $0.000619 at the end of 2024, $0.000589 at the end of 2025 and $0.000745 at the end of 2026. In 5 years, in April 2028, the price will reach $0.000884.
CryptoNewsZ's TEL price prediction for 2023, 2025, 2030 and 2040
CrytpoNewsZ also forecasts that the price will increase. According to them, the token's price might be $0.0040 in 2023, $0.0071 in 2024, $0.0085 in 2025, and $0.025 in 2030.
Cryptopolitan's TEL price prediction for 2023, 2025, 2030 and 2040
Cryptopolitan agrees that the TEL's price will rise. They expect the average price to reach $0.003 in 2023, $0.005 in 2024, $0.007 in 2025, and $0.040 in 2030.
DigitalCoinPrice's TEL price prediction for 2023, 2025, 2030 and 2040
Also predicting a price increase, DigitalCoinPrice disagrees on specific figures. According to their estimates, the token will be worth $0.00578 at the end of 2023, $0.00591 at the end of 2024, $0.00908 at the end of 2025 and $0.01860 at the end of 2030.
Alt6: DigitalCoinPrice's TEL price prediction for 2023-2032
Longforecast's TEL price prediction for 2023, 2025, 2030 and 2040
The Longforecast's prediction is markedly different from previous ones. While they expect the price to rise to $0.0038 by the end of 2023, they believe a fall will follow. They calculate that the price will reach $0.0013 at the end of 2024. The price will then recover to $0.0025 by the end of 2025 and remain at about this level in 2026. In December 2026, they expect the price to be $0.0024.
Gov Capital's TEL price prediction for 2023, 2025, 2030 and 2040
Gov Capital's forecast is very optimistic. They believe the price will reach $0.0113 in a year and $0.0618 in 5 years.
CryptoPredictions'TEL price prediction for 2023, 2025, 2030 and 2040
According to CryptoPredictions' forecast, the average price will grow to $0.00334 by the end of 2023, $0.00400 by the end of 2024, $0.00504 by the end of 2025 and $0.00647 by the end of 2027.
Telcoin (TEL) overall future value predictions
Is Telcoin a good investment?
The international remittance market has long been in need of change. Slow transactions and exorbitant fees are just some of its problems. In fact, dissatisfaction with the status quo in this market is one of the reasons cryptocurrencies are growing in popularity.
Telcoin is an ambitious project attempting to reconfigure the global remittance infrastructure. It has a number of advantages that make it a promising project:
Reliance on mobile device users. Telcoin is designed so that users can easily make international remittances directly from their mobile devices. With more than 6.5 billion mobile network users worldwide and growing, the number of potential users of the platform is huge.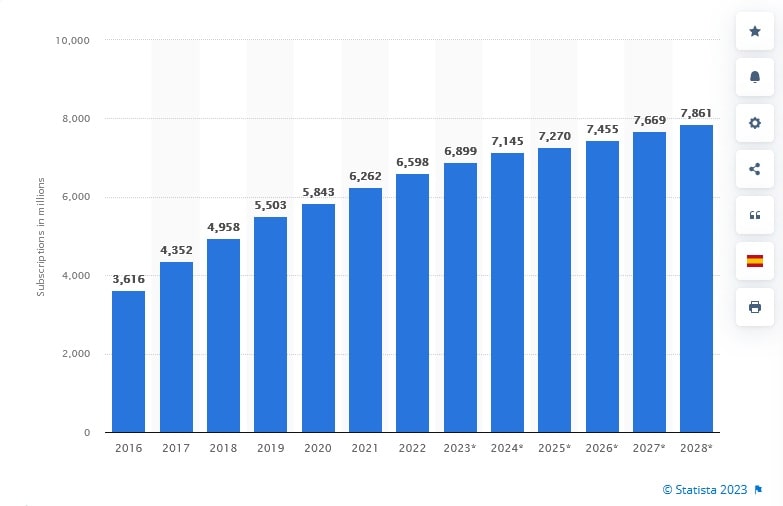 Use of the existing infrastructure of mobile money operators. Telcoin forms partnerships with mobile money operators in various countries, which allows for the seamless integration of Telcoin services into existing mobile money ecosystems.
Regulatory compliance. Telcoin is committed to complying with applicable regulations. This commitment helps build credibility with users and partners and ensures that Telcoin operates within legal frameworks making it easier to deploy in various jurisdictions.
The project continues to develop. Despite criticism for frequent delays in updates, the project continues developing and growing.
However, the platform also has a number of drawbacks worth considering:
Dependence on Mobile Network Operators. Telcoin's platform relies on partnerships with MNOs for its services to function. This dependence introduces additional complexities, such as potential unwillingness to integrate Telcoin technology into its own, negotiation of terms, and potential reliance on the infrastructure and policies of MNOs, which may be subject to change or limitations.
Competition. Most cryptocurrency projects involve fund transfers, and many are able to offer much lower fees than Telcoin. Currently, Telcoin has the advantage of focusing primarily on developing countries, where it can be difficult to convert crypto into fiat, but other projects are also looking to solve conversion problems.
Censorship vulnerability. Due to its dependence on partnerships with MNOs, Telcoin's platform may be vulnerable to censorship or restrictions imposed by these operators or regulatory authorities. This could result in limited access to the platform or transaction restrictions. An additional concern is the 2-of-3 multi-signature wallet, where a user only controls one of three signatures and, therefore, has no real control over their funds.
Under-representation on large centralised crypto exchanges. The TEL token isn't traded on the largest CEXs. Most of the volume is traded on the Kucoin cryptocurrency exchange.
How high can the Telcoin token go?
The prospects for the token largely depend on the further development of the project and the partnerships with MNOs. Overall, breaking the resistance level of $0.0093 looks quite possible in the foreseeable future.
Telcoin (TEL) price prediction today
Despite the bullish sentiment, the price is currently between the diagonal support and resistance lines and, therefore, could move towards either of them. In such a situation of uncertainty, the best option would be to wait for a more definite trading setup.
Tags
Exchange BTC

Try our Bitcoin Cloud Miner and get additional crypto rewards based on your trading volume. It's immediately available upon registration.

Try our Bitcoin Cloud Miner and get additional crypto rewards based on your trading volume. It's immediately available upon registration.