Theta Fuel (TFUEL) price prediction 2022-2030

Blockchain technology is transforming many industries where services have traditionally been centralised. One of those industries is video streaming, which is currently dominated by centralised platforms such as YouTube and Twitch. In this article, we'll tell you about a project that's trying to compete in the area by taking advantage of the blockchain. This project is called Theta, and like some other blockchain projects, it uses two different tokens. We'll take a look at one of these tokens, Theta Fuel (TFUEL), examine its price predictions and provide you with all the information you need to decide whether or not to invest in it.
What is Theta Fuel (TFUEL)?
Theta is a blockchain-based decentralised video streaming network where users share excess bandwidth and computing resources to enhance video quality.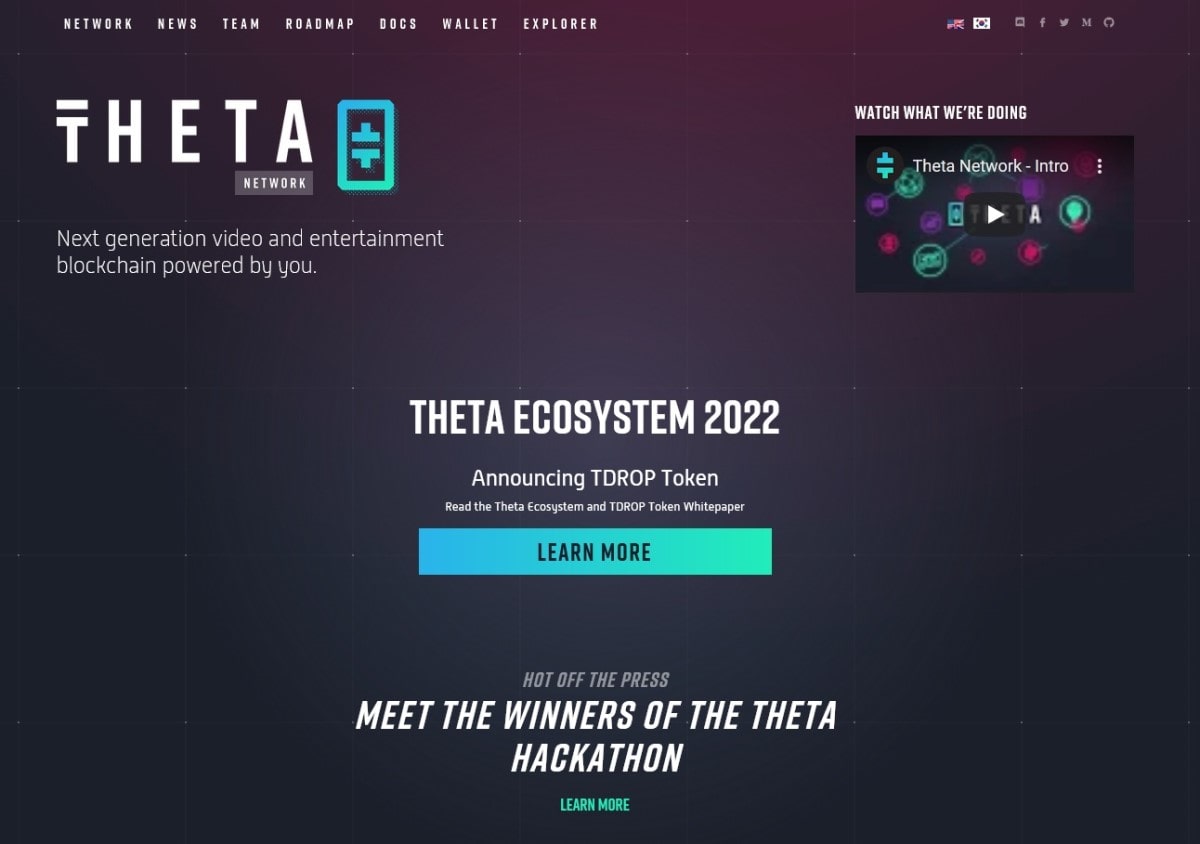 In the long term, we see Theta as a way for anyone to contribute excess bandwidth/resources to the Theta Network, without a single centralised party coordinating the p2p connections or payments between users. — Mitch Liu, Co-Founder and CEO of Theta Labs and THETA.tv.
The history of Theta Fuel
Theta Labs was founded by Mitch Liu and Jieyi Long in 2016. The main consultant for the project is Steve Chen, co-founder of YouTube.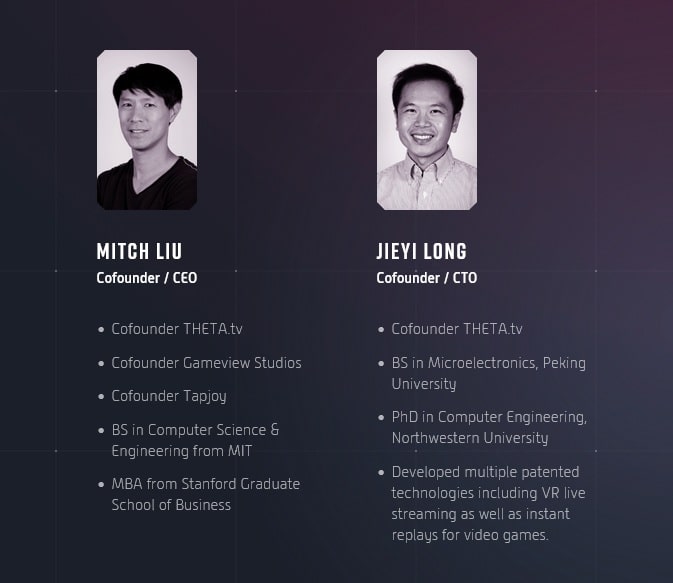 In 2018, the project's ICO took place, and Theta Network was set up on the Ethereum blockchain. In March 2019, the Theta mainnet was launched on its own blockchain, and the TFUEL token was developed in the same year. May 2020 saw the start of the second version of the Theta mainnet.
On 4 February 2021, the ThetaSwap DEX decentralised exchange was launched on the Theta blockchain. Mainnet 3.0 was launched on 30 June 2021.
Theta Fuel's features
The video streaming industry currently has a number of problems associated with the growth of both the volume of streamed videos and their resolution, as well as with the high degree of centralisation in this industry:
Centralised Content Delivery Networks (CDN) receive a large percentage of the reward, while only a small fraction of it reaches platforms and video creators.
Content Delivery Networks (CDN) has low reach. Buffering issues are common, and downloads are slow in remote locations.
Due to the growing needs of viewers and video content providers, the existing infrastructure cannot cope with them in high-definition 4K and 8K streams.
Theta Network allows users on Theta-enabled platforms to relay video streams they are watching to other viewers in their local area. For sharing video with their peers and contributing their bandwidth to the network, they receive rewards in TFUEL tokens. The peer-to-peer network delivers high-quality video to any location. This is possible because user devices (which act as caching nodes) are geographically located close to each other, in contrast to CDNs' data processing centres.
The Theta blockchain uses a unique consensus mechanism called Multi Byzantine Fault Tolerance (PoS subtype). Unlike the simple BFT, it allows a much higher transaction speed.
The Theta ecosystem includes the following members:
Streamers are content creators who are rewarded in tokens.
Viewers are users who consume video content. They receive tokens for watching videos and ads.
Advertisers use the platform to advertise services and products to viewers. They use Theta tokens to pay for online advertising time and also sponsor streamers.
Caching Nodes are computers and servers that provide caching services that improve video quality and speed up video delivery. These nodes are also rewarded in tokens.
Ingest Nodes help provide different bitrates, stream resolution, etc. They also help caching nodes to broadcast live, for which they receive rewards.
Theta Fuel (TFUEL) is an operational token on the Theta blockchain and is used as payment for video content relayers' work, for viewing video content, creating and interacting with smart contracts and THETA staking. The emission of TFUEL tokens is unlimited but will occur at a rate of no more than 5% of the total supply of tokens per year. Thus, TFUEL tokens are subject to inflation but at a relatively low rate.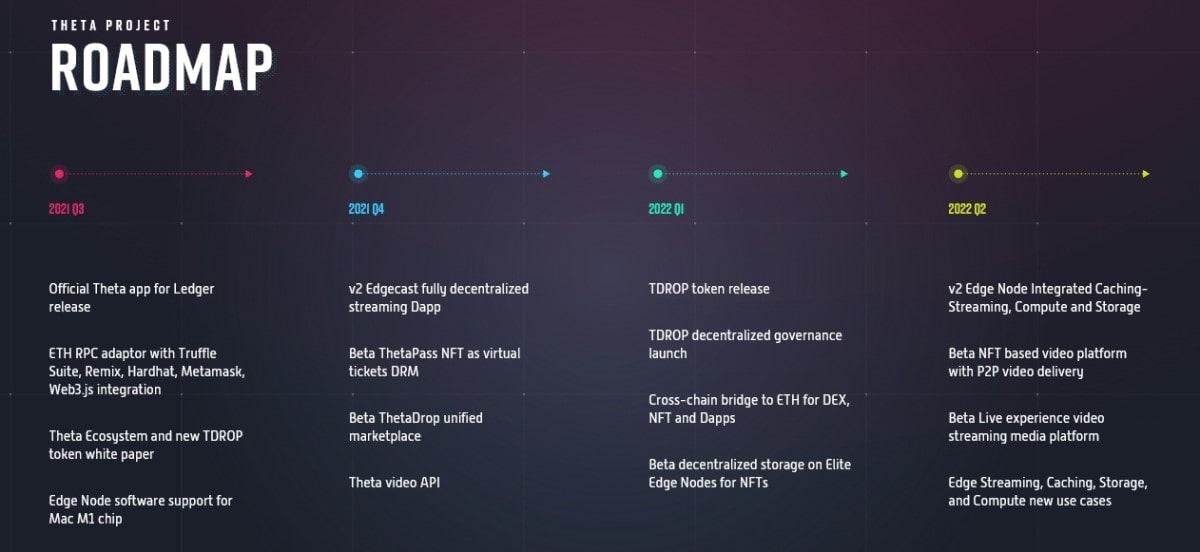 Theta Fuel (TFUEL) price analysis
At the time of writing, the TFUEL token ranked 96th among cryptocurrencies by market capitalisation at $404,023,917.
TFUEL price statistics (as of 13/05/22)
| | |
| --- | --- |
| TFUEL current price | $0.0.07621 |
| Market cap | $404,023,917 |
| Circulating supply | 5.30B TFUEL |
| Max supply | Unlimited |
| Daily trading volume | $38,873,360 |
| All-time high | $0.6807 (09/06/21) |
| All-time low | $0.0008894 (13/03/20) |
| Website | |
TFUEL's price history
Theta Fuel token was launched in March 2019. The first major crypto exchange to list it was the South Korean Upbit, where TFUEL was traded in a pair with the South Korean won. Two months later, the token was listed by Binance.
The token was launched during a bearish crypto market, so it should come as no surprise that the coin's price declined until early 2020. The crypto market began to recover in February 2020 but was interrupted by the collapse in March. On 13 March, TFUEL's price dropped to its all-time low. This was followed by a slow price recovery. In May 2020, amid the launch of the second version of the Theta mainnet, the price rose sharply, reaching a local high of $0.0243. That was followed by a correction, after which the price, despite fluctuations, moved sideways in the range of $0.008-$0.013. The sideways movement continued until December 2020 and gave way to exponential growth. On 24 March 2021, the price rose to a local high of $0.57 and entered a correction that continued until the end of April.
In May 2021, the price again experienced an increase, but, having reached a local high of $0.424, it dropped again to a local low of $0.145. That was followed by a sharp rise, during which the price reached its all-time high on 9 June 2021. After that, the token's price experienced several substantial fluctuations and a correction, leading it to start moving sideways in the range of $0.25-$0.40.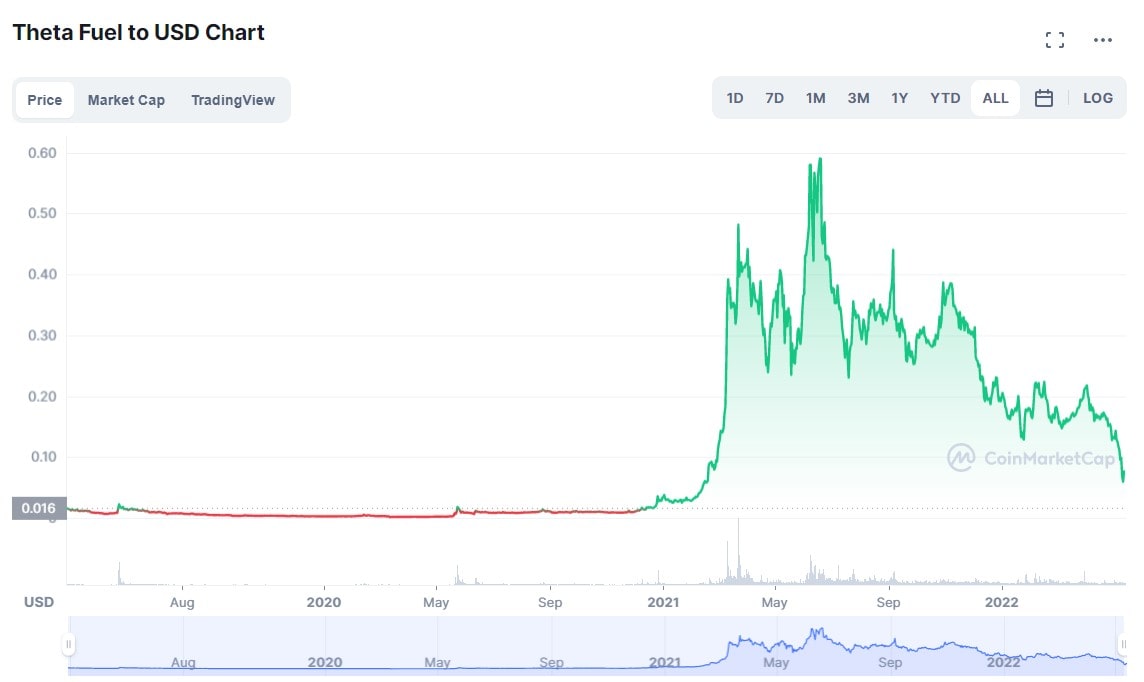 Theta Fuel technical analysis
The crypto market is unapologetically bearish, and so is TFUEL. The price has consistently traded lower after it peaked in late May 2021, creating an overwhelming bearish market structure and breaking through several key support zones.
TFUEL is currently trading above a support zone at around $0.06 after the price recently rebounded from the support level. We don't expect a trend reversal at that point since there is still significant bearish pressure on the crypto market in general. The 50-day and 100-day Exponential Moving Averages (EMA) are also acting as dynamic resistance to price, which may also suggest that TFUEL will move lower in the coming weeks.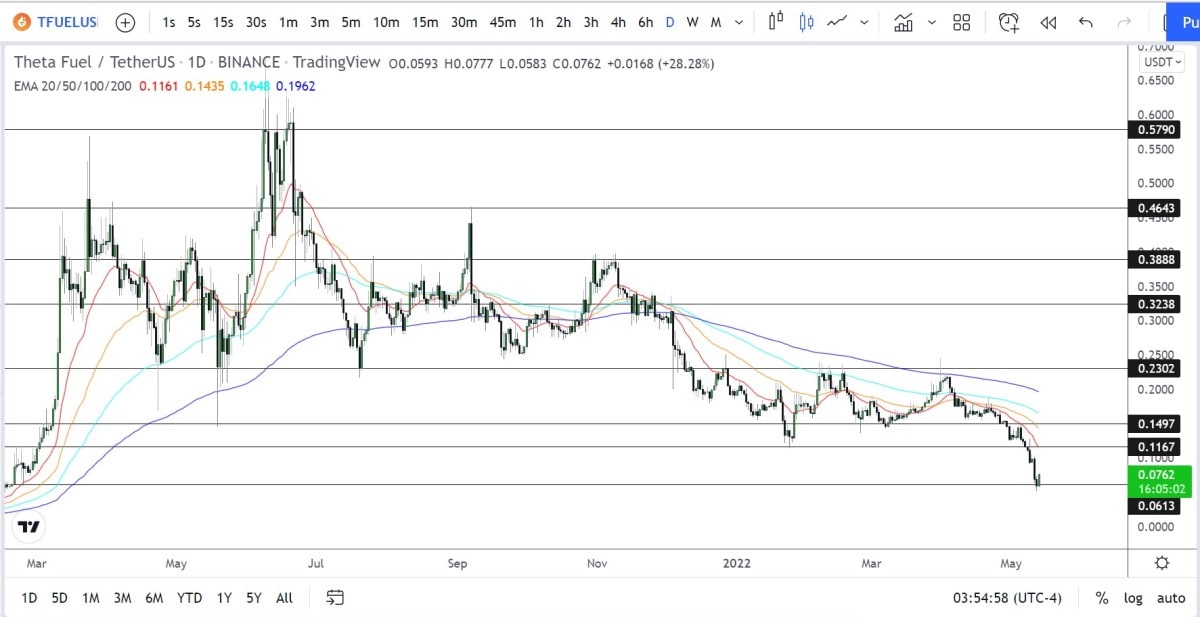 Theta Fuel (TFUEL) price prediction 2021
In the absence of sharp fluctuations in the crypto market in the remaining weeks of the year, the price continued to consolidate lower and eventually closed the year at around $0.19.
Theta Fuel (TFUEL) price prediction for 2022, 2023, 2025, 2030
As usual, we've compiled for you TFUEL crypto price predictions made by popular forecasting services.
TradingBeasts' TFUEL price prediction for 2022, 2023, 2025, 2030
TradingBeasts believe that the price of TFUEL in the coming years will fluctuate in the range of $0.06-$0.20 and will be $0.16 at the end of 2025.
Wallet Investor's TFUEL price prediction for 2022, 2023, 2025, 2030
Wallet Investor is more pessimistic in its TFUEL price predictions. According to their calculations, the token's price will fall by over 95% in one year. That translates to a price drop to $0.00321 in 2023 and another -86.36% decline in 2024.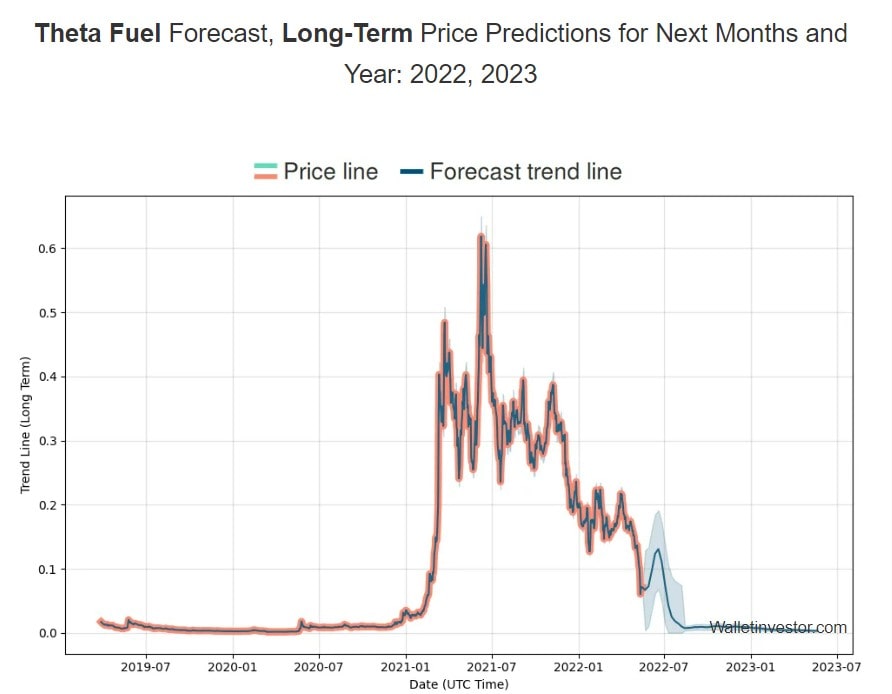 DigitalCoinPrice's TFUEL price prediction for 2022, 2023, 2025, 2030
While DigitalCoinPrice is known for its optimistic price predictions, and TFUEL is no different. According to their models, the token will be worth $0.11 in a year, $0.12 in two years and $0.19 in five years.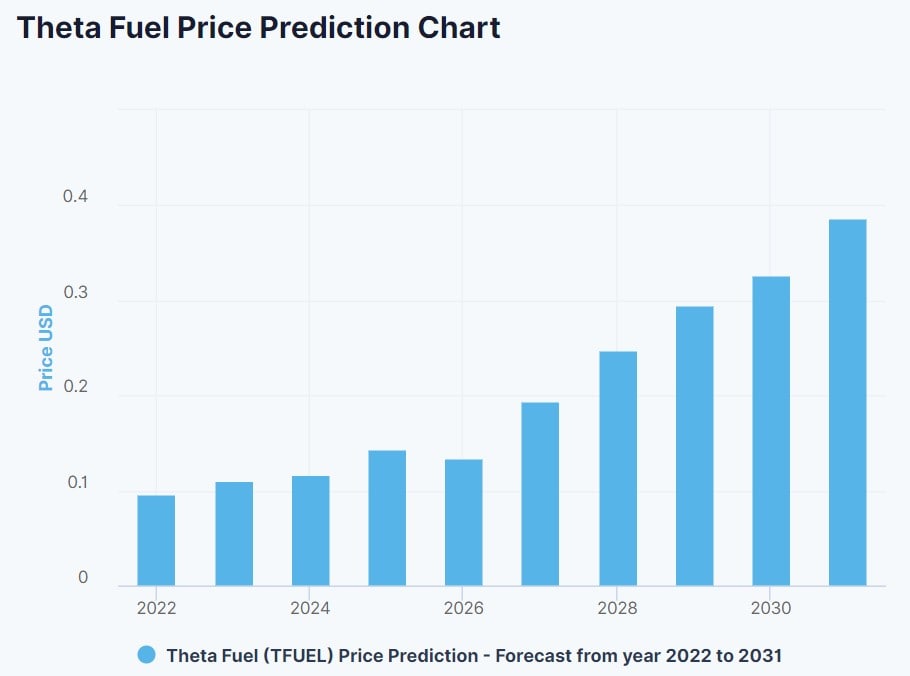 Gov Capital's TFUEL price prediction for 2022, 2023, 2025, 2030
Gov Capital predicts a considerable rise in the token price in the coming years. They believe the price will rise to $0.42 in a year and to $3.01 in 5 years.
CryptoPredictions' TFUEL price prediction for 2022, 2023, 2025, 2030
The young but nonetheless quite well-known website CryptoPredictions.com hasn't ignored TFUEL either. They suppose that the price of the token in 2022 will be stable and will move sideways in the range of $0.47-$0.48. In 2023, the price will begin to decline slowly, and it will be $0.418 in December 2023. In 2024, the price will increase to reach $0.558 by the end of the year. In 2025, the price will experience a correction, but it will return to $0.558 at the end of the year.
Theta Fuel (TFUEL) overall future value predictions
The outlook for the project looks good. There are many signs that it will grow and evolve:
Demand for streaming video is high and growing.
The company's technical solutions distinguish it favourably from centralised competitors.
A team of skilled developers is working on the project.
The validators in Theta blockchain are such giants as Google, Sony, Samsung, Binance and others.
At the same time, there are certain concerns associated with TFUEL trading volume. At the time of writing, more than 40% of the daily trading volume of the TFUEL token is on the relatively little-known Pionex exchange. This disproportion may be a sign that the token's price is being artificially manipulated.
In addition, the initial distribution of the project's governing token, THETA, was quite centralised. And a high degree of centralisation can be a problem for a project that positions itself as decentralised.
How high can Theta Fuel go?
If the project can really compete with the centralised giants in the video streaming market, the price of the TFUEL token could reach $10.
Theta Fuel (TFUEL) price prediction today
In the near future, the most likely scenario is either a rebound that affects the market in general or a fall to the lower prices, and maybe a new all-time low.
Tags
Exchange BTC

Try our Bitcoin Cloud Miner and get additional crypto rewards based on your trading volume. It's immediately available upon registration.

Try our Bitcoin Cloud Miner and get additional crypto rewards based on your trading volume. It's immediately available upon registration.
Instrument
Rate
Change (24h)