Will Shiba Inu Coin Go Up? When Will Shiba Inu Rise Again?

Shiba Inu coin, the most successful Dogecoin imitator, has garnered significant attention in the world of cryptocurrencies. However, the recent market downturns have raised doubts among investors regarding its future prospects. Will Shiba Inu ever go up? What made it go up in the first place? And does Shiba Inu have any future at all? Let's find out.
What is Shiba Inu (SHIB)?
I am not important, and one day, I will be gone without notice. Take the SHIBA and journey upwards frens. – Ryoshi, Founder of Shiba Inu.
Shiba Inu (SHIB) is a meme-inspired cryptocurrency launched in August 2020 by an anonymous developer under the pseudonym Ryoshi. The token creator was clearly inspired by the success of another meme cryptocurrency, Dogecoin. The developer positioned his coin as a "Dogecoin killer". Therefore, it's not surprising that, as with Dogecoin, the Shiba Inu dog was chosen as the mascot of SHIB.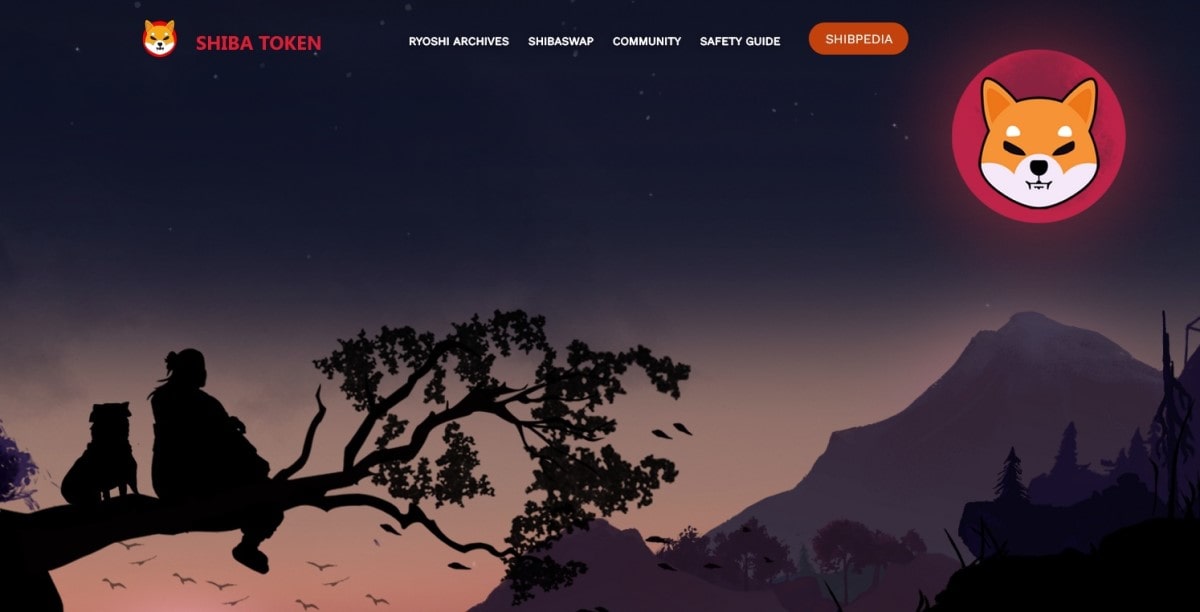 SHIB is an ERC-20 token that runs on the Ethereum blockchain. It's the main token of the Shiba Inu ecosystem. One of the most important elements of this ecosystem at the moment is the decentralised crypto exchange (DEX) ShibaSwap. Behind the token and the ecosystem, there's a strong and fairly large community, the ShibArmy, as they call themselves.
 
At the end of May 2022, Ryoshi left the project. The current lead developer of Shiba Inu is someone under the pseudonym Shytoshi Kusama.
On 15 February 2023, Shytoshi Kusama introduced Shibarium, a Layer-2 (L2) blockchain that, according to the developer, will serve as an important stepping stone for the ecosystem's further development.
Shiba Inu (SHIB) characteristics (as of 22/02/2023)
| | |
| --- | --- |
| Consensus algorithm | |
| Token standard | ERC-20 |
| Market rank | #13 |
| Current price | $0.0000127 |
| Market cap | $6,970,246,989 |
| Daily trading volume | $287,458,920 |
| Circulating supply / Max supply | 549,063 billion / 589,735 billion |
| Website | |
Will Shiba Inu Go Back Up Again?
SHIB has shown truly impressive volatility over its lifetime. However, although the token is now worth much more than it was in the first months after its launch, it's still 85.65% lower than its all-time high.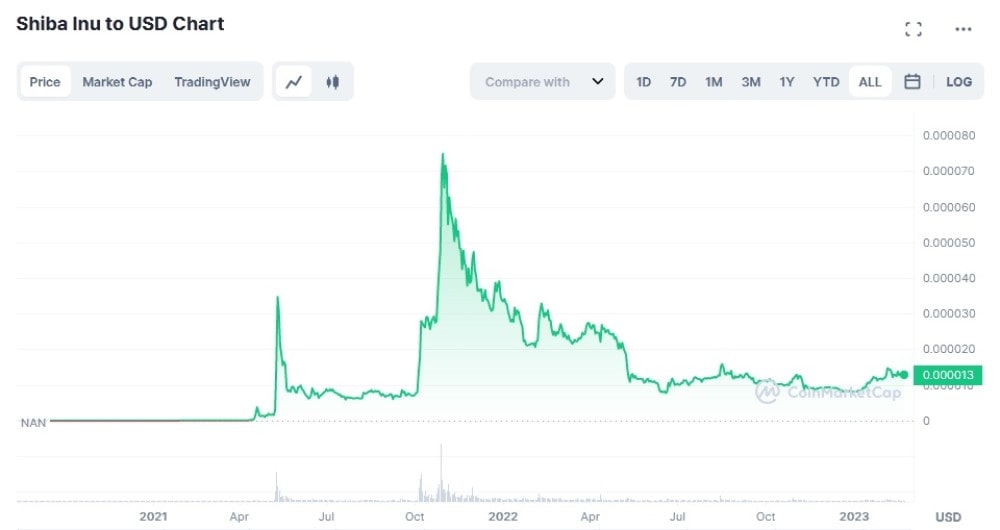 What made Shiba Inu go up?
Shiba Inu's meteoric rise can be attributed to a combination of factors:
The developer's reliance on the coin's mascot meme worked, and in early 2021 the price of Dogecoin soared, followed by the price of Shiba Inu.
The strong community behind SHIB and the meme-inspired culture surrounding it helped drive up demand for the token.
SHIB's rise in popularity coincided with the bull run on the crypto market, which increased demand for the token even more.
The token listing on many major cryptocurrency exchanges also couldn't help but affect the price.
Why is SHIB falling?
However, subsequent events have led to SHIB's price dropping significantly. The cryptocurrency market has entered a bearish phase, and the price of almost all cryptocurrencies, except for stablecoins, has started to decline noticeably. Additionally, the hype surrounding meme-inspired cryptocurrencies has cooled off, and investors have shifted their focus to other opportunities. The lack of a clear roadmap for the project and its real-world utility has led to many investors losing faith in the project's long-term prospects.
When will Shiba Inu go up?
It's challenging to predict when SHIB will rise again. Cryptocurrencies are very volatile, and their price movements are subject to a wide range of factors. However, many signs now indicate that the cryptocurrency market is entering a bullish phase. If this turns out to be true, there's a high probability that the price of SHIB will rise along with the rest of the cryptocurrency market.
The long-term prospects of Shiba Inu will depend on its ability to evolve and adjust to the dynamic cryptocurrency industry. The meme's popularity can be a driving force, but not for very long. For further serious growth of the coin, developers need to actively work on increasing the real-world utility and adoption of the token.
Top Reasons Shiba Inu Can Rise
Despite a significant drop in the token's price compared to the all-time high combined with a general decrease in interest in meme coins, there are several reasons why Shiba Inu may still rise again in the future.
Strong community support. Shiba Inu has a passionate and engaged community that has promoted the project and helped drive up demand for the token. Its continued support can help Shiba Inu rise again.
Continuous development. The platform's developers continue to work on expanding its utility and improving its features, which could help stay competitive and attract more users.
ShibaSwap. The ecosystem has its own DeFi platform ShibaSwap, which attracts additional attention and users.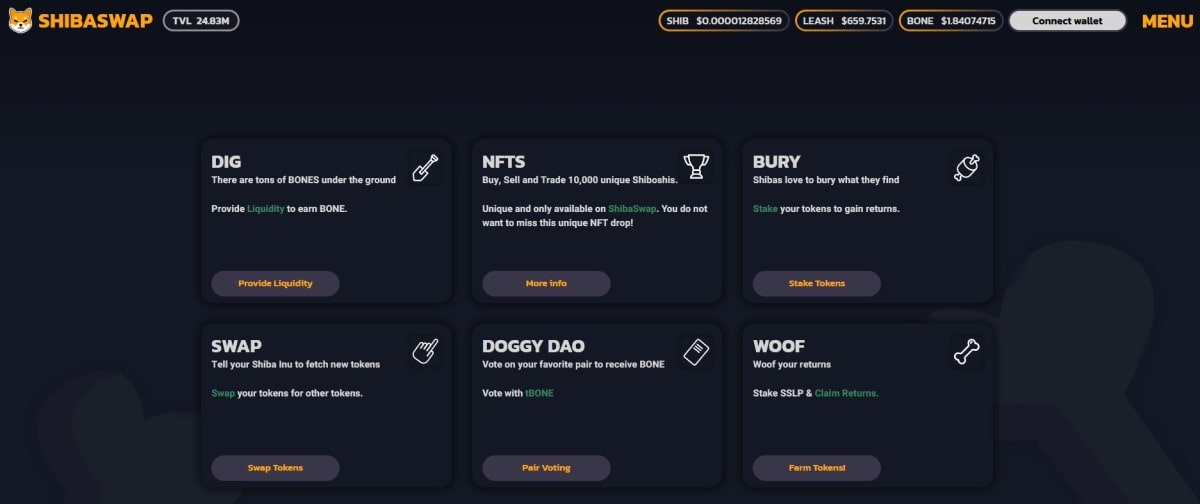 Is It Good to Invest in Shiba Inu in 2023?
Shiba Inu has already demonstrated its ability to both sharply rise and fall in price, bringing huge profits to some of its investors and serious losses to others. The SHIB token is very volatile even compared to the rest of the crypto market, so you need to be especially careful when considering investing in it. Don't invest more than you can afford to lose, and do your research before investing.
Having said that, we note that there's a good chance that the crypto market is entering a bullish phase, which will drag the SHIB price up as well. There are several factors besides the market phase that could drive up the token's value in the future.
However, there are also a number of factors that can have a negative impact on the token's price, such as the lack of real utility, a large number of competitors, the loss of investor interest in meme coins and the lack of a clear roadmap.
Where will Shiba Inu be in 5 years?
Nobody knows. Given the number of factors that could affect the future of both the SHIB token and the entire Shiba Inu ecosystem, it's impossible to predict this. In 5 years, Shiba Inu could potentially become a widely adopted cryptocurrency used for a range of purposes beyond just speculative trading. The ShibaSwap decentralised exchange could become a popular platform for trading various cryptocurrencies, with SHIB serving as a primary trading pair. Additionally, the developers could continue to innovate and add new features to the platform attracting more users and increasing the token's utility. The community could also continue to grow and become more active, launching new initiatives and partnerships to increase the token's adoption.
On the other hand, Shiba Inu may not be up to the challenges that the future will bring. Regulators, the macroeconomic situation, lagging behind competitors, loss of interest from the community and investors, etc., can deal a devastating blow to Shiba Inu.
How high will Shiba Inu go?
Nobody knows for sure. If developers are successful in advancing the project, and the situation in the cryptocurrency market develops favourably, then the token price may repeat its all-time high or even exceed it.
When Is the Best Time to Buy Shiba Inu?
As with other cryptocurrencies, the best time to buy Shiba Inu depends on a range of factors, including individual goals and risk tolerance. Depending on them, you can use various tools such as technical and fundamental analysis and monitor relevant news.
Tags
Exchange BTC

Try our Bitcoin Cloud Miner and get additional crypto rewards based on your trading volume. It's immediately available upon registration.

Try our Bitcoin Cloud Miner and get additional crypto rewards based on your trading volume. It's immediately available upon registration.