Fantom (FTM) price prediction 2022-2030

One of the biggest challenges for the blockchain industry is the so-called "Blockchain Trilemma". According to the trilemma, of the three main characteristics — decentralisation, security and performance — blockchain, in fact, can only have two, at the expense of the third one. Thus, the ideal blockchain would be one that can maximise all three characteristics. In this article, we'll discuss the Fantom project, which attempts to solve this trilemma. We'll explore the Fantom platform as well as its token's price predictions and provide you with information to help you answer the question: is Fantom coin a good investment or not?
What is Fantom (FTM)?
Fantom is a high-performance and scalable decentralised smart contract platform based on DAG (directed acyclic graph). The platform aims to overcome the limitations of previous-generation blockchain platforms such as Ethereum.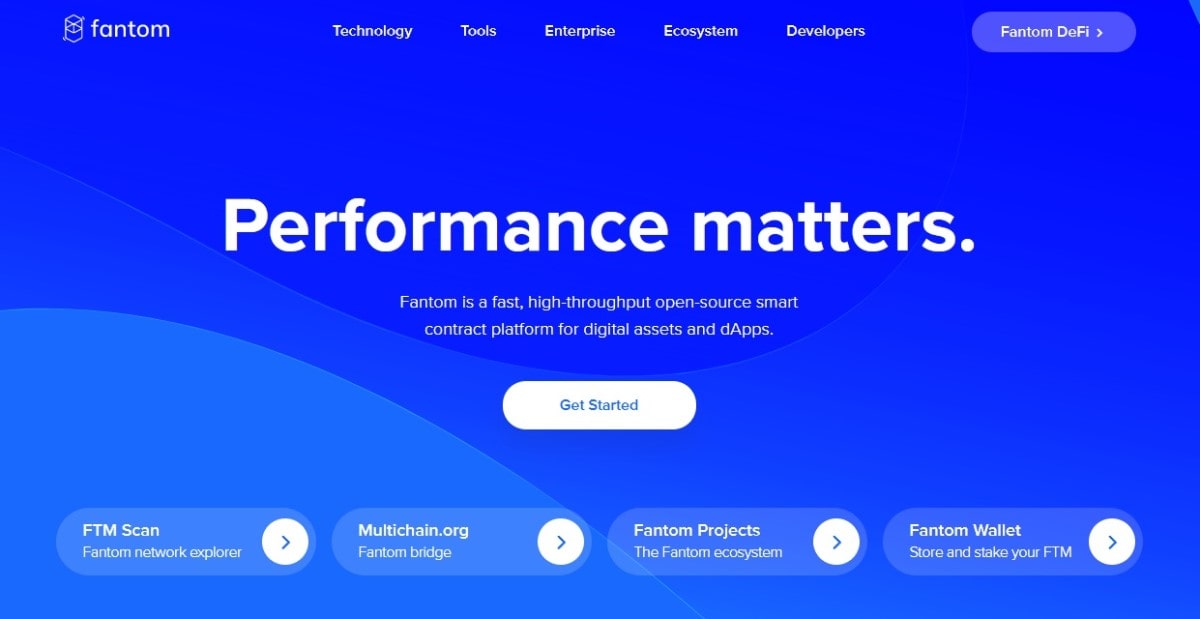 I felt the need to develop a new infrastructure technology that can apply blockchain across the whole society beyond cryptocurrency and finance. — Dr Ahn Byung Ik, Founder of Fantom.
The history of Fantom
The Fantom Foundation was founded in early 2018 by South Korean computer scientist Ahn Byung Ik. Subsequently, the Fantom Foundation's management team changed. The CEO position was taken over by Australian IT specialist Michael Kong.
In the first half of 2018, a seed investment round and two private investment rounds took place, during which the project raised funds from a number of venture capital funds. The project's ICO took place in June 2018. As a result of the token sales, the developers sold more than 40% of FTM tokens and raised around $39.65 million.
The remaining FTM tokens were distributed as follows:
Project team - 7.49%
Consultants - 12%
Reserves - 6%
Block rewards - 32.75%
The Fantom testnet launched in December 2018. On 27 December 2019, the Fantom mainnet went live. In 2021, a programme was created to fund projects that accelerate the network's growth.
Fantom's features
Fantom network uses Lachesis, a DAG-based aBFT (asynchronous Byzantine Fault Tolerance) consensus algorithm. This algorithm has several important features:
Asynchronous. Transactions can be processed independently by different nodes.
Leaderless. No node is special.
Byzantine Fault Tolerant. The network remains operational even with up to a third of faulty or malicious nodes.
Final. There is no need to wait for block confirmations, allowing transactions to be confirmed in 1-2 seconds.
Each Lachesis node stores its own local DAG consisting of event blocks containing transactions. Nodes do not send blocks to each other as they do in traditional blockchains. Instead, validators periodically exchange transactions and events, synchronising them.
Fantom is compatible with the Ethereum Virtual Machine (EVM), allowing existing Ethereum-based dApps to be quickly ported to Fantom's mainnet.
FTM is the token of the Fantom network. It's available in three blockchains:
Native token on Fantom mainnet.
ERC-20 token on the Ethereum blockchain.
BEP-2 token on Binance Smart Chain.
The FTM token is used to support the operation of validator nodes via a staking system, to pay network fees and as a governance token required to participate in voting.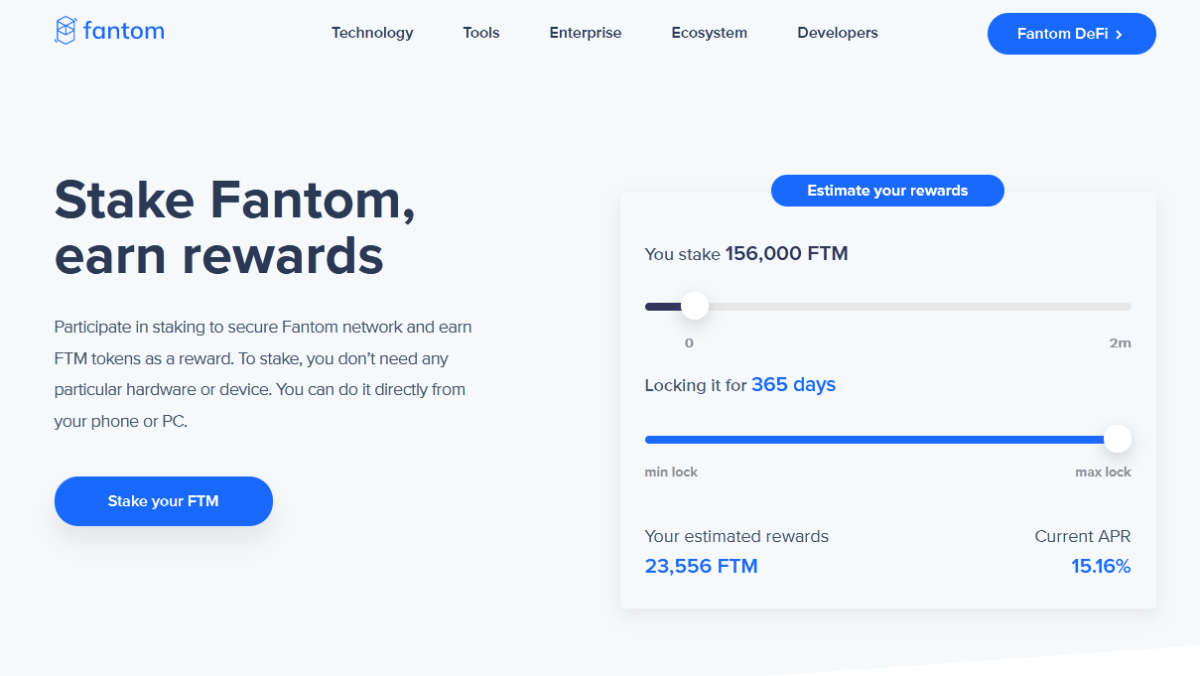 To run a full node and become a validator on the Fantom network, you need a minimum of 500,000 FTM. However, any user of the network can participate in staking by delegating their FTM tokens to a selected validator and receiving staking rewards.
The Fantom ecosystem already includes more than 200 dApps, and that number is growing.
Fantom (FTM) price analysis
As of 14 July 2022, the FTM token ranked 63rd among cryptocurrencies by market capitalisation at $621,826,736.
FTM price statistics (as of 14/07/22)
| | |
| --- | --- |
| Current price | $0.2443 |
| Market cap | $621,826,736 |
| Circulating supply | 2,545,006,273 FTM |
| Max supply | 3,175,000,000 FTM |
| Daily trading volume | $145,809,548 |
| All-time high | $3.48 (28/10/21) |
| All-time low | $0.001953 (13/03/20) |
| Website | |
FTM's price history
At the time of listing on cryptocurrency exchanges in early November 2018, the price of the FTM token was $0.024. However, a sharp fall in price began shortly thereafter, which stopped after reaching a local low of $0.0032 in early February 2019. The subsequent price recovery lasted until mid-June 2019. Thereafter, the price began a gradual decline culminating in an abrupt collapse during the crypto market panic on 13 March 2020.
After that, a global bullish trend started, which continued despite several deep corrections. On 28 October 2021, the token's price reached its all-time high. This was followed by a decline in price, and in May 2022, the price broke below the global bullish trend line.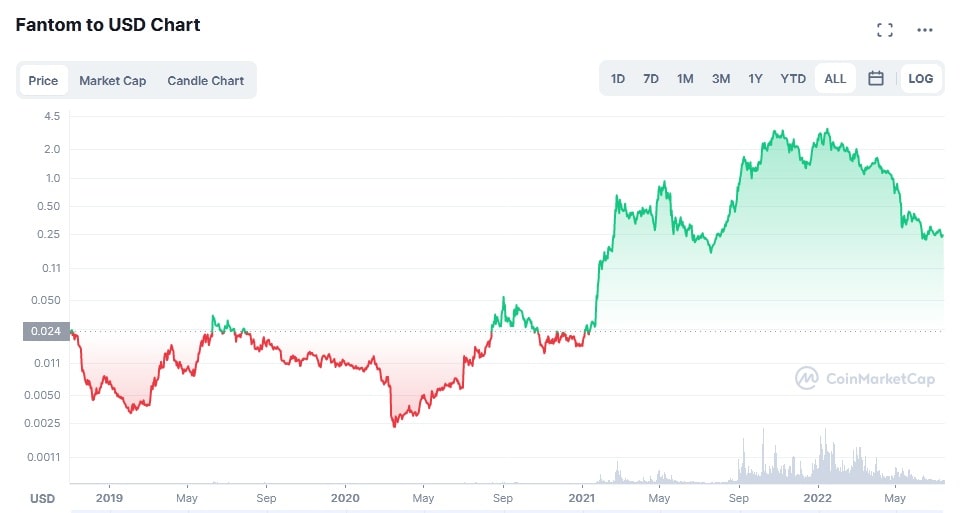 FTM/USDT price chart
Fantom technical analysis
The token's price is now moving in a triangle formed by dynamic support and resistance lines. The moving averages and the MACD indicate a state of uncertainty. Price moves within a relatively narrow range, which is particularly noticeable on the non-logarithmic chart. Trading volumes are below average.
The nearest support levels are $0.21 and $0.155. The nearest resistance level is $0.34.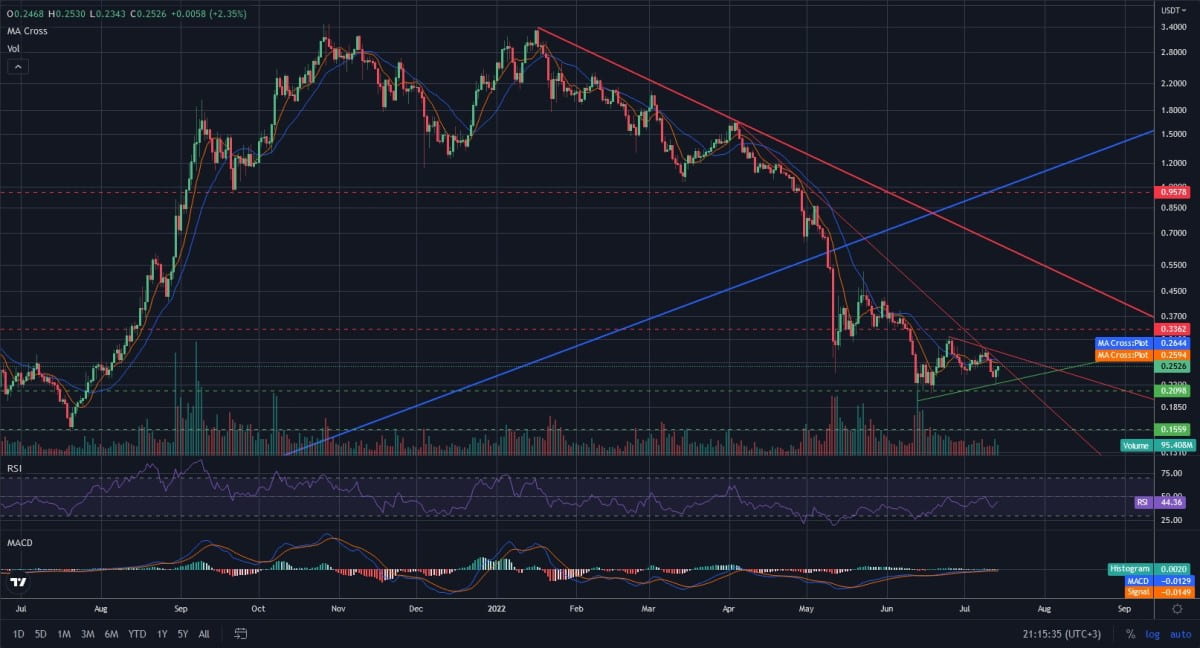 Fantom (FTM) price prediction 2022
The crypto market is now in sideways movement in a relatively wide range. Further on, FTM's price behaviour will largely depend on the overall health of the crypto market. A break of the global dynamic resistance line could very likely indicate a return to a bullish trend.
Fantom (FTM) crypto price prediction for 2022, 2023, 2025 and 2030
As usual, we have compiled for you the FTM coin price predictions made by popular forecasting services.
Trading Beasts' FTM coin price prediction for 2022, 2023, 2025 and 2030
Trading Beasts predict that the token's price will decline until March 2023. However, after that, the price will start rising, and the token will be worth $0.414 at the end of 2023, $0.55 at the end of 2024 and $0.64 at the end of 2025.
Wallet Investor's FTM coin price prediction for 2022, 2023, 2025 and 2030
Wallet Investor expects FTM's price to rise significantly in the coming years. According to them, the price will be $1.27 at the end of 2022, $2.10 at the end of 2023 and $3.80 at the end of 2025. After five years, in July 2027, the token price is forecasted to reach $4.40.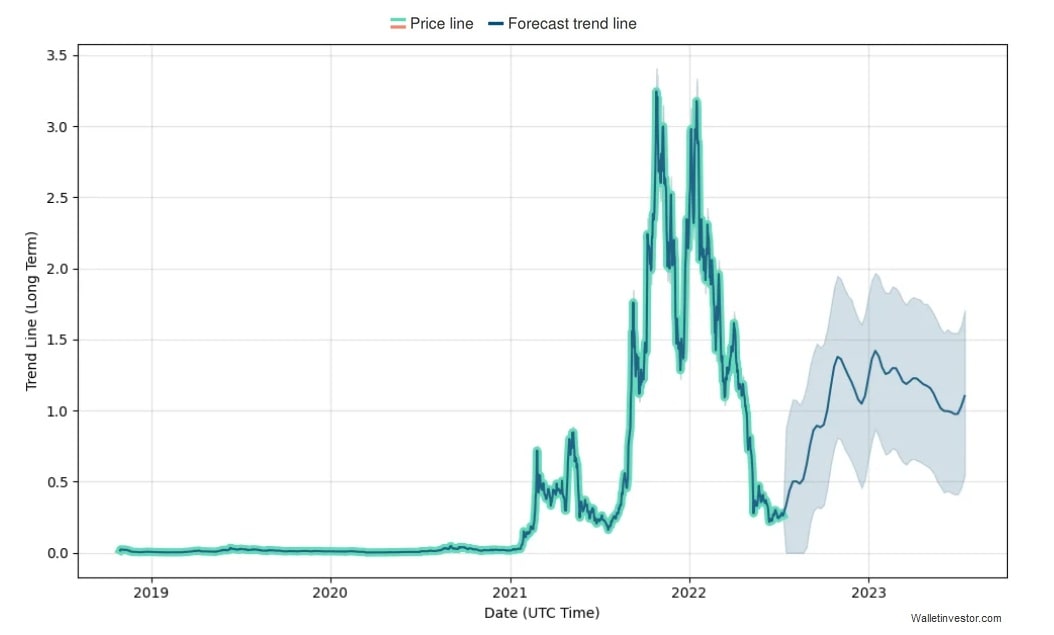 DigitalCoinPrice's FTM coin price prediction for 2022, 2023, 2025 and 2030
DigitalCoinPrice also predicts a rise in FTM's price. They believe the price will reach $0.36 by the end of 2022, $0.38 by the end of 2023, $0.55 by the end of 2025 and $1.19 by the end of 2030.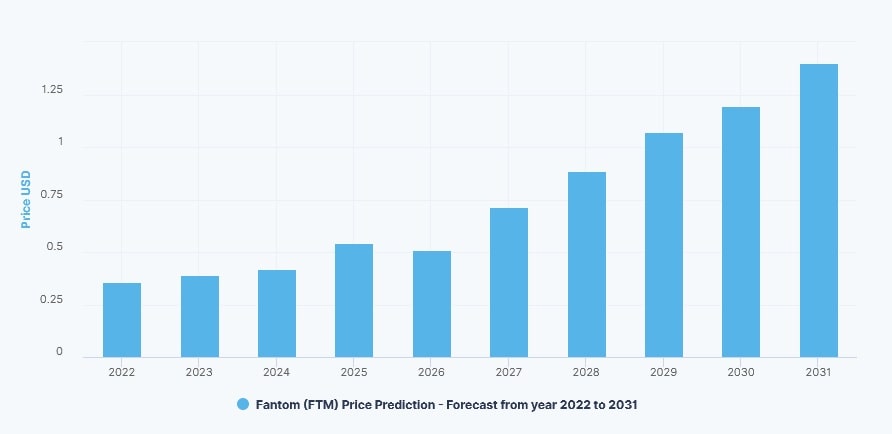 Gov Capital's FTM coin price prediction for 2022, 2023, 2025 and 2030
Gov Capital is very optimistic about the prospects for FTM. According to their models, the token will be worth $1.66 in a year and $12.08 in five years.
Price Prediction's FTM coin price prediction for 2022, 2023, 2025 and 2030
Price Prediction also expects a noticeable increase in the Fantom coin's price. According to their forecast, the average trading price of the token will be $0.36 in 2022, $0.55 in 2023, $1.16 in 2025 and $8.14 in 2030.
CryptoPredictions'FTM coin price prediction for 2022, 2023, 2025 and 2030
CryptoPredictions believe that the token's price will remain largely unchanged through the remainder of 2022 and the first half of 2023. At the end of 2022, the price will reach $0.39. After that, it will go down till March 2024. Then, according to them, we'll see slow price growth, which will reach $0.48 at the end of 2025 and $0.56 at the end of 2026.
Fantom (FTM) overall future value predictions
Fantom is a fairly promising project that uses innovative technical solutions to handle the current challenges of the blockchain industry. Its important advantages include:
Exceptionally fast and cheap transactions
High scalability
A high degree of security
Compatibility with Ethereum Virtual Machine (EVM) that allows Ethereum-based dApps to run on the Fantom network
The project team is actively working on its development
The Fantom ecosystem is fast growing and already includes over 200 dApps.
However, despite its merits, Fantom still remains relatively little known in the blockchain industry and receives little media attention compared to established industry leaders. One of the main threats to the project is the large number of competitors seeking to occupy the same niche. In addition, many experts have raised concerns about the degree of the Fantom network's decentralisation because of the relatively small number of validators. As of 14 July 2022, there are 123 validators in the network.
How high can Fantom go?
During the crypto market's next bull run, the token's price could well surpass its current all-time high, assuming, of course, that the project continues to develop further.
Fantom (FTM) coin price prediction today
At the moment, the FTM price is in a state of uncertainty, moving inside a triangle. It's recommended to wait for a more definite set-up to open positions.
Tags
Exchange BTC

Try our Bitcoin Cloud Miner and get additional crypto rewards based on your trading volume. It's immediately available upon registration.

Try our Bitcoin Cloud Miner and get additional crypto rewards based on your trading volume. It's immediately available upon registration.
Instrument
Rate
Change (24h)