Governance ZIL (GZIL) price prediction 2022-2030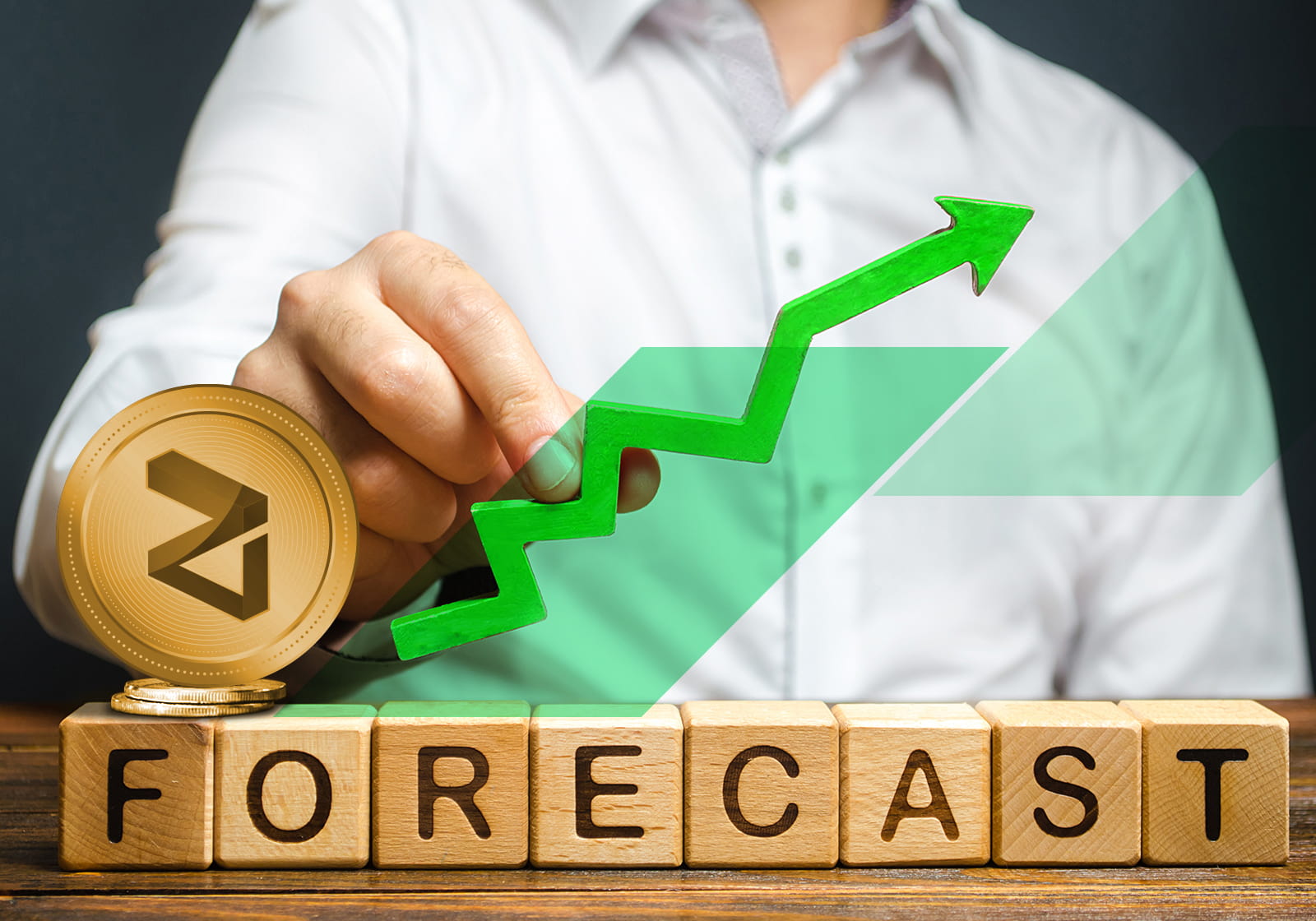 For some blockchain projects, one token isn't enough for them to function. So, they use an auxiliary token alongside the main one. In a recent article, we discussed the VeChain project and its auxiliary token, VeThor. In this article, we'll tell you about a similar token, GZIL, consider its prospects and make a price prediction.
What is Governance ZIL (GZIL)?
GZIL is the governance token in the Zilliqa network that allows its holders to vote and make decisions about the development of the Zilliqa ecosystem.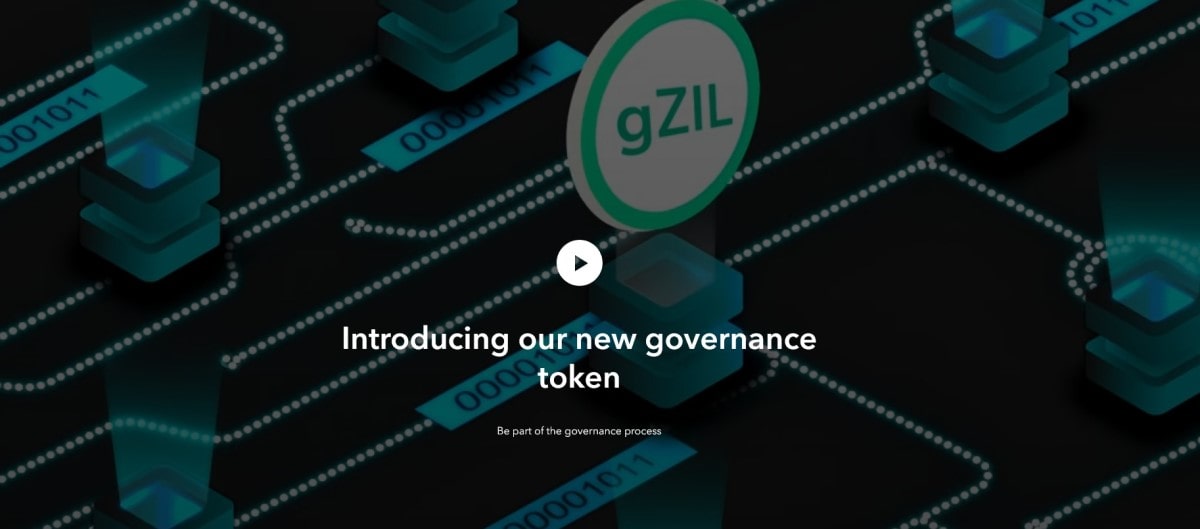 We remain committed to building a future where decentralised technologies will no longer stand at the fringes of the wider tech ecosystem, as we create accessible and equitable solutions within the 'token economy' for many rather than for a privileged few. — Amrit Kumar, Co-founder, President and Chief Scientific Officer of Zilliqa
The history of Governance ZIL (GZIL)
The Zilliqa project was founded in 2017 by a group of software scientists. The founders of the project are Prateek Saxena of the University of California and Dong Xinshu and Amrit Kumar of the University of Singapore.
Zilliqa's creation began on 1 June 2017, and by 1 September 2017, the internal testnet was already operational. The mainnet was launched in January 2019.
On 14 October 2020, non-custodial staking was launched on the Zilliqa mainnet. From this moment, the GZIL token's history begins. It was introduced as an additional reward for staking. GZIL's issuance as a reward lasted a year and ended on 14 October 2021. Now, the maximum number of GZIL tokens has been reached, and there are no plans to increase their number in the future.
Governance ZIL's features
Zilliqa is a blockchain platform for creating smart contracts and decentralised applications (dApps). The main distinguishing feature of Zilliqa is its high performance, which increases with the size of the network. This became possible thanks to the sharding mechanism, which allows the system to be divided into separate parts if necessary. This ensures an even distribution of the network's load. Unlike other blockchain platforms, where transaction speed decreases as the network grows, Zilliqa's transaction speed is supposed to increase with the number of network nodes. According to the Zilliqa development team, the network will ultimately match VISA and MasterCard's transaction processing speeds but at a lower cost and without using a centralised network.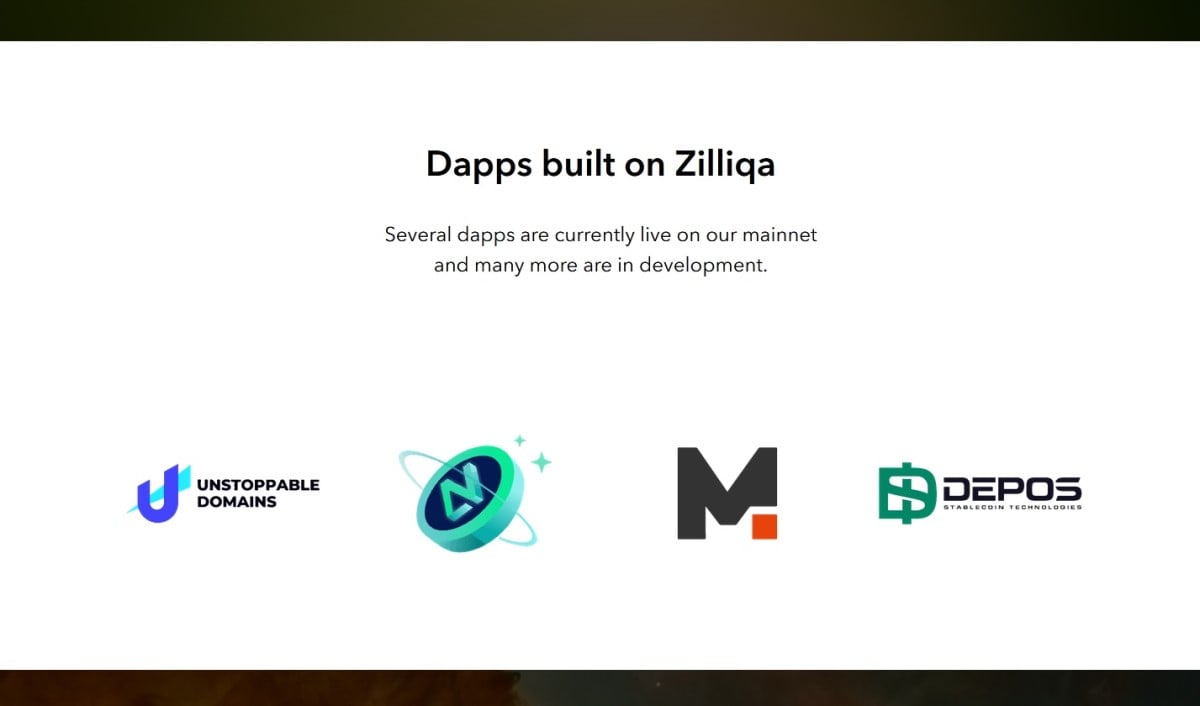 All transactions on the network are performed using ZIL tokens, Zilliqa's main cryptocurrency. It's used to pay for transactions and launch smart contracts and applications.
Governance ZIL (GZIL) is the platform's second token and is used as a governance token. It allows its holders to become decision-makers in the Zilliqa ecosystem. Holders of this token will be able to vote on proposals for the ecosystem's development, similar to what happens in Decentralised Autonomous Organisations (DAOs).
GZIL is a ZRC-2 standard token that is the standard for fungible tokens on the Zilliqa network. On the basis of this standard, cryptocurrencies of projects launched on the Zilliqa platform are created, just as the cryptocurrencies of projects on the Ethereum platform comply with the ERC-20 standard.
Governance ZIL (GZIL) price analysis
At the time of writing, the GZIL token ranked 5287th among cryptocurrencies by market capitalisation at $6,591,083.
GZIL price statistics (as of 15/07/22)
| | |
| --- | --- |
| GZIL current price | $11.84 |
| Market cap | $6,591,083 |
| Circulating supply | 559,969.00 GZIL |
| Max supply | 722,700 GZIL |
| Daily trading volume | $7,069 |
| All-time high | $700.00 (12/03/21) |
| All-time low | $8.10 (29/06/22) |
| Website | |
GZIL's price history
The token was listed on the CEX.IO crypto exchange on 15 December 2020. The opening price was $30. After a few days, the price started to rise, briefly plummeted to its all-time low and then skyrocketed to a local high of $229 on 20 December. After a short correction, the token's price continued to rise, a phenomenon that ended on 6 April 2021 at $600.19. The bearish trend that came next lasted until the end of July. Then the trend reversed, trading up to $200 before hitting strong resistance and declining again. GZIL is yet to recover to higher prices and set a new all-time low barely 18 hours ago.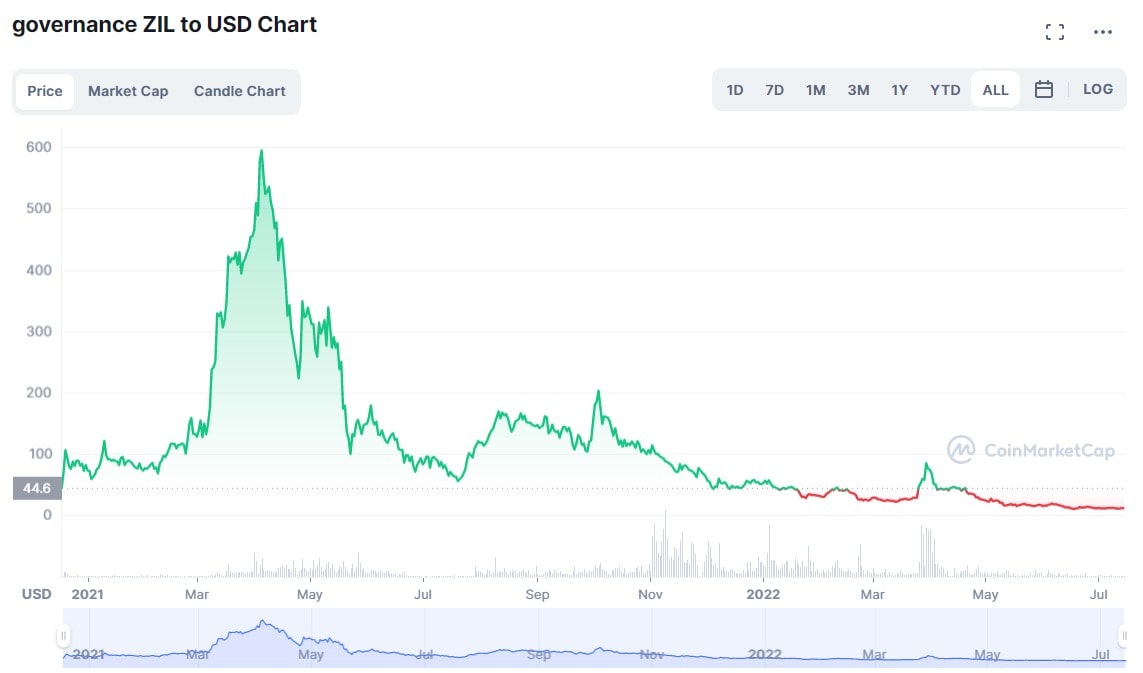 Governance ZIL technical analysis
Ever since GZIL reached a new all-time high in March 2021, it has consistently traded lower. Over the past few days, the price has repeatedly broken through support lines and has been creating lower lows on all major timeframes. The 100 and 200 moving averages also indicate strong bearish sentiment. As of 29 June 2022, GZIL was trading at its lowest price ever, $8.10, and is currently set to trade even lower.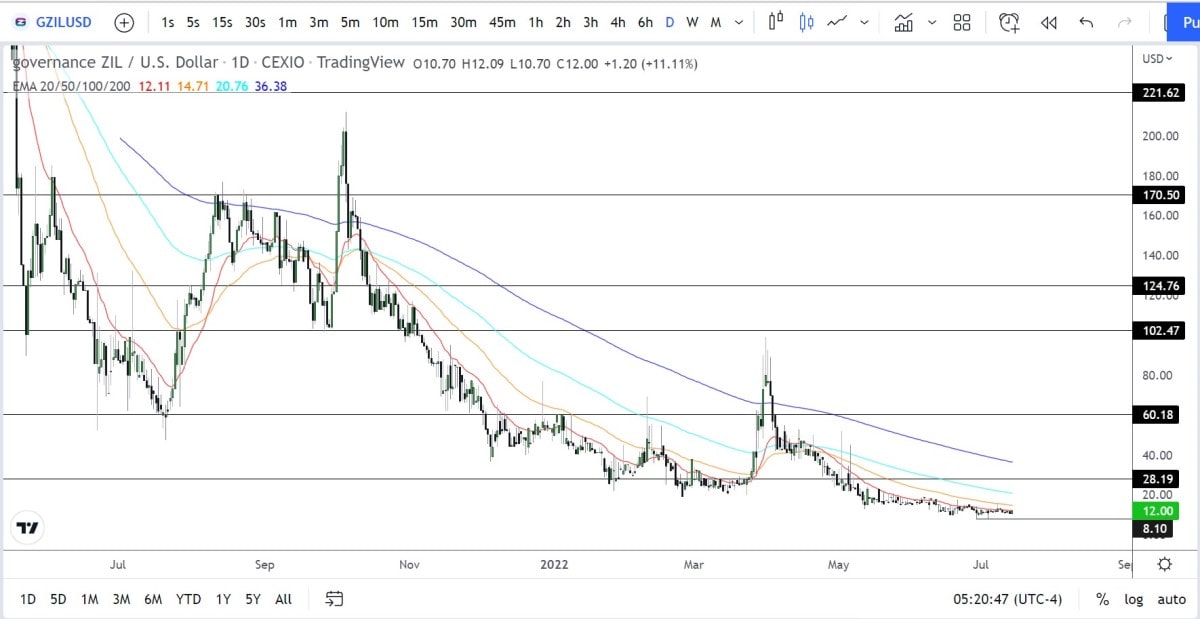 Governance ZIL price prediction 2022
In the near future, the price is highly likely to fall further despite the general growth of the crypto market. If the 'altcoin season' starts at the end of the year, a significant increase in the price is quite possible.
Governance ZIL (GZIL) price prediction for 2022, 2023, 2025 and 2030
Now let's take a look at Governance ZIL price predictions from some well-known crypto experts.
WalletInvestor's GZIL price prediction for 2022, 2023, 2025 and 2030
WalletInvestor does not consider GZIL to be a good investment. According to their calculations, GZIL will lose more than 90% of its value in one year, trading at around $0.54 in July 2023.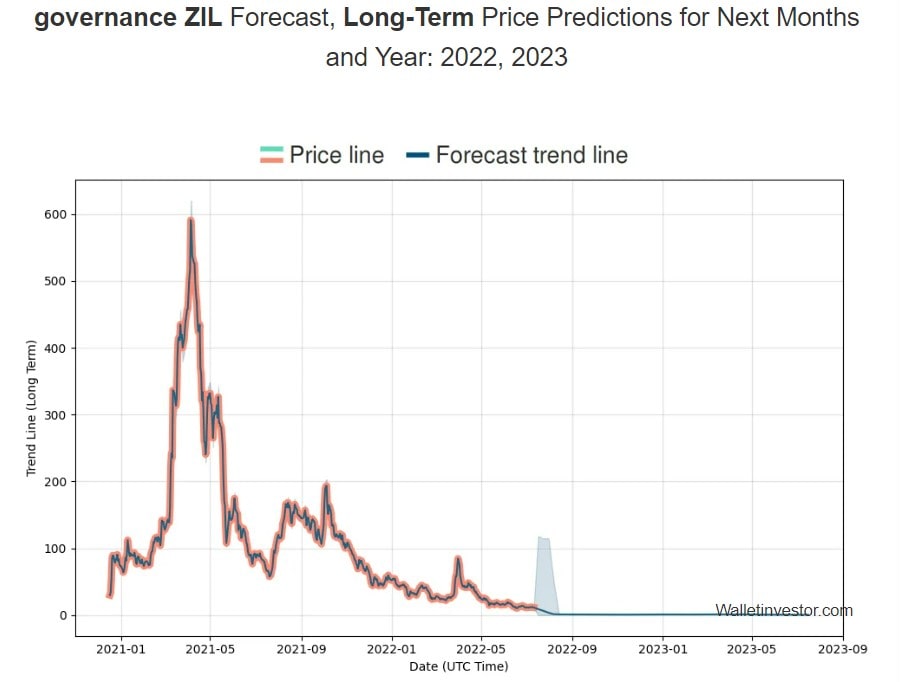 DigitalCoinPrice's GZIL price prediction for 2022, 2023, 2025 and 2030
DigitalCoinPrice are somewhat more optimistic in their prediction. They believe the token's price will reach $19.43 in a year, $20.09 in two years and $31.79 in five years.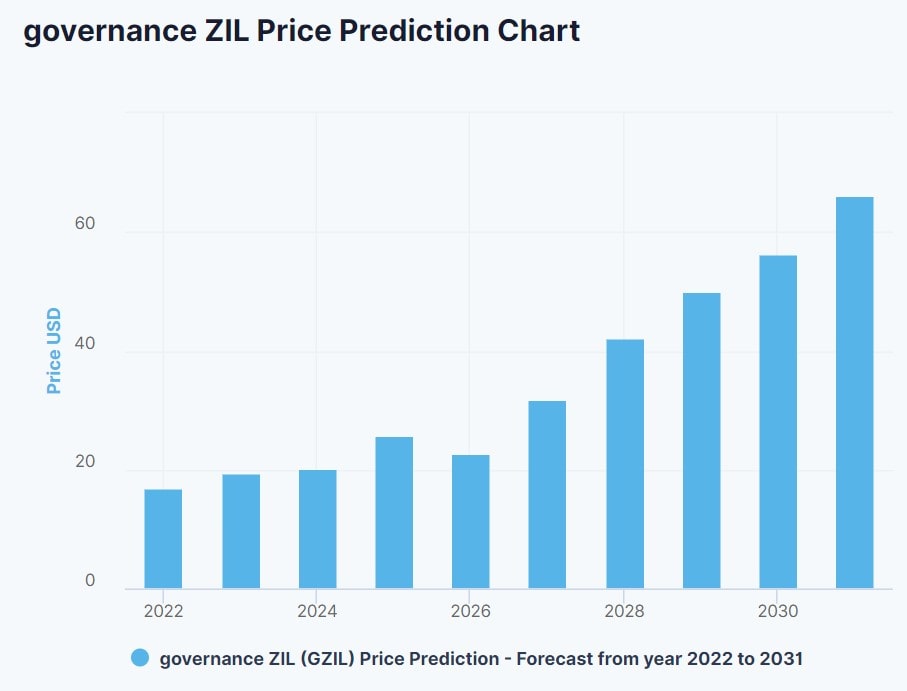 Gov Capital's GZIL price prediction for 2022, 2023, 2025 and 2030
Gov Capital believes that the token's price will fall in the near future to $19.01 by the end of 2022. The token will be worth below $1.00 at the end of 2023.
Governance ZIL (GZIL) overall future value predictions
The price of the GZIL token depends on two main factors: the overall state of the crypto market and the development of the Zilliqa platform itself.
The platform has a strong development team, an effective solution for network scalability and a promising overall outlook. However, we mustn't forget that the platform has many competitors who are also actively working to solve the scalability problem. Despite a good starting position, this is a race where the platform has a chance of losing.
Also, remember to bear in mind the fact that the GZIL token, unlike the platform's main token, is currently traded on only one major crypto exchange, CEX.IO. Listing this token on other crypto exchanges with large trading volumes will have a positive effect on its price.
How high can Governance ZIL go?
If the situation is favourable, the token's price will have a good chance of returning to the resistance level at $235 and possibly even breaking it.
GZIL price prediction today
GZIL is one of the worst-performing cryptocurrencies right now. It had a great year in 2021, but things have turned drastically bearish ever since, and the price is at its lowest ever.
Tags
Exchange BTC

Try our Bitcoin Cloud Miner and get additional crypto rewards based on your trading volume. It's immediately available upon registration.

Try our Bitcoin Cloud Miner and get additional crypto rewards based on your trading volume. It's immediately available upon registration.
Instrument
Rate
Change (24h)