Polygon (MATIC) price prediction 2023-2030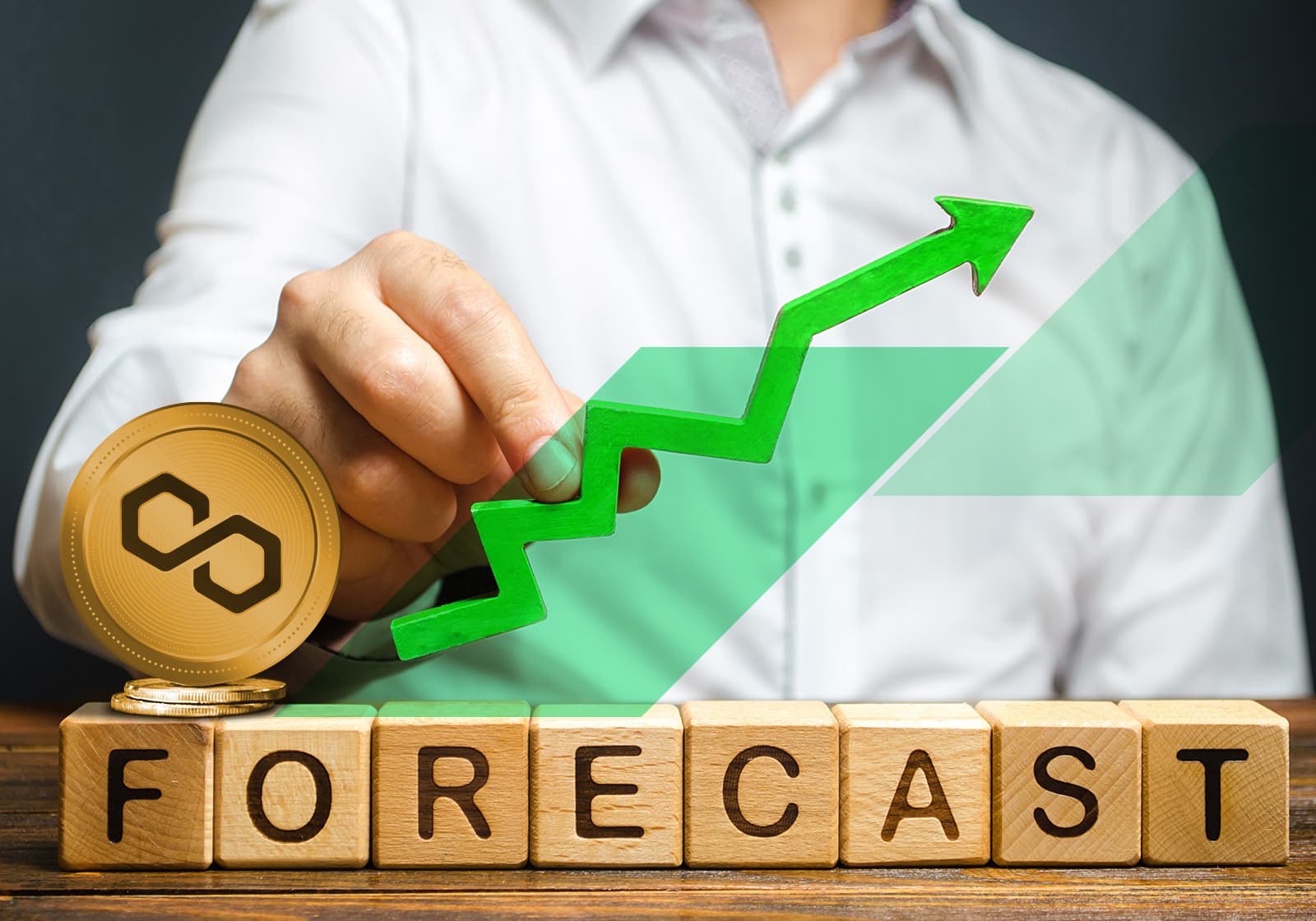 One of the main problems preventing the widespread adoption of blockchains and cryptocurrencies is scalability, something many development teams are tackling. In this article, we'll talk about one project aimed at solving this issue: Polygon. We'll explore the project's origins and fundamentals, its native MATIC coin and walk through price predictions for it.
What is Polygon (MATIC)?
The Polygon project is a sidechain of the Ethereum blockchain. It provides the ability to run decentralised applications (dApps) that run on the Ethereum network without the scalability issues inherent in its blockchain.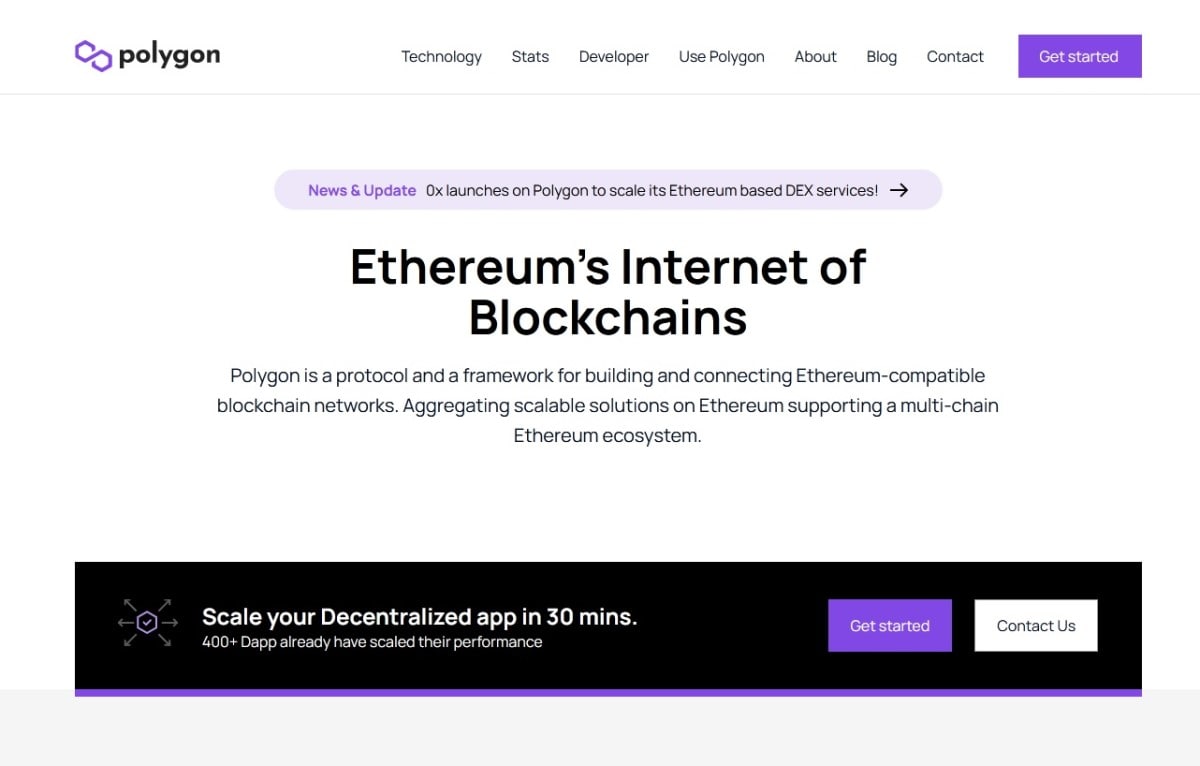 Matic aims to be the de-facto platform on which developers will deploy and run decentralised applications in a secure and decentralised manner. — Jaynti Kanani, Co-founder and CEO of Polygon
The origins of Polygon
The Polygon was founded in 2017 by Sandeep Nailwal, Jaynti Kanani and Anurag Arjun. They were later joined by the Serbian blockchain researcher Mihailo Bjelic. Initially, the project was named Matic Network.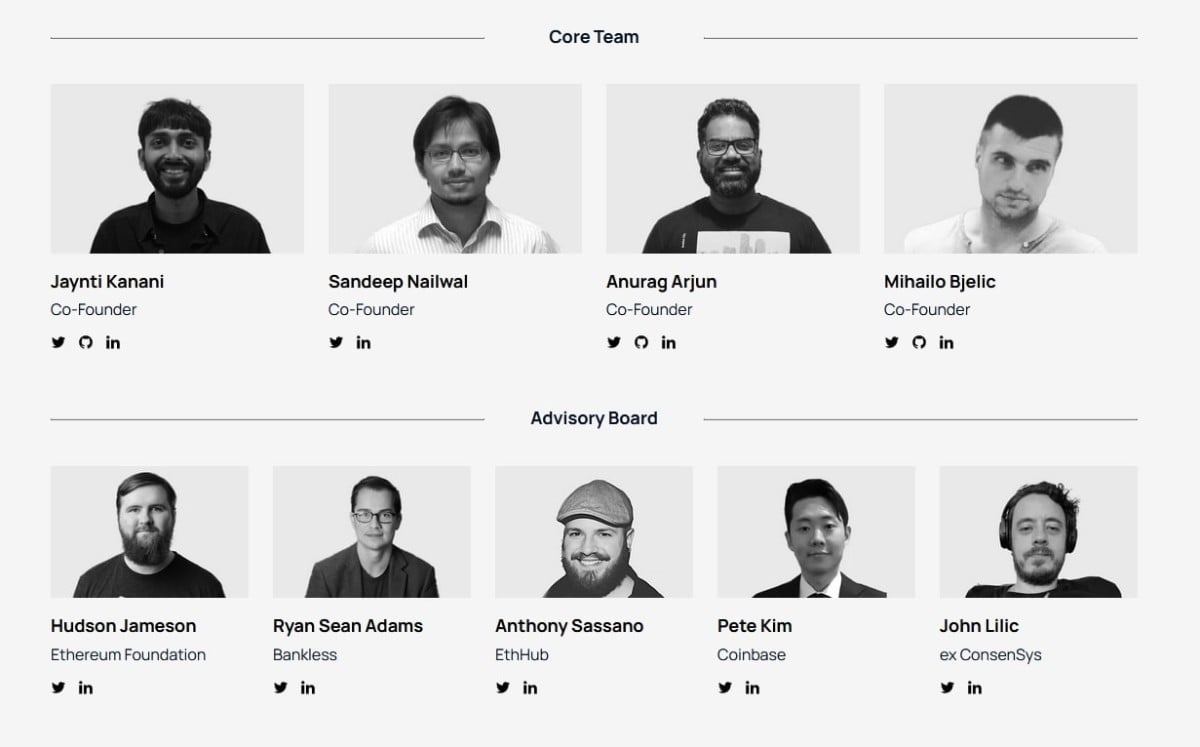 On 24 April 2019, the developers held an IEO for the MATIC token on Binance Launchpad and raised $5 million. In February 2021, the Matic Network's developers changed its name to Polygon, with the MATIC token retaining its name after the rebranding.
Polygon's features
Polygon is a Layer 2 scaling solution based on the Ethereum blockchain. It takes some of the load from the main network, thereby ensuring its scalability, which means that operations become faster while their fees are reduced.
In addition, developers can use the platform to create their own Ethereum-compatible blockchains.
Polygon's architecture consists of four layers:
The Execution Layer is a transaction execution layer.
The Polygon Networks Layer is a system of autonomous blockchains united in a single ecosystem.
The Security Layer is a validator management layer that is required for blockchain security.
The Ethereum Layer is a layer of smart contracts required to ensure blockchain interoperability and the staking process.
The Polygon network uses a Proof-of-Stake consensus mechanism. Validators and delegates can profit from staking. One can only become a validator on the network if a full node is launched, so it's much easier to become a delegate, i.e., a token holder who transfers their coins to a validator and receives a share of the staking profits.
Polygon's native token, MATIC, is an ERC-20 token used as a payment method for transaction fees and settlements between members of the Polygon ecosystem. Tokens are issued on a schedule, and all tokens must be issued by December 2022.
The Latest News on the Polygon Network
The developers of the Polygon project are always striving to improve the network's functionality, which will consequently be reflected in the price of its native token. It should be noted that this is not the primary reason for further developing this project, but it's important for investors and enthusiasts of the MATIC coin to be confident in its support and reliability. Here are some of the latest updates to the Polygon Network:
Polygon will support the further development of the Umbria network. Umbria is a developing global platform that enables the transfer of crypto assets across various blockchains cheaply and effectively. The primary purpose of this partnership is to help Umbria's marketing efforts, giving the platform another pedestal to climb higher in achieving its stated objectives.

The Polygon network's co-founder and investor, Sandeep Nailwal, has recently tweeted about the possible positive reversal of the price of MATIC and other mainstream cryptocurrencies. He admits that the general market has suffered from strong bearish pressure, and many have begun questioning their faith in Web3 as a whole, but he believes that prices may recover substantially sooner than expected.
Polygon (MATIC) price analysis
At the time of writing this Polygon price prediction on 22 May 2023, MATIC ranked 9th among cryptocurrencies by market capitalisation at $7,976,267,896.
MATIC price statistics (as of 22/05/22)
| | |
| --- | --- |
| MATIC current price | $0.8595 |
| Market cap | $7,976,267,896 |
| Circulating supply | 9,279,469,069 MATIC |
| Max supply | 10,000,000,000 MATIC |
| Daily trading volume | $218,855,568 |
| All-time high | $2.92 (27/12/21) |
| All-time low | $0.003012 (09/05/19) |
| Website | |
MATIC's price history
During the IEO held at the end of April 2019, MATIC's price was $0.00263. Immediately after the IEO ended, the coin was listed on the Binance crypto exchange.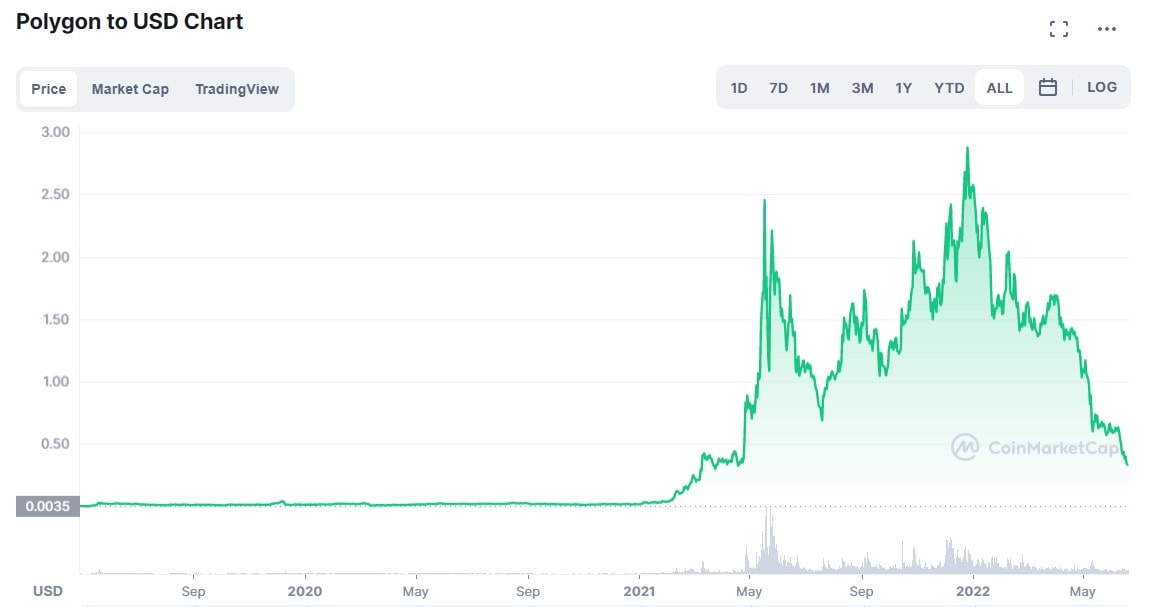 At the time of writing this Polygon price prediction on 22 May 2023, Polygon's (MATIC) price was $0.86, which earned it 9th place in the cryptocurrency market. Polygon is currently experiencing difficulties in aligning itself with other cryptocurrencies. MATIC has seen a decrease of nearly -1.4% in the past seven days. 
In April 2023, the price of MATIC dropped by 27.363%, resulting in a significant loss of $0.32 in its current value. This sudden decline indicates that the coin is currently in a dip, presenting a potential buying opportunity for quick investments.
Over the past 90 days, there has been a price change of approximately 23.55% for Polygon. During this period, the price ranged from a minimum average of $0.99 to a maximum average of $1.13.
Polygon has exhibited a growth trend in the last four months, suggesting that similar market segments were highly favoured during that time. Recent data shows that Polygon's trading volume has increased over the past four months, indicating its significance in determining price trends.
The coin has experienced an 8.3% increase, with the maximum average price reaching approximately $0.82 and the minimum average price hovering around $0.80 during the past four months.
Polygon price prediction 2018
MATIC's IEO and subsequent listing on crypto exchanges only took place in 2019.
Polygon price prediction 2019
On the day the MATIC token was listed on Binance, its price more than doubled. However, the price declined in the days that followed. This continued until 10 May 2019, when a sharp rise in the price began, ending on 21 May at a local maximum of $0.045. After that, the price moved sideways until the beginning of July. Throughout July, the price declined.
In early August, the price briefly broke the $0.01 support level, but buyers were able to defend this support level, and after that, the price began to move sideways in the $0.01-$0.02 range. On 25 November 2019, buyers managed to break through the resistance level of $0.02, and the price began to rise. After reaching a local maximum of $0.0427, the price collapsed, returning to the $0.01-$0.02 range.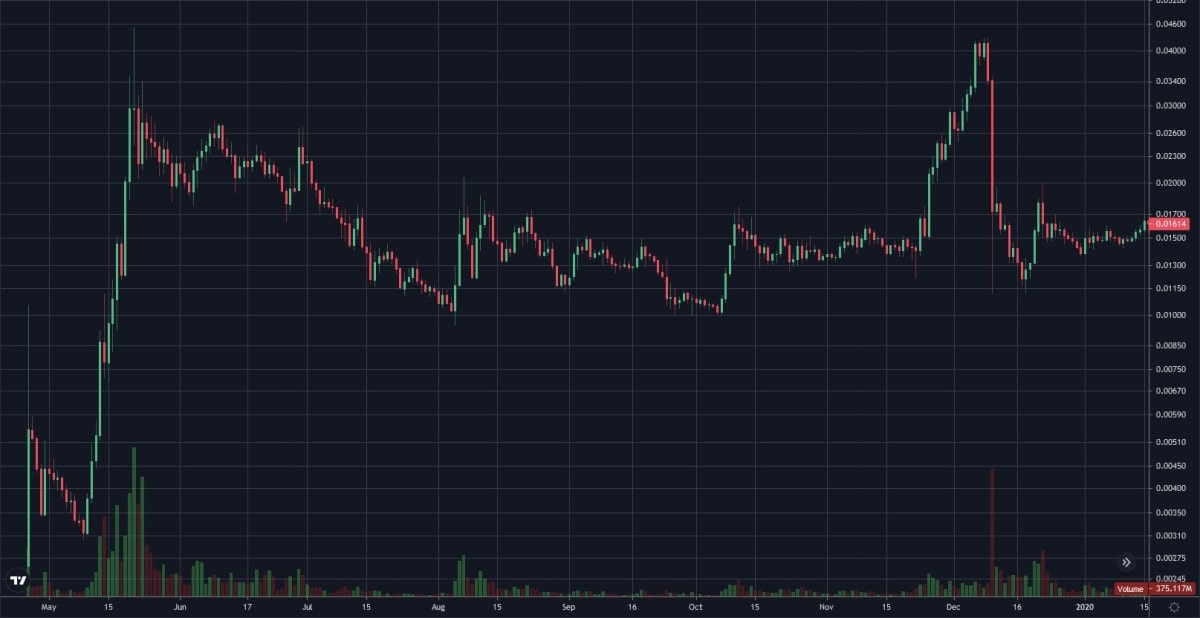 Polygon price prediction 2020
MATIC started 2020 on a positive note. However, its price growth was interrupted after reaching a local maximum of $0.029 on 7 March. On 8 March, the price began to collapse. On 13 March, the day of the panic sale on the crypto market, the price fell to $0.00632. The price began to recover until 29 May, when the price started to move sideways. This trend generally continued until the end of the year, despite some price fluctuations and attempts by both sellers and buyers to change the trend.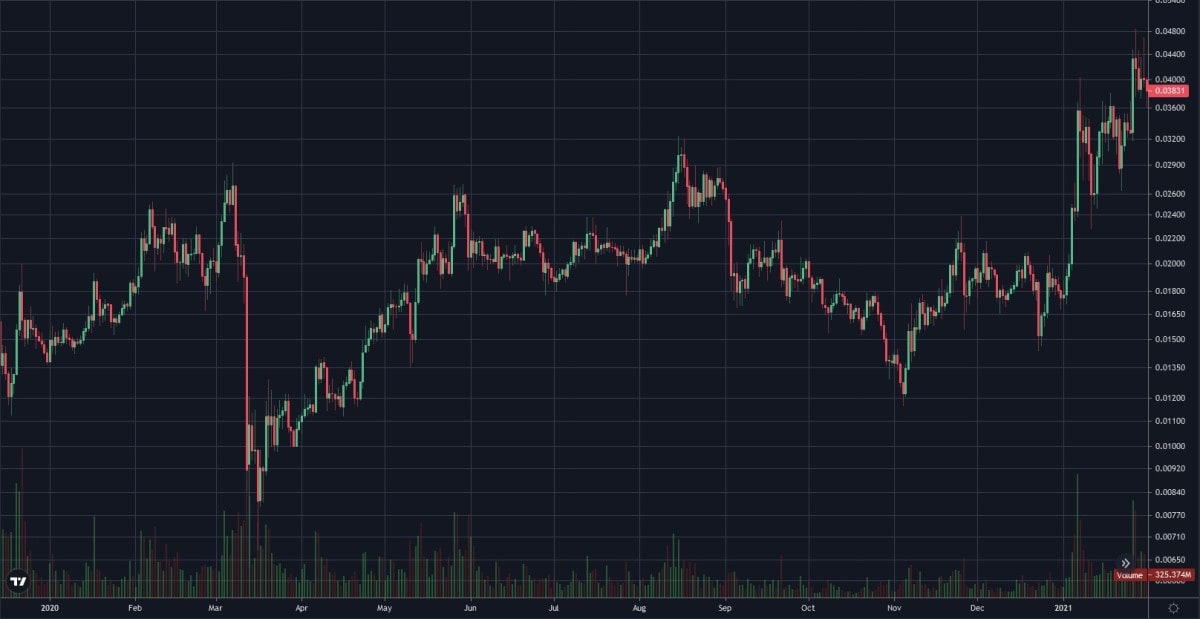 Polygon price prediction 2021
The year 2021 is generally regarded as one of the best years for cryptocurrencies in general, and that was no different for Matic. It started the year tamely but somewhat positively, consolidating upwards throughout Q1. Real growth began in April when the price hit $1 for the first time, and by May, it had grown by almost 200% to set a new all-time high at $2.89. The high was short-lived as the price fell sharply below $1, creating support around $0.60 in July. Market conditions turned favourable once more, and Matic began trending higher again. By December, it set a new all-time high at $3.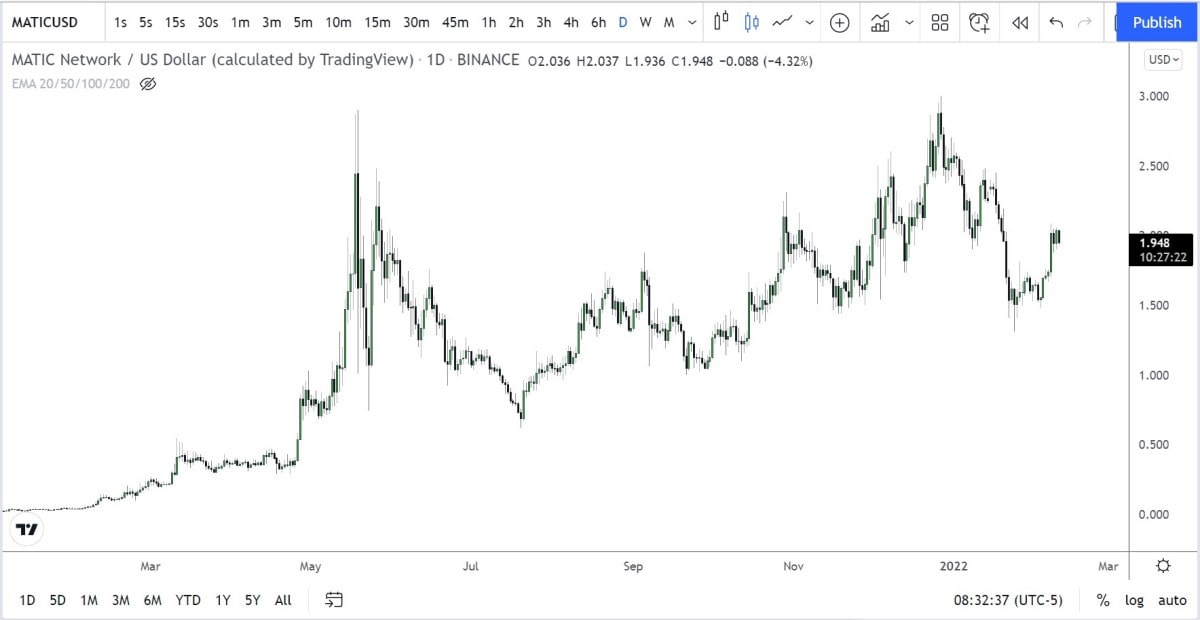 Polygon price prediction 2023
Based on a price forecast and technical analysis provided by PricePrediction.net, it is projected that the price of MATIC on Polygon will likely surpass an average of $1.14 in 2023. The minimum price estimate for Polygon by the end of this year is expected to be around $1.11. Additionally, there is potential for MATIC to reach a maximum price level of $1.27.
MATIC/USDT price chart
MATIC technical analysis
Matic has enjoyed a great run since it debuted in 2020. Unlike some other currencies, it hasn't suffered a long stint of bearishness but has generally been on an uptrend on larger timeframes. The story is a little different now. Since it hit its new all-time high in December 2021, MATIC has traded lower with smaller price retracements after every new low formed. 
As of 22 May 2023, Polygon is currently trading within a horizontal trend channel, suggesting further development in the same direction. However, the moving average indicator has generated a negative signal, indicating a potential continuation of the downward trend. The currency has support levels at 0.75 and resistance levels at 1.03.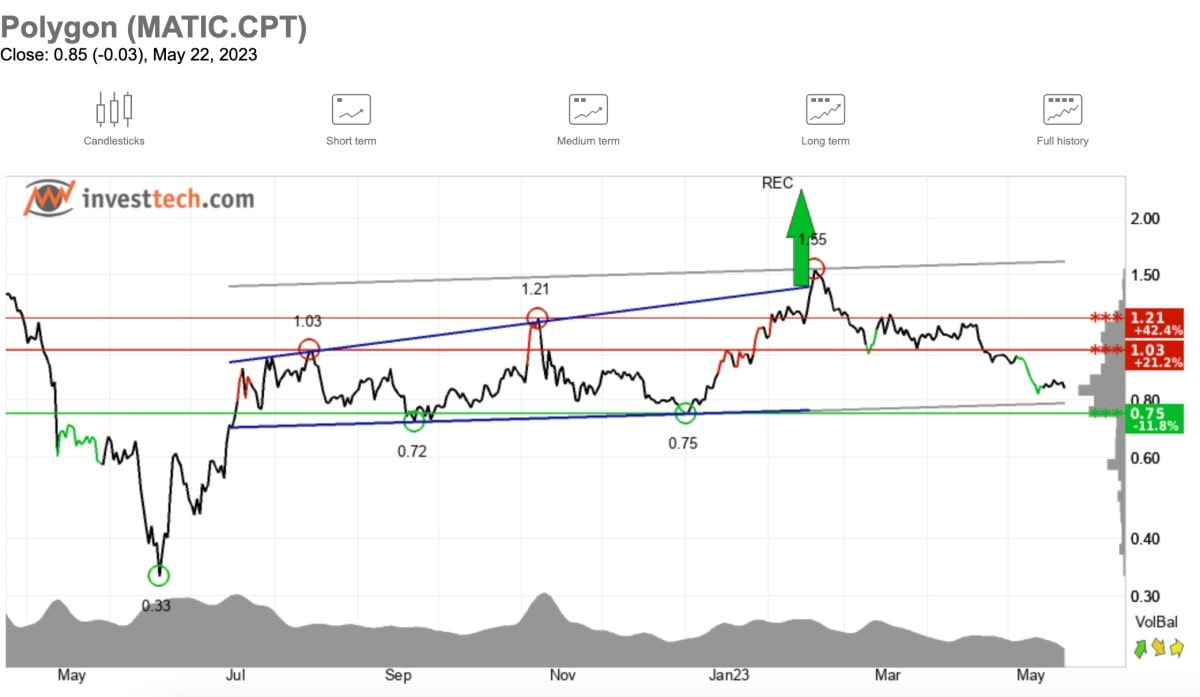 Polygon (MATIC) price prediction for 2023, 2025 and 2030
Now let's move on to examining MATIC cryptocurrency price predictions from well-known crypto experts.
Trading Beasts' MATIC price prediction for 2023, 2025 and 2030
Trading Beasts predict a subdued year for Matic in 2023. Consequent years may be better, but not by much. They estimate the price of the token will average out at $1.25 by the end of 2023.
WalletInvestor's MATIC price prediction for 2023, 2025 and 2030
According to WalletInvestor's forecast for Polygon's price, there is no anticipated long-term growth. By the end of 2023, the projected value for MATIC coin could be approximately $0.5031. At the beginning of 2024, the MATIC price is forecasted to average $1.161. The Polygon's price is predicted to decrease to the $0.724 value by the end of 2024.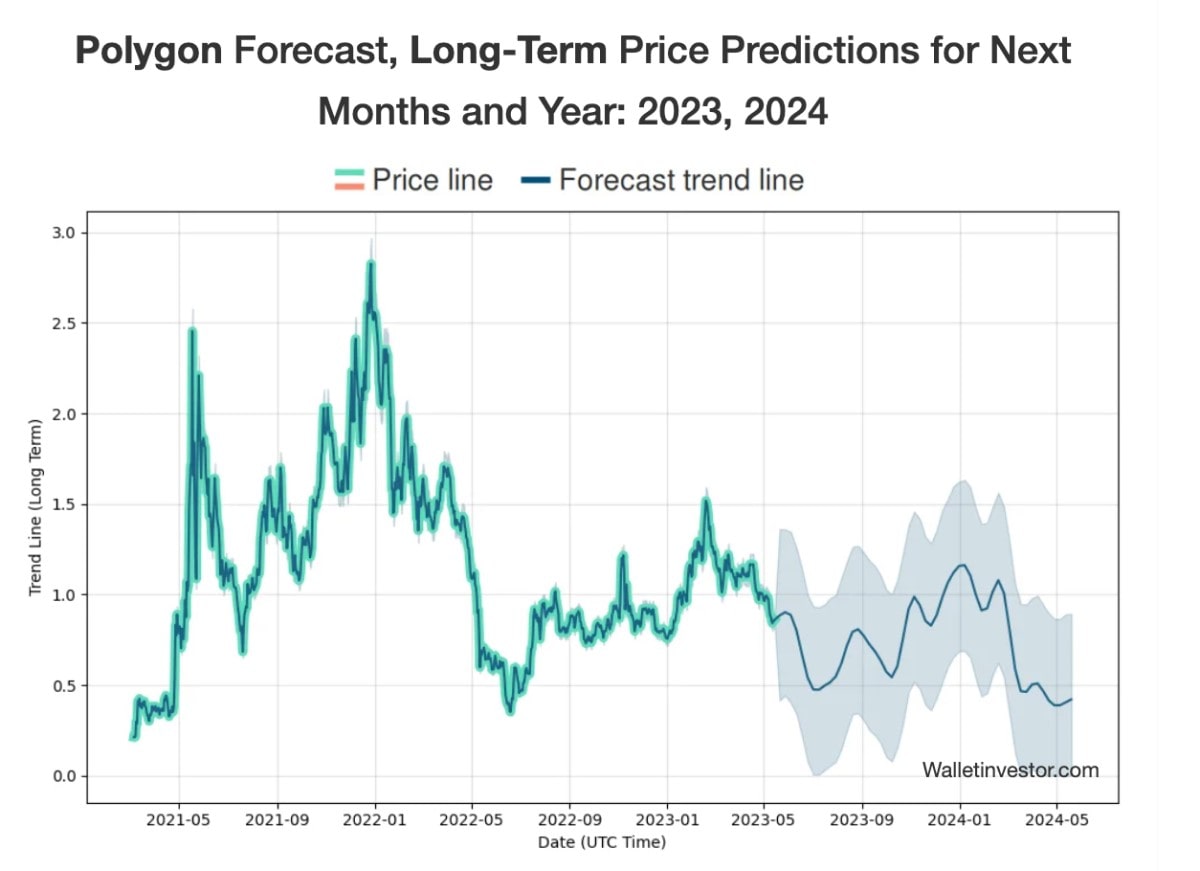 LongForecast's MATIC price prediction for 2023, 2025 and 2030
LongForecast believes that MATIC will experience serious fluctuations but ultimately trend lower in the coming years. According to their predictions, the token will close 2023 at the $0.76 value. MATIC is predicted to be worth $0.78 by the end of 2025 and $1.06 by the end of 2027.
DigitalCoinPrice's MATIC price prediction for 2023, 2025 and 2030
Based on the Digital Coin Price's Polygon's price prediction, it is anticipated that the average price of MATIC will reach $2.13. By the end of 2023, Polygon is expected to have a minimum price of $0.90, while the maximum level could reach $2.19.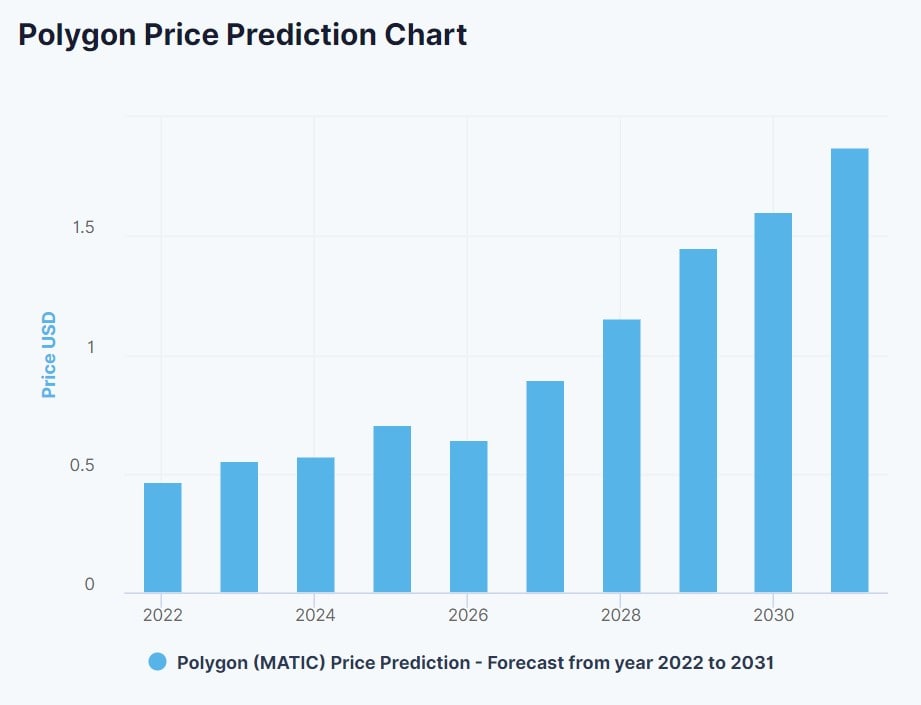 Polygon (MATIC) 's overall future value predictions
Polygon has established a strong reputation and trust among enterprise businesses. According to the price prediction for Polygon's MATIC, it is expected to experience significant growth, reminiscent of the ICO boom and the hype surrounding cryptocurrencies. MATIC has consistently served as a solution for application developers, addressing real-world challenges such as virtual currency transfers and decentralised finance.
The forecasts made by various experts regarding MATIC's price do not dampen its potential to outperform its competitors. The Polygon support zone community has set ambitious goals for itself, aiming to surpass the expectations of cryptocurrency investors who appreciate the platform's user-friendly and interactive nature.
The Polygon project looks pretty promising. It aims to solve one of the crypto industry's most important problems and is moving quite confidently in this direction. Many projects are already cooperating with Polygon, and many more have announced plans for such cooperation.
Despite this, it should be noted that Polygon has quite serious competitors who are attempting to solve the same problems. So far, Polygon has a fairly solid position in its niche, but that could change if the developers abandon the project.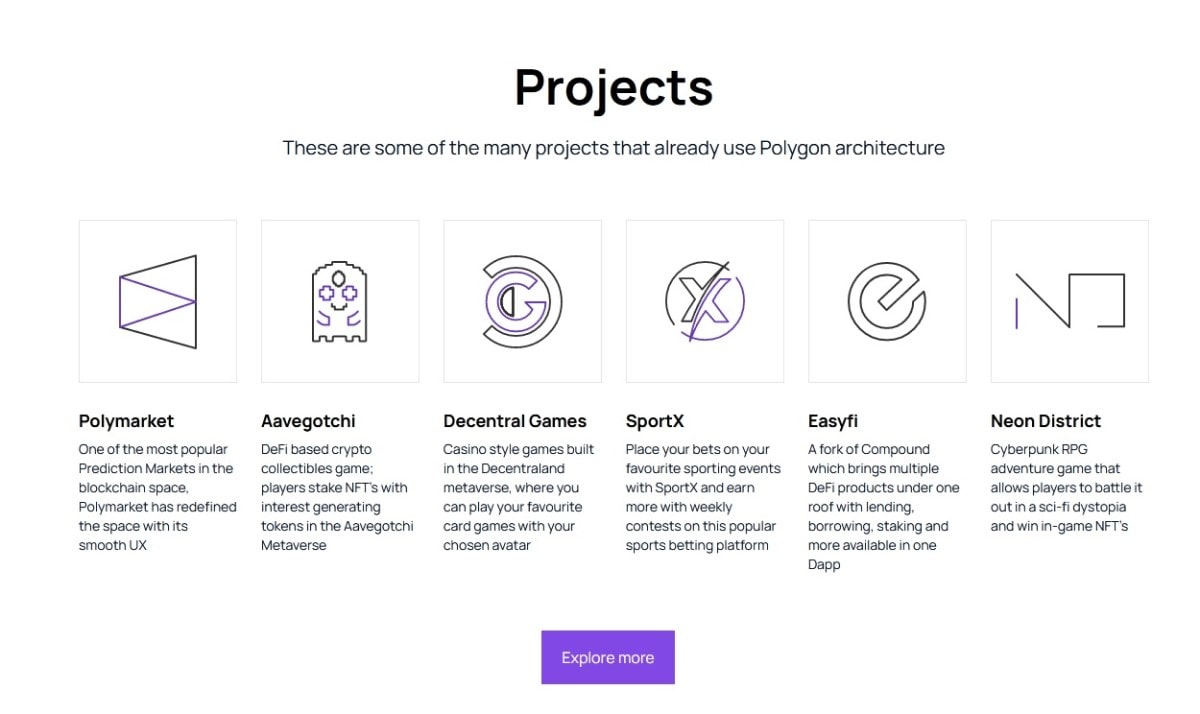 Will Polygon go up?
It's difficult to give positive predictions in a strong bear market like the current one, but Polygon is a promising project and may be up again soon.
Looking ahead to the long term, the price predictions for Polygon suggest that the coin has the potential to surpass $4 by 2026. MATIC coin is deemed to hold significant earning potential for investors in the long run. Therefore, considering the projections, it may be advisable to consider purchasing Polygon.
How high can MATIC go?
MATIC is really likely to repeat its all-time high if the crypto market, in general, becomes bullish again. In the event of an all-time-high breakout, it's rather difficult to predict how high the price may go.
Polygon price prediction today
Currently, taking a position in MATIC is risky. The safest option for opening a long position would be to wait for a breakout of significant price resistance.
Tags
Exchange BTC

Try our Bitcoin Cloud Miner and get additional crypto rewards based on your trading volume. It's immediately available upon registration.

Try our Bitcoin Cloud Miner and get additional crypto rewards based on your trading volume. It's immediately available upon registration.
Instrument
Rate
Change (24h)