TRON (TRX) price prediction for 2021, 2022, 2025, 2030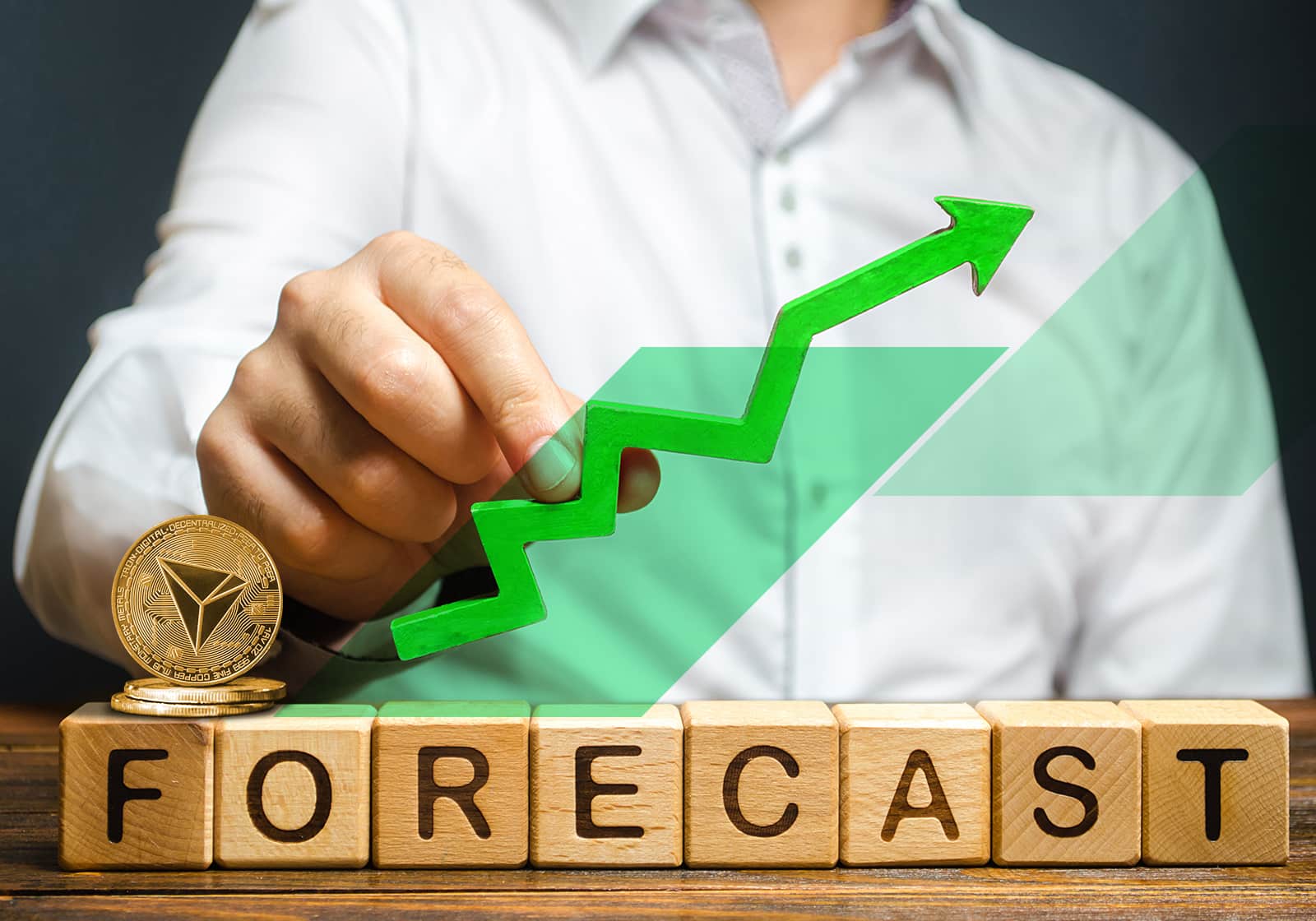 TRON (TRX) is a blockchain and a unique cryptocurrency that sees high demand among gamers and gamblers. Cryptocurrency experts all over the world predict it will have a great future. Investors are keen to know TRON (TRX) price predictions for this cryptocurrency, one of the largest and currently ranked 16th by market capitalisation. To get a better idea of the TRON coin price prediction for 2021-2030, let's take a look at the company and its founder.
The TRON Foundation
The TRON Foundation is an organisation based in Singapore. Dubbing itself the "industrial force" of all Southeast Asia, the Foundation supports TRON's development team and participates in its open, honest, and transparent cryptocurrency network. Regulation and compliance are the core values for the team behind the TRON Foundation. The Foundation has been approved by the Singapore Registrar of Companies (the Accounting and Corporate Regulatory Authority under the Ministry of Finance).
The young leader of the company, Justin Sun, has achieved remarkable feats. First, he created the Peiwo application, which already has 10 million users. Sun made Peiwo the first streaming app to accept cryptocurrency payments. Now, the Peiwo app ranks among the leading members of the online audio content community.
Forbes listed Sun on Asia's 30 Under 30 Top Business Leaders list. He is also a protege of Jack Ma, founder of the Alibaba Group. Ma chose Sun to study at the prestigious Hupan University. Entry into this university is harder than getting into Princeton.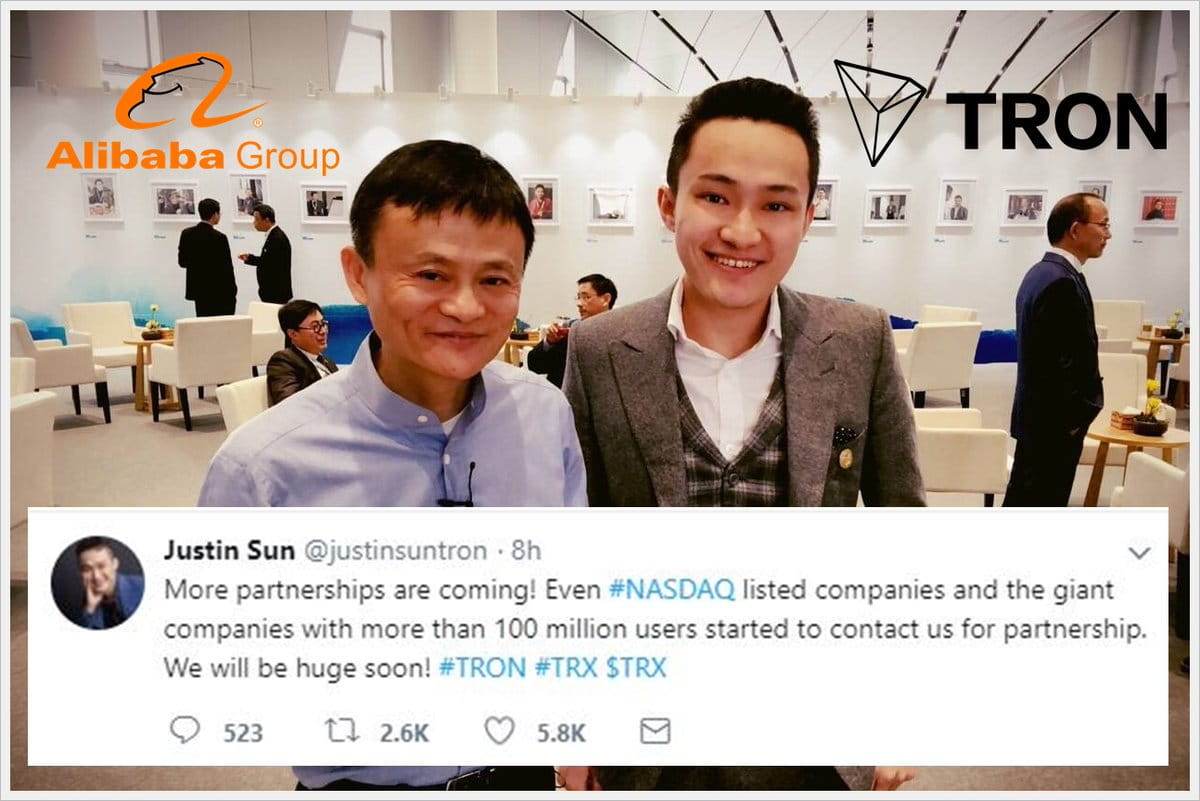 Moreover, Sun graduated from the University of Pennsylvania. Besides Jack Ma, Sun has surrounded himself with even more star mentors. Feng Lee (advisor at Ripple) and Tim Berners-Lee (inventor of the internet) are among them. Sun also worked for Ripple as chief representative and advisor.
The number of key influencers in the crypto industry who predict TRON (TRX) to grow is increasing. This extensive experience and support allow Sun to get the skills and knowledge needed to run his own cryptocurrency project.
What is TRON (TRX)?
TRON is a decentralised entertainment platform that uses blockchain and P2P technology. TRON (TRX) is a next-generation social media platform where users can create and share content with anyone around the world.
Tronix (TRX) is the primary cryptocurrency of the TRON blockchain. This currency helps manage transactions between entertainment content creators and purchasers. With the help of the TRON blockchain, people who actively use social media networks, online casinos, and other types of entertainment will benefit from the use of their content by others.
Content creators can benefit from TRON's cryptocurrency ecosystem, mainly receiving substantial compensation for their content when it gets shared with others.
This model is the opposite of how traditional social media platforms like Facebook and YouTube work. TRON monetises user information, while other platforms usually pursue their interests without taking users into account. When using TRON (TRX), no one controls creators' content. This enables content creators to make money through their creativity and hard work. TRON runs strong campaigns in mainstream media and social media networks.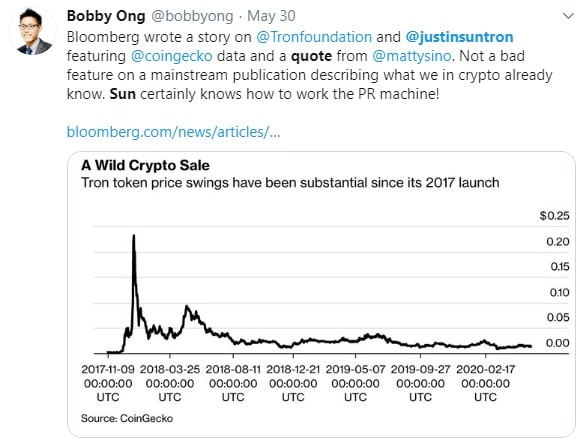 TRON is continuously looking for new partners and opportunities. Here is a list of some of their partnerships:
TRON has established partnerships with the largest bike rental company in Southeast Asia, oBike. oBike is based in Singapore and has launched its coin, oCoin, in the TRON network. oCoins are used in real life today for rides on the oBike platform. The company allows users to earn oCoins by rewarding them for choosing their company.
Other major partners include Bitmain, a leading manufacturer of ASIC chips that are used for Bitcoin mining. Antminer S9 from Bitmain is one of the most in-demand products in the Bitcoin mining community. So, if anyone asks you about TRON, make sure to mention this legendary collaboration.
Another TRON partner, Zag-S&W, is a leading international law firm specialising in business and corporate law. This is a promising addition, as the firm is on the Legal 500 list, an extended network of some of the world's largest companies. This partnership will provide companies with comprehensive protection and support for digital asset transactions, risk management, and legal adaptation to different jurisdictions. As TRX appears on more and more exchange lists, the demand for legal assistance will only increase. This partnership is an excellent strategic step, which is not surprising for those who own the not-for-profit organisation behind TRON.
In 2018, Sun acquired the American-based BitTorrent for $140 million. BitTorrent owns the largest torrent clients, BitTorrent and uTorrent. The applications generate about 3% of daily internet traffic every month. Sun pointed out that blockchain companies should do more than just encourage users to share free content. They should also share financial benefits by providing something to exchange for their computing power. As a result, TRON continues to grow, inspiring more startup companies to migrate to its systems.

Moreover, news emerged that Sun is involved in the group that invested in Poloniex. This American cryptocurrency exchange was previously acquired by Circle startup for an estimated $400 million, thus expanding the business. However, the exchange's market share fell from a high of 60% in 2017 to 1%, and Justin took control of the cryptocurrency exchange.
In March 2021, TRON partnered with MixMarvel, in a move that will integrate TRON with Rocket Protocol 2.0 and Rocket Protocol's Wallet SDK. TRON will be able to provide users with a smooth cross-chain experience of FT & NFT using a wallet that is integrated with the Rocket Protocol Wallet SDK.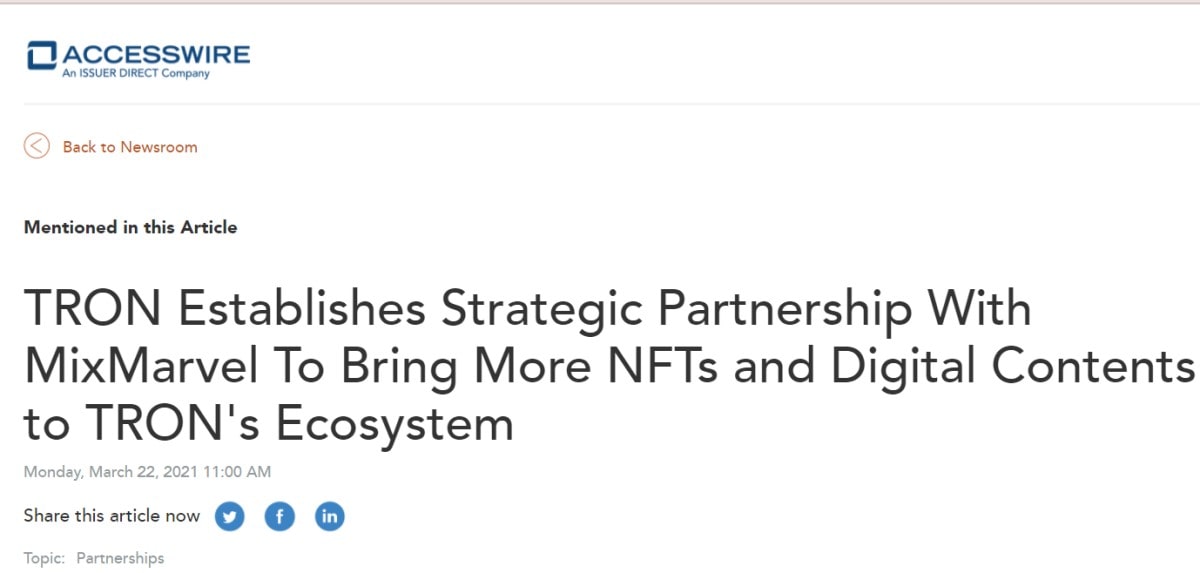 Those deals and partnerships have allowed TRON (TRX) to significantly expand its influence in the technological and crypto space.
TRON (TRX) Price Analysis
TRON is working hard to compete with such cryptocurrencies as Stellar, XRP, Cardano, and Ethereum. Currently, TRON (TRX) is ranked 26th by market capitalisation at $6,643,804,298.16. 
TRX statistics as of the time of writing;
| | |
| --- | --- |
| TRON Price Today | $0.09236 |
| Market Cap | $6,643,804,298.16 |
| Supply/Total Supply | 71,659,657,369 TRX/100,850,743,812 TRX |
| Daily Trading Volume | $1,183,891,479.28 |
| All-Time High | $0.300363 (5 January 2018) |
| All-Time Low | $0.001091 (15 September 2017) |
TRX price history
The analysis and prediction of TRX's price should start with a historical data review. TRON is a fairly young cryptocurrency, created in late 2017, and the network was launched in mid-2018.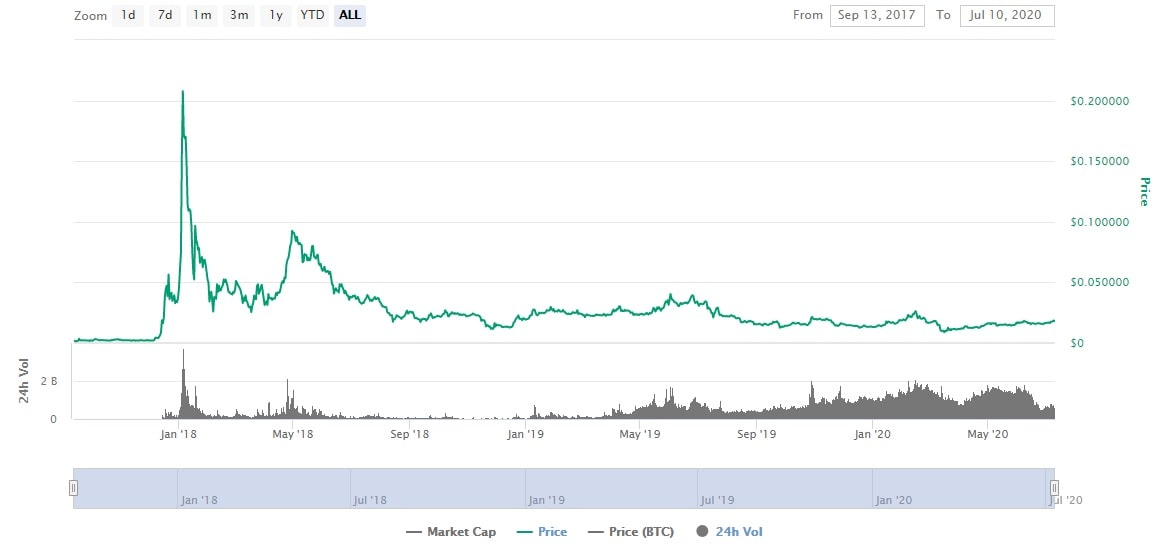 The dynamics of TRON's price:
When created during its ICO phase, the price was $0.002.
After the token was issued, the price rose to $0.05 in December 2017.
The highest price ever reached was $0.30 for 1 TRON coin in early January 2018.
After some time, the price fell to $0.03-$0.04.
In early May, after the network launched, the price soared to $0.08 before falling again.
By the end of November 2018, it reached a low of $0.01.
In June, the price rose to $0.047 and then continued to fall until 2020.
The lowest price TRON reached was on 13 March 2020, when the coin was worth $0.00686.
Today, TRON trades at $0.09248 per TRX coin. The cryptocurrency has shown strong growth since reaching its low.
TRX technical analysis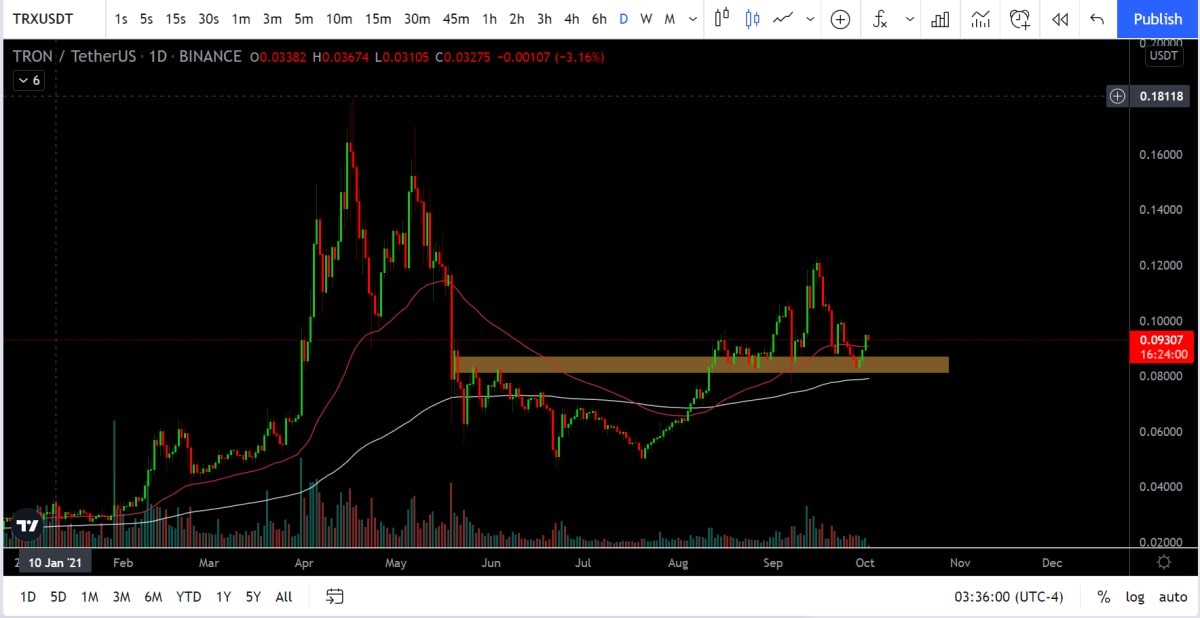 According to the daily chart, technical analysis of TRX moving averages showed a bullish trend.TRX is trading above the 200-Day Moving Average and currently finds support at the 55-day Exponential Moving Average, which is a reliable sign of the asset's bullish sentiment.
After making a low at $0.0499 in June, TRON's price has gained almost 100%, blasting through the resistance at $0.0800. The resistance has now turned to support as the price has repeatedly tested the floor, dipping slightly lower than the $0.08 mark but recovering sharply to set a new daily high since 6 May 2021. As long as the price trades above this level, we can expect the continuation of the bullish trend till the close of the year into 2022.
TRON (TRX) price prediction 2018
Early 2018 was a year of significant growth for all cryptocurrencies, and TRON (TRX) is no exception. TRON's price soared to a record high of $0.30. As the asset's price peaked, bears stepped in and pushed the price as low as $0.023. However, the Minenet launch helped TRX surpass $0.10. After that positive event, the rest of the year was bearish for TRON and other altcoins. In 2018, TRON's price fell as low as $0.011.
TRON (TRX) price prediction 2019
The performance of TRON's crypto price in the 2019 prediction is similar to that of 2018. Performing well at the beginning of the year, the price increased and touched $0.045 on 26 June 2019. The rest of the year was bearish. TRX's price fell back to its low of $0.011 and remained near that level for the rest of the year.
TRON (TRX) price prediction for 2021, 2022, 2025, 2030
The TRX coin is very dependent on the decentralised applications (dApps) market. All price predictions are ultimately based on two other expectations: future financial performance for this market and the likelihood of success for TRON's competitors. 2020 was a dark year for the financial market globally, but TRON didn't see any interesting price swings except for a few attempts to raid old lows and smaller highs.
TradingBeasts TRON price prediction for 2021, 2022, 2023, 2025, 2030
According to the price prediction from TradingBeasts, TRX price is expected to grow slowly but steadily. The current TRX coin price is $0.4537, but by the end of 2021, the average price for TRON is expected to be $0.102556. The forecast for 2022 also remains stable, and investors who are already in can look to either hold or add a little more to their positions. New investors can also look into TRX, as it is estimated that there will be a 31.67% increase in price by the end of 2022. 
WalletInvestor TRON price prediction for 2021, 2022, 2023, 2025, 2030
WalletInvestor is an AI-based forecasting service. Their TRX charts and future forecasts are somewhat pessimistic for the closing quarter of 2021. They expect the price to slowly decline to around $0.08500, which should be reached at the close of 2021. However, TRON's price for 2022 is much more optimistic as prices are expected to reach as high as $0.1800, which is currently the highest price point since 2018. This spells great news for investors looking to get in on TRON, seeing as they've further predicted over a 300% increase in price towards the middle of the decade.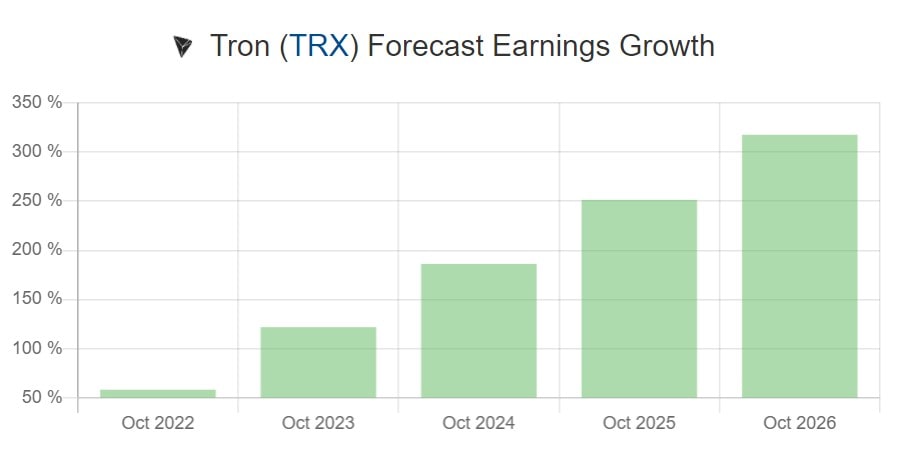 Long Forecast TRON price prediction for 2021, 2022, 2023, 2025, 2030
Long Forecast predicts a gloomy decade for TRON's price. Price is expected to slide even lower till the end of the year, with sharper declines to lows of $0.0600 and $0.0500 expected in 2022. Not until 2023 do they expect any kind of bullishness, and even then, the $0.1000 mark is the highest expected price point. This TRX price prediction doesn't bode well for current and potential investors.
Coin liker TRON price prediction for 2021, 2022, 2023, 2025, 2030
The Coin Liker prediction service gives the most optimistic target for TRON's future price, up to $0.55 per token in 5 years! According to them, TRON is an excellent cryptocurrency with great potential. As the adoption rate increases, the price of TRX will rise.
TRON (TRX) future value predictions overall
Honestly, TRON is a project that many people don't like for one reason or another. Nevertheless, it has a very active and supportive community. Based on fundamental principles, TRX's future is auspicious and may e brighter than expected. A detailed roadmap and support from the gaming and gambling industries make the project's future promising. The area covered by TRX is continuously developing and has a lot of financial resources. 
How high can TRON go
It's hard to tell for sure what heights TRON (TRX) will reach. Based on the price predictions, you can form your opinion about TRON's future. One thing is sure: this cryptocurrency won't stop there. The TRON Foundation is investing in its development, buying up in-demand companies. Bringing it all together, it becomes evident that the interest in the company and the cryptocurrency should increase significantly.
TRX price prediction today
You can spend a lot of time trying to estimate this asset's prospects. One thing is clear: we're dealing with a company that is actively investing in promising projects and technologies. A professional team is directly involved in developing high-quality, next-generation products.
Given the fact that technology is taking up an increasing amount of space in our daily lives, the cryptocurrency industry will only grow. You can start investing in these technologies with us today. Our easy-to-use, high-quality and transparent product is tailored to your needs. StormGain allows you to buy TRON (TRX) today and make money with this promising project.
Tags
Exchange BTC
Try our Bitcoin Cloud Miner and get additional crypto rewards based on your trading volume. It's immediately available upon registration.
Try our Bitcoin Cloud Miner and get additional crypto rewards based on your trading volume. It's immediately available upon registration.
Welcome to StormGain — crypto trading platform!
Trade with 300× multiplier.