Shibnobi (SHINJA) Price Prediction 2023, 2025-2030

In the realm of cryptocurrencies, an interesting phenomenon has emerged where certain tokens gain immense popularity not for their underlying technology but for their meme-driven community. Shibnobi (SHINJA) is one of those coins and aims to emulate the success of Dogecoin (DOGE) and Shiba Inu (SHIB) cryptos by harnessing the popularity of memes. In this article, we will explore the Shibnobi platform, its native token SHINJA and look at its price predictions.
What is Shibnobi (SHINJA)?
Shibnobi positions itself as a community-driven platform that creates an ecosystem of products for a new generation of crypto-enthusiasts.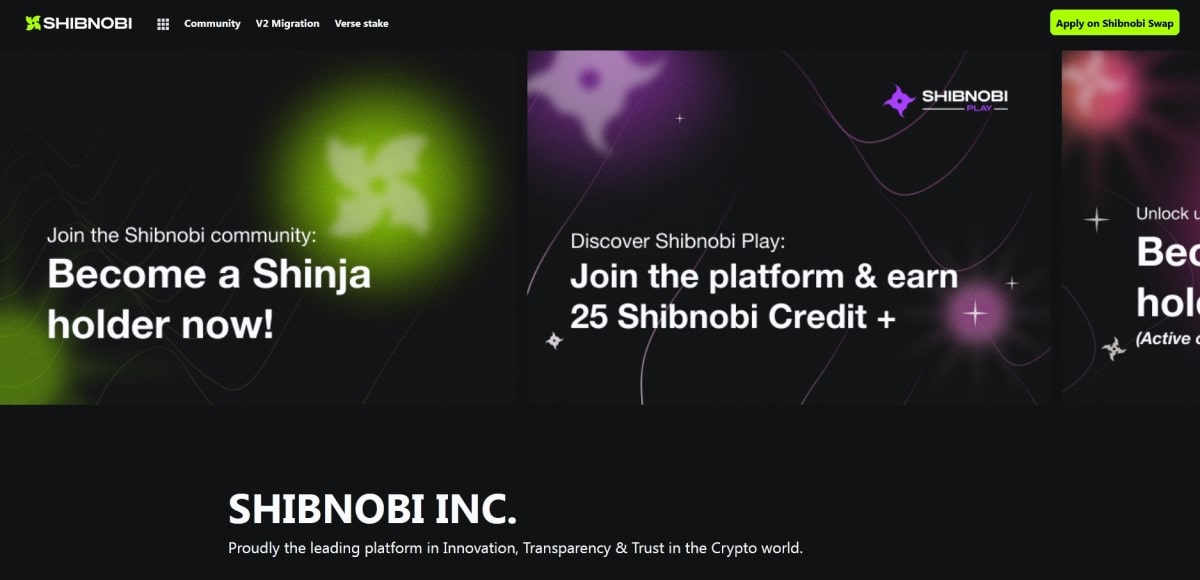 The history of Shibnobi
Shibnobi was founded in November 2021 by Luke Carter and Cliff Fettner. The company is headquartered in Austin, Texas, USA. The project's first token was launched on 15 November 2021 on the Ethereum network. The total supply of the first token was 69 sextillion.
In February 2022, Shibnobi's whitepaper was published. In June 2022, the company rebranded itself to try to move away from the "meme coin" image. The logos and slogan were changed, and the UIs were redesigned. On 15 November 2022, the token was relaunched with an initial total supply of 100 billion.
In March 2023, Luke Carter filed a lawsuit against Shibnobi's second co-founder and CEO, Cliff Fettner, accusing him of mismanagement and numerous other misconducts.
Shibnobi's features
Shibnobi was originally positioned as a "meme" token whose developers planned to create a multichain infrastructure for the convenient exchange of liquidity between Ethereum, Binance Smart Chain, Cronos and Polygon networks. In addition, the developers' initial plans also included launching NFTs and a Play-to-Earn (P2E) game.
Subsequently, however, the developers' ambitions grew, and they announced plans to develop a fairly extensive ecosystem and tried to get away from the "meme token" image through rebranding.
According to the developers, the Shibnobi ecosystem will consist of the following elements:
Swap. An automatic market maker (AMM) decentralised exchange (DEX).
Bridge. A bridge that makes it possible to directly swap between different cryptocurrencies.
Learn. An educational resource on cryptocurrencies.
NFT. NFT collections that will provide various benefits to their owners.
Analytics. A crypto price and news tracker.
Play. A gaming platform for PvP matches and tournaments in various games.
Eco. A mobile app and browser extension that will include Wallet, Swap, Analytics and Bridge functionality.
Verse. A metaverse platform.
Chain. A native Shibnobi's Proof-of-Stake (PoS) blockchain.
NFT Marketplace. A marketplace where users can buy, sell and trade NFTs and a gallery for digital artists.
Software. A selection of services for partner projects: creating and auditing contracts, consulting, etc.
Studio. Promotional materials creation services.
Launchpad. A platform for presales and ICOs.
It's worth noting that the links on the platform's website to most of the listed projects are currently not working.
SHINJA is a utility token in the Shibnobi ecosystem that is supposed to be used for transactions as well as payment for access to premium features. This is an ERC-20 token, although the developers plan to launch their own blockchain later on.
SHINJA is a deflationary token, and 1% of the tokens in each transaction are burned. There are also additional token burns occurring from time to time. It's also worth mentioning that each token transaction is subject to a tax, the amount of which is set by the company's CEO.
Shibnobi (SHINJA) price analysis
As of 08 June 2023, the SHINJA token ranked 2891st among cryptocurrencies by market capitalisation at $2,646,555.
SHINJA price statistics (as of 08/06/23)
| | |
| --- | --- |
| Current price | $0.00003327 |
| Market cap | $2,646,555 |
| Circulating supply (self-reported) | 79,547,793,559 SHINJA |
| Max supply | 100,000,000,000 SHINJA |
| Daily trading volume | $702,979 |
| All-time high | $0.0001811 (09/12/22) |
| All-time low | $0.00002934 (07/06/23) |
| Website | |
SHINJA's price history
SHINJA began to be tracked on CoinMarketCap.com in early December 2022 following migration from v.1 to v.2. The token's price declined until 6 January 2023, then it surged and reached a local high of $0.0001542 on 9 January 2023. After moving in a sideways channel for some time, the price broke down the support level of $0.000125 on 5 February 2023 and started falling again. The decline lasted until the end of March. The subsequent recovery of the price, however, did not last long, and in the middle of April, the fall resumed and has been going on till now.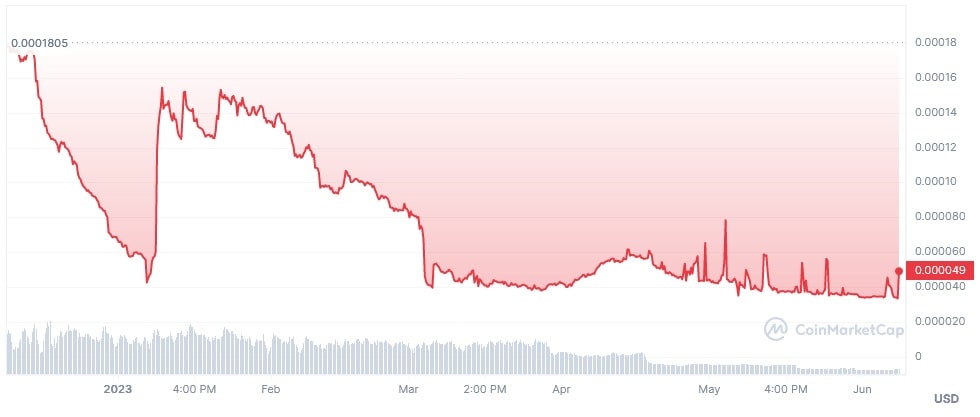 SHINJA technical analysis
Since SHINJA is not trading with fiat currencies, the SHINJA/WETH chart is used. The price continues to fall, repeatedly setting new all-time lows. The moving averages indicate a clear bearish sentiment. The RSI has been in an oversold area for a month now. The MACD is neutral.
Though it should be noted that cryptocurrencies with a market cap as low as SHINJA's are very susceptible to market manipulation, and their technical analysis is far too unreliable.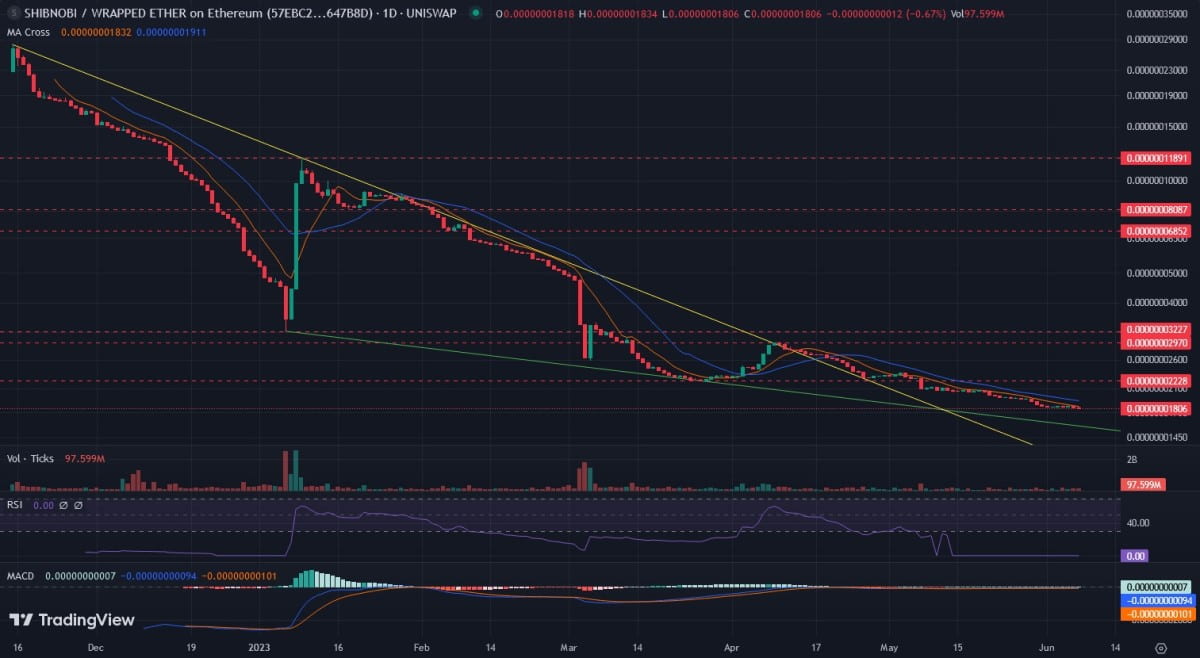 Shibnobi (SHINJA) price prediction 2023
SHINJA's price most likely has not yet hit bottom, and it is not yet clear when it will. At the moment, there's no objective reason for the price to start recovering, and the developers will have to make a serious effort to make it happen.
Shibnobi (SHINJA) coin price prediction for 2023, 2025, 2030 and 2040
The SHINJA token has a pretty small market capitalisation. It's, therefore, not surprising that many popular price prediction services have overlooked it. We have compiled for you the predictions of those few that did pay attention to it.
Wallet Investor's SHINJA price prediction for 2023, 2025, 2030 and 2040
Wallet Investor expects SHINJA's price to fall in the coming years. According to them, the token price will be $0.00000342 at the end of 2023, $0.000000735 at the end of 2025 and $0.000000334 at the end of 2027.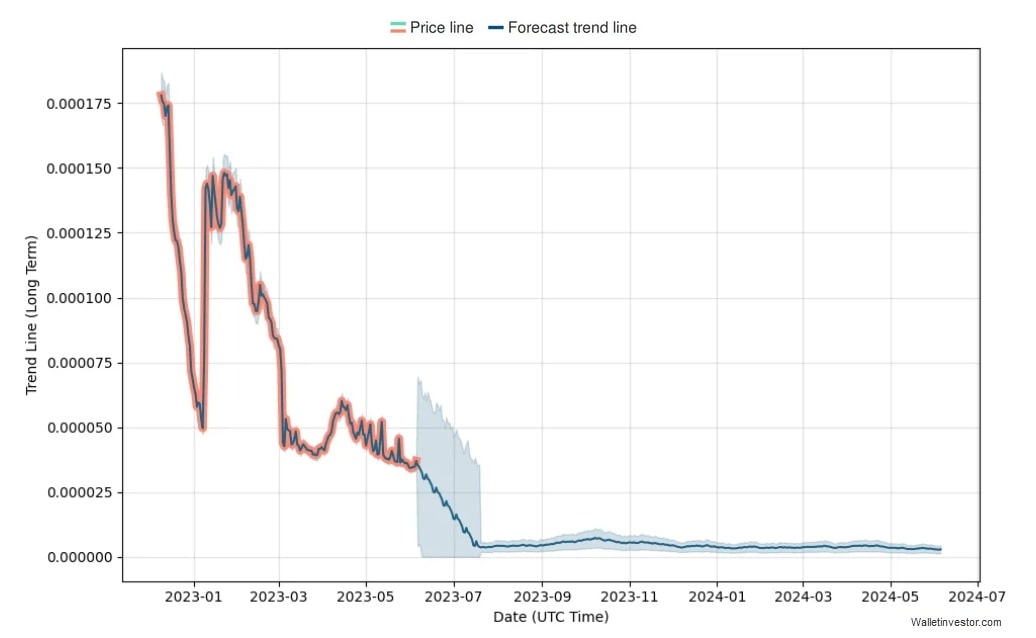 Cryptopolitan's SHINJA price prediction for 2023, 2025, 2030 and 2040
By contrast, Cryptopolitan expects SHINJA's price to rise significantly. They expect the average price to reach $0.00014132 in 2023, $0.00021343 in 2024, $0.00031316 in 2025, and $0.002 in 2030.
DigitalCoinPrice's SHINJA price prediction for 2023, 2025, 2030 and 2040
DigitalCoinPrice also predicts that the price will rise. According to their estimates, the token will be worth $0.0000710 at the end of 2023, $0.0000867 at the end of 2024, $0.000109 at the end of 2025 and $0.000334 at the end of 2030.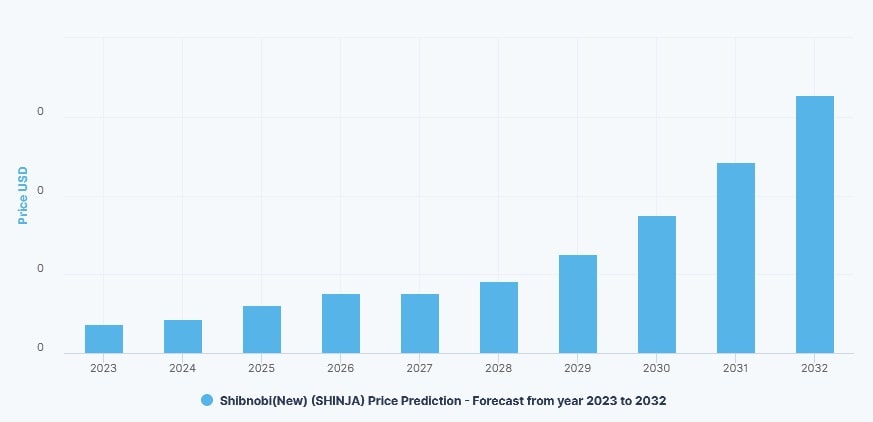 Price Prediction's SHINJA price prediction for 2023, 2025, 2030 and 2040
Price Prediction's forecast is also quite optimistic. They believe the SHINJA's average price will be $0.00004280 in 2023, $0.00006100 in 2024, $0.00009125 in 2025, and $0.00053115 in 2030.
Shibnobi (SHINJA) overall future value predictions
Is Shibnobi coin a good investment?
The situation with SHINJA looks bleak at the moment. After attracting the initial audience with the overused Shiba Inu meme, the developers have announced ambitious plans, but so far, they're just plans. Meanwhile, the project has a number of red flags:
The very low market cap of the token makes it very vulnerable to market manipulation.
At the moment, the token has essentially no utility. Even its use as a means of transferring funds and as a speculative asset is hampered by very high internal buy/sell and transfer taxes.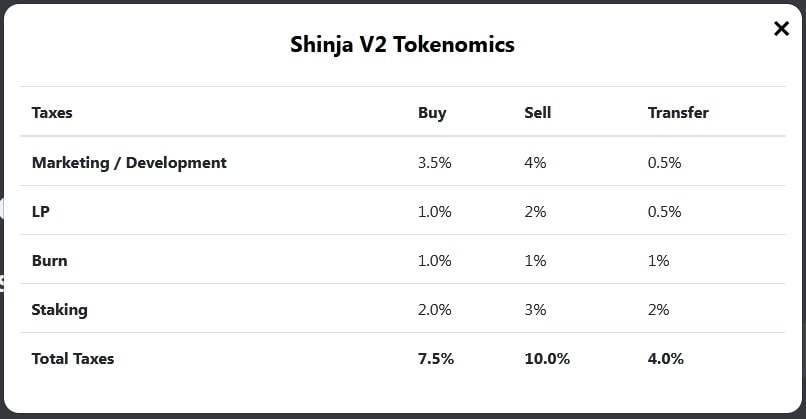 The plans announced by the developers for the ecosystem offer essentially nothing new but are just a list of hype trends.
Project management is very centralised, with a significant amount of control in the hands of one person, the CEO.
The token is not listed on any of the noticeable centralised crypto exchanges. The bulk of the trading takes place on the Uniswap DEX.
One of the project's co-founders has filed a lawsuit against the other one.
The links on the platform's website to most of the projects in the Shibnobi ecosystem are currently not working.
The community of the project's followers is, as the developers themselves admit, disappointed and inactive.
Of course, the above is no guarantee that the project is dead. But at this stage, investing in it is extremely risky and is highly likely to result in a loss of money.
How high can the SHINJA coin go?
Since there are currently no objective reasons for the price to recover, let alone rise steadily, it's very premature to talk about how high it might go.
Shibnobi (SHINJA) crypto price prediction today
At the moment, most signs indicate that the drop in the token price will continue with new all-time lows being set.
Tags
Exchange BTC

Try our Bitcoin Cloud Miner and get additional crypto rewards based on your trading volume. It's immediately available upon registration.

Try our Bitcoin Cloud Miner and get additional crypto rewards based on your trading volume. It's immediately available upon registration.
Instrument
Rate
Change (24h)