Earn up to 8% in Passive Crypto Income with StormGain
Earn rewards for holding crypto in your StormGain wallets.
No bank can match an 8% interest rate. Switch from old investments to earning high passive income on crypto without the risk of trading.
Deposit a minimum of $50 and a maximum of $2 million.
Start earning interest and withdraw funds whenever you want.
Rest easy with our secure, multifunctional crypto app.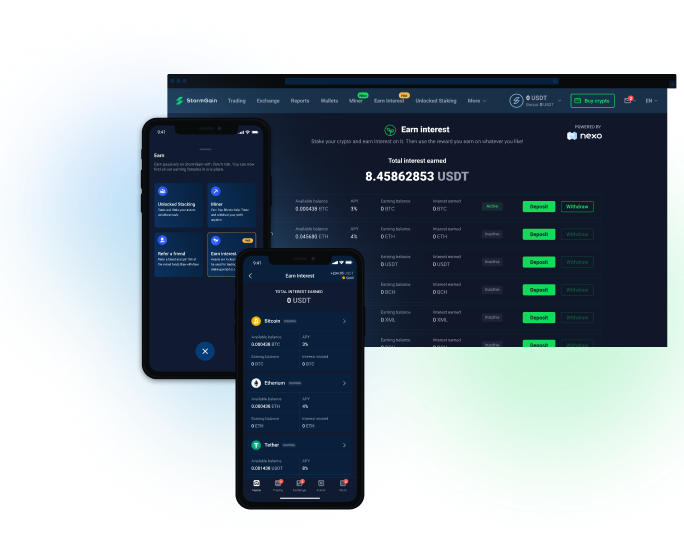 How is Crypto Passive Income possible on StormGain?
Earning crypto interest is a new way of getting passive income.
In a nutshell, it's like a bank deposit, but instead of fiat, you have crypto that gives you passive income.
Earning crypto interest in StormGain means that the crypto owner keeps their crypto funds in a wallet, thus staking the funds for a period of time to get crypto passive income. In return, they are rewarded with interest on top of their holdings.
A lot of people buy crypto just to hodl it for potential profit in future. But until that time comes, these crypto funds are just sitting there, gathering dust. In fact, they could even lose value when the crypto market turns bearish. As a result, hodlers get nothing from their crypto. Earning crypto interest solves this problem.
Now you can have one app to mine bitcoin, trade 50+ cryptos plus tokenised gold and silver and crypto options, get trading signals, see crypto indices, earn crypto interest, exchange assets, store crypto in wallets and access educational video tutorials.
5,000,000+ total clients in 230+ countries
$19.6 billion 30-day volume
StormGain's security features include two-factor authentication, encryption, and cold and hot wallets, among others.
How to get crypto passive income:
Create a StormGain account

Start receiving passive income!
FAQ Crypto Passive Income
Will my wallet or interest balance be updated immediately after I initiate an operation?
The transaction needs some time to process, so it may take several minutes for your balance to update.
How can I use the crypto I earn?
You can withdraw, trade, exchange or reinvest your passive earnings.
How can I earn passive income with crypto on StormGain?
For new clients: To start earning passive income with crypto, you need to register for StormGain. You can do this on our web or mobile app. After successfully registering, you need to deposit some funds into your account. Once you confirm the deposit, go to the 'Earn' section and select the 'Earn interest' option. Click the cryptocurrency you want to stake and choose the amount and period you would like to stake for.
For current clients: Sign in to your StormGain account, go to the 'Earn' section, select the 'Earn interest' option, and choose the cryptocurrency you want to stake. In the new window, select the amount and period to stake for.
What is the minimum amount of crypto needed to start earning passive income?
The minimum amount of crypto needed to start earning crypto interest varies depending on the network fee for each crypto.
What are the minimum and maximum periods for staking crypto to receive passive income?
There is no set time limit for staking crypto to earn passive income on StormGain. You can initiate the staking and withdrawal process anytime. That said, please note the network fee charged when you begin the staking or withdrawal process.
How often are earnings credited to my account?
Earnings are credited daily, although it may take longer to credit the first earnings.
Can I earn passive income on crypto simultaneously using several cryptocurrencies?
Yes, you can start earning crypto passive income in several cryptocurrencies simultaneously. We have a separate interest-earning process for each cryptocurrency, so you can diversify your holdings and earn interest on different cryptocurrencies.
Is it safe to stake crypto?
Yes. There's no need to worry about the security of your staked funds. They are protected by the Nexo platform, the world's leading and most trusted lending institution in the digital finance industry. Nexo is licensed and has a comprehensive network of custody and insurance providers.
Who should I contact if I have an issue with staking crypto?