Is Avalanche (AVAX) a good investment in 2022?

Decentralised finance (DeFi) is a promising market that is attracting more and more attention due to its passive income opportunities. However, of the total number of cryptocurrency holders, only a small proportion are actively involved in the DeFi sphere. One promising DeFi project is Avalanche, which has a good chance of competing with Ethereum 2.0. Is Avalanchecrypto (AVAX coin) a good investment? In this article, we provide you with the information you may need to make your decision.
What is Avalanche (AVAX)?
Avalanche is an open-source smart-contract platform for running dApps and launching customised blockchains in a single, decentralised and scalable ecosystem.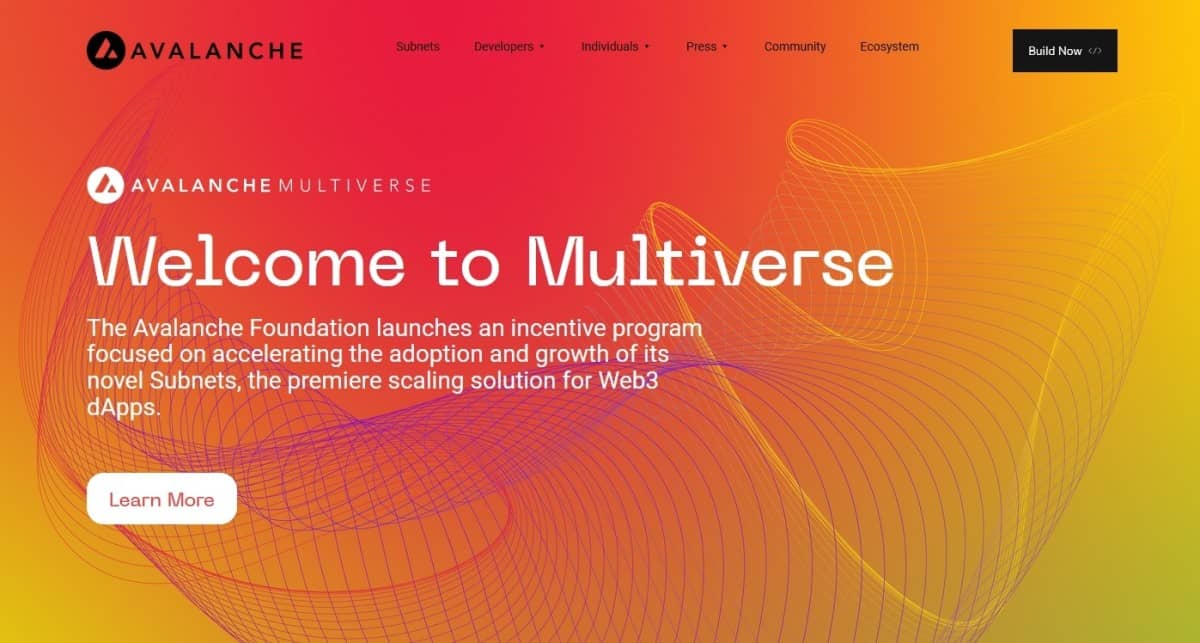 Over time, people have come to a false understanding that blockchains have to be slow and not scalable after seeing the existing blockchains in action. The Avalanche protocol employs a novel approach to consensus to achieve its strong safety guarantees while achieving quick finality and high throughput, without compromising decentralisation. — Emin Gün Sirer, Co-founder and CEO of Ava Labs.
The origin of Avalanche
The Avalanche platform was created by Ava Labs, which was founded in 2018 by Cornell University professor Emin Gün Sirer and his colleagues Kevin Sekniqi and Maofan Yin.
The Avalanche project's white papers were published in 2019, the same year Ava Labs raised $12 million in a private token sale. Later, in 2020, it raised $42 million in a public ICO.
Avalanche's mainnet was launched on 21 September 2020.
Avalanche explained
The Avalanche Primary Network consists of three individual blockchains, which are validated and secured by all the Avalanche validators:
Platform Chain (P-Chain) coordinates validators, tracks Subnets and enables the creation of new Subnets;
Contract Chain (C-Chain) enables the creation of smart contracts. It's an Ethereum Virtual Machine (EVM) which means it can be used to run Ethereum-based dApps;
Exchange Chain (X-Chain) is a platform for creating and trading digital smart assets. Each may have its own set of rules governing its behaviour.
Avalanche Subnets are independent networks whose creators define their own rules for these networks regarding membership, tokenomics, compliance, etc. Validators of all custom Subnets must also be validators of the Primary Network by staking at least 2,000 AVAX.
The Avalanche ecosystem uses two consensus mechanisms: Avalanche and Snowman. 
Instead of a blockchain, the Avalanche protocol uses the Directed Acyclic Graph (DAG), which allows the network to process transactions in parallel. There are no blocks in Avalanche: the protocol operates with parent transactions and vertices.
Validators send requests to each other randomly to determine the validity of transactions. No additional validation is required.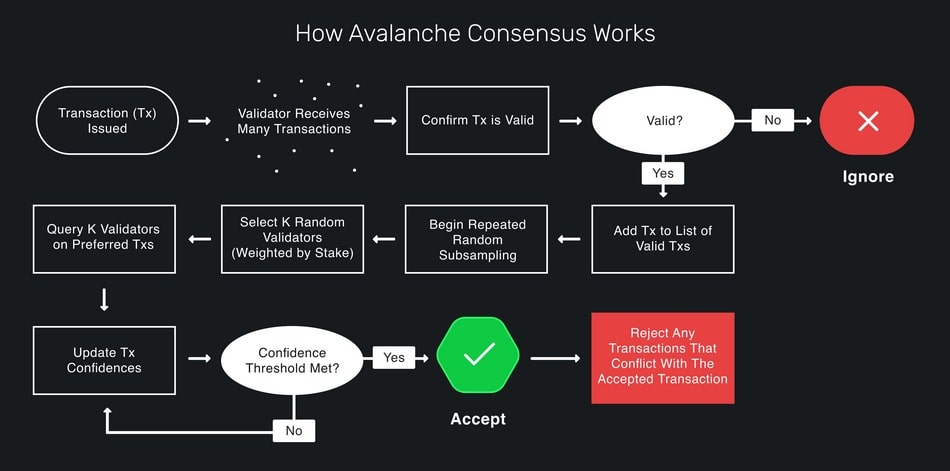 Snowman is based on Avalanche but arranges transactions linearly and creates blocks instead of vertices. This allows it to handle smart contracts very effectively. Snowman protocol is used in both P-Chain and C-Chain.
The Avalanche platform allows the creation of powerful dApps as well as public or private blockchain networks with their own sets of rules.
The Avalanche's areas of application include:
Decentralised Finance (DeFi): asset issuance, Decentralised Exchanges (DEXs), borrowing and lending, insurance, stablecoins, etc.
Governance, institutions and enterprises: Central Bank Digital Currencies (CBDC), digital identity, intellectual property protection, supply chain management, real estate, etc.
Non-Fungible Tokens (NFTs).
What is AVAX used for?
AVAX is the native token of the Avalanche platform. It's used for paying fees, staking and settlements between Subnets.
The maximum issuance of AVAX is hard capped at 720 million tokens. Of this amount, 360 million has been minted at launch, and the remaining 360 million is scheduled to be issued as staking rewards. This hard cap, combined with the fact that fees are then burned, makes AVAX a deflationary asset.
Avalanche pros and cons
Avalanche is a quite promising project whose capitalisation speaks volumes about how much the cryptocurrency community expects from it. Indeed, the fundamentals of the project are encouraging:
Avalanche is one of the fastest smart contract platforms on the market.
The platform's innovative architecture offers potentially unlimited scalability while maintaining a high degree of decentralisation and high performance.
Users are able to run highly customised public or private blockchains on the platform.
Avalanche is Solidity-compatible and allows users to run Ethereum-based dApps, as well as easily transfer assets between Avalanche and Ethereum blockchains.
The platform runs on an energy-efficient Proof-of-Stake (PoS) algorithm.
At the moment, transaction fees on the Avalanche network are significantly lower than on the Ethereum network.
The project has a number of major partners and investors.
The main drawback of the project is that Avalanche has quite a few direct competitors, including Ethereum, which is the leader in this niche and is not about to give up, especially after the launch of the PoS algorithm and the move to Ethereum 2.0.
Avalanche (AVAX) price analysis
As of 14 September 2022, the AVAX token ranked 16th among cryptocurrencies by market capitalisation at $5,654,341,622.
AVAX price statistics (as of 14/09/22)
| | |
| --- | --- |
| Current price | $19.12 |
| Market cap | $5,654,341,622 |
| Circulating supply | 295,687,495 AVAX |
| Max supply | 720,000,000 AVAX |
| Daily trading volume | $574,048,237 |
| All-time high | $146.22 (21/11/21) |
| All-time low | $2.79 (31/12/20) |
| Website | |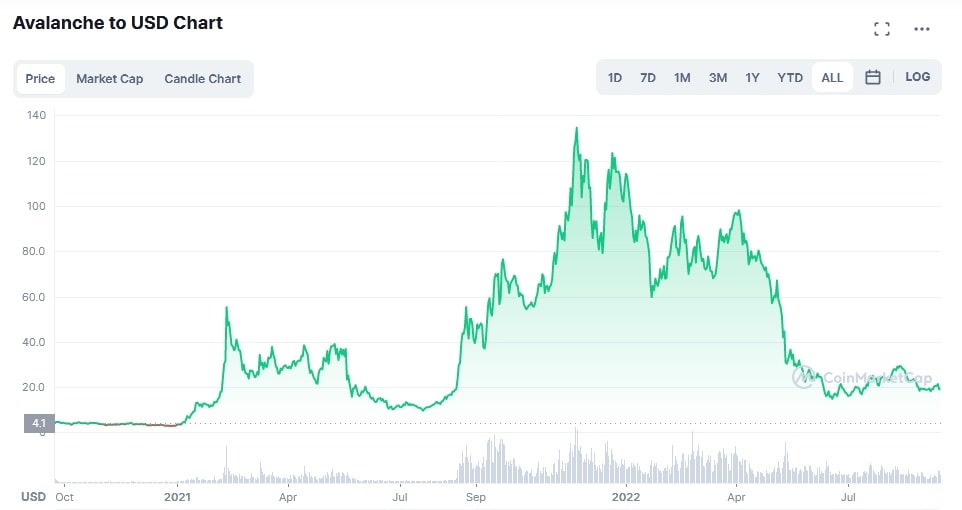 The AVAX price mainly follows the general state of the crypto market and, like the rest of the crypto market, is currently going through a 'crypto winter' period.
Avalanche investment
So, having figured out what kind of project it is, what can we say about the investment potential of AVAX?
Most prominent AVAX investors
Avalanche's investors include major market players such as Andreessen Horowitz, Galaxy, Bitmain, NGC, Dragonfly Capital, Polychain, Three Arrows Capital and others.
Future of the AVAX coin
Given the project's solid fundamentals and AVAX's deflationary model, the token's price has a very good chance of rising once the bull trend in the crypto market returns. However, there are a couple of things to keep in mind. First, despite the deflationary model, a rather large proportion of tokens have yet to be released to the market. Their issuance will create some inflationary pressure on the price. Second, the market capitalisation of the token is already quite high, and the competition in this niche is quite intense. Should Avalanche start falling behind its competitors, AVAX's price will decline.
Benefits of investing in Avalanche
In addition to the potential capital gains and other benefits of investing in cryptocurrencies, investing in AVAX is also capable of generating additional passive income in the form of staking rewards. At the moment, the average income from staking (without running a validator node) is 8.5% APY.

Is Avalanche a good investment in 2022?
Cryptocurrencies are a high-profit, high-risk type of investment. When investing in cryptocurrencies, don't invest more than you can afford to lose and always do your own research.
Having said that, we can say that AVAX looks pretty promising at the moment. It has strong fundamentals, and at the same time, along with the rest of the crypto market, it has fallen quite a bit in price. Given the fact that there are some signs that crypto winter may be coming to an end, AVAX could indeed be a good addition to a crypto investment portfolio.
How to buy AVAX with StormGain
Buying AVAX, as well as many other cryptocurrencies, with the StormGain crypto platform is quite easy. To do so, you will need to follow a few simple steps:
Create an account on StormGain. It's easy.
Go to the 'Wallets' section and click the 'Deposit' button.
Choose a wallet with the cryptocurrency you want to buy, e.g. AVAX.
Select the type of payment. You can pay either with another cryptocurrency (e.g. USDT) or with fiat money using a credit card.
Type the amount of crypto you want to buy.
Choose the payment method and click 'Deposit'.
Proceed with payment.
Tags
Exchange BTC

Try our Bitcoin Cloud Miner and get additional crypto rewards based on your trading volume. It's immediately available upon registration.

Try our Bitcoin Cloud Miner and get additional crypto rewards based on your trading volume. It's immediately available upon registration.
Instrument
Rate
Change (24h)