The biggest celebrities you didn't know were into crypto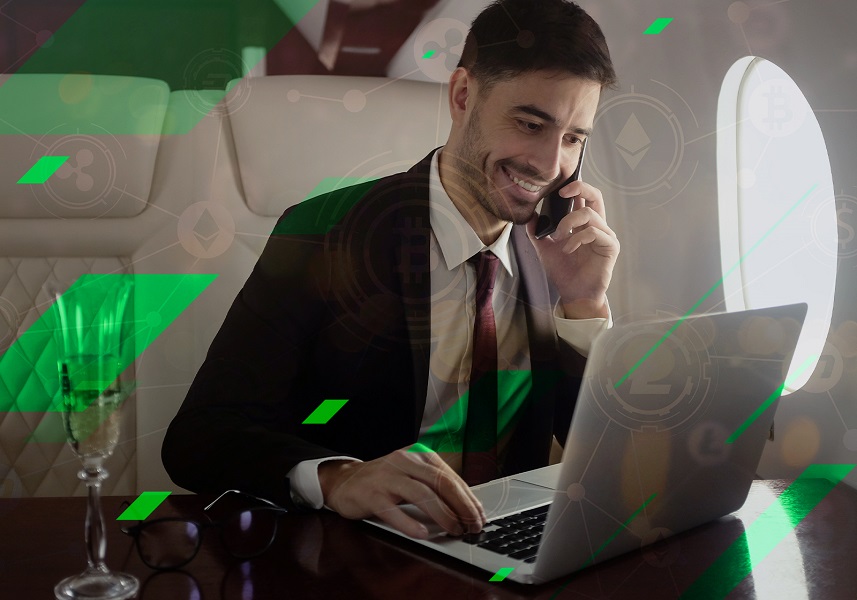 Celebrities are as much known for their wealth as their work, and many of the rich and famous don't limit themselves to traditional fiat currencies. Plenty of famous actors, musicians and entrepreneurs have shown themselves to be forward-thinking by investing in cryptocurrency. Whether Bitcoin, Ethereum, Ripple or any of the other altcoins, most of the leading digital assets have some famous fans.
50 Cent
The rapper's stage name may not be worth much money, but this famously hard-to-kill artist is also renowned for being an 'accidental' Bitcoin millionaire. In 2014, he released the album Animal Ambition and became one of the first artists to accept Bitcoin as payment. The rapper, also known as Curtis Jackson, received more than 700 Bitcoins under the deal but then forgot about the cryptocurrency until the new all-time high BTC prices in 2017 reminded certain people to check on their Bitcoin balances!
Fun fact: Rival rapper Snoop Dogg claims to have offered an album for Bitcoin even earlier than 50 Cent in 2013.
Jack Dorsey
Twitter founder and Big Tech personality Jack Dorsey recently put up his first-ever tweet as an NFT, and bids for the digital collector's item quickly shot up to around $2.5 million. Dorsey's other company, Square, bought 4,709 Bitcoins in October 2020, equal to $50 million at the time. Previously, the company expanded its mobile payment service Cash App to support Bitcoin trading that even works for users without a bank account. Dorsey also launched Square Crypto, which awards grants to cryptocurrency developers.
Maisie Williams
Maisie Williams famously plays Arya Stark in the medieval fantasy TV show Game of Thrones, but when it comes to finance, she isn't stuck in the past. In November 2020, she asked her 2.7 million followers if she should 'go long' on Bitcoin. For the record, we hope that she did, given how BTC was set to soar to a series of all-time highs in the following months.
Ashton Kutcher
Ever since That 70s Show, Kutcher has been known for playing not-too-clever 'bro' characters, but when it comes to his finances, he has proved to be very shrewd indeed. Ashton Kutcher's company, Sound Ventures, has invested in a range of tech projects, notably Ripple (XRP). Kutcher isn't shy about his enthusiasm for cryptocurrency, speaking about Bitcoin and Ripple's revolutionary potential at numerous events and even TV interviews.
Gwyneth Paltrow
The famous actress Gwyneth Paltrow is probably now better known as a lifestyle guru and an entrepreneur in the health and wellness world with her brand Goop. Paltrow's interest in cryptocurrency isn't just a fad, however. She has been a very vocal advocate of crypto and became an advisor to Bitcoin wallet app Abra after being introduced to them on the Apple TV show Planet of the Apps.
Mark Cuban
The Shark Tank host and Dallas Mavericks owner Mark Cuban recently revealed that he has been holding cryptocurrencies for years without ever diluting the holdings. Cuban is a famous investor who doesn't shy away from creating controversy with his tweets and jokes. He's an outspoken critic of the current mainstream financial system and has made a (joking?) statement that he will run for US President if BTC ever reaches $1 million.
The Winkelvoss Twins
Cameron and Tyler Winklevoss gained their fame as athletes, rowing in the Beijing Olympics and successfully suing Mark Zuckerberg for allegedly stealing their idea for what would become Facebook. More recently, they earned millions by investing in cryptocurrency. The above-mentioned Mark Cuban recently complimented Tyler Winklevoss for his committed BTC advocacy, saying, "You are the King of Get Long and Get Loud for BTC and that's not a bad thing."
Mel B
The former Spice Girl was a trendsetter back in the '90s, inspiring millions with the mantra of 'girl power'. But she also believes in the empowering potential of blockchain technology. Mel B was ahead of the curve in 2013, another contender for the title of first musician to accept Bitcoin as payment for her music for a single in that year, saying, "Bitcoin unites my fans around the world using one currency".
Lionel Messi
Football superstar Lionel Messi, an extremely wealthy man in any currency you care to count his salary in, can play the market as well as the pitch. As well as being an ambassador for Sirin Labs, a company that develops blockchain-based privacy-focused PC and mobile hardware, Messi has touted crypto's potential on social media.
Why crypto?
Being a celebrity isn't just about having money; it's about making it. Successful stars often become entrepreneurs and investors to consolidate and expand their fortunes. That's why so many actors, athletes and musicians end up crossing into the cryptocurrency world. Is it time you joined them? StormGain, the crypto exchange app with up to 300x leverage on top cryptocurrencies, is available now on the web or as a smartphone app. Sign up now in just a few seconds to try a free demo account and see how much you could make on the crypto market!
Tags
Exchange BTC

Try our Bitcoin Cloud Miner and get additional crypto rewards based on your trading volume. It's immediately available upon registration.

Try our Bitcoin Cloud Miner and get additional crypto rewards based on your trading volume. It's immediately available upon registration.