New altcoins on StormGain - diversify your portfolio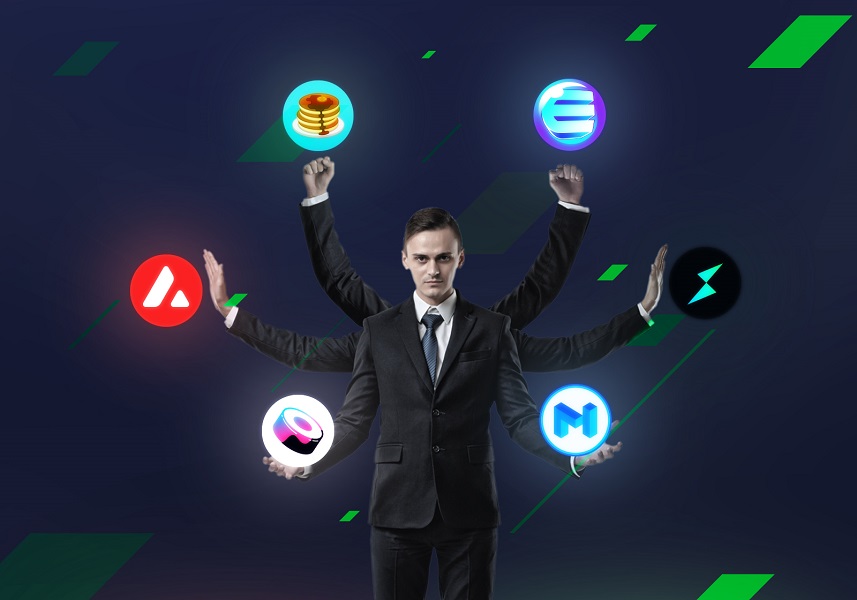 Keen-eyed users may have already noticed that there are a plethora of new additions to the StormGain family of digital instruments. StormGain is proud to debut 15 (!) new altcoins to our platform. Our experts have vetted each one to make sure it represents an interesting investment opportunity to the right buyer. To find out which may be right for you, let's take a look at the new additions:
Theta, the video-sharing token (THETAUSDT)
Theta is the cryptocurrency of a P2P system that aims to support one of the most crucial services on the Internet, at least as far as home entertainment is concerned: video streaming. Many video streaming sites are plagued by issues, such as poor global coverage, low video quality, stuttering or interrupted streaming.
Theta is a decentralised blockchain infrastructure for video streaming that rewards its nodes with Theta tokens for their efforts in hosting video content. The aim is to make video streaming online both higher quality and more secure.
Algo, the un-forkable (ALGOUSDT)
Developed by the Algorand foundation, Algo is a cryptocurrency intended simply as digital cash for cross-border payments. Stop us if you've heard that one before. But the Algorand blockchain, built to support billions of users, can boast breakneck speeds and scalability. It takes just 4.5 seconds to make a transfer, big or small. Algo's other selling point is that it is guaranteed never to fork, thus offering an additional layer of long-term reliability.
Solana, a unique DeFi token (SOLUSDT)
Created by former Qualcomm engineers, Solana is a DeFi token with a twist. It introduces a proof-of-history (PoH) consensus combined with the blockchain's underlying proof-of-stake (PoS) consensus. The innovative hybrid consensus model is intended to improve scalability for building dApps, and Solana is noted for its high-speed processing and validation times.
Terra, for stability and security (LUNAUSDT)
The Terra blockchain protocol powers global payment systems but uses fiat-pegged stablecoins as tokens. The intention is to combine the price stability and wide adoption of fiat currencies with the decentralised advantages of Bitcoin (BTC).
Terra offers stablecoins pegged to the U.S. dollar, South Korean won, Mongolian tugrik and the International Monetary Fund's Special Drawing Rights basket of currencies. It intends to roll out even more in the future. LUNA is Terra's native token. It's used to stabilise the price of the protocol's stablecoins and give its holders a say in the protocol's governance.
Aave, the DeFi solution for crypto loans (AAVEUSDT)
Aave (AAVE) is an Ethereum token that powers Aave, a DeFi project formerly known as ETHLend dedicated to facilitating cryptocurrency lending.  Users can participate as depositors that provide liquidity to the market in return for a passive income or as borrowers who can borrow cryptocurrencies in exchange for paying interest. Aave works on automatic liquidity-based market lending with interest calculated on the spot based on asset supply and demand.
And many more!
The other new coins available on StormGain have a variety of functions, from eSports to file storage to exchange systems. They include:
●    Binance Coin (BNBUSDT)
●    Avalanche (AVAXUSDT)
●    eGold (EGLDUSDT)
●    Filecoin (FILUSDT)
●    Chilliz (CHZUSDT)
●    PancakeSwap (CAKEUSDT)
●    SushiSwap (SUSHIUSDT)
●    THORChain (RUNEUSDT)
●    Enjin (ENJUSDT)
●    Polygon (MATICUSDT)
All 15 new altcoins can now be traded on the StormGain app and web platform.
Build a diverse crypto portfolio with StormGain
StormGain is designed to be your one-stop crypto platform, with full-fledged features for buying, selling, holding and even cloud mining! Any good investor knows that a diverse portfolio is key to mitigating risk and achieving long-term market success. That's why we've expanded our available crypto instruments to include more of the most exciting altcoins on the crypto scene. In addition to a wide selection of instruments, StormGain features super low fees, a fast and user-friendly app, and a loyalty programme for clients with attractive bonuses and rewards.
Registering with StormGain is easy and takes just a few seconds. Sign up now and use up to 300x leverage when trading Bitcoin, Ethereum, Ripple and a wide range of digital assets, including, but not limited to, all of the above!
Tags
Exchange BTC

Try our Bitcoin Cloud Miner and get additional crypto rewards based on your trading volume. It's immediately available upon registration.

Try our Bitcoin Cloud Miner and get additional crypto rewards based on your trading volume. It's immediately available upon registration.