StormGain surpasses 1 million active users: what's the secret?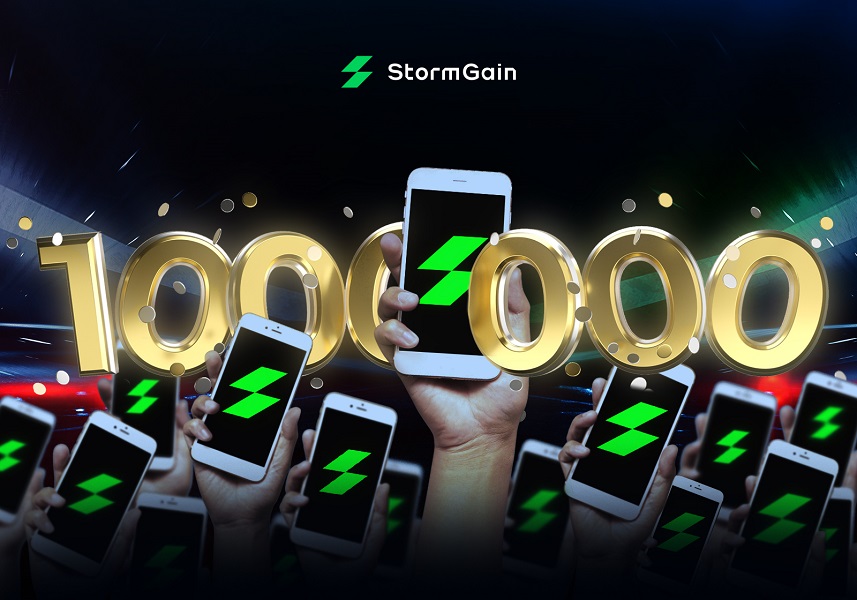 We are proud to announce an important milestone for the world's best crypto exchange: StormGain now has over 1 million active users! With so many clients spread across the globe who have trusted StormGain to be  their all-in-one crypto platform in just a couple of years, we just know we are  doing something right.
The best tools to dominate the crypto market, your way
Since StormGain was founded in 2019, it has always been the plan to create more than just another crypto exchange. StormGain offers the best conditions for buying, selling and exchanging over 55 different crypto instruments. But now, thanks to a steady rollout of innovative features, such as our cloud miner, loyalty programme, wallets, indices and others, StormGain has become the most versatile all-in-one crypto platform on the market.
To become the one-stop shop for all things crypto for over a million active users every day, we've developed a variety of tools that allow each client to tailor the platform to their particular needs and trading strategy. Whether you're a die-hard hodler, fast and furious day trader or looking to build crypto revenue as a passive income, StormGain has the right tools for you.
HODLing on for the long term
HODL, a.k.a. Holding On For Dear Life, has been the strategy of true believers since the early days of Bitcoin, and the typo has become one of the iconic phrases of the crypto community. Hodlers believe that the best thing you can do with your crypto is to 'hold' (i.e., not sell) as the coin will inevitably increase in value over time.
The hodl strategy has seen some validation very recently when a Bitcoin wallet that had been dormant for over 9 years decided to reactivate. The wallet's initial value of around $8,000 had increased to around $30 million at the time of writing. But there are even bigger whales in the ocean. According to BitInfoCharts, the largest dormant Bitcoin wallet has 80,000 Bitcoins, worth more than $3 billion today. And almost 100,000 out of roughly 100,000,000 Bitcoin wallets hold over $1 million worth.
Bitcoin hit another all-time high of $65,000 last week and is currently trading at $59,000, so anyone who believed and held during 2020's low point of around $6,000 must be feeling very good about hodling! In fact, if you had invested a mere $100 in BTC when it started in 2009 and just held on, your Bitcoin would be worth over $9 million today!
StormGain has a variety of tools to help hodlers get the most out of their stored crypto. Not only does it have built-in secure cold wallets for your cryptocurrency, but you also earn interest on your crypto stored in StormGain, up to a rate of 20% per year. That's a significant bonus on top of the benefits of having your crypto assets appreciate over time. It's no wonder then that so many hodlers trust StormGain as the place to store their crypto.
Making volatility work for you
Another way to make money from the cryptocurrency market involves actively buying and selling daily. In this scenario, the ability to spot the next big trend in the market is crucial. This requires up-to-date knowledge of the market, media coverage, and influencers, as well as a good knowledge of the vast array of altcoins.
Taking recent news into account, this would have meant keeping an eye on the market activity as well as Vitalik Buterin and Elon Musk's social media to predict the 500% price rise of Shiba Inu, the success of Solana and the all-time high of Ethereum.
This kind of trading activity can seem intense and intimidating to beginners, but StormGain was created to make cryptocurrency available to everyone, and as such, has a full suite of tools to help crypto newbies become trading experts step-by-step. Starting with our suite of educational materials that begin with the basics and build up to advanced strategies, to the full-featured demo account for practice and our regular market news updates, every StormGain client has what they need to make the most of the charts, trading signals and analytical tools in the app.
Having all this information at your fingertips makes speculative trading for short-term profits a popular strategy among StormGain clients, especially as StormGain offers up to 300x leverage on the most popular coins.
Mining in the clouds
Mining is one way that people have tried to build up a regular income from cryptocurrency since the beginning of Bitcoin. Traditionally, mining requires substantial computing power, typically a customised GPU, or more recently, specialised mining rigs. As crypto mining technology advanced, mining became organised on a mass scale, making it more inaccessible to the average new crypto enthusiast. Furthermore, mass mining has recently come under fire from environmentalists for requiring very high levels of energy consumption.
That's why we're so proud of our latest innovation at StormGain, the built-in Bitcoin cloud miner. This feature rewards StormGain clients with free BTC just for actively using the platform, with no additional cost to the user in resources or energy. StormGain's cloud miner is energy-efficient, convenient and free, and all of our active users can earn up to 0.0318 BTC per day. So far, 53 million USDT worth of Bitcoin has been awarded to StormGain clients via the cloud miner!
How do you use StormGain?
With fantastic support for every crypto strategy as well as the fantastic rewards for every type of user, it's no surprise that our active user count continues to rise every day. If you're not one of them, then what are you waiting for? It only takes a few seconds to register with StormGain and begin to experience  what the world's best crypto platform can do for you.
Tags
Exchange BTC

Try our Bitcoin Cloud Miner and get additional crypto rewards based on your trading volume. It's immediately available upon registration.

Try our Bitcoin Cloud Miner and get additional crypto rewards based on your trading volume. It's immediately available upon registration.