StormGain's top crypto picks for a prosperous 2021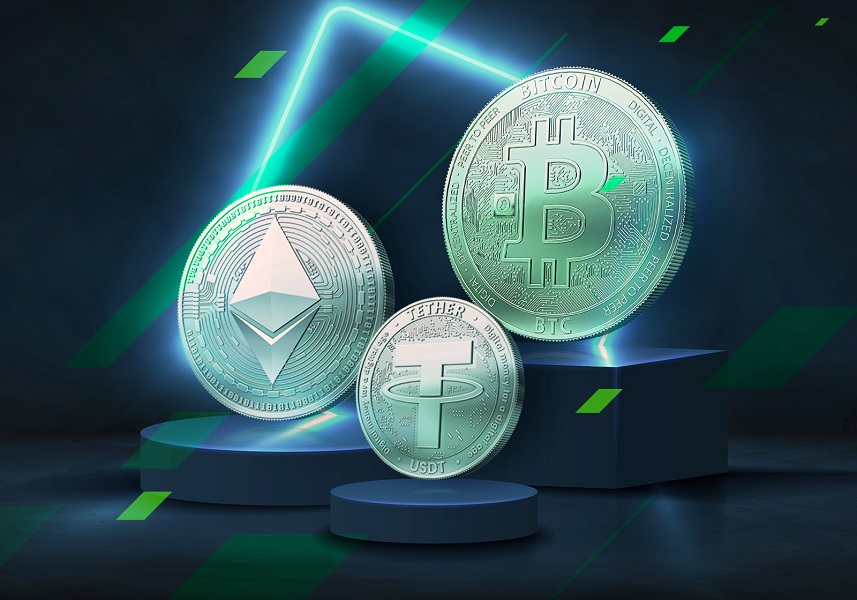 In the short span of about 5 years, cryptocurrencies have reinvented themselves as one of the most exciting and lucrative investment vehicles going. Back in 2015, crypto was an obscure asset class, populated almost exclusively by forward-looking tech aficionados. Crypto assets were hard to buy and almost impossible to sell. Now they're a genuinely liquid instrument, available on a wide range of exchanges and trading platforms and boasting capital flows to rival even equities and commodities. But it isn't just retail investors who are driving this mass adoption. Institutions are also going big on crypto, while global central banks are even scrambling to 'mint' their own digital currencies. That explains why Bitcoin is close to its all-time high, with further growth predicted for 2021.
It's no secret that there are literally thousands of different coins and tokens now on offer for near-real-time purchase. But a large portion of these is dubious at best, with many disappearing into thin air each year…along with their holders' capital. So, how do we see the wood for the trees? Well, while there are certainly lots of altcoins that might see Bitcoin-like growth, your risk will always be greater with yet-unproven projects. As such, the best way to preserve your investment is to focus on major coins with sufficient capitalisation and solid user bases. To help you make the right choice this coming year, we decided to compile a list of some of the safest bets to take advantage of crypto's ongoing momentum.
Bitcoin
Obviously, any list of the most lucrative digital currencies has to place the original crypto coin at the top. Bitcoin's unit value blows all of its closest competitors clean out the water. And apart from being orders of magnitude more expensive than its rivals, it has even become a household name known to pretty much every living generation. With over 60 million personal wallets now created, there's no doubt that BTC is the coin with the largest user base. In fact, many people use the word "Bitcoin" as if it's a synonym for digital assets in general. Its market capitalisation is an eye-watering $350 billion, and it has a current daily volume of around $26 billion! Many have dubbed it the new gold and, given where we are now in the commodities cycle, there's every chance that BTC could eventually replace the yellow metal as the ultimate inflation-beating hedge. However you slice it, though, Bitcoin is definitely going to remain a major player for as long as we have digital currencies, which makes it the perfect choice for a relatively risk-averse crypto investor.
Ethereum
We can probably all agree that the clear No. 2 in the crypto space has to be Ethereum. For anybody looking to have a modicum of diversification in their digital portfolio, it really is a must. The feature that truly differentiates ETH from BTC is its smart contract architecture, a function that is becoming increasingly popular with every passing day. Ethereum's total market cap stands at $63.3 billion. This figure is significantly lower than Bitcoin's, of course, but that is primarily due to its relatively low price and large supply. But when we look at daily trading volumes, this gap doesn't appear nearly as wide. Indeed, $12.5 billion worth of ETH is traded every day, which is almost exactly half the amount of BTC's volume. You might be forgiven for thinking that Bitcoin is the superior investment, but it's on the number of users where Ethereum comes into its element. With over 50 million unique Ethereum addresses and 1 million active dApps users, second fiddle could soon be vying for first chair. The best thing about ETH is that it is sufficiently well-established that you don't need to worry about it evaporating. It also still has enough room to grow that you could see a better long-term return on your investment if you believe in the revolutionary nature of its smart contract/decentralised app technology.
Litecoin
Despite coming into existence as a 2011 hard fork of Bitcoin, LTC has successfully managed to build a brand of its own over its almost decade-long history. Where Litecoin really stands out from its big brother is its comparatively light-speed block processing speeds. In fact, it takes an average of just 2.5 minutes to process one block on the Litecoin Network, whereas processing times of 10 minutes or more are commonplace on the Bitcoin blockchain. LTC has a respectable market capitalisation of $4,879,319,845 and currently sits fifth in the global cryptocurrency rankings. Its 24-hour trading volume — although significantly lower than the Big 2 above — is still the third-highest in the market at $3.5 billion. It would be dishonest to suggest that LTC was not a higher risk option than BTC or ETH, but many feel that there is plenty of potential for it to rise further next year. As it happens, Cryptoground.com has made an ambitious prediction for Litecoin, suggesting that it could smash through its ATH and hit $5500 by 2025. Given that it has significantly underperformed compared to the wider market this year, one would think it could make up some ground in the coming months and years.
Ripple XRP
The American company Ripple was founded in 2012 under the original name Opencoin. After it developed the Ripple Transaction Protocol, it changed its name to Ripple in honour of its latest product. This protocol was created to make international payments faster, cheaper and more efficient, and it has undeniably succeeded in this aim. That's why Santander, Standard Chartered and UniCredit Group, to name but a few banks, have already adopted it. XRP, however, has not been quite as effective as an investment/value storage vehicle. Until now, that is. The coin's price was virtually stagnant since the boom of early 2018, but as of late November all that changed. Its value has more than doubled in the space of about two weeks to rack up YTD gains of over 300%. With a market cap of $48.5 billion and daily volumes approaching $20 billion, there's no denying its pedigree as one of the Top 3 crypto projects. Many sceptics felt that its 43B coin supply would prevent it from ever appreciating significantly, but the days of >$1 Ripple could come as early as next year if it can maintain its present momentum.
Bitcoin Cash
This coin, like LTC, is a fork of the original cryptocurrency (Bitcoin). Launched in mid-2017, it quickly rose to fame and soon cemented its place in the Top 5 global cryptocurrencies by market cap. The secret to its rapid success is a combination of faster transaction times and scalability versus its older sibling. What's more, its transaction fees are much lower compared to BTC, which makes it even more attractive to everyday users. The project has a capitalisation of $4,967,202,794 — about the same level as Litecoin — and a 24-hour trading volume of close to $1.7 billion. While we've already established that BCH is highly advantageous for end-users, we haven't really touched on what you're probably most interested in: its growth prospects. While the rest of the market has been travelling at warp speed, Bitcoin Cash has been stuck in first gear. Indeed, it has barely managed to deliver a 25% return YTD. Could this mean that it is saving all its gains for 2021? Nobody knows for sure. But we can say this: BCH is likely to be a relatively safe long-term bet. Of course, it wouldn't be wise to go all-in on the coin, but it should definitely have some weighting in your digital portfolio.
Chainlink
Our final spot goes to somewhat of an outsider, but one whose recent ascension has grabbed the attention of many in the crypto space and beyond. Chainlink is a novel blockchain project which aims to serve as a bridge between payment services like PayPal and Visa, banks like HSBC and Barclays, and blockchains like Bitcoin and Ethereum. Following its creation in 2015, its ERC-20 LINK tokens were first offered to the public at an ICO sale in 2017. In its relatively short history, Chainlink has managed to accumulate a market cap of $4,613,422,665, placing it at number 7 in the world rankings. Its daily trading volume is just a shade under $1 billion ($989,963,940), which is more than respectable for an up-and-coming player. Most impressive, however, has been its incredible performance since the start of the year. At present, it is up about 700% YTD, though it reached over 1000% during the summer. Naturally, there is a lot of hype over this highly functional coin, and this is inflating prices. Once it corrects to a more reasonable valuation, it would be a very attractive option for long-term HODLers.
That's all folks
We hope you enjoyed our summary of the hottest digital assets to watch in 2021. There may well be more lucrative altcoins out there, but we aimed to provide the ideal balance between risk and potential reward. No matter how confident you are about a single instrument, the safest approach is always to diversify, diversify, diversify. Yes, crypto has historically been a highly correlated asset class, but this is now changing, as the varied performance of our six picks shows. That's why we recommend putting together a portfolio of at least 3 coins in order to maximise gains while limiting losses.
If you're looking for a reliable exchange where you can buy, trade and store your cryptocurrency, StormGain could be just the ticket. We offer trading in over 20 different cryptocurrencies and provide dedicated online cold wallets in 9 of the most-popular coins (USDT, BTC, ETH, BCH, LTC, XRP, DASH, ZEC and XLM). And apart from having some of the lowest commission on the market, we even pay our clients up to 12% interest on all their crypto deposits, up to a maximum of a $50,000 USDT equivalent. If you like the sound of all that, register your account today! It only takes a couple of minutes. Start your crypto journey today with StormGain!
Tags
Exchange BTC

Try our Bitcoin Cloud Miner and get additional crypto rewards based on your trading volume. It's immediately available upon registration.

Try our Bitcoin Cloud Miner and get additional crypto rewards based on your trading volume. It's immediately available upon registration.