Crypto trading hamster's gains outperform Warren Buffet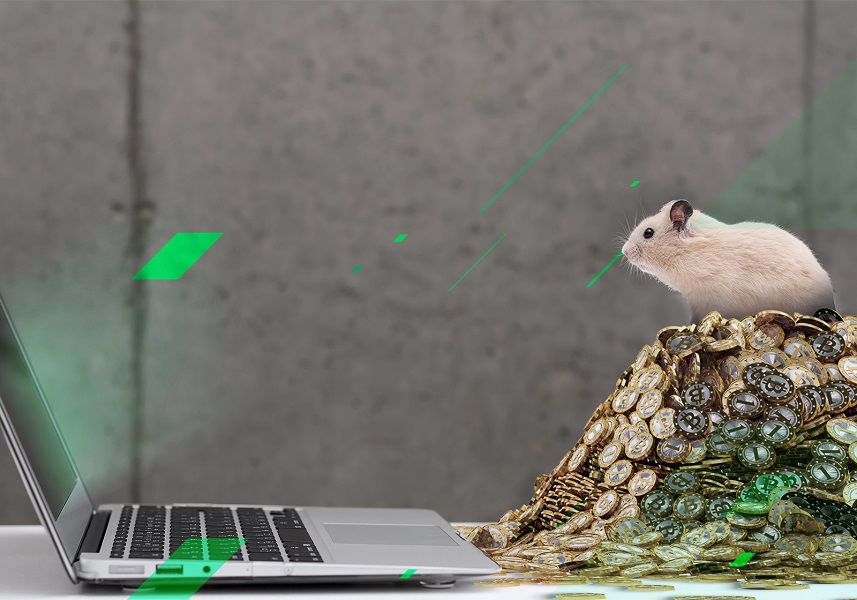 Yes, even a hamster can make massive gains trading crypto
If you've been keeping an eye on crypto social media of late, you have probably come across the new celebrity crypto trader sensation that is turning heads throughout the crypto community, both for his trading skills and his irresistible cuteness. Meet "Mr. Goxx", a hamster from Germany who has taken up cryptocurrency trading, assisted by an ingenious mechanical system. This money-making rodent streams his trades on Twitch, where he has built up quite the following.
Mr. Goxx is cheekily named after Mt. Gox, the trading card site turned crypto exchange that infamously lost almost $5 million in holdings before it shut down in 2014. His human owners, a lecturer and a programmer from Germany, prefer to remain anonymous, letting their furry business partner take the spotlight. Mr. Goxx, whose social media accounts tout him as 'CEO of Goxx Capital' and the "World's first crypto asset trading hamster!", presumably also allows his more dextrous human partner to type out his Twitter posts, which provides regular updates on his financial activity, including when he is about to trade.
How does he do it?
Even if he has assistance on social media, be assured that Mr. Goxx makes his trades all on his own, despite his lack of opposable thumbs. A video on his YouTube account explains it all: Goxx has an 'office' called the 'Goxx box', which is furnished with a hamster wheel and two different tunnels, one labeled 'buy' and the other 'sell.'
Goxx's hamster wheel is no ordinary pet toy. Called the 'intention wheel', this device is attached to an automated, rotating Rolodex of 30 different cryptocurrencies, including Bitcoin, Ethereum, and many of the established altcoins. Whenever Mr. Goxx runs on the wheel, the cryptocurrency it is turned to after he finishes is selected to trade. His subsequent choice of tunnel to exit through determines whether the trade will be a "buy" or "sell" position on that particular asset.
Should you spin the wheel for profit?
This unorthodox trading strategy has apparently been delivering big gains for Goxx Capital. Mr Goxx started on June 12 with €326. After a rough first month, Goxx's portfolio was up 20% by September 27. According to reports, this outperforms Warren Buffet, the NASDAQ 100, the S&P 500, and even Bitcoin itself. Admittedly, this furry fellow is moving around a much smaller amount of money than the likes of the Winklevoss twins – total profit so far amounts to less than €100. But in terms of relative profit, he's up there with the best of them.
Of course, this doesn't mean you should blindly follow a hamster wheel in your own trades. Mr. Goxx's human handlers, two old university friends who started the project to provide some light-hearted entertainment during COVID-19 induced boredom, have taken pains on the hamster's social channels to remind viewers that the streams are intended to provide a laugh, not to serve as financial advice.
Get the right tools for trading at StormGain
Do you think you could beat a hamster at crypto trading? StormGain gives you all the tools you need to make informed decisions in the crypto market, including easy-to-read charts, trading signals, analytics, demo account, and comprehensive tutorials, all available in the app and web platform. All that plus a multi-tier loyalty program that gives increasing bonuses to maximize your profits. Registering with StormGain is easy and just takes a few seconds. Sign up now to access over 140 crypto instruments with the best perks in the business!
Tags
Exchange BTC

Try our Bitcoin Cloud Miner and get additional crypto rewards based on your trading volume. It's immediately available upon registration.

Try our Bitcoin Cloud Miner and get additional crypto rewards based on your trading volume. It's immediately available upon registration.