Getting started with StormGain: a roadmap to the crypto platform that has it all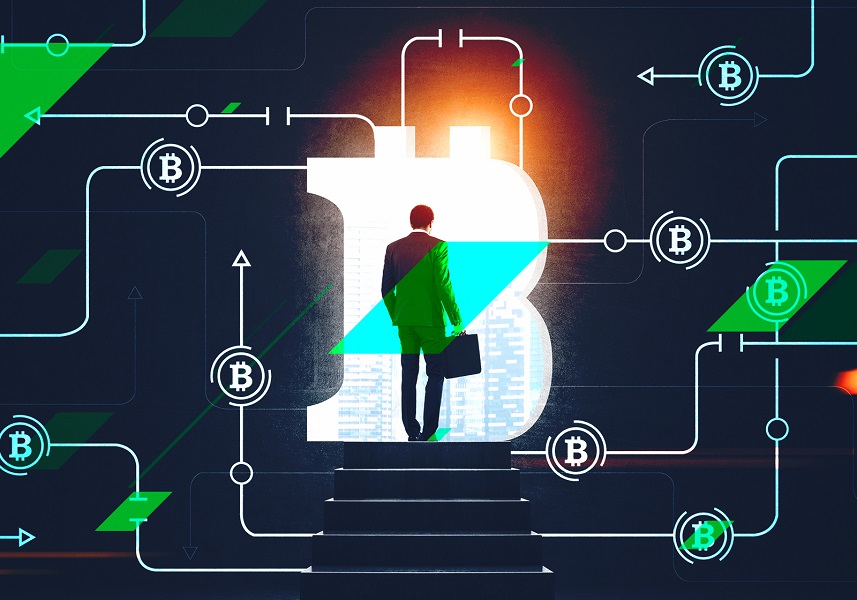 StormGain started out in 2019 as just another broker app to trade in cryptocurrencies. Initially, we made a splash on the market by offering high leverage pairs at very low fees and commissions. But over the last year, StormGain has expanded to become a highly versatile all-in-one crypto platform. This is thanks to the introduction of a range of new features that go beyond simply exchanging cryptocurrencies to helping users more effectively manage their digital assets. These include wallets, educational materials and even an in-app miner.
If you're looking for a one-stop-shop for all things crypto, then StormGain is a good candidate. But how do you make the most out of this multi-featured platform? In this guide, we'll show you how to make sure you're getting the most out of your StormGain experience.
Register in just a few seconds
StormGain is notable for a quick user registration that only takes a few seconds. Simply download from the Apple Store or Play Market and open the app or enter your e-mail address on StormGain.com and create a password. You're then ready to start trading. You'll be able to make deposits and open trades straight away so you can capitalise on opportunities as soon as possible. 
Educate yourself
Early on, StormGain distinguished itself from the pack by offering a robust knowledge database to educate new users about all things crypto and teach the tricks of trading. This knowledge base has been steadily expanded and added to and now stands out as one of the strongest aspects of StormGain. The collection of articles and webinars on our website cover how to use the platform, market analysis, individual coins and cryptocurrency in general. Even experienced traders can learn something from the articles on more advanced strategy. Anyone new to StormGain would do well to make its education bank their first stop.
Mine free BTC
One of StormGain's unique selling points is an integrated Bitcoin cloud miner. Available to all clients, it rewards users with Bitcoin free of charge. The only thing you have to do as a client is to activate the miner manually every four hours. That's the first thing you should do after registering to make the most of your time on the platform. The StormGain Cloud Miner doesn't use any of your device's resources or your internet; it's simply an incentive to stay active on the platform. And given how valuable BTC is, this feature is one that every user should be taking advantage of. BTC that you mine can be used to trade on the platform, which means that you can profit from trading it even if you can't directly withdraw it from the platform.
Start trading
Once you've signed up, done your research, and activated your miner, it's time to put some skin in the game. Buying crypto is as easy as tapping the cryptocurrency you want to buy and depositing funds via one of the many ways offered. StormGain makes it easy to buy cryptocurrencies with a bank card or online payment service, with payments processed by trusted partners such as Simplex, Bits of Gold and Koinal. 
Make sure to check the charts and view the cryptocurrency's journey in the long and short term. StormGain's charts can be adjusted in time scale and display format. Trading signals, indicators and the order book also appear inside the app to give you an overview of the market.
Trading signals are an essential part of any modern trading app. They not only alert you to market trends and good opportunities for making profit, but they can also be used to manage risk by automatically stopping trades if they reach a certain loss threshold. StormGain's trading signals are especially useful. When you use the platform, the signals will suggest parameters for Stop Loss (close trade at X loss) and Take Profit (close trade at X profit), which can be adjusted by the user, including for default values. You can also use the Increase and Auto-Increase commands to increase your investment amount when an open position is trending favourably. The signals indicate profitability and probability (based on technical analysis of how likely a pair is to reach a favourable market position) and are indispensable both for new investors familiarising themselves with the crypto market and veteran traders looking to trade more efficiently.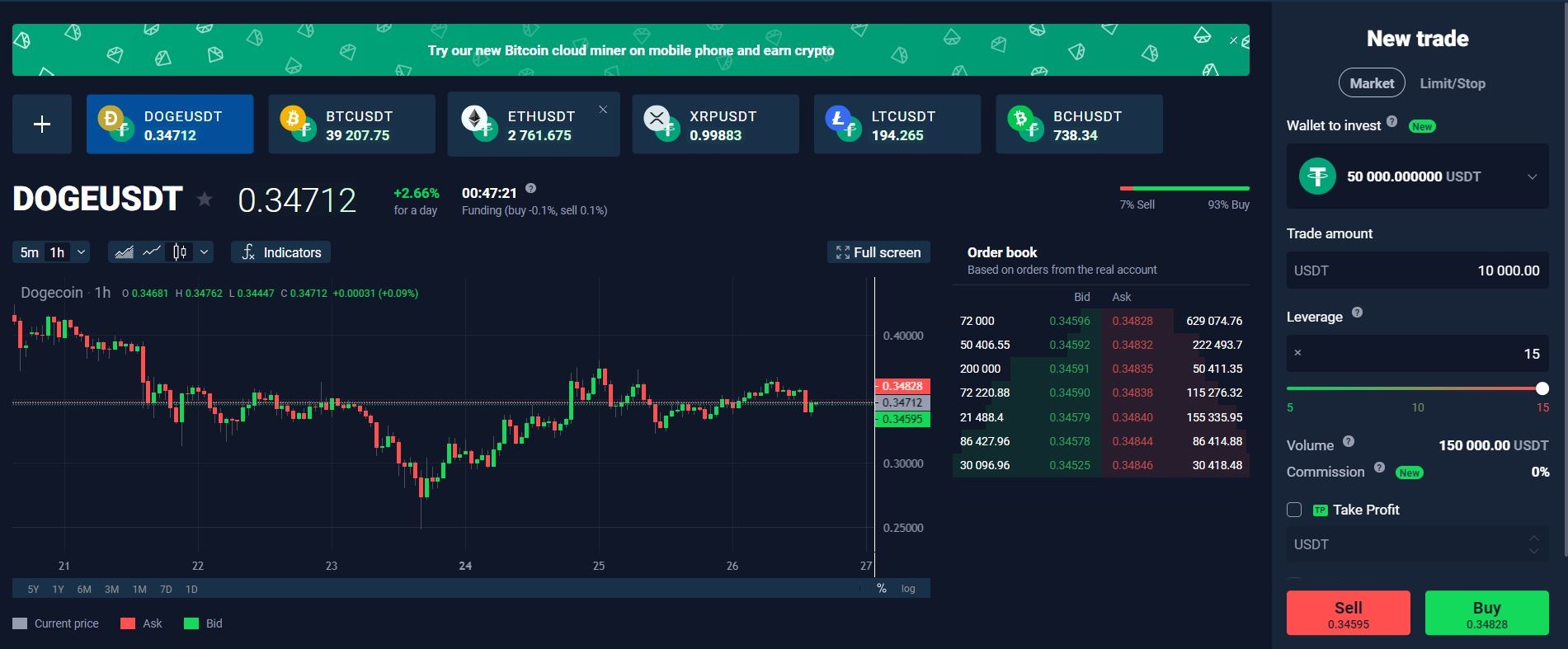 StormGain trading chart
Using the web platform or app allows a full range of advanced trading orders such as Stop Loss, Take Profit and analysis tools. Even while using your mobile device, it never feels like a scaled-down version of the trading platform. Everything you need is at your fingertips.
When trading on StormGain, make the most of the range of cryptocurrencies on offer. The big hitters like Bitcoin, Ethereum, Litecoin and Ripple are all available, but StormGain offers a wide variety of altcoins, including Dogecoin (DOGE), PancakeSwap (CAKE), Stellar (XLM) and many more. Don't sleep on altcoins — getting in early on the next trend can be the most economical way to a real windfall in the crypto world.
Simple crypto pairs aren't all that is available. To diversify your portfolio and introduce some risk management, be sure to check out the crypto indices that bundle together different digital assets in a hedge against the volatility of any individual coin. There are also tokenised stocks and commodities that allow you to invest crypto in gold, silver or shares in tech companies such as Tesla or Apple.
StormGain also offers an innovative profit share model. Instead of paying a commission on every trade, StormGain only takes a small cut if you make a profit on a trade. It feels like a fairer system than the usual commission model, which can often feel like kicking you when you're down.
Plan your progress
There's an interesting meta-trading aspect to StormGain in which you can level up your account, video game-style, as you trade higher volumes. Progressing through this Loyalty Programme gets you various bonuses, including additional trading funds.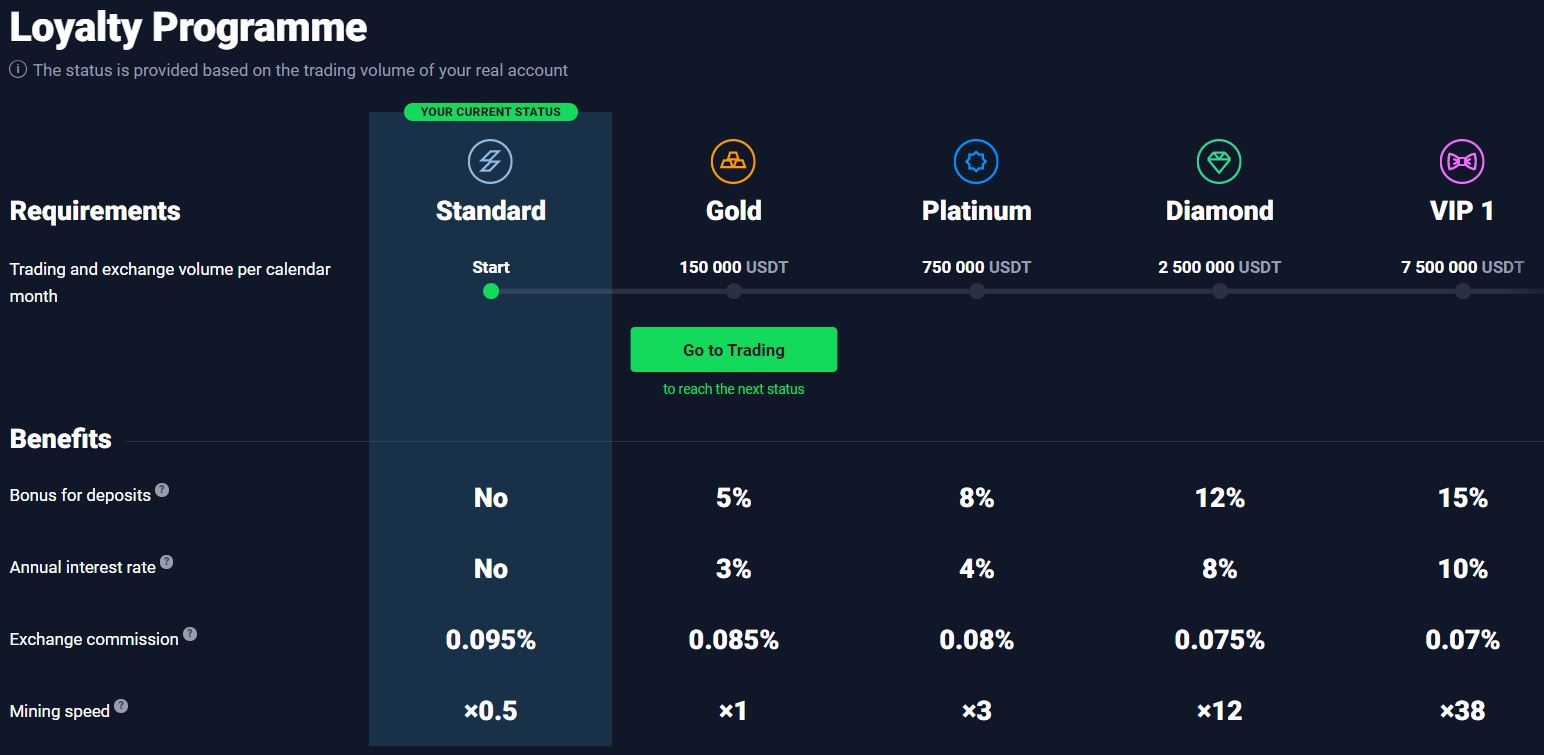 StormGain's loyalty programme from standard to VIP tiers
Reaching new tiers also increases the speed of the Bitcoin miner up to around 0.03 BTC per day. Once you feel confident about crypto trading, be sure to check the StormGain loyalty programme tiers to see what you need to raise your level to turn your trading profits into even more income for yourself.
Keep an eye on the news
StormGain has a history of running giveaways and tournaments with eye-catching prizes. In particular, we gave away a free BTC in a lottery just as the original cryptocurrency was smashing through all-time highs at the beginning of 2021. Football fans especially will want to keep an eye out for these since promotions that offer goodies such as signed balls and jerseys pop up often. More extravagant prizes, such as VIP stadium visits to home games, are sure to return. Whether it's for football, crypto, or cash prizes, StormGain's news blog is well worth keeping an eye on.
Refer a friend
Once you've become familiar with StormGain, you'll be able to decide whether you're in for the long term or not. If you are, then don't miss out on this important feature. Our referral program rewards you for encouraging your friends to sign up to the platform.
By using the 'Refer a friend' button in your account, you'll get a referral link you can share with friends. If they sign up, you'll receive bonus earnings of up to 15% of what they gain through StormGain's BTC miner. You can do this for an unlimited number of friends for an unlimited time! So if you find yourself enjoying StormGain, don't forget to share the love, and you'll get to share in the wealth!
Tags
Exchange BTC

Try our Bitcoin Cloud Miner and get additional crypto rewards based on your trading volume. It's immediately available upon registration.

Try our Bitcoin Cloud Miner and get additional crypto rewards based on your trading volume. It's immediately available upon registration.